Northern Samareños avail of PAGCOR led PGMA Serbisyu Muna; 28 national, local government organizations join caravan
By NENE A. MANZANARES (PIA Northern Samar)
March 30, 2009
CATARMAN, Northern Samar – If buntings decorated the whole area, it could almost be mistaken as a town fiesta. People flocked at the Sacred Heart Plaza in Catarman Thursday the other week to avail of the services brought by the People's Government Mobile Action (PGMA) Serbisyu Muna with full caravan support.
The one-stop-shop project provided clients the rare opportunity to seek the services they wanted most in one area. Be it medical or dental services or mere consultations with the representatives of the 28 national and local government agencies in the "caravan", the services were there for the taking.
About twenty five tents from the provincial government and one big tent from the Armed Forces of the Philippines (AFP) were set-up on the sides surrounding the Sacred Heart Plaza where the 28 participating agencies were given a space to serve their walk-in clients. The bigger tents were assigned to the medical and dental teams including the area assigned for pharmacists.
The Catarman PGMA Serbisyu Muna was able to provide medical services to 1,503 constituents and dental services to 361 beneficiaries. Eleven doctors and 12 dentists were at hand to provide their assistance.
On March 17 or two days prior to the Catarman event, medical and dental services were provided simultaneously in the towns of San Roque and Catubig in the second district of the province. In San Roque, 610 medical and 141 dental beneficiries were provided with services while in the town of Catubig, 703 medical and 165 dental patients availed of the services.
It was the turn of the towns of San Jose and Rosario on March 18 where both dental and medical services were likewise simultanenously provided. In San Jose town, some 705 medical and 104 dental patients were recorded while in the town of Rosario, some 574 medical and 165 dental patients were recorded.
The PAGCOR touch
During the short opening program, Philippine Amusement and Gaming Corporation (PAGCOR) Vice-President Remedios Petilla expressed her gratitude to Gov. Raul Daza and the local officials of the province of Northern Samar for hosting the PGMA Serbisyu Muna caravan. She also thanked the participating national and local agencies who showed their commitment and support to the project. PAGCOR is point agency in this on going "caravan of services" project.
In an exclusive interview with PIA, Pagcor Vice-President Petilla said that this is a special project of President Gloria Macapagal-Arroyo in the latter's effort to provide the needed services in far-flung and depressed provinces. This project is being supported by PAGCOR which provides manpower, supplies and medicines. They also coordinate with the local government units and different national agencies to ensure participation in the event.
The charming and very energetic Pagcor veep said that PGMA Serbisyu muna has already provided services to Davao, Bicol, Agusan, Aklan, Masbate and other provinces in Eastern Visayas like Biliran, and Eastern Samar. Petilla, who was a former governor of Leyte said that the caravan of services is not new to her as she had the same project during her stint as chief executive of Leyte province. This has been continued by her son Icot Petilla, who is now the incumbent governor of Leyte.
Describing the event as "the project of the President", Petilla is pleased whenever she sees a great number of people in Serbisyu Muna. "Nalilipay ako kun damo an mga tawo, kay karuyag sidngon, damo man an amon naserbihan" (I feel happy when I see many people because this means that we were able to serve a great number of people), the amiable Pagcor veep enthused.
Caravan of Services
Among the 28 agencies that participated in the caravan of services were:
The Local Government Units which played host to the project, come first in the list of caravan of services. The Province of Northern Samar, and the towns of Catubig, San Roque, San Jose and Rosario provided meals and snacks to the working group behind the Serbisyu Muna project. They also provided manpower augmentation such as doctors, dentists, pharmacists and members of the secretariat.
The Department of Social Welfare and Development (DSWD) thru its OIC assistant regional director Virginia Edano said that to address health, nutrition and education concerns of provinces like Northern Samar, their agency has implemented the Pantawid Pamilyang Pilipino (PPP) program. Ten municipalities of the province are recipients of this program. These are the towns of Silvino Lobos, Las Navas, Mapanas, Catubig, Lapinig, Lope de Vega, Mondragon, Palapag, San Roque and Pambujan.
The PPP is a program of the President that primarily seeks poverty reduction through social assistance with investment in human capital. The said program issues cash cards for beneficiaries which they will use to withdraw money from the Land Bank of the Philippines. Cash grants are provided to children who belong to extremely poor households. These are the health and nutrition cash grant of P500/month or P6,000 a year; and the education cash grant of P300 or P3,000 per school year.
The Department of Health (DOH) has announced that they will provide facilities and equipment to four hospitals in the province. DOH regional director Dr. Edgardo Gonzaga said that such facilites and equipment willl be provided to Northern Samar Provincial Hospital (P3 million); Dr. G.B. Tan Memorial Hospital (P3 million); Allen District Hospital (P1 million); and Gamay District Hospital (P1 million).
The Department of Health also gave awards to six barangays of the province, namely Brgy. Narra, Brgy. Cawayan, Brgy. Bangkerohan, Brgy. Cal-igang, Brgy. Jose Abad Santos and Brgy. UEP Zone I. Each barangay received P25,000 each worth of medicines for their Botica sa Barangay.
The Department of Labor and Employment (DOLE) conducted a Local and Overseas Jobs Fair in coordination with the Philippine Overseas Employment Administration (POEA) and the Province of Northern Samar.
Among the overseas agencies which participated in the jobs fair were the Mothers Way Overseas Manpower Specialist Corporation, New Era Placement Agency Inc., Pacific Mediterrenian' Treasure of Hope International Inc and Unijobs International. The APAC Customer Services, Incorporated, a local agency also participated in the said fair.
A Call Center Company also joined the jobs fair seeking for applicants as call center agents.
Workers wearing blue t-shirts from the Department of Public Works and Highways (DPWH) were seen cleaning up and cutting overgrown grass from the side streets of the first and second districts of the province. The DPWH also provided mobility services to the PIA coverage team during the three-day event.
The Philippine Army through the 8th Infantry Division, 803rd Infantry Brigade and the 63rd Infantry Battalion provided dental services and manpower support for crowd control. The Army also provided tents during the three-day dental and medical services in all of the five towns which participated in the Serbisyu Muna in the province.
The Professional Regulatory Commission (PRC) provided renewal services of professional identification cards. New PRC IDs were likewise issued. Dioscoro Lumagbas, the assigned regulation officer said that there are 42 professions being handled by the PRC.
The Catarman based Philhealth thru its chief insurance officer Romeo Agus said that they provided services to clients who asked querries on membership, contributions and claims. They also provided application forms to walk-in clients.
It was learned that they are now screening indigent applicants who are qualified to become members of Philhealth.
The Philippine Broadcast Services (Radyo Ng Bayan) through Station DYOG provided a blow by blow account of the three-day event. The three man team headed by its station manager, utilized phone patch in disseminating their reports live to Calbayog City.
The Philippine Information Agency based in the province likewise provided information support through production of print and broadcast releases with local stations DYSM and Radyo Natin-San Roque as broadcast outlets. The PAGCOR team was provided with copies of the produced materials.
Other members of the caravan were the Philippine Charity Sweepstakes (PCSO); National Anti-Poverty Commission (NAPC); Social Security System (SSS); Public Attoryneys Office (PAO); National Telecommunications (NTC); Department of Agriculture (DA); Cooperative Development Authority (CDA); National Bureau of Investigation (NBI); People's Credit and finance Corporation (PCFC); Philippine Overseas and Employment Agency (POEA); Technical Education and Skills Development Authority (TESDA); Training and Livelihood Resource Center); National Food Authority (NFA); Philippine National Police (PNP); and the Provincial Health Office (PHO).
The Bayanihan spirit in the PGMA Serbisyu Muna project
As the tents were folded up and the members of the team packed their bags, Nortehanons would not only remember the doctors, the dentists, the free medicines and the services provided by the caravan teams.
More than that, they would remember the loving touch and the special care which the bayanihan inspired project brought to their lives. They would keep a special place in their hearts that one day in their lives, they saw workers of government providing them the services they needed. And that in this one day of their lives, they have truly understood what public service is all about. (with reports from Ailene N. Diaz and Teresita B. Cardenas)
HR manager, not the employee, more affected by crisis
By RAFFY OSUMO, Leaders Link
March 27, 2009
CEBU CITY – The human resources manager - not the employee - is more susceptible in the current global economic crisis.
Human resources managers are experiencing more headaches in managing people as companies implement sweeping cost cutting measures like freeze in hiring, across the board reorganization and even termination of services.
With economic recovery not expected until 2010, companies turn to their human resources manager to come up with strategies to cope with the present crisis seen by IMF experts as bad as World War II or the Great Depression.
Yet relief is readily available for human resources practitioners.
"Surprisingly, while other companies are starting to feel the crunch, most of them find opportunities during the crisis," pointed Zamyra F. Baguio, managing consultant of Leaders Link.
Zamyra F. Baguio, managing director of Leaders Link, spoke to more than 32 human resources managers and practitioners during a forum on human capital solution at Casino Español Friday afternoon last week.
Baguio said opportunities are within the organization, others could be outsourced.
"Cebuano companies, as well as other businesses in Visayas and Mindanao have now learned to outsource some of their services to consultancy firms. In the past, companies have to pay huge amount of money to bring experts from Metro Manila, now we have our own pool of experts in Cebu, that are more effective because they 'speak the language' and understands our regional culture," Baguio said.
During an HR café, she moderated, a human resources manager said the crisis offered her company more time for training as production slows down. She said this opportunity wasn't possible before.
Another human resources manager said, "clients are demanding even more quality service" reinforcing the need to train employees so they could cope with more demands in the work place.
Another important point discussed during the forum was about finding and hiring the right people.
Caroline "Carl" Borromeo, a noted human resources profiler, pointed out that it would be more expensive for companies to hire the wrong person.
To avoid such a mistake, Borromeo discussed the uses of Harrison Assessments, a proven tool in finding, training and development of employees.
Companies affected by the economic crisis have to address the issue of sustaining their business as well as the work force.
Atty. Orville dela Cerna, a trainer and human resources practitioner, argued that a flexible work arrangement is the better alternative to retrenchment or closure of the business.
"Anchored on voluntary basis and conditions mutually acceptable to both the employer and the employees, it is recognized as beneficial in terms of reduction of business costs and helps in saving jobs while maintaining competitiveness and productivity in industries," dela Cerna said.
Dela Cerna further said that companies might want to consider the following flexible arrangement like compressed workweek, reduction of workdays, rotation of workdays, forced leave and broken-time schedules.
There were two other speakers during the forum. Nicolas M. Baguio, training consultant of Leaders Link, spoke about strategic planning while Julius E. Romarate, dean of Britech Computer College, presented the Dual Training System (DTS) where IT students get training in both school and real work place environment.
The DTS program provides the student the venue where he applies what he learned in school. On the other hand, the partner company gets the chance to evaluate students that they may later hire as employees.
Leaders Link is a training, consultancy and executive search company since 2003. It offers organization and strategic solutions, human resources training and development and headhunting services to various companies in the Visayas and Mindanao.
For more information about Leaders Link, please contact (032) 422-8505, (032) 422-5552 or mobile phones 0917-620-7639 and 0923-327-8856.
'Mobile Kusina ni Mayor Lo' starts brewing nutritious recipes
By NINFA B. QUIRANTE (PIA Samar)
March 23, 2009
CATBALOGAN CITY, Samar – The Mobile Kusina ni Mayor Lo of Daram, Samar has started brewing with fragrant aroma coming from nutritious but low cost recipes.
Mayor Lo aka Daram Mayor Lucia Astorga has been doing the rounds of seven pilot barangays to deliver the nutritious but low cost/costless recipes sans seasoning and expensive flavorings. All a Daramnon gets is natural and real food!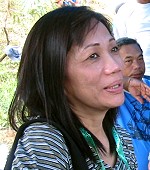 Mayor Lo Astorga
The innovation comes from Anita's Kitchen in Davao. Some friends said Mayor delighted her with stories of such kind, that she suggested 'importing' the same concept to her island town.
As in Manila and Marikina, where the project has been, mothers have to pay P30 to participate in cooking and later in eating.
But in Daram, mothers only bring the recipe ingredient available in their backyard and they do not pay anything. Mayor Lo subsidizes the cost of the 'cook-out'.
Mothers here also imbibe the spirit of having fun while providing nourishment for the family. Cooking need not be tedious, dull and perfunctory, meals should be varied to tickle the appetite.
The chef mayor first gathers all constituents preferably in a public place like the barangay plaza. When all is set, a cooking demonstration ensues with lectures on proper nutrition on the side.
The emphasis, said the Mayor is to utilize food ingredients found in the area. And in the process, she added, they discovered that vegetables are nil in some areas. This prompted the Municipal Agriculturist to disperse vegetable seeds to the barangays in need.
When asked why not utilize the marine resources which Daram, being an island is known for, the lady mayor replied that she wanted the fishing grounds of Daram to rest for a while and perhaps re generate.
In the cooking demo, participants practice volunteerism and bayanihan. Some barangay officials like tanod would fetch water, others prepare the vegetables and others assist in the grand cooking demonstration.
The event in the two barangays San Roque and Cansaganay have raved waves that other barangays wish to emulate the festive 'cook-out'. The project is also mentioned in Astorga's Community-managed child nutrition improvement where it features utilization of local materials for child feeding/nutrition improvement activities.
Very soon with the mobile Kusina ni Mayor Lo rounding off all 58 Daram barangays, malnutrition may be addressed all in the spirit of fun and discovery of innovative ways to prepare nutritious but costless menu for the families of Daram.
Army Engineering Const Battalion launches P45M Kalayaan Barangay projects in East Samar
By Philippine Information Agency (PIA 8)
March 18, 2009
TACLOBAN CITY – Always upholding its motto "to build not destroy, to bring happiness, not sorrow," the 546 Engineer Construction Battalion of the 53rd Engineer Brigade of the Philippine Army is set to formally launch on March 18, the implementation of the P45,018,000 Million Kalayaan Barangay Projects in Eastern Samar.
Lieutenant Colonel Krestofel A. Kiamco informed that the launching will be held at Barangay Waso, Llorente, Eastern Samar where the 546 Engineer Battalion has already constructed a two-classroom school building worth P706,727.46.
The Kalayaan Barangay Project will benefit about 13 barangays in Borongan, Llorente and Maydolong will benefit in terms of projects which will be implemented therein, LtCol. Kiamco said.
The Kalayaan Barangay Project of President Gloria Macapagal-Arroyo which is being implemented by the Department of National Defense, the Armed Forces of the Philippines and the Office of the Presidential Adviser on the Peace Process, aims to address the needs of the poor communities in conflict areas or in areas which have peace and order issues, Lt. Colonel Kiamco said.
This is a government initiative which is a non-combat approach to solve the insurgency in areas affected by the problem, he added.
Kalayaan Barangay Project (KBP) was conceptualized to promote peace and development in the countryside. Specific program interventions include, core Infrastructure projects and services like improvements on transportation, communication, road and rail network, electrification and water supply facility as well as classroom buildings and educational establishments.
Five barangays of Borongan City are recipients of more than P22 Milion worth of projects. One of them, Barangay Amantacop is recipient of P4,500,000.04 worth of projects which include rehabilitation of Cainta-Housing Resettlement Farm to Market Road, Barangay Electrification, construction of reservoir/water system development, Construction of 59 units single chamber toilets.
Barangay Balacdas is recipient of P4,336,037.00 of projects which include the rehabilitation Cainta-Housing Resettlement farm to market road; spring dev't & 5 units deep well installation; expansion & repair of barangay street lights; construction of Day Care Center; and repair of 1-room school building.
Barangay Cagbonga will receive P4,499,964 worth of projects which include the rehabilitation of Cagbonga-Bayobay Maypangan farm to market road, repair of 2-room school building, Installation of barangay street lights, rehabilitation of water system, and construction of 33 units single chamber sanitary toilets.
Barangay San Gabriel will have a total of P4,56,999.25 worth of projects to include rehabilitation and upgrading of farm-to-market road, and repair of 2-room school building.
The fifth recipient at Borongan is Barangay San Pablo which will be given projects like the construction of San Pablo-Cagbonga farm-to-market road, improvement and expansion of water system, and construction of 26 units single chamber sanitary toilets, all in all amounting to P4,567,999.25.
About P1,113,814.71 worth of projects will be implemented in the six barangays of Llorente, namely, Can-ato, Canduros, Camtomco, Hugpa, Magtino and Waso. The projects include barangay electrification, construction of two-story school buildings, water supply systems, barangay health center, and improvement of access roads.
About P5,679,491.00 worth of Kalayaan Barangay Projects will be implemented in Barangays Del Pilar and Tagaslian of Maydolong town. The projects include the construction of one two-story school building, barangay electrification and construction of Level II water system.
Maasin City records zero rabies casualty in almost two decades
By PIA Southern Leyte
March 17, 2009
MAASIN CITY, Southern Leyte – No casualty due to rabies virus recorded in Maasin City for almost two decades so far, City Health Officer Dr. Francilisa Tan disclosed during the recent, Maasin City In Action radio program over DyDM.
In celebration of the Rabies Month, the Maasin City Health Units in coordination with the City Agriculturist Office and the Office of the Provincial Veterinarian campaigned for responsible pet ownership throughout the province and to submit dogs for registration and vaccination.
Dr. Tan announced that Salvacion Oppus Yniguez Memorial Provincial Hospital (SOYMPH) is identified as the bite center in the province.
She gave instructions in the first aide management of dog bite to wash the wound with soap and water thoroughly in ten minutes, defying the traditional garlic and vinegar medication on bite wounds.
Rabies is a zoonotic disease caused by RNA viruses in the Family Rhabdoviridae, Genus Lyssavirus (1--4). Virus is typically present in the saliva of clinically ill mammals and is transmitted through a bite. After entering the central nervous system of the next host, the virus causes an acute, progressive encephalomyelitis that is almost always fatal. The incubation period in humans is usually several weeks to months, but ranges from days to years.
Meanwhile the City Agriculture's office here recorded four hundred heads of dogs registered and vaccinated last December 2008, however, the office conservative estimate of the city dog population must have reached more than a thousand heads.
In line with the nationwide awareness month celebration, City Agriculturist Acasio reported of the scheduled two months long massive rabies vaccinations commencing this month until April this year. The office also structured 4 groups to undertake the campaign for massive rabies vaccination in seventy barangays of the city.
The city has also organized aggressive dog enforcers who catch astray dogs along the streets.
Partnership: Key to DENR 8 Success in 2008
By PURIFICACION S. DALOOS
February 17, 2009
TACLOBAN CITY – The social mobilization and environmental advocacy strategies of the Department of Environment and Natural Resources in region 8 has gained grounds as it saw remarkable milestones and attained its goal and targets for calendar year 2008.
Under the leadership of then Regional Executive Director Alfredo S. Pascual, partners and stakeholders from both the public and private sector were tapped to work with the regional and field offices and line bureaus of the Department in implementing its programs and projects towards environmental protection and natural resources conservation.
Together with the Philippine Army, Philippine National Police, some local government units and concerned citizens, forest protection activities yielded the confiscation of about 116.94 cu.m. of hot lumber. "This is the result of 72 apprehensions wherein ten (10) units of conveyances and three (3) units of equipments were also confiscated," reveals Regional Technical Director Felipe Calub of the Forest Management Service (FMS).
Non-government organizations have been contracted by the Department to undertake plantation establishment activities in different watershed areas in the region. A total of eight hundred thirty (830) hectares of forest plantation was established within eight (8) identified watersheds including Daguitan Watershed in Burauen, Leyte, Bulusao Watershed in Lawaan, Eastern Samar and Catarman Watershed in Lope de Vega, Northern Samar. These areas were planted with grafted fruit tree seedlings such as lanzones, rambutan, mango, durian and mangosteen. Deep rooted forest tree species and bamboo were planted along river banks, creeks and denuded areas.
Seedling production activities resulted in over 125,000 seedlings produced regionwide. These were made available to various sectors of society including religious groups, the academe, NGOs and socio-civic organizations who are partners in rehabilitating degraded areas and in re-greening the environment.
RTD Calub also shares that rehabilitation activities of watersheds supporting the regional irrigation system of the National Irrigation Authority were done in the watersheds of Magon-bucan, Bito and Mainit all in Leyte province.
Strong partnerships with local government units have also contributed much to achieving the work targets for 2008 of the Land Management Service. Close coordination with the LGUs had resulted in the successful conduct of Free Patent distributions regionwide under the Handog Titulo Program of the Department. "We have distributed 16,316 free patents to qualified beneficiaries in 2008," says RTD for Land Management Service Ramon Unay. "This covers an aggregate area of around 13,000 hectares throughout the region," RTD Unay adds. The distribution of Free patents to qualified beneficiaries is one of government strategies toward addressing the Labanan ang Kahirapan call of President Gloria Arroyo.
"We have also sought the support of the LGUs and other stakeholders in our implementation of the Philippine Reference System '92 (PRS '92)," relates RTD Unay. He goes on to disclose that the Department has requested these LGUs to help in the protection and conservation of the Geodetic Control Points (GCPs), commonly known as the mojon, and advocate to their constituents the significance of the GCPs under PRS '92.
Local communities have likewise been engaged by the DENR in implementing its activities in the past year. RTDa Ricardo Tomol of the protected Areas, Wildlife and Coastal Zone management Service (PAWCZMS) shares the important role of local residents in Palompon, Leyte in the assessment of Tres Marias Island in that town. The information provided by local residents, as well as monitoring activities conducted by field personnel of the PAWCZMS resulted in its recommendation and declaration as a critical habitat due to the presence of threatened species.
Ecosystems Research and Development (ERD) activities were also implemented by the ERD Service in 2008. According to RTD Edilberto Nasayao, their sector has conducted a research for the rehabilitation of Bagacay Mines in Hinabanagan, Samar. A variety of species have been planted in a 1,200 sq. m mined out area. These included wedilla, talahib and bahai, among twelve (12) other species.
"While we recognize the notable accomplishments of the past year, we must admit that there is still a lot to be done, especially as we combat the effects of global warming," says current DENR RED Regidor De Leon.
"The task towards creating a sound environment for all as well as the sustainable use of our finite resources is a daily challenge, not just for the DENR, but for each and every individual," RED De Leon says even as he called for the continued support of its partners in 2009.