Pinabacdao garners Panibagong Paraan grants anew!
By NINFA B. QUIRANTE (PIA Samar)
September 1, 2008
CATBALOGAN CITY, Samar – Pinabacdao town, a 5th class municipality of Samar has already romped off with three grants from Panibagong Paraan.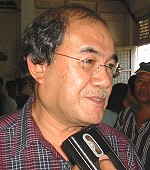 Mayor Mario Quijano
Last week, Mayor Mario Quijano received two officials from the Philippines-Australia Community Assistance Program (PACAP) who were in town to confirm the grant to the municipality.
Though it was not necessarily Pinabacdao that proposed the last two projects, still the town stands to gain from it all as implementation will be done there.
Panibagong Paraan is a unique bazaar of innovative ideas that provide solutions to the most pressing social and economic concerns of our country; ideas that deliver results and have the potential to be expanded or replicated.
In the year 2006, Mayor Quijano has brought his constituents some P2M grant from the World Bank and other funding agencies because of his innovations for development project.
His proposal then of an agro-forestry project to Panibagong Paraan Grant Competition gave him some P2M, an extension of his Community Based Resource Management Project (CBRMP).
A staff of the mayor told PIA that the agro-forestry project is a vast farm planted with mangoes and intercropped with other plants.
That is now history, though and the development-oriented mayor seemingly gained some following that both proposals identified his town for their basic social services project.
One of which, Katungod han Samarena Foundaiton Inc (KSFI) said they immediately thought of Pinabacdao as Quijano was the only mayor who was willing to offer financial counterpart for the project.
KSFI Executive Director Myra Tambor said that in April, her organization proposed "Minimizing Deaths and Debts: Leveraging Hospitalization Financing Scheme to Set Up Community-Based Primary Health Care (Piso Ko, Kalusugan Natin).
The project aims to enhance promotive/preventive health sevices to reduce the illnesses and the need for hospitalization. As funding has been limited to the P1M gant by Panibagong Paraan and some P.5M from Pinabacdao LGU, two barangays will be covered only. However, the project aims to expand as more following is expected.
Meanwhile, the Transparency and accountability Network (TAN), with the Department of Interior and Local Government-Local Government Academy (DILG-LGA), and the International Finance Corporation (IFC) chose the other project, which the Institute for Democratic Participation in Governance (IDGP) proposed: Bantay Sangkay, an LGU-led initiative seeking to imbed social accountability mechanisms, adoption of Community Driven Development (CDD) approach in local planning and public expenditure management cycle to continue participatory processes and the gains of Kalahi-CIDSS of which Pinabacdao is a recipient.
Beneficiaries are the Barangay officials, community volunteers and CBO leaders of the 24 barangays. A critical mass of barangay volunteers will be developed to energize participatory governance.
On August 20, 2008, Mayor Quijano and his officials launched the two projects with some PACAP officials and DSWD Regional Director Leticia Corillo in attendance.
As to Pinabacdao's vision, it aims to hurdle the challenge that says: Pinabacdao is a small town which could do more and would to do more if only the gaps are filled, and filling the gaps will be Quijano's greatest challenge…with the help of both government and non-government organizations believing in his cause!
Government energizes Samar island villages
By Philippine Information Agency (PIA 8)
August 6, 2008
TACLOBAN CITY, Leyte – After the installation of the solar home package under the Spanish government funded Solar Power Technology Support (SPOTS) projects of the Department of Agrarian Reform, it is now goodbye to dark and risky nights for the agrarian reform beneficiaries and other residents of Majaba and Basiao islands barangays of Catbalogan City.
This is in line with the President Gloria Macapagal-Arroyo's 10-point agenda specifically on the electrification of the villages in the countryside, DAR 8 Director Homer Tobias said as he disclosed that four other un-energized villages in Calbiga Agrarian Reform Community, also in the province of Samar, will also be soon out of darkness as beneficiaries of SPOTS project.
DAR Samar Information Officer Teresa Tijol through Mr. Jose Alsmith Soria, DAR Regional Information Officer, informed that the solar home system package have already been installed in the month of July to about 70 households within the Pangdan expanded Agrarian Reform Community which covers said island barangays.
Samar Provincial Agrarian Reform Officer Gregorio Fiel Jr. explained that those who can avail of this service are members only of the cooperative in the area that will manage the operation and maintenance of this project.
Prior to the installation of the solar project, PARO Fiel said that residents source out electric power from a power generator provided by a private individual who charged the consumers up to P800 per month for a 7:00 o'clock to 10:00 o'clock in the evening consumption.
Families who cannot afford to pay said amount satisfy themselves with a kerosene lamp spending only about P200 per month. With the continuous increase in oil price however, these people doubt whether they will still be able to afford the kerosene lamp to light their homes at night.
With the installation of SPOTS in the area, a recipient household needs only to pay a registration fee of P420 and a monthly P220 dues for an 8-hour use of electricity per day using four 8-watt fluorescent bulbs which are already included in the project package.
Cell phone owners, need no longer worry about their batteries getting drained as they can recharge them for three hours every day even if they are in the islands, Ms. Tijol said.
The Solar Home Package System, PARO Fiel said, completes the four packages provided under SPOTS. The other packages earlier installed were the Barangay Hall lighting system; communal lighting system; and school learning system package which included school lightings, audio visual learning equipment and educational tapes for the learning needs of the elementary pupils in the area.
The project beneficiaries in Majaba and Basiao islands were provided with P1,200 capital for livelihood activities under the project's agri-business component to augment their income and to be able to pay their monthly dues.
Aside from the financial capital, the beneficiaries were also provided with a motorboat and gill net for their "sisi" (small clams) production which is the main livelihood in the area.
Provincial Health Offices urges for continuous vigilance against dengue
By Provincial Media Relations Center (PMRC Leyte)
July 22, 2008
TACLOBAN CITY, Leyte – The Leyte Provincial Health Office said there is no reason for the public to relax their vigilance against dengue as provincial health officials presently push for the "Brigada Pamilya" in waging an aggressive public information campaign on the proper ways of preventing and avoiding the disease.
Assistance Provincial Health Officer Dr. Edgardo Daya said "Brigada Pamilya" against dengue still employs the search and destroy operations on the breeding grounds of dengue mosquitoes which must be carried out by each and every home.
"The fight against this disease should start at home by cleaning our surroundings. We cannot leave the cleaning of our own homes and surroundings to the authorities and wait till they do it for us. We have to do it ourselves and help in the fight against dengue," Dr. Daya said in an interview.
The provincial health office, he added, through their barangay and municipal counterparts have already been tasked to enforce a clean-up and sanitation drive to instill in the public consciousness the need to maintain clean, healthy and sanitary surroundings and dissemination of the four o'clock habit, which encourages residents to rid their surroundings of mosquito breeding places such as empty bottles, cans, tires, vases and others and to use personal protective gadgets such as mosquito nets and repellants.
He also called on residents to be wary of the disease and familiarize themselves with the causes, symptoms and ways to prevent the diseases to stem the further spread of the dreaded ailment.
The health department is also reminding persons to seek medical treatment for themselves or their loved ones if they suspect dengue symptoms. Among the symptoms is recurring fever, which should be taken seriously if it occurs for four days. Rashes are also a sign of dengue.
Dengue fever is an infection caused by dengue virus, which is transmitted by the bite of an infective female Aedes mosquito. Aedes mosquitoes are "day biters" and biting activities peal at 6-8 a.m. and at 4-6 p.m.
The signs and symptoms of dengue fever are: on-and-off fever lasting for two to seven days; loss of appetite; nausea/vomiting; abdominal pain; body weakness; small reddish spots on chest area, arms and legs; bleeding signs (nose and gum bleeding, vomiting blood, bloody stools and abdominal pain); restlessness; weak, rapid pulse; cold, clammy skin; and difficulty in breathing.
Persons that manifest these symptoms must remember the following: high fever should be treated by sponging and giving paracetamol and not aspirin as it may cause bleeding and/or gastric irritation and must increase fluid intake or use oral re-hydration solution.
Patients with persisting symptoms must be brought immediately to the nearest health center or hospital.
Who's afraid of Valero's 24-0 record?
Mugabi was 25-0 (25 kos) when Hagler tore him to pieces
By ALEX P. VIDAL / PNS
July 2, 2008
LAREDO, Texas – In boxing, what matters most is quality not quantity. Quality of the opponents, not their quantity.
History has proven not all boxers that are undefeated and knockout specialists are invincible. To a certain extent, there has to be an ending to their dominance in square jungle; and records reveal their imminent Waterloo occurs during world championship tussles.
Former World Boxing Council (WBC) light middleweight champion John "The Beast" Mugabi of Kampala, Uganda was the most prominent among them.
Mugabi, perhaps the deadliest warrior to grace the middleweight division in the mid-80's, was 25 years old when he was pitted versus Marvelous Marvin Hagler, then undisputed crownholder of the middleweight titles in WBC, World Boxing Association (WBA) and International Boxing Federation (IBF).
Because Mugabi was ranked No. 1 contender in all the three world boxing bodies and possessed an immaculate and fearsome record of 24 wins, no defeat with 24 wins by knockout, oddsmakers thought The Beast was the missing link in the long quest to end Hagler's mind-boggling supremacy in the division.
They were wrong. On March 10, 1986, Hagler (62-3, 52 KOs) blasted the Ugandan to smithereens in the 11th stanza of the 12-round battle for the undisputed middleweight championship of the world at the Caesars Palace in Las Vegas.
Although he knocked out cold all his previous 25 rivals, Mugabi had no match to the vastly incredible Hagler, then 31 years old, and was the darling of the boxing community in his time.
Hagler ruled the world unmolested and was unfazed by Mugabi's fearsome record. The Beast was never the same again after being exposed by Hagler. He lost by technical knockout (TKO) to Duane Thomas in his next fight, a WBC light middleweight showdown also in the same venue.
On Nov. 3, 1984, former WBC super bantamweight champion Jaime Garza was 40-0 with 38 knockouts when he lost his title by a shock first round knockout to unheralded Juan Meza who had 41 victories against five losses.
Venezuelan phenom Edwin Valero, 26, has caught the attention of Top Rank promoter Bob Arum for possessing a nerve-tingling 24-0 ledger spiked with 24 knockouts (18 in the first round). He is next in line for WBC lightweight champion Manny Pacquiao, who is fresh from toppling David Diaz in the 9th round in the fight dubbed "Lethal Combination" at the Mandalay Bay Resort and Casino.
Experts said either Valero will do a Jaime Garza or he will end up the next John Mugabi. But Pacquiao (47-3, 36 KOs) said as a fighter, he will only do his best and train hard, not to pick his opponent.
The inspiring story of "The Almeria Seafarers Cooperative"
By Philippine Information Agency (PIA 8)
June 21, 2008
TACLOBAN CITY, Leyte – At this point in time when a great number of Filipinos are in dire poverty and remain in that state despite government support and intervention, the story of the Almeria Seafarers Multi Purpose Cooperative stands as a refreshing and inspiring success story.
In a Media Forum honoring the outstanding Overseas Filipino Workers in Region 8, a petite young woman stood out not only because of her looks but because of the story she bears – that of a cooperative which was able to put into good use the "Groceria Project" of the Arroyo Administration to become the Best Groceria in Region 8.
The young woman is Anita Corto, the manager of the Almeria Seafarers Cooperative (ASEMCO). Ms. Corto said that the Almeria Seafarers Multi Purpose Cooperative was organized by seven seafarers and their wives in 1994 with an initial capital of P12,600 assets and 42 regular members.
Today, ASEMCO already has 232 regular members and 1,416 associate members and has over P57 Million in assets.
Starting on providing financial products such as deposits and loans, ASEMCO opened a pre-school learning center in June of 1999 with the aim of providing quality early childhood education.
When the Overseas Workers Welfare Administration (OWWA) launched the Government's Groceria Project in 2004, the Cooperative availed of the grant of P50,000 worth of grocery items to OFW groups.
Thus, the ASEMCO Groceria and Meatshop was made available to the members and to the community as a whole. The Groceria was inside the office of ASEMCO.
After one year, the Groceria moved to a rented place. Today, the ASEMCO Groceria and Meatshop already has an asset of P600,000, Ms. Corto revealed.
Today, 14 years after its birth, ASEMCO has purchased a lot and has put up a three-story building where the Groceria is located now. The building also houses the ASEMCO office with 18 regular staff. The cooperative is in the process of hiring additional employees.
Through the years, ASEMCO has helped in the growth and development of the municipality of Almeria and the neighboring towns. The Cooperative has made available credit facilities to over 1,400 borrowers who totally availed of about P39 Million loan portfolio through its microfinance, salary loans, honorarium loans and Small and Medium enterprises for OFWs and their families.
ASEMCO has entered into pre-school service contracting service with the Department of Education and is now providing pre-school service to seven public pre-schools.
Meanwhile, the ASEMCO Learning Center has expanded into a private elementary school this school year.
Furthermore, ASEMCO also engages in various programs for the welfare of its members in the community through its Scholarship Program, Pamaskong Handog, medical mission and Balik Eskuwela program.
Indeed, ASEMCO has gone a long way not only in securing its members and their families but also in inspiring people to replicate its fete towards a sustainable economic development.
This OWWA scholar will soon be a registered nurse
By Philippine Information Agency (PIA 8)
June 10, 2008
TACLOBAN CITY, Leyte – Jobelle Rosales was about to enrol in a state university when she read from the newspaper about the OWWA Scholarship for the beneficiaries of active OFWs.

Ms. Jobelle Rosales (left) is the first graduate under OWWA 8 Scholarship Program while Mr. Hazef Sabrey R. Festejo, an incoming 5th year civil engineering student, is the Outstanding Scholar of OWWA in Region 8. (PIA photo)
She told about this to her Mom and together they went to the Region 8 OWWA office. She took the exams and she luckily passed the exams. As a scholar of OWWA under the Education for Development Program, Jobelle received P30,000 per semester, enough to tied her up through all her school expenses.
Jobelle said that OWWA release only P20,000; the other P10,000 is released at the end of the semester when the scholar shows her grades. She must pass all the subjects otherwise, the P10,000 will no longer be given to her and her scholarship will no longer be continued.
Last March, Jobelle graduated Bachelor of Science in Nursing from the RTR Medical Foundation in Tacloban City. She will soon take the nursing board examinations in order for her to become a Registered Nurse.
Jobelle's father Ricardo, has been working as a fireman in Saudi Arabia for many years already and she has seen him and has been with him for only one Christmas and one New Year but she understands that it is not easy for him to come home.
There was a time when the only way to communicate with him was through letters, but with the current technology, she and her younger sister are already able to see him and communicate with him through the internet.
Although her father is an OFW, Jobelle knows that her father is working so hard for the family and she does not want to be an additional burden because he is not earning that much, so she decided to take her chance at the OWWA scholarship.
She never thought of spending unwisely, the money that her father is sending the family because she realized that it was hardly earned and she could see how her mother is sacrificing, acting both as father and mother, in the absence of her father.
Asked if she would want to go abroad too, Jobelle said that as an OWWA or as a government scholar, she has to stay and serve the country for four years since her scholarship is for four years. Maybe after that, she will already have the necessary expertise in Nursing that will qualify her to a better job abroad, if she so decides.
Jobelle is one of the nine OWWA scholars in Region 8. Every year, 100 slots are available all over the country.
This coming school year, four students in Eastern Visayas qualified and are among the 100 scholars for this year. This makes 12 the total number of OWWA scholars in Region 8 because 1, Jobelle, graduated.
Jobelle, is a good role model not only to the children of OFWs, but to all the students in the Region.
Widening Gap between salaries and cost of living a deciding factor for Migrant Workers to go back home – Migrante ME
Press Release
By MIGRANTE Middle East
June 2, 2008
An alliance of Overseas Filipino workers' organizations based in the Middle East today said that the ever widening gap between salaries ad cost of living in any Middle Eastern Countries is a deciding factor for migrant workers including Filipino workers to going back home.
"The spiraling cost of living in the cities of middle-eastern countries such as Dubai, Qatar, Kuwait, Jeddah and Riyadh in Saudi Arabia coupled with weak dollar exchange is leading to a more tougher economic situation for migrant workers and their families that would eventually decide them to going back home, if not find another job in other countries," said John Leonard Monterona, Migrante Middle East regional coordinator.
Migrante's Monterona said that the Middle East or the Gulf region as it was popularly known, has booming economies but inflation and skyrocketing prices are making Migrant workers life tougher and less profitable.
"It is true that salaries of migrant workers especially those in sectors such as finance, advertising, IT and pharmaceuticals, engineering and mid-level managerial positions have risen but this salary increases is disproportionate as to how fast the inflation increases which means migrant workers especially ordinary construction workers and others in the service sectors have had to pay a cut," Monterona added.
Monterona cited the survey conducted by Bayt.com in conjunction with market research specialists YouGovSiraj conducted early this year revealed that expatriate workers in UAE and Qatar were the highest paid last year and have enjoyed the highest annual pay raises in the Gulf Region, with Qatar averaging 18 per cent a year and the UAE and Bahrain both coming in at 17 per cent compared to 12 per cent in Saudi Arabia, the region's lowest average.
"Migrant workers including our fellow OFWs are already complaining of the high rent of houses ranging from 8,000 to 10,000 Riyals or for a bed space rental cost of 700 to 850 riyals which is apparent in countries like Qatar, UAE, Bahrain and even Kuwait and Saudi Arabia," Monterona added.
"Even the price of rice has already increased; a 2 kilo packed of rice is now sold in a market in Riyadh or Jeddah to 20 to 25 Riyals from 15 to 18 Riyals last month," Monterona averred.
In Kuwait, for instance, its Central Bank said on its website, the All Items Consumer Price Index advanced to 127.1 points in the year to the end of February 2008 from 115.4 points.
Inflation was 9.5 percent in January and 7.54 percent in December. Housing costs, which account for 27 percent of the index's weighting - rose 16.1 percent, the same as the month before, the data showed. Food costs gained 9.22 percent and beverages and tobacco 14.9 percent, Kuwait Central Bank said on its website.
"It is worthy to note that the Kuwait Interior Ministry has fixed a wage of KD 40 for all domestic workers in the country that hardly followed by local employers. KD 40 is certainly not enough in time of high inflation rates," Monterona added.
Monterona said that government-sending migrant workers such as the Philippines, Sri Lanka, Nepal, Indonesia, Bangaladesh, and India should demand from the host government a fair wage increase for their respective migrant workers especially those working in construction and domestic chores.
"The widening gap between salary of migrant workers and the high cost of living in the Middle East should prompt the Arroyo government to propose and actively lobby to host governments for salary increase of our fellow OFWs to commensurate the high inflate rates in the host country," Monterona added.
On October 29-30, the Arroyo government will be hosting the upcoming Global Forum on Migration and Development (GFMD) where migrant worker' sending and receiving countries will presumably discuss migration utilizing it as a tool for development.
"Migrante, OFWs and families are challenging the Arroyo administration to push and include on its agenda a reasonable migrant workers salary or wage increase during the October 2008 Global Forum on Migration and Development as host of said event it has the advantage to push such concern," Monterona added.
"Failing to do so means the Arroyo administration is hosting the GFMD only to help perpetuate a market for cheap labor as it were currently selling cheap labor of our fellow Filipino migrant workers," Monterona ended.
Benjie's saga in the making
By CHITO DELA TORRE
May 25, 2008
TACLOBAN CITY, Leyte – A 28-year old lanky man from Oras, Eastern Samar is happily making progress in his chosen mercantile trade business even if it means frequenting villages that have been known recently as a hotbed of insurgency. Daily, he leaves his home in San Jose, Tacloban City early in the morning to catch up with the first trip to his target destination for the day, then, on reaching his target locations, he walks from house to house, the heavy back pack of merchandise wrested off his shoulders only at each auguring time for showing to his prospective buyers. His wife and 5-year old child just wait for him at home until his return which often is already past twilight.
Late afternoon last Tuesday, he reached Tacloban almost consuming two-thirds of the contents of the two flat Tanduay bottles (yapad) of pure honey which he got from six farmers in Inuntan, a riverine village of Basey, Samar. No, he didn't buy the sweet, sticky substance. He just bartered his tiendas the total worth of which he estimated to approximate the price of the honey. He saw the farmers gathering near an alat - an extra large native basket with a pair of straps that are swung on one's shoulders and a balancer strap tied to its brim and let hung on the alat carrier's chest for him to pull down to balance or lighten his back load. How his eyes wiggled and his lips moistened on seeing several honeycombs inside the alat, from which one farmer was scooping out honey for a salivating buyer.
He used to buy honey from drugstores in Tacloban or from walk-in traders, but he was sure that was already impure, meaning, mixed with water and sugar. This time, he was sure the honey was pure, fresh from the honeycomb. Some larvae were still in the honeycomb, and a few bees were swirling and buzzing inside the alat. He had to have some of this, not only for its pureness and freshness but also because it was being sold at a price almost half that which he could pay for in Tacloban.
He had refused to sell one bottle when he reached the poblacion of Basey even if his would-be buyer was offering to buy it for P250.
The farmers were delighted to take his exchange offers - a blanket, a foreign-made foldable mat, and a batuta or baton for use by a barangay tanod. (The batuta is actually a smooth cylindrical imitation iron scabbard for a long-handled sharp long knife that comes out when the handle is turned and pulled away from the scabbard. They gave him two yapad full of honey.
On his cutting trips from Inuntan to Basey, and from Basey to Tacloban, he repeatedly unscrewed the yapad cap and poured the honey into his mouth. He would say ahhhh! after each pour, to express his contentment. "Bangin waray ka na maipaagom hit' im' pamilya?" I jokingly remarked to him. He was seated next to me in the bus-long passenger Tacloban-bound jeepney that Tuesday dusk. "May'da pa man ak' usa didi," he laughingly riposted, taking out another yapad of honey from his back pack.
That is frequently the day's turnout of this Estehanon's business. In case no one in a village buys his wares - which includes every little item that one would think every rural man and woman would want to own and therefore buy, he was always ready to barter them with those which the villager can heartily offer in return. Thus, at home, he has a sack of palay, a big plastic container full of milled rice, chickens, rootcrops, 3 backyard pigs, and others. "Mas barato kaupay ini kontra paliton nimo ha Tacloban," he explained his preference for the barter, adding that even if the transport cost were added still the price of the barter item was much lesser.
But of course! He always gains, even if his mark-up price for every item he sells is only between P40 and P200. (Yes, even P250, such as the price pegged for that batuta. I bought one for myself from another merchant at the old bus terminal of Tacloban for only P100 although it was being sold for P350, because the item I got turned out to be a bayonet and not a long knife.)
This merchant, who had been married for 6 years already to a Tacloban lass, started his I-am-my-own-boss business with a small capital: P3,000, from his earnings from selling peanuts and eventually, VCDs, music CDs and videoke CDs at Tacloban's wharf front.
This guy has not been wholly happy though. He and his only sibling whom he left in Dolores, Eastern Samar, were orphaned when they were yet innocent children. His father died. Their mother left them 20 years ago. His younger brother died in 2006 while saving three schoolchildren from being hit by a speeding motorcycle driven by a drunken young man. He was selling peanuts in Tacloban when the accident occurred to his sibling. Severely struck by the late-coming word about that, he found himself unable to move and crying more than one whole night.
Although today he is not alone, as he has a wife and a kid to inspire him each day and as he is contented with his business fortune, still he is praying to God that one day soonest his mother would come to see him.
This lucky merchant from Oras introduced himself to me when we reached Petron gas station at the corner of Congressman Artemio Mate Avenue and Avenida Veteranos at past 6 p.m. as Benjamin Montallana Jr. He told me to just call him "Benjie". When I told him that all the Montallanas that I have come to know between 1968 and 2001 are all lucky and benevolent, he said heard about that and added, smiling, he does feel he is like them because many times each month, he could not refuse those who come to him for any assistance.
I met Benjie for the first time in Mabini (the farthest riverine barrio east northeast of Basey) last May 15. We boarded the same small pumpboat up to Wespal (part of barrio Guirang) and from there chartered a motorcycle for Basey. Last May 20 was our second happenstance. As in the first, he was always nice, and fond of telling his own experiences. What a merchant in him!