DYOG Calbayog celebrates its Silver Jubilee
By GINA SUELLO-SORILO
August 28, 2007
CALBAYOG CITY, Samar – DYOG, Radyo ng Bayan-Calbayog has celebrated its Silver Anniversary focusing on the theme: "Moving Towards Greater Heights."
A three-part program last August 21 was held to mark the anniversary at DYOG premises attended by its employees, other media practitioners and honored guests who congratulated their feat. An avid listener Totoy Baldesco also attended and recited his siday which delighted everyone.
Vice-Mayor Ronald Aquino in his anniversary message recognized Radyo ng Bayan as a continuing partner of the Local Government Unit. "Paglusad namon ni Mayor (Mel Senen Sarmiento) alas 4:00 san kaagahon, aada na an Radyo ng Bayan naghahatag impormasyon…" he said when he recalled their efforts when a typhoon struck Calbayog.
"Kon may bagyo bisan kon signal no. 3, one will surely get information about the weather even when there is power interruption when you tune in to DYOG," a print media reporter said.
The PowerPoint presentation after the thanksgiving mass guided the viewers to DYOG's interesting past which we have to give a closer read, thus:
"Sometime in 1982, then Maharlika Broadcasting System (MBS) under the Ministry of Information established a radio station here in Calbayog City. It was officially given the call sign of DYJR, as in, Jumbo Radio, at 882 khz at the AM broadcast band.
"With a full power of 10,000 watts, it provided wider radio signal coverage than any other radio station operating in the island of Samar, reaching as far as the island-provinces of Masbate, Leyte, parts of Cebu, Bicol, Iloilo, Negros, Agusan and Surigao.
"In July of the same year, DYJR started its test broadcast and was officially opened on August 21.
"In attendance were Minister of Information Gregorio Cendaña, Deputy Prime Minster and Minister of Local Government Jose Roño, MBS Director Rafael Dante Cruz, NMPC RD Wilmar Lucero, City Mayor Ricardo Tan, and other local officials.
"In 1985, there were changes in the staff. Mar Tenedero was transferred to another sister station, Alan Diomangay became the Station Manager, Tony Pueblos moved up as Radio Production Supervisor. By October of the same year, Sherry Maderazo resigned and a field correspondent from Office of Media Affairs RO8, Elena "Eleen" Lim took over.
"By the year 1986, just after the People Power Revolution, major changes occurred. The government shifted from Parliamentary to Presidential, the Ministry of Information became Department of Information and Maharlika Broadcasting System became Philippine Broadcasting Service.
"In 1988 to 1989, the Department of Information became the Office of the Press Secretary, with Tomas "Buddy" Gomez III at its helm. Major changes occurred, affecting the station.
"There was also a re-shuffling of the staff. Some were transferred, some resigned, others were re-assigned, while a new batch came in to fulfill the PBS mission to serve as a credible channel of information, a true public forum, and a persuasive agent of social change and development."
As they fulfill their mission, the Philippine Broadcasting Service shall also work for their vision to be the leading public network committed and responsive to its national and international audiences.
"Manned by service-driven and competent personnel and equipped with state-of-the-art facilities and technology, PBS shall champion what is relevant in any specific area of service for the benefit of the greatest number of people and the development of the nation…" the presentation further said.
DYOG currently have 18 personnel holding positions in administrative, technical and production divisions.
Want to share information the people ought to know? Their popular program "Talakayan Pulso san Bungto" always invite listeners to call their landline numbers (055) 2091223, (055) 2091593 or (055) 2091597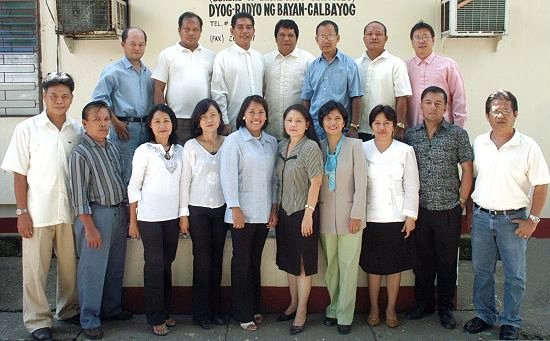 DYOG Radyo ng Bayan - Calbayog Staff. Front row L-R: Decoroso Beso (Tech. Division), Narciso Tocayon (Admin. Division), Elena Lim (Production Div.), Ramonita Perito (Tech. Div.), Jennifer Sumagang-Allegado (Prod.Div.), Cecilia Tibo (Prod. Div), Carina Comilan-Caranzo (Prod. Div.), Marly Laure-Tangpos (Prod. Div.), Roberto Ygrubay (Tech. Div.), Ricky Tangpos (Tech. Div.) Second Row L-R: Genaro Navilon (Prod. Div.), Luis Jalalon (Tech. Div), Antonio C. Pueblos (Station Manager), Cecilio de Leon (Prod. Div.), Jesus Daguman (Tech. Div.), Raul Ramada (Tech. Div.) and Ambrosio Beso Jr. (Supervisor, Prod. Div.) Not in photo is Rodel Bingayen (Supervisor, Tech. Div.)
Regional Fisheries Training Center - showcasing polyculture
By NINFA B. QUIRANTE (PIA Samar)
August 27, 2007
CATBALOGAN CITY, Samar – The Regional Fisheries Training Center at the Bureau of Fisheries and Aquatic Resources (BFAR) housed at the Samar State University (SSU) - College of Fisheries Campus in Barangay Mercedes, Catbalogan City maintains a polyculture pond teeming with bangus, tilapia and mudcrabs.
Norberto Berida, Center Director with Clutilde Amparado showed PIA the Brackish WaterAquaCulture Development Project inside the SSU Campus.
Polyculture, said the fishery experts could be equated with multi-cropping that is done in farm agriculture.
Crisscrossed by bamboo bridges, the farm shored up in a 3,000 square meter pond is home to some 2,500 pieces of mudcrabs (Scylla serrata), 5,000 bangus (Chanos chanos) and 3,000 tilapia (saline).
The bamboo bridges facilitate feeding and harvesting.
For fishponds to flourish, every care is done to ensure that they have some 94% survival rate as their case, said Berida. They last harvested in April 2007.
Based from the BFAR website, it talks of polyculture as a way to intensify fish culture without an input of expensive feed. In this way the natural food produced in the culture environment is utilized to a greater extent through compatible or complementary feeding habits of fish which do not compete with each other.
Yields obtained by polyculture are usually much higher than those obtained by monoculture, especially if the right species have been chosen, it further explained.
Mudcrabs
Mudcrabs, said these experts, have to move freely and establish their own homes so that a certain density has to be observed. Each crab should have some 1.5 meters to consider its home for 'wars' to be avoided. Like human beings, crabs too should have their 'home sweet home' with no intruders please.
A monthly sampling for weight check like human infants, have to be done. Not only weight, body length and even the average weight and length have to be recorded for analysis. As crablets, they weighed an average of 18 grams then, in the latest weighing sample done in July yet they have grown some 6,685 grams.
This is maybe the reason why fishpond owners do not like to follow the scientific way said Teddy (Clutilde). The maintenance is too tedious. There is a computation of area, feeds and monthly monitoring of growth such that most pond owners ignore – result- they close shop because they lose.
"BFAR always emphasize scientific method," said Berida. BFAR insists they have the expertise and only waits for those who would tap them.
Bangus
As to the bangus, Berida said they have harvested most of them and have just retained a thousand waiting for a deboning training for the womenfolk in the area.
"The training center should not only serve as a demonstration farm; it should also have an impact on the community," said Berida.
Deboning bangus could very well come handy to fish processors in this thriving fishery city in Samar.
While Samar boasts then of a very rich Maqueda Bay fishing area, studies show that the tonnage of fish caught has greatly diminished through the years.
Limelight then would be shifted to cultured fish like bangus.
With this, women who are jobless could be assisted. Consumers today are so busy they would rather purchase processed goods for convenience.
Deboned and marinated bangus could be very handy.
Tilapia
As for tilapia, as it does not possess many bones like bangus, it just completes the fish species in the pond.
As gleaned from the BFAR literature on polyculture, other benefits gained by polyculture is quite often the ecological conditions in a pond are improved. It has been found that Tilapia aurea in a polyculture system improves the oxygen balance by feeding on the detritus which would otherwise decompose and take up oxygen.
If one were interested in managing a fishpond through polyculture, Ronnie Berida and Teddy Amparado are just as accommodating. They just wish that interested parties follow the scientific method so that the expected end results will be achieved as what they gain from their BW Aquaculture Development Project at the SSU- Mercedes Campus down there in Catbalogan City.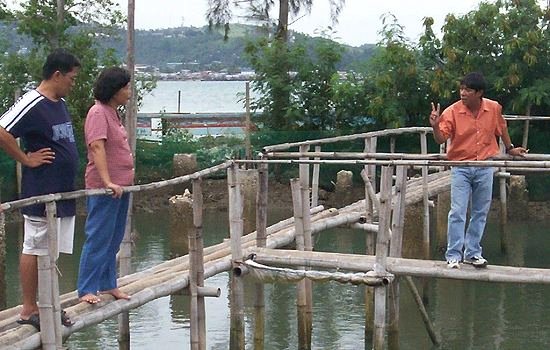 BFAR Regional Training Center Director Ronnie Berida and another fishery expert Teddy Amparado explain to PIA reporter NB Quirante "polyculture" right where they practice it. (Photo courtesy of Samar Monitor)
The lowly Malunggay takes center stage
By Philippine Information Agency (PIA 8)
August 19, 2007
TACLOBAN CITY, Leyte – Very soon, gone are the days when the lowly malunggay is not appreciated by many Filipinos who consider it as only a poor man's food and is remembered only as an important ingredient for soup to be given to mothers who has just given birth to their baby.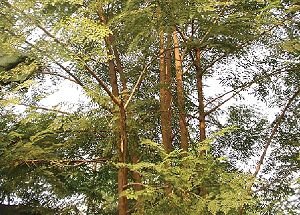 Malunggay as it is called in the Philippines, "Sajina" in the Indian Subcontinent, and "Moringa" in English, is now being eyed by the Department of Agriculture to take the center stage in the reduction of malnutrition and poverty in the country, and more so, it is now being eyed as a potential export product as a natural ingredient for cosmetics and pharmaceutical applications.
Many Asians use the leaves of malunggay like spinach and also the fruit it produces as a vegetable, like asparagus. Both the leaves and the fruits are very nutritious, which contain many vitamins like Vitamin C and other minerals. For centuries, people in India, Philippines, Malaysia, and Thailand have been eating these leaves as a part of their food.
Now, those who laugh when Grandma forces breastfeeding Mama to drink soup with malunggay leaves or when Mama insists on the children to eat malunggay, will have second thoughts.
Malunggay is a wonderful herb known all over the world, but only recently in the U.S. It may provide the boost in energy, nutrition and health.
What a remarkable discovery that can make a tremendous difference in the Filipino people's health and quality of life. Mounting scientific evidence shows what has been known for thousands of years by people in the tropical parts of the world: Malunggay is nature's medicine cabinet.
Malunggay is best known as an excellent source of nutrition and a natural energy booster. Loaded with nutrients, vitamins and amino acids, it replenishes the body and provides what one needs to get through a hectic weekday or active weekend. No wonder Grandma insists on breastfeeding Mama to take malunggay.
Malunggay is loaded with nutrients. Each ounce of Moringa contains seven times the Vitamin C found in oranges, four times the Vitamin A of carrots, three times the iron of spinach, four times as much calcium from milk and three times the potassium of bananas.
What a cheap way of solving malnutrition in the country! Sometimes, people think that solutions to their problems are expensive and hard to find. But more often than not, real solutions to basic problems are abundant, cheap and even free. Health problems are especially solved with natural inexpensive gifts from nature.
Gone are the days when one finds himself slowing down as the candles multiply on top of his birthday cake, because malunggay gives back some of the energy lost. In fact, Moringa is also relaxing...it helps to reduce blood pressure and assure a good night's sleep.
University laboratories around the world have studied Moringa's ability to purify water...attaching itself to harmful material and bacteria, and allowing them to be expelled as waste.
Other health benefits identified by people who use Moringa continue this same pattern: immune system strengthened, skin condition restored, blood pressure controlled, headaches and migraines handled, diabetes sugar level managed, inflammations and arthritis pains reduced, tumors restricted and ulcers healed.
Scientifically speaking, Moringa sounds like magic. It can rebuild weak bones, enrich anemic blood and enable a malnourished mother to nurse her starving baby.
A dash of Moringa can make dirty water drinkable. Doctors use it to treat diabetes in West Africa and high blood pressure in India. Not only can it staunch a skin infection, but Moringa also makes an excellent fuel and fertilizer.
Mark Fritz of the Los Angeles Times wrote, malunggay has triple the iron of spinach and more impressive attributes than olive oil. Both Moringa and the common carrot are diamonds in the roughage department, but Moringa has quadruple the beta carotene, which is good for the eyes and effective against cancer. Fritz also reports on the positive results of using Moringa as a substitute for expensive whole milk powder in nutrition projects.
Indeed, malunggay is a wonderful blessing for Filipinos because it is easily available everywhere in the country. This is a positive development in the government's campaign to reduce malnutrition and increase the income of farmers who would cultivate the hardy tree and supply local and foreign corporations with natural ingredients for cosmetics and pharmaceutical applications.
The Malunggay Nutritional Fact (gram-for-gram comparison of nutritional information)
USAID Social Marketing Specialist lauds "Salog" and "Inodoro" productions
By GINA SUELLO-SORILO
August 1, 2007
CALBAYOG CITY, Samar – The digifilm entitled Salog and a theater performance entitled Inodoro both part of the advocacy program of the Local Initiatives for Affordable Wastewater treatment (LINAW) project were recently lauded by the Social Marketing Specialist of the United States Agency for International Development (USAID).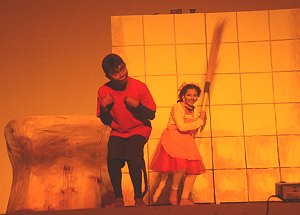 A scene from the stage play Inodoro.
Social Marketing Information and Education Specialist Robert C. Bastillo who was present in the LINAW launching said that of all the six pilot cities of LINAW in the country, Calbayog is the only city to have produced a digifilm and a play aside from its nice billboards and a powerful radio plug.
"It's a very powerful film and the theater production is very artistic, very engaging and provocative," he said.
Jonas Lim, who made the script and direction said that in Salog, a 25-minute digifilm he shows the effect of polluted river to our health while in Inodoro which lasts for 1 hour and 10 minutes, he compared our life with that of a toilet bowl which looks good but is full of bacteria inside.
"Calbayog is chosen to present at the International Summit of LINAW this August and the film will be toured in Asia," Lim said.
Aimed at promoting awareness and concern towards our environment particularly on the issue of wastewater management, LINAW Technical Working Group launched a series of presentations at the Nijaga Park and in different schools which kicked off July 16 and ended last Friday. It will also be shown in different barangays.
Employees and students interviewed after the show appreciated the film and said that it is the best medium to make the public aware of how important it is to protect our rivers. They also learned that there are 12 people who die everyday of water-borne diseases in the Philippines as presented in the play.
The film also showed the ideal design of a septic tank having 3 chambers with a concrete flooring and the call for a 3-5 years regular dislodging.
Calbayog is one of the 6 pilot cities in the country under the LINAW project supported by the USAID. Other project sites are the cities of Dumaguete, Iloilo, Muntinlupa, Naga and Malaybalay. These cities are engaged in identifying and developing solutions to wastewater pollution.
Mayor Mel Senen Sarmiento told local media that the city will come up with a decentralized wastewater treatment system. "Tama na seguro an basketball court, waiting shed, ini yana an angay tutukan…" he stressed.
According to Bastillo, a self-initiative is needed to reduce wastewater pollution caused by an estimated 35 thousand household of the city.
He added that wastewater problem is rampant throughout the country and in Asia, the Philippines have the lowest coverage of the sewerage system.
"Only 7 per cent of the entire country is covered by a sewerage system na ang ibig sabihin, ang dumi galing sa kubeta ay hindi tumutuloy sa isang sistema ng pipes that go to a treatment plant. Our wastewater flows into the rivers," Bastillo explained.
The city's LINAW Technical Working Group head Engr. Oscar Hugo revealed that based on the findings of the consultants, the Biological Oxygen Demand (BOD) content of our rivers are high. The tolerable content is 50 while the city got 90 to 120. BOD is used to determine the quality of a water source.
The proposed facilities for the city are the Wastewater Treatment Plant beside the wet market; a Water Lagoon Wastewater Treatment System at the Tomalon Estate in Brgy. Gadgaran which is also the target location of the new slaughterhouse and the Communal Wastewater Treatment at Brgy. Caballero.
As of now, the city has an operational Cocopit Biofilter facility processing wastewater at the SOS Children's Village and is awaiting for a Septage Management Ordinance.
RP synchronized swimming team win medals in Thailand
By Philippine Information Agency (PIA 8)
July 23, 2007
TACLOBAN CITY, Leyte – The first ever synchronized swimming team of the Philippines won for the country several medals in the Thailand Synchro Open and Age Competitions which was held on July 14 -17, 2007.
In an interview, head of the delegation Dr. Elizabeth D. Mascardo, informed the Philippine Information Agency that in the above 18 years old category, Ida Noelle DG Calumpang won for the country silver medal for open solo free technical while Mae Listones won the bronze medal in the open solo free technical.
Furthermore, the free duet of Emrin Haya Hamsain and Corinna Denise Rosete won for the country, the bronze medal.
Dr. Mascardo said that this is already a good performance considering that this is the first time the country has had a synchronized swimming team compete abroad. She added that the managers acknowledge the fact that there is much to be in order to improve the country's synchronized swimming team's performance.
Dr. Mascardo led the synchronized swimming team which left for Thailand on July 12 in order to be the first ever such team of the country to compete internationally. Together with her, were assistant head of delegation Maxima M. Hamsain and Gretchen Catherin M. Hamsain, coach Reina Rose E. Suarez and the fourteen members of the synchronized swimming team.
The members of the Team have gained not only medals but the needed self-confidence and the experience which is much-needed if the country is to seriously consider sending synchronized swimming teams in international competitions, Dr. Mascardo said.
Synchronized swimming is a hybrid of swimming, gymnastics and dance. It involves competitors' (either individuals, duets, trios or teams) combining strength, endurance, flexibility, grace and artistry with exceptional breath control while upside down underwater. Developed in the early 1900s in Canada, it is a sport performed almost exclusively by women.
Unusual, but vital, equipment helps the women maintain the illusion of effortlessness, no simple task considering they perform strenuous movements upside down and underwater while holding their breath. A nose clip prevents water from entering the nose, allowing the swimmers to remain underwater for long periods. Gelatine keeps the hair in place. Make-up brings out the features.
Most importantly, an underwater speaker lets the swimmers hear the music clearly while underwater, helping them achieve the split-second timing critical to synchronised swimming.
Originally known as water ballet, synchronized swimming began in Canada in the 1920s. It spread to the United States in the early '30s, where a display at the 1934 Chicago World's Fair drew rave reviews. Its popularity soared further when Esther Williams performed in a string of MGM "aqua musicals" in the 1940s and '50s.
Synchronized swimming emerged as an exhibition sport at the Olympic Games from 1948 to 1968, then debuted as a full medal sport in Los Angeles in 1984. It is open only to women, with medals offered in two events: duet and team.
Competition for both events consists of a technical routine and a free routine, each performed to music within a time limit. In the technical routine, swimmers perform specific moves in a set order, including boosts, rockets, thrusts and twirls. In the free routine there are no restrictions on music or choreography. Judges of each routine look for a high degree of difficulty and risk, flawless execution, innovative choreography and seemingly effortless performance.
The judging for synchronized swimming resembles the judging for figure skating. Two panels of five judges assess a performance, one panel scoring technical merit and the other assessing artistic impression. In both cases, each judge awards a mark out of a possible 10.