Leyte NGO brings life back to disaster-stricken communities through empowerment
By RANDY ANTONI
November 26, 2006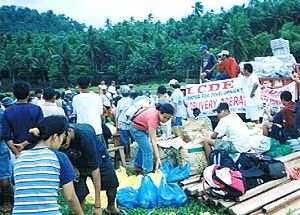 LCDE brought assistance to the victims of armed conflict in Palapag Nov. 17, 2005.
PALO, Leyte – There is no doubt about it: Eastern Visayas is one of the regions in the country most prone to disasters. This year alone, three major natural disasters struck the region: the massive landslide in Guinsaugon that killed an estimated 1,113 people and typhoons "Caloy" and "Milenyo" that affected 4,133 families. Equally devastating but less publicized were the man-made disasters – land dispute and armed conflict – that caused six massive evacuations of around 906 families from February to November this year.
Among the communities in Eastern Visayas, it is the farmers who are indubitably the most vulnerable to disasters. Poverty impedes their ability to cope with and recover from their adverse impact. According to an independent research think-tank IBON, the daily wage of farmers in the region is only P126.14, which is far below the daily income of P497.30 that a family of six living in agriculture-dependent rural areas needs to live decently. Furthermore, compounding their vulnerability is the lack of food security and poor access to government social services such as health care and economic support.
Despite the grim situation, life continues to spring in peasant communities as structures of empowerment, aimed at decreasing their vulnerability to disasters, are being set up by development-oriented organizations. Among these is the local disaster response agency – the Leyte Center for Development, Inc. (LCDE).
Reactive disaster response
The LCDE is a non-government organization assisting both natural and man-made disaster-stricken communities in Eastern Visayas. Established in 1986, the LCDE is hardly recognized in the region but it is incontestably one of the most active partners of the Department of Social Welfare and Development (DSWD) and the Regional Disaster Coordinating Committee (RDCC) in disaster response work. The agency presently holds office in Palo in Leyte.
What sets LCDE apart from other disaster response centers is that it does not follow the present disaster response system in the country which is reactive, according to Jazmin Jerusalem, LCDE Executive Director.
"The Philippines has the reputation of being the fourth most disaster-prone in the world, yet, our country's disaster response system has remained relief-centered or more focused on emergency response. The disaster victims are treated as passive recipients of relief aid and are not encouraged to get involved in disaster management," Jerusalem said. She pointed out that this kind of disaster response only addresses the immediate needs of the victims but not their vulnerability which is important to reduce the impact of disasters.
Jerusalem added that they have long been using an alternative approach to disaster management which seeks to decrease the level of people's disaster vulnerability – the community-based disaster management (CBDM).
Grassroots empowerment
The CBDM is an approach that involves building and strengthening the people's economic and organizational capacity to prepare against, cope with and recover immediately from disasters, according to Jerusalem.
"Building and strengthening this capacity entails not only having a set of programs that covers all aspects of disaster response work, including relief assistance, disaster preparedness and mitigation, and rehabilitation. It also entails the involvement and participation of the affected communities themselves," she emphasized. She added, "This means that it is the community and not the disaster response agency who should take the lead in disaster management."
Jerusalem said that this can be done through the formation of disaster response committees or organizations in the affected communities "whose members have a certain level of awareness on disaster and are well-trained on disaster management."
"Promoting people's participation, which is absent in the prevailing disaster response system, is one way of empowering them," she pointed out.
LCDE has helped increase the economic capacities of its beneficiaries through its rehabilitation projects which include cooperative formation, installation of water pumps, seed dispersal, provision of housing materials, farm animals and implements, and financial assistance. It has also implemented disaster mitigation projects such as the propagation of disaster-resistant crops, organic farming, diversification of crops according to different planting season and others.
A good case showing how the agency's rehabilitation program helps its beneficiaries uplift their condition was the setting up of a cooperative store in a peasant community in Baybay, Leyte. The cooperative store, which is being managed by the LCDE-formed organization, has not only supplied the community with cheaper basic goods since it started operation; it also succeeded in breaking the economic power of the usurers in the community.
Meanwhile, LCDE has already formed 73 full-blown disaster response machineries in its recipient communities. It has also conducted more than 400 trainings on disaster preparedness and management, counter-disaster planning, organizing or disaster response group formation, advocacy and campaign, resource generation, and many others.
LCDE believes that economic realities account for people's vulnerability to disasters. Thus, poverty serves as its guide in the selection of areas for its programs. Its primary beneficiaries are remote peasant communities with highest poverty incidence and where government services are nil.
Free health care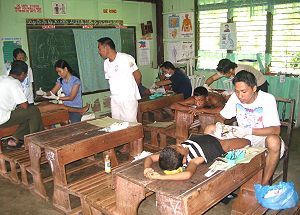 LCDE conducted a medical mission in Basey, Samar May29 - June1, 2006.
Aside from disaster management, another important program of the LCDE is the community-based health program (CBHP), which was formally launched in 2003.
The pitiful state of health in peasant communities brought about by poverty, progressive reduction of government financial support and the continuing "brain drain" or bleeding of Filipino health and medical practitioners to other countries due to poor work conditions is what impelled the agency to include CBHP as one of its programs.
"The poor state of health of our farmers is another factor that compounds their vulnerability to disasters. Through our free health care services offered under the CBHP, we can improve their health and eventually reduce their vulnerability," said Dr. Elvie Prejula, member of LCDE Board of Directors.
The agency also uses the community-based approach in the implementation of its health program. It does not merely deliver free health care services but also encourage people's participation and train them to be capable of taking care of their own health needs.
"We launch health skills trainings to develop community health workers and form health committees that would ensure the sustainability of the program even after the agency pulls out from the communities," Dr. Prejula pointed out.
Since the launching of the health program, LCDE has already produced 63 new community health workers in the far-flung farming communities of Calbiga and Abuyog. They underwent rigid trainings to equip them with skills and knowledge on herbal medicine preparation, ventusa (Chinese form of healing), acupuncture, home remedies of common ailments, health care, nutrition, health campaign management, and environmental sanitation and hygiene. The agency has also launched five medical missions that benefited about 4,500 people from 37 peasant communities in five municipalities. The medical missions provided free surgical operation, circumcision, dental and medical services as well as medicines to the recipient communities.
Aside from using the community-based approach in program implementation, LCDE also advocates the use of indigenous and traditional form of healing that is equally effective but less expensive such as the use of herbal medicines in lieu of the commercial, western medicines.
"Our peasant beneficiaries cannot afford to buy medicines produced by pharmaceutical companies because of their exorbitant prices. Introducing alternative forms of healing is our way of helping them ease their dependence on these medicines," Dr. Prejula said. Quoting data from the July 2 issue of the Philippine Daily Inquirer, she said that as of now, the country ranks second to Japan in having the highest medicine prices in Asia and that medicines in the country are 18 times more expensive than those sold in India or Canada.
Government responsibility
Jerusalem admitted that in terms of addressing disaster vulnerability, what the LCDE has contributed is only minuscule.
"We have only helped reduce the vulnerability of our beneficiaries to disasters through capacity-building but not eradicated one major cause of their vulnerability, which is poverty," she said.
Jerusalem added, "Poverty alleviation is primarily a government responsibility. If the government wants to address the vulnerability of the people to disasters, it should take a bold reform in its economic development policies and public governance."
Children involved in armed conflict are well taken cared of
By Philippine Information Agency (PIA 8)
October 23, 2006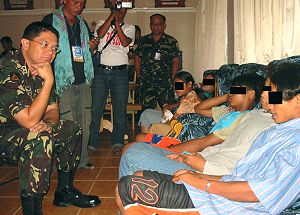 MajGen. Rodrigo Maclang, commanding general of the 8th Infantry Division, listens carefully to the story of the 5 NPA child warriors rescued just recently.
TACLOBAN CITY, Leyte – Children recruited by the New People's Army to become combatants, who either surrendered or captured by the military in Region 8 are well taken cared of. This is the assurance given by DSWD Director Letecia Corillo during the Panindugan TV program of PIA, recently.
Levi Malabanan, an NPA member, was 14 years old when rescued by the military on December 6, 2000. For more than three years, Levi stayed under the custody of the military chaplain but with regular and close monitoring of the Social Welfare Office in Samar.
On May 15, 2004, Levi, after undergoing psycho-social, medical and dental, legal, financial and spiritual services, was discharged to be under the care of an elder brother in Sta. Margarita, Samar. Levi will soon graduate in the elementary level of education in March of 2007. Levi has been declared by DSWD as fully reintegrated to the family and community.
Still at the Home for Girls is Evelyn Opo, 16 years of age who surrendered to the military on March 10, 2006. Evelyn finished her second year high school education and became an NPA member. She stayed under the custody of the military for 18 days until she was turned over to the DSWD on March 28, 2006.
Evelyn has been provided psycho-social, legal, medical/dental, spiritual enhancement and renewal, educational livelihood assistance, financial assistance, home-life services, exposure to purposive activities and value inculcation sessions.
Evelyn is prepared for eventual return to capable relatives. However, the DSWD and SWO are still in the process of assessment and exploration of capable and willing relatives to accommodate the minor. Evelyn has gained occupational skills which she can readily use upon discharge from the center. She has also acquired positive values and attitude and has improved in terms of social adequacy. She has improves physically and can now relate well with the staff and co-wards.
Jerwin Llena was eleven years old when he was rescued by the military on March 13, 2005. An NPA recruit, he finished only grade IV. He stayed with the military for only four days before he was discharged to his aunt on March 17, 2005. The DSWD has provided psycho-social, educational assistance, financial assistance and medical assistance. He is still under the care and custody of his paternal aunt and continues to go to school. He was turned over to CSWD for support services.
Another NPA child combatant is Shirley Caliwan who was only 14 years old when she was rescued by the military on March 13, 2005. She was held under the custody of the military for four days before she was turned over to her biological mother's custody on March 17, 2005. Shirley is now doing well as a second year high school student. She has been referred to CSWD and World Vision for support services.
Arnold Daculan, an NPA recruit, was 17 years old when he was captured by the military on August 27, 2004. He was immediately turned over to Calbayog and subsequently to the DSWD. He is still with the RRCY where he received various DSWD services. He is ready for return with identified relatives who have been assessed capable and willing to take him under their custody. He is ready for discharge from RRCY by the last quarter of 2006.
Nestor Caliwan is one of the youngest recruit of the NPA who was captured by the military on March 13, 2005. He stayed with the military for four days before he was returned to his biological mother. He is now in Grade V. He, together with his sister Shirley have been referred to CSWDO and World Vision for support services.
Hipolito Abolo Jr. was 16 years old when he surrendered to the military in December 2004. He finished only the third grade in elementary education. He remains with his biological family and has been provided with psycho-social and financial assistance by DSWD.
The government under the Arroyo Administration will continue to defend the rights of children. Moreover, the President calls on the people to help restore peace for the development of Samar and Region 8.
Electric Cooperatives can learn a lot from the Leyeco II experience
By Philippine Information Agency (PIA 8)
October 6, 2006
TACLOBAN CITY, Leyte – Electric Cooperatives can learn a lot from the Leyte II Electric Cooperative (LEYECO II) experience – from being one of the worst electric cooperatives in 1994 to being number one today.
Incorporated and registered with the National Electrification Administration on October 26, 1975, LEYECO II made a dramatic turnaround, from a beleaguered to a top notch electric cooperative (EC), starting with its localization on July 18, 1994, Atty. Jerry Gwen Conde, the general manager of LEYECO II reminisced.
In nearly twenty years of existence, the electric cooperative's performance was neither here nor there despite the numerous built-in viability factors and potentials for growth that it possesses like compact size of area coverage; generally flat and hospitable terrain with the necessary distribution system already in place; with only two municipalities and one city to serve; substantial number of residential, commercial and industrial users; and proximity to an abundant natural source of power.
In 1994, LEYECO II had 31.21 % systems loss; two unions always at odds with each other, resulting to inefficiency of service; accumulated net loss of nearly P25 M; 12 quarters arrears in payment of NEA loan amortization and with categorization of D.
In 1994, with the Localization Program of NEA the first local general manager in the person of Mrs. Juliet Pretencio was installed. The first problem that was tackled was how to handle the labor problem and the inefficiency of the staff.
The conduct of employees' meetings was implemented in order to acquaint them of the goals that need to be accomplished. The employees' receptiveness and positive response were considered as the most critical at that point because without which nothing could ever be achieved.
LEYECO II management saw the importance of establishing sound human resources development program through a regular weekly meeting of the staff and divisions to present the respective workplans and to review accomplishments. Aside from that, monthly employees and coop officers dialogue were conducted.
The Cooperative also went into the program of professionalizing the services of coop employees by upgrading their technical skills through trainings and re-aligning work functions vis-à-vis their talents and fields of specialization; inculcation of the values of honesty, hard work, and discipline; team-building and value formation seminars.
To instill discipline among the ranks, Atty. Conde said that the management strictly imposed the attendance during the Monday morning flag ceremony, the wearing of the proper office uniforms and strictly prohibited smoking in restricted areas. Regular masses were offered every first Wednesday and Friday of the month and the conduct of birthday bashes, annual sportsfest, the LEYECO II Chorale, etc. was institutionalized to provide venues for employee interaction, thus helping to build stronger teams and foster closer ties between them.
To keep the member consumers and the staff abreast with what is going on in the cooperative, the publication of the HR Insider. Also, in order to be able to serve the customers better, LEYECO II paved way for the installation of 24-hour customers' service counter and the key field personnel and crew were equipped with handheld radios so that they can be reached anytime their services are needed.
The LEYECO II management also enhanced the existing information vehicles to effectively reach a larger number of concessionaires. This was done through weekly pre membership and orientation seminars, barangay consultative meetings, public address system, press conferences in coordination with the local PIA and the tri-media, a bi-monthly radio program, publication of the quarterly newsletter Kalamragan.
The Customer Service Standards was raised using information tools to get customer feedback: Survey/questionnaire; Suggestion box; SMS or text messaging; Quarterly District Electrification Committee meetings; and Annual General Membership Assembly.
Financial Development was achieved through enhancement of collection efficiency; undertaking continuous analysis of historical consumption of delinquent consumers; setting up of workable, effective but less costly collection programs like Special Banking Arrangement (SBA) and the setting up of Collection centers in Babatngon & Palo.
Technical Development and Information Technology upgrading were also implemented which resulted to the reduction of non-power cost; line installation projects to serve sitios in keeping with the expansion program, line rehabilitation and upgrading.
Since 1995, receiving an award has become a habit for LEYECO II: Most Improved EC in the Philippines in 1995; Exemplary Payor Award from1996-2002; Special Citation for 100% Bgy. Energization; Top Performing EC Award from 1977-1999, 2001; Leadership Award for EC General Managers; 2000, 2002, 2003 Outstanding EC in the Philippines Award; 2005 Special Award for Category A+ ECs for commendable operational performance given in Cagayan de Oro City last May 10, 2006.
Today, the LEYECO II is with the second local GM with the battle cry of Maximum Efficiency in an environment of absolute honesty and total solidarity.
WOWOWEE storms Vegas
By JOHNNY M. PECAYO / PNS
September 14, 2006
LAS VEGAS, NV – The UNLV Thomas & Mack Center, known to people the world over as the venue of the historic rematch January 21, 2006, between pugilists Manny "Pacman" Pacquiao and Erik Morales, is the same venue used by ABS-CBN September 3, when WOWOWEE stormed Las Vegas with a big bang, preceded the day before by a press conference, covered by the MANILA-U.S. TIMES and the Asian Journal.
As announced, doors were supposed to open at 4 P.M. on September 3, but Filipino Americans started to arrive as early as 1:30 P.M. for the 7 P.M. show, and by 3:30 P.M., no one would find an empty parking space near or around the huge coliseum.
By 6 p.m., Thomas & Mack Center's 18,000-seat arena was almost filled to capacity, a first time in the history that the huge place was filled by Filipinos alone. It was also filled to capacity last January 21, but with people of various nationalities, with varied ethnic backgrounds.
By 7 P.M., WOWOWEE's fans were anxious to see WOWOWEE's most popular TV host, Willie Revillame, along with cohosts Janelle Jamer and Mariel Rodriguez, and it did not happen. But did it dampen their enthusiasm? No. It heightened their excitement. It gave some people the opportunity to leave their seats to buy their favorite sodas and sandwiches upstairs, about 150 feet away from the ringside, where we were seated, just infront of Janelle and Mariel and the dancers in skimpy attire.
At exactly 8 P.M., the lights went out, but not the cellphones, that looked like little stars in the sky, moving from left to right as the holders swayed their hands in unison.
Dramatic Appearance of Willie
Ten meters away from where we were seated, a riser began to move up, complete with gift wrappers for a suspenseful, yet dramatic appearance of No. 1 Filipino TV host in the world, Willie Revillame. And the sound of music to the tune of WOWOWEE reverberated throughout the huge hall with deafening ooohs and aaahs, coupled with thunderous applause from a huge crowd, as Willie tried to untangle himself from the gift wrappers to step out of the riser, running literally straight onto the stage. And the people roared with the clapping of their hands and the stomping of their feet as the show officially begun.
A few seconds after the applause died down, Willie was seen onstage weeping, and his voice trembling as he could hardly contain the happiness inside of him, seeing so many kababayans surrounding the centerstage, with all eyes focused on him. A professional entertainer, with a very pleasant personality, Willie regained his composure in no time, and the show went on fluidly from then on.
But, wait, it did not happen as simple as that. There were many people behind WOWOWEE's show. Before the show began, the lightings, seating arrangements, and sound systems, were installed, checked and re-checked by technical people and sound engineers. Even Sid Protasio, one of the producers, was seen doing the checking.
Other than Willie, there was another guy most visible onstage, Owen Ercia, also known as "Jimmy Santol," the floor director. With youthful looks and a huge body, wearing colorful shirts dominated by yellow, with highlighted hair, Owen has his own bunch of followers already established, even in the regular WOWOWEE shows at ABS-CBN in Manila. And his role in Las Vegas was really felt by the audience.
The man and woman behind the scene were Johnny Manahan, Program director; and Cynthia Jordan, Production manager.
Seen occupying the front row, on the ring side, were ABS-CBN bigwigs -- Charo Santos, Executive Vice President; and Raffy Lopez, President of ABS-CBN Global, and Chairman of the Board, ABS-CBN Foundation U.S.A. -- along with Immigration lawyer Michael Gurfinkel and Millie Santa Ana of the Gurfinkel Law Offices, one of the major sponsors of the show, and Mr. Lim (I forgot his first name) of Asiatic Properties, donor of the house and lot.
The dance exhibition performed by Janelle Jamer, Mariel Rodriguez, Luningning, Milagring, donning colorful attire, and the local dancers, done ala 'Broadway' style, added a touch of class and a breather to the audience, especially when they criss-crossed their hands around their waists and behind them and continued dancing, kicking up their left and right legs alternately, with precision, drawing raves and big rounds of applause from the highly-charged audience.
The WOWOWEE show in Vegas was identical to WOWOWEE show in Manila, save in cash prizes -- $200 for each winner in the "Bigat 10" and $6,000 and a Sinski or Rich-O tricycle for the overall winner in the "Pasalog."
One of the participants in Las Vegas, a maid, has an emotional story to share. She had been out of the Philippines for 22 years. "When I left Manila, I had five children. Now only three are left. Two of them died without me seeing them. I wanted to go home, but I could not. At this juncture, Willie intervened and said, "there is a person in the audience who can help you with your problem." But the lady, on the verge of crying, quickly added she already got married, and tried to locate her husband seated at the topmost seat who was hardly visible from the stage.
Then Willie led the lady closer to a TV screen where a pre-recorded interview, showing her daughters, had a special message for her. The daughters have messages of encouragement -- for her to take care of herself, and to win in the WOWOWEE. When Willie and the lady participant went back closer to the mike for the resumption of the contest, it was interrupted for a long while, as a beautiful lady went up onstage and donated $100, courtesy of her American husband immigration lawyer, and hundreds of people followed suit, increasing the "donations" to a bagful. More and more people were seen coming down from their elevated seats to give cash, but they were not allowed anymore. Owen was seen signalling the security people to block them from coming up onstage. But it was the outpouring of support that was seen and felt by Willie and the lady participant, and the thousands of guests were amazed at how Filipinos help a fellow Filipino in distress. The scene was truly hair-raising and amazing.
Grand Prize Winner
Brenda, a divorcee originally from Masinloc, Zambales, who wanted to donate $5,000 for the construction of a church in her hometown, was the grand prize winner in the "Pera o Bayong" contest. After almost instantly being eliminated in the final rounds against the bemoustached police officer of the Department of Defense (DOD), based in San Francisco, California, who chose the correct answer on the "Green" side, she was given a chance by Willie Revillame when he offered $1,000 who would transfer (lipat) to "Yellow" from "Green" (the correct answer: 'Planet Biyo'), which the police officer grabbed instantly. Then Willie offered $500 for another transfer -- this time from "Red" to "Green" -- and Brenda moved from Red to Green, making her the grand prize winner.
Ordinarily, only one choice is given to a contestant who reached this stage of the program. For the first time, WOWOWEE put the contents of two "bayongs" (bags or baskets) up for grabs, and Willie, with the usual assistance from Janelle and Mariel, started to offer Brenda $1,000, and then upped the offer finally to $10,000, giving Brenda the choice. She chose 'bayong' and won One Million Pesos on the first bag. The second bag contained a house and lot picture, and won the house and lot, making Brenda the grand prize winner of P1M and a house and lot, for the first time in WOWOWEE's program history. She could not control her emotions, and she started to jump up and down, then started to cry. But the ever alert Willie, asked Brenda: "What can you say?" and Brenda responded instantly: "I would like to thank the Lord, ABS-CBN, the staff of WOWOWEE and, of course, Kuya Willie," and before she could finish her brief speech, she was instantly joined by her son, and later on swarmed by her relatives onstage.
Commendation
An intermission of the show was spent in the presentation by Art Commissioner Ben Torres from the Office of the Las Vegas City Mayor of two commendations -- one from Governor Kenny Green of the State of Nevada -- for Humanity -- and the other one, a Proclamation, from Las Vegas City Mayor Oscar B. Goodman, declaring September 3 as Willie Revillame Day in Las Vegas, Nevada.
Lito Camo, singer, composer, guitarist, and ABS-CBN's mainstay, was officially introduced by Willie. Together, Willie and Lito rendered a Christmas carol, and the generous audience instantaneously approached them onstage and gave them cash. Pinoy-Pinay Restaurant donated $3,000 to WOWOWEE in a sealed envelope. They only stopped giving when Willie said: "Sabi ko na ba't huwag nating kantahin ang kantang 'to, baka akalain nilang namamasko tayo sa kanila." And Willie thanked those generous donors.
Known for changing attire twice or thrice in one show, Willie surprised the audience when he came from the top of the bleachers, donning an Elvis Presley attire -- white jacket, complete with the usual borloloys, with the word WOWOWEE embroidered in gold on the inside part of the white cap. He also wore white pants, and large dark glasses, asking some in the audience along the stairways, "Gusto mong maglaro sa "Bigat 10?" Then he rendered a Tagalog song, to the tune of a rock and roll, and sang to the Elvis Presley style. That floored many in the audience.
Janelle Jamer also showcased her beautiful voice, inviting a gentleman from the audience to come up onstage that left the other men in the audience jealous. This talented young lady should sing regularly in the WOWOWEE to keep the audience and the contestants entertained.
Almost exhausted, but still grinning ear-to-ear, was Willie Revillame who managed to thank the audience: "Maraming salamat sa inyong lahat ... ang programang ito ay para sa inyo." He acknowledged the presence of ABS-CBN key personages, led by beauteous Charo Santos and Raffy Lopez. Also acknowledged were Michael and Millie Gurfinkel, Mr. Lim, and the people behind RALP Productions -- Sid Protasio and Tony Lim, and Ruby Arcilla, as well as his personal friends -- Dr. Jun Berberabe, Evelyn Bengzon and Tita Carol. The highly successful show wound up at almost 12 midnight on Sunday, September 3, and was televised, internationally, on Saturday, September 9.
Press Conference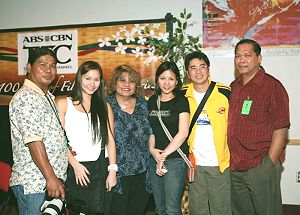 Romeo Balboa, Mariel Rodriguez, Thelma Calabio, Janelle Jamer, Willie Revillame and Johnny Pecayo pose for a photo during a press conference of the Wowowee show in Las Vegas, Nevada, USA.
The press conference, organized by Golin Harris, the company that handles ABS-CBN PR and media functions in the U.S., and coordinated by Kevin A. Schader, was held Saturday, September 2, also at the Thomas & Mack Center. In the presidential table were: Willie Revillame, Janelle Jamer, Mariel Rodriguez and Cynthia Jordan, WOWOWEE Production Manager.
Members of the press present were: Johnny Pecayo, Romeo Balboa, Thelma Calabio and Josephine Balboa of the MANILA-U.S. TIMES; and Bobby Macabagdal and Ferdie Villar of Asian Journal.
A series of questions fielded by this writer drew responses from Willie, Janelle, Mariel and Cynthia. It was learned that, as relayed by Willie, it was Charo Santos, Executive Vice President of ABS-CBN, and Gabby Lopez, the top honcho, who conceptualized the WOWOWEE TV Show, patterned after Winfrey Ophra's popular TV show, but directed at the poor, the homeless, students, housewives, laborers, fishermen, and people from all walks of life, including showbiz personalities on Saturdays, with huge prizes to boot.
Willie admitted his ups and downs in show business. He even went to U.S. and tried to look for a greener pasture other than TV programs. But Dr. Jun Berberabe, Evelyn Bengzon and Tita Carol of Las Vegas encouraged Willie to go back to his "first love" -- the TV show. "Bumalik ka na at mag-host ka uli ng isang TV Show," cajoled Jun, Evelyn and Carol, who noticed Willie missing the work on the tube. And WOWOWEE was born.
In no time, ABS-CBN's rating steadily rose until the station and this Filipino program became No. 1 not only in the Philippines, but in the whole world. To which Willie said: "Rating plays a big factor. People working for it feel good and happy. More advertisers and supporters come to the fore, even without solicitation."
On competition, Willie said they are not competing with any program in any TV station in the Philippines. In fact, "every TV station must have a game show so that our poor people would have more chances winning prizes that could help change their lives for the better."
"We are very flattered with your encouraging remarks, and we will work harder to give you the best we could," chorused Janelle and Mariel, when MANILA-U.S. TIMES' Managing Editor Thelma Calabio praised them publicly.
But Willie Revillame went on to say that his role is to make people happy. He cited one call from Washington, D.C. whose mother was dying in a hospital. The other one was at ICU at the PGH on Taft Avenue. And many more confined in various hospitals. All they were asking of me was to pay them a visit if I could and sing for them, and they will feel good, even for a few precious moments. "Whenever my schedule permits, I would spend Saturdays and Sundays visiting some hospitals just to uplift the morale of the poor, sick people," revealed Willie.
"I consider my role not as work or job, but fun and entertainment," says Cynthia Jordan, the program's production manager.
"This show (WOWOWEE) will continue to be fun, entertaining, heartwarming, and will make people happy every day, but will not compete with any other program," reassured Revillame. "I would love to see the daily show with an ambience of a fiesta celebration, where everybody is happy and joyful. Expect the best tomorrow," he concluded.