Jiabong Food Exhibitor rises through trade fairs
By NINFA B. QUIRANTE (PIA Samar)
May 11, 2008
CATBALOGAN CITY, Samar – Jiabong's town pride is mussels (aka tahong).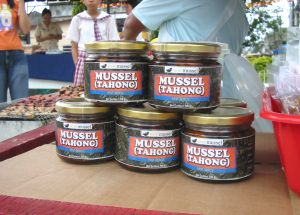 In a recent forum, the Department of Trade and Industry (DTI) said close to a thousand families are engaged in mussel farming. This number does not even include those engaged in the task of mussel processing.
Danilo Gabin who owns Super JJED has been engaged in tahong processing since 2004 and he feels proud to tell PIA that he has been getting several invitations to participate in different trade fairs from Luzon to Mindanao.
His tahong crackers, said Bahandi Producers Association of Eastern Visayas (BPAEV), Executive Director Lolee Aures are a big hit wherever the trade fair is held. "Customers look for tahong crackers!"
Just this month, Danny has received an invitation for a May trade fair, this he said, offers incentives that are difficult to reject.
After joining several trade fairs with the encouragement of DTI's lady Ruthelma Samonte, Danny has been 'exposed' and has been getting orders left and right. DTI also said that Danny was able to get some funding and equipments from the Department of Science and Technology (DOST). These equipments have been very useful in his livelihood.
In Catbalogan and neighboring towns, Danny shyly admits that he has 36 outlets for his tahong crackers. Aside from the tahong crackers, Danny also produces salted tahong, Fermented oyster (sisi) and other mussel based products.
He does not reveal the number of employees, he has. Suffice it to say that he is able to enjoy a comfortable life and sends his children to school. "Dara hit katas han tahong!" he quips.
Danny has become an advocate of trade fairs, he said, because he gets the exposure and gets invited to all these business opportunities.
If BPAEV will ask Danny to campaign, he would, though not necessarily going throughout the region to invite producers and exhibitors like him. Danny is much of a hands-on manager for his tahong business. He'd rather produce, exhibit, expose and produce some more and maybe in the process, could inspire other food processors and producers to emulate him and become a trade fair 'regular' like him.
MARINA acts on SP-Palacio issue
By GINA SUELLO-SORILO
April 28, 2008
CALBAYOG CITY, Samar – The Maritime Industry Authority (MARINA) Head Office has launched an investigation on FJP Shipping Lines' M/V Calbayog vessel in response to the Sangguniang Panlungsod (SP) resolution sent to President Gloria Macapagal-Arroyo.
Cesar M. Gabutin, Division Manager of Terminal Management Office (TMO) here disclosed that two officials from MARINA head office who arrived April 17 are going to visit Mangginoo port and the city mayor Mel Senen Sarmiento. M/V Calbayog ship Capt. Teofanes Ganzon also confirmed the arrival of the two officials who he said had a meeting with the Palacio officials in Cebu and had inspected the vessel.
The City Council here adopted a Resolution No. 2008-05-119 requesting the President Gloria Macapagal-Arroyo to intercede in the decision of MARINA for extending FJP Lines' pioneering status for its Roll-on/Roll-off (RoRo) vessel M/V Calbayog for another five years. Its proponent is Councilor Virgilio Porlares who heads the committee on transportation and communication.
With this status, the company is also entitled to protection from entry of new operators for another five years or up to Jan. 4, 2011.
The resolution said MARINA failed to inform, invite, consider and give importance to the local officials and the Calbayognons being the primary beneficiary of the services of FJP Shipping Lines during the process of hearing the application or request for extension.
In earlier reports, MARINA explained that based on their guidelines a public consultation is not required to act on the application and that the pioneering status does not mean a monopoly because other shipping companies that are not engaged in RoRo operation can still take the route.
City Mayor Mel Senen Sarmiento, in a radio DYOG report recently called on the City Council to pass a resolution declaring Mangginoo port, the other operational port here as a missionary route. This, after MARINA has recommended said port to be a missionary route in order to retain the pioneering status it granted to FJP Lines.
Protection for investment
In an interview with radio DYOG's "Talakayan Pulso san Bungto" program, FJP Shipping Lines owner Engineer Florentino Palacio clarified that the pioneering status' extension is a protection for his P55 million investment.
Palacio, who is also the founder and former president of the Visayas Association of Ferryboat and Coastwise Service Operator (VAFCSO), said he has to recover for the rehabilitation of M/V Calbayog vessel which was gutted by fire in 2002. He said that the vessel was insured but it was not released.
"Kon mayda makasulod nga iba paano ako makarecover san akon investment? Dry docking alone mahal, an palitunon mahal, an krudo sige increase...kon dire kami kumita how are we going to maintain the vessel?" Palacio said.
He said many shipping companies plying with a missionary route were given pioneering status all over the Philippines. Calbayog and Catbalogan are considered missionary routes. "Waray nakada, so once may ada shipping company makada siton nga ruta gintatagan pirme pioneering status," Palacio said.
The ship owner said even the 5-year period is not enough for him to recover his investment. Citing a low income every voyage, he raised the possibility of giving up one of these days.
In 2006 for the vessel, TMO-Calbayog recorded arrivals of 27,867 passengers and 21,269 for departures. This is lower than the 2007 arrivals which is 29,114 and departures of 26,678. It has also recorded a total of 62,051.63 metric tons of inbound cargoes while 6,483.66 metric tons outbound cargoes in 2006. In 2007 however, it reached 85,847.60 metric tons inbound cargoes and 7,217.15 metric tons outbound cargoes.
FJP Shipping Lines is the only shipping company which lasted for 31 years here plying between Cebu and Calbayog. Manned by 37 crews, its vessel consumes at least 4,600 liters of crude oil for two trips. It has a capacity of 560 passengers but it only obtain an average of 195 passengers every voyage.
FJP, like other members of VAFSCO – Cokaliong Shipping Lines, Lite Shipping, and Trans Asia Shipping Lines, uses crude oil which is expensive than the bunker fuel used by bigger shipping companies such as Sulpicio Lines, Gothong and Aboitiz.
Back load
Palacio bared that of all the vessels he operates, he specifically identified M/V Calbayog for having no cargoes going back to Cebu. He said he had already tried in Catbalogan but he failed to sustain the vessel for the same problem citing millions of losses. He added that even the volume of cargoes now going to Cebu is not enough for the profit. "Dida la ako nagsakripisyo sa Calbayog tungod taga-dida ako," he said.
Asked for a possibility of having a boat daily he said: "Samot na ko diri makita. An shipping company makita kon mayda back load. Kon akon i-everyday an volume san cargo madivide na." He added that it could be possible "unless the government will subsidize for the fuel."
The vessel regularly arrives every morning and departs in the evening on Tuesdays, Thursdays and Saturdays of the week. Its regular departure schedule is 7 p.m. but lately it departs at 4 p.m. or 10 p.m. due to a low tide situation.
Other complaints
The City Council's resolution also cited complaints from the businessmen and shippers which were manifested during the public hearing it conducted last August 14. Among them are high cargo fees, inefficient service, unworthy vessel for Calbayog, delay in the shipment of cargoes, damaged cargoes, vessel's safetiness and sea worthiness, repainting jobs, malfunctioning air-conditioned units, need for a dry dock every year and high fare rates.
With these complaints, Palacio invited the public to see the vessel by themselves. He stressed that the delay is not their fault saying they arrive on time but because of the shallow draft they cannot dock.
Since last year, the vessel's passengers have been experiencing the discomfort of disembarking. It remains afloat at the anchorage area more or less 500 meters from the port's docking area when it arrives in Calbayog.
"An mga tawo amon nala ginpapasakay sa pumpboat. Kami an nabayad. That is additional expense makakadto la sira sa pantalan," Palacio said. The ship waits for a high tide to be able to dock. There were many times he said that the vessel tried to dock but the propeller was damaged which resulted to an emergency dry dock.
Dredging
Palacio believes that proper dredging will solve the problem but according to Lino Bagares of TMO, it will soon be pushed through on May or June this year.
The port's 99-meter extension project amounting to P46 million is on going which the city mayor has been reported saying it is funded by Philippine Ports Authority (PPA) with a local counterpart for the construction of the break water canal to mitigate siltation and eventually solve the docking problem.
The city has another operational port in Barangay Mangginoo, Tinambacan District, 21 km. from the city proper where bigger vessels can easily dock but Palacio said a survey they conducted showed majority of the people still choose the City Port. There, Palacio said, he is going to increase the passage rate and freight charges since there is a difference of a 5-hour travel time.
"Kon kumadto ako sa Mangginoo, yes but I pity the people... everything will increase. Waray ako maghuna-huna para la akon kalugaringon. Pakiana tanan shipping company kon sino an naglilibre pasahe pagkarga sin patay nga tawo dida sa barko hasta pa mga katungdan san namatay," he said.
MARINA clearance
On complaints with poor sanitation and service, Palacio said no shipping company is perfect. A complaint on air-conditioning unit was immediately fixed. Besides, he said MARINA will not issue a clearance if the vessel is not seaworthy and once the vessel is on dry dock it is being surveyed by Classification Society who reports to MARINA the status of the vessel.
The utility personnel of the vessel confirmed they experienced once a shortage on the supply of water which was loaded from Calbayog but the problem was immediately solved by loading adequate water supply in Cebu. He also called on the passengers to cooperate in maintaining the vessel's cleanliness saying there are some who does not dispose of garbage properly especially in the toilets.
The City Council's resolution however said that Calbayog is a progressing city and so there is an increasing need of transport services for its growth and development.
Amid complaints raised, Palacio seeks the riding public's understanding and thanked those who patronize the vessel.
Filipino wins 2008 SHINE International Student Award of UK, cited for international work
Press Release
April 22, 2008
Don Eliseo Lucero-Prisno III, a third year PhD student at Cardiff University has been chosen by the British Council as one of the 2008 SHINE International Student Awardees of the United Kingdom. SHINE is an annual competition of foreign students studying in the United Kingdom that recognizes their exceptional work. Don is the very first Filipino to receive this award. According to the British Council, there are 270,000 foreigners studying at British universities making UK the second most popular destination after the US.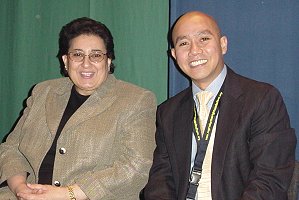 Don Prisno with United Nations Undersecretary Thoraya Obaid.
Don, whose PhD research is on the vulnerability of seafarers to HIV/AIDS is a Nippon Foundation Fellow at the Seafarers International Research Center of Cardiff University. He is currently a Visiting Scholar at the Catholic University of Santos in Brazil where he is conducting his fieldwork among the bars of the port city of Santos. Don is recognized for his academic work and advocacy for the health and welfare of global seafarers and shipbreakers, his support for the United Nations Millennium Development Goals (MDGs) through the establishment of the Balud Project, his work on international science promotion and his various involvements at Cardiff University.
Doing a PhD is no ordinary task especially in a highly-ranked research university which won the Nobel Prize in Medicine and Physiology in 2007. Despite the rigorous demand of academic work, he is able to find time working on one of his passions, international health. He has a special interest in the area of health and welfare of the global seafarers and shipbreakers. He advocated for the improvement of the lives of seafarers and shipbreakers through presentations in conferences. Within the three years of PhD, he traveled to present papers in the USA, the Philippines, Malaysia, India, Panama, Brazil, Denmark, Italy, Sweden, the United Kingdom and Canada. He pushed for a social insurance fund for the maritime industry in Panama City. He advocated for more maritime AIDS programs in Toronto. He preached the perils of alcohol and drug use among seafarers in Mumbai. He presented the plight of shipbreakers in Milan, Rio de Janeiro and Washington DC. He co-authored the International Medical Guide for Ships published by the World Health Organization, which came out in February 2008. He has been actively involved in various international working groups and organizations in the areas of maritime health and occupational health.
His work with the Balud Project also caught the attention of the jurors. This project started as a simple renovation of a poor school in the island of Samar in rural Philippines. In a span of three years, the project has grown into a global project. Don was able to drum up support from foreigners and international organizations. Dutch, Australians, British and Japanese have visited the school. The Balud Project has secured funds from The Netherlands, USA, Finland, and UK among other countries. Lasten Tulevaisuus of Helsinki provided them a grant for a library building. Imperial College London has been sending their students to teach at Balud School. Ddock, a big design and architectural company in Amsterdam volunteered to design the new school buildings. They launched the 'new campus' before the donors in a big event on 20 March 2008. De La Salle University in Manila has sponsored the books of the library. American donors provided new furniture, books and school materials. Given the generous support from all corners of the world, the Balud Project has spun off into a bigger community project benefiting the whole village. Don sees this project as a humble contribution in the attainment of the Millennium Development Goals of the United Nations. To replicate the project in other countries, Balud Project launched Balud Global. The latter involves more young people in supporting the fast tracking of the MDGs especially in the areas of childhood education and health.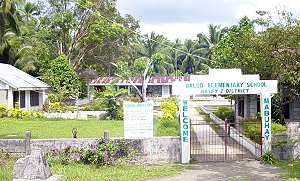 Site of the Balud Project in Basey, Samar.
Don is an academic and a medical doctor who believes in the role of science in human development. It is not surprising that his enthusiastic support in science promotion especially among young students was also recognized in the SHINE Award. He has the distinction of being the only Filipino who has been invited annually since 2002 by the Intel Corporation to judge at the International Science and Engineering Fair (ISEF) held every year in the USA. Don has been invited as a speaker at the prestigious Intel Educators Academy. He is an active member of a number of international scientific organizations like the World Academy of Young Scientists and three international honor societies. He used to sit in the Intel Philippine Science Advisory Board. He conceptualized the Balud International Development Award (BIDA), a prize given annually at the Intel Philippine Science Fair to recognize young Filipinos whose science projects address the needs of rural communities. During the early part of his PhD, Don won the research competition of the World Science Forum in Hungary in 2005. His work was published the following year.
The SHINE Award also looks into the involvement of the student in university activities. Don's work in establishing the Filipino Society of Cardiff University was also recognized. The organization involves itself in the local Filipino community. He noticed that there has been no Filipino organization in the history of the university despite the number of Filipinos enrolled. So he started gathering them and formally organized the group. Since then they have been holding many activities. During his first year, Don sat in two university committees, the Postgraduate Committees of the Student Union and the Academic Committee of the School of Social Sciences. He represented the students in committee meetings and raised issues on their behalf. Organizing is not something new to him. He organized Estudyanteng Pinoy sa Netherlands (EsPiN) while a master student in Amsterdam back in 2002 making him the Founding President.
"I am extremely happy with the award as I have made a very good name for my university and my country, the Philippines. Had it not been for Cardiff University and my fellowship from the Nippon Foundation, I would not have received this accolade," commented Don. Just like his exceptional works, Don's life is considered another extraordinary story. He was born to a poor family in Leyte. His mother worked hard to keep the family surviving. All the children had to go to public schools. Summers would be spent in rural Samar with his grandparents in a place that has not been reached by electricity. When back in the city of Tacloban, he remembers watching the neighbour's television all the time since they did not have one. Don's first trip outside his islands was at the age of 17 when he had to represent the region at the Fifth National Population Quiz Show in Manila. He won in the competition, which was shown live on national television. This first trip outside gave him a lasting impression of the wider world.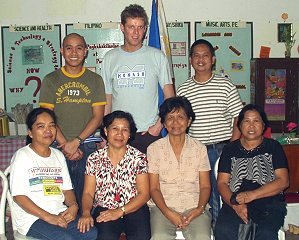 Don Prisno with the Balud Elementary School teachers in Basey, Samar.
Knowing how it is to be poor, Don saw to it that he should finish his education as a way out. He was always a conscientious student who balanced academics and extracurricular activities. He graduated Salutatorian in both elementary and high school. His knack for leadership started to show at a very young age. He excelled in many activities especially in the areas of writing, drawing and sports. He ended every school year in the honour roll and was always judged as the Model Student of the Year. His tenacity to want for a better education brought him to study at the University of the Philippines where he finished his Bachelor of Science in Psychology and where he graduated cum laude. Back then the tuition of UP was 1,000 pesos per semester. He entered UP's College of Medicine with a scholarship under the STUFAP program. He breezed through medical school without paying tuition fees. He ended up studying a Master of Public Health in Amsterdam under the Netherlands Fellowship Programme before pursuing a PhD.
Commenting on the award, Don said, "I have been privileged to get accepted at Cardiff University which is considered one of the best in the world. I come from humble beginnings. I was born to a poor family in the Philippines. I was raised by a single parent together with three other siblings. Growing up was always hard because of economic difficulties. There were days that we barely had food on the table. These life realities made me the person of who I am now. Thus, the reason for my interest in poverty and health. I never imagined that I would go this far. Had the university not offered me a fellowship, I would not have made it. I feel very blessed."
According to Don, "awards for me are instruments to highlight works of individuals since they are the advocates and emissaries of this marginalized people. An award should not be self-serving. It's not about the awardee, it's about the people s/he works for. And I will continue working for them because I know how it feels having been one of them."
2 EV barangay courts are among the country's best
By MYLES JOSEPH E. COLASITO
April 11, 2008
TACLOBAN CITY, Leyte – Two barangays in the region were honored in the 2007 Lupong Tagapamayapa Incentives Award (LTIA) ceremonies held recently at the Malacañan Palace, Manila.
The Lupong Tagapamayapa of Brgy. Hingatungan, Silago, Southern Leyte was hailed as the best among barangays in 4th to 6th class towns in the country, while Brgy. Sabang North of Borongan City, Eastern Samar was adjudged First Runner-Up among barangys in 1st to 3rd class municipalities.
Former Punong Barangay Florencio Malaki and some Lupon members of Hingatungan, Silago, Southern Leyte, personally received the award from Her Excellency President Gloria Macapagal-Arroyo, Justice Secretary Raul Gonzalez, DILG Undersecretary Melchor Rosales, and former Court of Appeals Justice Bernardo Abesamis (representing Supreme Court Justice Reynato Puno). Punong Barangay Juan Tuñacao and some of his Lupon members accepted the First Runner-Up award for Sabang North, Borongan City, Eastern Samar in behalf of the former Punong Barangay Enrico Villero.
Also witnessing the event were DILG-8 Operations Division chief Libertino Ocenar, representing Director William C. Paler, and LGOO V Nida dela Cruz of DILG Borongan City.
Hingatungan: Consistent Winner
Barangay Hingatungan Lupon is a consistent winner in the regional search, and won in the LTIA National Level in 2003. Silago's biggest barangay, Hingatungan is a gateway to the province of Leyte as motorized boats ply the waters between the barangay and the town of Abuyog.
During the coverage period (June 2006-June-2007), Hingatungan Lupon received a total of 25 cases, 22 of which were settled by Punong Barangay Florencio Malaki. Two cases were conciliated by the Pangkat ng Tagapagkasundo, and one case is pending. There were no cases of repudiation of settlements.
To help resolve cases fairly and effectively, the barangay conducted separate pre-hearing counseling with both parties to open their minds to a possible amicable settlement. At the start of the hearing, the Punong Barangay leads a prayer, and then gives all parties a fair chance to voice out their arguments, while ensuring that proper decorum is observed. Barangay Tanods are stationed outside the room to provide emergency help. The lupon reaches out to the offices of the local Assessor and Land Reform as well as the Philippine National Police for assistance in straightening out land problems or peace and order problems. The Mayor's advice to involved parties also helped settle disputes.
KP Innovations in Sabang North
Sabang North in Borongan led by Punong Barangay Enrico B. Villero has twice won National First Runner-Up Honors, its first being in 2006. Borongan qualified as a first class municipality in the search, as it was then a municipality during its coverage period. Borongan was ratified as a city on June 20, 2007.
To minimize the intensity of disputes, the Lupon of Brgy. Sabang North in Borongan conducted one-on-one dialogs with each party. Likewise they posted KP flow charts and other Katarungan Pambarangay (KP) laws in their Bulwagan to make them visible to the public and inform as many people as possible. Reorientation trainings on the KP were also conducted by the local DILG officer during Monthly Meetings with the Punong Barangays and Barangay Secretaries.
Other Winners
Other national winners are: Barangay Barretto of Olongapo City for Highly Urbanized Cities Category; Barangay Washington, Surigao City for Component Cities; and Barangay Lamao, Limay, Bataan for 1st to 3rd class municipalities.
Barangay Barretto and Barangay Lamao are Hall of Fame Awardees for consistently winning the award for three consecutive years.
First runner up under the HUC category is Barangay Middle Quezon Hill, Baguio City while Barangay Sasa 43, Buhangin District, Davao City is second runner-up.
First runner-up for Component Cities is Barangay Pedro Colina, Cotabato City while second runner-up is Barangay San Agustin, Iriga City.
Second runner-up for 1st to 3rd class municipalities is Barangay Poblacion, La Trinidad, Benguet.
Under the 4th to 6th class municipalities category, first runner-up is Barangay Special District, Jala-jala, Rizal and second runner-up is Barangay Quezon, Mainit, Surigao del Norte.
Prizes
Each national winner received a presidential trophy and a cash prize of P100,000.00 from the DILG, Supreme Court and Gerry Roxas Foundation (GRF). Hall of Fame awardees each received a presidential trophy courtesy of DILG and a cash prize of 25,000 pesos courtesy of PAGCOR, and an additional trophy from GRF. Runners-up received plaques of recognition courtesy of DILG and GRF and cash award of 30,000 and 25,000 pesos respectively courtesy of the DOJ, Liga ng mga Barangay, and PCSO.
The search is conducted by the Department of the Interior and Local Government (DILG) together with the Supreme Court, Department of Justice, National Police Commission, Liga ng mga Barangay and the Gerry Roxas Foundation.
The winners bested 39,513 organized lupong tagapamayapa in cities and municipalities nationwide because of their outstanding contributions in the promotion of Katarungang Pambarangay objectives.
The LTIA was established in 1997 as a means to institutionalize a system of granting economic benefits and other incentives to the Lupong Tagapamayapa that demonstrates exemplary performance in settling disputes at the grassroots level.
The performance and accomplishments of the lupons were evaluated by committees organized at the regional, provincial and municipal levels on the basis of a) efficiency of operations; b) effectiveness in securing the katarungang pambarangay objectives and c) creativity and resourcefulness of mediators.
The Katarungang Pambarangay, or the Barangay Justice System is an extra-governmental mechanism aimed at perpetuating the time-honored tradition of amicably settling interpersonal disputes in a community without recourse to the formal legal system or confrontational social behavior.
The central feature of the system is the Lupong Tagapamayapa, a community-based conflict resolution effort that is highly supportive of the notions of social ordering and human development. While the speedy administration of justice is the immediate concern of the Katarungang Pambarangay, of equal importance is leadership building and community empowerment as the resultant effects of institutionalizing the system.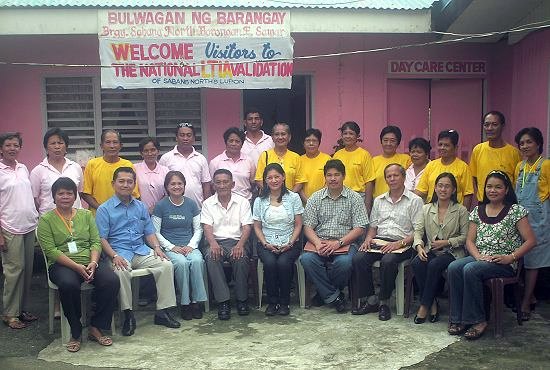 The Lupon of Barangay Sabang North, Borongan, Eastern Samar poses with 2007 LTIA National Evaluation Team led by Asst. Dir. Mariano Gabito of DILG-Bureau of Local Government Supervision (3rd from right, front row). Also in photo are Atty. Marina B. Ching of Supreme Court and P/Insp. Alvin Peña of Napolcom (5th and 6th from left, front row, respectively) and DILG Eastern Samar Provincial Director Estanislao N. Quelitano Jr., Punong Barangay Juan Tuñacao, Borongan DILG Officer Nida dela Cruz, and DILG-8 LTIA Program Manager Geselle Pulanco (front row, 2nd, 4th, rightmost and 2nd from right, respectively).
A jail warden in dilemma
By ALICE NICART (PIA Eastern Samar)
April 5, 2008
BORONGAN CITY, Eastern Samar – Eastern Samar Provincial Warden, Alexandrino Apelado, 59, found himself once more in a hot seat following the recent arrest of two inmates who were spotted by local police outside the jail.
The arrest caused media and the Borongan public to have talked here and there and as expected, the Provincial Warden had been accused for his so-called laxity or maybe too much familiarity and confidence in treating his wards. Talks of "infidelity in the custody of an inmate" had been thrown to subject warden and what is worrisome was his implication in a number of crimes in the recent past, which were allegedly committed by inmates, but neither was proven against him so far, he said and up to this writing, he refutes any participation therein.
"Kulang nala sugaron nga ako an pinatay kan Rizal," he mused (My detractors are short to accuse me of killing Rizal.)
How could people be so outrageous? "They can be right", he enthused, "but for humanitarian reasons, perhaps, the law can be moderated," he argued.
Apelado who is fondly called "Sangko" admitted that the father in him surfaces in times of health needs of inmates.
"But I have never ordered any inmate to perform any crime contrary to the nasty talks being said against my person," he revealed, "and I have remained a poor man, I have never aspired for earthly things if only to be acquired the wrong way. I have content on the 24th Salary Grade even if counterparts enjoy the 26th." the seminarian turned warden added in the interview.
"A prominent detainee who is a diabetic needed an urgent physical treatment in Tacloban and had to be decided by me, lest I die too myself because of guilt, had I not allowed him to be brought immediately. It was a judgment call I suppose, that I did not wait anymore for a court decision for "Leave of Court" because it was a Saturday. The following Monday I faced a complaint for that vital decision I rendered," Sangko pleaded. "Must I be persecuted for doing such a humanitarian act?" he questioned. "I am just their warden, everyday I browse elbows with them, and like them, I am also a father…I am their friend, and above all I am a human being. Can they take away this human factor in me when a human-detainee is in intense physical pain?", the emotionally filled conversation went on.
The recent attack on the warden sprang upon the arrest of trustee/detainee Jose Desoloc who was on the steering wheel of Sangko's multi-cab which was parked near Borongan market. He revealed that Desoloc was about to be "released on bail" the week he was arrested and on the day he was taken by the local police they were going to get a photo as part of this bail. He was with the detainee, but unknowing of the planned arrest, he alighted from the vehicle to unload some construction materials. It was then, when Desoloc was handcuffed.
But Desoloc's arrest did not teach the jail officials a lesson. On March 23, another detainee/trustee Gabriel Bajasan was arrested a few meters from the jail which they say "a radius customarily allowed for detainees". Just like the former, the latter was also sent for an errand. Bajasan just like Desoloc was to be dismissed as a result of "failure to prosecute" in years.
But the two arrests have somehow added to headaches on Apelado's part. As a custodial and rehabilitation officer in the PJ, he appeals that the "presumption of Innocence" be applied likewise on the two detainees.
"Both have not been convicted, and even if they were caught outside, they did not commit a crime," he proclaimed.
Apparently, Apelado is in limbo. Being a warden, his human factor and legal functions just like his heart and mind contradict. Some rumored personal misgivings had been asked of the interviewee and he admitted.
"I am neither a saint, I admit I sinned before my family, but I am paying for this misdemeanor, by correcting my actions in the process…what is important I have sinned but I am learning the lessons from it." He concluded.
In not so a distant past, he was also accused of a crime he did not openly commit. He said it is the prize of being subservient or by simply being an obedient subordinate. The case floated against him and his former boss who is equally a humble and a down-to-earth fellow, who did the "act" in good fate, so to speak, meted them unfavorably. He hopes however, that a higher court which has been reviewing the case will render the verdict of vindication of some sorts.