Zumarraga OTOP now operational
By NINFA B. QUIRANTE (PIA Samar)
February 15, 2009
CATBALOGAN CITY, Samar – After the successful mussel culture in Jiabong, Samar which ballooned into a multi-million industry, the Department of Trade and Industry (DTI) Samar will embark on rock oyster (sisi) culture in Zumarraga.
In a press release, by Mrs. Ruthelma S. Samonte, Provincial OTOP Coordinator of DTI Samar, it said that a convergence strategy has been employed to effect the project known as Rock Oyster Culture and Processing Development Project.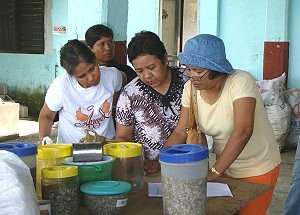 Zumarraga women try their hand on a 'sanitized' fermentation process as instructed by their trainer. Fermenting rock oyster has started in this island town and is believed to generate jobs as One Town One Product (OTOP) takes a vow. (Samar PIA/SSU)
The converging entities include LGU of Zummaraga through the leadership of Mayor Edwin Neil Figueroa, Research Dept. of Dr. Felisa Gomba and College of Fisheries and Marine Sciences (COFMAS) of Dr. Abdurahman Latip under Pres. Simon Babalcon, Jr. of the Samar State University (SSU), DTI of Dr. Asisclo T. Beleña and DOLE of Mrs. Fe Estrella.
The Zumarraga Sisi Producers Association (ZUSI), its project proponent chaired by Mrs. Gavina Doblon will have three (3) components: rock oyster culture, improved sisi processing and market development.
It is said to directly benefit about one hundred eighty six (186) surveyed sisi gatherers and thirty (30) sisi traders not to mention the numerous other opportunities that will be generated to the Zumarraganhons.
The rock oyster culture component output is the installation of about twenty (20) hanging raft oyster culture modules in strategically located barangays in each of the four (4) clusters of Zumarraga.
To ensure a steady and year round supply of sisi as a raw material once the Zumarraga Production Center will be operational this year, an improved technology introduced by Prof. Renato Diocton, Prof. Raul Cilmar and Prof. Danilo Mabonga assisted by the LGUs counterpart MAO Alex Bitbit and Mrs. Joy Cebu, AT is expected to produce 63 sacks of rock oyster per module which not only productive but also environmentally friendly.
The second component is the standardization of sisi processing. As introduced by Mrs. Nora Doncillo, Fish Processing instructor all sisi processors shall comply with the food regulatory requirements of Bureau of Food and Drugs (BFAD).
The third component is the improvement of the packaging of sisi to increase its marketability and competitiveness once the product will be promoted in trade fairs, supermarkets and institutional buyers.
To ensure the viability of the project, DTI prepared a Project Proposal and Business Plan submission to DOLE which was facilitated by the PESO Manager and DSWDO of Zumarraga, Mrs. Evelyn S. Hernando and approved for funding by DOLE Samar under the PRESEED in the amount of P633,440.
The project started late last year with the simultaneous conduct of the Rock Oyster Culture and Processing Training from October 8-10, 2008 in Zumarraga and the follow-up training on Skills Upgrading on Rock Oyster Stock Density Enhancement in Brgy. Arteche, Zumarraga on January 26-27 and Fermented Rock Oyster Processing Upgrading Training on January 27, 2009 in Zumarraga with a total of twenty five (25) and fifty eight (58) respectively.
On the other hand, product development activities to upgrade the quality of sisi include the product testing of sample products in the laboratories of Iloilo facilitated by SSU Mercedes Campus and the development of improve packaging design by the Product Research and Development Center (PRDCP-DOST) Head Office for the appropriate packaging of sisi.
Also initiated by SSU for Zumarraga was the P557,000 fund support from NEDA-KR2 (National Economic Development Authority-Kennedy Round 2) for the project "Enhancement and Standardization of Fermentation Process of Rock Oyster (Sacosstrea cucullata) 'Sisi' for Marginal Fishers in Samar".
Moreover, as preparatory activities for the product's exposure in local, regional and national trade fairs and other marketing activities of DTI, a marketing plan was prepared and presented to the ZUSI officers and members. (with report from DTI)
Around 3,000 households in Basey has no sanitary toilets
By RICKY J. BAUTISTA
February 12, 2009
BASEY, Samar – Would you believe that around 3,000 households of this second class municipality considered as "partially urban" in the Southwestern part of Samar has no sanitary toilets?
Better believe it as it was obviously observed during the latest survey conducted by the local government unit of Basey arriving to a record that many households in the 20 barangays in the municipality are denied access to sanitary toilets. In a normal ratio, an ordinary household is composed of six family members or children.
Basey population is at 43,809 and that is nine years ago, or taken during the May 2000 survey.
In fact, during his State of the Municipality Address (SOMA), Mayor Wilfredo Olfato Estorninos reported that in 2008 they had distributed some 1,413 toilet bowls, and another 1,387 toilet bowls now stocked at the municipal compound were to be distributed soon to the barangays-recipients.
The general idea that such a problem exists, especially in a very poor and upland barangays, this was a clear indication that this does not involve just a few children, but hundreds of families take us notice. When crosschecked at the village chieftains, it became apparent that that most families have not had toilets for the longest time. Thus, the question: Where these families do their 'wasting stuff'?
This problem on sanitary toilets were earlier identified as one of the "20 priority issues and concerns" during a workshop attended by the mayor himself, his fellow elective officials, all the department heads, members of the nine Barangay Integrated Development Zones.
Mayor Estorninos informed that upon learning this problem, he immediately created the Clean and Sanitation Task Force composed of the Municipal Health Office, Department of Social Welfare and Development, Municipal Tourism Office, among others and discussed on how to address this problem. Thus, the project on toilet bowls was born.
Under his Health and Environmental Sanitation Program, the mayor said he made some improvements on the aspects of waste and sewerage system. He also implemented the "Save Basey River Project" which includes the cleaning of Basey Rivers from illegal houses and especially the toilets that are considered as "public nuisance."
Also in line with this program, Mayor Estorninos initiated another developmental program that aims not only to secure a clean and healthy environment for the Baseynons but also to make the municipality a tourist-friendly LGU.
This is the demolition of illegal structures including those already converted into residential houses, along the town's seawall and in Camponao, Brgy. Baybay up to the New Road Bridge, Brgy. Palaypay, to minimize environmental hazards caused by the occupants of the said structures.
Some 200 units of lots at the Brgy. Buscada have been reserved to those affected informal settlers or illegal squatters under the Core Shelter program funded by the DSWD. Also, some of them will be recommended to become recipients of the Gawad Kalinga Program in collaboration with the Local Government of Basey.
In this town, beauty, historic sites, panoramic views, mystical caves and impressive mat-weaving industry and the friendly and hospitable Basaynons are the usual impressions of visitors coming from this place. This town is also the current holder of the world's longest banig record in the Guiness Book of Records.
DOH: No mother should die giving life
By ALICE E. NICART (PIA Eastern Samar)
January 21, 2009
BORONGAN CITY – Doctor Marian Isiderio, M.D. and Chief of the Technical Department of the Provincial Health Office (PHO) here stressed that "no mother should die while giving birth to her baby". This, in her apparent disgust over the reported incidence of maternal deaths in the province despite government interventions.
Recent Maternal Death Review (MDR) revealed that in 2008 ten mothers died from birth delivery (maternal mortality or MMR) "which should have not happened at all" the lady doctor said.
Dr. Isiderio points back to mothers or perhaps their husbands' annoying behaviors and practices.
"Some couples tend to stick to old and traditional birth deliveries – the "hilot" practice, adding that they do not have money to pay for the professional care givers", she reported.
"Hilots (partira in Waray dialect) should no longer be allowed to deliver, unless they are supervised by a midwife", the lady doctor emphasized during the conference on Tuesday of the Child and Mothers Protection Council. "It is true partiras are our partners in the barangays but they can only serve as our advocates for maternal and child care, and better yet, conduct the pregnant mother to the rural health unit", she added.
Further, she reported that 75% of maternal deaths was post partum (when mothers die a few hours after the baby had been delivered) and 66% of this post partum deaths is attributed to the humble partira- assisted deliveries.
"Indeed, the first 12 to 24 hours after delivery is the most critical hours of a mother, which should not be taken for granted", she explained. Thus, the need for a professional health care giver", she added.
However, MMR in the province is rather low as compared to national figure, but it is still high, thus the need for the policy-makers in the provincial government to look into the issue.
One of 10 Filipino nurses cleared by NY Court is from Region 8
By Philippine Information Agency (PIA 8)
January 18, 2009
TACLOBAN CITY – "I am glad that it is finally over," Mrs. Will Avila of Tanauan, Leyte, said upon hearing that 10 Filipino nurses were acquitted by a New York court.
"I immediately offered a thanksgiving mass," Mrs. Avila added.
Mrs. Avila's beautiful and intelligent daughter, Harriet, is one of the ten Filipino nurses who were cleared by a New York court of criminal charges after they were accused of endangering patients by resigning en masse from a Long Island nursing home to protest working conditions.
It was not easy for Harriet and the other Filipino nurses after they resigned, Mrs. Avila said. While some of them were able to find employment elsewhere, a number of them had the difficulty of getting other nursing jobs because of a possible criminal trial.
The family supported Harriet's decision to resign from her work in 2006 because "we believe that the cause my daughter was fighting for was right."
Harriet has not yet contacted her family since the court ruling, Mrs. Avila said, saying that perhaps she still have so many things to attend to.
"I am sure that many people are congratulating her and her companions," Mrs. Avila added.
Harriet left her family in Tanauan, Leyte when she, together with other Filipino nurses were recruited in order to ease the shortage of nurses in the United States. Harriet was optimistic that with the greener pasture in the United States, she would be of help to her family which belongs to the middle income group. Harriet's father is an employee of the local government unit while her mother works at the City Health Office in Tacloban.
However, after several months, in April of 2006, she together with her companions, resigned en mass from their jobs at a Smithtown facility run by Sentosa Health Care because they were made to perform tasks they deemed demeaning and below their job descriptions. There were also disputes about scheduling and pay.
In the decision issued on Tuesday, the court's second appellate division also stopped the prosecutor of Suffolk district county, where the original suit was filed, from pursuing criminal charges against the 10 nurses and their lawyer.
Acquitted, together with Harriet, were her co-nurses, Elmer Jacinto who is a licensed doctor and who topped the medical board examinations in 2004 but studies nursing to be able to work in the US; Juliet Anilao, Mark de la Cruz, Claudine Gamiao, Jennifer Lampe, Rizza Maulion, James Millena, Ma. Theresa Ramos and Ranier Sichon, and their lawyer Felix Vinluan who was accused of conspiring with the petitioners.
The New York court granted the nurses' petition to stop the Suffolk county from prosecuting them, saying that their resignation did not endanger their patients as they did it after their shifts ended.
The court also noted that the prosecution's insistence that the nurses' resignation affected the welfare of their patients, which included children, were "speculative" and that they had the "constitutional right to be free from involuntary service."
Stopping the nurses from resigning their jobs was a violation of the Thirteenth Amendment, which outlaws slavery and involuntary servitude, the court said.
John Riley of newsday.com described the case as "One of the most appalling cases" which "unfolded a couple of years ago when some Filipino nurses recruited by Sentosa, a nursing home outfit run by some generous political donors, were not treated as they had been promised in the US."
He added, "the legal theory was factually unsupported – no patient had actually been endangered. It was a Yoo-like concoction pretty much unprecedented in New York – people, even powerless foreign nurses, have the right to leave their jobs. Real District Attorneys protect them, instead of turning into marionettes and trying to teach them a lesson on behalf of political benefactors."
DILG enhance quality of justice in the barangay level
By RICKY J. BAUTISTA
November 18, 2008
BASEY, Samar – Mano Pepe, 54, a three-termed chairman in one of the village here admitted, that most of the time, he is hesitant from mediating disputes arising from his barangay due to his lack of proper knowledge in handling sensitive cases, and his being unacquainted on the legal aspects and technical terms related to barangay disputes.
And like the majority of the barangay chairmen in the remote areas, he feels so uneasy whenever he conduct an amicable settlement in their barangay because he is apprehensive that he might ended into a wrong judgment.
Receptive with this situation, the local office of the Department of Interior and Local Government (DILG) has, again, conducted a skills training "to equip the barangay leaders an inexpensive and a more expeditious way of settling disputes in the barangay level through mediation and or arbitration."
In Basey, Mayor Wilfredo S. Estorninos issued a memorandum dated October 17 to all 51-barangay chairmen in his locality, including Mano Pepe, to attend this kind of skills training. He said, at least 500 participants composed of Punong Barangay, Brgy. Secretaries and Lupon Members attend the activity on Saturday, November 15.
The DILG in partnership with the Liga ng mga Barangay of Basey are closely supervised the activity.
Basey MLGOO Jaime "Mick" Dacurawat informed that Section 121 of the Republic Act No. 7160 otherwise known as the Local Government Code of 1991 mandates all the city and municipal mayors to oversee the efficient and effective implementation and administration of the Katarungang Pambarangay (KP) Law.
"In fact, DILG Memorandum Circular No. 2007-129 directed its compliance and encouraged the adoption of measures such as but not limited to the conduct of training for the KP and its value as an empowering tool for the resolution of community and family disputes at the barangay level," Dacurawat said.
A primer of the Katarungang Pambarangay Law defined the system as one of the few issuances during the Martial Law Era that merited public approval. The main objective of the law is to help relieve the courts of the docket congestion; enhance the quality of justice dispensed by the courts; promote the speedy disposition of justice; and implement the constitutional mandate to preserve and develop Filipino culture and to strengthen the family as a basic social institution.
Meanwhile, Mano Pepe, when interviewed back by this writer, expressed his happiness and willingness in attending the said training. He has, in fact, informed his team of Lupon Members in his barangay to prioritize their attendance.
"Maupay ine nga okasyon, kay damo it amon mahibabaroan parte hin pagtuhay hit mga nasasakupan ha barangay, ha sunod nga magkamay-ada man," Mano Pepe said in his local dialect.
PITAHC herbal plant in Eastern Visayas, a medical tourism destination
By Philippine Information Agency (PIA 8)
November 14, 2008
TACLOBAN CITY, Leyte – The Philippine Institute of Traditional and Alternative Health Care Herbal Plant in Tacloban City, Leyte, is a very good medical tourism destination.
Imagine walking through 22 hectares of lagundi, sambong, tsaang dagat and other herbal plants and learning about their medicinal values. Better still, help harvest the good leaves to be used in the manufacturing of herbal tablets or herbal teas, or herbal soaps.
One could walk through the different processes before herbal tablets are made, from the washing of the good leaves to air drying to baking and making the granules, up to the packaging and packing them into boxes.
Then one could go to the Plant's tea house and see how various herbal teas are bagged, and then sit comfortably while sipping a delicious and soothing concoction of ampalaya, niyog-niyogan or ulasimang bato.
Don't forget to wash the hands with herbal soap which are also manufactured by PITAHC, the Akapulko Soap, Bayabas Soap, Calamansi Soap, Carrot Soap, Cucumber Soap, Kamias Soap, Labanos Soap and Papaya Soap.
Away from the maddening crowd, so they say, the Herbal Plant, with a little add-on here and there, can truly be a medical hideaway.
The PITAHC Herbal Plant in Eastern Visayas is located in a 36 hectares rolling hills at Barangay Bagacay in Tacloban City. Called the Tacloban Herbal Pharmaceutical Processing and Manufacturing Plant, it is one of the four herbal plants operated by the Philippine Institute of Traditional and Alternative Health Care. The other plants are in Cagayan Valley, Davao and Cotabato.
Now able to produce 180,000 tablets per day, the Plant intends to manufacture lagundi, sambong, tsaang gubat, yerba Buena, akapulko, ampalaya, ulasimang bato tablets and garlic capsules.
The plant facilities consist of buildings, machineries and equipment for drying and processing of raw materials, dosage manufacturing, quality control, animal production and Bioassay for animal pharmacological and toxicological studies. The plant has a twenty-two (22) hectare land area, eleven (11) hectares of which is planted to the first batch of the five (5) priority plants to supply the plant with raw materials.
The personnel are all local recruits who have been given special training in their respective technical jobs.
The Tacloban Herbal Pharmaceutical Processing and Manufacturing Plant is truly a major milestone in the Philippine government efforts toward self-reliance and basic pharmaceutical production from indigenous materials, a good medical tourism destination.
Traditional herbal medicines are being manufactured commercially in Tacloban
By Philippine Information Agency (PIA 8)
November 12, 2008
TACLOBAN CITY, Leyte – These days when Western medicines have become too expensive and scarce, it is good to note that Filipinos can rely on herbal medicines which are available in abundance, locally.
Available in commercial quantities and at much cheaper price, in Tacloban City, Leyte, are herbal medicines that are used as traditional and alternative medicines in the Philippines.
This was learned from Ms. Evelina Juaban, the Manager of the Herbal Processing Plant in Tacloban City, of the Philippine Institute of Traditional and Alternative Health Care of the Department of Health.
Ms. Juaban who was guest of the Philippine Information Agency recently, at the cable television program called Panindugan, said that there are many plants, about 400 of them in the Philippines which have medicinal or therapeutic values.
However, the Department of Health through its Traditional Health Program has endorsed 10 medicinal plants which have been thoroughly tested and have been clinically proven to have medicinal value in the relief and treatment of various ailments.
Today, the Tacloban Herbal Plant of PTAHC has come up with the Lagundi tablets made from natural Lagundi (Vitex negundo) which is known in English as the "5-leaved chaste tree". Its main use is for the relief of coughs and asthma. The tablets are available in 300 mg.
There is the 250 mg. Sambong tablet made from sambong leaves (Blumea balsamifera) - known in English as Blumea camphora, a diuretic that helps in the excretion of urinary stones and can also be used as an edema.
Both the Lagundi and Sambong tablets are sold wholesale at a price of P150 per box of 100 tablets. This means that each tablet costs only P1.50 whole or P2.00 each at retail price.
Another is the Tsaang Gubat 250mg tablet. Known with the scientific name Ehretia microphylla Lam., this herbal medicine is effective in treating intestinal motility and also used as a mouth wash since the leaves of this shrub has high fluoride content.
The fourth is Akapulco (Cassia alata) which is also known as "bayabas-bayabasan" and "ringworm bush" in English. This herbal medicine is used to treat ringworms and skin fungal infections.
The Ampalaya (Momordica charantia), known as "bitter gourd" or "bitter melon" in English, is most known as a treatment of diabetes (diabetes mellitus) for the non-insulin dependent patients. Ms. Juaban said it is the leaves of the Ampalaya which is used.
Bawang (Allium sativum), popularly known as garlic, mainly reduces cholesterol in the blood and hence, helps control blood pressure. Ms. Juaban cautioned the public, however, that the potent substance in bawang is only soluble in oil, thus, for those who are using bawang to reduce their cholesterol, they should sauté the bawang in healthy vegetable oil. Eating the bawang raw will only give one a heart burn.
Bayabas (Psidium guajava) or "guava" in English, is primarily used as an antiseptic, to disinfect wounds. Also, it can be used as a mouth wash to treat tooth decay and gum infection.
Niyog-Niyogan (Quisqualis indica L.) is a vine known as "Chinese honey suckle". It is effective in the elimination of intestinal worms, particularly the Ascaris and Trichina. Only the dried matured seeds are medicinal. One should crack and ingest the dried seeds two hours after eating (5 to 7 seeds for children & 8 to 10 seeds for adults). If one dose does not eliminate the worms, wait a week before repeating the dose.
Ulasimang Bato (Peperomia pellucida) is also known as "pansit-pansitan." It is effective in fighting arthritis and gout. The leaves can be eaten fresh (about a cupful) as salad or like tea. For the decoction, boil a cup of clean chopped leaves in 2 cups of water. Boil for 15 to 20 minutes. Strain, let cool and drink a cup after meals (3 times per day). Decoctions must be made just for one day use only.
Yerba Buena (Clinopodium douglasii) is commonly known as Peppermint, this vine is used as an analgesic to relive body aches and pain. It can be taken internally as a decoction or externally by pounding the leaves and applied directly on the afflicted area.
There are other herbs and herbal remedies like banaba, virgin coconut oil, mangosteen, gumamela, luyang dilaw, silymarin, countless of them.
Long, before the introduction of modern medicines and Western curative methods, herbal medicines had been widely used in the Philippines.
The curative effects of the herbs were tested by traditional healers on their patient on try-and-error basis. The knowledge and skills on the curative application of any give herbal medicine has been handed down from generation to generation.
Apart from prescribing herbs medicines, the traditional healers were known to give psychological comfort and moral support to their patients. In the old days, they were well respected and enjoy high social status.
Through generations of selective process, the herbs that were known to be effective were kept alive. The ineffective ones were soon forgotten.
Just a word of caution, though. There is no substitute for the services of a licensed medical practitioner. Consult with a doctor knowledgeable with herbal medicine or Philippine medicinal plants before taking or mixing herbs with prescription and non-prescription drugs. Test show that some herbal medicines have adverse reaction when mixed with other drugs.
No Idle Land, No Idle Hand
By PURIFICACION S. DALOOS
October 24, 2008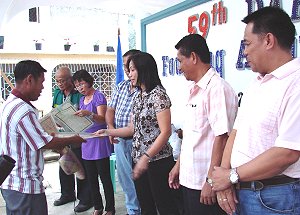 TACLOBAN CITY, Leyte – Consistent with the Department of Environment and Natural Resources' thrust of poverty reduction and hunger mitigation under President Gloria Macapagal-Arroyo's administration, some 302 qualified land claimants from Daram, Samar recently received Free Patent titles covering an area of 694 hectares on the occasion of the town's 59th Founding Anniversary.
Daram Mayor Lucila L. Astorga said that her municipality's strategy in undertaking President Arroyo's thrust is thru their "No Idle Land, No Idle Hand" policy where the distribution of the Free Patents is a big help. She thanked the DENR and the Register of Deeds as well as the Department of Agrarian Reform (DAR) for distributing the land titles and establishing an Agrarian Reform Community in their town.
Mayor Astorga said that through the help of the three government agencies, attaining the vision of Daram which is, "A progressive agroforestry-based municipality where God-loving people live in a secured environment will be made easy. "The interventions of agencies like the DAR and DENR will boost the progress of our town under our banner program 'FAITH' – Fisheries and agriculture development, Access to basic social services, Infrastructure development, Total commitment to peace and order and Human resources", Mayor Astorga said.
Samar ROD Chief Fernandina Reyes reminded the land title recipients of their responsibility after receiving the Free Patents, to keep their title safely for it is very expensive to reconstitute a land title. The recipients are also responsible for the payment of real property taxes which could help in the development projects of the municipality.
DENR Land Management Service, Regional Technical Director Ramon Unay told the recipients to cultivate their lots subject of the title to attain a progressive life. It is advantageous to have a land title because untitled lots are considered as dead capital and cannot be used in business and the land must be productive.
DENR Regional Executive Director Alfredo S. Pascual disclosed that the DENR under the leadership of Secretary Lito Atienza is working hard on the government's mandate of reducing poverty especially in rural barangays. Our strategy is fielding Deputy Public Land Inspectors to gather land applications right in the barangays. That is making the DENR services closer to the people in the barangays. RED Pascual added that, "there are still about 326 lots in Daram which are potential for land titling. PENR Officer George Guillermo who has jurisdiction of Samar will work with other concerned government agencies for convergence of services. This is what we will be doing in the entire region"
P130 M Isuzu-Plan Automotive Training Center in Region 8 soon to be inaugurated
By Philippine Information Agency (PIA 8)
October 20, 2008
TACLOBAN CITY, Leyte – The P130 Million Isuzu-Plan Automotive Training Center in Region 8 is now on its finishing touches and will be inaugurated in November, Director Juan M. Sabulao Jr., of TESDA Region 8 informed during the Harampang Ha PIA held recently.
This is another good opportunity to learn a skill, find a good job and uplift the Filipino family from poverty, Director Sabulao told the media practitioners.
The Automotive Mechanic Training Center and Scholarship Project in Tacloban City to be undertaken jointly by Isuzu Motors, Plan International and TESDA was launched on January 31 at Shangrila Hotel.
The Training Center was supposed to be put up in Cebu, Director Sabulao intimated, but because of some problems on the lot, Isuzo found TESDA 8 to be the ideal location, instead.
The Training Center is composed of a two-storey Workshop, a 160-bed Domitory, a Multi-Purpose Center, a canteen, and a recreational facility.
Isuzu through the Plan Philippines poured in $3 million to establish the Training Center where every year, for the next five years, 80 scholarships will be given for a two year auto-mechanic course, completion of which will earn the scholar a National Certification IV.
The scholars, male and female, will be chosen from the communities across the country with the assistance of Plan International which operates in the most depressed areas like Samar, Southern Leyte, Camotes Island in Cebu, Masbate and Mindoro Occidental.
The scholars will be chosen from the poorest and most marginalized communities and will be asked to commit themselves to finishing the training course and taking jobs in the automobile industry.
The first batch of scholars/trainees is composed of 30 male and female youth from the Plan-provinces of Samar, Eastern Samar, Northern Samar, Southern Leyte, Masbate, Romblon and Camotes Island, Director Sabulao informed.
After six months, another batch of 40 people will start their training, Director Sabulao added, emphasizing that the Plan Philippines is the one recruiting the trainees.
Isuzu Motors will cover living and educational fees, the construction of a dormitory, guidance for curriculum development and training facilities and equipment. Isuzu pledged to extend more support beyond 2012.
Aside from the financial assistance, Isuzu will provide expertise developed through its automobile manufacturing business, including assessment of technical competence of the proposed curriculum, improving the course design and periodic assessment and evaluation of competence and appropriateness of delivery of the course programs.
TESDA Region 8 under the able leadership of Director Juan M. Sabulao, Jr., will be the main resource organization for the technical training and will be supplying the instructors and lectures.
The project will follow TESDA's National Certification system as the legally mandated and recognized accreditation and certification in the Philippines which is composed of a set of requirements that the student must accomplish before he could be considered a certified mechanic.
TESDA will also provide the non-technical aspects of training like values formation, basic literacy and personality development.
Plan International and TESDA will conduct a customer satisfaction survey one year after the hiring of the project trainees, the result of which will be used in formulating annual operational plans and new policies for the improvement of the training center.
UN MDG Conference for Youth Leaders of Leyte and Samar
By DON ELISEO LUCERO-PRISNO III
September 20, 2008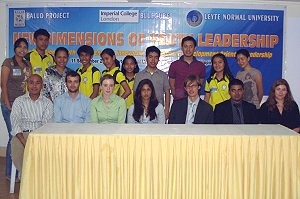 The conference speakers and some participants
A youth leadership conference was held at the LNU House in Tacloban City on 11 September 2008 to discuss the United Nations Millennium Development Goals before youth leaders of Leyte and Samar. The conference with the theme New Dimensions of Youth Leadership: An International Youth Conference on Innovative Paradigms in Development-Oriented Leadership was spearheaded by the Balud Project through its leadership program, Building Alliances and Leaders through Understanding and Development (BALUD), in cooperation with Imperial BlueCube and the Leyte Normal University. The aims of the conference were to introduce the UN MDGs and share new learnings of managing youth and youth-oriented organizations from international perspectives before youth leaders of Region VIII who normally have no opportunities to attend similar conferences in the capital or abroad. The participants were young leaders from colleges and universities, community-based groups and professional organizations.
The conference presented a string of award-winning speakers lead by Dr Don Eliseo Lucero-Prisno III of Cardiff University who is the 2008 British Council Shine International Student Awardee and 2005 World Science Forum Winner. He provided the introduction to the conference with his lecture on Millennium Development Goals and the need for youth organizations to help in fastracking the achievement of the MDGs.
Rutchelle Enriquez, 2001 Ten Outstanding Students of the Philippines (TOSP) and a delegate to the Asia Pacific Leadership Program of East West in Hawaii inspired the audience with her talk on how young leaders should start from small beginnings. Two ECE students from De La Salle University, Jayson Reggie Obos (Intel International Science and Engineering Fair Grand Award Winner and Bryan Asis (Most Outstanding Student of De La Salle University) gave presentations on the role of the youth in climate change and new learnings in management for project success, respectively.
Some of the sessions focused on financing. The international speakers from Imperial College London were Neha Obhrai (UK) who discussed social development and finance while Ambarish Dash (India) and Steven Chambers (UK, Intel International Science and Engineering Fair Grand Award Winner) talked on venture philanthropy. Other Imperial student speakers, Emma Thompson (UK/USA), Adam Aziz (UK/Libya) and Kristina Östman (Sweden), were joined by Lisa Carter (UK) from University College London in a panel discussion on the challenges of young leaders in the context of globalization and other social innovations.
A special development lecture was delivered by Dr. Evelyn Cruzada, a member of the UNESCO Technical Working Group on Lifelong Learning Program for Sustainable Development and President of the Leyte Normal University. She gave a talk entitled, Addressing the MDG Challenge of Universal Primary Education: The Role of the Academe. She emphasized in her presentation the need for more concerted efforts in achieving this MDG.
The conference also provided a unique and tangible example of how youth organizations can move MDGs through partnerships. This was through the signing of the Memorandum of Agreement between the Balud Project, Imperial BlueCube, Leyte Normal University for the benefit of the Balud Elementary School in Basey, Samar, Philippines. The University will provide assistance in the areas of teacher training and curriculum development being a Center of Excellence of Teacher Education while the two organizations will finance the scheme. The signing was witnessed by the pupils of the Balud Elementary School themselves.
Challenging real Philippine social cases were provided to the youth participants of the conference where they discussed possible projects to address these social ills. The case studies were on promotion of human rights specially of the LGBT group, tackling rampant vote-buying during elections and pre-marital sex in the context of teenage pregnancy and population growth. Their presentations were evaluated by panellists composed of the conference speakers. The eventual outcome of the gathering is a continuous dialogue and interaction between international and local youth leaders to advance projects and programs that will benefit their local communities in the context of the achievement of the UN MDGs. The Balud Project and Imperial BlueCube promised to fund sound project proposals that will come out from the future plans of the participants present.
The conference also provided opportunities for social networking as they were entertained by the University of the Philippines An Balangaw and dances presented by the Balud Elementary School Dance Group. The Balud Organization of UP Tacloban composed the organizing committee of the conference headed by its President Julie Jean Abude. More information on the conference are available on www.baludproject.org.
According to Dr Lucero-Prisno, the brain behind this conference, "I am extremely happy to have brought the concepts of MDGs and new knowledge in youth leadership to the grassroots. More than anybody else, we have to help in nurturing the young leaders from the regions since they are those who are in the forefront in the achievement of the MDGs."