Peasant women brave palengke challenge
Press Release
By SAGUPA-SB
March 14, 2007
TACLOBAN CITY, Leyte – On the occasion of this year's commemoration of the International Women's Day, three peasant women braved the challenge of shopping all their families' essentials for a measly sum of P100.
This, according to Diana Ragub, Campaign and Advocacy Coordinator of the peasant group, Samahan han Gudti nga Parag-uma ha Sinirangan Bisayas (SAGUPA-SB), depicts the troubles that every peasant woman go through everyday just so all their necessities will be covered by the ample income that they have. Like their husbands, Ragub said, peasant women are likewise saddled by the pressure of keeping a healthy, nourished, educated family, while receiving meager income from their day-to-day work in the farms.
"Based on the surveys conducted by government statistic offices and even by the Bureau of Agricultural Statistics, majority of the families in the region which subsist mainly on agriculture has an annual income of P30,000-P39,999. Of the 64,803 families which rely on agriculture, majority or 15,299 have a meager income of P82-109 per day from which they derive their needs--- from food, clothing, water and electricity, health care and education of children," said Ragub.
Malou Arcones, 36, a mother of six, was among the peasant women who braved the challenge. Her husband, Toto, 37, is a fisherman who accepts "sidelines" in carpentry work, farm work, taking care of fish cages, among others. He earns P100-P150 per day on the average. Malou recounts how they survive on such a meager amount – having viand only if Toto comes home with fish caught at sea, selling sampaguita necklaces in the market to augment their income for the children's baon to school, gathering wood in the forests of Basey for firewood as they cannot afford fuel. In order to augment their income, Malou applied as sitter of a two-year old child in a nearby barangay for P50 a day.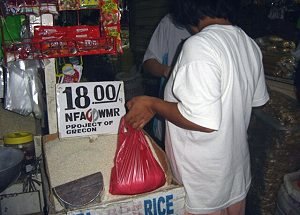 Last March 8, she was given P100 and was ask to purchase what her family needs for one day. She bought one kilo of NFA rice for P18, fish for P20, pakbeton for P20, ¼ kilo of dried fish for P17, three pieces of egg for P16.50, vinegar for P5 and ginger for P2. She still had P1.50 left as change.
"This is not even enough considering that there are eight of us in the family. This kilo of rice is only good for one meal. In case my children would ask for baon, I would not be able to give them anything considering that only P1.50 was left," said Arcones.
Ragub said that most farmers and fisherfolks would purchase for their food needs if pressed by the situation over other basic needs.
A wonderful Silver Episcopal Jubilee celebration

By ODON SABARRE
March 6, 2007
Around 12 o'clock noon of October 16, my good friends Nydia Yap, Mila Cadiz and Tita Chan rode off to Naval Leyte to greet best wishes to a dear friend of ours, Msgr. Filomeno Bactol D.D, Bishop of Naval who was celebrating his Silver Episcopal Jubilee.
We arrived at about 2 p.m., and we were received gracefully with garlands and souvenirs for the occasion.
Msgr. Bactol treated us to a merienda of Carigara delicacies and their delicious "suman."
He left us for a while because he was going to attend the Forum whose topic was BEC: An instrument of Renewal for the Clergy given by Msgr. Jose Marie Delgado and the Naval Experience given by Fr. Marvyn Maceda.
Later, Bishop Bactol asked us to accompany him to a nearby bridge where he would all welcome the former First Lady Mrs. Imelda Romualdez Marcos who was arriving all the way from Manila. Mrs. Marcos was with her "Blue Ladies" Luz Mate, Lily Montejo, Lus Bakunawa, Fe Bautista and her security.
Then we all went to the office of Naval Mayor Gerry Espina who warmly welcomed all of us.
Nydia and company had to go back to Tacloban because she was going to entertain the National President of the Filipino Chinese Catholic Association of the Philippines, Mrs. Conchita Tan, who happens to be her close friend.
I was left behind because I was going to do an interpretative dance number titled "Lessons We Learned" and Msgr. Ben Sabillo was supposed to sing it. Do you know that I danced together with my late brother, Tommy, (we were known as the SABARRE BROTHERS) during Msgr., Bactol's Ordination in Palo, Leyte as a Bishop 25 years ago? I was so delighted that I was going to dance for him again. I still remember that Mrs. Imelda R. Marcos, the First Lady then, was his "ninang" in that special occasion.
The affair in the evening was BEC: Fiesta sa Nayon and it narrated Msgr. Bactol's journey to Bishophood. In between the narration were musical numbers. I was so impressed together with everyone; with the students from NIT (Naval Institute of Technology) where they performed in total darkness and the only ones that you could see were their gloves in ultra violet rays where they created images of birds flying, letters and signs, depicting the 25th anniversary of Msgr. Bactol. Mrs. Marcos was gasping a lot of Oh's and Ah's in her admiration.
Later, in my number, I prayed hard and asked our Dear Lord for assistance because my audience in the Presidential table were the Celebrant, Bishop Filomeno Bactol together with Bishop Leonardo Medroso, Bishop Emmanuel Transe, Bishop Angel Hobayan, Mrs. Imelda Marcos together with her Blue Ladies, Mayor Gerry Espina, Virgie Veloso, and lots of priests and nuns in the audience.
Praise the very good Lord, I did my number very well, and I got a "Bravo" from Mrs. Marcos and thunderous applause from the audience.
I was so elated when Bishop Transe told me that they are my silent admirers of my craft. Bishop Dean congratulated me warmly and told me that I can still really dance.
"You were great"! "I just see and read you in the papers and it is my first time to see you dance and I am impressed, wished I could have seen you during your younger days" exclaimed Mayor Espina.
"Nagparayaw ka gu hin ora-ora kay nakadi hi "ma'am," teased Mana Lily Motejo. Mana Luz Bakunawa told me that she was impressed with my "turns" or "pirouettes."
I am thankful to our Dear Lords because at my age and my weight, I can still manage to dance.
The next day, Oct. 17, at about 9:30 am, it was the Celebration of the Holy Eucharist in the Cathedral Church of our Lady of the Holy Rosary, I saw in the corridor the former Mayor of Tacloban, Uldarico Mate, and asked him, who is his companions were and he answered, "Upat nga Chicks" and when I went inside the church, the 4 chicks happened to be "hens" already, because they were namely Mana Miming Dublado, Mana Daisy Soledad, Mana Fely Ortega, and Mana Beny Santiago Johnton. Next to arrive in the church was our gorgeous Congresswoman of the First District, Congw. Remedios "Matin" Petilla who came with her close friend Cora Quintero Villareal. She was really stunning with her Filipina Kimona and skirt, I asked for Gov. Jericho Petilla and she told me that all Governors were in Cebu for a conference.
In about 10 minutes, Mrs. Imelda Marcos together with her entourage arrived and lots of friends and fans came to greet her. Parang "Artista" ang dumating. She looked very regal and lovely and she looked trimmer.
Then the Mass started with the procession of about 80 priests, followed by the 7 Bishops, the Main Celebrant Bishop Bactol. He looked very serene and holy. The Bishop who just arrived was Bishop Maximiano Cruz and Bishop Isabelo Abarquez.
In the procession, I saw Fr. Fabian Mariano, Fr. Oscar Florencio, our Parish Priest of Sacred Heart, Fr. Noel, the Rector of the Calbayog Seminary and lots of others who are mostly my friends.
Letters of the best wishes from a lot of Bishops all over the country and from POPE BENEDICT XVI were read and the Mass formally started.
I could see that a lot of people really love and care for Bishop Bactol because of the enormous attendance of his relatives, priests, nuns from different Congregations, members from Catholic Organizations, and friends. And they all line up during the "Offertory" to give something. Congw. Petilla and Mrs. Marcos brought the CHALICE OF THE BREAD AND WINE.
Aside from the money given by his well-off friends, he received tomatoes, pipino, kilos of rice, camotes, papaya and other simple gifts from simple folks just to show their love admiration and gratitude to the good Bishop. Bishop Medroso was excellent in his Homily.
The Mass ended with a "Thank You" speech from the celebrant and he gave a gift to Mrs. Marcos, 5 volumes of the speeches by the late President Ferdinand Marcos, which were compiled by his student, a Seminarian during his teaching days.
The celebration ended with a sumptuous lunch. Later everyone started heading for home. I rode back together with Msgr. Ramon Aguilos, parish priest of San Jose, and we agreed that indeed the whole affair was beautifully and really blessed by heaven.
To Bishop Bactol, my heartfelt congratulations and hoping to perform for you again in your GOLDEN EPISCOPAL CELEBRATION in the year 2031.

The author with former First Lady Imelda R. Marcos and Naval mayor Gerry Espina.


Bishop Felomino Bactol and former First Lady Imelda R. Marcos. Also in photo (from L-R) Bishop Angel Hobayan, Bishop Pedro Dean, mayor Gerry Espina and Mrs. Luz Mate.
8th Infantry Division cites gain in 2006
By 1Lt. MARIO JOSE M. CHICO, (INF) PA
January 18, 2007
CAMP LUKBAN, Catbalogan, Samar – The year 2006 proved to be another fruitful year for the army troopers of the 8th Infantry Division, Philippine Army. These were the words given by no less than the Commanding General of the 8th Infantry Division of the Philippine Army, Maj. Gen. Rodrigo F. Maclang AFP, during the Command Conference he personally presided at Headquarters, 8th Infantry Division in Camp Lukban, Maulong, Catbalogan, Samar on January 9, 2007.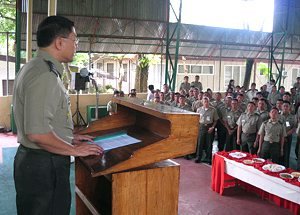 Maj. Gen. Rodrigo F Maclang conveys his message to the 8ID Troopers during the traditional New Years Call held at Camp Lukban, Catbalogan, Samar on January 9, 2006.
The said conference was attended by all field commanders of the Philippine Army operating in Eastern Visayas under the Command and Control of the 8th Infantry Division. It was held after the traditional New Year's Call to the Commanding General held earlier of the day at Camp Lukban Multi-Purpose Hall.
Maj. Gen. Maclang cited the accomplishments of the 8ID prominent among which are the neutralization of Communist Terrorist Leaders (CTL) Glicerio Roluna alias Jay-R, of Southern Leyte CPP-NPA-NDF terrorist group; CTL Bebiano Rentillosa alias Sinto, of North Leyte CPP-NPA-NDF terrorist group; CTL Nestor Caliwan alias Hanao, former leader of Mt. Amandewin Extortionist Group; and the latest was CTL Zacarias Nobes alias Cadoy, leader of Front 1 of CPP-NPA-NDF terrorist group in Northern Samar. All of these personalities were operating in the Eastern Visayas under the command of CPP-NPA-NDF headed by the erstwhile priest-turned terrorist, Fr. Santiago Salas.
Likewise, Maj. Gen. Maclang praised the people of Leyte for helping the government in exposing the evil acts perpetrated by the communist terrorist group in the discovery of the Mass Graves in Inopacan, Leyte. He also exhorted the people of Eastern Visayas to be extra vigilant in guarding our democratic freedom and our children from exploitation by these barbaric terrorist preying on the youthful innocence of the children they are targeting for recruitment in armed conflict which is a clear violation of existing international laws on protection of minors. This is evident in the successful rescue efforts undertaken by the army to some six (6) minor combatants being used by the communist terrorist in their extortion and wicked activities.
The year 2006 also showcased the Army's true and genuine concern to the people of Eastern Visayas as exemplified by the 8ID troopers sincere commitment of serving the people beyond the Call of Duty, when they spearheaded the conduct of Rescue, Relief, and Retrieval efforts together with the different local and international rescue units during the infamous Guinsaugon Mudslide tragedy at St. Bernard, Southern Leyte. The personal sacrifices of our troops during that fateful event earned the admiration and respect of the Filipino people.
Maj. Gen. Maclang enjoined all Officers and men of the 8th Infantry Division "to pursue with firm resolve the dynamism you have constantly manifested as we move on to another promising year ahead of us. Let us not rest on our laurels. Let us all work hand in hand in bringing the 8th Infantry Division to a brighter future".
TOYM awardee admits award compels him to push for excellence
By NINFA B. QUIRANTE (PIA Samar)
January 12, 2007
CATBALOGAN, Samar – Twelve Outstanding Young Men (TOYM) awardee Romeo Federico Quimbo, Chairman/Executive Officer (CEO) of Pag-Ibig Fund admits his award compels him to strive for excellence.
In a phone interview, Miro as fondly called by his friends bared that while others regard awards as an end in itself, he feels it an additional responsibility to achieve more.
He said he entered Pag-Ibig only in 2001 as deputy CEO. He said he initiated reforms to show that a government can be at par with the private sector.
His initiated reforms paid off when Pag-Ibig became the 8th largest in net income in 2005.
"Only the giant telecommunications company were ahead of us "the young Quimbo added.
In the housing program, Miro proudly bared that they had a 300% increased Output in four-year time.
The TOYM awardee who traces his roots to Catbalogan, Samar said he intends to stay with Pag-Ibig until 2010, after that he plans to move somewhere else.
"I want to give way to others who may have better ideas," he humbly explained.
UP close and personal
The young Quimbo who still speak flawless Waray is married to a daughter of DOST Secretary Estrella Alabastro and they have two very young sons.
As a student at UP Law School, he said he was not really the so called valedictorian, "safe it is to say that I just belong to the top 20."
Miro as young UP stude said he was involved in UP activism and other outreach programs.
Though Miro left Catbalogan while he was an elementary he found memories of the place still vivid. He remembers his childhood activities with playmates Gerry Muñoz and now Catbalogan Vice Mayor Van Torrevillas.
Miro likes to recall his trips to Imelda Park, Payao Beach and the small town celebration of school and church events even the Sisters of charity rituals he remembers.
Buddy, Gerry Muñoz, recalls that as young children they would race to the Grandstand (Sports Oval in downtown Catbalogan) whenever a helicopter would be heard. The experience of seeing a helicopter for them was unforgettable and that the VIP they see aboard the helicopter kept them in awe.
When Miro boarded a helicopter with Kabayan Noli de Castro (to inspect housing project) and landed right there in the same oval where he and playmates frolicked in younger days, Miro and Gerry remembered 'those days" and like them young boys ogled at Kabayan and Miro.
"Little did Miro know it would also happen to him, " Gerry offered grinning.
"That is why," Miro said, " I wish my kababayan will not put limit in their goals."
In a family of ten children, life was not all comfort for the youngest Miro, but overcoming the challenges; most of his siblings went to law school and successfully hurdled the difficulties.
Miro wants to inspire his fellow Samarnons to hit the challenge.
"While the struggle for Manileños is a little uphill, ours is most uphill but with the right perspective, one from a small town Catbalogan can excel." Miro explained.
Oh yes, he wants to periodically return to hometown Catbalogan and in the immediate future return to an old stall in the town market with old buddies Gerry and Van and consume the best tasting "badhuya" one can only find in Catbalogan town.
UPMSHS students, making a difference in the lives of rural folks
By Philippine Information Agency (PIA 8)
December 20, 2006
TACLOBAN CITY, Leyte – Whoever said that students are not capable of helping the community, that all they do is read books and go to school?
The students of the UP Manila School of Health and Sciences, a ladderized health education, based in Palo, Leyte, are silently making a difference in the lives of the people in the rural areas of Leyte.
These students who come from all over the Philippines especially in places where health workers are a rarity, are assigned to different barangays and help the people formulate their barangay health plan. They help the barangay people identify the problems and the needs and together they find solutions to the health problems of the barangay.
Closely observing the UPMSHS students assigned in two barangays of Tanauan, Leyte, as they presented on December 16, the Barangay Health Plan they developed together with the whole barangay, PIA saw how the students immersed themselves in the community and how the community accepted the students.
The students with the help of the barangay, make surveys in all aspects of health, from the number of malnourished children, sanitary disposal of wastes, potable water, including the resources available in the barangay that can help solve the health problems.
In Barangay Maghulod for example, the UP students included in their interventions the teaching of the mothers on how to make vitamins for the malnourished children, using the leaves of avocado, malunggay and pandan. The feeding program for the malnourished children was done by teaching the mothers nutritious preparations of food which are available in the barangay.
With the help of the students, a one year and two months baby who weighed only 4 kilos when the students first weighed her three months ago, is now healthier. If with the help of the students and the whole community, this baby will be able to play like any other children of her age, then the health plan of the barangay will be a success and the students' coming to the barangay will not be in vain.
These students who are from the different parts of the country like Antique, Surigao, Palawan, Agusan, Davao Oriental, Ifugao, Banaue, Samar and Leyte, have been going back and forth at their assigned interior barangays, Maghulod, Bantagan and Hilagpad, of Tanauan, for three months already. Having different dialects and cultures, these students are able to communicate with the people using the Pilipino dialect.
All scholars, coming from poor places and barangays, these students will first become barangay health workers and then midwives. After passing the midwifery exams, they will be given examinations that will determine if they could proceed to nursing and then to the medical profession.
After graduation, these students will go back to serve their own constituents and thereby help solve the perennial lack of health workers in the remote areas of the country.
Unknowingly, these UPMSHS students are doing more than helping the barangay residents to identify and find solutions to their health problems. They are empowering the people to make solutions and decisions to their problems.
Economical cooking device invention helps poor families in Western Leyte
By GAY B. GASPAY (PIA 8)
December 8, 2006
TACLOBAN CITY, Leyte – An economical energy cooking device innovation, invented by local inventors in the Western part of Leyte has helped many poor families in said area.
The invention of the indigenous energy-saving cooking device called Eco-Electro Charcoal (EEC) Stove which uses coconut charcoal as a main ingredient and an AC-DC electric or transistorized blower, Professor Tomas Ediza one of the three-inventor, in an interview with PIA, attested that the invention did not only help the family users economically but restaurant owners as well.
The EEC stove according to him saves fuel consumption by fifty percent and cooks faster having a cut off cooking time up to 50%. It's fire hazard-free and environmental friendly as well, considering that the stove uses only charcoal, he added.
The innovation Prof. Ediza said was patterned after the concept of the melting device used by bolo-makers of Carigara, Leyte. Applying the existing technology of personally blowing or fanning the burning charcoal in order to maintain its fire blazing effect level, this time, he uses an AC-DC blower using 6-volts electricity or a 12-volt transistorized AC-DC blower used during blackouts. The EEC-stove likewise is made using a recycled & indigenous materials that are easy to find in the local market.
A native of Palompon, Leyte Prof. Ediza and two other inventors namely Alex Tee and Ronald Bitor, have already manufactured and marketed more than 1,000 units of the EEC stove serving clientele not only in the Western part of Leyte but also in some parts of Reguin 8 and Metro-Manila.
A good number of clients, who tried using and have tested the stove for quite sometime, when interviewed during the survey made last August 2004 confirmed that the EEC stove has helped them economically saving their budget by half the price compared to the high cost of gas and kerosene which they usually bought before using the EEC-stove.
The constantly high fire level has resulted to a fast cooking effect thereby cooking a variety of foods in an hour, is just one of the testimonies made by Aling Virgie and Aling Weling, all restaurant owners of Palompon, Leyte.
It is reliable, dependable and affordable to use, Mang Ambo, a restaurant owner commented. The EEC stove are made in double burner with tiles, double burner "kalan-type" and single burner and can be bought with the price ranging from P1,500 to P2,500.
Prof. Ediza calls their invention as pang-MASA, pro-Filipino and pro-poor. The invention was showcased during the Eastern Visayas Consortium For industry and Energy Research & Development 5th Anniversary Celebration held at the Eastern Visayas State University gym in Tacloban City together with other native products and inventions of Region 8.