Region 8's Wonder Boy is only 7 years old
By Philippine Information Agency (PIA 8)
July 25, 2006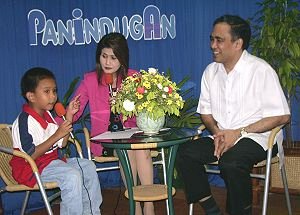 Wonder Boy Benjo (left) during the Panindugan TV talk show hosted by PIA director Olive Tiu.
TACLOBAN CITY, Leyte – Meet the child prodigy of Region 8 – a seven year old boy who knows by heart, the capital of all the provinces of the Philippines, the capital of the all the different countries of the world, the flags of all nations and who could point where each province of the Region is in the map. And all these, he learned even before he entered school.
In a recent television interview, he said he is Joseph Benedict Amascual Cinco.
Where does he live? "At Barangay Sto. Nino, Tanauan, Leyte."
Does he know the Mayor of Tanauan? "Yes, Mayor Roque Tiu. I will become a mayor like him."
Oh! What will you do when you become the Mayor of Tanauan? "I will build streetlights, churches, schools, roads…"
Being introduced to the Regional Director of NEDA, he said he is Director Gosoco. And does he know what NEDA stands for? He said, National Economic Development Authority. Does he know other directors? Yes, he knows Director Ernie Hilvano of BFAR which stands he said for Bureau of Fisheries and Aquatic Resources. Yes, he does know the director of PIA which stands for Philippine Information Agency. He loves to repeat what Governor Petilla of Leyte once said at the Panindugan TV program "we are the best."
Benjo as he is called by his parents, Rodrigo and Shiela Cinco, is now enrolled at the City Elementary School where his teacher is aware that he is a gifted child. His mother who is a home manager used to introduce to him the alphabet using anything seen in the house including vegetables. The mother said Benjo is playful just like any other child and she usually introduces a new thing to him even when he is playing. She noticed later on that Benjo easily retains what is taught of him.
What Sheila was not aware of was that she made the Mackenzie Learning Method, Rule #1, Mom Has Fun! which is a curiosity-based, judgment free, audio and visual feedback system that allows a person to see their impact, potential and brilliance and thus attract a more synchronized, fun and satisfying lifestyle. The method strengthens a person's emotional intelligence thus allowing him to live life in greater accordance with his essence and vitality.
He is very fond of watching educational television programs. He knows all the basketball players of NBA including who the most valuable player is. Asked whether he knows how to sing, he said yes and what it is would we like him to sing, English or Panhayhay. It turned out that he is also watching the local channels.
From watching the television, he knows the different tourist destinations of the Region and the whole country. Asked about the tourist destination of Region 8, he said Leyte has the MacArthur Shrine near the MacArthur Park Beach Resort with good accommodation, restaurant and bar.
Looking at a big map of Region 8, he pointed correctly and fast, each of the provinces, Southern Leyte, Eastern Samar, the capital of which he volunteered to inform is Borongan. He knows where Leyte is and where the capital of Leyte is and where his hometown Tanauan is.
He could add and subtract one digit numbers using his hands; for 2 to three digit numbers, he writes them and add and subtract the numbers using the right method. For multiplication, he uses an abacus.
He could speak English, Filipino and Waray, but when asked what the capital of Japan is, he said Tokyo and he uttered some Japanese words. When asked about the capital of China, he said Beijing and again, uttered some Chinese words.
Benjo plays just like any other seven year boys but he thinks like a boy who is older than his age.
One thing certain is that Benjo is born with a unique gift. People who recognize that gift must act upon it. There is a need for something new, something honouring this fast moving world, something that could bring out the best in this child's genius.
The making of an Outstanding Policeman of Region 8
By Philippine Information Agency (PIA 8)
July 8, 2006
TACLOBAN CITY, Leyte – The inclusion of a Region 8 policeman as one of the Country's Outstanding Policemen this year, is a very refreshing news for the Eastern Visayans.
Thanks to Senior Police Officer 3 Nestor Kahano, his winning proved that there are many admirable police officers in Region 8 and it is unfair for society to make generalizations every time that they hear bad things happening in the police institution.
Senior Police Officer 3 Nestor Kahano dropped by the PIA office fresh from his early morning flight from Manila, a picture of a dignified young police officer worthy to be called one of the country's top cops.
A graduate of Bachelor of Science in commerce major in Accounting at the Divine Word University in Tacloban City in 1982, SPO3 Kahano has been a permanent member of the Philippine National Police since February 19, 1987. Currently, he is assigned with the Office of the Regional Intelligence and Investigation Division, Police Regional Office 8 at Camp Kangleon, Palo, Leyte.
Within his 19 years of service in the Philippine National Police, SPO3 Kahano has received 67 medals and 41 commendations for exemplary performance in the police service.
He was a Regional Awardee receiving a plaque of Merit on the occasion of the 15th PNOP anniversary on February 7, 2006 from Police Chief Superintendent Eliseo dela Paz having been adjudged as the Best Senior Police Non-Commissioned Officer of the Year.
In view of his outstanding performance in police administration and operations particularly in the areas of Crime prevention and control, peacekeeping and internal security operations, law enforcement, public safety and community relations, SPO3 Kahano has also been a national awardee as the Best Senior Police Non-Commissioned Officer for the year 2005 on the occasion of the 15th PNP Anniversary on January 30 2006, receiving a plaque of Merit from PNP Police Director General Arturo Lomibao.
Among his major accomplishments in Crime Solution with community involvement are his direct participation in the conduct of special intelligence and manhunt operations against three top personalities of the dreaded Waray-Waray kidnap for Ransom group who were included in the list of most notorious kidnappers in the country. This operation resulted to the eventual arrest of Allan Balimbigan with approved monetary reward of P600,000; Allan Celebre and Silverio Superable with approved reward of P500,000.00.
He also participated in the campaign against loose firearms which resulted to the successful raids in the premises of Ex-Army and Ex-Barangay Captain ArturoPacasas in Calbayog which resulted in the confiscation of three baby armalite rifles, one M1 Garand rifle; one Cal. .30 carbine, one cal .45 pistol; one shotgun and several rounds of ammunition.
The raid in the premises of Victor Chen alias Chen Fei Chuang in Tolosa, Leyte resulted in the confiscation of two cal .45 pistols; one live rifle grenade and several rounds of ammunition. He also participated in the successful arrest of Alfredo Porra, an escapee from Carigara sub-provincial jail charged with crimes of robbery with homicide and murder, approved with a reward of P50,000.00.
SPO3 Kahano has also a long list of accomplishments in crime prevention with community involvement like the implementation of Sagip Batang Manggagawa Project in Region 8, among others.
No wonder, the board of judges considered SPO3 Kahano as one of the Country's Outstanding Policemen. SPO3 Kahano has made Region 8 proud.
Goat milk is nutritious as mother's milk
By FLOR JACKSON, (PIA Biliran)
July 3, 2006
NAVAL, Biliran – "If a child drinks goat's milk, it is just like he is drinking a mother's milk because the vitamins, minerals and nutrients he gets from a goat's milk is equivalent to a mother's milk which is a complete food in itself," thus said Ms. Nascencia Abad, the Municipal Agricultural Officer (MAO) of the local government unit (LGU) of Naval who is also the chairman of the Municipal Nutrition Council (MNC) in said municipality during the Kapihan forum held live recently at Radyo Natin-Naval.
She revealed that the municipality of Naval through the MNC is targeting the total eradication of malnutrition in the area.
At least, she said, two of the 26 barangays in the municipality have been identified with malnourished children.
The MNC of Naval through the office of Ms. Abad as the MAO has identified Goat for Milk Production project in all the barangays of the municipality so that children especially those that were identified as malnourished can avail of the daily supply of fresh milk extracted from the female goats.
She added that in order for the Goat for Milk Production project to be sustainable, a family-recipient of one female goat will have to return two female goats months later and this will be given to other households who are yet to receive their share of the project.
The beneficiaries, she declared, have nothing to fear if the goats will not survive because these are fully insured under farm animals and livestock insurance with the Philippine Crop Insurance Corporation (PCIC), hence replacements are at hand anytime.
A training of the beneficiaries initially identified by the MAO of Naval on the goat for milk production will be conducted by the first week of July to teach them how to raise goats for milk production especially in handling and taking care of the female goats which are the sources of the rich and nutritious fresh milk.
Furthermore, she said that the goat for milk production project will be paired off with vegetable gardening project so that each family in the barangays of Naval town will have a steady supply of fresh vegetables readily available right at their own backyards.
A regular feeding program is also conducted regularly by the MNC of Naval in barangays with identified malnourished children. Funding of this program comes from Roselyn Espina-Paras who spends her fund salary as member of the Sangguniang Bayan of Naval for this particular project.
With these interventions, Ms. Abad declared, she could not find reasons why malnutrition in Naval will not be eradicated, though she said, this can only attain success if the parents especially those with malnourished children will extend full cooperation and support to what is expected of them by the Naval MNC and the coordinating agencies.
Based on the data released by the NNC in region 8, Brgy. Libtong and Brgy. Villaconsuelo in Naval town have been identified as barangays with malnourished children in various degrees.
US teacher warns Pinoy educators who want to teach in US: 'The higher the pay, the harder the job'
By ALEX P. VIDAL / PNS
July 1, 2006
ILOILO CITY – A visiting science education teacher from the University of Georgia, USA has warned Filipino teachers intending to teach in the United States "to be strong" saying US public school teachers are currently facing a "difficult cultural problem" and that Filipino teachers "might lose their important values because of the problem of the culture of teacher."
Dr. Deborah J. Tippins, now assigned at the West Visayas State University (WVSU) under the Rotary Foundation University Teacher Grant, told members of the Rotary Club of Jaro-Iloilo City during its 45th regular weekly meeting last June 16 at the Amigo Terrace Hotel, that "the job of teachers in the US is harder even if the pay is big."
"Inter-city schools (in the US) are difficult to work at as students don't respect the teachers there," Tippins said.
Eager To Learn
She said unlike in the Philippines where students are not hard to motivate and are very eager to learn, "students in the United States are undisciplined; they carry knives, and they call their teachers bad names, throw chairs and piece of paper at them."
Tippins said she learned of so many Filipino teachers in the US that are "oftentimes struggling" in their workplaces.
It is illegal to pray in a US classroom, she said, because of their strong adherence to the separation of state and church. "If you pray in the classroom, you are automatically fired," she warned. "You can't have religious icons inside the classroom."
On the contrary, most classrooms in the Philippines, the only Catholic country in Asia, start their morning classes with prayers and with icons of the crucifixion and the Blessed Virgin Mary conspicuously displayed above the blackboard.
Values
"Money is not the only thing in the world (for Filipino teachers)," Tippins stressed. "Important values might lose (if they can't withstand the problem of the culture of teacher)."
Tippins said most American teachers are shying away from inter-city schools but would demand a "hazard pay" if prevailed upon by the institutions to work there. And because American teachers avoid inter-city schools, many Filipino teachers are assigned in these schools, she opined.
In US schools, teachers are allowed only a 15-minute break for lunch unlike in the Philippines where teachers can have enough time to prepare for the next session, Tippins said.
The biggest problem US schools are facing today is shortage of teachers especially in the fields of science, Spanish language, mathematics, and special education "that is the reason why we recruit from the Philippines."
P.E. Teachers
Ironically, she said, there is an abundance of teachers in the physical education subject "as everybody wants to teach in sports."
American teachers, Tippins pointed out, preferred to work in pharmaceutical firms "where the pay is good and the hazard is less."
There is a shortage of teachers in the US because American schools have more classrooms, she said.
"We have no special classroom for special students. All students whether bright, gifted, blind, impaired, artistic are in the same classroom," Tippins stressed.
Jampacked Classrooms
They only have a maximum of 21 students per classroom unlike in the Philippines, she said, where a jampacked classroom can still accommodate from 30 to 50 students.
American teachers, Tippins added, also have multi-cultural schools and most of the students are Spanish-speaking Mexican immigrants who don't speak English making it difficult for them to deal with their different backgrounds and history.
Tippins, sponsored by the Rotary Club of Athens, Georgia District 6910, will be here until August 2006.
She majors in anthropology research and has been visiting the country since 1999.
NBI probes on EV's "little league" champions
By ROMMEL L. RUTOR
June 18, 2006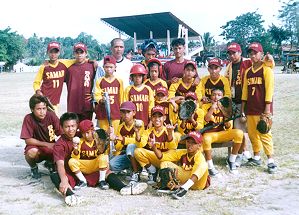 The Catbalogan little league baseball team in a yellow-maroon uniform with coach Abuyen and friends. They dream of playing baseball in international competition someday.
CATBALOGAN, Samar – After capturing the championship in the elementary baseball competition during the "Palarong Pambansa" held in Naga City last month, the Eastern Visayas region's delegation composed of players from this town is now being investigated allegedly by the National Bureau of Investigation (NBI).
In a report that reached this writer, a certain Edgardo Baldemos who identified himself as an NBI Agent from Tacloban City, and accompanied by one Atty. Mendoza from the NBI Samar Office, went to Catbalogan II Central Elementary School (CIICES) here asking for various records of the pupils who composed the EV team who beat the National Capital Region in the national finals of the "little league" division in last month's national sporting event.
The Little league Baseball Team coach Orlando B. Abuyen, in June 9 airing of CCATMAN Weekly Kapehan television, disclosed that the NBI agents went to see him posing questions regarding the children's records.
Accordingly, the NBI Agents also went to Samar National School (SNS) and took out records of the other siblings of some of the players that represented Eastern Visayas (EV) in the Palarong Pambansa.
"They told us that there is big discrepancy on the age gaps of the playing children of our team to that of their respective siblings, hinting that we might have faked the age requirements of our players", Coach Abuyen stressed.
However, CIICES Principal Mrs. Sofie L. Rutor clarified that their baseball team's records, particularly the age aspect are all undoubtedly straight and authentic.
Mrs. Rutor voluntarily provided the NBI with photo copies of the children's school records, which were later revalidated with the local civil registrar's office here.
"Waray man hira makikit-an nga diperensiya kay an tinu-od man la nga requirement ha edad hiton kabataan an am gin-susunod.", the principal said, adding that the alleged age gap between one of the players and his brother at the SNS is obviously significant because having different mothers.
Coach Abuyen likewise informed that the NBI agents asked for the presence of the children and started interviewing them, "this despite of the fact that the national screening committee of the Palarong Pambansa already reviewed the veracity of our team's membership", Abuyen stressed.
Media Hype
"There was no formal protest actually filed by the NCR against EV region's little league team", this was disclosed by Coach Abuyen.
But accordingly, because of the alleged media hype instigated by the parents of the children of the NCR team, the national screening committee "por delicadeza" conducted a review on the papers and records of the EV baseball players, but still ruled out that the records are all in order, said Coach Abuyen.
"Waray man hira mag-file hin protest, pero nakadto lugod hira ha media pag-yinakan nga kesyo mga lagas na kuno an mga players han EV", he stressed.
What Actually Transpired?
In details, Coach Abuyen informed the media that during the start of the game, the EV Team composed of Catbaloganon pupils have beaten all of its opponents in the preliminary games.
Accordingly, during the placing game that will determine the Champion and the runner ups, NCR play against Calabarzon, while EV tackles Cotabato region.
As a result, NCR ruled over Calabarzon and EV won over Cotabato region, and both of the winning team faced each other resulting to a loss for the NCR team, while in the Calabarzon and Cotabato match, Cotabato ruled the game.
"In that case our team is already on the waiting place for the finals for having beaten all of the teams with no single loss from the start, and due that we have the privilege of the 'twice to beat' ruling from whoever will come up again from below", Coach Abuyen explained.
Accordingly, the game format will push NCR - after losing to EV - to face Cotabato region and if will emerge as the victor, it should beat the EV team twice so to become the game champion.
Typhoon Caloy
The last remaining games however did pot push through because of Typhoon Caloy.
Coach Abuyen informed that the Peace Keeping Committee already know the possibility that the national games will be affected by the upcoming typhoon at that time, "thus they have contingency plans regarding the rules", Abuyen told.
"The fact that the EV team climbed up to the top with no single loss, it could have been declared as the champion, but NCR protested that the games are not yet over, and told the committee that if the games will no longer push through, then the three teams – NCR, Cotabato and EV – should be declared as the champions", Coach Abuyen explained.
The EV delegation however retorted saying that NCR cannot claim for a shared championship with the EV team because they have been beaten by the EV players during the semi-final round.
However, to resolve the issue brought by Typhoon Caloy, the Palarong Pambansa secretariat ruled out that shared championship be awarded to the said three teams, but emphasizing that the First Champion is the EV team, represented by the players from Catbalogan, Samar.
"And until now, maybe the parents of the NCR team members cannot accept the fact they were beaten by 'promdi" players from Samar, kay huna-hunaa nala nga may-ada usa nga kag-anak didto nga nagyakan nga nasering, kay-ano kuno nga mapeperdi hira samantalang baseball daw is there game", Coach Abuyen concluded.
Last year the Catbalogan team, who likewise represented the EV region in the said annual sporting event landed third in the championship.
'Sick' pa videotapes 17-year-old daughter who was taking a bath
By ALEX P. VIDAL / PNS
June 9, 2006
ILOILO CITY – "Forgive me, I didn't mean it. I'm only sick in the mind and I admit I need (to see) a doctor."
This was the appeal made by a 47-year-old Chinese-Filipino businessman to her 17-year-old daughter who found the videotape recorder attached to a cellular phone owned by her father secretly placed inside the bathroom while she was taking a bath at around 1 o'clock in the afternoon last June 6 in Brgy. Hipodromo, City Proper here.
"Go away. I don't want to see your face anymore. I will report you to my aunt," screamed Melody (not her real name), a second year college student at the University of San Agustin, while running away from the suspect who was remorseful and apologetic while chasing and egging her not to panic.
Melody's violent shouts attracted the attention of her board mates who hid her in one of the rooms downstairs.
Alone
Melody occupies a room alone in the second floor of the boarding house. She yelled at the top of her voice in order to shoo away her frantic father who wanted to embrace and appease her.
The father, who owns a big merchandizing store in downtown, City Proper, is not married to Melody's mother. He has a legal wife and children and they live in another house somewhere in the city.
Melody is his love child to a saleslady who is also married to a cop.
"Please come to me. I love you and I am your father. I cannot afford to molest you," the father appealed in a hoarse voice. "It was (the videotaping) only a joke."
But Melody, whose mother lives with another family also somewhere in the city, said she now fears her father who provides her regular allowance and pays for her education and boarding house.
Videocamera
She said she noticed that her father's cellular phone equipped with videocamera, which he purportedly "left" after visiting her earlier, was focusing to her as she was taking a bath.
When she checked and rewinded the gadget, she discovered her nude body had been recorded in the videotape. Melody suspected that her father, who admitted he fancies sexual toys and some pornographic materials "to escape from my family problems", had intentionally and maliciously placed the cellular phone inside the bathroom.
She complained that she felt her privacy had been violated and her being a female defiled.
When Melody refused to face her father and continued to badmouth him, he broke down like a kid. "It was my fault. I failed to control myself," he bemoaned.
Warning
He warned Melody not to tell anybody about what happened and not to call her aunt in the cellular phone "because they will again use this incident as a big issue against me and this will worsen my many problems."
Unable to win her after 20 minutes of negotiation, the misty-eyed father left and vowed to return "in a few minutes."
Later, Melody's mother arrived after being tipped by Melody's aunt who got Melody's call. Spewing with unprintables, the 44-year-old mother stayed behind and slept beside her daughter overnight for the first time in that boarding house.
"I will kill him if he returns and harm my daughter," vowed the mother who, before the incident happened, communicated only with her daughter through Melody's aunt.