Sneak a Peak at the Ultimate Party Grounds – Balyuan Park
By CATHERINE JANZ R. SICOY, KIMRO
May 29, 2006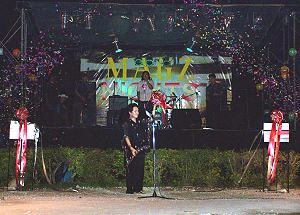 MAG'Z Nites formally opens through a ribbon cutting ceremony initiated by Executive Asst. Regal Oliva last May 27, 2006 at the Balyu-an Park.
TACLOBAN CITY, Leyte – The usual quite and tranquil nights of the Balyuan Park was broken in the Launching of the city's MAGZ Nights last Saturday, May 27, 2006.
More often than not, you come here to find peace and serenity, to search your soul and gather your thoughts after a busy day at the office or school. But every night (for forty nights) will be different, for this time, you'll be here to party and to have fun! You've come to the right place too because bands and artists from Cebu and Manila will be performing live to keep you entertained on the nights to come.
The place was like a beckon in the usually dark streets of the city with its attractive backdrop and bright lights. An array of native, colorful, and equally exciting kiosks surrounded the area all ready to take your orders to keep you satisfied and quench your thirsts. Of course, the event would not be complete without music. A unique blend of pop, rock, and funky music floated in the air. Enough to set the crowd into a party mood and into the spirit of the festivity.
The cutting of the ribbon by the ever dynamic and gracious Regal Oliva (Executive Assistant Officer) signaled the official opening of the party. Among the local artists and bands that kept the crowd alive and occupied were the City Band, Ms. Daryll Gariando, Mr. Robert Jejando and the acoustic duo Power of 2. Dancers like the Expidition Dancers, Dance Revolution, Fast Trak, Human Act, and G-Boys were just among the performers who gained the apt attention of the whole public.
All of you there who are looking for a nice night out with gentle breeze of the ocean touching your face accompanied by a comforting and groovy music to sooth your tired senses. Come and sneak a peak to the entertainment that is more to come at the perfect party venue- MAGZ Nights at Balyuan Park. "We promise nights of pure fun and entertainment", declared Regal. Definitely, more is coming.
"Dreams Do Come True…"
By CATHERINE JANZ R. SICOY, KIMRO
May 24, 2006
TACLOBAN CITY, Leyte – The Social Development Center for street children has already opened its doors to the less fortunate children of this city. A home for less privileged and needy street youngsters is now proudly standing in the once vacant lot at Barangay 108, Tagpuro, Tacloban City.
"I call this Center a 'house of friendship' because I believe that it is the best instrument for all of us to be together", Mrs. Baltazar, City Social Welfare and Development officer, earnestly stated during her opening statement in the inauguration of the Center. "Indeed, this undertaking is not an effort of one but of many individuals and other organizations who believe in what the establishment can do for the welfare of the street children in the city", she further added.
The event started with a holy mass led Rev. Romeo Obach, CSSR. Among the honored guests were Hon. Alfredo T. Romualdez represented by Mr. Bertulfo Raquel (Executive Assistant Officer); different department heads and employees; lot donors, Mrs. Silvina Cordero Vda de Osuyos and Mr. Beinvinido Osuyos; together with volunteers from he Philippine Association of Social Workers-Tacloban Chapter, Volunteers for the Visayan, Streetlight Philippines (a Norway-based organization) and other NGOs and GOs who in one or the other contributed to the establishment of this shelter.
Happiness and anticipation was evident in the faces of the children as they sat along with other honored guests and visitors of the event. Robert Trinidad, 15 years old, was picked-up along the port's area of the city, shyly disclosed that he has been in the streets for eight long years now. The boy openly said that he was grateful to all the people who have made this project possible. Another girl, Jocelyn de la Cruz, 13 years old, who have been wandering the streets for almost six years now, simply said "thank you", a short word but meaningful nonetheless.
"I am very happy, in my heart I want to help all of them. It is my hope that these children will have all the help they need. ", Mrs Silvina Osuyos tearfully stated. Her son, Mr. Beinvinido Osuyos shares the happiness of her mother in helping these poor youngsters.
Initially, 28 children, 5 of them girls will inhabit the Center. As part of the program, they will be provided with psychosocial and educational assistance to help them emerge as productive and better citizens of the society.
Finally, as the Hon. Alfredo T. Romualdez would have said, "this undertaking will help ensure a purposeful and meaningful life to these poor ones".
Address insurgency through poverty alleviation – LCDE
By RANDY ANTONI, LCDE Advocacy Officer
May 23, 2006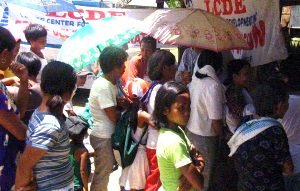 LCDE giving relief goods to the affected families
TACLOBAN CITY, Leyte – A top official of a non-governmental organization here has raised concern over the intensifying armed conflict in the region and called on the government to address insurgency through poverty alleviation.
Jazmin Jerusalem, Executive Director of the Leyte Center for Development, Inc. (LCDE), said that they are alarmed over the intensifying clashes between government troops and the communist rebels as these affect the livelihood of the farmers.
"Due to the intense armed conflict in the region, many peasant communities are forced to flee their homes and sources of livelihood," she said. Jerusalem added that the poor situation of the affected communities aggravated after their displacement.
"This is very alarming considering the fact that they were already in economic difficulties even before the evacuation," she said.
Jerusalem issued this statement following the relief mission they conducted last May 19 in Brgy. (village) Calapi in Motiong, Western Samar where they served peasant families from three villages affected by armed conflict.
The LCDE is a non-governmental organization assisting natural and man-made disaster-stricken communities in Eastern Visayas.
Mass evacuation
More than a hundred families from the villages of Beri, San Andres and Sto. Niňo in Motiong (about two-hour travel by bus from Tacloban City) were forced to descend from their barrios on March 6 and sought refuge in Brgy. Calapi.
The villagers had reasons to evacuate.
On the evening of March 5, a farmer in Brgy. San Andres identified as Noel Labong, was shot dead in front of his family by three unidentified men believed by the villagers to be soldiers.
According to the account of the victim's wife, it was about 9:00 p.m. when the assassins wearing bonnets and plain clothes barged into their house and dragged the victim out where he was shot on the head.
A villager testified that he saw a man in military uniform standing in front of the house of the victim just before the shooting incident.
Shortly after the murder of Noel, unidentified men abducted his brother Levi Labong. The victim remains missing to this day.
Prior to the killing and forced abduction in Brgy. San Andres, incidents of abuses had been reported in Brgy. Sto. Niňo.
On March 2, a farmer identified as Antonio Mabilog, was beaten by three unidentified men while he and his wife were working on their farm. The suspects, clad in military uniform, were asking the victim to point to them where the communist rebels are camping.
On the same day, alleged soldiers set the house, owned by a certain Segundo Gabane, on fire. About 30 sacks of kalinayan, a good variety of upland rice, with an estimated market value of Php 24,000 were also burned down.
Although there were no direct witnesses, the villagers believed the arson was perpetrated by the military.
Village chief Alnario Gabane said they (villagers) reported to him that just before the incident, army troopers arrived in the barrio and headed to the direction where it happened.
In Brgy. Beri, residents reported that on February 23, they heard successive gunshots interspersed with big explosions coming from the forested area of the village; it lasted for about one minute.
More hardship
Gabane lamented that the situation of the affected villagers worsened after their displacement.
"The villagers are having more difficulties in meeting their daily needs, food especially, since they were not able to attend to their farms from March 6 until 23, the day they started returning to their barrios," he disclosed. He added that their newly grown crops were also destroyed by tropical storm "Caloy," which hit the region just two weeks ago.
To date, the majority of the villagers already returned to their communities after a certain Lt. Agoy ordered them to go back. About 15 families, however, opted to stay permanently in Brgy. Calapi and nearby barrios for fear of their lives.
Meanwhile, Roni Mabanan, village chief of Brgy. Beri, disclosed that those who refused to go back to their villages have become either tenants or farm workers.
"Before the evacuation, these villagers could at least get a daily income of more than a hundred pesos from tilling their own farms. As tenants, they now only get a daily income of more than Php 27 since they have to give the landowners 75 percent of their harvest as payment for land rent," he said.
Mabanan said that those who work as farm laborers are paid Php 50 a day, however, they do not have regular income since they are only hired during cropping season.
"To get additional income, some of them would offer their services to farmers such as helping the latter in delivering their produce to the market once or twice a week in which they are paid Php 30," he further said.
Economic security, not bullets
Jerusalem said that the armed conflict would only intensify and continue to devastate the lives of the peasant communities if the government continues to launch military offensives against the communist rebels instead of striking down the root cause of insurgency.
"The government could put an end to the long running armed conflict by addressing insurgency through poverty alleviation," she said.
She added, "The government should recognize the fact that there is insurgency because of social injustice and the inequitable distribution of economic resources in the country. It can only be solved by providing the poor long-term economic security," Jerusalem said.
Industrial peace, safety are top priority in the workplace
By NINFA B. QUIRANTE (PIA-Samar)
May 14, 2006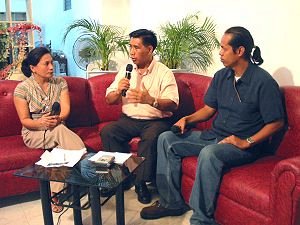 DOLE-8 Director Forter Puguon (center) discussing issues on labor practices in Samar during the recent CCATMAN Weekly Kapehan TV program at Cocina de Cabral, Catbalogan, Samar.
CATBALOGAN, Samar – Industrial peace and occupational safety standards are considered top priority in the workplace.
This was stressed by Department of Labor and Employment (DOLE) Regional Director Forter Puguon as he conferred with some 25 employers in Catbalogan town recently.
According to Puguon in the Employers Forum held at the Cocina de Cabral, industrial peace is meant to preserve peace in the workplace. It could mean, he said that the employees are satisfied with their wages and benefits. If the employee is not, it could spell trouble because he might be restless and demand full implementation of labor standards. If the employer does not recognize this, tension could rise and peace is disrupted. This tension, he added can be solved by a peaceful and reasonable compromise, if it fails, the establishment could close shop and the workers lose jobs.
On the other hand, occupational safety standards, said the director are basic requirements to be met to ensure that a few or no accidents occur in the workplace. Better productivity is seen when work is not disrupted, he said.
He cited the provision of proper lighting and ventilation; if the place he said is not properly lighted, employees may trip or slide that may cause them injuries, miss work and the whole entity's productivity is affected.
When employers observe proper occupational health standards, significant returns are attained, the youthful director reminded Catbalogan's employers.
In a related development, DOLE's field office representative Fe Estrella told PIA that worst cases relayed to DOLE includes non payment of wages. The problem is easily resolved with DOLEs intervention.
Puguon said that DOLE conducts the Employers Forum yearly so that the employers may learn, appreciate and comply with the laws governing workers. He acknowledged the response from the employers who took time out from their schedules to attend the forum, he also informed them that they are considered the backbone of the economy. The President of Catbalogan's Chamber of Commerce, Dr. Beng Baillo also expressed in agreement that they too have benefited from the forum.
Other topics discussed include Workers Rights and Obligations, Management Prerogatives and Responsibilities, National labor Standards Framework and Anti-Sexual Harassment Law. The DOLE team composed of Dir. Puguon, Ms. Fe Norma Valuis and Maritess Vinas proceeded to Calbayog City for the same forum.
Army Soldiers: Saving lives is our concern!
By Maj. MANGINTONONG A. TOCALO (INF) PA
April 29, 2006
CAMP LUKBAN, Catbalogan, Samar – With a desire to preserve the value and sacredness of human life, 8th Infantry Division, Philippine Army through the Camp Lukban Station Hospital, led by its Commanding Officer, Lt Col Ramon Bonoan MC (PA), has once again took the courage in facing the risk of immediate patient evacuation from Camp Lukban, Catbalogan, Samar to the Armed Forces of the Philippines Medical Center (AFPMC) at V. Luna Road in Quezon City, mainly to ensure the survival of a soldier's dependent from certain death.
9-day old Baby Boy Fabroa, was supposed to undergo neurosurgery operation at Bethany Hospital in Tacloban City where he was admitted after birth for an initial diagnosis of Septicemia Neonatorum - a systemic infection of the blood.
Lack of funds however forced his father, Corporal Edwin Fabroa, to bring him home instead and find some other ways to resolve the problem.
Cpl Fabroa's faith and fortitude brought him to Camp Lukban Station Hospital's doorstep where he found himself talking to Lt Col Bonoan, who upon learning the situation, immediately sought the Command's consent to carry out the patient's evacuation.
Upon arrival at the AFP Medical Center at 3:00 A.M. on March 8, 2006, Baby Boy Fabroa was checked and diagnosed finally to have subdural hematoma with intervetricular bleeding on his left ventricle. His attending military physician immediately subjected him to Craniotomy (surgical) operation wherein 250 milliliters of blood was evacuated from his brain. He was unquestioningly attended by Cpt Benzale who declared the operation a success after five hours. Baby Boy Fabroa is now recovering at the AFP Medical Center's Neurosurgery Ward.
The surgery may have left him a scar. But he would surely be grateful, for every glimpse of it would make him remember God who, through our institution and valiant men has extended his existence to savor life's sweetness.
With a mandate to protect the security of our state, constitution and people, the Philippine Army was organized and trained primarily to neutralize the state's enemies through the use of force. But its aspiration for the preservation of human life makes the Army innovate itself to actively participate in nation building and other civil-related activities in addition to its customary role of conducting combat operations.
This significantly includes 8th Infantry Division's participation in the search and retrieval operations during the "Fluvial Parade Tragedy" at San Ricardo and "Mudslide Tragedy" at Guinsaugan, St. Bernard, Southern Leyte respectively. Amid lack of technical expertise and equipment, Army soldiers braved themselves in optimistically facing the hazardous site condition with the hope to find signs of life.
No less than Her Excellency, President Gloria Macapagal Arroyo, Southern Leyte Governor Rosette Y Lerias, Other Local Executives, International organizations, members of the media and the local folks have recognized the AFP's indispensable contribution during these ill-fated events.
Paradoxically but disputably, soldiers are trained to destruct, for the cause of preserving the interest & security of the nation and the value of the inviolability of God's supreme gift - the "Human Life".
"Passé or Not, there is no way to the next generation but the CHILDREN"...KAPWA-INA Filipino Mother's Club in Zurich BELIEVES!
By SENTAY BELIZAR-QUITORIO
April 9, 2006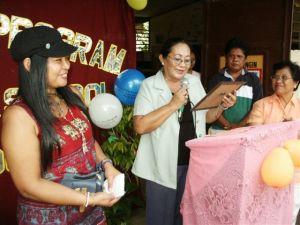 Thelma Dalina-Huber (left), founder and president of Kapwa-Ina Filipino Mother's club in Zurich, with District Supervisor Mrs. Josefina V. Yu of Cabuloran elementary school during its launching of the feeding program.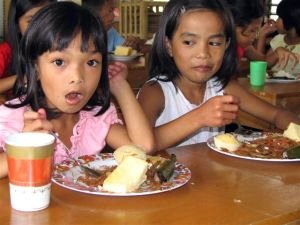 some of the recipient pupils
BORONGAN, Eastern Samar – Jose Rizal's legendary lines could be so obsolete and maybe few, but there are still people sincerely or not, out of duty or pity, loaded with interests from personal to socially motivated intentions, care to invest and ensure the future through the children.
Proliferation of NGOs and other groups advocating children's rights and protecting them sprouted like mushrooms. Integrating programs where these children are found such as the school and other learning centers, organizations, house of the sick and abandoned, and orphanages are some of the target avenues of implementing projects.
Very frankly the president and founder of the KAPWA INA: Filipino Mother's Club in Zurich during their latest visit (with husband Walter Huber) addressed some mothers in Barangay Cabuloran Elementary School, Dagami, Leyte, "if not for these children, I will never help the school, these children are the source of my impetus, aside from my own experience of poverty which has brought me a lot of inspirations and gave me the energy to move on".
Together with the CO-OPERAID, a Swiss non-profit organization, where Thelma Dalina-Huber a native of Barangay Dampigan Dolores, sits as a consultant, the KAPWA-INA launched a yearlong feeding program for SY 2006-2007 last March 15, 2006.
The entire staff of Mrs. Nenita M. Talavera , Head Teacher of Barangay Cabuloran Elementary School in Dagami Leyte, very well appreciated the supply of 5 sacks of rice every month from the start of the next school year embedded in the amount of more or less P55 thousand pesos as sustaining fund for the program. Aside from this fund the Home Economics room was furnished with kitchen utensils and other needs essential to the program.
For their part, the parents of the 186 pupils will supply vegetables from their backyard gardens and they will help cook the food and assist the teachers during the feeding sessions.
Comparable to some gigantic projects of the government, these initiatives of the BIS-Balikatan Samar Development Projects side by side with the KAPWA-INA and a cultural oriented group called SAMPAGUITA created impact on poverty alleviation programs and projects not only in Samar and Leyte but in other parts of the country.
To mention some, the families and group of women-garbage scavengers and victims of the Payatas tragedy in Quezon City, rehabilitated school classrooms in Cawayan Biliran in Northwest Leyte, playgrounds for children in Carolina elementary school in Can-avid Eastern Samar and Panglao Island Libaong Primary School in Bohol, school pathways improvement in Buhi Elementary School Camarines Sur.
Recently the P120 thousand pesos worth of a two-classroom renovations and schools playground and multipurpose-cemented grounds of Sta. Mesa National High School in Dagami Leyte, has brought delight not only to the principal Mr. Alfredo M. Gaganao but also to the 22 faculty members and 1,073 high school students.
"I was really amazed and kind of shock when Thelma and husband Walter came and affirmed to renovate rooms and convert our flooded laden ground to a useful multipurpose playground in a matter of two weeks," Gaganao added "normally it will take us ages to get attention of these pages of proposals and resolutions submitted to government offices, and officials to source out funds, that is why it is like a dream come true for my school…salamat, salamat, salamat, salamat!"
"We have very little funds compared to what the government can afford, but we maximize the utilization through implementing the projects by ourselves no bidding and definitely no middlemen and no sub contractors, " Thelma Dalina-Huber added, "we canvass the price and directly go to the contractors, this is a hands-on project implementation. But the expenses are recorded and properly documented and validated to the last centavo that we report to the organization immediately after the project is finished".
The monitoring does not stop when the project is finished. The impact and the effect in terms of changes in the community are likewise documented. If no evident developmental change is substantiated the project is stopped and redirected. This was confirmed by the couple (Walter and Thelma) who implemented the projects themselves as part of their "holiday vacation".
As of this date a little more or less P3.4 million worth of projects were implemented in the Philippines in favor of the children and young adults distributed all over the country where members of the Switzerland-based-and-Migrant-Filipino-managed organizations have identified poverty stricken areas that need immediate attention.