Paranas hinterlands welcome literacy classes this summer
By NINFA B. QUIRANTE (PIA Samar)
March 28, 2006
CATBALOGAN, Samar – Some 35 adults will attend the Non-Formal Education Classes this summer in remote Barangays Pagsang-an and Tapul, Paranas, Samar.
This was the information gathered as the DepEd team organized by Samar Division deliberately journeyed to the mountains of Barangay Tapul and Pagsang-an to inform the people about the program and at the same time to recruit students. The 5 man-team was led by Jojit Casino a mobile teacher and regional awardee.
The program to be sponsored by Samar Vice-Governor Jesus Redaja by way of paying the honorarium for the volunteer teachers will start this April and end in May.
Barangay Pagsang-an is nestled on a mountain top with gurgling streams upon descent on both sides. It is reachable from Barangay Lawaan (carline) through a five-hour trek over hills and wading the same stream for 12 times. The other way is from Barangay Concepcion, another carline area, this time uphill climb of some 4-5 mountains.
On the way to Pagsang-an, as the team walked for two hours, a settlement came into view, Barangay Tapul, Cecil the volunteer who hails from Pagsang-an identified the barangay. A groove of wooden two-storey houses greeted the visitors and smiling faces, 'few travel by' they say. Kagawad (village councilor) Erlinda Cabrillas offered refreshments and even lunch. As the other team members refreshed themselves, Teacher Elma arranged her schedules with Kagawad. Elma will be stationed in Tapul.
After a few more exchanges, the team pushed for Pagsang-an. The distance was a good 2 hours beyond. One passerby quipped, we don't measure distance by kilometers but by the hours.
In Barangay Pagsang-an, Barangay Captain Noe Mabanan raised concerns about the education of his people. Very few pursue more than the elementary level. Some even have to stop after being able to write their names. For most, it is enough, it could translate to easy money come election time, one grandfather jests. Of course they are aware of the consequences said the Apoy (grandfather), "we maybe unschooled but we are not stupid!" said he. There is a barangay school, but there is only one teacher and she teaches a monograde – meaning, grade one this year, grade two next year until the grade 4 level is completed for the others who had unfortunately fell to other levels not included in the year's curriculum, they either stop and wait or they venture into the nearest barangay which offers multi grade levels. By nearest – means a relatively far distance of two hours.
In the year 2000, in compliance with GMAs mandate of providing Education for All, Sir Jojit conducted literacy classes there. One such student, Grandmother Clarita Obinguar enjoyed the numbers. Now she is proud to say she can compute.
In the meeting called by Mabanan, one elderly complained about his failing eyesight, he said, he may not learn to read even if taught. One kagawad offered to draft a resolution to Governor Mila Tan for reading glasses. Another concern was the lost man hours, "We cannot afford to leave our farms!" Sir Jojit solved this by telling them they will just hold the "sessions" two or three days a week.
Their lessons will depend on their grasp of the subject, said Cecil, Mabanan's eldest who dreams of staying in the barangay and teaching her people unlike other teachers, whom she said are always in a hurry to go home to the town, where they reside.
Mabanan expressed regret that he was unable to attend the KALAHi orientation Mayor Elvira Babalcon once called for. Now, he fears, his barangay won't be included in the project. He was hoping KALAHI could bring them road and electricity – what they have dreamed for so long.
The road could be a means to enhance the barangay's economic progress, it really will make a big difference if an access road will be constructed. Kapitan (village chief) can not convince his barrio mates to produce more than they can as subsistence farmers, transporting goods is a heavy task both literally and figuratively.
For now, Mabanan and his Kagawad maintains a monthly pintakasi to clear the foot-trail that connects Pagsang-an to the rest of the more educated barangays.
Guinsaugon mudslide survivors asks for help
By PINOY GONZALES / PNS
March 17, 2006
In every activity such as charitable activism, opportunism always follows. And that seems to be the case with the victims and evacuees of the massive Guinsaugon mudslide in the remote coastal town of St. Bernard in Southern Leyte.
Three weeks ago after the horrible natural tragedy that left 103 dead and 973 missing, the world responded to help the 18 survivors and the nearly 300 Guinsaugon evacuees who were either in the mountains working, in the town's schools for their studies or were in the town proper some 4 kilometers from their village to attend to some errands.
Help came in the form of emergency response, then disaster relief activities followed by financial contributions and pledges made from around the Philippines and the world.
But all these has yet to make an impact to the lives of those left behind who has yet to feel a sense of normalcy in their lives because of the slow flow of assistance given them by so-called NGOs who were given the task to channel whatever help sent by Filipino organizations aboard.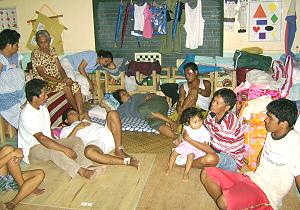 Survivors of the Guinsaugon mudslides in St. Bernard, Southern Leyte, make do with plywood as their sleeping bed inside a day care center in St. Bernard town. Plans are in place to build them a tiny 5x4 meters house.
When the PNS visited 7 of the 18 survivors together with the remaining members of their family in a day care center, separated from the other evacuees who were billeted in the Franciscan run school Rey Cristo, this writer found them lying in mats spread over several plywoods with limited food mostly sardines and noodles stock in a small sack.
Irenea Velasco who has the most recognizable face because of her several exposure with the international and national TV news media, started to tell her story with tears in her eyes reliving what had happened during that fateful Friday morning when she lost several family members and everything they had in a rather unsuspecting normal day.
But her mourning face turned a little lighter saying "our prayers that the media would return from Manila were answered." We feel we are being used by others for their own gain. But then we have yet to feel and received the several millions of pesos and dollars benevolent donor countries and individual around the world sent to groups promising to help us," she said in visayan dialect.
"We are not asking for money, we know how to work, all we want is a bit of normalcy where we can rest in our own homes, mourn our dead and reflect on what had happened and move on. Right now our primary concern is our survival, we have no house to go home too, no jobs to supports us, no farmlands to work in and no food in our tables, please relay this message to the President Gloria Arroyo," she continued.
When asked how much financial assistance she has received so far and from whom, she answered, "The Chinese Chamber of Commerce gave P1,000, boxer Manny Paquiao gave P300, LTO gave P2,000 and the Filipino Disaster Relief of Texas gave P400. We thank them all from the bottom of our hearts. I heard President Arroyo gave P5,000 each for us but we the 18 survivors of the mudslide have not received it yet."
The PNS also went to the Rey Cristo School to inquire on the well being on the remaining Guinsaugon residents and their families. The same predicament faced the evacuees there.
"We saw stocks of Maling meat loaf and Corned Beef but it was not given to us, all we eat are sardines and noodles we don't know who took them," said an evacuee who does not want to be identified.
"Lucio Tan sent P1000, P300 from Paquiao, P1000 from the Chinese Chamber of Commerce but not all received their share only a few. Only Filipinos from Texas gave each one of us our fair share," says another.
The PNS also noticed the bloated list of non-Guinsaugon residents whose names appeared in the village's evacuees manifest and when the Inquirer confronted the Village Chief, he told us that "long ago residents" came home from as far from Manila and Mindanao to stake a claim on whatever house and lot the government would give the original and current residents. These "people" also had their share of financial benefits from benevolent persons. The Village Chief meanwhile gave the Inquirer the manifest of current residents of his village to avoid confusion in the future.
"Please tell the media to come back here so none of us would suffer from enterprising people using us for their own reasons," requested an old woman.
Passing by the Day Care Center where the 7 survivors were staying on the way back, Irenea had this to say with a hopeful demeanor, "please let President Arroyo and the press know about our situation, we are helpless here, we need their help".
Palparan: Rice-killer Black Bug! – SAGUPA-SB
Press Release
By SAGUPA- SB
February 11, 2006
TACLOBAN CITY, Leyte – It has been one year after the installation of Maj. Gen. Jovito Palparan. Yet, the effects that his reign had are still felt. Samahan han Gudti nga Parag- uma ha Sinirangan Bisayas (SAGUPA- SB) likens the situation to being attacked by the rice killer, the Black bug.
February 10, 2006 marks one year since Palparan came here designated as commanding officer of the 8th Infantry Battalion. Since then, he has been the subject of complaints over numerous human rights violations. The impact of militarization in the region as part of Palparan's intensified counter insurgency campaign has resulted to the economic displacement of many farmers. Massive evacuations were everywhere as people were trying to escape the notorious "masked and armed people" sowing fear especially at the dead of the night.
"With the disruption in the lives of the farmers came the disruption to their everyday economic activities", said Lito Gacusana, Secretary General of SAGUPA- SB.
Gacusana disclosed that rice production in militarized areas, like Paranas has declined. "In one baragay in Paranas, from a total palay production of 2,314 sacks in 2004, it decreased to 679 sacks in 2005", said Gacusana.
"The local rice industry is disintegrating since the primary local producers are prohibited to produce and are even killed and denied of their rights to till and own the land", Gacusana stressed. Reengineered Special Operations Teams (RSOT) of the AFP are implementing policies banning farmers from attending to their farms on mere suspicion that the farmers would go to hills to support the NPAs. In some areas, particularly in Samar, curfew hours are set among farmers limiting the time they devote to farm work. In Paranas, it is not common to find more than one sack of rice because the soldiers would apprehend you if you would store more than one sack of rice at home. In Basey and Palo, the 46th IB and the 19th IB literally banned the exercise of economic activities like tiklos and bayanihan.
As this developed, SAGUPA- SB is set to launch a year- long campaign to address the hardships experienced by the farmers because the organization believes that much remains to be done in terms of providing solutions to the farmers' demands for economic relief.
"Demands for higher buying prices for farm products, support services for production and genuine land reform, among others, remain unanswered. Last year, another factor was added to the numerous problems farmers face everyday and that was Palparan. A year after Palparan, apart from dead kins and lost loved ones, farmers mourn over hunger", Gacusana expressed.
"Palparan's arrival came as a catastrophe that has thrown the region into rice shortages, food insecurity and economic dislocation. We must demand justice not only for the people he killed but for those who may be living but are slowing dying because of hunger", said Gacusana.
Child friendly approach despite conflict with the law: UNICEF sponsors dialogue with re-orientation on the pillars of juvenile justice
By SENTAY BELIZAR-QUITORIO
February 4, 2006
BORONGAN, Eastern Samar – The profile of Filipino Children in Conflict with the Law according to Bureau of Jail Management and Penology; Male, 14-17 years old, elementary school level, from a family of 4-6, whose parents are low earning workers or unemployed, committed theft or robbery, committed crimes with peers to relatives and drug user or liquor drinker.
According to the report presented by Mrs. Estelita B. Afable, assistant chief of the Social Services of the Province of Eastern Samar BJMP also confirmed that according to surveys, studies and even statistics, crime against property are the ones most commonly committed by children in conflict with the law.
In Eastern Samar according to the report of the Social Services and BJMP there were 36 cases of minors in conflict with the law as of 2005. Crimes against chastity ranks first followed by crimes against property and last crime against persons, 34 are males and 2 females.
Inevitably, talking about minors committing crimes have become a source of debates among elders who would want to live up to Jose Rizal's expectations that the "YOUTH is the HOPE of the FATHERLAND". An open ended discussion on who to blame for the delinquency of the youth will endlessly and senselessly point fingers at parents, guardians, mass media, technology, poverty, peers and infinitely many others.
UNICEF people for their part neutralizes this debate by proposing programs to abate the problems on juvenile delinquency. Last January 31, 2006, the UNICEF funded program of the Provincial Social Welfare and Development, sponsored a dialogue on the administration of Juvenile Justice. Invited were representatives of the 7 Pillars of Crime prevention and Treatment of Child in Conflict with the Law.
Each Pillar has a role-care to offer in order for justice to prevail. From the Community to Police to Prosecution to Court to Correction to Public Attorney's office to Social Work, all agreed to afford utmost care for the youth or the minor in conflict with law.
The neither most remarkable if not debatable concern disclosed was that of the community, represented by a Barangay Chairman David Costuna of poblacion Barangay Balud in Borongan,. He mentioned various variables of disciplining children, topped it with having a family where the child is rooted with a discipline that becomes a system in his character. This ignited the seemingly conservative frame of mind of some members of the Pillar.
Provincial Prosecutor Vicente Catudio pointed out the manner to discipline the child in the home seemed to be distorted if not clouded by the promotion of these Children's Rights, where slight physical punishment or shouting at a child when not paying attention is viewed as abuse without consideration of parental temperament.
Branch 2 Presiding RTC Judge Arnulfo Bugtas, likewise mentioned the importance of embedding in the child's consciousness the proper recognition of authority figures; parents, teachers, elders in the community and others.
A Senior Jail Officer Eduardo Badiola disclosed that in the entire province of Eastern Samar no LGU has a jail space for minors, usually they join the adult and other hardened criminals, he further suggested that Mayors consider providing chamber for the minor offenders.
Mr. Gil Rebamontan chief of the Provincial Social Services and other social workers from the other LGUs confirmed some unfriendly attitudes towards children and minors. They settled to include other agencies deemed important in the Child Friendly campaign even when in conflict with the law.
Lady doctor sticks it out with San Jose de Buan
By NINFA B. QUIRANTE, PIA-Samar
January 24, 2006
CATBALOGAN, Samar – Doctor to the Barrios program 'survivor' Dr. Phoebe dela Cruz continues her personal cause of delivering basic health services to San Jose de Buan folks.
She is considered a survivor because most of her peers have left the program for greener pastures while she along with a few doctors more committed have stayed.
It is not easy to stay in a place called San Jose de Buan, this writer realizes that and salutes the pretty doctor for having the will to stay. For one, San Jose de Buan is in the interior part of Samar accessible from the highway by a 40-kilometer dirt road that turns muddy on rainy days. Even farther still is Catbalogan, some 30 km more considered second home to most of Buananons.
Trucks and buses plying the Catbalogan-San Jose de Buan route gets only one trip each. Leaving San Jose de Buan as early as twelve midnights the truck reaches Catbalogan at six or seven in the morning. It returns to de Buan at ten in the morning and reaches de Buan at two in the afternoon.
For Dr. Dela Cruz, who hails from Matuginao, everyday is a constant challenge. She is dealing with patients whose houses are far in between. When her medical team visits, they would virtually turn any place, any field, any shade, and even a riverbank to a clinic to accommodate 'mobile' patients. The farthest, Baranagay Gusa, the pretty doctor said could be reached by an 8-12 hour trek. This is specially done on immunization days when her staff is at its busiest. Why? Despite the distance, they posted close to a hundred percent immunization success in the most recent Ligtas Tigdas campaign. Meeting some obstinate patients is also difficult for this UP educated lass. But when she reasons out and explains the other side, she wins them. She said they are only difficult when they have not talked to me, once they do, they become cooperative.
Health and sanitation has been too wanting in this frontier town the first time she came. With only two midwives and one nurse to serve some 14 barangays, the staff works doubly hard to cover all prospective patients. Dela Cruz said that they would sometimes turn their health center into a mini hospital to save patients who may not make it to Catbalogan, where the provincial hospital is located.
Life in this frontier town would have been unbearable had it not been for the full support of Mayor Ananias Rebato, she said who is very supportive of the health and sanitation program she has mapped out with her staff. These include readily available medicines, maternal and child health program, family planning, feeding program. Lately, she said she proposed the purchase of weighing scales to support her nutrition program, this, aside from fervently pushing the people to set up a "Gulayan sa Barangay". This she said is a communal vegetable garden where people join forces to plant and then to harvest its fruits later. The lady doctor has to grapple up with a 30% malnutrition status, though she did not discount the fact that unavailability of weighing scales may have caused it. Rebato has pledged to provide the seeds for the Gulayan project. She said she also proposed a purchase of sanitary latrines for distribution.
When this writer requested her to write a journal for her many 'adventures', the young doctor could not help recalling her 'close encounter' with the CPP/NPA raid in March 17, 2004. The town was raided then, and because the health center is just opposite the municipal hall, they were all trembling with fear for their lives. Fortunately, the PNP forces did not give up and continued the fight. Rebels then were forced to retreat. Real work then started for the doctor and her staff who had to attend to the wounded. With fear still lurking in her heart, but reinforced by her Hippocratic Oath, she applied first aid to the wounded before they were airlifted.
The experience though did not waver her resolve to serve the Buananons, she feels, these are the people who really need her and she should stay. She has been at home here and has developed love and care for her rural ward.
Lito Obidos from Medoroma confirms the doctor's dedication when he said, "hiya it am simbolo hit gobyerno nga nalingi ha amon." (She symbolizes the government who still cares for us.) For him, only the health personnel and occasionally, DENR visit their remote barangay. Of course, he added that government soldiers also do. The doctor's visit, he said is always a big event, they treat her with native foods-and sometimes all-night dancing (sarayaw) their symbol of gratitude.
Life for Dr. Dela Cruz is not that drab though, she has a TV set and a cell phone, oh yes! There is a cell site in the hinterlands. These have become her link to the bigger world outside. She also periodically visits Tacloban for a taste of the city air. But at the end of the day, she longs to return to San Jose de Buan and once more feel the warmth of the Buananons!
Army sarge entertains folks with magic
By NINFA B. QUIRANTE, PIA Samar
January 17, 2006
CATBALOGAN, Samar – Why are the people cheering and jeering in a serious activity like the three-day peace and development forum conducted by the 34th IB in remote San Jose de Buan?
Magic, just plain magic!
To ease the seriousness in the peace and development forum, Sgt. Henry Noynay performs magic. His magic spiels have always been a 'hit' as a front act in all the fora done.
Noynay entertains the crowd while waiting for lecturers to arrive. He never ceases to mesmerize the young and old alike. Aside from his magic, he also dances "Totoy Bibo' with gusto and sings ala professional. He even has a puppet he said, ala 'Arn-Arn' of the Unang Hirit fame. His favorite magic number is calling on an unsuspecting volunteer from the audience who is almost shocked to see him producing items out of nowhere. The latest ploy witnessed by PIA involved a white hanky turn to an underwear to the delight of his adulating fans.
In a short informal talk with the 'magician' at a lull in remote San Jose de Buan, Henry bared that his craft became his ticket in entering the military service. His father, he beamed proudly was a magician while he was the assistant. After his father's untimely demise, his passion for magic drove him to try new tricks. His industry paid off. Like a true artist with a rare privilege he was admitted to the army just for his performance merit.
He however, said that he also underwent the usual military training attended by all soldiers. He is trained for combat and won't hesitate to if the situation beckons. Just like in the most recent ambuscade staged by the CPP/NPA, while his group returned from San Jose de Buan. Four of his co-soldiers perished. He could not say whether he survived because of magic.
Aside from his office stint at the Civil Affairs Unit at Camp Lukban, Catbalogan, Noynay gets endless invitation to perform. He could be invited to children's birthday parties, where he dons his clown costume and wows them all. The fulfillment he gets in knowing he has made people happy more than compensates the little bills he gets from his sponsors.
Noynay may not have the superstar stature of the "starstruck" survivors, but he has inadvertently created a following, making him a celebrity in his own right.
SAGUPA condemns 46th IB brutality in Basey, Samar
Press Release by
SAGUPA – SB
January 10, 2005
TACLOBAN CITY, Leyte – Basey countrysides are still in agony as military operation of the 46th IB escalates evidenced of several command posts littered all over far-flung areas of the said town, harboring fear and terror among the residents.
Reports disclosed that many farmers have fled their homes to take refuge in nearby barangays. This is currently happening in Sitio Roño, Barangay Old San Agustin, Basey, Samar. In November 2005, some farmers experienced military abuses, which persuaded them to air their complaints in radio stations to call for justice. The latest violation committed by soldiers belonging to the 46th IB involved the burning down of the house of a farmer on the mere suspicion of being a sympathizer or member of the communist rebels.
Lito R. Gacusana, Secretary General of Samahan han Gudti nga Parag-uma ha Sinirangan Bisayas (SAGUPA-SB), strongly condemns the spate of human rights violations against these farmer-civilians.
"Their right to life and property are threatened due to this intensified militarization, including their sole source of economic survival, which is farming. Several lives and properties have been ruined into shambles brought about by military operations", said Gacusana.
Elisa, not her real name, resident of Sitio Roño whose house was torched down by the members of the 46th IB, revealed that she is now under persistent surveillance as she has voluntarily come out in the open to expose numerous human rights abuses and terrorist acts committed by the military.
"Our movements and activities are placed in restrictions and monitored on mere suspicion that we are members of New People's Army. Last November 25, 2005, some 20 military men in full battle gear and without nameplates forcibly entered our residence insisting that we know the site of the NPA camp. As we took no for an answer, they threatened to kill us. My father, 70 years old, was beaten with their rifle butts as he was being interrogated", recalled Elisa.
"Lately, our house was burned down as we celebrated New Year in my sister's residence in Brgy. Old San Agustin. We just discovered the burnt house on the morning of the January 1, 2006 when our neighbors relayed to us the news regarding the incident. At least 12 men in civilian clothes but in combat shoes suspected to be military men came upon our residence on the morning of December 31, 2005. Before midnight, they burned down the house including our personal belongings, utensils, furniture and farm implements. Witnesses revealed that the perpetrators belonged to the 46th Infantry Battalion with a certain Lt. Balasi as the commanding officer of the military operation since they have seen these men change into their fatigue uniforms in Sitio Sagne, Brgy. Del Pilar after the incident. Witnesses have also recognized the faces of the perpetrators, as they were the same troops who sowed unwanted intrusions to privacy and security in our community. Before the incident happened, we have received information that there are 15 houses, including ours, which will be burned down by the military. It happened that our house was the first one to reduce into ashes", Elisa lamented.
"We convinced the farmer-civilian-victims to submit their sworn statements regarding the increased number of human rights violations in your area for legal purposes and to further prosecute these perpetrators in uniform. We further call the attention of the government to immediately take necessary and constitutional steps and actions regarding this concern", Gacusana said.
Meanwhile, Elisa and the other victims of human rights violations and suppression of people's rights with impunity demand justice and the immediate removal of the 46th IB in Basey, Samar.