P19.4M worth of school buildings turned-over to Caibiran, Biliran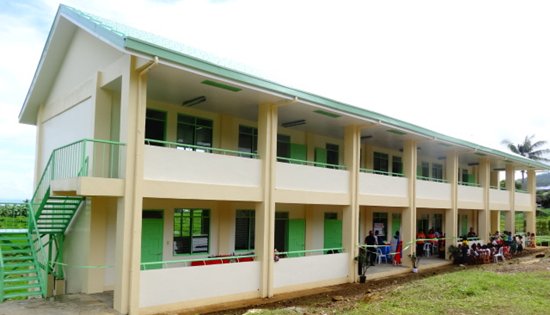 Press Release
March 6, 2017
NAVAL, Biliran – The Municipality of Caibiran, Biliran receives two 2-storey school buildings worth P19.4M for the K-12 program in a turned-over ceremony by the Department of Public Works and Highways (DPWH) and Department of Education (DepEd).
The recipient of the new buildings are the Union Elementary School in Brgy. Union, Caibiran Biliran with its P8.2M 2-storey, 6 classroom building and the Manlabang National High School in Brgy. Manlabang, Caibiran, Biliran with its P11.2M 2-storey, 8 classroom school building, turned over on the same day on February 24, 2017.
In a turn-over ceremony of the Union Elementary School, Mrs. Teresita Mocorro, School Principal, revealed that the school has already proposed for the establishment of a National Special High School in Union Elementary School renaming it as Union Integrated School that will soon cater the elementary and high school students.
The announcement made one of the parents, Mrs. Rachel Sinanggote, resident of Brgy. Union, Caibiran, Biliran to be grateful with the news.
According to Sinanggote who has a student in Grade 6 in Union Elementary School and Grade 8 student studying in other school of the neighboring barangay: "Maiban-ibanan na ang gasto ha pamasahi" (Transportation expenses will be lessen), she said because of the rise of the senior high school building in Brgy. Union.
The Union Elementary School teachers, students and parents also showed their gratefulness to Congressman Rogelio J. Espina, Biliran Lone District Representative, for giving P25,000 cash from his personal pocket to purchase sacks of cement for the school to widen the road in going to the school campus.
The turned-over ceremony were graced by Congressman Rogelio J. Espina, Engr. Alfredo L. Bollido, OIC-Assistant District Engineer, Dr. Ronico Y. Amistoso, Division Senior High School Coordinator, Hon. Rosario Sinangote, Brgy.Captain, Hon. Antonio Lim, Committee of Chairman, teachers, parents and students of Union National High School.
Another school building turned-over was the Manlabang National High School which started with the cutting of ribbon-ceremony led by Cong. Espina and Hon. Naricris Go, Acting Municipal Mayor of Caibiran.
The ceremonial turn-over of symbolic Key also highlights the occasion.
According to Amistoso, the construction of the senior high school buildings will give the students an environment conducive to learning.
In his message, he emphasized that: "They deserve this facility and this is for them."
Samar I still No. 1 in quality assurance nationwide
By Ma. NENITA Y. GOMEZ
March 6, 2017
CALBAYOG CITY, Samar – Out of the 234 district engineering offices nationwide, the Department of Public Work and Highways, Samar First District Engineering Office (DPWH-SFDEO) maintains its place as ranked 1 in the implementation of quality control.
The annual rating of quality assurance implementation for 2016 reveals Samar I to be still on top besting other district engineering offices nationwide.
Both District Engineer Virgilio C. Eduarte (now Asst. Regional Director of Region VIII) and DE Alvin A. Ignacio (then the Asst. District Engineer who was installed as District Engineer after the former's promotion) shared the honor as they effectively implemented the quality control measures in projects and providing the required laboratory equipments gaining the One Star Rating status in 2015.
District Engineer Alvin A. Ignacio commends the effort of the Chief of the Quality Assurance Section, Engr. Raquel Y. Sumayo for her relentless efforts in project monitoring to effectively come up with quality projects and the presence of laboratory equipments in her section.
Evaluators or the Assessing team looks into the quality of completed projects, the adherence of the district to quality control policies, construction materials sampling and testing procedures and personnel competence.
The DPWH Central Office conferred the One Star Rating to Samar I in 2015 for satisfactorily complying with the requirements and provisions stipulated in Department Order No. 11, series of 2013 and still remains on the same rating in 2016 based on the amended Dept. Order # 126, Series of 2016.
8ID administers blessing and hand over of KIA KM450 truck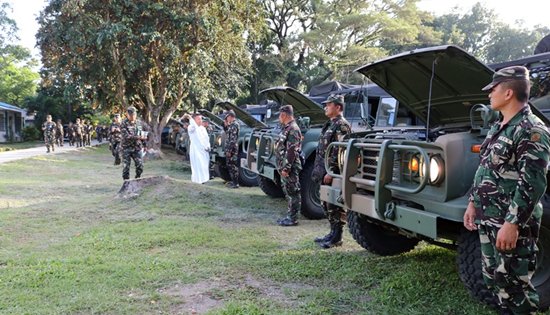 By DPAO, 8ID PA
March 6, 2017
CAMP LUKBAN, Catbalogan City – The 8th Infantry (Stormtroopers) Division administered the blessing of 51 units of brand new 1 1/4 ton KIA KM450 truck held at 8ID Basketball Court and Samar Police Provincial Office ground last March 3, 2017.
This multipurpose all-terrain military truck was first introduced in 1998 as part of the AFP Modernization Program. It is powered by a 3.9 liter diesel engine and can run a maximum road speed of above 100 kilometers per hour.
Out of the 51 units of KM450 received by this Command, 17 of which were issued in advance to line units in Mindanao to boost and strengthen their mobility assets in support to the intensive military operation against the terrorist groups.
Capt. John O. Geronimo, the Division Chaplain blessed the newly issued vehicles to keep the driver and the troop's safe at all times while rendering their duties. The ceremony was led by Col. Clifford Cyril Y. Riveral, the Assistant Division Commander for Retiree and Reservist Affairs together with other officers and enlisted personnel of the division.
In his message, Col. Riveral urged the respective military truck drivers to take good care of the vehicles for the higher headquarters provided these to enhance the Command mobility assets in support to the tactical operations both in the region and in Mindanao. "May the Almighty God bless you along your journey in securing and serving our nation," Riveral added.
PH's economic priority deliverables in ASEAN reaffirm inclusive growth agenda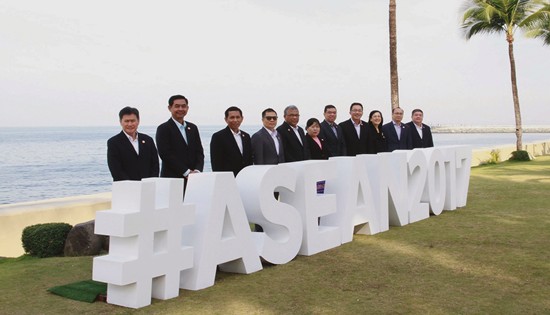 By DTI-IDG-BITR
March 3, 2017
MAKATI CITY – The 31st High-Level Task Force on ASEAN Economic Integration (HLTF-EI) convened on February 15-16 in Manila, gathering high-ranking ASEAN trade officials to discuss the implementation of the ASEAN Economic Community (AEC) Blueprint 2025.
HLTF-EI Chairperson and Permanent Secretary of the Ministry of Foreign Affairs and Trade of Brunei Darussalam Dato Lim Jock Hoi said that ASEAN needs to remain strong and united as the region navigates and charts its course ahead "collectively as ASEAN."
Representing the Philippines, Undersecretary for Industry Development and Managing Head of the Board of Investment Ceferino Rodolfo laid down the Philippine priority deliverables for 2017, highlighting the country's agenda on inclusiveness and innovation with a focus on increasing trade and investments, integrating micro, small, and medium enterprises (MSMEs) in the digital economy, and developing an innovation-driven economy.
"Inclusiveness should be intrinsic to the ASEAN agenda. The AEC Blueprint 2025 development framework will be most effective if it results from inclusive and open multi-stakeholder participation, one that is informed by the perspectives of people, especially the marginalized," Undersecretary Rodolfo said.
The Philippines is taking the lead in seeking new policy interventions that are practical from the MSME perspective. These are expected to contribute towards helping MSMEs harness the opportunities presented by open and increasingly integrated markets. These initiatives range from free trade and trade facilitation, trade in services, investment, connectivity, and innovation:
- Maximizing the benefits of free trade agreements (Self-Certification for MSMEs, and Substantial Conclusion of the Regional Comprehensive Economic Partnership [RCEP]);
- Fostering a more facilitative and transparent trade in services regime and harnessing the contribution and global competitiveness of the ASEAN services sector (Conclusion of the ASEAN Trade in Services Agreement);
- Strengthening the investment linkages between MSMEs and Multinational Enterprises or MNEs (FAST Action Agenda on Investment, Inclusive Business, Women and Youth Entrepreneurship);
- Enhancing intra-regional connectivity and bolstering socio-economic growth in the regions (Launch of the Davao-General Santos-Bitung route of the ASEAN Roll-on Roll-of Network);
- Supporting an ecosystem of entrepreneurship based on technology and innovation (ASEAN Declaration on Innovation); and
- Introducing more systematic and robust method for AEC compliance monitoring (ASEAN Trade Facilitation Indicators, Review Mechanism for AEC).
Said priorities are in line with the Duterte Administration's 10-point socio-economic agenda. In particular, these will leverage the global competitiveness of the Philippines' services sector in order to generate jobs and growth, as well as bring development to the South through rural and value chain development.
The Philippines also delivered to HLTF-EI the collective statement of the ASEAN Civil Society Conference/ASEAN Peoples' Forum (ACSC/APF) Philippines National Organizing Committee, reflecting the people's aspirations for an ASEAN that asserts peace and security, human rights, democratization, and broad-based economic, social and ecological justice.
Undersecretary Rodolfo highlighted the potential of civil society organizations as strategic and responsible partners in the process of ASEAN community-building, given their knowledge and reach at the grassroots level and cohesive international network.
Recommendations of the 31st LTF-EI will be the focus of discussions at the 23rd ASEAN Economic Ministers' Retreat and Related Meetings to be held on March 8-10 in Manila.
Composed of Trade Vice Ministers from the ten ASEAN Member States (AMS), the HLTF-EI functions as an advisory body to the economic ministers of the AMS, ensuring that all 10 AMS are on-track and on-time with the plans and programs intended to realize regional economic integration and achieve the vision of an AEC.
The AEC Blueprint was crafted to further advance ASEAN economic integration, envisioning a community characterized by the following: a) a highly integrated and cohesive economy; b) a competitive, innovative, and dynamic ASEAN; c) enhanced connectivity and sectoral cooperation; d) a resilient, inclusive, and people-oriented, people-centred ASEAN; and e) a global ASEAN.
ASEAN economies are expected to hold up reasonably well amidst the slowing of global growth, and the uncertain and shifting geo-political and economic landscape.
Forecasts from the Asian Development Bank and the International Monetary Fund place the region as the most dynamic part of the world with strong economic outlook for 2017 at 4.6% to 4.9% of GDP growth rate, vis-à-vis the 3.4% projected for the growth global GDP. The Philippines leads the region with a growth forecast of 6.8% for 2017.
11.9 million pesos calamity funded project completed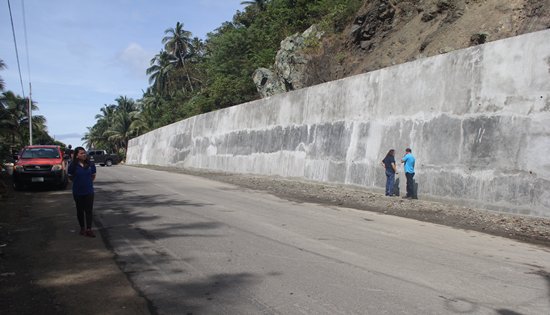 By LEVIRESA GETIGAN-BARNIZO
March 2, 2017
CALBAYOG CITY – The Samar First District Engineering Office (SFDEO) has completed the Rehabilitation/Improvement of slope protection structure along Daang Maharlika (S00062SM) K0692+300 - K0692+500, Brgy. Bugtong, Tinambacan District, Calbayog City, Samar.
This project is appropriated P11,909,700.00 under the 2016 Calamity Fund of the Department of Public Works and Highways (DPWH) and is under contract with B. Vicencio Construction.
The old structure was damaged by the yet strongest typhoon that struck the Samar provinces in 2014, Typhoon Ruby. Several typhoons, tropical storms and continuous heavy rains occurred which resulted to landslide while the implementation of the project is ongoing that apparently caused the delay of its completion.
Scope of works of the project involved structure excavation, installation of reinforcing steel and construction of structural concrete for the drainage canal, and construction of grouted riprap.
Significance of the project is of great impact especially to the residents of the said village and motorists passing along the said road section since possible soil erosion, landslides or rock slides are already prevented by the said undertaking.
14IB conducts info drive to 200 youths of Maydolong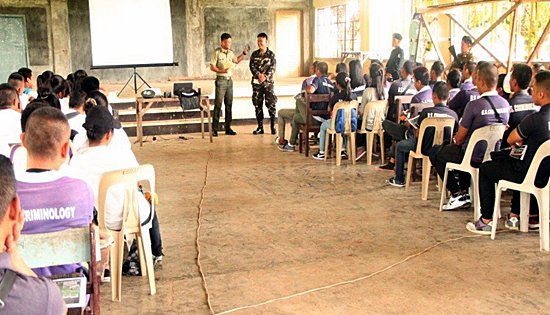 By DPAO, 8ID PA
March 1, 2017
ORAS, Eastern Samar – Your Army in Eastern Visayas thru personnel of 14th Infantry (Avenger) Battalion, Philippine Army facilitated an Information Awareness Drive to two hundred (200) youths from the Eastern Samar State University Maydolong Campus, Maydolong, Eastern Samar last February 23, 2017.
The topic discussed was the Career Guidance on how to apply to become an officer and soldier in the Philippine Army.
This Information Awareness Drive was initiated by the 14th IB to encourage more applicants to join the profession of arms to supplement the needs of the Armed Forces of the Philippines.
2Lt. Dennis S Carig, CMO Officer of 14th IB, emphasized that, "being a soldier is a noble profession, that each individual dedicates their lives for his/her love of the country." Leaflets about the Army recruitment were also distributed to the youths for their reference.
Commanding Officer Lt. Col. Manuel Leo Gador reaffirms the commitment of 14th IB in reaching out to the academe and youth sector in order to bring inspiration on their role on nation-building. "We hope that our partners from the academe followed suit and also be our active partners in molding the youth as agents of peace and development of our country," Gador said.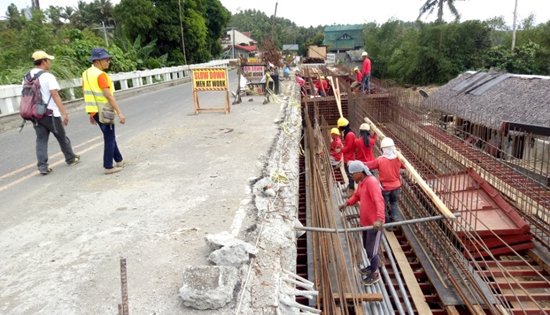 During the QAU assessment, construction workers are installing steel bars for the widening of Sapinit Viaduct.
DPWH Samar I upgrades bridges within the district
By MARIANETTE GOMEZ
March 1, 2017
CALBAYOG CITY – DPWH Samar First District Engineering Office (SFDEO) has programmed five (5) bridges for upgrading this year.
A total of P415 million projects which involves retrofitting and strengthening, and widening to more than two (2) lanes is soon to be implemented under GAA CY 2017.
Bridges scheduled for upgrading include: Oquendo Bridge (B00370SM) along Calbayog-Catarman Rd., P20 Million, for widening to more than two lanes; Sapinit Viaduct (B00337SM) along Daang Maharlika, Phase II - P40 Million; Binaliw Bridge (B00337SM) along Daang Maharlika - P155 Million; Jibatang Bridge (B00342SM) along Daang Mahalika - P130 Million; and Rosales Bridge (B00345SM) along Daang Maharlika - P70 Million.
The detailed engineering works for four (4) projects are almost completed while the widening of Sapinit Viaduct Phase II has started already.
The upgrading implemented is in keeping with the demand of a widened road, therefore, a widened bridge to lessen accidents and provide safe road.
8ID renders send-off ceremony to newly enlisted privates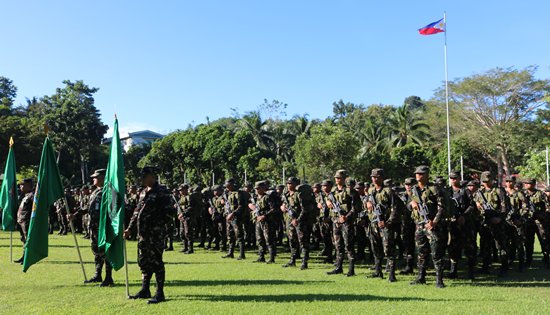 By DPAO, 8ID PA
February 28, 2017
CAMP LUKBAN, Catbalogan City – A send-off ceremony was rendered to the 242 newly enlisted privates of this Command during the Monday Flag Raising at Openiano Field on February 27, 2017.
The newly enlisted privates will report to the line units of the 8th Infantry Division in Eastern Visayas and units deployed in Mindanao to carry out their mandated task in sustaining operation against any lawless elements that disturbed the peace and development of our nation.
The newly enlisted privates were blessed by Capt. John O. Geronimo, the Division Chaplain to keep them safe all the time while performing their duties.
Brig. Gen. Cesar M. Idio, the 8ID Assistant Division Commander, in his message reminded the newly enlisted privates the difficult process they went through before they became part of the AFP.
"As new soldiers, love and take care of your profession. Your job will bring a better life not only for you but also for your family. Likewise, respect each human rights, rule of law and international humanitarian law. Always remember, the security of the people lies on you. May the Lord bless you every day to bring you success in your chosen profession," Idio added.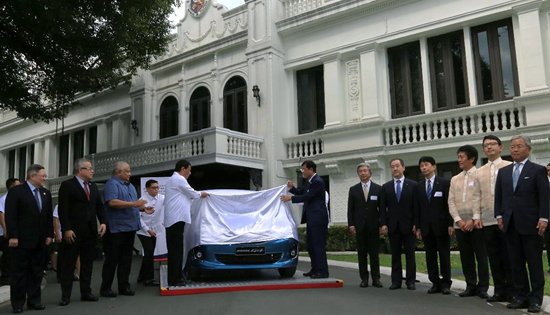 In photo: President Rodrigo Duterte (center L), DTI Secretary Ramon Lopez (2nd from L), Executive Secretary Medialdea (3rd from L), Department of Finance Secretary Carlos Domiguez (leftmost), Mistubishi Motors Corporation President Osamu Masuko (center right).
Additional 1,000 in jobs rolls-off in auto manufacturing industry
By DTI-OSEC-PRU
February 28, 2017
MANILA – Following the Presidential visit of President Rodrigo Roa Duterte and the signing of the Memorandum of Understanding between Mistubishi Motors Corporation (MMC) President Osamu Masuko and Department of Trade and Industry (DTI) Secretary Ramon Lopez last October in Tokyo, Japan, President Duterte, Secretary Lopez together with Executive Secretary Salvador Medialdea and Finance Secretary Carlos Dominguez, led the launching ceremony of the Philippine manufactured Mirage G4 under the Comprehensive Automotive Resurgence Strategy (CARS), February 27, in Malacañang.
The production of the Mirage G4 in the Philippines is in line with the initiative of the government to revive and develop the auto manufacturing industry in the country, making it as a regional manufacturing hub for auto parts.
"The CARS Program will bring in more investments, better paying and high productivity jobs that will lead to spill-over effects by stimulating economic activities in related manufacturing and services. It will create employment and require local sourcing of auto parts up to 70 percent local content, that will develop more SMEs and generate more jobs," said Secretary Lopez.
Over 200,000 units are to be produced under the program for 6 years which will require additional manpower of 1,000 workers including direct and indirect sales and general administration employees from Mitsubishi and Auto parts suppliers. The program will furthermore serve as an opportunity for technology transfer to local micro, small and medium enterprises (MSMEs) through joint ventures and technical licensing agreements.
"This is important to enable us to maximize the trade and investment opportunities arising from the ASEAN Economic Community and take advantage of our growing domestic market" said Secretary Lopez highlighting the significance of building the domestic auto market base to attain the necessary scale economies that would bring down costs of auto manufacturing in the country.
"The implementation of the CARS Program signals government's vigorous support and focus on industries with auto as platform for manufacturing take-off," said Secretary Lopez.
"This will maximize the trade and investment opportunities arising from the ASEAN Economic Community (AEC) and take advantage of our growing domestic market," he concluded.
Re-imposition of death penalty, a return to barbarism - Spark
By Samahan ng Progresibong Kabataan
February 28, 2017
QUEZON CITY – With the expected approbation of House Bill 4727 in the lower chamber of Congress this week, SPARK-Samahan ng Progresibong Kabataan commands the youth to rise up against the re-imposition of death penalty in the Philippines.
According to the group, rationalising the current administration's show of terror will cause the country to capsize very low, as they maintain that the absolute measure is not preventive of future crimes, and will only inflict injustices to those who may be innocent and who are socially marginalized.
House Bill 4727 or "An act imposing the death penalty on certain heinous crimes, repealing for the purpose Republic Act No. 93446, entitled 'An act prohibiting the imposition of death penalty in the Philippines,' and amending Act. No. 3815, as amended, otherwise known as the 'Revised Penalty Code and other special penal laws" is expected to pass in the House of Representatives this Tuesday, February 28, as predicted by House Speaker Pantaleon Alvarez.
In an interview on CNN Philippines, Alvarez said, "Tomorrow or Wednesday…Mangyayari na po."
The group views the measure as repulsive and characteristic of a corrupted and insecure regime whose depressing morality is still nurtured with feudal if not barbaric instincts. Henceforth, reminding the public that the Philippines is a signatory to international treaties proscribing death penalty.
They declared that, "This administration have founded justice on retaliation instead of law and reason. The promised constructive changes were supplanted with the pursuit of an increasingly fascist tendency of those elected on bureaucratic seats."
The group vehemently insisted that "for as long as we live under a political system wherein an elite minority reigns over a destitute majority and a blindfolded and impartial Lady Justice is all too familiar with the scent of currency, then there could be no guarantee that justice will truly prevail.
Furthermore, SPARK asserted that Congress should as an alternative, focus its attention on earlier interventions in the life of a citizen before he/she commits a crime.
"It is broadly feasible and logical to invest in, and prioritize matters such as increasing the accessibility of education, improving the juvenile justice system and uplifting the economic conditions of the Filipino people, than intervening when it's irrevocably too late," the group's spokesperson Joanne Lim said.