DTI chief to entreps: go digital
Calls for digital empowerment in PH
By DTI-OSEC-PRU
February 6, 2017
MAKATI – Newly-confirmed Department of Trade and Industry (DTI) Secretary Ramon Lopez has called for digital empowerment in the Philippines to continue fueling the development of the country's digital commerce or e-commerce, a key priority in the current trade agenda.
"I urge our micro, small, and medium enterprises (MSMEs) to welcome digital integration," said Sec. Lopez, adding that now is the perfect timing to rally towards digital empowerment as the Philippine economy experiences strong macro-economic fundamentals, renewed investor confidence and good governance.
During the recent office opening of Google in Taguig, the trade chief said that "digital integration is a great equalizer, as it allows MSMEs to gather product ideas and concepts, do market tests and do promotions and selling at practically no cost."
He also said that MSMEs can make use of programs in partnership with companies like Google, so that the sector "can take advantage of opportunities that go with going digital.
With vast interest infused in the demography of the Philippines as the world's social media capital and with 50 million Internet users, accounting for 50% of the country's total population today, the Philippines can be a model country for digital empowerment, according to him.
"I hope that more effective web services, improved search experience and effective advertising platform will be delivered to all stakeholders. With Google officially in the country, we can only expect production of meaningful local contents," he added.
Citing Statista, it is projected that by 2021, 81% of the country's population will be Internet users. For the Southeast Asian region alone, the country has the fastest growing Internet audience at 22% growth rate, according to the 2014 Global Web Index, which also found Filipinos having the highest total screen time spent in social networking globally at 3.2 hours.
Sec. Lopez also hoped that digital companies can be more inclusive in its business operations and assured that DTI will support initiatives that proactively promote digital inclusion among Filipinos through digital literacy and digital accessibility.
"I urge tech companies to spearhead programs that will empower Filipino consumers with skills to harness the benefits of technology to improve their quality of life," he said, adding that forging multi-stakeholder partnership among the government, the civil society, the private sector and the academe is an urgent need.
Google's expansion in the Philippines also means creation of more jobs for Filipinos, as country manager Ken Lingan has promised to hire local talents. In addition, with the population getting more connected and easily more engaged, an ecosystem of startups can have more strategic venue, in view of Google's commitment to grow small businesses online.
Environment, climate advocates laud DENR closure of mining operations, call for continuous action against destructive large-scale mining industry
By SANLAKAS
February 3, 2017
QUEZON CITY – Environment and climate advocates, as well as members of grassroot communities, lauded the Department of Environment and Natural Resource's (DENR) closure of 23 mining operations situated in functional watersheds and suspension of 5 mining firms, as of Tuesday, January 31, 2017.
"This action by the government has finally brought into the forefront the long history of suffering inflicted by the country's large-scale mining industry on our environment and our mining-affected communities," said Concerned Citizens of Sta. Cruz (CCOS) Chairman Dr. Benito Molino.
Molino referred to DENR Secretary Gina Lopez's findings on the grave environmental degradation and disruption of community lives that have been occurring in the mining capital regions of the country.
"The campaign that calls for holding accountable destructive mining firms and for the halt of these recently closed mining operations has been left unheeded for years until now," said Molino.
"It takes bold and concrete actions to put an immediate stop to the environmental degradation and community life destruction that have long been the mark of large-scale mining industries in this country. The DENR amply stepped up to this challenge with its closure of a number of mining operations," continued Molino.
Sanlakas Secretary-General Atty. Aaron Pedrosa hoped that this paves the way for more empowered communities in their fight to reclaim their home and their proper way of life from destructions caused by the large-scale mining industry.
In lauding the DENR closure of a number of mining operations, Pedrosa expressed the need for continuous action, both by the state and its citizens, against possible retaliatory measures to be undertaken by huge mining companies.
"Stronger safeguards need to be installed in our institutions to truly break away from the current state of affairs of our environment where only a handful from the mining industry dominate in extracting and benefitting from the country's natural resources," stated Pedrosa.
In concurring with the observance of Secretary Lopez during the DENR mining audits, Center for Energy, Ecology and Development (CEED) National Convenor Gerry Arances noted that farmers and fishers from mining-affected communities are often stripped of their health and their livelihood due to the disruptive presence of mining operations in affected areas.
According to Arances, compunded with statements from Molino, in Sta. Cruz, Zambales alone, the visible environmental impacts of mining operations by BenguetCorp Nickel Mines Incorporated, Eramen Minerals Incorporated, LNL Archipelago Minerals Incorporated, and Zambales Diversified Metals Corporation, included air pollution, biodiversity loss, floods, food insecurity, loss of landscape/aesthetic degradation, soil contamination and erosion, waste overflow, deforestation and loss of vegetation cover, and surface water pollution.
"It is high time that we realize and act on the fact that we put so much burden on our environment and our fellow Filipinos in mining-affected areas for the sake of accommodating a large-scale mining industry that empties and irreversibly damages our resources without having ever contributed to our economic growth as a country," said Arances.
Arances noted how the country's current legal framework on mining allows the entry and the long-term and large-scale destruction by mining corporations of communities and ecosystems in exchange for few and insignificant portions of the revenue gained by these corporations.
"Large-scale and profit-driven mining industries have long gotten away with encroaching upon and fully exhausting natural resources that are meant for the use and proliferation of our present and future communities," concurred Molino.
"In order to instigate a full stop to the destruction caused by mining operations, we have to shift our way of appropriating our natural resources and make it fully attuned to the needs of our own communities rather than that of corporations," said Molino.
Pedrosa cited The Philippine Mining Act of 1995, the current law governing mining activities, as one of the major impediments to a truly pro-people and pro-environment national utilization of land resources.
"A law that allows mining corporations to own 100% of mineral ores and land covered in claimed mining areas has no place in our genuine pursuit of reclaiming our natural resources for our people," said Pedrosa.
CCOS, Sanlakas, and CEED have long supported the passage of bills like the Alternative Minerals Management Bill (AMMB), a bill that champions the adoption of a sustainable, rational, needs-based minerals management, geared towards effective utilization of mineral resources for the goal of attaining an ecologically-sound national and modernized agriculture.
"The closure by the DENR of major mining operations is a step forward to relinquishing the hold of corporations over this country's natural resources," said Pedrosa.
"To make this move more meaningful, however, we have to continue creating more avenues, formal or otherwise, for our communities to assert their rights over the utilization and management of their resources and the environment in which they live," concluded Molino.
Former DILG secretary Mel Sarmiento mentors Mayor Richard Gomez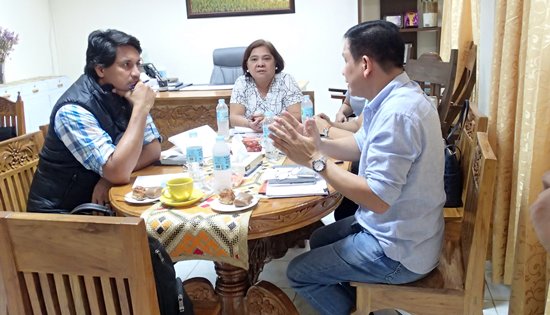 By MYLES JOSEPH E. COLASITO
February 2, 2017
TACLOBAN CITY – Former DILG Secretary Mel Senen Sarmiento, an award-winning former mayor of Calbayog City, had a productive mentoring session with Ormoc City Mayor Richard Gomez last January 31, 2017 at the DILG-8 Regional Office in Tacloban City.
The conference was facilitated by DILG Local Government Academy (LGA) and DILG-8 under the Mentoring for Optimal Leadership and Development for Newly Elected Officials (MOLD the NEOs) program. The mentoring relationship is bound by a contract by the two parties with DILG and LGA, which aligns the mentor and NEO's expectations and guides them throughout their mentoring time together.
According to Mayor Gomez, he is thankful to DILG for this program is a good tool to validate how his administration is performing. Among the topics the two discussed in this session was long-term planning, resource mobilization, peace and order and the environment.
Mayor Gomez seeks to pursue initiatives they started in 2016 that involved crafting new ordinances as part of a road map to make Ormoc a liveable, business friendly, competitive and peaceful city.
Former Secretary Sarmiento belongs to a pool of recognized experts in local governance tapped by LGA to guide new mayors. He also mentors Maasin City, Southern Leyte Mayor Nacional Mercado and Dulag, Leyte Mayor Mildred Que, with possibly more to follow.
Sarmiento helped design MOLD the NEOs process with LGA Executive Director Marivel Sacendoncillo (also concurrent DILG-8 OIC-Regional Director) when he was still DILG secretary. After his term ended, he was asked to help guide the new mayors due to his wide experience as a Galing Pook winner and congressman, among others.
MOLD the NEOs was crafted with the realization that local officials are more receptive to advice from their peers who have the credibility and experience in resolving relevant problems.
Under MOLD the NEO, both parties shall agree on the objectives, types of knowledge and skills to be imparted, duration, basis, regularity, communication and their forms of interaction, making the relationship dynamic.
Chiz seeks senate probe into AI allegations
By Office of Senator Escudero
February 2, 2017
PASAY CITY – Sen. Francis "Chiz" Escudero wants the Senate to look into the report released by Amnesty International (AI) alleging that Philippine National Police (PNP) officers have paid individuals to kill thousands of drug offenders in the country.
Escudero told a press conference on Thursday that he would file a resolution next week for the Senate to investigate into what he described as serious allegations by the international human rights watchdog.
In the report, Amnesty International claimed that the police had "systematically targeted mostly poor and defenseless people across the country while planting 'evidence' recruiting paid killers, stealing from the people they kill and fabricating official incident reports."
"Ito'y seryosong alegasyon na galing pa sa isang international body na marapat at dapat alamin, hindi lamang nating lahat, pero pati na rin makita kung may basehan nga ba o wala kaya dumudungis ito sa imahe ng bansa sa daigdig," Escudero said.
The veteran lawmaker said he also wanted Amnesty International to explain their findings and present their sources at the legislative inquiry.
According to Escudero, who once chaired the Senate Committee on Justice and Human Rights, he was alarmed by the claim that hired killers were being engaged by the police force to help in the war against drugs of the government.
The Senate investigation, he added, will give the PNP a chance to convey their side of the story.
"Yung basehan ng AI sa kanilang report nais naming ipaliwanag nila, at pangalawa yung mga pulis na na-mention, at kung sinumang nais maglabas ng ebidensiya kaugnay nito. Dalawa ang pakay naming dito: Una, mapatunayan kung totoo nga ba yung alegasyon ng AI, at pangalawa, mabigyan din naman ng pagkakataon ang PNP na harapin ang AI, magpaliwanag sa harap ng publiko at ibigay ang panig nila sa publiko at sa AI," the senator said.
Furthermore, Escudero assured procedural safeguards for sources of AI and all the other witnesses who will be invited to the Senate probe.
"We can always call for an executive session in order to hear the testimony of witnesses. Nagawa na namin yan noon at napatunayan naman ng Senado na hindi namin nilalabas anumang pinag-usapan sa executive session maliban na lamang kung pagbotohan ito ng mayorya ng mga senador kung ganyan ka-sensitibo. Nakahanda naman ang Senado na tumanggap ng mga ika nga mga sekretong testigo para mapangalagaan ang kanilang seguridad," Escudero said.

P3 micro-financing fund launched in Tacloban. As part of Administration's commitment to provide affordable micro-financing program for the micro, small and medium enterprises (MSMEs), President Rodrigo Duterte (middle right), along with Department of Trade and Industry Secretary (DTI) Ramon Lopez (middle left), Housing and Urban Development Coordinating Council (HUDCC) Secretary Jun Evasco (leftmost), and Mayor Cristina Gonzales-Romualdez (right) led the ceremonial launching of the Pondo sa Pagbabago at Pag-asenso (P3) on January 25 in Tacloban.
Pondo sa Pagbabago at Pag-asenso launched in Tacloban, Mindoro, Sarangani
By DTI-ROG
February 1, 2016
MAKATI CITY – The Department of Trade Industry (DTI) formally launched the Pondo sa Pagbabago at Pag-asenso Program or P3, a micro financing program intended for small entrepreneurs, in Tacloban City in Leyte on January 25; San Jose, Occidental Mindoro on January 27; and Alabel, Sarangani Province on January 31, to help eradicate poverty, and promote business and employment among Filipinos.
Following President Rodrigo Duterte's directive to replace the "5-6" money lending system and provide an affordable micro-financing for the country's micro, small and medium enterprises (MSMEs), the P3 funding program provides microenterprises an alternative source of financing that is easy to access and made available at a reasonable cost.
"The P3 program is one way of helping the underprivileged by giving better chances to elevate from poverty. Aside from the fund, the DTI thru the Negosyo Centers will assist the MSMEs with programs suitable to their needs such as access to market, access to financing, and mentorship," DTI Secretary Ramon M. Lopez said.
The identified areas are considered among the 30 poorest provinces poorest in the country.
A total of 92 micro borrowers where initially identified to receive loan grants ranging from P5,000.00 to P100,000.00.
Sec. Lopez also reiterated the administration's desire to provide livelihood to those who are at the bottom of the pyramid.
"Why micro entrepreneurs? The desire and mandate of our president is to help those who do not have much. If they fail to be employed, we help them to start a small business," he said.
The primary beneficiaries of the P3 Program are microenterprises and entrepreneurs that do not have easy access to credit or accessing credit at a very high interest cost. These include market vendors, agri-businessmen and members of cooperatives, industry associations and co-operators.
The Small Business Corporation, an attached agency DTI shall administer the P3 Program. Aside from creating a Program Management Office to oversee the management and monitoring of the P3 Fund, SB Corporation will make use of its lending network and the DTI Negosyo Centers in reaching out to P3 beneficiaries.
Loan amounts to end-borrowers will be in the range of P5,000 to P100,000, at a maximum interest rate of 2.5% per month, with no collateral requirement.
Catwalking on water in haute couture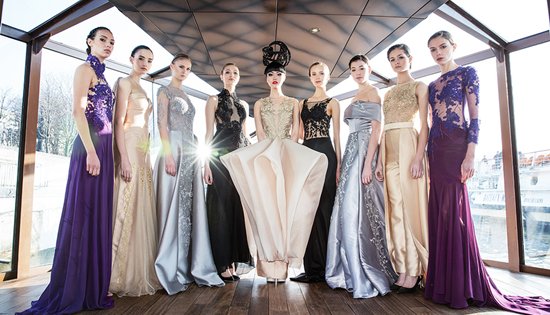 Jessica Minh Anh stunningly opened 2017 with her iconic Seine river's floating runway
Press Release
January 27, 2017
PARIS – An innovative catwalk concept was created 5 years ago when a young model and entrepreneur decided to transform Seine River's giant glass boat, Le Jean Bruel, into a 100-metre floating runway. Yesterday, the world witnessed the 5th outstanding installation of Jessica Minh Anh's infamous river catwalk as J Winter Fashion Show 2017 premiered 5 exquisite haute couture collections from various continents. Having added many international successes into her impressive portfolio, including the Eiffel Tower and Grand Canyon Skywalk's phenomena, the multi-talented catwalk producer has maintained her magic on Paris' water.
The concept
With an extraordinary vision, Jessica Minh Anh created an illusion of models walking on water by having guests seated facing the multifaceted glass windows and watch models walking in front of them while the boat was cruising. As a result, architectural wonders such as the Eiffel Tower, Notre Dame, Louvre, and the 37 bridges became the natural backdrop for the unique catwalk.
The fashion collections
The breath-taking opening saw Jessica Minh Anh appeared in a Princess Diana inspired haute couture dress made of white lace with a classic high neck, big shoulders, and a 2-metre long trail. Following the flawless beauty is a stunning model lineup in black, gold and white intricate designs with an emphasis on mermaid silhouettes. The "Retromantic" collection is a masterpiece of Indonesian talent Fetty Rusli, who brought class and elegance to Jessica Minh Anh's theatrical catwalk.
Next, Malaysian fashion house Emmanuel Haute Couture unveiled 15 looks full of embroideries, transparency, layers, and floral ornamentation. A master at hourglass silhouettes, Samantha Chua's exceptional designs portrayed a new level of charm, seduction, and opulence. The couturier successfully mixed handmade beadwork and extravagant embellishments with floor-length silky softness in classic black and red.
With a modern take on classic silhouettes, American designer Johanna DiNardo premiered a distinctive collection influenced by the beauty of the Seine and Paris. The alluring looks included pleated brocade skirts, water-like sleeve drapery, bias-cut panné velvet, and contoured metallic lace veils, edged in Swarovski crystals. Focusing on precision, handcraft, and detailed tailoring, Johanna's collection exuded powerful individuality.
Adding femininity and glamour to the grand catwalk, Maria Ruth Fernanda from Jarkata presented a timeless haute couture collection which revealed meticulous fabric manipulation and advanced embellishment techniques. Using colour pallets such as deep red, royal blue, gold, and earthy beige on tulles, jacquard, silk, and taffeta, her designs perfectly accentuated a women's body.
Closing the show with modern luxury and a bold statement, Filipino representative Sari Lazaro introduced her "Royal secret garden" collection, which celebrated impeccable craftsmanship, beadwork, and embroidery techniques. Marrying dramatic laser cut details on luxurious silks and soft flowing tulles and laces, the designer stirred up romance, mystique, and new age flairs. Saving the best for last, the finale design worn by Jessica Minh Anh was every inch portraying modernised royalty. With a special 3-dimension skirt, the striking couture dress highlighted Jessica Minh Anh's perfect waistline while enhancing her charismatic and powerful presence. The collection triumphed the Far East's captivating and enchanting fashion, which has been penetrating and harmonising with the Western world.
The beauty looks
To compliment Jessica Minh Anh's extraordinary vision, American luxury cosmetics and skincare brand Elizabeth Arden joined force with UK's salon ESHK to create an exclusive modern chic beauty look. The catwalk models appeared radiant with flawless and youthful skin, strong contours and highlights, and sophisticated one-side braided low bun hairstyle. The creative team accentuated Jessica Minh Anh's exotic beauty with Elizabeth Arden's brand new eye-popping red lipstick and a custom-made architectural hair structure mimicking a futuristic flower. Jessica Minh Anh is known for her signature stand-out look, previously seen wearing artistically made Eiffel Tower, Burj Al Arab, Sydney Harbour Bridge, and One World Trade Center hair pieces.
Getting over the flooded 2016
The great success of J Winter Fashion Show 2017 was even more rewarding and well received considering Jessica Minh Anh's 2016 river catwalk was affected by a heavy flood on the Seine. "We informed her 3 days before the show that she had to move it to a week later, and again 3 hours in advance on the new date that the boat would not move. She was calm, positive and very decisive. She impressed us all." said Marco Goncalvez, Director of Operations, Bateaux Mouches. The model had the boat positioned at the angle where the Eiffel Tower was the most visible, and went on to produce one of the best catwalks to date. It was not the first time Jessica Minh Anh was proved an effective problem solver, as she also saved her epic catwalk at Gemasolar power plant the year before after an unexpected and destructive storm. As Madame Figaro stated "With Jessica Minh Anh, nothing is impossible"
J Winter Fashion Show was supported by Montblanc, Elizabeth Arden, ESHK UK, Bateaux Mouches, DOT Laser UK, ProPress UK, and Belmont Hotel Paris. The high profile event included a VIP red carpet entrance, the iconic runway, and the VIP party with drinks, canapés, and live music on board Le Jean Bruel. The flawless production marked a new era in Jessica Minh Anh's fashion world domination, as she increases her number of shows per year to 4. We shall wait with excitement for her next catwalk announcement, expected in April 2017.
The producer
The Vietnamese born, Russian raised, and Paris-based fashion model and catwalk producer gained her formal education in IT in Malaysia and PR in the United Kingdom before transforming London's Tower Bridge into the world's newest catwalk. Besides her mind-blowing productions at iconic monuments including the Eiffel Tower, PETRONAS Twin Towers' Sky Bridge, Grand Canyon Skywalk, One World Trade Center, and Gardens by the Bay's Skyway, Jessica Minh Anh is known for her "catwalks on water" on the Hudson river and Seine river, as well as her "sky-high ocean catwalks" on the sun deck of international cruise ships in Sydney, New York, and Dubai. Jessica Minh Anh's most visually attractive project, besides the Grand Canyon Skywalk, is her runway in the middle of a solar power plant in Spain as she added technology into her long list of catwalk elements.
Google Philippines opens new home
Announces grant for digital literacy program for one million Filipinos in VisMin
By DTI-OSEC-PRU
January 26, 2017
MAKATI CITY – Google Philippines is supporting the growth of digital economy in the country with a Google.org grant to Digibayanihan, a nationwide digital literacy program that promotes digital inclusion among Filipinos.
This was announced on Thursday when Google Philippines opened its new home, four years after it launched its first office in the country in 2013. The support from Google is expected to extend Digibayanihan's program to one million Filipinos in Visayas and Mindanao.
Google.org is the charitable arm of Google that supports and champions people and projects that are combatting the biggest human challenges of the 21st century. One of its key focus areas has been the improvement of education, particularly ICT enabled literacy.
"This step is part of our continuing effort to create a stronger, more inclusive digital economy in the Philippines. While our internet penetration has improved the last five years, 2 out of 5 Filipinos are still missing out on the huge opportunities that come with being online. We want to empower them with digital know-how so that they can make the most of the Internet," said Ken Lingan, Google Philippines country manager.
DTI Secretary Ramon Lopez who was guest of honor at the launch said, "With the population getting more connected and engaged every day, it is necessary for individuals, businesses, and communities to have the right skills to thrive in today's modern economy. That's why we welcome Google's commitment to promote digital inclusion and empower every Filipino online, and in effect, drive the country's economy forward."
Google also highlighted the importance of developers in the digital economy of the country with the launch of the Launchpad Accelerator program in the Philippines. The program provides equity-free support to help start-ups scale into thriving companies.
Citing the recent Google-commissioned report by Temasek, Google said that the Philippines' online market value is set to reach US$19 billion by 2025, making e-commerce a major economic driver in the next 10 years. "Our local developers and start-ups are instrumental in creating impactful businesses that are tackling tough local and global issues. We see the importance of their role in what will be a booming e-commerce in our country in the very near future because what they do have direct impact in people's lives," Ken said.
Innovative real-estate start-up Zipmatch, which uses 360° technology to differentiate itself, is the first Filipino participant in Google's accelerator program. Secretary Lopez recognized the program as a potential boost in the e-commerce industry, and encouraged micro, small, and medium enterprises (MSMEs) to take advantage of the digital space and digital training provided by Google and DTI agencies nationwide.
"SMEs still account for more than 90% of our enterprises, and Filipinos rely heavily on them for goods and services. I think it is just right for the SMEs to embrace digital integration now and make use of programs like what we provide working with tech companies like Google so they can take advantage of opportunities that go with going digital," Sec Lopez added.