Army troops scores against NPA rebels in Northern Samar
By DPAO, 8ID PA
February 15, 2017
CAMP LUKBAN, Catbalogan City – Troops of 43rd Infantry Battalion, 8ID, PA led by 1Lt. Edsel Ryan B. Celebre engaged NPA rebels under their leader Salvador Nordan a.k.a "Badok" while conducting combat operations against lawless elements at Sitio Cabaywa, Brgy. Santander, Bobon, Northern Samar on February 14, 2017.
The fire fight lasted for about five minutes that resulted to one (1) NPA killed identified as Bernadette Lutao a.k.a. "Kakan", the wife of "Badok," and the recovery of one (1) improvised explosive device (IED) and three (3) cellular phones.
The use of IED is restricted under the United Nations Geneva Convention because of its indiscriminate effects and humanitarian harm it can cause to innocent civilians as well as a violation of the Comprehensive Agreement on Respect for Human Rights and International Humanitarian Law between the Government of the Republic of the Philippines and the CPP-NPA-NDF.
In a statement by Maj. General Raul M. Farnacio, he said that the NPAs have been using IEDs as of their weapons of choice without consideration on the welfare of the civilian populace. "The NPA has been deliberately violating the human rights with their production and employment of IEDs and their continuous disruption of the peaceful lives of our fellow Filipinos especially those in the far-flung barangays," he stated.
"This accomplishment is a triumph for the collective effort of the local government unit and agencies, 8ID, and our civilian constituents to attain just and lasting peace in Northern Samar. Filipinos want peace and it is high time for our fellow Filipinos who were misled to join the NPA to lay down their arms and lead their lives away from armed struggle," Farnacio urged.
Since the lifting of the ceasefire by President Rodrigo Roa Duterte, 8ID troops have been conducting security operations in the region as part of their mandate. "Rest assured that your Army in Eastern Visayas are tirelessly committed to serve and secure the people within the bounds of respect of Human Rights, International Humanitarian Law, and Rule of Law," Farnacio added.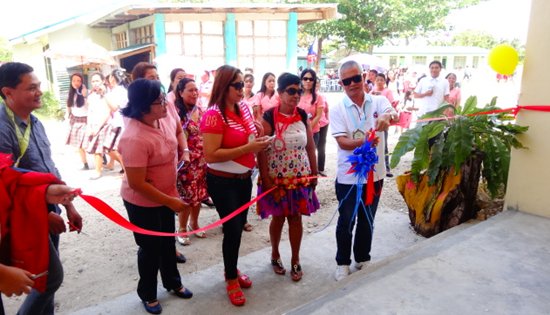 Turn-over of the 2-storey, 6-classroom School Building in Higatangan National High School, Naval Biliran on Feb. 13, 2017. The project has a contract cost of P8.2M under RT Morabe Construction. The project would benefit 240 Senior High School Students of the said school and will provide an environment conducive to learnings.
Higatangan NHS, turned-over
Press Release
February 14, 2017
NAVAL, Biliran – The Fidel M. Limpiado Sr. National High School in Higatangan Island, Naval Biliran received their newly 2-storey 6 classroom building in a turn-over ceremony by the Department of Public Works and Highways (DPWH) and Department of Education (DepEd) on Monday, February 13, 2017.
"This marks another success in the pursuit of the government to provide quality education for the students by constructing additional school buildings", said Engr. Alfredo L. Bollido, DPWH OIC-Assistant District Engineer in his turn-over message on behalf of District Engineer, David P. Adongay Jr.
The occasion was also graced by the presence of Hon. Brigido Caneja III, Sangguniang Panlalawigan Member who attended on behalf of Congressman Rogelio J. Espina; Dr. Rodulfo Pabilada, Supervisor of Kindergarten on behalf of DepEd District Superintendent Dr. Carmela R. Tamayo; Dr. Allan Paul U. Tubis, DepEd Administrative Officer; RT Morabe Contractor representative, teachers and students.
The Higatangan National High School has more or less 200 enrollees for this year for the K-12 program with 14 teaching force.
Engr. Bollido added "We expect that this facility would encourage more students to come to school as this will provide them a facilitative space to learn and be inspired to study harder and reach their highest potential".
Mrs. Leonora S. Mission, Head Teacher II also expressed her gratitude of the new school building in her acceptance message saying "Ang gusaling ito ay kapaki-pakinabang para sa maayos na pagkatuto ng mga estudyante dahil po dito, lubos po akong nagpapasalamat. At bilang tagapamahala ng paaralang ito, ako po'y nangangako na pangangalagaan ang gusaling ito kasama ang internal at external na stakeholders. Nawa'y tulungan at suportaan ninyo ako para sa mga adhikain at programa ng paaralan, dahil ang lahat ng pagsisikap ng paaralan ay para sa mga bata at dahil sa mga bata".
The ceremonial key turn-over and ribbon-cutting ceremony highlighted the occasion. After the turn-over, DPWH headed by Engr. Bollido, together with the DepEd representatives, Contractor and School Heads inspected the newly turned-over school building.
Prior to their inspection, there are minor defects/deficiencies found that needs to be corrected by the contractor. According to Engr. Bollido, contractor needs to correct these defect deficiencies to fully collect the payment.
The two-storey, 6-classroom school building projects in Higatangan National High School, Naval, Biliran is under contact with RT Morabe Construction with a contract cost of P8.2M. The Higatangan Island is only a few minutes ride by small boat from Biliran's capital town, Naval.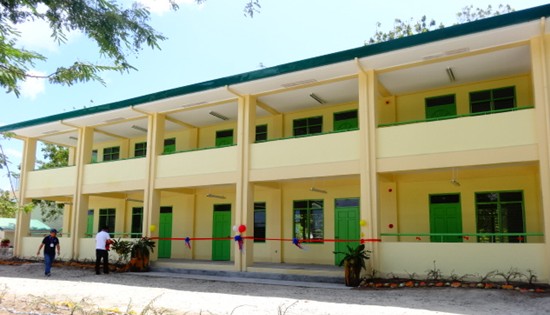 SMC don't beat around the bush!
By Philippine Movement for Climate Justice
February 13, 2017
QUEZON CITY – The Philippine Movement for Climate Justice (PMCJ), its member Nuclear Free Bataan Movement (NFBM) and the people of Limay, Bataan told SMC Global Power Holdings Corp. to stop avoiding the real issue and refrain from misleading the people in what is actually happening in the ground.
Mr. Ramon Ang, President and COO for San Miguel Corporation released a statement yesterday saying that they are using the Circulating Fluidized Bed (CFB) technology which makes their coal-fired power plant emits sulphur oxide, nitrogen oxide carbon monoxide and particulate matter lower than the current standard set by DENR and World Bank.
PMCJ maintains that while it is possible for CFB technology to lessen the emissions, it seems that the real issue of bottom ash is deliberately avoided. While it is true that coal plant that uses CFB technology emits the above mentioned emissions lower than the prevailing standards it does not address the production of bottom ash.
The real issue behind is the huge pile of bottom ash that the 140 MW coal plant of Petron dumps in the designated temporary ash pond of San Miguel, the very same area where the 300 MW coal plant own by San Miguel currently conducting its test run dump their bottom ash. It is this huge accumulation of bottom ash allegedly resulted to rise in respiratory related diseases and skin diseases as well.
Coal plant which utilizes CFB technology produces more coal ash than conventional ones, since it add limestone to pulverize coal during combustion process. Both the 140 MW and the 300 MW employs the CFB technology hence resulted to a huge pile up of bottom ash near the area where the community lives.
Hence we strongly call on SMC to face the music and stop beating around the bush, the real problem is your bottom ash and the question of the legality of your ash pond, so long as it is not properly address the sufferings of the people continues. And the only way to comprehensively address it is to stop the operation of both coal plants since as long as they continue to operate there will be accumulation of bottom ash.
Our demand is for the Department of Environment and Natural Resources (DENR) to immediately order a shut down the coal plants operation, indemnify the affected community, suspend incompetent regional DENR officers and include both coal plants as priority in the ECC audit to be conducted by the Department.
The 8ID Stakeholders Fellowship in Northern Samar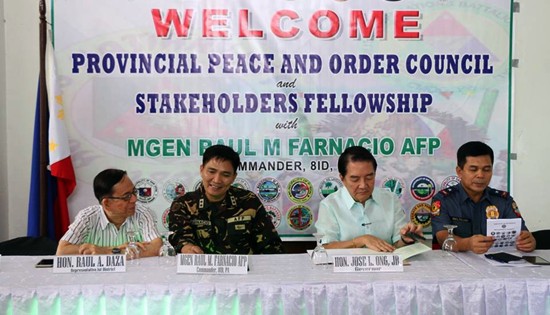 By DPAO, 8ID PA
February 9, 2017
CAMP LUKBAN, Catbalogan City – In order to address and strengthen the aspirations of peace and order in the region, your Army in Eastern Visayas together with the Provincial Government of Northern Samar came up with a Provincial Peace and Order Council Meeting and Stakeholders Fellowship with the Local Chief Executives and Stakeholders of the whole province of Northern Samar with Maj. Gen. Raul M. Farnacio AFP, Commander 8th Infantry (Stormtroopers) Division held at the Governor's Residence, Catarman, Northern Samar on February 8, 2017.
This activity also aims to unite the Local Chief Executives and stakeholders in addressing the poverty alleviation; peace and order update; and support the government's drive against illegal drugs and lawless violence in the area.
Present during the activity were: Maj. Gen. Raul M. Farnacio AFP, Commander 8ID; Brig. General Mario G. Lacurom AFP, Commander 803rd Bde; PCSupt Elmer P Beltejar, RD, PRO8; PSSupt Ceazar Zafiro L. Tannagan, PD NSPPO; Hon. Raul A. Daza, Representative, 1st District; Hon. Jose L. Ong Jr, Governor of Northern Samar; Hon. Gary M. Lavin, Vice Governor of Northern Samar; Mr. Valente P. Bajet. DILG, Provincial Director; Atty. Efren J. Sabong, Provincial Administrator; Hon. Don. L. Avalon, LCE San Jorge; Ms. Imelda Bonifacio, Regional Area Manager, OPPAP; Head of Local Government Agencies; 24 mayors of different municipalities of Nortnern Samar; church leaders; media personalities and members of Provincial Peace and Order Council of Northern Samar.
During the open forum, the Local Chief Executives were urged to deliver the basic social services needed especially to the far flung areas. Further, on the discussion of the lifting of unilateral ceasefire, MGen Raul M Farnacio, Commander 8th Infantry Division rest assured to the people of Eastern Visayas that they will be highly protected by the military troops against any atrocities that will be brought by the CPP-NPA-NDF. Further, as per guidance by President Rodrigo Roa Duterte to the NPA members who would like to surrender to the fold of government, the AFP will humbly welcome them and rest assured that they will receive remuneration to start a new and better living. Hon. Jose L. Ong, the Provincial Governor of Northern Samar stressed-out that it's about time to remove the root cause of poverty and to destroy the CPP-NPA influence in their respective barangays. They must be united to end up the insurgency and function as reliable public servants to the people.
MGen Farnacio also highlighted the Armed Forces of the Philippines new campaign plan dubbed as Development Support and Security Plan (DSSP) "Kapayapaan". This is the continuance of Internal Peace and Security Plan (IPSP) "Bayanihan" that was terminated last year. This campaign will focus on sustained military operations to defeat the foreign and local terrorist organizations; contribute to the promotion of peace active support to law enforcement in war against drugs; and contribute to nation-building.
Gov't to provide transition period to end '5-6' lending scheme
By DTI-OSEC-PRU
February 9, 2017
MAKATI CITY – In line with government's drive to reform the micro-financing system in the country, the Department of Trade and Industry (DTI) recently called for an inter-agency meeting to work on the transition to allow illegal foreign money lenders to legalize their resident status and register with the Securities and Exchange Commission (SEC) their lending business. The transition period is needed to prevent undue harassment of concerned lenders.
DTI Secretary Ramon Lopez with SEC Chair Tess Herbosa and representatives from the Departments of Justice and Foreign Affairs, Immigration Bureau, National Intelligence Coordinating Agency, Bangko Sentral ng Pilipinas, Philippine National Police, Small Business Corporation (SB Corp.) and the Indian Chamber of Commerce, gathered to discuss legitimization of lending businesses and initial steps to put a stop on the said lending scheme.
The total operation value of the "5-6" lending system sums up to a total of P2.4 billion, with 30,000 operators across the country, according to the Indian Chamber of Commerce Philippines. A transition period will be provided to lending operators, giving them ample time to register their businesses with SEC.
"After the prescribed transition period, 5-6 scheme must stop and micro-businesses must shift to P3 and other legal micro-financing facilities," said Sec. Lopez, referring to the government's flagship micro-financing initiative Pondo Para sa Pagbabago at Pag-asenso or P3, initiated by President Rodrigo Duterte.
Launched in Tacloban, Occidental Mindoro and Sarangani, the P1-billion micro-financing program aims to provide micro, small and medium enterprises (MSMEs) with easy access to finance with no collateral and minimal interest, through micro-financing institutions (MFIs) and cooperatives accredited by DTI and the SB Corp.
"We should be seeking the frontiers, these people who have not been reached by the MFIs are the same people targeted by the '5-6'," Sec. Lopez added.
A Technical Working Group (TWG) on the matter will provide specific guidelines on the compliance and registration of lending businesses.
Indian Chamber of Commerce Philippines President Rex Daryanani expressed hope that term "5-6" would eventually be eradicated and be replaced by the term "micro-financing."
San Agustin-Pagsanghan Road completed
By DONNA C. DEBUTON
February 8, 2017
CALBAYOG CITY – Samar First District Engineering Office has finally completed the construction of San Agustin-Pagsanghan Road under the General Appropriation Act (GAA) of 2016. The project includes the concreting of 3,150 linear meters of road covering Brgy. San Agustin to Pagsanghan, Samar.
The construction of San Agustin-Pagsanghan Road is one of the high impact projects of Samar I having a contract amount of 50 million pesos under B. Vicencio Construction.
The Municipality of Pagsanghan can be reached by a river boat or an intermittent concrete road where gravel road are hardly passable at times during continuous heavy rains. However with the completion of this project, residents can travel from the municipality to Gandara and elsewhere anytime conveniently.
The project provides a wide range of benefits to the local citizens of said areas which includes a significantly reduced time of travel and boosted economic activities. Various types of vehicles can now pass along this road section not only "habal-habal" and single motorcycles.
Phinma Energy Corporation told: Don't just defer, cancel the project!
By Philippine Movement for Climate Justice
February 8, 2017
QUEZON CITY – The Philippine Movement for Climate Justice (PMCJ) lauds the decision of Phinma Energy Corporation to defer their planned 900 MW coal-fired power plant in Sual, Pangasinan. However, the group advises Phinma to totally cancel the project and, instead, invest in renewable energy projects.
Yesterday, Phinma announced that they are considering constructing the coal plant in the year 2023 to 2025 because right now, there are already a lot of coal plants operating and being constructed in the country.
According to Mr. Ian Rivera, National Coordinator of PMCJ, presently there are 25 existing and operational coal-fired power plants all over the country including the 1,294 MW coal plant in Sual, Pangasinan. In addition, 35 coal plant projects are in the pipeline aside from the planned 900 MW project of Phinma.
"Phinma has to decide to delist coal projects in their investments as this will turn out to be a stranded asset as renewable energy (RE) becomes more viable. Business-wise, investing in RE will yield far more returns because it is now cheaper, safer and with no negative externalities. On the other hand, coal is dirty and costly considering the harm and danger it poses to people and environment as evidenced by what is happening now in Limay, Bataan where host barangays are suffering from ill effects of the bottom ash produced from the operation of two coal plants in the area: the 140MW of Petron Refinery and the 300MW of San Miguel Global Power Corporation which is currently running on a series of tests", Rivera added.
Recent news shows that a significant population in the host barangays in Limay, mostly senior citizens and children are experiencing respiratory-related health problems and skin diseases. These problems were caused by ashes being spewed during coal combustion of the said two coal plants.
Chiz resolution calls on senate to probe AI report
By Office of Senator Chiz Escudero
February 7, 2017
PASAY CITY – Sen. Chiz Escudero has filed a resolution pushing the Senate to investigate the allegations of Amnesty International that killings related to the government's war against illegal drugs were extrajudicial executions carried out by gunmen hired by police officers to kill and plant evidence.
Escudero, former chair of the Senate Committee on Justice and Human Rights, filed Senate Resolution No. 282 directing the appropriate Senate committee to probe into the report by AI, saying it must not be simply set aside as it raises serious allegations that can undermine the Philippines' reputation as a democratic country that fundamentally recognizes and upholds human rights.
"I found AI to be radical at times if you look into our history. The filing of resolution is really not meant to give AI a platform. It is to allow AI to prove their allegations because by that report, they besmirched the reputation of the country."
He also added that the legislative inquiry would be an avenue to verify the accuracy of the report and give the people and institutions involved an opportunity to respond to the findings.
"It is not only a matter of necessity but public accountability as well that AI substantiate and present its evidence before the Senate for public scrutiny to confirm the report's veracity and to hold, or otherwise clear, the Philippine government of any responsibility," Escudero said.
"Sure or not, they already besmirched the name of our country by saying that these violations are committed by the state itself," the senator said.
According to the report released by the international human rights watchdog, "the police paid killers on their payroll, and unknown armed individuals have slain more than a thousand people a month under the guise of a national campaign to eradicate drugs," adding that the administration's war on drugs is actually a "war against the poor."
AI also alleged the use of a mere "watch list," which contents are based on hearsay, community rumor or rivalry, with little verification.
In their report, AI also detailed the story of a police officer with the rank of Senior Police Officer 1, who served in the PNP for a decade and is currently part of the anti-illegal drugs unit in Metro Manila. According to the source, the police paid per "encounter" – the term used to mask the extrajudicial killings as legitimate operations conducted by the authorities. The police officer claimed that the amount paid by the police ranges from P8,000 to P15,000 per person, per encounter.
"The logic it presents is that this money is coming from the government, that is a serious allegation that would immediately connect the state to what is happening outside the EJKs (extrajudicial killings) and that would mean it is already state sponsored. That is a very serious allegation and AI cannot simply make that allegation and say 'sorry all of our sources are confidential, we cannot reveal it.'"
Since the Duterte administration came into power, the Philippine National Police has conducted almost 41,000 drug-related operations from July 2016 to January 2017.
According to AI, more than 7,000 people have been killed in the drug war, with the police directly killing at least 2,500 alleged drug offenders.
Furthermore, Escudero cautioned the administration against giving too much power to the police force and treating erring officers with kid gloves.
"The worst fear of many people already happened. It went into the head of the policemen. Not all, but some," he said. "We want to see the PNP leadership pursue with the same vigor as drug suspects the scalawags, misfits and erring policemen."