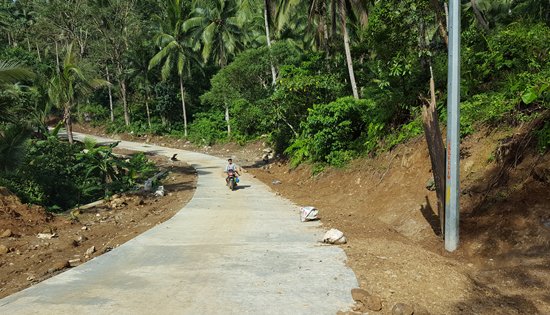 Completed Concreting of Brgy. Caucab-Sitio Palayan Phase II. The project is under contract with BNL Construction with a contract cost of P4.925M which involves the concrete paving of 0.384 lane Km., construction of RCBC, installation of Pipe Culverts and stone masonry. The completed project will lessen the walking distance of the residents in Sitio Palayan in transporting their agricultural product to the market centers thus, providing them a safer and faster transport of abaca and "palay" which are abundant on the said mountain serving more or less 1,800 residence.
DPWH construction of Palayan FMR project in Almeria, Biliran completed
Press Release
December 9, 2016
NAVAL, Biliran – The newly completed Road Opening and Construction of Farm to Market Road (FMR) project from Brgy. Caucab to Sitio Palayan, Almeria, Biliran, will slowly pave way to new opportunities and development for the local community.
Sitio Palayan, Caucab, Almeria, Biliran is found at the foot of Mount Panamao and is abundant with abaca and "palay" thus, derived the name "Palayan ng Bayan," as rice terraces were carved in the mountains.
The people in Palayan lived in a small village and survive mainly with their agricultural crops. Back then, they would travel their products to the municipality of Almeria by foot and it would take them long hours just to deliver their crops.
"Kung daghan ang among da', hinay ang among lakaw, mga duha ka-oras ang lakaw igbaw sa Caucab (If we carry a bulk of abaca, our walk is slow and it would take us 2 hours walk in transporting our product to Upper Caucab.)," said JR Kalinawan, 32, a manubo settler and one of the abaca farmers who would greatly benefit from the project.
Previously, earth road from Caucab-Sitio Palayan was rutted and sometimes become un-passable and bringing their hard-earned products to the urban community was a struggle.
"Kasagaran magkatumba-tumba me labi na ingon ana pa karon ang dan, labi na ug mag-uwan-uwan lisud gyud! Kasagaran namo dili gyud me magsakay dire ug sakyanan, magbaktas gyud me kutob dinha sa may maayong dan (We often stumble on the rutted sections of the road especially during rainy days when the road is slippery. Most of us here don't take a ride because of the rutted road, instead we walk until we reach to the concrete paved road)", Kalinawan added.
The Department of Public Works and Highways (DPWH), Biliran District Engineering Office completed two FMR projects in Brgy. Caucab-Sitio Palayan (Phase I and Phase II), which involves concrete paving of 0.447 lane km. for phase I and concrete paving of 0.384 lane km. for phase II with a contract cost of P9.85M funded under the Department of Agriculture (DA).
"Sa karon, nakabati-bati man pud ko sa gobyerno nga kini nga ilang giproject karon, gikan daw kuno ni sa DPWH, ang among kuan ani, dako ning among pasalamat labi na kung kining kalsada, maderetso kini ngari kay aron ang among ginagmay nga baligya, gaan na jud ang among pagda. (I heard that the road project was implemented by DPWH and I am really thankful to them but if they can stretch the road all the way up here to Sitio Palayan, we would be really happy because we can already transport our products to market centers without the burden of carrying it)", said Kalinawan.
Nieves Dacunes, 52, who owns a small sari-sari store in Sitio Palayan also shared her difficulties in transporting her grocery items for her store although she owned a motorcycle.
"Ako mulakaw man kay di man ko musalig anang dan, siya (husband) musakay (motor), kay mahadlok man ko ana, kasunog-sunog na gani ni among mga batiis sa tumba-tumba, mao nang mulakaw ko kutob atong buyod-buyod usa ko musakay, maayo gane run kay gamay nalang baktason. (I am afraid to ride in our motorcycle because we had experienced so many accidents in that road that's why I'd rather walk than ride in our motorcycle. My husband drives the motorcycle up to a portion of the road with a flat surface, that's the time that I will ride the motorcycle. That is the reason why I am thankful for the road project because the walking distance was lessened)", Dacunes said.
The completion of the road project up to Sitio Palayan will greatly lessen the burden of farmers in transporting their farm products to market centers and residents in travelling to the neighboring towns. This project will serve more or less 1,800 residence.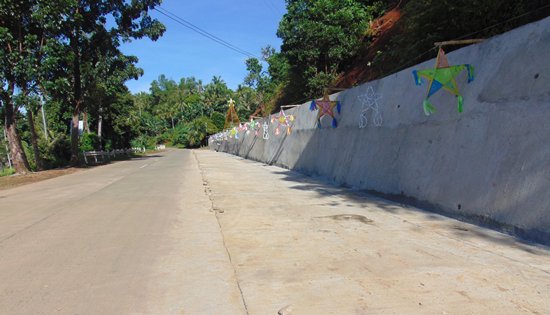 Completed portion of the Construction of Slope Protection Structure along Biliran Circumferential Road (Brgy. Sabang Section). Other than the slope protection structure, concrete paving of widened shoulders and construction of concrete canal are included in the project. As of November 30, 2016, it has an accomplishment of 58% under contract with MAC Builders with a contract cost of P41,782,330.92. Completion of the project will provide a structure that will prevent further landslide along this road section and contain run-off water during rainy days to prevent future damage to existing paved National Road.
DPWH-Biliran DEO accomplished 90.41% of 2016 infra projects
By CHELSEA C. QUIJANO
December 9, 2016
BILIRAN – The Department of Public Works and Highways (DPWH) - Biliran District Engineering Office (DEO) is fast-tracking the implementation of its 2016 infrastructure projects before the year ends.
Engr. Luisito Filemon A. Abad, Head of Procurement and Monitoring Unit during their guesting at Kapihan: Pulong-pulong ng Bayan on Radio Natin Fm reported that the district has already posted 90.41% accomplishment as of November 30, 2016.
Out of 66 projects implemented by Biliran DEO, 60 were already completed while remaining six projects under Regular Infrastructure Program are on-going.
These on-going projects includes P45M Construction of Access Road Leading to Declared Tourist Destination at Higatangan Island, Naval, Biliran, P43M Construction of Slope protection along Biliran Circumferential Road and P43M Slope Protection along Naval-Caibiran Cross Country Road, P43M Road Opening/ Concreting of Biliran Diversion Road, P8M Replacement of Banlas Bridge along Maripipi Circumferential Road and P5M Repair of Biliran bridge along Leyte-Biliran Road.
Abad revealed that the contactor have already started full operation in the Repair of Biliran bridge to complete the project the soonest time.
"It is only repair works on the rusted steel components under the bridge that is undertaken on Biliran Bridge hence there is no need to use barge in transporting the traveling public from Biliran Island to mainland Leyte," explained Abad when asked if people will be transported through barge during the repair of the said bridge which happened few years back.
Biliran Bridge is the only structure that connects the province of Biliran to mainland Leyte, thus, Biliran DEO is fast-tracking the implementation of this project along with other remaining projects.
"Hopefully we can complete two or three projects by December, parang tatlo lang ata ang may mga problema especially sa Diversion road na may problema sa road right of way," Abad said.
Abad also revealed that the district has been allocated with P911.4M worth of Project for 2017 Infrastructure Projects with a total final list of 44 infra projects composed of National Roads and Bridges (MFO1) amounting to P741.8M, Flood Controls (MFO2) costing 60M; Access Road and Airport to sea port (MFO3) amounting to P54.6M and additional 19 Local Infrastructure Projects (LIP) costing P55M projects excluding school buildings and Department of Agriculture projects.
Philippine Airlines and Bombardier finalize order for up to 12 Q400 aircraft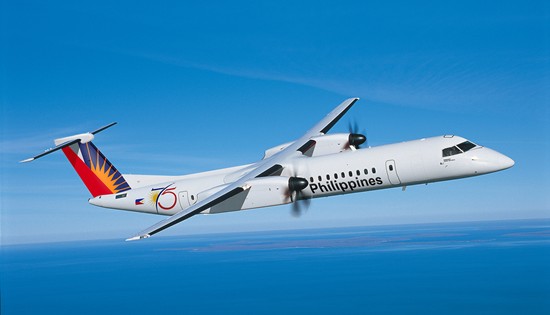 - Order confirms airline as launch customer of two-class, 86-seat Q400 aircraft
Via MARKETWIRE
December 9, 2016
TORONTO, Ontario – Bombardier Commercial Aircraft announced today that it has finalized a firm purchase agreement with Philippine Airlines, Inc., flag carrier of the Philippines, consistent with the Letter of Intent announced on October 14, 2016. The purchase agreement includes a firm order for five Q400 aircraft and purchase rights for an additional seven Q400 aircraft.
Based on the list price of the Q400 aircraft, the firm order is valued at approximately US $165 million and could increase to US $401 million, should Philippine Airlines exercise all its purchase rights.
"With the lowest seat-mile costs in the regional aircraft market, the extra-capacity, two-class Q400 aircraft will offer Philippine Airlines significant opportunities to differentiate itself competitively," said Fred Cromer, President, Bombardier Commercial Aircraft. "The Q400 aircraft is the ideal solution for the airline as it develops its domestic operations network from secondary hubs and increases intra-island connectivity."
"As we strive to become a top-rated airline, the Q Series family of aircraft has enabled us to develop our business model into one which efficiently meets our domestic route requirements while providing our passengers with a full service onboard experience", said Jaime J Bautista, President and Chief Operating Officer, Philippine Airlines. "We are proud of our collaboration with Bombardier and welcome the first modern and innovatively configured two-class, 86-seat Q400 aircraft to our growing fleet."
The five firm-ordered Q400 aircraft are expected to be delivered throughout 2017.
Bombardier's customer support network for commercial aircraft in the Asia-Pacific region includes Regional Support Offices in Singapore, Narita (Tokyo), Sydney, Beijing, Shanghai and Mumbai, as well as Parts Depots in Sydney, Beijing and Singapore. Operating from the company's regional office located in Singapore, Bombardier Commercial Aircraft's sales and marketing team is well positioned to provide industry-leading solutions to its current and prospective customers.
About the Q400 Aircraft
Designed as a modern, 21st-century turboprop, the Q400 aircraft is the most recent development in the Q Series family of aircraft. It provides unmatched performance, operational flexibility and passenger comfort. In addition to the standard single-class configuration, Q400 aircraft are available with a two-class interior for enhanced passenger comfort; in an extra-capacity configuration offering up to 90 seats for higher-density markets; and in a cargo-passenger combi configuration.
Thanks to its combination of turboprop attributes, jet-like features, industry-leading passenger experience and environmental footprint, the Q400 aircraft is exceptionally versatile and can be adapted to a variety of business models. By offering a 30 per cent reduction in fuel burn over the jets it often replaces, the Q400 aircraft radically reduces carbon emissions and increases cost efficiency. Its high-speed cruise – 160 km/h faster than conventional turboprops – places the aircraft's flight time within minutes of jet schedules, at the same seat cost as larger single-aisle jets. Its large propellers operate at a lower RPM, generating more power with less noise and making it a friendly option for city centres.
The Q400 aircraft family includes over 60 owners and operators in almost 40 countries. The worldwide fleet has logged more than 6.9 million flight hours and has transported more than 429 million passengers. Long recognized as a high-value asset by operators, the Q400 aircraft is now also attracting growing interest from the leasing community.
Bombardier has recorded firm orders for a total of 571 Q400 aircraft.
About Philippine Airlines
Philippine Airlines (PAL) is the flag carrier of the Philippines. Headquartered in Manila, PAL celebrates its 75th anniversary this year as the first commercial airline in Asia. Operating out of its hubs at Ninoy Aquino International Airport of Manila and Mactan-Cebu International Airport of Cebu, Philippine Airlines serves 30 destinations in the Philippines and over 43 destinations in Southeast Asia, East Asia, Middle East, Oceania, North America and Europe.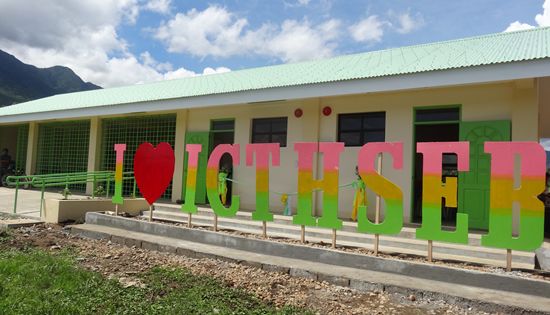 First Technical Vocational and Livelihood (TVL) Workshop Building in Information Communication Technology (ICT) High School of Eastern Biliran in Caibiran, Biliran. The project has a contract cost of P8M under CY 2016 Basic Educational Facilities Fund. The completed project will give proper educational training to senior high school students of the school for the courses: cookery, carpentry, and electrical isolation and maintenance.
Biliran DEO's CY 2016 school building projects accomplished 33.20%
By CHELSEA C. QUIJANO
December 8, 2016
BILIRAN – Department of Public Works and Highways Biliran District Engineering Office (DPWH-Biliran) is on-going on the construction of school building projects with an accomplishment of 33.20% as of November 30, 2016.
This was informed by Engr. Luisito Filemon A. Abad, Head of Procurement and Monitoring Unit through Kapihan: Pulong-pulong ng Bayan on Radyo Nation FM together with Engr. Alfredo L. Bollido, OIC-Assistant District Engineer and Engr. Reynaldo P. Peñaflor, Chief of Quality Assurance Section (QAS).
DPWH-Biliran is tasked to implement 16 school building projects with a program amount of P130.7M under CY 2016 Basic Educational Facilities Fund (BEFF) of the Department of Education (DepEd).
Out of 16 school building projects, 4 were already completed, 10 are on-going, and 2 are Not Yet Started (NYS).
"These two not yet started projects are located in ICT, Caibiran because there was a failure in soil exploration, so we have to redesign the foundation, and it needs additional funding," explained Abad.
Engr. Abad added that they have already requested for an additional fund to the DepEd but until now there was still no release of fund.
"We have already bid out this project, the project will not be awarded unless this funding will be received, so hopefully we can award this project on the later part of December, and by January, we can proceed with its implementation," Abad informed.
When asked if school building projects will be spilled over until first quarter of 2017, Engr. Bollido explained that they are pressuring the contractor to complete the school building projects funded under the FY 2015 BEFF before end of the year.
"Ang contractor, nagpasalig man pud sila na on or before this year ma-kompleto gayud nila ang ten school buildings before end of the year," Bollido said.
However, Bollido emphasized that he is still unsure when the two NYS Projects will start because he cannot tell when the Department of Budget Management (DBM) will release the budget. He added that the budget was requested last October 3 of this year.
On the other hand, the four completed projects which are the P5.3M construction of 2 units Technical Vocational Bldg. at Biliran National High School and Construction of three Senior High School Unique Workshop at Cabucgayan NSAT (P2.5M), ICT High School of Eastern Biliran (P2.5M) and Naval School of Fisheries (P2.4M) are now ready for occupancy which will cater the needs of the students for a better learning.
Furthermore, Abad also informed that 20 units of rain water collector project of Biliran DEO amounting to P3.2M were also completed. These rainwater were installed to accumulate rainwater from the roof of school buildings and is used to flush on toilets and in watering plants, rather than allowing it to run off.
Regular use of ibuprofen may lower lung cancer risk among high-risk subgroups of cigarette smokers
Via MARKETWIRE
December 7, 2016
VIENNA, Austria – Regular use of ibuprofen may lower the risk of lung cancer among those with a history of cigarette smoking, according to research presented at the IASLC 17th World Conference on Lung Cancer (WCLC) in Vienna, Austria.
It has been established that chronic inflammation appears to increase the risk of lung cancer, and medicines that reduce inflammation have been shown to reduce this risk. However, few prospective studies have examined associations between lung cancer and non-steroidal anti-inflammatory drugs.
To test whether a common NSAID can reduce the risk of lung cancer, Dr. Marisa Bittoni and her colleagues from The Ohio State University in Columbus, Ohio, examined data from 10,735 participants in the Third National Health and Nutrition Examination Survey, or NHANES III.
Baseline data on smoking, NSAIDs and other lifestyle variables were collected for 10,735 participants starting in 1988-1994, and cause-specific mortality status was ascertained through probabilistic record matching using the National Death Index through 2006. Cox proportional hazards regression models were used to estimate hazard ratios (HRs) to quantify associations between NSAID use and lung cancer death, with adjustment for current smoking and other variables.
Over 18 years of follow-up, 269 individuals died from lung cancer, of which 252 (93.6 percent) reported a history of cigarette smoking. Since all but 17 of the 269 fatal lung cancer cases occurred among current or former smokers, estimates of NSAID effects were ascertained from a sub-cohort of 5,882 individuals who reported a history of past or current cigarette smoking.
Bittoni found that prospective data from NHANES III showed that among adults with a history of past or current smoking, ibuprofen intake was associated with a substantial (48 percent) reduction in the risk of dying from lung cancer. Effects of aspirin and acetaminophen were not statistically significant.
"These results suggest that regular use of certain NSAIDs may be beneficial for high-risk subgroups of smokers as a lung cancer prevention strategy," Bittoni said.
The IASLC 17th WCLC is the world's largest meeting dedicated to lung cancer and other thoracic malignancies, attracting more than 6,000 researchers, physicians, and specialists from more than 100 countries. For more information on the IASLC 17th WCLC, visit: http://wclc2016.iaslc.org/.
Negosyo Centers now 403; DTI to add more
By DTI-ROG
December 6, 2016
MAKATI CITY – The Department of Trade and Industry (DTI) have already surpassed its target of 150 Negosyo Centers for 2016 after continuously launching centers nationwide - with the centers now totaling at 403.
For 2016, there have been 203 Negosyo Centers launched after the Department set a supposed target of 150.
DTI Regional Operations Group Supervising Undersecretary Zenaida Maglaya said that the launching of these Negosyo Centers is in line with the Republic Act No. 10644 or the Go Negosyo Act.
Maglaya said MSMEs or entrepreneurs can visit these centers for access to information, business name registration, access to finance, access to market and access to training.
"We are proud that we have established more Negosyo Centers more than what we have expected to establish. We did not expect to surpass our target of 150 centers for 2016 but we did to support the growth of MSMEs in the country," Maglaya said, adding that NCs will help in achieving job generation and inclusive growth.
The Republic Act No. 10644 or the Go Negosyo Act aims to help micro, small and medium enterprises (MSMEs), promote ease of doing business, facilitate access to grants and other forms of financial assistance, Shared Service Facilities (SSF) and other equipment, and other support for MSMEs through national government agencies (NGAs), ensure management guidance, assistance and improvement of the working conditions of MSMEs; and facilitate market access and linkaging services for entrepreneurs.
Meanwhile, the DTI National Capital Regional Office will launch its eight (8th) Negosyo Center in the metropolis, and first Negosyo Center in the City of Malabon on December 6, 2016. Thus, hiking the number of Negosyo Centers to 403.
The center is located at Malabon City Hall Annex Building F. Sevilla Boulevard, San Agustin in Malabon City.
The presence of the Negosyo Center in cities, municipalities and provinces aims to provide better access and more efficient services to MSMEs.
As of December 2, 2016, there are 403 Negosyo Centers nationwide since its inception in 2014. Of the total number of centers, 225 are located in Luzon, while Visayas and Mindanao have 90 and 88 Negosyo Centers, respectively.
With the Negosyo Centers, the Department has assisted a total of 483,711 clients and conducted a total 6,002 seminars for MSMEs and potential entrepreneurs nationwide.
Meanwhile, a special lane is open to Overseas Filipino Workers (OFWs) at Negosyo Centers to help OFWs who want to stay in the country for good and start a business, with DTI noting the current situation of OFWs, especially those who were repatriated from Saudi Arabia.
Maglaya said these special desks will help OFWs and their families start a business and have the option to either pursue it and remain in the country for good or continue working abroad and leaving the business to their families or relatives.
Global public health advocates open new fronts in war on tobacco
Via MARKETWIRE
December 6, 2016
VIENNA, Austria – Efforts to control tobacco as a public health threat have escalated as clinicians and public health advocates have coalesced to beat back threats from tobacco companies through public advocacy, public health, and pension reform. Today, public health advocates from Brazil, Malaysia, Ireland, Australia, and Uruguay presented different strategies that have effectively reigned in the global threat of tobacco companies at a press briefing held at IASLC 17th World Conference on Lung Cancer (WCLC).
As a young doctor treating lung cancer patients at the Peter MacCallum Cancer Centre in Melbourne, Australia, Dr. Bronwyn King was dismayed to see the impact of cigarette smoking on her patients – many of whom had started smoking as children. However, her surprise grew when she discovered that her hospital's pension fund had invested her money in the very tobacco products that were killing her patients.
"Once I discovered that through my compulsory pension fund, I was invested in and actually owned a part of several tobacco companies, I couldn't just do nothing – I had to take action," she said.
To accomplish this, Dr. King founded Tobacco Free Portfolios to collaboratively engage with leaders of the finance sector to encourage tobacco-free investment. She soon found that finance executives were also alarmed at the scale of the tobacco problem and have deeply re-considered the role they can play in addressing this pressing global issue.
"Because of this, there are now 35 tobacco-free pension funds in Australia – just over 40 percent of all funds. Many more will soon follow and each tobacco-free announcement is met with resounding public support," she said.
In Ireland, the tobacco industry claimed that environmental tobacco smoke was not harmful to public health, but the Irish government rejected this claim and instituted a comprehensive workplace smoking ban that included bars, restaurants, bingo halls, and casinos, according to Dr. Luke Clancy of the TobaccoFree Research Institute in Dublin, Ireland. Ireland was the first country to enact a country-wide ban.
"The 2004 smoking ban in Ireland has shown a positive impact on public health and has served as a model for other European countries to follow," said Dr. Clancy of the TobaccoFree Research Institute in Dublin, Ireland.
Clancy reported that the planning and investment paid off, as the national Irish smoking ban was associated with reductions in early mortality. Studies on the effects of the smoking ban demonstrated a 13 percent decrease in all-cause mortality, a 26 percent reduction in ischemic heart disease, a 32 percent reduction in stroke, and a 38 percent reduction in chronic obstructive pulmonary disease.
While King and Clancy battle tobacco interests in their countries, Dr. Zarihah Zain of Lincoln University College Malaysia is carefully examining global trade agreements to make sure tobacco products are treated like the dangerous, addictive products they are.
"The main objective of any global trade agreement is to encourage the free movement of goods and service between countries by removal of any forms of tariff and non-tariff barriers. However, when this principle is applied to tobacco products, public health may suffer in the countries governed by these very agreements," Dr. Zain said.
"Tobacco is not like any legal commodity, it is highly addictive, causes deaths, precipitates serious debilitating morbidity, and accounts for about 30 percent of all cancer incidence. An industry such as the tobacco industry should not be given any privileges and should not be allowed to benefit from trade agreements to gain hefty profits at the expense of public health," Dr. Zain said.
The control of tobacco is one of the most cost effective public health strategies, and tobacco is the only legal consumer product that has an international law to curb its supply and demand via the WHO Framework Convention on Tobacco Control (FCTC). However, Zain pointed out that there are clauses in many free trade agreements that can override the WHO Framework.
Vera da Costa e Silva from the WHO Framework Convention on Tobacco Control began the press briefing by providing a global perspective on tobacco control and initiatives to counter tobacco company efforts to create trade treaties that are bad for public health.
"I hope everyone in the world is soon free of tobacco smoke and that people encounter bars, restaurants, and public facilities that are smoke-free," she said.
Tobacco control plays an important role in the IASLC 17th World Conference on Lung Cancer. The IASLC is proud to have a committee comprised of world-renowned tobacco control experts from so many countries.