DTI bares year-long plans as chair of ASEAN's business and investment promotion committee
By DTI-OSEC-PRU
January 24, 2017
MALACAÑAN – Department of Trade and Industry (DTI) Secretary Ramon Lopez revealed year-long plans that aim to complement and heighten the impact of the country's strategic priorities and deliverables for the ASEAN Economic Community (AEC), following DTI's chairmanship of the ASEAN Economic Ministers (AEM) meeting and the ASEAN's Committee on Business and Investment Promotion (CBIP).
Speaking at the formal launch of the ASEAN 2017 Business and Investment Program on 24 January, Sec. Lopez expressed confidence on ASEAN as an economic powerhouse, citing that the region is now the third largest market in the world with over 620 million people, the third largest economy in Asia, and the seventh largest economy in the world with a combined Gross Domestic Product (GDP) of 2.3 trillion dollars.
He also called on maximizing the opportunities and benefits from the AEC, and reiterated the four pillars of AEC as landscape for the dialogue with ASEAN partners in realizing the ASEAN 2025, starting with the 23rd AEM Retreat.
AEC's four pillars are the establishment of a single market and production base, a highly competitive economic region, a region of equitable economic development, and a region fully integrated into global economy.
This will solidify our priorities for the 50th ASEAN Ministerial Meeting (AMM), the 49th AEM Meeting and the Leaders' Summit, to be chaired by President Rodrigo Duterte, according to him.
"As we host the ASEAN 2017 Summit, the Philippines is one with the ASEAN in increasing trade and investments in the region; in integrating micro, small, and medium enterprises (MSMEs) in the digital economy for greater access to trade information, global market and value chain, and finance, promoting youth and women entrepreneurship; and in increasing cooperation within the region and connectivity to the rest of the world," Sec. Lopez said.
The trade chief said that coinciding with the Leaders' Summit in April is the holding of an ASEAN MSMEs-Mentors Conference, bringing together ASEAN mentors who can equip ASEAN local community enablers with the necessary information on access to capital, markets, ASEAN industries and innovation.
An ASEAN Creative Cities Forum and Exhibit will also be held, showcasing initiatives of 10 ASEAN Member States (AMS) in making culture and creativity a driving force for sustainable development and urban regeneration, according to Sec. Lopez.
"Taste ASEAN as the Philippines holds International Food Exposition (IFEX) in May. IFEX will showcase the best food brands from Southeast Asia and its partner countries," he said, adding that DTI's aim is to increase ASEAN SME participation in the global production and value chains, through participation of 10 AMS and ASEAN Dialogue Partners (DPs) in the country's biggest international trade exhibition on food and food-related products.
Aside from these, an ASEAN Women's Business Conference in August will be held to provide strategic dialogue among ASEAN, the private sector and DPs in addressing issues and concerns on women entrepreneurship, focusing on market access and finance and the identification of innovative business models which supports the ASEAN's vision of a stronger, more inclusive, and integrated economic community.
In September, Sec. Lopez said that an Inclusive Business Summit, emphasizing the role of the government in sharing best practices on implementing inclusive business strategies and in recognizing exemplary inclusive business models through the ASEAN Inclusive Business Awards.
Meanwhile, the 2nd ASEAN Young Entrepreneurs Carnival will strengthen the network among young entrepreneurs from ASEAN and other countries capturing the fast-paced developments on key sectors such as food, agriculture, information technology, logistics, business process outsourcing, start-ups, and Internet of Things (IOT). Through the formal launch of ASEAN Young Entrepreneurs Association (AYEA) Charter, Sec. Lopez hoped to commit young entrepreneur towards strengthened ties, cooperation and linkages.
In October, driven by the goal to promote innovation across the ASEAN region, DTI will spearhead the annual Slingshot event, helping create a regional network of ASEAN ecosystem players including startups, investors, incubators, mentors, academe, co-working spaces, and industry experts.
"It shall showcase investment-ready startups for potential local and international investors as well as facilitate easy access of information between governments running start-up development programs in the region," he said.
Before the year closes, another MSME Summit will be held, featuring inspiring MSMEs including those that have benefited from the mentoring program of the Philippines and other AMS. The Summit, which is in conjunction with the concluding ASEAN Leader's Summit, will be an occasion to formally introduce the establishment of the ASEAN Mentors Network, an organization of mentors from AMS.
"We shall work hand-in-hand in creating paths that will lead our people and our communities towards a truly inclusive, innovation-led shared prosperity," Sec. Lopez concluded.
Claims Board agrees to Selda demand for early distribution of reparation and speed up processing of applications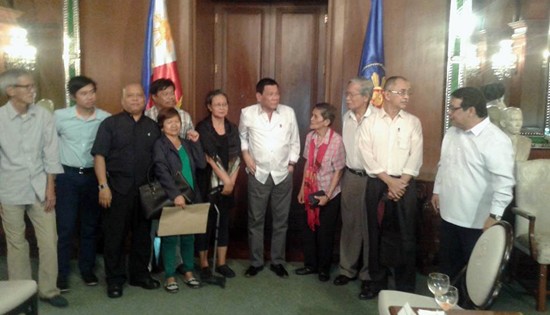 By SELDA
January 22, 2017
QUEZON CITY – The Human Rights Victims Claims Board (HRVCB) agreed to the demand made by SELDA (Samahan ng Ex-Detainees Laban sa Detensyon at Aresto) and human rights victims to start distributing the reparation and speed up the processing of claims of martial law victims during a meeting with Pres. Rodrigo Duterte on January 19 in Malacanang.
SELDA sought Pres. Duterte's intervention to expedite the process of recognition and indemnification of thousands of victims who toppled the Marcos dictatorship in 1986. Leaders and officials of SELDA met with the President for the first time on Jan. 17 at the Palace. They told the President that despite the passage of the reparation law four years ago the victims, many of whom are old and ailing, have yet to receive recognition and compensation. Worse, the Board has processed only 30,000 applications, not even half of the total 75,000 applications.
"This snail-paced system that has been the practice of the Claims Board for the last three years which could remain unfinished until the sunset year of the Board's tenure in 2018 is victimizing the already-victimized victim," commented Marie Hilao-Enriquez SELDA Chair who attended the said dialogue.
Pres. Duterte agreed that indeed the processing is to slow and summoned the Board to speed up the processing and distribution of the compensation funds for the victims.
At the January 19 dialogue called by President Duterte between the HRVCB and SELDA, human rights victims scored a victory when the HRVCB agreed to expedite the reparation and recognition of Martial Law human rights victims.
The HRVCB will partially award in advance the indemnification of the already approved applicants of human rights violations victim claimants numbering in thousands as of January 18, 2017. It is also agreed that the partial indemnification shall be done within a sixty days period. Consequently, non-monetary reparation will also be made available for the victims who seek assistance from Department of Health (DOH), Department of Social Welfare and Development (DSWD) and TESDA.
"Though the victory is incomplete and partial, it gives hope to the victims who are already old and ailing. SELDA will continue to press for the speedy processing of the remaining forty-five thousands applicants so that justice and indemnification to the victims will be rendered", said Enriquez.
Also, SELDA assures to help the HRVCB in the processing of the partial payment and other requirements that entail coordination.
SELDA expressed deep concern on the high fall rate of invalid applicants out of the initially processed 30,000 of which only 9,000 were approved. Likewise, it will also look in to the validity of the Claims Board statement that only 3,000 Hawaii claimants had applied for reparation and recognition out of the original 9,539 class action suit members. It must be recalled that the Hawaii Claimants were accorded conclusive-presumption according to the law (RA 10368).
Justice must be served to all Martial Law victims who were recognized by law when the Republic Act 10368 was signed and approved into law in February 2013. However, the Human Rights Victims Claims Board(HRVCB), takes a slow pace in processing the 75,730 applicants since it was created in 2014.
No less than the President Duterte himself, during the January 17 dialogue with SELDA officials and leaders stated that the slow paced reparation process and recognition is a violation of the law itself and an injustice to the thousands of victims of Marcos martial law. He also promised to expedite the process.
Likewise, President Duterte and SELDA agreed that there should be an immediate and advance reparation for the already approved claimants.
During the last dialogue, the HRVCB agreed to write the Commission on Audit (COA) to seek for an exemption on the publication of the accredited claimants to hasten the advance and partial compensation. According to the law, it is required that only after processing all the total claimants and its approved list in order that the awarding of monetary and non-monetary compensation could commence, there should be publications of accredited lists of claimants in three consecutive weeks on broadsheet newspapers.
At present, the Claims Board had already spent P136.17 M for its operations from the P10 B allotted fund for reparation. It has fifteen (15) remaining months to complete its tasks and implement the law.
SELDA shall also look into the matter of Human Rights Violations Victims' Memorial Commission which is according to the law should be created which until now is never implemented. The law also stipulates the "The lessons learned from Martial Law atrocities and the lives and sacrifices of HRVVs shall be included in the basic and higher education curricula, as well as in continuing adult learning, prioritizing those most prone to commit human rights violations (n, 27)." SELDA is looking forward to the day that all victims of Martial Law by a dictator, plunderer and human rights violator Ferdinand Marcos will be recognized and given reparation.
Army chief visits Stormtroopers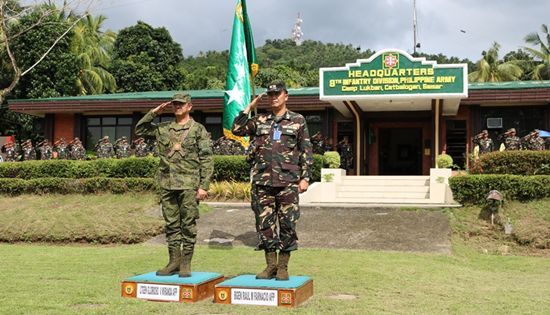 By DPAO, 8ID PA
January 20, 2016
CAMP LUKBAN, Catbalogan City – The Army's highest ranking officer together with his staff has officially visited the home of the 8th Infantry (Stormtroopers) Division, Philippine Army on January 18, 2017.
A full military honor was accorded to Lieut. Gen. Glorioso V. Miranda AFP, Commanding General of the Philippine Army upon his arrival at the Openiano Field and was warmly welcomed by Brig. Gen. Raul M. Farnacio AFP, Commander, 8ID, together with the officers, enlisted personnel and civilian employees of this Command.
This was his first visit to 8ID which boosted the morale of the troops to pursue development support to foster the foundation for inclusive and human development in Eastern Visayas.
"The strength of the Philippine Army rests on each and every one of us. My function as your Commanding General, or the function of your Division Commander, your Assistant Division Commander or your Battalion Commander is no more important than the function of an individual soldier out there in the squad. Every component of the organization has a vital role in accomplishing the mission. Strength is being defined the way we work together, the way we synchronize our effort, the way we harmonize our skills. Let's help together to win the peace and prosperity in our country." Lieut. Gen. Miranda added.
ALU lauds Duterte for approval of SSS pension hike; urges SSS to cut fat bonuses to improve fund
By Associated Labor Unions
January 10, 2017
QUEZON CITY – Labor group Associated Labor Unions (ALU) lauded President Rodrigo Duterte for approving the other day a one thousand peso increase of pension for 2.3 million pensioners of Social Security System (SSS).
"We thank President Duterte for listening to the needs of pensioners. We welcome this as it is an answer to the promise he made to pensioners during the campaign. It will help pensioners to cope with some but not all of the burdens caused by rising prices of basic commodities and cost of services," ALU spokesperson Alan Tanjusay said.
However, the ALU argued that the government should have fixed the system first and institute reforms within SSS before requiring new contributions from 14 million paying members out of the 34 million registered members.
Tanjusay said they urge SSS management to institute reforms within the system by trimming down excessive bonuses and introduce reasonable perks to all its top executives, improve its collection efficiency by pinning down non-remitting employers, stop corruption within and act on 7,000 delinquent employers now pending in the courts.
"There would be significant improvement in the life fund of SSS if these reforms are enforced. Resorting to quick fix and the path of least resistance raises doubts about ability of SSS commissioners ability to trim corporate fat. We suggest that President Duterte to direct the SSS open their books and consult with workers since its workers money that the SSS is doing placements on," Tanjusay said.
He said the workers' daily wage purchasing power is reduced by at least 30% in the face of prices of basic commodities and cost of services. There are also impending bigtime increases in the cost of electricity and water utilities.
ACCRALAW deploys iManage for document and email management
Leading Philippines law firm experiences streamlined workflow and greater efficiency with iManage work product management
Via MARKETWIRE
January 9, 2017
CHICAGO, IL - iManage today announced that the Angara Abello Concepcion Regala & Cruz Law Office (ACCRALAW), a top tier Philippines-based firm servicing local and international clientele, has chosen iManage Work for document and email management. Since its establishment in 1972, ACCRALAW has grown into a celebrated and multi-awarded service organization with over 140 lawyers today. True to its vision of "setting the pace in excellence in the practice of law," ACCRALAW has pioneered the use of technology in the legal profession.
"The delivery of legal services should leverage technology. We believe in taking advantage of the latest technology not only to improve the efficiency of rendering legal services but also to reduce cost for the benefit of our clients and to ensure our lawyers have a more conducive environment within which to work," said Atty. Leland Villadolid Jr., litigation senior partner with primary field of practice in Telecommunications and IT and Head of the Firm's MIS Department. "The Firm recognizes the advantages of today's technological advancements. Technology is used exhaustively in ACCRALAW to improve the skills of its lawyers and to render the best legal services to clients at a managed cost. In iManage, ACCRALAW has deployed a sophisticated Work Product Management system that encompasses document management, email management, knowledge management, analytics, process automation and more."
In the first few months of going live with iManage Work, ACCRALAW has already experienced significant benefits. iManage Work integrates seamlessly with ACCRALAW's existing practice management system, so that when a new matter is created, a workspace is automatically generated in iManage Work, without the need of manual intervention. Within minutes, users can start saving and publishing documents to this centralized repository, allowing anyone connected to the matter to search, access, and view the related files -- saving valuable time and enabling more efficient collaboration.
iManage Work has been rolled out across all of the Firm's practice departments. As a result, the Firm can better carry out work on behalf of its clients in areas ranging from Litigation and Dispute Resolution, Corporate and Special Projects and Intellectual Property, to Labor, Tax and other specializations.
Before deciding on a Work Product Management system, ACCRALAW exercised due diligence by visiting several legal firms in neighboring Malaysia that were iManage customers, to hear their opinions first-hand. "We talked to our peer firms about iManage, and the feedback we got was very positive," said Atty. Emerico O. De Guzman, the Firm's Managing Partner. "As we got deeper into the evaluation process, we saw for ourselves what iManage Work could do and the way it could make our professionals more efficient."
iManage partner Business Network Solutions (BNS) – headquartered in Malaysia, and serving Southeast Asia – assisted ACCRALAW with their implementation of iManage Work. The entire process – from information gathering, to go-live date -- was completed in approximately four months.
"Forward-looking firms like ACCRALAW pay attention to what other firms are using to help their busy professionals get work done more effectively," said Dan Carmel, iManage chief marketing officer. "With iManage Work, ACCRALAW is now using tools designed for the modern workforce to improve productivity, make better decisions, and work smarter."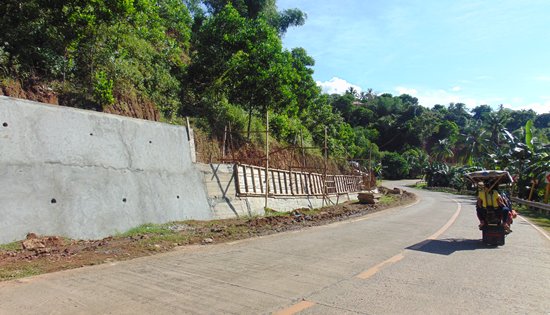 Completed Construction of Slope Protection along Naval-Caibiran Cross Country Road (NCCR). The project is under contract with Chu Construction with a contract cost of P41,600,000.00. The above road section is prone to flooding hence drainage structure was included in the Slope Protection project. Other than the slope protection structure and drainage, concrete paving is also included in the project. The completed project will provide a structure that will prevent further landslide along this road section and contain run-of water during rainy days to prevent future damage to existing paved National Road.
DPWH-Biliran DEO ending the year with 91.84% accomplishment of 2016 infra projects
By CHELSEA C. QUIJANO
January 9, 2017
NAVAL, Biliran – The Department of Public Works and Highways (DPWH), Biliran District Engineering Office (BDEO) ends the year with high accomplishment posting 91.84% surpassing the 85% district target set by the DPWH Central Office.
Biliran DEO has been allotted P683.745M under FY2016 DPWH Infrastructure Program with 66 projects.
David P. Adongay Jr., District Engineer revealed that out of the 66 lined-up projects, Biliran DEO completed 62 projects, with four remaining projects on-going under the Regular Infrastructure Program.
Adongay previously reported that these remaining projects encountered delay due to inclement weather condition in the Province of Biliran that hinders the contractors to smoothly perform their operation, and other problems such as the acquisition of Road-Right-of-Way (ROW).
These projects are the P45M Construction of Slope Protection along Biliran Circumferential Road (BCR); P45M Construction of Biliran Diversion Road including Slope Protection and ROW; P8.7M Replacement of Banlas Bridge along Maripipi Circumferential Road; and the P5M Repair of Biliran Bridge along Leyte- Biliran Road.
Adongay said that those remaining projects will be spilled over on the 1st quarter of 2017.
"We need to fast-track on our implementation of projects pero hindi ibig sabihin na pag' inii-speed natin yung ating implementation ay mawawala na yung quality, speed and quality of projects should go together," Adongay reminded during the last day of work on December 29, 2016 during the flag retreat.
Adongay was recently awarded as Best District Engineer at DPWH Regional Office Baras, Palo Leyte on Dec. 21, 2016 for his invaluable support and high degree of commitment in all the undertakings of the Regional Office and for consistently rendering his superior performance in the attainment of the Department's Mission, Vision and Strategic Objectives.
Moreover, Biliran DEO ends the year garnering the awards as Best in Planning and Design Section (PDS), Best in Financial Management Section (FMS) and Overall Best District Engineering Office out of 13 District Offices in Region VIII.
Bayan to AFP: Disclose contents of new Oplan
Press Release
January 9, 2017
QUEZON CITY – The AFP and DND should disclose the actual contents of its new campaign plan, Development Support and Security Plan Kapayapaan, that was launched last week at a top level command conference.
If it is a sequel to Oplan Bayanihan, claiming to put primacy on the peace negotiations and so-called non-combat "development" work, but continuing the militarization of communities, then it is not new nor will it succeed.
Will DSSP Kapayapaan cause the pullout of troops from Lumad and other occupied areas? Will this cause the suspension of military operations masquerading as non-combat, development operations in civilian communities? Will this end the "IP-centric" approach adopted by Oplan Bayanihan that has resulted in human rights violations in indigenous communities? Will this make the AFP stop targeting legal activists, whether through trumped-up charges or by extrajudicial killings? Will the AFP disband paramilitary groups especially those most notorious for rights abuses such as massacres?
If the answer to all these questions is NO, then we are in for more of the same. Maybe even worse.
Oplan Bayanihan of Aquino also claimed to recognize the primacy of the peace process but instead unleashed war on the people. It was an utter failure as the peace talks were stalled while the AFP failed to stop the advance of the revolutionary forces. It is this reality that served as the basis for the Duterte government to enter into peace talks with the NDFP. Government cannot defeat the revolutionary forces because the social, economic, political and historical basis for the armed conflict remain. The root causes of armed struggle must be addressed.
The AFP should upload and make available the new DSSP Kapayapaan to allow its scrutiny by all stakeholders and interested parties, including human rights groups, peace advocates, and members of Congress. Kapayapaan's predecessor Oplan Bayanihan was made available to the pubic by the previous regime and can be found at the AFP's website.
The people continue to call for the pull-out of AFP troops operating in civilian communities. These AFP operations undermine even the government's own ceasefire declaration, exposing it as a sham as far as affected communities are concerned. Affected communities have raised many complaints versus the AFP and hope that these will be discussed during the 3rd round of formal peace talks that will begin on January 19, 2017.
PRRD's micro fund program to pilot-run this month - DTI
By DTI-OSEC-PRU
January 9, 2017
MAKATI CITY – Following President Rodrigo Duterte's directive to replace the "5-6" money lending system and provide an affordable micro-financing for the country's micro, small and medium enterprises (MSMEs), the government's Pondo sa Pagbabago at Pag-asenso (P3) program pilots this month in Mindoro, Sarangani and Leyte, among the top 30 poorest provinces, to represent Luzon, Visayas and Mindanao, the country's trade chief said.
"The P3 is designed to bring down the interest rate at which micro-finance is made available to micro enterprises," said Department of Trade and Industry (DTI) Secretary Ramon Lopez.
The 2017 General Appropriations Act has included an initial funding of P1 billion for financial assistance, a part of the planned P19 billion financing initiative for micro and small businesses in the next five years.
Helping the poorest
The program's fund will be lent out in the business centers of the poorest provinces (based on poverty incidence), where the participating microfinance institutions (MFIs) and the Small Business Corporation (SB Corp.) can operate.
An attached agency of DTI, SB Corp. shall administer the P3 Program, including the creation of a Program Management Office (PMO), which will open a separate back account for the P3 Program, to oversee the management and monitoring of fund.
"Fund delivery to microenterprises shall be carried out in either by wholesale lending to non-bank financial institutions like MFI-NGOs, and cooperatives which shall on-lend the fund to beneficiaries or by direct lending by SB Corp," Sec. Lopez said.
Beneficiaries
Priority beneficiaries include microenterprises and entrepreneurs that do not have easy access to credit, or are accessing credit at very high cost, such as, micro-entrepreneurs, market vendors, agri-businessmen and members of cooperatives, industry associations and co-operators.
Loanable amount per end-borrower can range from P5,000.00 for start-ups to P300,000.00, with maximum interest rate of 26% per annum with no collateral requirement. This rate is significantly below the 20% per day/ week/ month charged by "5-6" lenders. It is also lower than what is charged by most MFIs.
MFIs may opt for portfolio guarantee cover of up to 15% of their P3 loan portfolio from SB Corp at a guarantee fee of 0.4%. The guarantee feature is seen to help MFIs address the P3 Program's inherent risk. The guarantee fund will be sourced from the P3 fund.
P3 allocates P100 million for direct lending by SB Corp. Target loan beneficiaries are the small enterprises in priority and emerging industries, start-up businesses and technology innovators.
Minimum loan amount will be P300,000.00 with interest rate capped at 10% p.a., with or without collateral cover.
"This alternative funding dedicated for micro and small enterprises is meant to discourage the 5-6 money lending system in our country," said Sec. Lopez, adding that through the established MFIs, the government will reach even the smallest of entrepreneurs in the country.