President Duterte visits victims of Hilongos, Leyte blast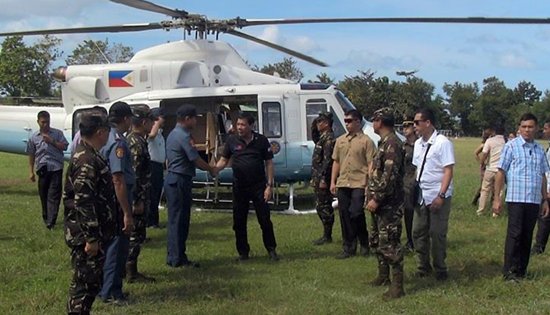 By DPAO, 8ID PA
December 30, 2016
CAMP LUKBAN, Catbalogan City – It was December 28, 2016 at 9 o'clock in the evening, while the residents were enjoying a boxing match in connection with the town fiesta celebration, when two improvised explosive devices from 81mm mortar ammunition exploded at the municipal plaza, Central Poblacion, Hilongos, Leyte that eventually injured 32 residents of the said town.
On December 30, 2016, two days after the Hilongos, Leyte Bombing, Pres. Duterte arrived at Ormoc City Airport at around 9:40am and was warmly received by Maj. Gen. Oscar T Lactao AFP, CENTCOM Commander; Brig. Gen. Raul M Farnacio AFP, 8ID Commander; PSSupt Roberto T Badian, PRO8 Deputy Regional Director for Admin; Secretary Michael Dino, Presidential Assistant for Eastern Visayas; Hon. Lucy Torres-Gomes, 4th District Representative of Leyte; Hon. Richard Gomes, Ormoc City Mayor, and other members of Sanguniang Panlungsod of Ormoc City.
President Duterte immediately flew to Hilongos, Leyte via presidential helicopter and arrived in the area at around 10:21am at Hilongos district hospital to visit the victims of the bombing. He gave financial assistance worth P10,000.00 pesos and cellphone to every victim, and promised a scholarship for every graduating student who became a victim of the bombing incident.
He likewise ensured that PhilHealth will assist the victims in paying their hospital bills. Any excess hospital bills that cannot be shouldered by PhilHealth will be shouldered by DSWD while the crutches and wheelchairs will be provided by DOH, the President said.
During his message before the people of Hilongos, the President said, that the bombing incident in that town is part of the plan of the enemy of the state to destabilize the government. Hence, he reminded the local PNP & AFP units to be more vigilant of terrorist's plan in the days ahead especially bombings of the Maute group.
In this regard all local AFP unit commanders are advised to proactively coordinate with their PNP counterparts to increase joint patrols and check points in urban centers, ports, churches and other critical infrastructures. The visit of President Duterte in the municipality of Hilongos, Leyte culminated at about 12 o'clock noon and he immediately returned to Ormoc City airport and boarded the presidential private plane going to Davao City.
Youth groups: Duterte's 6-month contract failed to bring change
Contractualization, corruption and killings still rampant despite Digong's statements
By Sanlakas Youth
December 29, 2016
QUEZON CITY – Student activists from Luzon, Visayas and Mindanao castigated President Rodrigo Duterte given the absence of genuine change six months under his administration.
"While the contracts of contractual workers who started their jobs with the President last July have already ended, contractualization still persists under the President's administration," said Rara Ada of Sanlakas Youth - Mindanao. "It is quite a shame that already, Sec. Bello of the Department of Labor and Employment (DOLE) is boasting that 'endo' has already been abolished, when in fact, regular employment and benefits are still far from the reach of workers of companies who circumvent rules and laws through the use of agencies," she said.
Ending contractualization is one of the promises showcased by the Duterte administration. DOLE has since come up with a so-called 'win-win' solution, where employees will be considered 'regular,' but under the agencies which employ them. "Under this scheme, the hiring company would still be able to relieve a worker from employment after a given period without giving them the benefits they are due," said Ada. "It is obvious who lost in the win-win solution posed by the Department of Labor and Employment: the workers," she added.
Ada also blasted Duterte for his 'two-faced' stance regarding corruption. "During his campaign, the President has also promised ending corruption in the government. And yet, in under six months, we have seen the release of former President Gloria Macapagal-Arroyo and a hero's burial for the late dictator Ferdinand Marcos, two of the most notorious plunderers in our country's history," she stated.
Youth groups also condemned the upsurge of drug-related killings under the administration. "Already, more than 6,200 Filipinos have died under the reign of terror brought about by the administration's war on drugs," said Zaira Baniaga of KAISA-UP Diliman. "Instead of an atmosphere of security, the lawless killings of suspected criminals and innocent citizens has left Filipinos in greater fear for their own lives and the security of their families," Baniaga added.
Baniaga said that the continuation of unlawful killings is a statement that the drug war is failing, not succeeding.
"On top of this, the President's allies in the Congress are scrambling to pass death penalty and lowering the age for criminal liability, blind to the failure of the law to secure innocents, especially children, from the discriminatory flaws of the justice system and the sociological roots of crime," she said.
Seemingly positive developments in the realm of education have been criticized by the youth sector as well.
"Until this administration ceases to insitutionalize automatic appropriation for education, accessible and quality education for Filipinos will remain as an illusion," said Aivan Lloyd Calonia of Sanlakas Youth - Visayas. "Problems and faults exist in all levels of education, from the poor implementation of the K to 12 program, the lack of quality facilities in public schools, the poor wages of teachers, as well as the curricula designed to make cheap overseas workers or contractual workers domestically," Calonia continued. "While increasing the budget for education alone will not solve all its problems, raising the standard for spending on the sector to the international standard of 6% Gross National Product will be a step in the right direction," he noted.
Calonia also criticized the proposed embankment project in Tacloban as part of the rehabilitation and development program in Yolanda-affected areas.
"The proposed project will only bar small fishing communities from reaching their source of livelihood, not far from the massive displacement experienced by poverty-stricken communities under the rehab efforts of the previous administration," he said.
Calonia urged the President to distinguish himself from predecessors by refraining from the neoliberal path of development. "In the six months that have passed, we are only seeing more of the same policies: privatizing public services, catering to business interests and keeping wages low," he said.
Calonia also warned the public of questionable shortcuts which may be undertaken by the President and his administration in solving perceived problems.
"We cannot afford a repeat of the wasted trust and optimism from the part of previous administration," he stressed. "Especially with voices inside and surrounding the administration who threaten to steer its popularity for their own interest," he stressed.
"While a large number of Filipinos remain optimistic about this administration, being vigilant and critical of the obvious shortcomings from the administration is essential for the People to truly lead the changes they want to see in our society," he concluded.
99 N. Samar farmers receive CLOAs from DAR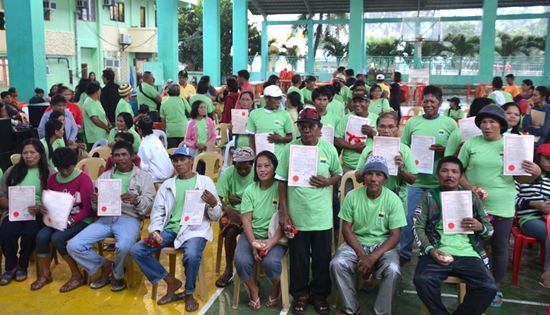 By JOSE ALSMITH L. SORIA
December 22, 2016
MONDRAGON, Northern Samar – Ninety-nine farmers from remote villages in this town braved the heavy rains on Friday afternoon to receive their certificates of landownership award (CLOAs) from the Department of Agrarian Reform (DAR).
DAR Assistant Regional Director Ma. Fe Malinao assisted by Mayor Mario Madera handed to the beneficiaries the 118 CLOAs covering a combined area of 123.8 hectares of farmlands situated in Barangays Talolora and La Trinidad in this town.
The distribution was held at the covered court of the municipal hall amid heavy rains.
Malinao, Madera and DAR Northern Samar Legal Chief Atty. Edsel Ballicud repeatedly stressed to the agrarian reform beneficiaries (ARBs) not to sell or mortgage their awarded lands under the Comprehensive Agrarian Reform Program (CARP) as stated in the CLOA.
Moreover, Ballicud explained to the ARBs their roles, obligations and responsibilities as recipients of the land transfer program.
Malinao added that DAR also provides support services to ARBs to improve farm production that would eventually lead to increased income.
Ailing political prisoner finally released, but on bail, wishes freedom for the rest of PPs
By SELDA
December 19, 2016
QUEZON CITY – Ramon Argente, now 57, was all smiles when he met human rights workers upon his release on December 15, 2016. Upon arrival in Manila, he went straight to the Philippine Heart Center for a check-up. This is where he underwent a heart bypass surgery in 2013. Argente was happy, but has one wish: that the rest of the political prisoners be released soon.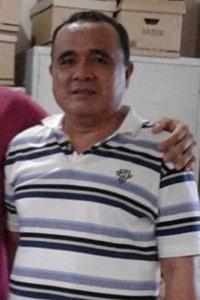 "Hanggang sa kasalukuyan ay hindi pa rin ako ganap na nakaka-recover sa karamdaman. Sa tagal nang maysakit ay kahapon lang nakalaya, sa bisa pa ng pagpiyansa. (Until now, I have not yet fully recovered from my illness. I have been sick for a long time, but I was only released yesterday, but through bail)," said Argente, who was granted bail by the RTC Branch 64 in Labo, Camarines Norte.
One of the 130 ailing political prisoners, Argente was detained for more than three years on the basis of trumped-up charges of multiple counts of murder, theft and frustrated murder. Hehad a triple heart bypass operation in 2013. After the surgery, he was brought back to detention at the PNP Custodial Center in Camp Crame, Quezon City.
"Nananawagan (ako) sa administrasyong Duterte na tuparin ang kanyang pangako bago pa siya makapanumpa. Nagpahayag na siyang handang palayain ang mga bilanggong pulitikal ganoon din ang pagpapalaya sa mga maysakit katulad ko, at iyong mga bilanggong matatanda...mga bilanggong pulitikal na matagal nang nakakulong maging iyong mga kababaihan. (I call on President Duterte to fulfill his promises before he swore into office. He said he is ready to release political prisoners including those who are ill like me, and the elderly prisoners...and political prisoners who have spent a long time in prison, even the women)," said Argente.
Now 57, Argente is a peasant organizer from San Pablo, Del Gallego, Camarines Sur. He has coronary artery disease and was undergoing medication when he was arrested in February 18, 2013 in Brgy. Muson, Bauan, Batangas.
He remained in a fragile condition while in jail, experiencing difficulty in breathing and chest pains. Argente was undergoing medication when he was arrested. His health worsened while detained at the Camarines Norte Provincial Jail. It took six months before his motion for hospitalization was granted.
At least 400 political prisoners remain in detention, the recent political prisoners released after the courts ordered them released, or granted bail. None has been released by the Duterte administration through general amnesty, after the courts granted temporary release on bail to 19 NDFP consultants.
"Sana po suportahan din natin ang pagpapatuloy ng usapang pangkapayapaan sa pagitan ng gobyerno ng Pilipinas at National Democratic Front. (I hope we also support the continuation of the peace talks between the government of the Philippines and the National Democratic Front)," Argente added.
Armed clashes in Basilan displace nearly 7,000 people
By ICRC
December 13, 2016
MANILA – Nearly 7,000 people have been displaced for more than a month following armed clashes between government security forces and armed groups in Basilan province, southern Philippines.
"These families left their homes and sources of livelihood after the hostilities started in November. The residents of six villages in the conflict-affected municipalities of Al-Barka and Tuburan chose to stay with relatives or in evacuation centers for fear of being caught in the crossfire. The ICRC's distribution is in response to their basic needs for food," said Nezar Tamine, deputy head of the ICRC sub-delegation in Mindanao.
To support their needs, the International Committee of the Red Cross (ICRC) provided food rations and hygiene items on December 7 and 9 for the affected families in Al-Barka and Tuburan, with the support of the Philippine Red Cross (PRC) Basilan chapter.
Each family received 25 kilograms of rice, 2 litres of oil, 1 kilogram of sugar, ½ kilogram of salt, 12 tins of sardines, 1 liter of soy sauce, and a hygiene kit containing shampoo, bath and laundry soaps, toothbrushes and toothpaste. In July, the ICRC through the PRC provided essential household items and hygiene kits to 17,000 displaced people in Tipo-Tipo, Al-Barka and Ungkaya Pukan municipalities.
Also recently, the ICRC arranged for 12 emergency health kits to be delivered to hospitals and rural health units in Sulu and Basilan provinces to support the medical needs of the affected civilians. These kits also contain dressing materials to treat the weapon-wounded.
Together with the PRC Zamboanga City chapter, 113 health workers from six rural health units of Basilan were trained on first aid and basic life support from August to October to boost the capacity and readiness of health workers and the community to help save lives during armed fighting and other emergencies.
As part of its mandate to raise awareness of and respect for international humanitarian law, the ICRC continues to remind all parties to the conflict about the need to protect civilians and those who are not or no longer participating in the hostilities.
The ICRC is a neutral, impartial, and independent humanitarian organization whose mandate is to protect and assist people affected by armed conflict and other situations of violence. It has had an established presence in the Philippines for more than 70 years and a permanent presence in Mindanao since 1982.
Labor group sees increase in employment in 2017 but expresses concern on rising underemployment
By Associated Labor Unions
December 13, 2016
QUEZON CITY – Labor group Associated Labor Unions (ALU) attributes the high employment rate to the optimism created by President Duterte's repeated promise to seriously address the worsening problems on peace and order situation, graft and corruption in government bureaucracy, drastic cutting on red tape specifically the setting up of business operations and on his promise to build unprecedented number of strategic infrastructures.
In a Labor Force Survey released by Philippine Statistics Authority (PSA) showed unemployment reached its lowest level 4.7% in 11 years.
"We are also seeing Mr. Duterte's aggressive pro-China diplomacy initiatives, peace talking with the communist movement actors, separatist entities and personalities in Mindanao and his leadership sincerity helped magnify the optimism for local and foreign investors to put up jobs-creating investments," said Alan Tanjusay, ALU spokesperson.
Feeling secured and assured of their investments, he said these investors set up shops early to anticipate the fruits of reduced graft and corruption, capitalize on the ease of doing business, and increased mobility due to improve peace and order situation.
"Plus, they also anticipate and directly and indirectly participate to take part as Mr. Duterte is hell-bent to spend big money on building mega infrastructures. All these combined to create jobs which what we have now in anticipation of the bigger things to come," Tanjusay said.
Tanjusay said if Mr. Duterte's leadership momentum is not interrupted, construction allied services would emerge and help create jobs.
However, the underemployment scenario should be a cause of concern for government and employers, he said.
"It could mean that though there are jobs available but their wages and benefits are inadequate for them to cope with rising cost of living particularly the increasing prices of basic goods and costs of services," he said.
Government and employers, therefore, should act simultaneously in addressing this underemployment rate. Employers should raise their wages and improve direct and indirect benefits to workers to help mitigate the rising rate of underemployment. Government should improve social protection benefits and insurance, enforce labor laws and safeguard predatory increase of prices of basic commodities.
"With all of these, we see an unprecedented increase in domestic employment in the year ahead. But if employers and government ignore underemployment solutions, economic growth will continue to be non-inclusive and inequitable with the very few upper class people racing to the top while the working people are racing to the bottom," Tanjusay said.
Youth group questions CHED's drug test proposal
By Samahan ng Progresibong Kabataan
December 13, 2016
QUEZON CITY – Youth activists criticized the proposal of CHED's executive director Julito Vitriolo to make drug testing, (1) a requirement for admission of all incoming Higher Education Institutions' (HEIs) students and, (2) the retention of those currently enrolled.
The Samahan ng Progresibong Kabataan (SPARK) strongly denounced the proposed policy as promoting a discriminatory, stigmatizing and skewed approach to solving the drug problem, in line with the current administration's bloody War on Drugs.
They observed how the current administration has been carrying the massive anti-drug campaign while condoning the culture of impunity, the wholesale violation of human rights, and classifying the stockpiling corpses in drug-infested and poverty-stricken areas as collateral damage.
Armed with the scalding pronouncements of President Rodrigo Duterte against all drug users, Vitriolo assumed a prerogative to declare the crafting of a policy of sweeping mandatory drug testing to be administered as a requirement in college admissions.
The youth group however SPARK concurs that the youth are vulnerable to drug dependence, but it maintains that bringing the War on Drugs in the campuses will not solve anything, for evidently the drug war is unwinnable. Whereas SPARK finds drug testing founded on randomness ingenuous because it does not incriminate students tested with positive results, the group says that the new policy proposed by Vitriolo is "outright unjust and discriminatory."
The group interjects that while random drug testing is crucial to prevent further drug dependence, a non-random mandatory one administered before a student's admission to the school could be used as the sole benchmark on whether or not a student should be retained in school. This prevents the very victims of attaining a chance and exercising their primary right to education.
"Even with the rehabilitation, the stigma it would pose for the students who tested positive is also not reflective of the student's actual drug problem," says Clarissa Villegas of SPARK.
This is, according to SPARK, characteristic of the prevailing attitude of Filipinos towards the horrid War on Drugs.
SPARK believes that drug addiction should be treated as a solvable public health issue and cites that "addiction – or compulsive drug use despite harmful consequences – is characterized by an inability to stop using a drug; failure to meet work, social, or family obligations; and, sometimes (depending on the drug), tolerance and withdrawal. These students who are just applying for school admission may not really be exhibiting these excessive symptoms."
Villegas suggests that if the current administration really wants to tackle the youth's drug problem, they should also start focusing on out-of-school youths by waging a war on poverty instead.
"The right to education and the overarching need to eliminate poverty and other forms of exploitation should not be trumped by what it falsely seen as the worst problem in the status quo – the drug crisis," she asserted.
Though schools have the right to impose distinctive requirements on students for admission, Villegas maintains that it must be just and non-discriminatory.
In relation to such a measure, SPARK fears that with Vitriolo's proposal and the pending bill before Congress seeking to lower the age limit of criminal liability from 15 to 12 would be the "perfect combo to destroy the youth's chances of being a productive member of society".
The group says that the claim that this mandatory drug testing for college admissions will safeguard the HEIs incumbent students from drug use is far from established. "In addition, student applicants may not have extensively waived their rights to privacy as to be subjected to such punitive measures of the HEIs. This over-inclusive and non-random mandatory drug testing program proposed by CHED is not an effective means of dealing with the drug menace. The manifestation of reasonableness of this testing is questionable. It should not be a measure for disciplinary action as in the case when it is used as a standard for a college student's retention, for it to be fair," she concluded.