14IB with 1368th Dental Company joins Eastern Samar State University for Dental Mission in Maydolong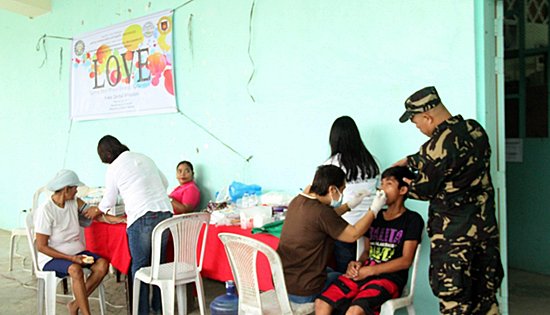 By DPAO, 8ID PA
February 27, 2017
ORAS, Eastern Samar – A dental mission spearheaded by Eastern Samar State University (ESSU) in partnership with 14th Infantry (Avenger) Battalion and the 1368th Dental Company 8th Infantry Division was conducted last February 23, 2017 at ESSU-Maydolong Campus in connection with the National Dental Month of its BEED Program.
The dental services were rendered by the 1368th Dental Detachment under Lt. Col. Edelberto R Tacad with the civilian dentist from the Rural Health Unit of Maydolong headed by Dr. Aurora B Borja, Dentist III.
Faculty and staff of ESSU Maydolong also distributed medicines to the recipients. More or less sixty local populace of Maydolong, Eastern Samar and its barangays benefited from the dental mission.
Lt. Col. Manuel Leo Q Gador, Commanding Officer, 14th IB, said that the unit will continue its endeavor of helping partner LGAs, NGOs and other institutions in conducting such activities in which the people, especially the less fortunate families, are given the opportunity to avail of the free dental services.
Meanwhile, Dr. Vicky Myril G. Yadao, Ph.D., College Administrator of ESSU Maydolong expressed gratitude to the officers and men of the Philippine Army who had helped them in making the event a success.
Sueno: Change is coming in barangays thru Seal of Good Local Governance
Press Release
February 26, 2017
QUEZON CITY – Heydays are coming for barangay local government units (LGUs) as the Department of the Interior and Local Government (DILG) is bringing its Seal of Good Local Governance (SGLG) program down to the barangay-level.
DILG Secretary Ismael 'Mike' D. Sueno said, "Just like the SGLG for provincial, city and municipal LGUs, the SGLG for Barangays will also have an incentive after being conferred the Seal."
The incentive, he said, will come in the form of cash reward to be used for development projects in the barangay.
"Ang malinis na pamamahala, sa barangay ang simula. Barangays are the bedrock of the government. The national government is uplifting and strengthening barangays by assisting and encouraging them towards the practice of good governance which comes with a reward," he said.
The SGLG for Barangays, he said, aims to make barangay governments accountable, transparent, participative, and effective.
Akin to the current SGLG, the barangay SGLG will assess barangays based on the following key areas: peace and order, financial administration, disaster preparedness, social protection, business friendliness and competitiveness, and environmental management.
On Peace and Order
Barangays will be assessed on their maintenance of peace and order in the community through the implementation of the Katarungang Pambarangay (KP) or Barangay Justice System (BJS), an alternative and community-based mechanism for dispute resolution of conflicts between members of the same community.
Barangays will also be monitored on their creation and mobilization of their Barangay Peace and Order Council (BPOC) and Barangay Anti-Drug Abuse Council (BADAC), prevention of the proliferation of illegal drugs, and provision of support mechanisms to ensure the protection of constituents from threats to life and security.
"For the sub-indicator on BADAC, a barangay gets perfect score if the barangay is drug-free. If there is no data on drug-affectation as well as presence of mild, moderately up to severe affectation, a barangay gets zero score," Sueno emphasized.
Barangays must also be able to maintain their Records of Barangay Inhabitants (RBIs) or any similar document.
On Financial Administration
To measure the performance of barangays on financial administration, they will be evaluated on their adherence with the accounting and auditing standard and compliance with the Barangay Full Disclosure Policy (Good Financial Housekeeping); and sound fiscal management (Financial Performance) based on the percentage increase of their local resources.
The Barangay FDP aims to eliminate graft and corruption in all government transactions at the barangay level by directing all barangay officials to post the following documents in a conspicuous area inside the barangay hall and on the barangay's official website: Annual Budget, Summary of Income and Expenditures, utilization of the 20 percent component of the Internal Revenue Allotment, Annual Procurement Plan, Itemized Monthly Collections, and List of Notices of Awards.
On Disaster Preparedness
Sueno said that the indicators of disaster preparedness of barangays are: the functionality of the Barangay Disaster Risk Reduction and Management Committee (BDRRMC); accomplishment rate of the activities/projects reflected in the BDRRM or community-based DRRM plan; extent of risk assessment and Early Warning System (EWS); and extent of preparedness for effective response and early recovery.
On Social Protection
To gauge the social protection being done by barangays, the DILG will consider the indicators of the functionality of their Violence against Women and their Children (VAWC) Desk; accessibility to health services in the barangay; participation rate of children 0 to 4 years old in their Day Care Center; functionality of their Barangay Development Council (BDC); and representation of civil society organizations (CSOs) in the barangay-based institutions (BBIs).
On Business Friendliness and Competitiveness
A barangay's business friendliness and competitiveness, on the other hand, will be determined based on the indication of their enactment of a barangay tax ordinance; and issuance within a week of a barangay certificate as a requisite of setting up new business in their area.
On Environmental Management
Barangays would also have to do good in environment management based on the functionality of their Materials Recovery Facility (MRF); percentage of households practicing segregation of waste at source; and functionality of their Barangay Ecological Solid Waste Management Committee (BESWMC).
After 31 years, people still clamor for fundamental change - Karapatan
By KARAPATAN
February 25, 2017
QUEZON CITY – Targeted political killings, the slate of illegal arrests of leaders and members of progressive organizations, intensified military operations in communities, a justice system that favors the rich and powerful, the continuing oppression of peasants and workers and the domination of US interests in the country remain as palpable realities, thirty one years after Edsa 1.
Has this country really achieved change when repressive state policies continue? Have we really seen change when farmers remain landless, rights continue to be violated, and the Filipino people's interest remain subjugated to imperialist powers?" asked Karapatan secretary general Cristina Palabay on the 31st commemoration of the EDSA people power.
"What we have seen in the years following the Marcos dictatorship are forms of repression, masked under the banner of democracy. Killings in the name of the war on drugs, the possible reimposition of the death penalty, the revival of the Philippine Constabulary and the military's involvement in the war on drugs under the Duterte administration are more recent worrisome issues," she stated.
"Scores of activists and revolutionaries who work for radical change continue to be targeted and the number of political prisoners remains on the rise," Palabay continued.
Karapatan has documented 402 political prisoners in the country as of February 2017, 30 of them arrested under Duterte and 283 under BS Aquino III. "Even this practice of jailing activists and political dissenters has continued throughout the administrations after Marcos, tolerated and enabled by people who, given recent developments, are now at the end of this repressive State maneuver," said Palabay.
Sen. Juan Ponce Enrile's statement that there are no political prisoners is not surprising, coming from the mouthpiece of government narratives since Martial Law. "His efforts to delegitimize the struggles of activists and progressives through these kinds of statements are classic examples of the elite's disdain for genuine change. His release on the basis of humanitarian grounds should have been accorded to the people who most deserve it – the political prisoners who have fought hard alongside the marginalized in this country," Palabay said.
Karapatan also recounted that the conferment of hero's honors on former dictator Ferdinand Marcos Sr. is a betrayal of what the EDSA "people power" stood for. "The Filipino people toppled a dictator but the Supreme Court and Pres. Duterte allowed him a hero's burial. On the other hand, the victims of the Marcos dictatorship have yet to be indemnified and the Marcos' stolen wealth yet to be returned. This can only be the result of the shameless accommodation of the ruling elite to stay in power,' said Palabay.
Aside from allowing a hero's burial for Marcos, Duterte also cancelled the peace talks on February 3, 2017, ramped up the implementation of counter-insurgency program Oplan Kapayapaan with the military's declaration of an all-out-war, and subsequently terminated the Joint Agreement on Security and Immunity Guarantees (JASIG). "Duterte won with his catchphrase 'change is coming.' We should thus demand and protest the Duterte administration's unfulfilled promises. We strongly call on the President to stop the fascist attacks against the people and to continue the peace talks with the National Democratic Front of the Philippines,' Palabay added.
"EDSA 1 showed how a dictator was ousted through the people's collective strength and actions. As long as interests of imperialists, landlords and political clans continue to dominate, there is no doubt that the people will continue to struggle in all forms to achieve fundamental change," Palabay concluded.
1st Joint AFP-PNP Media Fellowship conducted in Eastern Visayas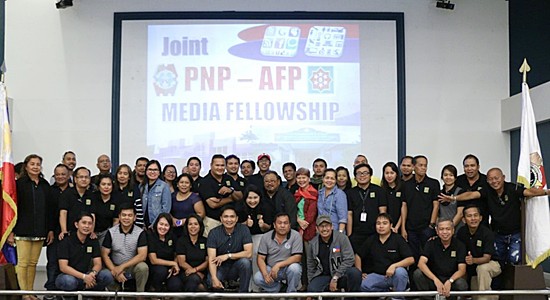 By DPAO, 8ID PA
February 23, 2017
CAMP LUKBAN, Catbalogan City – Envisioning the role of media in the society as one of the pillars of democracy, the 8th Infantry (Stormtroopers) Division together with Police Regional Office Region 8 organized the pioneering joint AFP-PNP Media Fellowship to all media members in Eastern Visayas held at Matapat Hall, PRO8, Camp Ruperto Kangleon, Palo, Leyte last February 22, 2017.
The activity which was attended by 56 media practitioner from different outlets in Region 8 aimed to strengthen the relationship of the AFP and PNP to the press. It also gave an opportunity for the officials of 8ID and PRO8 to discuss with the media about the AFP Development Support and Security Plan "Kapayapaan" and the PNP's program and effort in cleansing and exercising disciplinary actions to any police members that violate the policies and directives especially those who are involved in any illegal activities, respectively.
PCSupt Elmer C Beltejar, said in his message: "The PNP in Region 8 looks up to the media as our partner in the pursuit of genuine change. Undeniably, the media possesses an immense power needed for the country to function well as a democracy."
Maj. Gen. Raul M Farnacio AFP appreciated the time and efforts of the press in taking part of the fellowship. "I want to personally thank 8ID Press Corps for continuing to play an integral role in bringing the Army in Eastern Visayas, its accomplishments, and its development projects to the consciousness of the Filipino people. And I know we can now count on the members of the PNP Press Corps to give additional voice for our call for peace and unity in Region 8," Farnacio said.
SFDEO to build P402M worth of flood control projects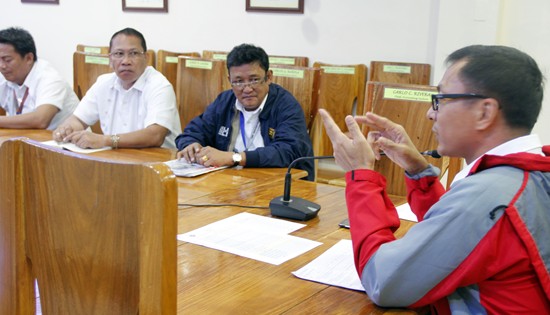 By DONNA C. DEBUTON
February 21, 2017
CALBAYOG CITY – DPWH Samar First District Engineering Office to construct an appropriated amount of P402 million worth of Flood Control Projects under GAA CY2017.
The District Office has a total of 7 Flood Control Projects for this year: Construction of Flood Control Structures along Jibatang River (upstream), Brgy. Lonoy, Calbayog City costing P100M; Construction of Flood Control Structures along Gandara River (upstream) Brgy. Ngoso, Gandara, Samar amounting P80M; Construction of Flood Control structures, Labuyao River Control (Sta. 0+000-Sta. 0+352), Calbayog City costing P45M;
Construction of Flood Control structures along Calbayog River (upstream) Brgy. Hamorawon, Calbayog City amounting P50M; Rehabilitation/Improvement of Flood Control Structure upstream of Jibatang River (Sta.0+348.6-Sta.0+697.2) at Brgy. Lonoy, Calbayog City amounting to P50M; Construction of Flood Control structures along Binaliw River (Phase II) Brgy. Binaliw, Calbayog City costing P28M; and Construction of Flood Control structures along Arapison River, Brgy. Cagsumje, Sta. Margarita having an appropriation of P50M.
These Flood Control Projects will mitigate floodings in the above-mentioned barangays and will prevent further damages to lives and properties.
Approved Plans and Program of Works (POW) are already advertised for procurement. According to implementing section, notices of awards and notice to proceed will be issued anytime this week for contractors to implement these Flood Control Structures to beat the deadline set for completion.
Care for your kasambahays, register them in barangays - Sueno
Press Release
February 18, 2017
QUEZON CITY – The spirit of love is still up in the air this February as Secretary Ismael 'Mike' D. Sueno of the Department of the Interior and Local Government hovers the welfare of domestic workers or kasambahays in the country.
In a directive to local chief executives, Sueno urges them to ensure the implementation of Republic Act (RA) No. 10361 or Batas Kasambahay which requires every employer to register all domestic workers under their employment in the Registry of Domestic Workers in the barangay also called as Barangay Registration of Kasambahays.
"Kasambahays have a big role in keeping socioeconomic activities running. They take care of households and look after their employers' children in order for their bosses to go to work or attend to their enterprise," he said.
"Their wellbeing ought to be taken cared of just like workers in the formal public and private sectors," he added.
The DILG Secretary also called on all punong barangays through a directive to enact local ordinances in support of the Batas Kasambahay and to implement the Barangay Registration of Kasambahays in their area of jurisdiction.
"Registering kasambahays is both beneficial to kasambahays and their employers," he emphasized.
"I also encourage barangay officials to discuss your implementation of the Batas Kasambahay during the coming law-mandated conduct of Barangay Assembly Day this first semester of the year, which will be on March 25," he said.
Under Batas Kasambahay, a domestic worker or kasambahay is any person engaged in domestic work within an employment relationship such as, but not limited to: general househelp, nursemaid or "yaya", cook, gardener, or laundry person, but shall exclude any person who performs domestic work only occasionally or sporadically and not on an occupational basis.
The term does not include children who are under foster family arrangement, and are provided access to education and given an allowance incidental to education, i.e. "baon", transportation, school projects and school activities.
Barangay Kasambahay Desk
In July 2013, the DILG directed barangays to have Kasambahay Desks. Barangay chairpersons were ordered to devise a system to ensure the registration of all kasambahays in their barangays including an on-line registration through their official website or e-mail.
The KR Form 1 and the Kontrata sa Paglilingkod sa Tahanan are available at the barangay and city or municipal Public Employment Service Office (PESO). Both forms are also downloadable at www.dilg.gov.ph and www.dole.gov.ph.
In case of termination of the contract, employers ought to immediately notify the Kasambahay Desk for updating purposes.
The disclosure of information about the kasambahay and the employer by the barangay and the local PESO is subject to compliance with the requirements of RA No. 10173 (Data Privacy Act of 2012) and other existing laws, otherwise, violators shall be subjected to fine or imprisonment.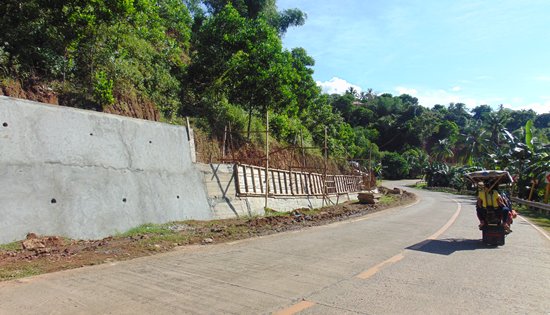 Construction of Slope Protection along Biliran Circumferential Road is on-going with 62% accomplishment as of January 31, 2017. Other than the slope protection structure, concrete paving of widened shoulders and construction of concrete canal are included in the project. The above road section is prone to landslide hence slope protection structure is recommended to prevent recurrence of landslide which happened during the onslaught of typhoon Henry on July 20, 2014 that caused closure of the road.
DPWH-Biliran DEO fastracks on-going FY 2016 high impact projects
Press Release
February 15, 2017
NAVAL, Biliran – Above P40M remaining FY 2016 projects implemented by the Department of Public Works and Highways (DPWH) - Biliran District Engineering Office is being fast-tracked for completion until first quarter of 2017. As of January 31, 2017, Biliran DEO reports 63 projects completed with three projects on-going with an accomplishment of 92.64%.
The District has been allotted P683.745M under FY 2016 DPWH Infrastructure Program. Out of the allotted amount, P135M was implemented by DPWH Regional Office 8 which involves the Rehabilitation of a section of Maripipi Circumferential Road, while 66 projects are implemented by Biliran DEO.
Some District Offices including Biliran DEO has only been allowed to implement projects below P50M, projects above of the said amount are undertaken/implemented by the DPWH Regional Office.
Adongay reported that two projects of the largest amount allotted to Biliran DEO is still ongoing which is the P45M slope protection project along Biliran Circumferential Road (BCR) and P43M construction of Biliran diversion road with an accomplishment of 62% and 58%, respectively as of January 31, 2017.
According to Adongay, the Construction of Slope Protection along Biliran Circumferential Road encountered some problems caused by lapses of the contractor and unfavorable weather conditions that hinders the contractor to smoothly perform the project implementation.
Meanwhile, the Construction of Biliran Diversion Road was hindered to proceed with the embankment activities due to continuous heavy rains. Furthermore, one of the landowners affected by the road opening refused to sign "Permit to Enter" for the reason that the amount offered per current market value of his parcel of land is below of what he is expected. The landowner is asking for P2,000 per sq.m. of his land that is affected by the Road-Right-Of-Way (RROW), however, the current market value of an agricultural land is P21.45 only.
The office is on the process of negotiations with the concerned land owner with regards to the value of the affected parcel of land.
The completion of the diversion road project will serve the traveling public coming from Tacloban City, Ormoc City, Baybay City and from other neighboring municipalities going to the northern and eastern part of Biliran Province and vice versa in a much safer and faster transport of goods and services and at a reduced travel time. The population to be served by the road ranges from 120,000 to 135,000, 7 Municipalities and 50 Barangays.
Another FY 2016 project eyeing for completion is the on-going P8.7M replacement of permanent weak bridge-Banlas bridge along Maripipi Circumferential Road.
Adongay revealed that the delay was attributed due to unavailability of sand and gravel aggregates in Maripipi Island. Adongay explained that hauling it by barge with the quantity required is impractical and will only entail higher cost. Hence, the contractor suggested to have the delivery together with the delivery of the sand and gravel for the concreting of Maripipi Circumferential Road.
Adongay said that the contractors of each projects were advised to render over time work 24/7 to complete the projects on the target date.
PH exports yield growth in December 2016
By DTI-IPG
February 15, 2017
MAKATI CITY – The Department of Trade and Industry sees sustained growth for exports in 2017 as Philippine exported goods yielded a 4.5% growth in December 2016 with a total of $4.71 billion in export revenues from $4.660 billion in the same period in 2015.
"As we implement new strategies in diversifying our markets and upscaling our products and services amidst the slowdown in global trade, we hope that our exports will continue to improve in the next quarters" said DTI Industry Promotion Group Undersecretary Nora K. Terrado.
In a report released by Philippine Statistics Authority (PSA), increase in the top five (5) major export commodities contributed to the growth which include coconut oil (crude and refined; 146.5%), other mineral products (104.5%), metal components (66.4%), chemicals (42.1%), and other manufactures (35.8%).
While electronic products experienced a 2.8% decrease in total receipts as compared to 2015 data, these remained to be the top export product of the country with total receipts of $2.451 billion, accounting for 50.3% of the total exports revenue in December 2016. Other Manufactures ranked second with 7.2% share to the total export receipts. It recorded an increase of 35.8% from December 2015 value of $257.32 million. It is followed by Machinery and Transport Equipment with export revenue of $227.05 million, Woodcrafts and Furniture with total sales of $202.14 million, and Ignition Wiring Set and Other Wiring Sets Used in Vehicles, Aircraft and Ships with $153.72 million export sales.
"Notable 67.5% increase in the exports of our Agro-Based Products in December 2016 is a good indication that our agrisector will be up in the coming months. We hope to see more of this trend to fully boost our exports," added DTI Export Marketing Bureau Director Senen M. Perlada.
Agro-based products shared 7.7 % of the total exports in December 2016 which amounted to $377.30 million.
Total exported goods to East Asia increased compared to other top Philippine exports destination such as ASEAN member countries, USA, and European Union member countries. Merchandise exports to East Asia increased by 9.4% with total revenue of $2.556 billion million from $2.337 billion recorded in the same month in 2015. Japan remained to be the country's top export destination, with revenue amounting to $946.28 million, comprising 19.4 percent share of the total exports.