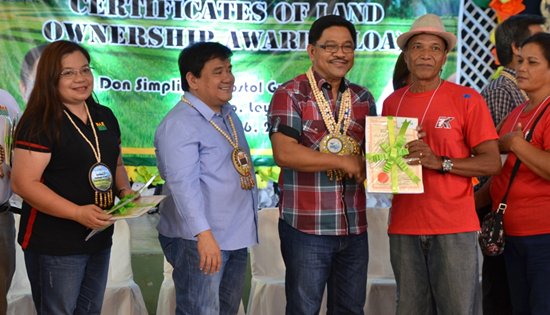 Agrarian Reform Secretary Rafael "Ka Paeng" Mariano (in checkered polo shirt) distributes 1,058 certificates of land ownership award (CLOAs) to 783 agrarian reform beneficiaries from five Leyte towns in Barugo, Leyte. (Jose Alsmith L. Soria)
783 Leyte farmers receive CLOAs from Sec. Mariano
By JOSE ALSMITH L. SORIA
November 21, 2016
BARUGO, Leyte – Seven hundred eighty-three farmers from five Leyte towns turned landowners when Agrarian Reform Secretary Rafael Mariano handed to them certificates of landownership award (CLOAs) during the Secretary's visit to Eastern Visayas early this month.
Mariano distributed the 1,058 CLOAs at the Apostol Gymnasium in this municipality.
He was assisted by Land Registration Authority (LRA) Deputy Administrator Robert Leretana, Mayor Maria Rosario Avestruz, Department of Agrarian Reform (DAR) Regional Director Sheila Enciso, Assistant Regional Directors Ma. Fe Malinao and Ismael Aya-ay, and Leyte Provincial Agrarian Reform Program Officer Renato Badilla.
The CLOAs covered a combined area of 1,427.5 hectares of farmlands situated in the towns of Barugo, Alangalang, San Miguel, Carigara and Jaro.
Lolita Candaza, one of the beneficiaries said, they can now avail of the various assistances extended to "Yolanda" survivors by the different local and international non-government organizations.
Mariano in his message stressed that it is DAR's goal to free farm workers from the bondage of the soil.
During the said occasion he announced that his administration will create a national LAD (land acquisition and distribution) action team that will help strategize in accelerating land distribution process nationwide.
He also disclosed that DAR is now addressing the problem on the reconstitution of CLOAs that were destroyed when the Registry of Deeds (ROD) in Palo was burned down in the 90's.
Meanwhile, Enciso thanked the LRA for trimming down the requirements in the registration of CLOAs resulting to the release of these land titles pending at the ROD.
For the beneficiaries to understand, Leretana explained that in the registration of an original certificate of title (OCT) as in the case of these CLOAs, tax declaration is required as proof of ownership.
But since ownership has already passed thru several persons, it was difficult then to present a tax declaration especially that the present owner has to pay unpaid real property tax if ever the previous owners failed to pay them before they could be issued with the said document, which according to Leretana was the reason why they decided to take it out from the requirements.
According to Badilla, San Miguel has the most number of beneficiaries at 245 with 321 CLOAs covering 233 hectares; Barugo has 222 beneficiaries of the 398 CLOAs covering 280.1 hectares; Jaro has 147 beneficiaries of the 230 CLOAs covering 684.6 hectares; Carigara has 123 beneficiaries of the 102 CLOAs covering 129 hectares; while Alangalang has 46 beneficiaries of the 7 CLOAs covering 100.6 hectares.
Sueno: Assistance to Disadvantaged Municipalities 'different' from BuB
By DILG
November 19, 2016
QUEZON CITY – Interior and Local Government Secretary Ismael Sueno today said that the DILG's new Assistance to Disadvantaged Municipalities (ADM) program is 'different' from the Bottom-Up Budgeting (BuB) program of the previous administration.
Sueno said ADM is quite distinct in terms of its objectives, type of projects, eligibility for funding, projects identification scheme, and budget allocation per local government unit (LGU).
He said that unlike BuB whose main objective is citizen engagement and participation, ADM is designed to assist LGUs in strengthening their ability to deliver basic services.
"The ADM is anchored on the need to somehow provide fiscal space to municipalities, to allow them not to become too dependent on their Internal Revenue Allotment (IRA) and to help LGUs utilize their local resources for other programs and projects," he said.
Sueno said that under the new program, the local chief executive has to submit a project list culled out from any of the existing plans of the municipality, unlike in the BuB wherein civil society organizations are included in project identification.
"The main trajectory of BuB then was people participation. In ADM, we are more concerned in helping the towns address the essential needs of their constituents," he said.
According to him, the projects eligible for ADM assistance include the five basic infrastructure that are most needed in municipalities – access roads, potable water, evacuation centers, sanitation facilities, and small water impounding.
The DILG Secretary also said that the ADM, similar to the BuB, also imposes a governance requirement wherein municipal governments have to meet good governance standards prior to the release of funds to them. These standards include passing the good financial housekeeping component of the Seal of Good Local Governance (SGLG) and completion of assessment of its Public Financial Management System.
He said that although not all of the 1,373 out of the total 1,489 municipalities in the country covered under the program may be considered 'disadvantaged', the ADM looks at the magnitude of poverty in the area and not just at the baseline income of the municipalities.
The DILG Chief also stressed that there is no duplication or repetition of projects under the ADM program with other national government agencies, noting that the P19.4 billion budget being proposed for ADM is for projects that are within the scope of implementation of the DILG.
Workers group urges employers to comply with mandated 13th month pay bonus
By Associated Labor Unions (ALU)
November 19, 2016
QUEZON CITY – All rank-and-file employees including regular and contractual workers are entitled to a 13th month pay cash bonus and they must assert their rightful claim to it because it is mandated by law as incentive to workers for helping the economy grow, reminds labor group Associated Labor Unions (ALU) said yesterday.
"All rank-and-file employees regardless of position, designation or employment status have all the right to claim their thirteenth month pay cash bonus. Even if you are employed for even at least a month during the calendar year or receiving salary of P1,000 per month, they can avail of this bonus," said Alan Tanjusay, ALU spokesperson.
He clarified that 13th month pay is different than Christmas bonus.
Christmas bonus is not mandated by law but a discretionary act of goodwill on the part of the employers. The Christmas bonus may come in the form of cash or kind or combination of both.
However, the minimum 13th month pay bonus is required by law. The bonus must be equivalent to a month's basic pay excluding allowances, overtime pay, premium pay, night shift differential, holiday pay, profit-sharing payments, cash equivalent of unused vacation and sick leave.
Tanjusay said the bonus must be received in cash not in kind. "Employers must give it in cash. If employers convert it to rice or grocery items, it's not 13th month pay bonus anymore. The bonus must be in cash. If they want to give rice and grocery items, it is welcome but it must be received as additional bonus."
"Hindi rin po pwede na utangin ng employer ang 13th month pay bonus na ito sa kanyang manggagawa. Bawal po ito," he added.
He called on the government's Department of Labor and Employment (DOLE) to strongly enforce the law because some abusive employers resort to different schemes and tactics to avoid paying the mandated thirteenth month bonus.
He said aside from converting thirteenth month bonus to grocery items, gadgets or appliances, some employers resort to giving token or raffle draw certain amount or gadgets and appliances to avoid paying thirteenth month pay.
According to the rules and regulation of Presidential Decree 851 otherwise known as 13th Month Pay Law, the 13th month pay shall be paid not later than December 24. However, an employer may give to his or her employees half of the 13th month pay before the opening of the regular school year and the remaining half on or before December 24 every year.
There are around 920,000 work establishments in the country employing 39 million workers in various major industry enterprises including agriculture, manufacturing and services sectors.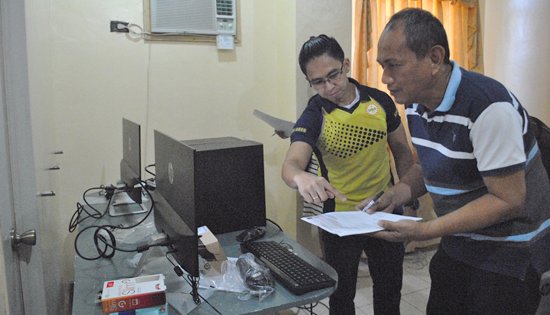 DILG-8 Information Technology Officer Luis de Asis shows LGU representatives the specifications of the computers donated by the Japanese government through ADB and DILG to fast track CLUP preparation.
ADB, DILG give out computers for 33 Yolanda LGUs to hasten CLUP preparation
By MYLES JOSEPH E. COLASITO
November 18, 2016
TACLOBAN CITY – Thirty-three (33) local government units battered by Super typhoon Yolanda (Haiyan) recently received computer sets and Global Positioning System (GPS) units and other equipment that would be useful in improving disaster resiliency in Eastern Visayas region.
The 33 LGUs in Eastern Samar, Samar and Leyte provinces benefited from the grant from Asian Development Bank under the Japan Fund for Poverty Reduction (JFPR) in cooperation with the Department of the Interior and Local Government (DILG), said Regional Director Marivel Sacendoncillo of DILG-8.
The computer sets received by these LGUs carried the highest specifications such as Core i7, powered with 16 Gigabyte Random Access Memory (RAM), with 1 Terabyte Portable Hard Drive, and a pocket wifi, more than enough for the needs of municipal planning units in processing data on the Comprehensive Land Use Plan (CLUP), said Dir. Sacendoncillo. These were paired with two (2) hand-held GPS units for creating maps of the terrain in the LGU.
Dir. Sacendoncillo projects that about ten (10) LGUs would be able to complete drafts of their respective CLUP maps by the end of the year. She added that two (2) other computers were donated to the DILG-8 Regional Office as backup servers for all data to be produced by the recipient LGUs.
"[The computers] are timely and appropriate assistance extended in our effort at accurate GIS mapping for our various programs, projects and activities. This will go a long way in making our communities safer and more secured," said Rosana Lumpas of the Municipal Planning and Development Office of Babatngon, Leyte.
The DILG-ADB Project forms part of technical component of the Japan International Cooperation Agency (JICA) assistance for LGUs affected by Super typhoon Yolanda under JFPR. The group held a series of coaching sessions to enable LGUs to update their CLUPs, which are documents designed to guide the long-term plans of the LGUs.
Youth empowered as advocates for peace and development in Matuguinao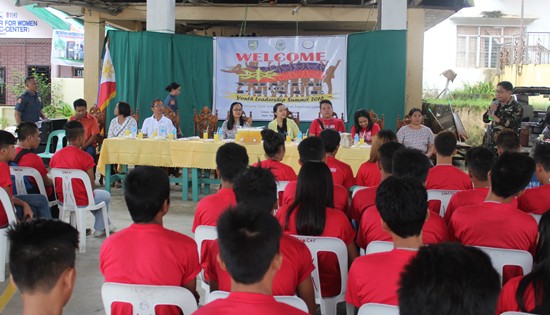 By 43rd Infantry Battalion, 8ID PA
November 15, 2016
LOPE DE VEGA, Northern, Samar – Youth Leadership Summit (YLS) was conducted on November 3-5, 2016 at Brgy Maduroto, Matuguinao, Western Samar with the joint effort of 43IB, 8ID, PA and LGU-Matuguinao, with the theme: "Initiating Youth Actions Towards an Empowered Generation".
The Youth Leadership Summit is one of the priority project of Hon. Melissa dela Cruz, Mayor of Matuguinao, Western Samar, it is composed of 106 youth coming from different barangays of Matuguinao, Samar. The main objectives of YLS are to develop the youth to become responsive individuals and to empower them as advocates and conduits of peace and development.
The 43rd Infantry Battalion Commander, Lt. Col. Reymondo A Delgado INF (GSC) PA, said that the YLS is one of the AFP's programs designed to reach out and help the youth become future leaders. This is in line with the continuing efforts of the AFP to productively engage the various stakeholders in winning the peace.
Joining the YLS resource speakers were PNP, DepEd, RHU, PYAP, DSWD, and the AFP. The objective of this training is to indoctrinate the youth as peace advocators and to enhance their knowledge and capabilities to become more productive constituents of the community and to practice their roles as a leader for the achievement of peace.
Whereas, the We Search Troopers were able to impart effectively under the atmosphere of self-discovery, cooperation and teamwork's among others.
"As early as now we're preparing them to learn about leadership, thus, we invited guests from other agencies and sectors to expose them to the different government offices and their respective mandates," says Col. Delgado.
The activity culminated with a brief ceremony. Mayor Dela Cruz delivered an inspiring message. A youth representative and a member of the facilitators shared their impressions.
DTI to legitimate contractors: police your ranks
Maintains workers' tenure protected under 'win-win'
By DTI-OSEC-PRU
November 15, 2016
PASIG CITY – Department of Trade and Industry (DTI) Secretary Ramon Lopez challenged the Philippine Association of Legitimate Service Contractors (PALSCON) to police its ranks to ensure the effective implementation of the so-called "win-win structure" involving legitimate service providers (SPs), companies and workers.
Speaking at PALSCON's 6th National Forum on November 14, Sec. Lopez reiterated that the "win-win" structure that upholds workers' security of tenure is not a departure from, but an improvement of what has already been provided by the law on legitimate contracting.
The Labor Code and Department of Labor and Employment (DOLE) Department Orders 10 (Series of 1997), 18-02 (Series of 2002) and 18-A (Series of 2011) guarantee legitimate contracting or subcontracting arrangements.
Consistent with the unchanged position of President Rodrigo Duterte to put a stop on end-of-contract (endo) schemes, the trade chief maintained that as added value to the full and strict implementation of legitimate contracting, the win-win structure carries two specific provisions that safeguard workers' tenure rights, specifically by making workers regular and permanent, as well as by affording them mandatory retirement benefits.
The DTI-proposed structure also allows companies to either directly employ workers or source workers from legitimate SPs.
Sec. Lopez said that the critical role of the association of legitimate SPs in effectively carrying out the win-win structure is to patrol its ranks to ensure that workers receive appropriate benefits.
"What is critical now is the compliance of legitimate SPs in giving full benefits to the workers," said Sec. Lopez, adding that the proposal received positive response from President Duterte.
The PALSCON audience showed support to Sec. Lopez's statement that legitimate contractors' failure to comply will result in getting blacklisted by client-companies.
Removing contracting and subcontracting arrangements will lead to an immediate reduction of employment, with some foreign investments pulling out, according to him, pointing out the vital link between investment creation and job generation.
He also shared that at least three potential foreign investors in the Philippines began expressing this sentiment in his most recent meeting in Japan this month.
"Changing the ball game now, we will lose investments and miss out on opportunities instead of generating more jobs," Sec. Lopez added.
According to DTI, it must be recognized that there are certain parts of operations in a company that are best carried out through a service provider mainly due to the seasonality of work or the function-specific nature of some projects, which are deemed to be better handled by a third party, allowing the principal company to focus on growing the business.
Scheduled to hold consultations with another set of labor groups soon, DOLE, with recommendation from DTI, is expected to reach an "effective, legal and mutually beneficial position" on the matter within the year.
"Our fear has always been about losing jobs. To start with, if there are no available jobs, there will be no forms of employment to be discussed today," Sec. Lopez concluded.
The DTI introduced the win-win structure that is premised on the need to have a business policy environment that creates and encourages job and income generation.
43rd Infantry Battalion conducts Lakbay Kapayapaan Information Patrol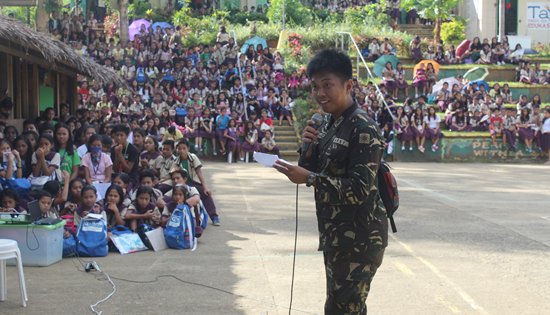 By 43rd Infantry Battalion, 8ID PA
November 14, 2016
LOPE DE VEGA, Northern, Samar – The 43rd Infantry (We Search) Battalion, 8th Infantry (Stormtroopers) Division, Philippine Army conducted Lakbay Kapayapaan Information Patrol (LAKIP) on November 11, 2016, 2:00 o'clock in the afternoon at Lope de Vega National High School, Lope de Vega, Northern Samar.
More than 1000 senior and junior high school students attended the activity, which aim to educate them regarding the current programs of the Armed Forces of the Philippines (AFP) such as: Internal Peace and Security Plan (IPSP) Bayanihan, Comprehensive Local Integration Program (CLIP) and Army Transformation Roadmap.
2Lt Prince Dominic L Calmada, Acting Civil Military Operation (CMO) Officer, also informed the students about the qualifications and requirements on how to apply in the Philippine Military Academy, Officer Candidate Course, Officer Preparatory Course and Candidate Soldier Course.
Lt. Col. Reymondo A Delgado, Acting Commanding Officer, 43rd IB, said that the LAKIP is one of the unit's efforts to counter the insurgency problem and to keep the youths well informed.
Dr. Noralyn Casco, Officer-In-Charge, Lope de Vega National High School, said that, "On my behalf, I express my thanks to the 43rd IB by informing our students about the AFP's Program and by choosing our school for this activity."
Civil society organizations, environmental groups slam DOE plan to revive Bataan Nuclear Power Plant
Press Release
November 14, 2016
QUEZON CITY – Civil society organizations and environmental advocates expressed alarm at the administration's plan to revive the mothballed Bataan Nuclear Power Plant (BNPP).
Responding to Department of Energy Alfonso Cusi's revelation of the president's green light for the project, Sanlakas Secretary-General Atty. Aaron Pedrosa raised problems of environmental safety and sustainability that attached to reviving and maintaining nuclear power plants.
"The revival of the BNPP is an environmental disaster waiting to happen," claimed Pedrosa. "A nuclear plant, especially one in the Philippines, carries with it a number of hazards whose effects could prove irreversible for a developing country like ours."
"First and primary of these effects are the inevitable nuclear waste produced by nuclear power reactors," explained Pedrosa.
"This type of waste, being radioactive, poses a threat to the biological integrity of the environment in which it is emitted. Historically, we know the unpredictability of both the degree and the length that effects of harmful radiation have on those who are exposed to it," said Pedrosa.
"Moreover, given how a nuclear power plant by itself proves to be dangerous, our geographical location along a typhoon belt and the Ring of Fire threatens to exponentially magnify the risks of reviving this nuclear plant," added Pedrosa.
Center for Energy, Ecology, and Development (CEED) Convenor Gerry Arances cited the case of Fukushima I Power Plant in Fukushima, Japan, which on 2011 saw a nuclear meltdown and release of harmful radioactive material after the country was hit by a tsunami-triggered earthquake.
"The Philippines' sudden move towards nuclear energy is baffling given how it is a country that is less technologically equipped than but similarly vulnerable to environmental disasters as Japan, a developed country which has started to move away from nuclear power," said Arances.
Arances claimed that nuclear energy poses more risks than it offers any energy or environmental benefit, citing the country of Germany as another developed country pulling the plug on nuclear energy shortly after the Fukushima disaster.
"It must serve as a warning to the administration that even developed countries, which are more capable than the Philippines in sustaining nuclear power plants and mitigating the environmental risks that they pose, have started phasing out nuclear energy," added Arances.
Arances also claimed that pursuing nuclear energy is laden with faulty economics.
"For one, the direct costs of operating, maintaining, and waste management that come with sustaining a nuclear power plant have historically put a strain on the national budget of countries with existing plants," said Arances.
Arances claimed that costs of power plants are almost consistently more than that estimated by the nuclear industry, causing the respective national governments adopting nuclear power to let its nuclear power facilities heavily rely on state subsidies and massive loans, as in the case of India and Finland.
"Nuclear power plants also come with the risk of making the Philippines dependent on uranium-rich countries for fuel," added Arances.
"Nuclear energy is a result of heat generated through the fission process of atoms, which is fueled by uranium, a resource abundant only in a number of countries. To sustain the Bataan Nuclear Power Plant and other possible nuclear power plants would be to depend on uranium-rich countries," Arances said.
Arances instead urged the Duterte administration to turn towards indigenous renewable energy sources instead of costly, deadly and dirty energy sources.
"Based on the DOE's Philippine Energy Plan, the share of renewables in the country's energy supply is set to plummet while reliance on dirty sources like coal will increase until 2030," Arances pointed out. "A more sustainable energy and development path would be pursued if we start tapping into the vast renewable energy of the Philippines, amounting to 200,000 MW of clean energy," he added.
Furthermore, Pedrosa condemned the revival of the BNPP despite the history of contentions attached to the plant.
"The construction of the BNPP, a result of the $2.3 billion loan secured by the late Dictator Marcos, was greenlit in 1976 and finished in 1984 despite overwhelming condemnation by local communities and civil society at the time," said Pedrosa.
"Reviving the failed and costly project is an affront not only to those who will suffer the problems which it will cause, but an affront to those who have stood up against it decades ago," stated Pedrosa.
"It was wrong to greenlight it then; it is wrong to insist upon it now," he concluded.