PP12 turns-over Medical Kits and Sports Equipment to Catbalogan City
By ADOR LEANDA HURTADO
June 27, 2012
CATBALOGAN CITY – On the afternoon of June 27 at City Hall Lobby, representatives from the US Navy dropped off several boxes of medical equipment and supplies intended for the City Health Office as well as several sports equipment for the Local Youth Development Council of Catbalogan City as part of the Pacific Partnership 2012 (PP12) Mission.
Receiving in behalf of the City Government of Catbalogan were City Vice Mayor Art Sherwin L. Gabon, First Councilor Stephany Uy-Tan, Liga ng mga Barangay Federation President Edward M. Uy and Sangguniang Kabataan (SK) City Federation President Dexter M. Uy. For the sports equipment, these were received by Hon. Dexter M. Uy being the SK Federation President along with several youth representatives of different school organizations and community organizations.
Medical supplies donated include urethral catheter, bandage gauze, sterile gloves, stethoscopes, syringes, face masks, and other supplies.
Sports equipment on the other hand include basketball, volleyball, badminton rackets, baseball bats and caps, sports nets, and other sports items.
Said donations were part of the PP12's Civic Military Operations (CMO) and Public Affairs Operations (PAO), which was a two-week humanitarian and civic action (HCA) mission that has taken medical, dental, veterinary, engineering and civic assistance projects to the Philippines.
Farmers, fisherfolks file petition for Envi Protection Order against mining in MacArthur Leyte
By Alyansa Tigil Mina (ATM)
June 27, 2012
MACARTHUR, Leyte – Farmers and fisher folks in Leyte went to court and filed an application for Temporary Environmental Protection Order (EPO) to stop the mining operation of Nicua Corporation in prime agricultural lands of Villa Imelda and adjacent barangays in MacArthur Leyte.
The plaintiffs led by Jesus Cabias, president of Unahin Lagi Natin ang Diyos - Bito Lake Fisherfolks Association (UNLAD-BLFA) and supported by Environmental Legal Assistance Center (ELAC), assert their right to a healthy and safe environment against the destructive effects of mining in their farmlands and lake.
"Water is life and must be saved at all costs. Allowing mining to continue here will affect not only our primary source of water and livelihood but also the future generations," said Cabias.
Two weeks ago, Bureau of Fisheries and Aquatic Resources (BFAR) reported that contamination from oil and grease from the mining operations is one of the causes of the massive fish kill in Lake Bito.
Fr. Edu Gariguez, executive secretary of the Catholic Bishops Conference of the Philippines - National Secretariat for Social Action, Justice and Peace (CBCP-NASSA) added, "Together with the Archdiocese of Palo and Alyansa Tigil Mina, we visited this area and found that the impacts of mining there are terrible and devastating. We call on the national offices to act on this, at the same time we hope that the Regional Trial Court can immediately hear our petition and issue a temporary environmental protection order to stop Nicua Mining Corporation from operating in the area."
Cabias added, "Our problem is that the mining operation is encroaching in prime agricultural lands – we are talking about irrigated lands that were not even legally converted for other purposes. Their activities threaten our food security, right to clean water, and livelihood."
The 30-page petition has been filed on Monday at the Regional Trial Court (RTC) Branch 10 in Abuyog, Leyte but is yet to be given a case number by the RTC Judge next week.
Meanwhile, ELAC Lawyer Atty. Ronnan Reposar is firm that an EPO should really be issued against the mining company and should be implemented immediately. He said, "There are clear violations here, not only that the mining operation in MacArthur violated the constitutional rights of the people to environment, health, life and property, the same has likewise violated other laws protecting our natural resources – the mining company is situated and directly affecting prime and irrigated agricultural lands and the water resources. This is a clear threat to life of both the present and future generation"
Environmental Protection Order or Temporary Environmental Protection Order (EPO/TEPO) are injunction orders under the new Environmental Rules of Court that directs or enjoins "any person or government agency to perform or desist from performing an act in order to protect, preserve or rehabilitate the environment." This gives immediate relief on environmental issues.
"We do not understand why this company was even allowed to mine here – they are converting prime agricultural lands into mine sites that will render the lands useless afterwards," stated Jaybee Garganera, national coordinator of Alyansa Tigil Mina.
DENR-8 has new Regional Executive Director
By Philippine Information Agency (PIA 8)
June 27, 2012
TACLOBAN CITY – The Department of Environment and Natural Resources (DENR) Region 8 has a new OIC Regional Executive Director in the person of Manolito D. Ragub.
DENR Regional Information Officer Purificacion Daloos disclosed that DENR through Undersecretary for Field Operations Atty. Ernesto Adobo, Jr., recently affirmed the designation of an Officer-in-Charge, Regional Executive Director for Region VIII.
Through DENR Special Order No. 2012-433 on June 14, USec Adobo has designated Regional Technical Director Manolito D. Ragub as OIC, Regional Executive Director in the region.
This is an affirmation of DENR Region VIII Special Order No. 2012-165 dated June 8, 2012 which was signed by then RED Rogelio T. Trinidad, Ms. Daloos said.
RTD Ragub is designated as OIC-RED with the retirement from government service of RED Trinidad earlier this month.
This is also part of the continuing organizational development of the Department, USec Adobo said.
A forester by profession and a Career Executive Service Officer, Director Ragub was assigned as Regional Technical Director of the Forest Management Service in the region prior to his designation as OIC-RED.
He is also currently Project Manager of the Samar Island Biodiversity Project, Ms. Daloos said.
In such capacity, OIC Ragub was instrumental in developing what used to be a nautical highway for illegal loggers in Samar into an ecotourism destination – with extreme boat rides as main attraction.
Ulot River is known now not only for being the province's longest but also for being instrumental in providing residents a source of livelihood other than illegal logging.
A one-hour boat ride along the river billed as the Ulot River Torpedo Extreme Boat Riding continues to thrill tourists and adventurists.
DPWH USec Pacanan inspects infra projects in hometown Motiong
By NINFA B. QUIRANTE, PIA Samar
June 26, 2012
CATBALOGAN CITY – Undersecretary Jaime Pacanan of the Department of Public Works and Highways (DPWH) inspected and graced the opening of the newly rehabilitated Old National Road Motiong, Samar on June 19.
According to Motiong Mayor Francis Langi the first phase of the project is worth P11 M but an additional P9.6 M will be poured in to complete the rehabilitation of the road.
The old road serviced Daang Maharlika in the past, before the construction of the diversion road, such that it suffered the usual wear and tear.
Pacanan in his talk to his hometown folks said that some P17 M is also allotted to a flood control project which Municipal Engineer Dindo Conge called the Baywatch Project.
Old roads in the towns of Hinabangan and Paranas have been completed, Pacanan added, so that he also has to ensure that his hometown Motiong will have the same rehabilitation project for the old road.
On June 19, Motiong folks led by Mayor Langi, DPWH Samar Second Engineering District Officials Ruben de los Reyes, Construction Chief Nestor Mate and other Motiong folks witnessed the ribbon cutting of their 'paisano' USec Pacanan. (with report from DPWH and Engr D Conge)
2 Communist Terrorists capture, recovers firearms
By DPAO, 8ID PA
June 25, 2012
CAMP LUKBAN, Catbalogan City – Elements from Charlie Company, 52nd Infantry Battalion of the 8th Infantry (Stormtroopers) Division led by Cpl Armando M Carcellar together with the Philippine National Police of Daram, Samar led by PSI Jonathan R Momo conducted joint operation to validate the information of the presence of armed group hiding in a safe house at the tri-boundaries of Brgy Cabugao, Brgy Cagbubuto and Brgy Parasan all of Daram, Samar captured two Communist Terrorists (CTs) last June 22, 2012 at around 12:15 in the afternoon.
The two captured rebel were Michael Bolito Manicani, 21 years old, resident of Brgy San Roque, Villareal, Samar, and Eleonor Chavez Palacio, 36 years old from Brgy Ugioa, Jaro, Leyte.
The government troops were also able to recover the following: One (1) Ingram serial Nr 226617; with one (1) mag loaded with twenty-three (23) live ammo; one (1) cal .45 pistol (Llama) serial Nr 710401462300 with four (4) Mags loaded with twenty-eight (28) live ammos; two (2) pcs Hand Grenade; one (1) pc IED; fifteen (15) mtrs firing wire; one (1) blasting cap and valuable subversive documents with high Intelligence value.
On June 23, 2012, the two captured CT's were transported to Bulwagan, Catbalogan City, Samar for filing of case under R.A 8294/ R.A 9516 or Illegal position of FA's, Ammos and explosive.
BGen Gerardo T Layug, Commander of 8ID lauded the efforts of 52IB as well as the PNP for the job well done and for always being alert. The success of the operations showed the close partnership of AFP and the Philippine National Police in ensuring peace and security is maintained in the region.
Coal monsters take over DOE
Greenpeace demands Sec Almendras reverse pro-coal decisions
By GREENPEACE
June 25, 2012
TAGUIG CITY – A group of coal monsters staged a takeover at the Department of Energy in Taguig City, renaming the agency the "Department of Coal Energy," and asking to see their "leader," Energy Secretary Jose Rene "COALmendras."
The "coal monsters" were Greenpeace activists, painted black to resemble coal, in a satirical protest action at the DOE. The environment group visited the government agency early Monday morning for an impromptu audience with the Energy Secretary, to demand he reverse his decisions on the 11 coal-fired power plant projects he approved since being appointed to office in 2010.
"Secretary Almendras' true colors are as black as the coal he shamelessly promotes. At the rate the Department of Energy is pushing coal power in the Philippines, we might as well call it the Department of Coal Energy. Under Mr Almendras' questionable stewardship, the DOE has approved a historically unprecedented number of harmful coal-fired power plants," said Anna Abad, Climate and Energy Campaigner for Greenpeace Southeast Asia.
"Meanwhile, Mr Almendras has also allowed the Renewable Energy Law – designed to promote clean and safe energy alternatives to dirty coal – to languish under his watch. With his coal approvals, which directly contravene the RE Law, he has exposed himself to be an industry lackey working for coal companies rather than for the Filipino people. Greenpeace is therefore demanding that Sec Almendras immediately reverse his misguided coal approvals and vacate the office he has heartlessly betrayed," added Abad.
The environmental group Greenpeace led the action to call for the full implementation of the Renewable Energy (RE) Law. The RE Law was passed in 2008, but after four years, is still in the shelf, with decisions on provisions, such as the Feed-In-Tarrif (FIT) rates, delayed by two years.
But the biggest obstacle to the RE Law is the blatant pro-coal stance of the energy secretary. In his two years in office, Almendras has given the green light to 11 coal-fired power projects [see table below]. During the recent US trip of President Noynoy Aquino, Sec. Almendras also made possible two more coal-fired power projects. Greenpeace maintains that any investment in dirty coal plants means investment and opportunity lost for clean and safe RE systems.
Coal is the dirtiest fossil fuel. From mining through combustion to waste disposal, coal has a dire impact on the environment, human health and the social fabric of communities living near mines, power plants and waste sites. Coal plants are among the major causes of catastrophic climate change. Coal burning also severely damages ecosystems and contaminates water supplies. It emits other greenhouse gases like methane, sulphur dioxide and nitrogen oxide, as well as chemicals like arsenic and mercury which can disrupt human mental and physical development.
Clean and long-lasting solutions to the country's energy challenges are already available, just waiting to be tapped. The DOE itself acknowledges the Philippines' vast potential for renewable power sources, such as solar and wind. Greenpeace maintains that the role of the DOE is to catalyze and develop investments in RE, in order to provide a safe, secure and independent energy future for the country.
"Secretary Almendras seems to have forgotten that he now works for the Filipino people, and not for dirty coal. His legacy of coal pollution and climate change jars with the vision of transparency and accountability carried by President Aquino. There is no place in government for industry stooges such as himself. Almendras must exit and the President must instead appoint a leader who will fulfill the vision of the RE Law and chart a sustainable energy pathway for the Filipino people," Abad said.
Green Lighted Coal Plants
Generating Facility
Classification
MW
Location
1. TRANS ASIA
Coal-Fired
new
135
Calaca, Batangas
2. SMI Power Corp. (Sagittarius Mines Inc.)
Coal-Fired
new
500
Davao Del Sur
3. Masinloc Power Partners Co. Ltd
Coal-Fired
expansion
600
Masinloc, Zambales
4. San Ramon Power Inc.
Coal-Fired
new
100
San Ramon, Zamboanga City
5. GNPower Mariveles Coal Plant Ltd. Co.
Coal-Fired
new
600
Mariveles, Bataan
6. Alsons Consolidated Resources (ACR) (Alcantara)
Coal-Fired
new
200
Sarangani
7. Conal Holdings Inc. (Alcantara)
Coal-Fired
new
100
Zamboanga
8. San Miguel Corp
Coal-Fired
new
300
General Santos
9. Steag, Aboitiz Power & la Filipina Uy Gongco Corp
Coal-Fired
expansion
150
Villanueva, Misamis Oriental
10. Palm Concepcion Power Corp. a subsidiary of A. Brown Co. Inc.
Coal-Fired
new
200
Panay Island
11. RP Energy
Coal-Fired
new
600
Subic
1. Secured investment of $1 billion with GNPower for two 300 MW coal-fired plant in Mariveles, Bataan
Coal-Fired
new
600
Mariveles, Bataan
Gov't intensifying anti-trafficking ops, rescues 106 victims - VP Binay
By OVP Media
June 24, 2012
MANILA – Intensifying its anti-trafficking operations, some 106 persons were rescued from being smuggled overseas by members of the Inter-Agency Council Against Trafficking (IACAT) in three separate sting operations this month, Vice President Jejomar C. Binay said in Dubai.
Binay, Chairman Emeritus of the IACAT, said 85 of the would-be trafficking victims were rescued on June 4 by members of the Zamboanga Sea-Based Anti-Trafficking Task Force (ZSBATTF) on board the ML Kadrina at the boundary of Zamboanga and Pilas Islands.
"This is one of the biggest hauls we had this year. We intercepted 150 persons who were on board. But only 65 were officially declared on the ship's manifest," Binay said.
"What is worse was that the lives of the legitimate passengers were also put at risk because the boat was overloaded," he lamented.
He added that the ZSBATTF started monitoring the boat in June 4 after receiving information that it will transport 40 would-be victims to Malaysia via Taganak.
On the other hand, 10 persons were intercepted at the Ninoy Aquino International Airport (NAIA) Terminal III on June 12 after a commotion they caused caught the attention IACAT agents assigned at the airport.
"Upon investigation, we learned that the passengers wanted to lodge a complaint against their recruiter who processed their travel documents and promised them work in the United States," the Vice President said.
"We were also able to arrest the recruiter who was with the 10 when they were intercepted by IACAT operatives," he added.
Meanwhile, a minor allegedly being forced to work as a stripper at bar in Manila was rescued during the IACAT's latest operation on June 19.
"It was learned that the victim, along with another girl, was recruited in Davao City by a gay person who promised them jobs in Metro Manila," said Binay.
"However, upon arriving in Manila, they learned the true nature of their job, that of a stripper and a Guest Relations Officer (GRO)," he added.
Furthermore, a Malaysian national was apprehended at the Diosdado Macapagal International Airport (DMIA) on June 7 who was waiting for his flight along with his fiancée, whom the council believed to be a trafficking victim.
The Vice President said that while the suspect and the victim was being brought NAIA Terminal I for investigation, IACAT operatives were able to convince the victim to file a case against the Malaysian.
The suspect will be charged with violation of RA 9208 or the Anti-Trafficking Act of 2003.
The United States Department of State earlier released this year's Global Trafficking in Persons (GTIP) Report which put the Philippines in Tier 2 status, the same tier it got in last year's GTIP report.
Countries belonging to this tier do not meet the minimum requirements prescribed in the U.S. Trafficking Victims Protections Act, but are doing significant efforts to do so.
"We are taking the recommendations of the report seriously and are now looking into how we can further intensify our anti-trafficking operations and increase our conviction rate," Binay said.
The Vice President said that he will convene the IACAT to determine how to address the recommendations of the U.S. State Department when he gets back from his trip to Rome next month.
He is scheduled to have a private audience with the Pope at the Vatican when he goes to Rome.
The Vice President is in Jeddah as President Benigno Aquino III's representative to convey the Philippines' condolences to the King of Saudi Araubi on the death of the Crown Prince last week.
Baguio Gay Pride parade scores Aquino gov't for inaction on HR violations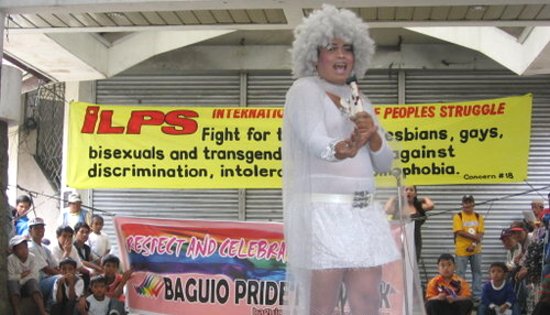 By PROGAY Philippines
June 24, 2012
BAGUIO CITY – The Baguio Pride Network (BPN) led a hundred human rights activists from Cordillera and Manila with calls to end hate and violence against lesbian, gay, bisexual and transgender (LGBT) Filipinos.
The paraders carried aloft a giant rainbow flag and an enlarged version of a dreamcatcher festooned in rainbow feathers, symbolizing the diversity and dreams of the Cordillera LGBT communities.
BPN spokesperson Caro Galvez, also coordinator of the Bayan Muna Cordillera Region, scored the Aquino administration for gross neglect of the rights and welfare of the sector and branded the president of the Philippines as an Unfriend of the LGBT Filipinos.
"The Baguio Pride Network decries the growing trend of violence, and even murders of LGBTs in Baguio, and Aquino is paying no heed to our reports of human rights violations and demand for human rights protections," Galvez said.
Galvez also said that the Lesbians for National Democracy (Lesbond) and ProGay, both BPN convenors, sent to the United Nations Human Rights Council in Geneva last month a four-page report in time for the called the Universal Period Review by the agency of compliance to human rights standards of the Aquino government.
However, the state delegation led by Justice Secretary Leila Delima ignored their concerns, including a last-minute plea from the representative from Argentina for the Philippines to pass the anti-discrimination bill filed in Congress by Rep. Teddy Casiño.
Clyde Pumihic, secretary general of ProGay Metro Baguio, said that the bill's passage and police action against anti-gay hate crimes are urgently needed to address the spate of bias-motivated violations in the region, the latest victim of which was Baguio resident Berta. The parade climaxed with a ceremony where mourners lighted candles painted with the colors of the gay rainbow flag in memory of Berta.
ProGay Metro Baguio also condemned this morning's harassment raid on the gay sauna Fahrenheit by the members of the Quezon City Police Department, saying that the government chose to attack another gay establishment on Pride Week.
The Pride day ended with a dance party at the Kwago Bar where Baguio's talented gay and lesbian singers and comedians outdid one another in colorful production numbers.
Two more birthing centers opened in Leyte
By Provincial Media Relations Center
June 22, 2012
TACLOBAN CITY – Two new Mother Bles Birthing Clinic were opened in Brgy. Patoc in Dagami and Brgy. Manlilisid in Javier, both far-flung villages in Leyte town.
These newly opened Mother Bles Birthing Clinic, a working public-private partnership (PPP) approach to maternal and child health care in the region, is the 32nd birthing clinic opened by the non profit, non-political social welfare organization Kakak Foundation in the province of Leyte.
"It is common that a health program perishes after the term of the politician who started it. That's why the sustainability of health programs and services beyond the term of any politician was the top concern we have when we organized the Mother Bles Birthing Clinics (MBBC)," said Leyte Governor Carlos Jericho Petilla.
Mother Bles Birthing Clinics also support the province's plan to fill the province with birthing centers thereby reducing maternal and infant mortality, which according to the governor, Leyte ranks high in the list of this incidence.
Gov. Petilla said these new birthing clinics will provide safe delivery for pregnant mothers not only in the barangays where it opened but also its nearby barangays.
For Dagami, the nearest hospital is in Burauen, Leyte while for Javier, the nearest hospital is in Abuyog, Leyte.
Meanwhile, the governor added, pushing for more birthing centers does not go hand in hand in promoting women to get pregnant and proper child birth spacing, thus he said, the thrust would be coupled with appropriate family planning and education especially in far-flung barangays.
Apart from partnering with private groups, Gov. Petilla and the provincial government is also among those chosen province for the Japan International Cooperation Agency (JICA) project that would strengthen maternal and child health services, together with the DOH.