New LP members sworn in from Leyte's fourth district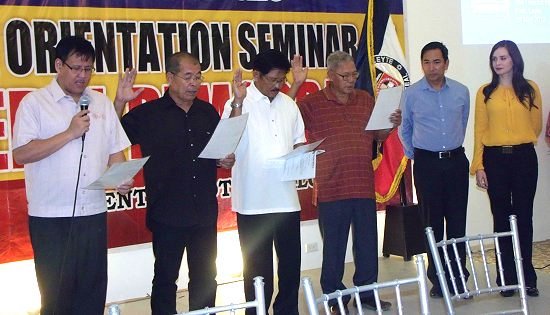 By Provincial Media Relations Center
May 31, 2012
TACLOBAN CITY – New members of the Liberal Party (LP) from Leyte's fourth District participated in a mass oath-taking Tuesday administered by Department of Interior and Local Government Secretary Jesse Robredo at Oriental Hotel in Palo, Leyte.
Mayor Saturnino Medina Jr. of Isabel, Mayor Michael Torrevillas of Matag-ob and Vice-Mayor Sixto dela Victoria of Albuera led the rooster of new members from Leyte and were joined by their respective vice-mayors and Sangguniang Bayan members. Palompon Mayor Ramon Onate who was not present during the oathtaking would also be joining the party.
In his message, Sec. Robredo rallied the newly sworn in members to actively join President Benigno "Noynoy" Aquino in advocating a corrupt-free government and that by joining the administrative party, the new members are offering their whole commitment as well in making the party's idealisms realized.
The interior secretary admitted in his speech that party is widening up its membership not only for 2013 but more importantly for 2016.
It was learned that the Liberal Party has continuously conducted 'Basic Orientation Seminar on Liberal Democracy' for new members and the mass oath-taking is part of the party's goal to rebuild the LP and make it the most dominant political party in the country.
New members are required to attend a basic orientation on the party ideology before they could become full members as new Liberals.
Leyte Gov. Carlos Jericho Petilla and Leyte Fourth District Rep. Lucy Torres-Gomez made way for the oathtaking of the new LP members.
Gov. Petilla urged new members to believe in and support the cause of the party. The party's battlecry is "Sa daang matuwid, asenso'y walang patid".
The governor also added that the continuation of the reform agenda is also one of the important reason why the LP is strengthening itself from the ground up.
Earlier, mayors, vice mayors and councilors also took oath as new members of the party widening and strengthening in the province of Leyte.
More NPA camps discovered in Samar and Leyte
By DPAO, 8ID PA
May 31, 2012
CAMP LUKBAN, Catbalogan City – Four (4) more NPA camps were discovered by the 8th Infantry (Stormtroopers) Division (8ID), Philippine Army (PA) troops in different locations in Samar and Leyte.
In an earlier report, the Army stated that from January to date five (5) NPA camps were seized after an encounter, while more or less 40 abandoned NPA camps were discovered in Samar and Leyte Island, which indicates that the rebels are always on the run to avoid pursuing government troops.
On May 19, 2012 composite troops coming from 81st Division Reconnaissance Company and Cafgu Active Auxiliary from Bravo Company, 52nd IB led by 1Lt Michael N Madayag recovered another rebel encampment at vicinity Brgy Gecboan, Silvino Lobos, Northern Samar which can accommodate 70 people. On May 22, 2012, elements of Charlie Company, 78th Infantry Battalion, 8ID, PA under 2Lt Mojahiden C Guimadel also discovered an abandoned rebel encampment at vicinity Jaro-Ormoc boundary which can contain 20 rebels. In addition, the latest recovered camp by the government troops happened on May 21, 2012 by the elements of Bravo Company, 19th Infantry Battalion under 2Lt Frederick Julius Mariano Dela Cruz at vicinity Sitio Kanbalantaw, Brgy Canhandugan, Jaro, Leyte which can accommodate 30 NPAs. Further, on May 29, 2012 elements of 87th IB under 2Lt Verniel D Semblante recovered enemy encampment at vicinity Brgy Caulayan, Motiong, Samar which can contain around 20 terrorist NPA members.
The camps are being utilized by the NPA as staging areas for their terroristic acts such as land mine production which is a clear violation on Comprehensive Agreement on Respect to Human Rights and International Humanitarian Law.
In his statement, BGen Gerardo T Layug, Commander, 8ID, PA said that the Army will continuously conduct focused military operations in the identified lairs of the NPA in order to establish a peaceful environment and allow development to come-in, especially in the remote areas. "As our military operations continue, I instructed my men to strictly follow the Rule of Law and put the safety our people as the primary consideration," Layug said. Layug also reiterated his call for the NPA members to lay down their arms and join the government in finding a peaceful solution to the insurgency problem in the region.
Filipino activists hold picket at UN over rights abuses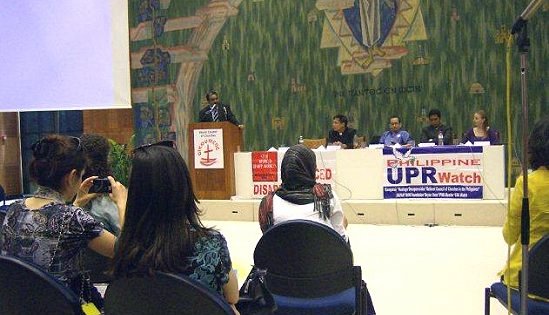 Hullabaloo about chief justice conviction diverts attention from outstanding rights impunity
By Philippine UPR Watch
May 31, 2012
GENEVA – Filipino activists, Geneva-based migrants, and representatives from international NGOs conducted a picket-protest in front of the United Nations headquarters in Geneva, Switzerland to express their criticism of the Philippine government report immediately after the Universal Periodic Review on the Philippines at the UN Human Rights Council last Tuesday, tagging the report as 'selective,' with the PH government drowning their dismal compliance to international human rights instruments with their so-called achievements."
The Philippine UPR Watch delegation in Geneva said "the GPH report failed to mention that state authorities have yet to arrest several notorious human rights violators such as Maj. General Jovito Palparan, while there is much gloating on the enactment of few local legislation and ratifications of some international instruments."
"Palparan's continued evasion of arrest and mockery of justice exemplifies the prevalent climate of impunity. This is probably the reason why the GPH failed to mention this important fact -- to gloss over the non-existence of justice for victims of human rights violations in the country and the continuing spate of rights abuses," stated Cristina Palabay, spokesperson of Karapatan and member of the Philippine UPR watch delegation in Geneva.
Present during the picket were Fiipino-American activist and torture and disappearance survivor Melissa Roxas and Aklan municipal councilor Ernan Baldomero, son of slain councilor Fernando Baldomero, the first victim of extrajudicial killing under the Aquino administration.
Leaders from Karapatan, NCCP, Tanggol Bayi, NUPL, Bayan, KAMP, MCPA-Kawagib, Children's Rehabilitation Center, Defend Job Philippines, Cordillera People's Alliance, Promotion of Church People's Response, IFI-Ramento Project for Rights Defenders, Migrante International, Peace for Life, International Coordinating Committee on Human Rights in the Philippines (ICCHRP) and Campaign for Human Rights in the Philippines-United Kingdom and CHRP-Switzerland also attended the picket in full view of diplomats, pedestrians and tourists.
In a post-UPR forum at the World Council of Churches today, Atty. Edre Olalia, Secretary General of the National Union of People's Lawyers and member of the Philippine UPR watch delegation, said that "it is totally unacceptable that with all the powers, resources and machinery of the government, Gen. Palparan, remains out there. If President Aquino has thrown all his weight, power and supposed popularity to make dead sure that Chief Justice Corona is convicted at all costs, why can't he do the same thing to bring behind bars the poster boy of the most horrendous kinds of human rights violations?"
Olalia pointed out that "more than the rightful conviction of the Chief Justice for valid charges, the immediate arrest, speedy prosecution and certain punishment of remorseless and incorrigible human rights violators would inspire greater interest and create lasting impact to the international community more than the hullabaloo and inordinate fixation on the impeachment trial."
The Philippine UPR Watch delegation noted that the "breaking-news" glowing announcement by the Philippine government that the Chief Justice was convicted ostensibly for corruption was met with muted disinterest and lethargic reaction at the UN Human Rights Council floor.
VP Binay: 3 OFWs spared from death penalty in Sabah
By OVP Media
May 30, 2012
KUALA LUMPUR – Vice President Jejomar C. Binay has announced that three Overseas Filipino Workers (OFW) have been spared the death penalty in Sabah after receiving pardons from the Malaysian government.
The Philippine embassy in Malaysia identified the three as Basir Omar, Jaliman Salleh and Aldipal Hadani.
In his talk with Malaysian Foreign Minister Dato' Sri Anifah Aman on Tuesday, Binay, Presidential Adviser on OFW concerns, thanked the Malaysian government for granting the pardons.
"We sincerely appreciate the grant of pardon and see it as further validation of the strong ties between the Philippines and Malaysia," he said.
In January this year, Philippine Ambassador to Malaysia J. Eduardo Malaya called on Sabah Governor and Pardons Board Chairman Tun Datuk Seri Panglima, and requested for his intervention to commute the death sentences of six Filipinos, including the three.
The Pardons Board handed down on May 22 a decision commuting the death sentence of Omar to 13 years and 7 months. The new sentence will commence its counting from the date of pardon.
Meanwhile, the death sentences for Salleh and Hadani were reduced to 15 years imprisonment in a decision rendered on May 14 in Kota Kinabalu.
The two were arrested on July 8, 2008 in Kota Kinabalu when police found 867.1 grams of cannabis in their bags, and were sentenced to death by the Sabah High Court on June 25, 2010.
The Vice President cautioned Filipinos in Malaysia not to be lured by criminal syndicates into becoming drug mules or to engage in the illegal drug trade.
Ochoa to CESOs: Help gov't stamp out corruption
Press Release
May 30, 2012
MALACAŃANG – Saying that the Aquino administration is serious in weeding out grafters and corrupt officials from government, Executive Secretary Paquito N. Ochoa Jr. on Wednesday asked civil servants to shun this practice that has plagued the bureaucracy and help rebuild the moral foundation in public service.
At the 2011 Gawad CES Awards and the mass oath-taking of newly appointed and promoted career executive service officers (CESOs) in Malacanang, Ochoa said public servants could become agents of change and contribute in putting an end to irregularities in government.
"Don't allow yourselves to become participants in any of the wrongdoings you see in government. It would be a big help in our campaign against graft and corruption," Ochoa said.
Ochoa explained that the events at the recently-concluded impeachment trial that led to the conviction of Chief Justice Renato Corona for betrayal of public trust and culpable violation of the Constitution should open the eyes of the public and civil servants that the reforms being undertaken by the administration were beyond personalities.
"From the start, we are very much aware of the problems that we're confronting. Graft and corruption is on top of the list and this our best chance, under this administration, to really institute reforms needed to fight graft and corruption," the Executive secretary said.
Ochoa said he was optimistic that the administration would be able to lay down a strong moral foundation in public service and would be able to curb graft and corruption by the end of President Benigno S. Aquino III's term in 2016.
"This administration is serious and committed in its campaign to fight graft and corruption," Ochoa said. "And I think, if we believe in that, we cannot go wrong and together we can push forward and move on."
VP Binay: Malaysia supports PHL call for UNCLOS-based resolution to Panatag Shoal issue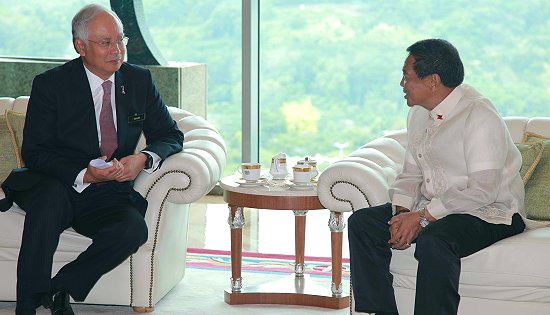 Vice President Jejomar C. Binay on Tuesday called on Malaysian Prime Minister Dato Sri Najib Tun Razak at the Prime Minister's office in Putrajaya. The meeting is the first high level, bilateral discussion between the two countries in five years.
By OVP Media
May 29, 2012
PUTRAJAYA – Malaysia is supporting the Philippines' position that a resolution of the Panatag Shoal dispute with China should be based on the United Nations Convention on Law of the Sea (UNCLOS), Vice President Jejomar C. Binay said today.
In a meeting at the Prime Minister's office, Binay said Malaysian Prime Minister Dato Sri Najib Tun Razak also favors the participation of member-countries of the Association of Southeast Asian Nations (ASEAN) who are also claimants to the Spratlys in talks to resolve the Panatag dispute.
The Spratlys, located in the West Philippine Sea or South China Sea, is being claimed by four ASEAN countries, along with China and Taiwan.
"I conveyed to the Prime Minister our government's position on the dispute with China over Panatag Shoal and he supports our position that it should be resolved based on international law," Binay said.
"Both the Philippines and Malaysia agree that there needs to be a legal commitment to enter into a peaceful resolution of the dispute," he added.
The Vice President's meeting with the Malaysian Prime Minister is the first high level, bilateral discussion in five years between the two countries.
Earlier, Binay served as keynote speaker at the Philippines-Malaysia Investment Partnership Forum where he expressed confidence that the two countries "will continue to work together until the issues are satisfactorily resolved in favor of peace and economic cooperation."
Joining him were 35 business leaders belonging to the Philippine Chamber of Commerce and Industry, and the Employers' Confederation of the Philippines.
Binay expressed optimism that the forum will bring in more investments in key industries of the Philippines and boost interest in Mindanao as an investment destination.