Local residents flock to PP12 activities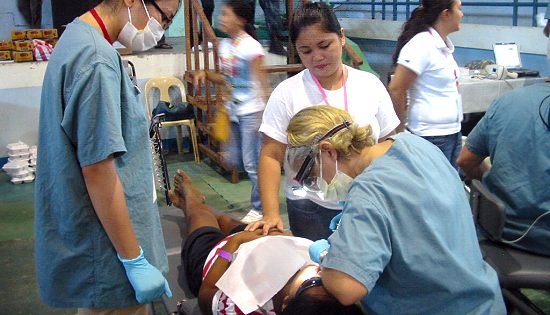 By PP12 Media Affairs
June 22, 2012
CALBAYOG CITY – Everyday, since the formal launching of the Pacific Partnership 2012 (PP12) Humanitarian Mission and Disaster Readiness Enhancement at the Socio-Cultural Center of the Northwest Samar State University (NWSSU) in Calbayog City on June 19, 2012, local folks have been flocking various sites of Medical Missions and other PP12 activities.
PP12 activities include medical and dental missions, veterinary missions, construction projects, band shows, disaster preparedness symposium, and various subject matter expert exchanges on health care and other disaster related topics.
The US Ambassador to the Philippines, Ambassador Harry K Thomas, attended the formal launching of PP12 to show the US' appreciation and gratitude to the Philippines for hosting the PP12 in Samar Island. The PP12 is the largest Humanitarian Mission in the region aimed to facilitate the delivery of basic services and enhance the capacity of partner nations to have a synchronized and well-coordinated response when actual disaster strikes.
The 984-foot USNS Mercy Hospital Ship, anchored off the shores of Calbayog City, will only serve as a platform for surgery operations. Meaning, no surgical operations will be performed outside the US Naval Hospital Ship. All patients recommended to undergo surgery will be ferried over from the Calbayog City Pier to the ship and will stay on board the ship until full recuperation from surgery.
LtGen Jessie D Dellosa, Chief of Staff of the Armed Forces of the Philippines (AFP), and General Shigeru Iwasaki, Chief of Staff of the Japanese Self Defense Forces (JASDF) made their official visits to Calbayog City in connection with the on-going Pacific Partnership 2012 humanitarian missions on June 21 2012. The visit of the Japanese leader is considered another milestone in AFP–JSDF relations that has been strengthened through the years.
General Dellosa and General Iwasaki met at Calbayog Pier as they were scheduled to have their tour of the Japanese landing ship tank Oosumi and the USNS Mercy. Local residents can avail of scheduled ship tours at the USNS Mercy through AFP-USN Public Affairs officers in charge of this activity.
This year's mission will surely strengthen the partnership of allied countries, various NGOs and cause oriented organizations, and will significantly enhance the capability of the local government units to respond to disaster, especially in a multi-national and multi-organizational environment.
San Jose, Northern Samar 10th wanted person arrested
By RPCRD, Police Regional Office 8
June 22, 2012
CAMP RUPERTO KANGLEON, Palo, Leyte – San Jose, Northern Samar Police Station arrested its tenth (10th) Most Wanted Person in the municipal level.
On June 20, 2012 at approximately 4:30 PM at Barangay West, San Jose, Northern Samar, elements of San Jose Police Station led by PO3 Manuel B Radeo arrested one Alfredo Garabel Horcasitas alias "Pukot", 42 years old, married, a Barangay Tanod from Barangay Gengarog of said municipality.
Horcasitas was arrested by virtue of Warrant of Arrest for the crime of Frustrated Murder issued by Honorable Judge Alma Consuelo B. Esidera of RTC Branch 20, Catarman, Northern Samar with recommended bail of P200,000. Subject person is temporarily detained at San Jose PS lock-up cell.
The same day, a certain Emmyleen Batawan Bacsal, 37 years old, married, self-employed from Barangay Polangi, Calbiga, Samar voluntarily surrendered herself to Calbiga Police Station.
Bacsal is charged for the crime of Falsification of Public Documents docketed under Criminal Case number 3322 issued by Honorable Cicero T. Lampasa, Presiding Judge of MCTC Calbiga, Samar with recommended bail of P12,000. Subject person was booked and subsequently released after posting the corresponding bailbond.
At about 1:00 AM of same date, a 20 year old laborer charged for the crime of Attempted Homicide was arrested by Merida Police Station led by PSI Florando Sevilla Relente.
Arrested person was identified as one Renato Villarin Gervas of Sitio Ipil 1, Barangay Puerto Bello, Merida, Leyte.
Gervas' arrest was effected by virtue of an Alias Warrant of Arrest issued by Honorable Joshua R. Palalay, Presiding Judge of MTCC Ormoc City with a recommended bail of P100,000.
TUCP alarmed over moves to make breastfeeding as non-compensable in workplace
By TUCP
June 22, 2012
QUEZON CITY – Trade Union Congress of the Philippines (TUCP) President Democrito "Kito" Mendoza expressed alarm over moves by foreign milk companies to unify breastfeeding laws which will make breastfeeding of babies during work hours as non-compensable.
"We are going to vehemently oppose such amendments. If this is allowed by our legislators, it is like tolerating sexual harassment in workplaces. We are going to fight this out, tooth and nail," Mendoza said.
Earlier, the Trade Union Congress Party Party-List (TUCP) said there were movements to amend Republic Act No. 10028, better known as the Expanded Breastfeeding Promotion Act of 2009. A substitute House Bill, consolidating House bills 3535, 3527 and 3396 proposes making non-compensable the time that a working mother uses in the workplace to express her milk.
"It is anti-worker and anti-women to leave unpaid lactation hours at the workplace for working mothers. It is anti-worker because it prejudices lactating workers who have the right to equal pay for equal work and it is anti-women because it discriminates against lactating women who have the right to work while providing the best nutrition for their infant children. It is reactionary and unfair because we have a progressive law already in place that is being looked up by the International Labor Organization (ILO), the United Nations Children's Fund (UNICEF) and the World Health Organization (WHO) as a model for other countries to emulate. We are moving the clock back to favor the multinational milk companies," said TUCP Partylist Representative Raymond Mendoza.
"Under the current Milk Code, lactating women in the workplace are compensated for lactation breaks for not less than 40 minutes for every eight-hour work period. I see no reason why lactation breaks should be made non-compensable," Rep. Mendoza added.
Rep. Mendoza expressed concern that there is a renewed lobby by milk and pharmaceutical companies to undermine the position that "Breastmilk is still the best food for babies". He expressed doubt as to the true intent behind the consolidated house bills. He pointed out that the pending bills do not appear favorable to the advocacy to promote "breastfeeding" and it would only provide greater avenues for breastmilk substitute manufacturers to push their products for purely commercial gains.
"We know that breastmilk is rich in antibodies. The medical literature supports the findings that breast-fed babies are less prone to infectious diseases," said Mendoza. "It is clear that reverting to breastmilk substitutes is counterproductive to our desire to keep our babies healthy," he added.
The pending bills, if passed by Congress, will not compensate a working mother during lactation periods. Further, it will allow breastmilk substitute manufacturers and marketers to make scientific claims of adequate nutritional value that undermines the confidence of the mother in breastfeeding, and inculcates in the minds of the public that it is acceptable to feed the child beyond 6 months of age with breastmilk substitutes.
Rep. Mendoza stressed that sound legislation like the current Milk Code should be left untouched unless found to be deleterious to public welfare. "As the dictum goes, if it ain't broke, why change it?" Mendoza explained. Also, he proposes that the consolidated bill, if passed, should have the following express provisions: paid lactation hours for women workers and the desirability of and preference to breastfeeding for children until three years of age. He also calls for deletion from the consolidated bill of the proposed provision on scientific or nutritional claims on breastmilk substitutes that manufacturers will disseminate through advertisements through media and on infant milk labels and containers, marketing campaigns and donations during calamities to mothers with infant children.
The proposed consolidated House bill misleads the public, creates health problems for newborn babies, adds to the expenses of the household and definitely advances the interests of milk manufacturers without regard to infant and child health," added TUCP Representative Mendoza. TUCP firmly believes in the statement that "Breastmilk is still the best for babies" and vows to protect the current Milk Code for the welfare of the helpless infants who depend naturally on mother's milk.
"Recently, the Department of Health (DOH) memorandum that prohibits multinational milk manufacturers from using registered trademarks which undermine breastfeeding was upheld by the Department of Justice (DOJ) for the protection of public welfare. The favorable decision of the DOJ attests to the unwavering dedication of the government in promoting breastfeeding among infants and young children. This is a timely reminder to the proponents of the consolidated Bill that they should not vaccillate, neither deviate from the advocacy of the Philippine government as a whole regarding breastfeeding," the TUCP Representative concluded.
Ormocanons spend time in an Army exhibit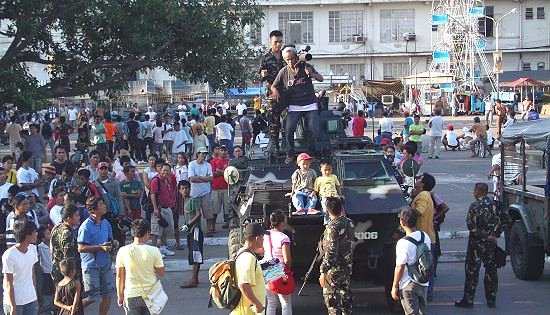 By 19th Infantry Battalion, 8ID PA
June 21, 2012
ORMOC CITY – Some 1,500 Ormocanons intermingled with the soldiers of the Army's 19th Infantry (Commando) Battalion and 802nd Infantry (Peerless) Brigade during the Army Static Display held at the City Plaza on June 20, 2012.
An exhibit of various Army armaments and equipment highlighted the whole day activity giving Ormocanons chance to talk about the life of the soldiers and touch some of the military equipment – from the 105 millimeter Howitzer, a type of cannon used by the Army Artillery to the Simba, an armored vehicle.
Static display also includes demonstration on the duties and responsibilities of the Army Infantry Squad, a nine man team considered as one of the smallest unit of the military organization.
In an interview made by John Kevin Pilapil of Power 90.3 FM, Lt. Col. Joel Alejandro Nacnac, the commanding officer of the Army's 19th Infantry Battalion remarked that the activity was conducted to enhance the relationship of the Ormocanons and the soldiers.
Lt. Col. Nacnac also said that the activity was part of the Army's commitment and involvement to the city's 382nd Founding Anniversary.
The static display held in Ormoc was the third major activity participated in by the 19th Infantry Battalion and 802nd Infantry Brigade since the start of City Government's month-long celebration of 382nd Founding Anniversary.
It can be recalled also that the soldiers joined the City's fun run on June 10 and Independence Day Parade on June 12.
PRO 8 supports Pacific Partnership 2012 mission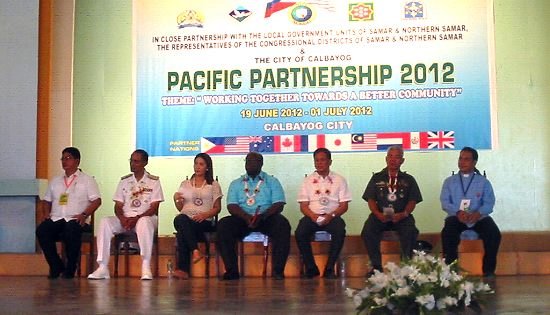 PP12 opening ceremony held in Calbayog City on June 19, 2012. From L-R, Calbayog City mayor Ronald Aquino, US Pacific Fleet commander Admiral Cecil Hayne, Samar governor Sharee Ann Tan, US Ambassador to the Philippines Harry Thomas Jr., Samar 1st district congressman Mel Senen Sarmiento, AFP Central Command chief LtGen Ralph Villanueva, and Msgr. Jun Cinco of the Diocese of Calbayog.
By RPCRD, Police Regional Office 8
June 21, 2012
CAMP RUPERTO KANGLEON, Palo, Leyte – PNP PRO 8 supports Pacific Partnership 2012 Medical Mission Program.
On June 19, 2012, Samar Police Provincial Office (SPPO) led by PSSupt Eusebio Adamero Mejos, SPPO Provincial Director together with PCI Marben Elmer M Ordonia and Samar Provincial Public Safety Company led by PSupt Elmer Beringuel Cinco and SPPSC Swat escort led by PI Zaldy Abujeco Cagampang provided escort/convoy to US Ambassador to the Philippines Harry K Thomas Jr. and USN Admiral Cecil D. Haney and party from Calbayog City Airport to NWSSU for the opening of Pacific Partnership 2012 Medical Mission Program.
Thereafter, said party proceeded to Calbayog Sports Center for visitation wherein patient screening was conducted. And at about 3:25PM, Admiral Haney left Calbayog on board on an airplane UC-12F163556; while US Ambassador Thomas together with DSWD Secretary Corazon Juliano Soliman with the police escorts proceeded to Barangay Inoragyao and Napuro of Sta. Margarita, Samar to visit the KALAHI-CIDSS and MCA-P school building projects.
It was learned that on June 18, 2012, the Military Sealift Command's hospital ship USNS Mercy (T-AH 19) arrived in the Philippines to begin the second host nation visit of the Pacific Partnership 2012 (PP12) Medical Mission.
Now in its seventh (7) year, Pacific Partnership is the largest annual Humanitarian and Civic Action (HCA) mission in the Asia Pacific and is designed to strengthen regional partnerships and enhance a collective ability to respond to natural disasters and crisis.
This year's Pacific Partnership participants represent a multinational, multi-organizational team that includes joint military and civilians from Australia, Canada, Great Britain, Japan, Malaysia, Peru, the Netherlands, the United States and some Non-Governmental Organizations (NGOs) including Global Grins, Latter Day Saints Charities, Project handclasp, project Hope, University of Hawaii Schools of Nursing and Engineering, University of California San Diego Pre-Dental Society and World.
At the invitation of the Republic of the Philippines and in partnership with the Armed Forces of the Philippines (AFP), these participants will employ their collaborative HCA capabilities to provide medical, dental, veterinary, public health services, civic engineering and disaster response activities to help the local communities of Northern AND Western Samar including San Isidro, Calbayog and Catbalogan.
This is the third (3rd) return visit for USNS Mercy to the shores of Samar marking the 25th anniversary of Mercy's maiden voyage and first visit to Calbayog in May of 1987.
Midwives can help reduce maternal deaths, says Lady Solon
By Office of Hon. Janette L. Garin
June 21, 2012
QUEZON CITY – Rep. Janette L. Garin of the 1st District of Iloilo calls on the immediate passage of House Bill 2831 titled, "An Act Expanding the Scope of the Practice of Midwifery, Amending for the Purpose RA 7392, otherwise known as the Philippine Midwifery Act of 1992" to help address the alarming increase of maternal deaths as recently reported by the Department of Health (DOH).
The bill which aims to strengthen and expand the scope of the practice of midwifery in the Philippines will eventually help in the reduction of maternal and perinatal morbidity and mortality.
There are present limitations on duties and functions of midwives to fully address the leading causes of maternal and newborn deaths, explains Rep. Garin, author of HB 2831 who is also a medical practitioner. She said that the solution to these limitations is a law that will support and empower midwives to save the lives of mothers and newborns, who are entitled to their rights to life, and the highest attainable standard to health.
"Once enacted into law, midwives can better respond to emergency situations through administration of life-saving drugs, especially in hard-to-reach areas whose lives of mothers and newborns are at stake in the absence of doctors or referral facilities," said Rep. Garin.
However, Rep. Garin also stressed the need to pass the highly-clamored Reproductive Health (RH) bill that will ensure comprehensive RH and Family Planning (FP) education and services, needed by women, especially poor and marginalized women, who wants to plan their families and space their children. "RH and FP education and services are basic components needed to help address the increasing maternal deaths," she emphasized.
"Further, the approval of both the RH bill and the Amendment of Midwifery Act of 1992 will help attain the targets of the United Nations Millennium Development Goals (MDGs), to which the Philippines is a signatory, which aims to accelerate improvements to reduce under-five children and maternal deaths all over the world by 2015," Rep. Garin ended.
VP Binay asks PNoy to issue new national artist plaque for FPJ, calls for nomination of Dolphy as national artist
By OVP Media
June 21, 2012
MANILA – Vice President Jejomar C. Binay has asked President Benigno Simeon Aquino III to issue a new National Artist Plaque to Fernando Poe, Jr. to "correct a dishonor" to the late actor.
At the same time, the Vice President supported calls for actor Rodolpho Quizon, Sr., more popularly known as Dolphy, to be nominated as National Artist, asking concerned groups to act on the nomination immediately.
"Dolphy is an integral part of Philippine entertainment. He was instrumental in the transition of entertainment from the zarzuela through to the silver screen, and as such deserves to be conferred the highest accolade that our nation can give to artists of his caliber," he said.
In a letter sent to the President before his departure for Jeddah, Saudi Arabia, Binay said a new National Artist Plaque signed by President Aquino would "be a fitting gesture to the family of a man who embodied the hopes and aspirations of the masses, from a President who is determined to make those hopes and aspirations come true."
The Arroyo administration conferred in May 2006 a posthumous National Artist award on FPJ, who ran for president against Mrs. Arroyo in the fraud-marred 2004 presidential elections. But the Poe family declined to attend the ceremony, saying Mrs. Arroyo's action was intended to mollify FPJ supporters who believed he was cheated by the former president.
FPJ's family also maintained that the move bypassed the selection process and "undermined the true spirit of the National Artist as a symbol of Filipino excellence in the arts."
"On the other hand, the family sent a representative in a separate ceremony at the Cultural Center of the Philippines in recognition of the acclamation given by FPJ's fellow artists. The Poe family believes in the legitimacy of the votes given by FPJ's fellow artists, among them National Artist for Cinema Eddie Romero," he said.
"While the final choice for National Artist rests upon the President, the selection process follows stringent rules that involve the National Commission for Culture and the Arts (NCCA), the circle of living National Artists, and the artist community itself, to ensure that only deserving artists are conferred the honor. A National Artist represents a Filipino ideal. Therefore, just like the installation of a public official, the selection of a National Artist should be beyond reproach," the Vice President said.
Binay added that there was no doubt that the actor deserves to be a National Artist, and expressed confidence that the President will rectify the dishonor committed to the actor's memory. The Vice President served as FPJ's campaign manager from March to May 2004.