Hospital Ship USNS Mercy visit Samar, Philippines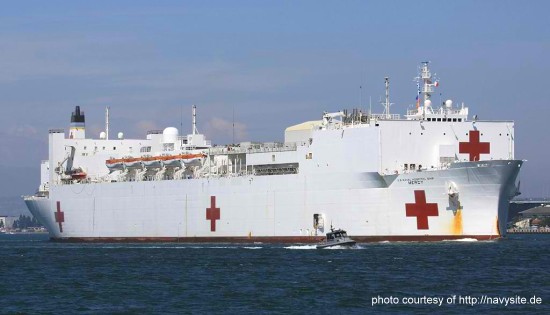 By RICKY BAUTISTA
June 18, 2012
CATBALOGAN CITY – The San Diego-based Navy hospital ship USNS Mercy is now in Samar Philippines as part of their four-month humanitarian mission to four Asian nations.
Accordingly, the vessel would complete to visit Cambodia, Indonesia, the Philippines and Vietnam in the seventh year of a program called Pacific Partnership, according to the Navy.
Today, while parked at Calbayog City territorial sea, several surgical operations on board and medical and dental visitation to Samar municipalities, particularly in this city, have been scheduled. The MEDCAP includes services on medical, dental, optometry, women's health, and general out-patient consultation.
On June 15, the medical team of the USNS Mercy will hold its "press briefing" at Ciriaco Hotel in Calbayog to members of the tri-media based in Eastern Visayas.
From June 18-24, the enlistment of possible patients will take place as Surgical Civic Action Programs (SURGCAP) will only be held in Calbayog City. Actual surgeries will be performed on-board the USNS Mercy ship after the enlistment.
In this city, health authorities' said medical consultations and free check-ups will be held on June 25 to 30 this year. With the assistance of the City Health Office, the MEDCAP in this city will be at the Silanga Elementary School, Barangay Silanga, among other locations in Catbalogan City.
City Health Officer Dr. Amalia Tirazona said the MEDCAP is set to cater at most 400 patients per day and will further be assisted by Registered Nurses for Health Enhancement and Local Service (RN HEALS) nurses stationed at the City Health Office.
Catbalogan Councilor Stephany Tan also revealed there were also a series of sub-activities relative to the Pacific Partnership 2012 scheduled in this city in the coming days.
Meanwhile, the goal of the program is to build relationships that will help in the event of a natural disaster.
"A lot of planning and coordination among host and partner nation governments and military, civilian organizations and agencies have gone into getting us to this point," said Capt. James Morgan, the mission commander.
The team was guided with the theme: 'Preparing in calm to respond in crisis.'
Converted from an oil tanker in the mid 1980s, the Mercy first saw duty in the Persian Gulf War. Following that deployment, it left its berth at Naval Base San Diego.
However, the 2004 tsunami that struck Indonesia prompted the hospital ship to return to the area every year since.
The Mercy carries about 400 Naval medical personnel, along with civilian crew members with the Maritime Sealift Command. Crew members on the Mercy will provide medical, dental and veterinary care in the host nations and help with civil engineering projects.
Pacific Partnership also includes personnel from the Army, Air Force and Marine Corps; U.S. State and Justice Departments, Agency for International Development and National Oceanic and Atmospheric Association.
Japan will contribute a landing ship, helicopters, a medical team and representatives from the country's volunteer organizations.
Australia, Canada, Chile, France, Korea, Malaysia, the Netherlands, New Zealand, Peru, the Philippines, Singapore and Thailand will also deploy personnel in support of the mission.
Other organizations scheduled to take part include the UC San Diego Pre-Dental Society, a student-run free dental clinic; Project Hope, which launched the first civilian hospital ship, LDS Charities; and the University of Hawaii.
ANAD twits NDF's recent call to resume peace talks!
By ANAD Partylist
June 18, 2012
QUEZON CITY – "They're again singing the same old song in the same broken record with the same vile and venom of their devious commitment to destroy our country's political structure, economy, and throw-in more hardships against our people!" This is the reaction of the Alliance for Nationalism and Democracy (ANAD) Partylist to the Maoist terrorist CPP-NPA-NDF's reported willingness to resume formal peace negotiations with the government, during their recent meeting in Oslo, Norway, last June 14-15, 2012 (Reds Ready to Resume Talks with Gov't, 6/17/12, www.abscbnnews.com).
"Nothing new did come out of that meeting!" said ANAD Rep. Jun Alcover adding that Maoist terrorists willingness to resume the peace talks is expected considering the heavy losses they suffered due to the military's sustained operations against them. Rep Alcover explained that Jose Ma. Sison and his wards wanted to have some sort of a breathing space and time to re-group and reconsolidated their forces, and replenish their resources they badly needed.
"Despicable is their intention to resume the stalled talks yet still anchored on conditions that were already rejected by the government and most of these were blatant violations they themselves committed yet pinned the blame on the government," said Rep. Alcover.
Among others, Rep. Alcover referred to the following conditions presented by NDFP panel head Luis Jalandoni during that meeting: a) Respect for and compliance with all bilateral agreements without qualification; b) Release of all 356 political prisoners in accordance with the Comprehensive Agreement on Respect for Human Rights and International Humanitarian Law (CARHRIHL) and the Hernandez political offense doctrine; c) Respect for and compliance with the Joint Agreement on Safety and Immunity Guarantees (JASIG); d) Release of all 14 NDFP Consultants and JASIG-protected NDFP personnel; e) Reconstruction of Document of Identification (DI) list; use of encrypted photos as legitimate photos.
Items c, d, and e are obviously designed to rectify a foolhardy Maoist terrorists' blunder when, upon verification, the diskette purportedly containing the list of NDF consultants covered by JASIG that was under the care of the Archbishop of Norway turned out empty and definitely not damaged as claimed by an Associated Press report (para 11, Philippine Officials, Rebels Fail to Break Impasse, 6/17/12. www.inquirer.net).
"Is government giving Joma's war-addicts the privilege of coming up with a list on a diskette that was already proven to contain nothing?" asked Rep. Alcover as he warned the President that this act alone is tantamount to pushing the country to the 'wolves.'
"What about the premeditated, abrasive, and unabated attacks committed by the terrorist NPAs against innocent civilians, a number of which resulted in the killing of children in Northern Samar and other parts of Mindanao. Is government closing its eyes to these gruesome violations against humanity in exchange for a highly suspect and dubious peace with Maoist terrorists that never believes in peace but fully exploits every opportunity of any peace negotiation to advance their violent national democratic revolution," quipped Rep. Alcover.
With the seeming success by the AFP against the NPAs, Rep. Alcover urged the government to unleash the full force of the law against these terrorists. "Time and again, ANAD maintains that any peace talk with Joma's cabal of wicked liars is a futile political exercise and a total waste of taxpayers' money. Government stands to gain nothing, including peace, in dealing with a Godless and violent group known to be adept in swinging the swords of war against helpless and innocent Filipinos," the sole pro-democracy solon said.
"PNoy should now face reality and accept the dire consequences and failures of his peace initiatives since 2010. The Maoist terrorists must be made to realize that government means business regardless of the cries and protestations expected to be mounted by Maoist sectoral front and partylist organizations, like BAYAN, Bayan Muna, Gabriela, ACT, Anakpawis, and Kabataan even if they (partylist groups) belong to the majority group in Congress supporting his administration," he pointed out.
Matuwid na Daan, DA's response to call for transparency in gov't
By Philippine Information Agency (PIA 8)
June 18, 2012
TACLOBAN CITY – The Department of Agriculture is slated to launch on July 5, 2012, the Matuwid na DAAN project, in response to the call for transparency in government transactions and as a manifestation of its desire to win back the trust and confidence of the Filipino people.
DA Regional Executive Director Antonio Gerundio said that officials from the DA Central Office recently visited Eastern Visayas in order to introduce the new project to the DA Regional Field Unit 8 staff.
"Dir. Gary Glenn B. Fantastico of the Department of Agriculture (DA)-Information Technology Center for Agriculture and Fisheries (ITCAF), together with ITCAF Consultant Mr. Carlo Cachuela, introduced to the DA-8 management the Matuwid na DAAN Project which stands for the Department of Agriculture Accountability Network which will be launched on July 5, this year," RED Gerundio said.
The Matuwid na Daan is basically a web portal which provides readily-accessible information on DA's performance and accomplishments.
It will virtually, give face to DA's advocacy on adhering to accountability and transparency in pursuing food security while promoting public awareness of its community-focused projects and activities nationwide, Director Fantastico said.
Matuwid na Daan, Director Fantastico disclosed, will feature a running account of all DA projects vis-à-vis their fund allocation and cumulative disbursements, completion period, percentage of accomplishment and other relevant data, including regularly updated photos, so as to enable the public to track down and evaluate the proper use of agency resources.
Dir. Fantastico said, "This website will empower the DA constituents and the rest of the nation to contribute to the effective and efficient implementation of agriculture-related projects in their respective localities by reporting their actual status, validating receipt of government assistance or otherwise, sharing knowledge and skills, introducing best practices, or simply becoming aware and making full use of the government's services for community-based agricultural development."
Dir. Wilson A. Cerbito, DA-8's Regional Technical Director for Research and Regulations commended the DA-ITCAF for coming up with such a project for it has opened an opportunity for DA-8 to show its outputs on the Inventory System on Agriculture and Fishery Investments (ISAFI) Project which was already implemented in the four provinces in the region, namely, Leyte, Southern Leyte, Biliran and Eastern Samar.
RTD Cerbito further revealed that ISAFI Project will be rolled out to the two remaining provinces, Samar and Northern Samar, by July of this year, as ordered by the DA Central Office.
The Information Technology Center for Agriculture and Fisheries of the Department of Agriculture is mandated to formulate policies and guidelines in the design, acquisition, maintenance, use and disposal of IT to guide all DA units/offices and National Information Network stakeholders and key players in their related activities.
Rape suspect arrested in Tolosa, Leyte
By RPCRD, Police Regional Office 8
June 18, 2012
CAMP RUPERTO KANGLEON, Palo, Leyte – PNP PRO 8 stands firm on the Chief PNP's marching order to sustain the accounting of wanted persons giving due attention to the service of warrants.
On June 15, 2012, the Tolosa Police Station led by PInsp Pascacio, chief of police, arrested 44 years old Jimmy Varona alias "bogoy" of Barangay Malbog, Tolosa, Leyte on a Tolosa Wanted Person Warrant. The warrant was issued by Honorable Salvador Apurillo, Presiding Judge RTC 8 Tacloban City for the crime of Rape with recommended bail of One Hundred Twenty Thousand Pesos (P120,000). Varona was then turned-over to the issuing court.
On the same date, at approximately 10:30 in the morning, Matag-ob Police led by PSI Maturino Diaz, chief of police, arrested Cresente Imelda Ignas for the crime of Murder issued by Presiding Judge Apolinario M. Buaya of Branch 35, Ormoc City with recommended bail of P120,000. Subject person was brought to Matag-ob Police Station for proper disposition prior turn-over to issuing court.
On a belated report on serving of search warrant, joint elements of Libagon Police Station, Southern Leyte PPSC and Southern Leyte CIDT led by PSI Jay Cinco Balderian, PSI Eleazar Ramirez Gonzaga and PSI Ferdinand M Mendoza respectively, conducted search and seizure at the residence of Herbert Lasala Mendez, 31 years old, married and a resident of Barangay Nahulid, Libagon, Southern Leyte. The warrant was issued by Honorable Rolando L. Gonzales of RTC Branch 39 for Violation of RA 8294 (Illegal Possession of Firearms and Ammos).
The search resulted to the confiscation of one (1) unit .38 caliber homemade revolver without serial number; two (2) live ammos and a holster.
Suspect was not able to present any firearms license when demanded by the operatives witnessed by the Barangay officials of said place.
Mendez together with the confiscated items was brought to SLCIDT for proper disposition and filing of appropriate charges in court against him.
VP Binay: Cases filed vs. recruiters to Syria; BI personnel face sanctions
By OVP Media
June 18, 2012
MANILA – The government has filed 29 illegal recruitment cases against agencies and persons recruiting Filipinos to work in Syria despite a government ban, Vice President Jejomar C. Binay said.
The Vice President added that 14 show-cause orders have been filed against Bureau of Immigration (BI) personnel for their alleged involvement in the illegal smuggling of Filipinos.
Binay said these actions underscore government's determination to enforce the deployment ban to Syria. He echoed appeals from other government authorities for Overseas Filipino Workers (OFW) not to go to Syria.
Binay is the Presidential Adviser on OFW Concerns. Concurrently, he is the chairman emeritus of the Inter-Agency Council Against Trafficking (IACAT) and chairman of the Presidential Task Force Against Illegal Recruitment (PTFAIR).
"To date, 668 OFWs have been repatriated from Syria. Of the 668, only 330 had verified passports issued by the DFA (Department of Foreign Affairs)," he said.
"Only 196 departures or 59 percent of the total verified passports were recorded by BI officers," he added.
The anti-trafficking czar said the data was culled from the interviews conducted by IACAT staff on returning OFWS.
Upon the order of the Vice President, the IACAT recently implemented a mandatory interview of all repatriated OFWs from the war-torn Middle Eastern nation.
"The DOJ (Department of Justice) is set to issue formal administrative charges against the 14, with the hearing to commence within the week," Binay said.
"Before the end of the month, the DOJ will also be issuing show-cause orders to 11 additional Immigration officers, based on the findings in the interventions made on the latest batch of repatriates from Syria," he further said.
He said that the filing of administrative charges against BI personnel shows the government's commitment to eliminate the causes of trafficking and punish those who help in the illegal smuggling of Filipinos.
Moreover, the Vice President reiterated the call for OFWs not to seek employment in Syria.
"I am asking our kababayans, for their own safety, not to accept any employment offers in Syria. Your lives are not worth any amount of money that you may potentially earn there," he said.
"I am appealing to all our kababayans who are planning to work abroad, to please go through the proper legal channels to avoid becoming victims of trafficking and illegal recruitment syndicates," he concluded.
"Nicua's consistent inconsistencies perpetuate"
Stop the magnetite mining operation in Mac Arthur Leyte - EVEF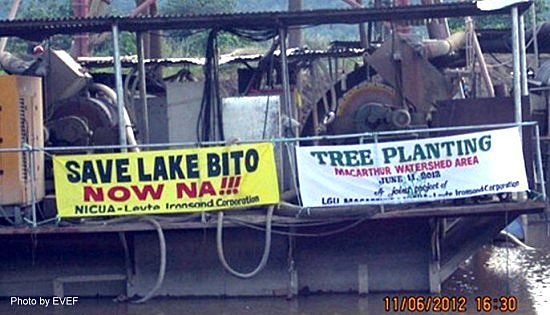 By Eastern Visayas Ecumenical Forum (EVEF)
June 16, 2012
TACLOBAN CITY – "Save Lake Bito, Now Na" was intentionally posted by the Nicua Mining Corporation (NMC) in their streamers just across the barricade of the concerned constituents of Mac Arthur, Leyte who are affected by the magnetite mining operation in their locality.
"It was, indeed, an inconsistent and irresponsible act of NMC and the local officials of Mac Arthur, Leyte who joyously and festively culminate their Tree Planting activity last June 11, 2012 by posting all those streamers with ironical statements. While they superficially express their concern to save Lake Bito through their streamers, we have seen how they undermine the people's legitimate demand to stop the mining operation as it grievously affect the source of livelihood of the people", Rev. Irma Mepico-Balaba, of the Advocacy and Education Committee of EVEF said as she had personally witnessed it last Monday.
She added, "we are calling the Local Government Unit of the Municipality of Mac Arthur, Leyte as represented by the Municipal Mayor to take a responsible action in addressing these problems faced by his constituents by revoking the NMC's permit to operate within the whole municipality and to assist the people who are economically displaced and dislocated due to the mining operation."
EVEF condemn those officials and leaders of those concerned government agencies and others like them, who connive with big mining businesses, foreign and local, to cheat the people of what is justly for them.
To recall, it is not only the fisherfolks who depended their livelihood on fishing at Lake Bito who are affected by the magnetite mining operation but also the farmers who were displaced as the NMC started to convert the agricultural land into a desert since it started its operation.
With this, according to Balaba, "EVEF resolutely take our position for the NICUA Mining Corporation to cease its operation. Correspondingly, we are challenging the DENR and MGB to be intentional and transparent in looking into the violations of NMC on the environmental compliance and to effect cancellation of their Environmental Compliance Certificate for them to stop the operation."
She concluded, "EVEF will always stand in support to the victims of the foreign mining corporations who are greedily draining the natural resources at the expense of the people's livelihood and environmental destruction. It is imperative of our Christian faith to be faithful in our calling as stewards of God's creation and to protect it from whatever forces that will cause its destruction. STOP THE MAGNETITE MINING OPERATION IN MAC ARTHUR LEYTE AND OTHER MINING OPERATIONS IN EASTERN VISAYAS! NO TO EXPLOITATION OF OUR PHILIPPINE NATURAL RESOURCES!"
5,000 join pilgrims' walk to Sulangan, Guiuan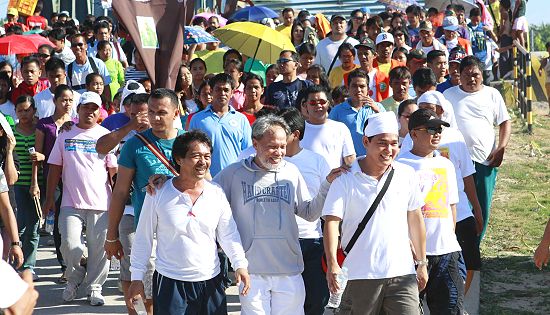 Eastern Samar Governor Conrado B. Nicart, Jr. (center) walks beside Vice-Governor Christopher Sheen P. Gonzales (right) during the first ever Pilgrims' Walk to Saint Anthony of Padua Church in Sulangan, Guiuan on June 12, 2012. The two government officials walked the 21 kilometer pilgrimage route with some 5,000 other devotees. (Photo by GARRY A. BALANO)
By MEDORA NIMFA QUIRANTE
June 15, 2012
BORONGAN CITY – More than 5,000 Saint Anthony of Padua devotees walked the 21 kilometer road that leads to barangay Sulangan's parish church on June 12, 2012.
According to Guiuan Tourism Officer Aurora delos Reyes, one of the event organizers, the devotees took off from Guiuan's Immaculate Conception Church, located at the heart of the town, at 2:00 AM.
Besides pilgrims from Eastern Samar, the first ever Pilgrims' Walk also attracted participants from other provinces in the region.
"Based on the registration sheets we have, there are even devotees from Manila and other parts of the country. We even have some who came from other countries," delos Reyes said in an interview.
Eastern Samar Governor Conrado B. Nicart, Jr and Vice-Governor Christopher Sheen P. Gonzales were also spotted during the activity, the former coming with other key officials in the province.
In a separate interview, Guiuan Mayor Annaliza Gonzales-Kwan said that the activity is part of the local government's "intensive tourism campaign."
Delos Reyes said that the town offers three packages for prospective tourists: historical and educational - which includes a tour of its 16th century church and other historical landmarks, adventure - a tour package for surfers and skim boarders, and religious - which centers on the pilgrimage to Saint Anthony of Padua Church in Sulangan.
Saint Anthony of Padua's feast, a day after the Pilgrim's Walk, saw thousands of visitors – foreign and local alike.
Sulangan is considered the prime pilgrimage site in the province.
"Roughly 40% of the tourists that visit Guiuan come because of Sulangan," delos Reyes said.
According to the tourism officer, the LGU hopes to make the event bigger next year because it is also expected to benefit micro-entrepreneurs.
Mining, an issue of social justice - VP Binay
By OVP Media
June 15, 2012
MANILA – Vice President Jejomar C. Binay said communities that host mining operations should be the first ones to benefit from the economic gains from the mining industry.
"Mining goes beyond economic considerations. It is above all, a social justice issue. Communities that host mining operations should be granted opportunities like education, health care, clean water, and power as a bare minimum," Binay said in a speech at the Philippine Society of Mining Engineers' 2nd Mining Convention in Davao City.
"The social and human profits emanating from mining should merit honest and profound focus. Minerals are non-renewable and once they are utilized, they will not grow back. It is therefore important that the gains from this enterprise bring financial strength to the true owners of this wealth – the people," he added.
The Vice President also cited mining's economic potential saying the Philippines has about 9 million hectares of potential mining land with only 1.4 million hectares being covered by mining permits.
"We have billions of tons of metallic and non-metallic mineral deposits buried within our soil," Binay said.
"This is the strange contradiction that we live in, so many look for food and decent living above ground, while so much wealth lies literally beneath our feet," he added.
However, Binay also acknowledged the impact of mining to the environment. He urged industry stakeholders to apply every measure and technology to ensure that the impact on the environment is managed and that proper rehabilitation is undertaken.
"Exceeding the bar of our desire to protect and preserve the earth we live in, is our duty to use its resources wisely and prudently for the benefit of all men," Binay said.
"We cannot forever look at these riches as taboo and refuse to touch them, but neither can be we wasteful and careless in its consumption," he added.
Binay also said that he stands "shoulder to shoulder" with President Benigno Aquino III in believing that a multipartite approach can find sustainable and environmentally-sound mining principles that will help the mining industry fulfill its true role in the economic development of the country.
He added that at the moment, the government is currently drafting a mining policy statement that seeks to increase the government's share in mining revenues.
"I would like to reiterate that this policy statement, as President Benigno Aquino III himself has said, is still a work in progress. Our beloved President has assured us that discussions with the various entities that are very much concerned with mining in our country—including ecological groups, the mining groups, and local government units – will still have to be made," Binay said.