VP Binay welcomes Magsaysay and Garcia to PDP-Laban, announces their inclusion in UNA senatorial slate
By OVP Media
May 25, 2012
MANILA – Vice President Jejomar C. Binay today welcomed Cebu Governor Gwendolyn Garcia and Zambales Representative Milagros Magsaysay to PDP-Laban and announced their subsequent inclusion to the United Nationalist Alliance (UNA) senatorial slate as the party's nominees.
UNA is the coalition between PDP-Laban, where the Vice President is the chairman, and the Pwersa ng Masang Pilipino (PMP) of former President Joseph Estrada.
"We just forwarded to the Alliance that they are members of PDP-Laban and they are our nominees in the senatorial slate," Binay said.
The Vice President said they took into account the qualifications of Garcia and Magsaysay. "Ang aming pananaw e nagkakaisa kami sa advocacy at qualified sila sa pagiging senador," he said.
Meanwhile, Rep. Magsaysay said she had no qualms in transferring to PDP-Laban because she shares the same advocacies with the party. "Naniniwala kami sa leadership ni Vice President Binay dahil nakita ko na ang advocacy ng PDP ay advocacy ko rin," Magsaysay said.
"Siguro pinagsama ni VP Binay yung dalawang babae na pinakamatapang sa larangan ng pulitika. Parehas na independent minded at di nagaatubiling magsalita kung kailangan," she added.
Governor Garcia for her part said she believes the Vice President is a "man of action" and thanked Binay for helping solve a decades-long land dispute in Cebu.
"Walang nangyayari by accident. Tignan natin ang signs. VP Binay is a man of destiny. Sa tingin ko po ito ang tamang direction para sa aming local party, ang One Cebu party, at ang tamang direction for the country," she added.
Most wanted person in Region 8 arrested
By RPCRD, Police Regional Office 8
May 24, 2012
CAMP RUPERTO KANGLEON, Palo, Leyte – Joint elements of Samar Police Provincial Office and Gandara Police Station busted the number 29 in the list of Most Wanted Person in Region 8 with an approved DILG monetary reward of Ninety Thousand pesos (P90,000.00).
Subject person identified as Noli Mabahin Fornillos, 29 years old, married and a resident of Barangay Pasigay, Calbiga, Samar was arrested at Lot 21, Block 13, Village Park, Barangay Langkaan 1, Dasmariñas City, Cavite.
Reports disclosed that at about 9:00 o'clock in the morning on May 18, 2012, joint elements of Samar PPO led by PCInsp Marben Manaog Ordonia and Gandara Municipal Police Station led by PI Fritz Bioco Blanco respectively all under the direct supervision of PSSupt Eusebio Adamero Mejos proceeded to Dasmariñas City, Cavite to effect the Warrant of Arrest against the suspect for the crimes of two (2) counts of Rape and three (3) counts of Acts of Lasciviousness issued by Honorable Judge Carmencita Cuares of RTC Branch 33, Calbiga, Samar.
Upon arrival, the team coordinated with Dasmariñas City Police Office and after a thorough surveillance and monitoring, subject person was arrested. Subsequently, the team reported such accomplishment for recording purposes at Dasmariñas City Police Office.
Fornillos is now detained at Samar Police Provincial Office pending turn-over to court of origin.
Former rebels in Northern Samar receive cash assistance
By DPAO, 8ID PA
May 24, 2012
CAMP LUKBAN, Catbalogan City – The 8th Infantry (Stormtroopers) Division, Philippine Army, in coordination with the Provincial Government of Northern Samar, facilitated the awarding of immediate cash assistance to two (2) former rebels (FR) on May 21, 2012 at the Provincial Social Welfare Office, Capitol Grounds, Catarman, Northern Samar.
Former rebels Danilo N Pajares and Felomina S Celis were given immediate financial assistance amounting to P10,000 and P5,000 respectively as part of the Local Integration Program of the Provincial Government.
Major Ronaldson C Cutillon, CMO Officer, 803rd IBDE, 8ID, PA with the LGU's of Northern Samar represented by Mr. Allan Valenciano, Provincial Treasurer initiated the awarding of immediate cash assistance.
In May 2011, the Provincial Government of Northern Samar passed an Ordinance 05 series of 2011, granting monetary rewards to facilitators of voluntary surrender of any CT member. Since the passing of ordinance, four (4) FRs were already awarded cash assistance amounting to P95,000 by the Provincial Government.
In his statement BGen Gerardo T Layug encourages NPA rebels in Samar to lay down their arms, voluntarily submit themselves to the government, live a normal life and support the government's Peace and Development efforts. Layug also thanked the Provincial Government of Northern Samar for their support to the peace initiatives through the local integration program.
Son of first victim of extrajudicial killing under Aquino brings father's case to the UN
"I vow to pursue justice for my father"
By HUSTISYA
May 24, 2012
QUEZON CITY – The son of the first victim of extrajudicial killing under the Aquino administration will bring his father's case to the United Nations as it conducts its Universal Periodic Review on the Philippines scheduled on May 29, 2012.
Joining the Philippine UPR Watch delegation, which just arrived today in Geneva, Switzerland, is Ernan Baldomero, son of Fernando Baldomero, a municipal councilor of Lezo town in Aklan, an island province in Western Philippines. The elder Baldomero was killed on July 7, 2010 as he was about to send Ernan's younger brother to school.
The Philippine UPR Watch is a delegation of human rights defenders and advocates that engages in the Universal Periodic Review process of the UN Human Rights Council and brings to the attention of the UN and the international community the human rights situation in the Philippines.
"I vow to pursue justice for my father, and show the international community that we are the living proof that nothing has changed since Pres. Benigno Aquino became president. I have even gone as far as the UN to find justice," Baldomero said.
Ernan, who has replaced his father as Lezo Municipal Councilor, is vice-chairperson of Hustisya (Justice) or Victims United for Justice, the organization of families of victims of extrajudicial killings and other human rights violations.
The 34-year old Baldomero was a student activist during his college days, inspired and influenced by his father who was a former political prisoner and Martial Law activist. After college, he became a member of various newspapers in the province, not letting go of his activism. He did not know, however, that he shall continue in the name of justice for his father.
"Almost two years after my father was killed, I feel nothing but dismay in the Aquino government's denial of the continuing policy of extrajudicial killings, and breathes the suffocating air of impunity making perpetrators free and unpunished," Baldomero said.
The case of Fernando Baldomero was mentioned by Pres. Aquino in his first State of the Nation Address (SONA) in late July 2010, as one of the first cases which was considered "solved."
Baldomero dispels this, however, and said that his father's case was archived last year while the arrest warrant for the suspect, Dindo Lovon Ancero, was not served.
"We cannot go on perpetually waiting for any action on the killings. This is why we will bring these to the attention of the UN Human Rights Council, and the international community to call on the Philippine government to stop the killings," Baldomero said.
Warrant of arrest vs GA owner out – VP Binay
By OVP Media
May 23, 2012
MANILA – Warrants of arrest have been issued against Globe Asiatique (GA) owner Delfin Lee and his co-accused after a judge found probable cause for the syndicated estafa case filed against them, Vice President Jejomar C. Binay said Wednesday.
Binay, the Chairman of the Housing and Urban Development Coordinating Council, said Judge Amifaith Fider-Reyes of the Regional Trial Court Branch 42 in San Fernando, Pampanga, issued the warrants of arrest Tuesday with no recommendation for bail.
"Globe Asiatique defrauded the ordinary workers who are contributors of Pag-IBIG Fund. The company defrauded hardworking citizens of Pampanga by selling property they already purchased legitimately to other buyers, a practice known as double selling. The issuance of the warrants of arrest against Delfin Lee and his co-accused just shows that the law is on the side of the ordinary workers duped by Globe Asiatique," Binay said.
Binay is also Chairman of the Pag-IBIG Board of Trustees.
The housing czar said he was told that Reyes initially deferred the issuance of the warrants and directed the prosecution team to present additional evidence. However, upon the prosecution's inquiry, it was discovered that the court staff did not disclose to the judge that there were six boxes of evidence in court.
"After reviewing the pertinent evidence, Judge Reyes issued the warrants of arrest. We were informed that the court staff are now required by the judge to show cause why they should not be penalized for the non-disclosure," the Vice President said.
The Department of Justice (DOJ) had previously recommended the filing of syndicated estafa charges against Lee and several others after an investigation ordered by Binay revealed that GA used "ghost borrowers" and fake documents to obtain over P6.5 billion in loans from Pag-IBIG.
In October 2010, after he was named housing czar, Binay directed Pag-IBIG to file charges of syndicated estafa against Lee and other GA officials, along with an officer of the agency, before the DOJ.
A Pasig Regional Trial Court judge issued a Temporary Restraining Order (TRO) covering the syndicated estafa case and another case for "double sale" filed against GA, but the Court of Appeals (CA) in a decision last month allowed DOJ to continue filing the syndicated estafa charges.
"We will remain vigilant in monitoring the case until Delfin Lee and his co-accused are behind bars," Binay said.
Alfredo Salmos comes home, family thanks VP Binay at coconut palace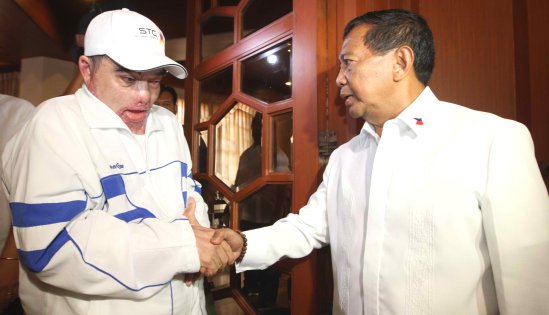 By OVP Media
May 22, 2012
MANILA – Vice President Jejomar C. Binay announced today that Alfredo Salmos, the Overseas Filipino Worker (OFW) in Saudi Arabia who was electrocuted in 2010, is finally home.
Salmos arrived at 12:50 p.m. today at the Ninoy Aquino International Airport Terminal 1 via Saudi Air flight SV 872 from Jeddah.
"Ang kanyang pag-uwi ay bunga ng pagtutulungan ng mga ahensiya ng ating pamahalaan, ng mga non-governmental organizations, at ng mga kababayan natin na nasa Saudi Arabia na kumupkop at tumulong kay Alfredo," Binay said.
"Ito ay patunay na marami tayong magagawa kung tayong lahat ay nagkakaisa at nagtutulungan," he added.
After Salmos' arrival, Binay met with Salmos and his family at the Coconut palace. He was accompanied by his siblings Epifania Reem Salmos–Colina and Junny Velasco Salmos.
"We are very greatful that after two years in the Middle East nakauwi na rin ang kapatid namin. Maraming salamat sa ating pamahalaan, sa mga NGOs at lalo na sa ating mga kababayan na nagpost sa FB para matutukan ang kaso ng kapatid ko," Colina said.
"Pinapakita lang nito na buhay pa ang bayanihan spirit sa ating bansa. Na di lang gobyerno, pati mga ordinaryong tao ay may kakayahang tumulong sa ating mga OFWs," she added.
Binay, the Presidential Adviser on OFW Concerns, said Salmos' repatriation was delayed because of a lack of a final exit clearance from his employer, and a police clearance in connection with his involvement in a car accident a decade ago.
He said he has been working with the Department of Foreign Affairs, the Philippine Consulate in Jeddah, and the Department of Labor and Employment and the Overseas Workers Welfare Administration "to bring a concerted effort" in asking the Saudi government to grant Salmos' exit.
"Nagpapasalamat tayo sa lahat ng mga tumulong para makauwi si Alfred – sa mga nagpost sa Facebook, sa mga taga-media, sa NGOs katulad ng Patnubay Riyadh at Powers of Prayers, at mga OFW Advocates sa Saudi Arabia, ang ating Philippine Consulate sa Jeddah, ang DFA at ang OWWA," Binay said.
"Dito naman sa Pilipinas, makakaasa kayo na magkakaroon din ng bayanihan sa pagtulong kay Mang Fred at sa kanyang pamilya na makabangong muli. Nariyan ang Ople Center at ang Office of the Vice President at iba pang mga pribadong samahan," he added.
The 52-year-old Salmos, a native of Nueva Ecija, has been unemployed since his accident. He was in a coma for a month and is now still recuperating from his injuries, which have left him severely scarred.
Time and tuna running out: Greenpeace
By GREENPEACE
May 22, 2012
BANGKOK, Thailand – To prevent the irreversible destruction of the world's marine ecosystems, Greenpeace is calling for "less boats, more fish" at Infofish 2012, the global tuna industry's biennial convention, held in Bangkok this week.
"The tuna industry must be stopped from stripping our seas. Not only is it fishing itself out of existence, it is also robbing fisherfolk of their livelihoods," said Mark Dia, Regional Oceans Campaigner for Greenpeace Southeast Asia. "If we want healthy oceans and a viable tuna industry tomorrow, we simply need fewer boats on the water taking tuna today."
At the Bangkok tuna forum, more than 600 industry, retail and political officials are expected to attend three days of talks focused on the future of the world's tuna industry. Tuna is one of the most lucrative fishing sectors in the world, but is in trouble as the world's tuna stocks are in decline, with some species now listed as critically endangered.
"Here in Bangkok, industry leaders and policymakers have to create a way forward for the tuna sector that delivers sustainable tuna supplies for the future, not just short-term profits. Consumers around the world are demanding responsibly-caught tuna and scientists are urging for reform of the tuna fishing industry, but the industry's influence is too strong. The world needs change – time and tuna are running out." Said Sari Tolvanen. Greenpeace International Oceans Campaigner.
Around the world Greenpeace is pressuring tuna brands to abandon destructive fishing methods like fish aggregating devices (FADs), and to source sustainable tuna caught using methods such as pole and line and purse seine nets set on free swimming tuna, and to create transparent supply chains.
Greenpeace is also working to give more market access to responsibly-caught tuna products to improve the monitoring and surveillance of fishing vessels at sea.
"The big consumer markets in Europe, the US other places are changing rapidly. Demand for sustainably and fairly-caught tuna is on the rise. The industry has an opportunity here in Bangkok to embrace this demand and begin to reform both itself and its failed ocean-management practices," said Dia.
"Here in South East Asia and in the Pacific, this change must include radical cuts in the numbers of industrial-scale tuna fishing vessels, necessary to deliver healthy oceans to the millions dependent on them for food and jobs,"
Greenpeace is campaigning for a global network of marine reserves covering 40% of the world's oceans and for a more sustainable fishing industry, both are which are necessary to restore our oceans to health.
Bugsay philosophy inspires foundation leaders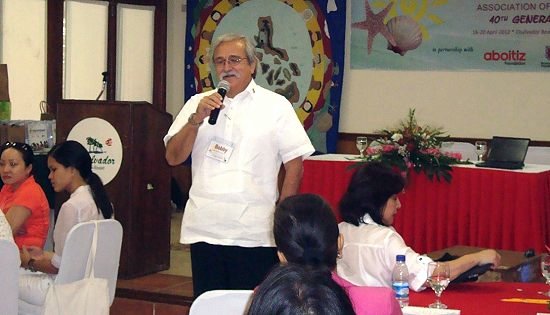 Roberto "Bobby" Aboitiz delivers an inspirational message during the General Assembly of the Association of Foundations last April 18-20 at El Salvador Beach Resort, Danao City Cebu.
By RAFI
May 20, 2012
CEBU CITY – Ramon Aboitiz Foundation Inc.'s (RAFI) president Roberto "Bobby" Aboitiz presented the Bugsay philosophy during the Association of Foundations (AF) general assembly held last April 18-20 at El Salvador Beach Resort, Danao City, Cebu.
Aboitiz was the keynote speaker for the event, which gathered leaders from AF-affiliated foundations nationwide. AF also celebrated its 40th anniversary during the assembly.
"His speech is a reminder to us leaders of our responsibility to affect change amidst apathy and indifference," Dominica Chua, RAFI chief operating officer, said.
In his speech, Aboitiz shared his own guiding principle, which he calls Bugsay philosophy.
"Bugsay" is the Visayan word for paddle or oar. In the Bugsay philosophy, every one is a paddle and it is the choice of each person whether to pick up his paddle and paddle forward through working on one's potentials and taking opportunities, or remain motionless or move in circles without any focus or direction.
Aboitiz emphasized the crucial role of a sense of accountability on one's own choices and determination in making it through life's challenges.
"The Bugsay philosophy tells us that a person should take charge of his life, not solely depending on what others can do for him," Chua said.
Aboitiz imparted the value of character, competence, and citizenship in leadership.
While being equipped with skills it is equally important to have the right attitude in carrying one's duties and responsibilities the end goal of which is serving the greater number, especially the less privileged.
Aboitiz believes that true service is helping others help themselves, that real progress can be attained through collaborative efforts.
The Jesuit-educated RAFI president stands as a testament of a service-oriented leadership as he called on other foundation leaders to strive to do more and deliver better services to their respective organizations and communities.
"He encouraged us to constantly check on our motivation for doing things for it is that which sustains us in our work. It must be clear that we serve not to gain credit for ourselves, but for others to live better lives," Chua said.
"Many of the participants asked him how he started and how he sustained the works of the foundation. His answers focused on working together in service," she added.
RAFI has been a member of AF for 36 years and continues to be an "architect of change," with the support of partner agencies and organizations. From a purely philanthropic institution founded by the late Don Ramon Aboitiz, RAFI has evolved into a nongovernment organization dedicated to social development with focus areas on Integrated Development, Micro-finance & Entrepreneurship, Culture & Heritage, Leadership & Citizenship, and Education.
"In RAFI, we are one, big bugsay. We paddle forward with a shared goal and vision," Chua said.
For more information on RAFI and its community building initiatives, visit www.rafi.org.ph or www.facebook.com/rafi.org.ph.