Grand consultation/dialogue with farmers sector and launching of PAMANA projects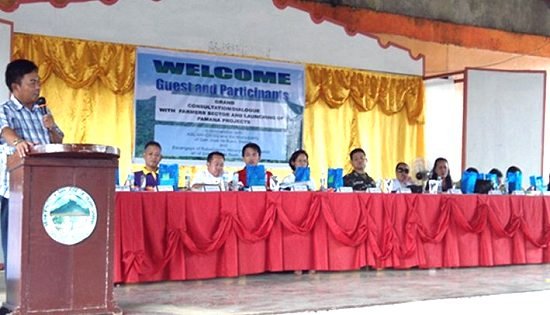 By 87th Infantry Battalion, 8ID PA
May 19, 2012
SAN JOSE DE BUAN, Samar – The 87th Infantry (Hinirang) Battalion played host for the first ever Grand Consultation and Dialogue with the Farmers Sector held at the Municipal Covered Court, Poblacion, San Jose de Buan (SJDB), Samar on May 18, 2012 at 9am.
Simultaneous with this activity was the launching of PAMANA Projects by KALAHI-CIDSS for SJDB. In attendance are Sangguniang Bayan Members with the Municipal Mayor, Hon. Ananias S Rebato as the principal guest. Also present were the different municipal heads of office of SJDB like MAO, MSWDO, MHO and MPDO to include MPS, KALAHI-CIDSS and representative from DAR and DENR provincial offices.
Highlighting the whole day affair was the message of LTC Cerilo C Balaoro Jr GSC (INF) PA, Commanding Officer of 87IB wherein he emphasized that the current Peace and Development Works (PDW) in the three (3) barangays where in consonance with the AFP IPSP Bayanihan particularly relative to its two (2) strategic approaches: Whole-of-Nation Approach and People-Centered Security Approach.
Moreover, he mentioned that the role of the AFP is to catalyze and synchronize the efforts of all stakeholders in order to address the issues in the community relative to peace and security.
During the dialogue and consultation, the different Technical Working Committee (TWC) representative of each barangays presented the primary and secondary issues foremost of which are land titling and stewardship. This was followed by the response from selected speakers representing the different agencies of the goverment. Other matters not presented earlier were discussed during the Open Forum.
During the second part, Mr. Arniel O Disbarro, the Area Coordinator of KALAHI-CIDSS in SJDB officially launched the different PAMANA Projects to five (5) recipient barangays that includes Poblacion Barangays 3 and 4 of SJDB.
The whole day affair culminated with the Closing Remarks of Mayor Rebato extending his gratitude to 87IB for holding such activity. He further affirmed the support of the LGU of SJDB as major partner in peace and development.
19IB launches 1st Carigara, Leyte Youth Leadership Summit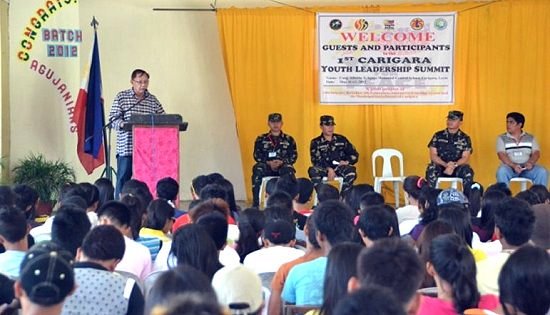 By 19th Infantry Battalion, 8ID PA
May 19, 2012
KANANGA, Leyte – The Army's 19th Infantry (Commando) Battalion launched the first-ever Youth Leadership Summit (YLS) in Carigara, Leyte at Cong. Alberto T. Aguja Central School on May 18, 2012.
The 1st Carigara, Leyte Youth Leadership Summit is a joint project of 19IB, Alternative Learning System, Sangguniang Kabataan and the Municipal Government of Carigara which is participated by some 175 young men and women coming from the different barangays of the municipality wherein most of them are members of the Sangguniang Kabataan and some are active youths of their community.
It is a three-day activity which involves lectures and workshops that aims to develop the leadership potential of the youth. After the launching, series of leadership lectures/trainings were undertaken by the participants. Guests lecturers from the LGUs were also invited to discuss topics regarding "Leadership" by Mr. Ricardo C. Gio, the LGOO V; "Environmental Protection" by Mr. Leo M. Poculan, Supervising Forest Management Specialist; and about "Making the Right Decision" tackled by Ms. Gwyndalynn M. Malate, Social Welfare Assistant, PSWDO.
During the opening ceremony, Atty. Ulpiano U. Arpon Jr., Vice-Mayor of Carigara, Leyte who was also the guest of honor and speaker of the activity extended his gratitude to the 19th Infantry Battalion for spearheading an activity which focuses on developing the leadership traits of the youth.
"I would like to thank 19IB for launching the first youth leadership summit in Carigara, Leyte, the first ever in the northern portion of Leyte province. Surely, you will learn a lot from this activity", Atty. Arpon said.
On the other hand, Lt. Col. Joel Alejandro S. Nacnac, Commanding Officer of 19IB emphasized the importance of the activity to the youth and challenged them to be the catalyst for change in Carigara.
With this kind of training, the facilitators which are composed of 19IB personnel and Alternative Learning System (ALS) mobile teachers and coordinators are expectant that the spirit of nationalism, social work and awareness of the youth as future leaders will also be enhanced.
The 19th Infantry Battalion will continue to pursue the conduct of Youth Leadership Summit in other municipalities of Leyte to inspire the potential of the young generation.
Poet still detained under false charges
NUPL files 2nd motion for resolution of Ericson Acosta case before DOJ
By Free Ericson Acosta Campaign
May 18, 2012
QUEZON CITY – The National Union of Peoples' Lawyers (NUPL), counsel of detained artist Ericson Acosta, today filed a second motion before the Department of Justice (DOJ), calling for the immediate resolution of the Acosta case review.
Ericson Acosta is an activist, poet and former editor of the University of the Philippines' Philippine Collegian. He was arrested without warrant by the military while conducting research in an upland barrio in Samar on February 13, 2011. After three days of interrogation and torture inside a military camp, a false charge of illegal possession of explosive was filed against him to justify his arrest.
The Philippine UPR Watch, an ecumenical delegation of Philippine human rights organizations and advocates engaging in the Universal Periodic Review (UPR) process of the UN Human Rights Council (HRC), has filed complaints on the cases of artist Ericson Acosta and film student Maricon Montajes before the UN Working Group on Arbitrary Detention in Geneva, Switzerland.
The United Nations Human Rights Council UPR is scheduled to review the Philippines' human rights record this May. While Malacanang says that "there are no political prisoners," there are actually more than 350 political prisoners all over the country. Acosta is but one out of nearly a hundred reported victims of arbitrary arrest and detention under President Aquino's watch.
Acosta is also a songwriter, singer and thespian. In November 2011, he was named finalist of an international Imprisoned Artist Prize in Cape Town, South Africa along with filmmaker Dhongdup Wangchen of Tibet and musician Win Maw of Burma.
Various local and international artist and human rights groups support the call for his immediate release. The UP Diliman University Council, writers of the UP Creative Writing Center, the Concerned Artists of the Philippines, National Commission for Culture and the Arts (NCCA), the Writers in Prison Committee of the PEN International, People's Art Network, the Campaign for Human Rights in the Philippines-UK, and the Amnesty International, have all expressed concern over Acosta's illegal arrest and prolonged detention.
On May 27, a year and three months after his illegal arrest, Acosta will mark his 40th birthday most likely still detained at the sub-provincial jail in Calbayog City, Samar, pending the resolution of the review petition filed by the NUPL since September. The NUPL's second motion for resolution states that the appeal must now be resolved based on the petition, lacking any verified comment filed by the adverse party.
"The delay in the resolution of the Petition for Review is causing great prejudice and injustice to petitioner and has brought grave misery and difficulties to his family," the motion read. The NUPL filed a first motion last February.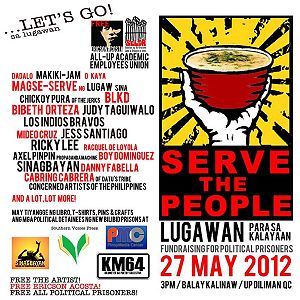 The Free Ericson Acosta Campaign (FEAC), in cooperation with Samahan ng mga Ex-Detainees Laban sa Detensyon at Aresto) SELDA and the All-UP Academic Employees Union, will hold "SERVE THE PEOPLE: Lugawan para sa Kalayaan", a fund-raising event to help sustain Acosta's legal defense funds, at the UP Diliman, Balay Kalinaw Dining Hall on May 27.
Actress Bibeth Orteza, singers Jess Santiago and Chickoy Pura, and painter Mideo Cruz are some of the artists and personalities who have volunteered to serve lugaw to guests. Former political prisoners, like poet Axel Pinpin, Prof. Judy Taguiwalo, and screenwriter Ricky Lee, will also join Acosta's family and friends in celebrating his indispensable contribution to the student movement, to nationalist art and culture and to the struggle for freedom.
The Free Ericson Acosta Campaign maintains Ericson's online prison diary, Jailhouse Blog (http://www.acostaprisondiary.blogspot.com), a campaign blog (http://www.freeacosta.blogspot.com) and a Facebook page.
50 minors rescued by authorities from human trafficking – VP Binay
By OVP Media
May 18, 2012
MANILA – Vice President Jejomar C. Binay today said 50 women alleged to human trafficking victims in Zamboanga City have been rescued.
"Ikinalulugod ko pong ibalita sa inyo na nitong umaga, bandang 11:30, nailigtas ng Task Force Human Trafficking ang humigit-kumulang limampung kababaihan na karamihan ay menor de edad sa Zamboanga City na posibleng biktima ng human trafficking," Binay said during a press conference at the Coconut Palace.
Binay, Chairman Emeritus of the Inter-Agency Council Against Trafficking (IACAT) and Chairman of the Presidential Task Force Against Illegal Recruitment, said all victims hailed from Makiri in Isabela City, Basilan.
He said the victims were promised of a scholarship from the national government and that to qualify they were supposed to take an examination to be conducted by the National Youth Commission (NYC).
"Ngunit sa pag-iimbestiga ng Task Force, nakumpirma namin mula mismo kay Commissioner Earl Saavedra ng NYC na wala silang nakatakdang anumang eksaminasyon," the anti-trafficking czar said.
He added that the victims are now under the care of the Visayan Forum and the Department of Social Welfare and Development.
Binay also said that the recruiter – a government employee – was also apprehended, with charges of violation of RA 9208 (Anti-Human Trafficking Act) and RA 7610 (Protection Against Child Abuse) set to be filed against the person.
Binay thanked all government agencies who were involved in the success of the rescue operation.
"Nais kong pasalamatan ang lahat ng ahensya ng gobyerno na nagtutulong-tulong sa operasyong ito, na muling nagpapatunay sa determinasyon ng inyong pamahalaan sa pamumuno ni Pangulong Aquino, na sugpuin ang human trafficking at ang pagsasamantala sa ating mga kabataan," he said.
"Gayundin sa Visayan Forum, ang isa sa ating mga kasamang non-government organizations (NGOs) sa kampanya laban sa human trafficking," he concluded.
Calbayog's No. 6 most wanted arrested
By RPCRD, Police Regional Office 8
May 18, 2012
CAMP RUPERTO KANGLEON, Palo, Leyte – The Calbayog City Police Station led by PSInsp Aquilino Germata Pongcol III, Chief Operations Section and PInsp Reynaldo Parano Lim, Chief IDMS arrested on Monday (May 14, 2012) at Barangay Gadgaran, Calbayog City, Samar its No. 6 most wanted person in the City Level.
Subject person was identified as Pedro Peru Abides, 45 years old, married, farmer and a resident of barangay Cacaransan, Calbayog City, Samar. He was arrested by virtue of Warrant of Arrest for Murder issued by Honorable Judge Reynaldo B Clemens of RTC Branch 31 with no bail recommended and is now temporarily detained at Calbayog City Police Station lock-up cell for documentation prior turn-over to court of origin.
On May 16, 2012 at Barangay Frederick 2, Allen, Northern Samar elements of Catubig Police Station led by PSI Sam Sauro Andarino, chief of police, apprehended a certain Jorge Bonicarlo Eneria, 46 years old, single and a resident of said place.
Eneria was arrested by virtue of Warrant of Arrest for the crime of Rape issued by Honorable Judge Manuel F. Torevillas of RTC Branch 23, Allen, Northern Samar with no bail recommended. He was then brought to Allen Police Station for proper disposition prior turn-over to the court of origin.
Groups score PH rights report to UN: All rhetoric, no real gains
By Philippine UPR Watch
May 18, 2012
QUEZON CITY – On May 29 this year, the Philippine government's human rights record will come under scrutiny by member states of the United Nations Human Rights Council. While the Philippine government paints a picture of an improved human rights situation in the country, Philippine human rights groups are saying otherwise. And rights advocates are going to Geneva, Switzerland to present their case before the international community.
Philippine UPR Watch, a network of human rights, faith-based and people's organizations engaging in the Universal Periodic Review process of the United Nations Human Rights Council (UNHRC), today said that "despite government human rights rhetoric, extrajudicial killings continue unabated and abject poverty has been increasingly pronounced since the last review cycle of the Philippines in 2008."
In a press conference prior to the departure of the Phil. UPR Watch delegation for the United Nations in Switzerland, Fr. Rex RB. Reyes, co-head of the delegation and general secretary of the National Council of Churches in the Philippines (NCCP), said that the alternative reports they submitted to the UNHRC outlined the continuing violations of the political, civil, and socio-economic rights and the non-compliance of the GPH to its rights treaty obligations.
"It has been four years since the first UPR on the Philippines and the human rights situation in the country manifests no real improvement. The climate and culture of impunity still reign. The whole world knows of the failure of the Aquino government to bring to justice human rights violators like Gen. Jovito Palparan and of the horrendous, less than 1% conviction rate of perpetrators of political killings on top of the snail-paced justice system. These are not things the Philippine government can be proud of before the international community," Reyes commented.
Marie Enriquez, co-head of the delegation and Karapatan chairperson, chided the Armed Forces of the Philippines with its recent statements that its troops have not committed rights abuses in the past four months. "Such declarations are farthest from the truth as, on the ground, the horrid human rights situation remains, with such impunity, as there have been 76 extrajudicial killings and hundreds of rights violations perpetrated by the AFP, its paramilitary units and the Philippine National Police (PNP) under the Aquino presidency," she stated.
According to Karapatan, among these 76 cases of EJKs are the killings of Aklan Municipal Councilor and Bayan Muna coordinator Fernando Baldomero; internationally renowned botanist Dr. Leonard Co; Italian missionary Fr. Fausto Tentorio; and of late, Higaonon leader Jimmy Liguyon. All of these cases remain pending either at the prosecutorial or court levels, while the state security forces and masterminds accountable for these crimes have yet to be put behind bars nor convicted.
KARAPATAN asserts "that the Aquino administration failed to render justice to victims and families of victims of human rights violations under the Arroyo government. In his more than one year in office, the government did not initiate filing of cases for human rights violations against known perpetrators, including former President Arroyo. It was the through the victims' and their relatives' credits that civil and criminal suits were filed against Arroyo and various military officers including the notorious General Jovito Palparan, Jr."
Bayan secretary general Renato Reyes pointed out that these violations on civil and political rights have always been consequences of clear violations of the socio-economic and cultural rights of the people.
"The Philippine government will report on how good its dole-out projects are. However, the world has witnessed the violent demolition of homes in Metro Manila, including one that resulted in the death of a 19-year old youth in Silverio Compound in Paranaque. The violations of the right to self-determination of indigenous peoples continue under large-scale foreign mining. It also doesn't help that the President himself has opposed any significant legislated wage increase while promoting cheap labor through contractualization," Reyes said.
"Economic rights form an integral part of human rights and the Philippines is a signatory to the Convention on Economic Social and Cultural Rights. The Philippine state will also have to be answerable to rising unemployment, poverty and hunger," he added.
The network declared that "the Country Report is all so fine and nice on paper. There is this time not as much razzle dazzle and blaring trumpets that jump out of the paper to obscure the reality of a very bad human rights situation. In fact, the Report is as generally bland as it is largely meaningless to the victims."
AFP's claim on human rights violations a big fat lie – Karapatan
By KARAPATAN
May 17, 2012
QUEZON CITY – "The extrajudicial killings of environmental activists Fred Trangria and Margarito Cabal prove that AFP's claim of zero human rights violations in the first four months of 2012 is one fat lie!" Cristina Palabay, Karapatan spokesperson said. Col. Domingo Tutaan of AFP's Human Rights Office announced that the AFP has zero human rights violation cases a few days after the killing of Cabal and Trangria.
On May 6, 2012 at 4 in the afternoon, Fred Trangria was gunned down by two unidentified motorcycle riding in tandem at Purok 2B Cabidianan, Nabunturan on his way home. Trangria, 60 years old, is a Barangay Kagawad of Mainit Nabunturan, Compostela Valley and strongly opposed the Mineral Processing Zone.
Three days later, on May 9 2012 at 6:30 in the evening, Margarito "Boy" J. Cabal was shot at his rented house in Purok 4-B Barangay Palma, Kibawe, Bukidnon by two unidentified riding in tandem armed men using a motorcycle without any plate number. Boy sustained three gunshot wounds in the chest and one in the upper left back of his chest which killed him instantly. According to the witness, the neighbours noticed the same motorcycle, a red STX, roaming in the vicinity several times for the past days and even in the afternoon of May 9.
Cabal, 47 years old, married with three children, is a government employee of the Local Government Unit in Kibawe, Bukidnon. He is known for his firm resistance to the establishment of Hydro-Electric Mega Dam project of First Bukidnon Electric Cooperative (FIBECO) that will affect 22 barangays of Bukidnon and North Cotabato. He was organizing the residents of the affected barangay to oppose the construction of the mega-dam. A month before the incident, Cabal was already being tailed by the Police Mobile vehicle, with the policemen directing their flashlights at Cabal's house.
"Karapatan condemns the killing of Margarito Cabal and Fred Trangria," Palabay says. "All they did was to defend their lands from destructive projects of the government and private companies. Just because the AFP's Human Rights Offices are not receiving complaints doesn't mean there are zero human rights violation cases. This is nothing but an attempt to cover up the AFP's continuing human rights violations under Oplan Bayanihan," Palabay said.
Palabay noted that the AFP's statement came in two weeks before the Philippine government goes through the second cycle of the Universal Periodic Review under the auspices of United Nations Human Rights Council. Palabay concluded that, "the AFP statement is simply a psy-war addressed to the international community and is meant to prop up its war monger image that could no longer be masked by their deceptive schemes."
8ID troopers overruns NPA encampment in Samar
By DPAO, 8ID PA
May 17, 2012
CAMP LUKBAN, Catbalogan, Samar – A NPA encampment at vicinity Brgy Hagbay, San Jose De Buan, Samar was overrun by military troops of 87th Infantry Battalion, 801st Infantry Brigade, 8ID, PA under the leadership of Ltc Cerilo C Balaoro on 11 May 2012.
Elements of 87th IB under 2Lt Verniel D Semblante discovered the NPA encampment after they encountered undetermined number of rebels earlier that day.
The said camp is composed of three (3) makeshift bunkers and one (1) makeshift hall, which can accommodate about 20 people. After the fire fight, government troops recovered long M16 rifle magazines with live ammunitions, assorted medicines and subversive documents. This only proves that the rebels are always on the run to avoid pursuing government troops.
"Your 8th Infantry (Stormtroopers) Division, Philippine Army will continue to intensify its security operations against this lawless group in order to ensure the safety of our people and pursue development efforts in every community in the Region" said BGen Gerardo T Layug AFP, Commander, 8ID, PA. "We also enjoin the NPA members to lay down their arms and submit themselves through peaceful means and join the government in all peace and development efforts" Layug added.
San Roque, NS most wanted person arrested
By RPCRD, Police Regional Office 8
May 16, 2012
CAMP RUPERTO KANGLEON, Palo, Leyte – The San Roque Police Station led by PSInsp Ildefonso V. Miranda arrested on Monday (May 14, 2012) at 10:30 in the morning at Barangay Zone 4, Poblacion, San Roque, Northern Samar one Melecio Jarito Lobos, the No. 1 Most Wanted Person (Municipal Level) following a report from a reliable informant of his whereabouts.
Lobos is 39 years old, married, farmer and a resident of Barangay Coroconog of same municipality. He was arrested by virtue of Warrant of Arrest for the crime of Murder docketed under Criminal Case number NR 5128 issued by Honorable Judge Norma M. Cardenas of RTC Branch 19, Catarman, Northern Samar. He was then brought to San Roque Police Station for documentation and subsequently turned-over to court of origin.
On the same day, Bobon Police Station led by PSInsp Salvador T. Tualla, chief of police, arrested a certain Romy Magno Mallari, of legal age, married, elementary school teacher and a resident of Barangay Magsaysay, Bobon, Northern Samar.
Mallari was arrested by virtue of Warrant of Arrest for violation of RA 9262 otherwise known as "Anti-Violence Against Women and Children" with recommended bail of P80,000.
On the next day, May 15, 2012, another wanted person was arrested by Lapinig Police Station led by PInsp Ambrosio V Demain identified as Mark Salvador Delmonte Quirino alaias "mike', 31 years old, married, jobless from Barangay Dalakit, Catarman, Northern Samar by virtue of Warrant of Arrest issued by Honorable Alphinor C. Serrano of RTC Branch 38, Gamay, Northern Samar for the crime of Murder, Frustrated Murder and Attenmpted Murder.
Quirino was then brought to Lapinig Police Station for proper disposition prior turn over to the court of origin.