Army's 'Bayanihan' activity in Samar continues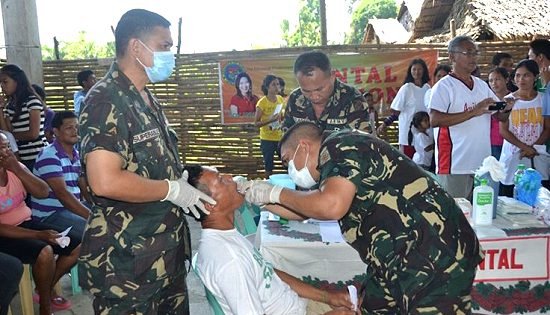 By DPAO, 8ID PA
May 28, 2012
CAMP LUKBAN, Catbalogan Samar – A Free Medical & Dental Mission was conducted in Sta. Rita, Samar last May 25, 2012 by the local government unit and cause oriented groups in Samar in coordination with the Army troops.
Elements of the 801st Brigade, 8th Infantry (Stormtroopers) Division, Philippine Army in partnership with An Waray Party List and Local Government Unit of Sta. Rita, Samar delivered a free medical consultation, dental extraction and circumcision as part of Bayanihan activities in Samar Island.
In his statement, BGen Gerardo T Layug AFP, Commander, 8ID, PA said "your 8th ID, PA in collaboration with the local government units and other stakeholders will continually deliver needed services to the communities of Samar as part of the AFP's IPSP Bayanihan".
Hon. Mario Llarenas, Municipal Councilor of Sta. Rita, Samar expressed his appreciation to the military troops for extending their full support in delivering medical services to his constituents.
At the end of the activity, 369 patients availed of the free medical consultation, 209 patients availed of the free tooth extraction, 98 availed of the free haircut and 80 children availed of the free circumcision for a total of 756 residents benefiting from the said activity.
2 suspected drug pushers jailed
By RPCRD, Police Regional Office 8
May 28, 2012
CAMP RUPERTO KANGLEON, Palo, Leyte – PNP PRO 8 constant with its campaign against illegal drugs has arrested two suspected pushers here Friday.
On May 25, 2012 at about 8:15 PM, joint elements of Leyte Provincial Special Operations Group (PSOG) led by PSInsp Daryll Samson Chua, Chief PSOG and elements of Villaba Police Station conducted buy-bust operation at the vicinity of Barangay Poblacion Del Sur, Villaba, Leyte.
This resulted to the arrest of a certain Howard A. Albaño, 30 years old, single, jobless and a resident of Barangay Poblacion del Norte of said municipality and one Rey H. Ramirez alias "Ondo", 50 years old, single, jobless from Barangay Poblacion del Sur of same municipality.
In the buy-bust operation, police officers who posed as buyers were able to buy from the suspects one (1) small sachet of suspected "shabu" worth P500.00. Recovered from the actual possession of Albaño were: P500.00 peso bill used as marked money, one (1) medium sachet with suspected "shabu", one (1) Smith and Wesson .357 Magnum, C7G loaded with six (6) live ammos and a hand grenade without pin.
During the arrest, said suspects resisted and triggered the gun twice against PO3 Rey Baldicano Jr. but it failed to ignite. Suspects then threw a hand grenade to the other members of the arresting team but fortunately it did not explode.
After a brief struggle, said operatives were able to subdue and restrain the suspects. Thereafter, both suspects were brought to Villaba Police Station for presentation and subsequently brought to PSOG office at LPPO, San Jose, Tacloban City for documentation and finally endorsed to PDEA 8 for chemical analysis of the confiscated items.
Suspects were returned to Villaba Police Station for proper disposition and a case for violation of RA 9165 and Illegal Possession of Firearms and Explosives has been filed in court against them.
"A drug-free society has been a dream of PNP PRO 8 though beset with the dilemma by the constant tension of helping the user and jailing the pusher but, the hand of Cain must be restrained by laws, and those who transgress them must suffer the wrath of law", says PCSupt Arnold Rayala Revilla, Regional Director, PNP PRO 8.
Army backs GK Provincial Bayani Challenge 2012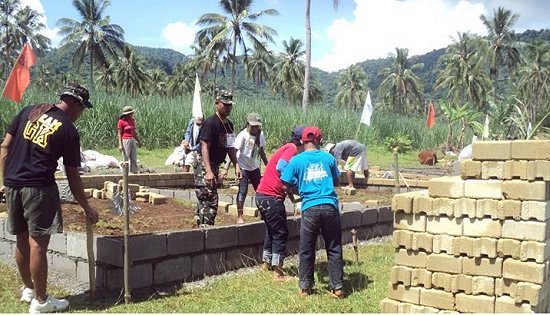 The "Team Commando" spearheaded Lt. Col. Jeffrey Cabansay during the five days Provincial Bayani Challenge in Brgy. Quezon Jr., Ormoc City.
By 19th Infantry Battalion, 8ID PA
May 26, 2012
ORMOC CITY – "Not just soldiers but builders and heroes". This was how Romeo Caisug, a project director of Gawad Kalinga commend the soldiers of the Army's 802nd Infantry Brigade and 19th Infantry (Commando) Battalion who volunteered in the Provincial Bayani Challenge held at So. Magocdoc, Brgy. Quezon Jr., Ormoc City from May 21-25, 2012.
"This place was once a battle ground of the communist rebels and government forces, but now the Goodland GK Village established here in So. Magocdoc, Brgy. Quezon Jr. is a hope for the homeless constituents. Thanks to Gawad Kalinga, the donor, soldiers and volunteers of this Provincial Bayani Challenge 2012", Causig added.
For five days of test of endurance and volunteerism, Army troops and some 250 participants toiled to change lives, bring hope and build decent houses to the projected 30 recipients of the GK housing program. With the said activity, five duplex-type houses were successfully constructed in just five days.
Fourth district representative, Congresswoman Lucy Marie Torres-Gomez who was guest of honor during the closing ceremony of BC 2012 lauds the Army and other volunteers for the effort they have shared for the people of Brgy. Quezon Jr. According to her, giving people a house they can call their own is like giving them (beneficiaries) dignity.
"I would like to thank 19IB as well for securing the venue of this Provincial Bayani Challenge", the Honorable Congresswoman remarked.
She also expressed her gratitude to Mr. Nicholas Pongos, the donor and Mr. Manuel Virtudazo, the Head of Gawad Kalinga in Leyte, for coming up with a sustainable housing project for her constituents in Brgy. Quezon Jr. Cong. Gomez's office is one of the major sponsors of the activity. Initially, her office had pledged to support five out of the 30 units of housing project in Brgy. Quezon Jr.
Lt. Col. Joel Alejandro Nacnac, commanding officer of 19IB based in Kananga, Leyte revealed that "Team Commando" had been extending assistance to the Gawad Kalinga Foundation since 2010 when the 3rd Provincial Bayani Challenge was launched in Isabel, Leyte. From hauling of materials and participants to building of houses, 19IB incessantly stands on its commitment in: "Serving the people, securing the land".
"One moral lesson that we can acquire from the Provincial Bayani Challenge 2012 is the spirit of cooperation or 'bayanihan' which I believed was internalized by the participants who effortlessly ventured on building houses for the homeless." Lt. Col. Nacnac said.
Fisherfolks director promotes food security in Eastern Visayas
By Philippine Information Agency (PIA 8)
May 26, 2012
TACLOBAN CITY – Enriqueto R. Galero, this year's Mangingisdang Direktor for Eastern Visayas, spent the whole month of May going around the Region in order to exhort his fellow fishermen to help ensure food security.
Galero, 52, a fisherfolks leader from Pambujan, Northern Samar, was chosen to be the fisher folks director for one month under the Department of Agriculture-Bureau of Fisheries and Aquatic Resources (DA-BFAR) Mangingisdang Direktor program in connection with the annual observance of Farmers and Fisherfolks' Month in the month of May.
Galero was installed as the Regional Fisherfolks Director during the Bureau of Fisheries and Aquatic Resources Region 8 Management Conference on May 2-3, 2012.
On May 4, RFD Galero attended an orientation on the Aquasilviculture project of BFAR, which involves the growing of fish and other aquatic organisms within a mangrove area without cutting down a single tree is seen by the BFAR as an environment-friendly approach to enhance fisheries production in the wild, while at the same time rehabilitate the mangrove habitat which currently represents less than a quarter of what used to be a 550,000-hectare mangrove cover in the 1950s.
Under the P237.5-million Aquasilviculture, BFAR and CHED aim to plant 11 million mangrove trees for mangrove habitat rehabilitation, establish 62 units of multi-species hatchery, and develop 100 techno-demo aquasilvi-farms in coastal areas nationwide.
The fisherfolk could gain from actively participating in the project. For every P8 spent by the government for the rehabilitation of the mangrove habitat, the fishermen could earn as much as P6 divided as follows: P1.50 for each mangrove propagule; P2 for the actual planting and another P2.50 for every surviving mangrove propagule.
For mangrove habitat rehabilitation alone, a fisherman who could plant 2,000 mangrove trees could earn as much as P12,000 a year, aside from helping ensure marine food security for the Filipinos.
The multi-species hatchery, on the other hand which will be established by the SUCs in suitable areas would serve like a "lying-in" center for gravid high-value species. Said community-based hatcheries will differ much from the expensive and sophisticated hatcheries we are accustomed of because our purpose really is for the fisherfolk to realize the importance of stock enhancement. A gravid crab, for instance carries with it millions of eggs which if allowed to hatch in the said hatchery will benefit the fishermen and the consumers as well.
Among the projects Galero visited were those in Palapag, Northern Samar; Naval and Caibiran in Biliran; mussel project in Jiabong; Hinunangan, Hinundayan, San Juan, Macrohon and Liloan in Southern Leyte.
Galero participated in the tilapia seeding in North Leyte, mangrove planting in Inopacan and observed the Ormoc Hatchery in Ormoc City.
He also visited the Pearl Island in Guiuan, the Lawaan Fish Sanctuary in Lawaan and the Borongan Hatchery, all in the province of Eastern Samar.
As this story goes on print, Galero is in Samar province to visit projects in Catbalogan City, Basey and Santa Rita.
Meanwhile, on the last week of May, Galero will visit his fellow fisherfolks in Northern Samar as he visit the projects in Lavezares, Laoang, San Jose, San Roque and Catarman.
Galero, on May 16, also participated in the public consultation on Draft Food and Agricultural Organizations of UN Resolution 197-1 on the conservation and sustainable use of genetic resources for food and agriculture.
Indeed, the programs embarked into by the Fisherfolks Director revolve around this year's observance of Farmers and Fisher folks' Month with the theme, "Sapat na pagkain, Sama-sama Nating Kamtin."
By promoting food security in Eastern Visayas, Galero also pays tribute and highlights the selfless sacrifices and dedication of the Region's farmers and fisher folks who labor day and night in providing food on the table of every Eastern Visayas family.
Solons urge colleagues: support proposed amendments on AIDS prevention law
By PLCPD
May 25, 2012
QUEZON CITY – In a press conference held yesterday (24 May) in commemoration of the 29th International AIDS Candlelight Memorial (IACM), authors of HB 5312 or the "National Comprehensive HIV and AIDS Prevention, Treatment, Care and Support Policy and Plan" call on their co-lawmakers to support their proposed legislation that will amend RA 8504 or the "Philippine AIDS Prevention and Control Act." IACM is celebrated every 3rd Sunday of May every year.
According to Rep. Janette L. Garin, principal author of HB 5312, RA 8504 is already outdated. "RA 8594 was enacted in 1998 when the country was only recording one new infection every four days. Today, as recorded in the March AIDS Registry, we are already looking at one new infection every two hours, obviously the bill no longer serve its purpose," explains Rep. Garin of the 1st District of Iloilo.
Rep. Garin strongly believes that it is high time to upgrade the Philippine law on AIDS. "The epidemic profile has changed over the years, hence a stronger, more effective mechanism and structures for HIV and AIDS related violations must be put in place through an enabling law," Rep. Garin said.
Cong. Angelo Palmones, AGHAM Party List Representative, said that stigma and discrimination against persons living with HIV is very real. "Very recent incidents of discrimination against two employees were reported by the media," laments Palmones. "When these employees disclosed their HIV status, one was forced to go on sick leave without pay while the other one was denied payment of insurance by his company."
Palmones explains, "more challenging to a patient is the perception of people around them. As a legislator, we can only craft policies for the state on how to deal with the spread of the virus, but we need to seek the support of our citizens by showing compassion in helping PLHIVs gain inspiration and continue facing the challenges of everyday life."
HB 5312 filed by Reps. Garin, Palmones, Kaka Bag-Ao, and Jorge Banal, among others seeks to strengthen mechanisms in reducing HIV and AIDS stigma. The proposed law guarantees that HIV and AIDS response is premised on respect, recognition and promotion of human dignity; clarifies the roles and responsibilities of government agencies involved in HIV and AIDS response from the national to local government units; and institutionalize the national HIV and AIDS investment plan with clear strategies, targets and funding for the program.
The press conference is organized by the Philippine Legislators' Committee on Population and Development Foundation, Inc. (PLCPD), a non-government organizations of lawmakers pushing for population and human development legislations in partnership with UNAIDS, the Joint United Nations Programme on HIV/AIDS.
VP Binay lauds successive rescue of trafficking victims in Tawi-Tawi
By OVP Media
May 25, 2012
MANILA – Authorities have rescued a total of 19 women, including two minors, from being trafficked outside the country in four separate rescue operations in Bongao town in Tawi-Tawi, Vice President Binay said Friday.
Binay, who sits as the Chairman Emeritus of the Inter-Agency Council Against Trafficking (IACAT), lauded the successful rescues and said the latest string of operations showed "the government's commitment to curb human trafficking in the country."
"Yesterday's rescue included two minors from the Zamboanga peninsula, aged 16 and 17 years old, while the operations on May 23 led to the rescue of eight women and the arrest of one suspect. We believe the women were about to be smuggled out of the country." Binay said.
The anti-trafficking czar said human trafficking syndicates were using the Bongao seaport to "facilitate the transportation of the victims" to foreign destinations.
"Most of the women were from Zamboanga, but some came from Metro Manila and even as far as La Union," the Vice President added.
Binay said the rescue operations were led by combined forces of the Tawi-tawi Police Provincial Anti-Trafficking Task Group (PATTG) and the Bongao Inter-Agency Task Forces Against Trafficking (BIATFAT).
The Vice President also announced the rescue of 23 women, including one minor, who were being peddled for sexual services in Calamba, Laguna, following an entrapment operation led by the Women and Children's Protection Desk (WCPD) of the Philippine National Police Criminal Investigation and Detection Group (PNP CIDG) and members of the IACAT.
Four pimps, whom Binay said were "notorious" in the Calamba area, were also arrested.
All victims are now under the custody of the Department of Social Welfare and Development.
"I thank all the member-agencies of the IACAT for their unwavering vigilance in going after human trafficking syndicates, especially those who exploit our women and children," Binay said.
He said the suspects will be charged with violation of RA 9208 or the Anti-Trafficking in Persons Act of 2003.
The IACAT previously rescued 50 women in Zamboanga City, most of whom were minors, who were suspected to be human trafficking victims.
The victims, all from Isabela City, Basilan, were supposed to be flown to Manila to take an examination to be conducted supposedly by the National Youth Commission to qualify for scholarships from the national government, as promised by their recruiter, a local government employee.
ANAD bares Maoist devious 'Alliance' ploy!
By ANAD Partylist
May 25, 2012
QUEZON CITY – "The cat is out of the bag! Too obvious is the fact that they are dead-serious to shore up their financial and material resources, improve its political mass bases, and bring their violent national democratic revolution to a higher level!"
The Alliance for Nationalism and Democracy (ANAD) Partylist made this statement in reaction to the reported 300% increase in the total collection from rampant extortion activities against businesses, industries, and helpless civilians in 2011 compared to 2010 in relation to the devious, highly suspect, incessant offer by CPP demonic icon Jose Ma. Sison to forge an alliance and truce, in a 'special track', with the government. "Their game plan is highly suspect as it clearly speaks not only of urgency but veiled intentions" said Rep. Alcover.
Reports from ANAD chapters point to a sudden seriousness by some Maoist terrorist leaders, especially those aligned with the Joma Sison faction, to shore up their finances and strengthen, consolidate, and impose tighter control on their so-called 'mass bases'. "These things are essential as the 2013 mid-term polls draws near. Truly they wanted to intensify their Permit-to-Campaign (PTC) and Permit-to-Win (PTW) schemes from candidates, and maximize their collection from the same," the pro-democracy solon said.
"Also, we must not forget that under the CPP 5-year plan (2010-2015), the Maoist communist are targeting to attain strategic stalemate with the government by 2015, at the most," added Rep. Alcover as he reminded government that the Maoist terrorists has not shelved their 12-point NDF program despite their latent and patently deceptive offer of a truce and alliance.
"The reported increase by more than 300% in the proceeds of their extortion activities, totaling some P300 million in 2011 from about P95 million in 2010, merits serious study by government and the military. ANAD believes that through the proposed 'alliance', Jose Ma. Sison wanted to increase not only their finances by openly conducting meetings and other discussion with businesses, industries, and political candidates to ensure the latter's timely and effortless payment of extorted monies, in the guise of 'revolutionary taxes' and PTC/PTW; but also enable NPA and NDF political forces to openly conduct coercive measures against our people and strengthen/expand their political bases as prelude to an all-out offensive against government, on or before 2015," he explained.
The pro-democracy solon warned against an impending calamitous political transformation in the country resulting from a well-orchestrated Maoist terrorist ploy. "We have always said that Jose Ma. Sison and his cabal of demagogues in the Maoist terrorist organization do not believe in peace yet they will use 'peace' to advance their evil designs," Rep. Alcover pointed out even as he said that Maoist terrorist personalities in Malacanang are surreptitiously and feverishly working along this line/s.
"Because of a certain level of complacency manifestly displayed by Malacanang on this security concern, the Filipino people should expect intensified black propaganda and insidious efforts leading to the eventual capitulation of our freedoms and democratic governance," the former NPA commanding and political officer in Eastern and Central Visayas warned adding that the military and other government security forces should act decisively while responding to this evolving situation.
"ANAD is not into warmongering but our experience and knowledge on the thinking and character of Maoist terrorists vividly tells us this ominous situation shall happen if we lower our guards and fall into the devil's lair skillfully laid out by Joma Sison and his ward of 'demons'," Rep. Alcover said.
Arrest of other wanted persons
By RPCRD, Police Regional Office 8
May 25, 2012
CAMP RUPERTO KANGLEON, Palo, Leyte – PNP PRO 8 through its intensified and persistent campaign on the accounting of wanted persons has again arrested persons charged for several crimes here in the region.
Two (2) persons charged for the crime of Estafa voluntarily surrendered to Burauen Police Station on May 22, 2012. Police identified them as one Aida Jaro Capucion, 82 years old, retired teacher and Alvin Renomeron Jaro, 49 years old, married and both are residents of Tacloban City.
Both were charged for said crime docketed under Criminal Case Number BN-12-04-4781 issued by Honorable Yolanda U. Dagandan, Presiding Judge of RTC Branch 15, Bulwagan ng Katarungan, Burauen, Leyte with recommended bail of Forty Thousand Pesos (P40, 000.00).
Thereafter, said subject persons were released after posting bail for their temporary liberty.
On the same date at about 9:05 PM at Barangay Sta. Cruz, Jaro, Leyte, elements of Jaro Police Station led by PInsp Ricky Canadilla Reli, chief of police, collared one Jessie Cornista Camiller, 27 years old, jobless and a resident of said place.
Camiller was arrested by virtue of Warrant of Arrest issued by Honorable Frisco T. Lilagan of Branch 34, Bulwagan ng Katarungan, Tacloban City for the crime of Attempted Rape with recommended bail of One Hundred Sixty Thousand Pesos (P160,000.00).
Another suspect was arrested on May 23, 2012 by Javier Police Station led by PInsp Antonio M. Angcay of Barangay Odiong, Javier, Leyte for the crime of Frustrated Homicide with recommended bail of Twenty Four Thousand Pesos (P24,000.00).
Subject persons were brought to respective police stations for disposition prior turn-over to court of origin.