Eastern Visayas generally peaceful during Pacquiao-Marquez fight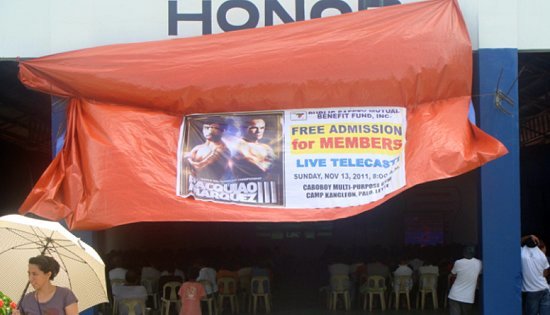 By RPCRD, Police Regional Office 8
November 13, 2011
CAMP RUPERTO K KANGLEON, Palo, Leyte – PCSupt Arnold Rayala Revilla lauds the entire force of police regional office 8 for maintaining the peace and order situation of Eastern Visayas during the Pacquiao vs Marquez fight today, November 13, 2011.
While it has been observed that crime rates dramatically drop whenever Filipino boxing icon Manny Pacquiao fights, the police did not stay complacent and remained on alert.
"We expected another peaceful day when Manny Pacquiao fights Juan Marquez just as in previous fights. Even then, the police remained on alert," recalling Pacquiao's previous fights, Revilla said that crime incidents were usually close to zero.
Revilla said, the PNP was in full alert to monitor possible crime incidents during the fight of Pacquiao and Marquez. The fight of Pacquiao last year, there were no major untoward incidents that happened.
Some isolated incidents happened during the fight, one robbery incident transpired victimizing the LBC main branch of Catbalogan City at 12:35 PM on November 13, 2011. Three unidentified men armed with short firearms entered the said establishment with a pretext to be clients and once inside, they strategically positioned themselves, went to the lone customer associate and declared hold up and took the cash money in the drawer, cash box and at the vault. That thereafter, the robbers brought the customer associate to the comfort and left on board with a black motorcycle. That the amount taken is approximately P600,000. Follow up operation was immediately conducted.
On the other hand, snatching incident happened at corner Rizal Avenue and Tarcela streets, Tacloban City at 1:05 PM, of same date victimizing Victoria Espanta Lewis, 69 years old, single, resident of Brgy. Busay, Babatngon, Leyte. Police report revealed that while walking towards the parking area of Babatngon PUJ located beside the Shell gas station, P. Burgos Street, Tacloban City, her worn one 18k gold necklace with gold cross pendant worth P8,500 was snatched by the unidentified malefactor. Downtown PCP personnel immediately conducted a follow up operation.
Meanwhile, a fire incident also transpired at Brgy. Baybay, Laoang, Northern Samar at 12:00 noon today, based on the police report, the hardware building of Hemonio Tan was on fire but was declared undercontrol by BFP Laoang after 2 hours. The case is still under investigation.
On the other hand, the Police Regional Office 8 and the Public Safety Mutual Benefit Fund, Inc. provided a free live viewing of the fight of Saranggani representative Manny Pacquiao against Mexican boxing icon Juan Manuel Marquez at Caboboy Gym, Camp Ruperto Kangleon, Palo, Leyte. All police units were alerted and assigned police personnel in different barangays which have free live viewing of the boxing fight.
'I don't want to hear any bulls---t about the Pacquiao-Marquez III fight result'
By ALEX P. VIDAL / PNS
November 13, 2011
LAS VEGAS, Nevada – "Tonight, boxing was rewarded. Two great fighters gave boxing something to be proud of. That's why I don't want to hear any bulls---t about the result (of the Manny Pacquiao versus Juan Manuel Marquez trilogy)," Top Rank CEO Bob Arum declared during a post-fight press conference at the Media Center in the MGM Grand.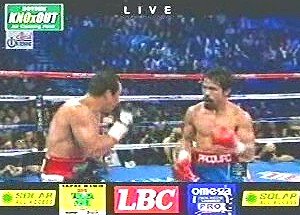 Arum, 79, angrily reacted to accusations the majority decision victory of Pacquiao had been rigged. "As I walked from the ring going to this room (Media Center), I passed into a mob of angry Mexicans ready to lynch me," he bewailed. "They ranted that I stole the fight from them as if I have something to do with the judges' decision."
Arum admitted the fight was "very closed" saying "there were rounds that could have gone either way." Arum said, "I had Pacquiao winning by seven rounds. HBO saw Pacquiao winner by eight rounds. There were those who scored six rounds for Pacquiao and six rounds for Marquez. But those were the scores that are very acceptable."
"I know that I won. There is no doubt about it," said Pacquiao, who was outshuttled in the first five rounds by Marquez's dizzying counterpunches.
"I don't know what else I would do to change the minds of the judges. Honestly, I am very happy with my performance. What I will do for the meantime is to sit down with my family and contemplate whether to go on fighting or retire," Marquez said. "Yes, we won like what the people were singing in the arena."
"I think I won this fight very clearly. I don't know what happened. Everybody knows what happened. I'm very frustrated right now. The best judges are the audience."
Marquez (52-6-1, 39 KOs) said his decision to contemplate on retiring was influenced heavily by the result of this third fight against Pacquiao (54-3-2, 38 KOs).
Compubox showed Pacquiao connected 176 of 578 punches thrown after 12 rounds. Marquez connected 138 of the 436 punches thrown.
Pacquiao connected 59 of the 304 jabs thrown as against Marquez's 38 of the 182 thrown. Pacquiao connected 117 of the 274 power punches thrown as against Marquez's 100 of the 254.
Pacquiao had an average of 49 punches thrown and connected 14 per round as against Marquez's 36 punches thrown with 11 connected per round.
Pia hails Underground River's inclusion in New7Wonders winners
By Office of Senator Pia S. Cayetano
November 12, 2011
PASAY CITY – Senator Pia S. Cayetano today joined fellow Filipinos in rejoicing the inclusion of the Puerto Princesa Underground River (PPUR) of Palawan in the list of provisional winners of the New7Wonders of Nature as announced by organizers of the worldwide poll over the weekend.
"I congratulate everyone who voted, campaigned and kept vigil in the last three years to boost and sustain the bid of our very own Puerto Princesa Underground River to make it as one of the New7Wonders of Nature," said Cayetano.
"The PPUR's inclusion in the provisional list of winners affirms the Philippines' reputation as a world-class eco-tourism destination by virtue of our rich biodiversity, breathtaking natural wonders and friendly people," she added.
She said making the final list is a major accomplishment considering that the contenders originally included more than 400 entries from over 200 nations when the poll began in 2007.
"This proves how we as a people could unite and harness our online and texting power to rally behind one cause."
She urged Filipinos to continue promoting our different eco-tourism sites to the rest of the world through the internet and various forms of social media.
"Filipinos have access to the world through various forms of social media. Let us use our strength in this area to continue to promote the beautiful destinations in our country."
She concluded: "Let's hope and pray that that the PPUR makes it to the final list of winners when all the votes have been verified. May this initial victory not only instill national pride in us, but also awareness and genuine concern to conserve our rich natural resources."
Greenpeace urges PH to push for marine reserves and an end to tuna overfishing
By GREENPEACE
November 11, 2011
MANILA – Greenpeace today called on the Philippine government to join neighbouring Pacific Island coastal states in efforts to create healthy oceans for future generations, which would also ensure economic prosperity and boost food security in the region.
Greenpeace issued the challenge at a press briefing organized barely a month before the critical Western and Central Pacific Fisheries Commission (WCFPC) meeting taking place in Palau on December 5 to 9, wherein the fates of the threatened Pacific bigeye and yellowfin tuna stocks will be decided. The Philippines is expected to propose the opening of the Pacific Commons to purse seine fishing by its fleets. These areas are important areas of international waters whose protection, together with other conservation measures designed to halt the overfishing of bigeye and yellowfin tuna, is up for a review at this year's WCPFC meeting
"The proposal to open the high seas pockets is a short-sighted proposal that will only serve to compromise the reputation of Philippine tuna globally and unravel years of existing efforts to conserve tuna stocks in the region for the long-term benefit of Philippine fishing fleets, jobs and food security for years to come" said Oceans Campaigner Sari Tolvanen of Greenpeace International during today's press briefing at Old Swiss Inn in Makati City.
The Philippines has the third largest tuna catch in the region after Japan and Korea. Bigeye and yellowfin tuna species are in decline in the region and have recently been listed as vulnerable and near threatened by the International Union for the Conservation of Nature (IUCN). Scientists are calling for further cuts in fishing in order to ensure that they can be restored to healthy population levels.
The Pacific Commons, large areas of international waters that lie between the Pacific Island countries, have been closed to purse seine fishing for two years by the WCPFC. This closure has helped curb pirate fishing and, together with restriction on the use of fish aggregation devices (FADs, such as payaws), eased some of the overfishing of tuna in the region. Scientists have been calling for increased oceans protection through additional high seas closures as proposed by Pacific Island Countries and by banning the use of FADs in purse seine fisheries that catch large amount of juvenile tuna and vulnerable species such as sharks.
Greenpeace points out that the Philippines will also benefit from supporting the extension of the ban on purse seine fishing using FADs, which worsen overfishing and cause wasteful bycatch of other threatened species. By transforming its fishing industry to pole and line, hand line and free school purse seine fishing, the Philippines would be able to meet the increasing market demand for sustainably caught tuna products and set the example for the rest of the world in ensuring the long-term sustainability and profitability of our fisheries.
"If the Philippines' voice joins those of other small Pacific Island states, we cast a larger net toward responsible oceans management, rather than unraveling existing measures for the benefit of fishing industries of Korea, Japan and Taiwan, at the expense of the livelihood and future of the people of the Philippines," Tolvanen added.
Greenpeace is campaigning globally for fishing industry reform and for a global network of marine reserves covering 40% of the world's oceans, necessary steps to creating healthy, living oceans for future generations.
Hustisya warns: "More human rights violations to come under new Army Chief"
Press Release
By HUSTISYA
November 11, 2011
QUEZON CITY – "There will be more human rights violations under new Philippine Army Chief Major General Emmanuel Bautista and Oplan Bayanihan," Cristina Guevarra, secretary general of Hustisya (Victims United for Justice) warned the public today.
The new Army Chief Maj. Gen. Emmanuel Bautista is the primary author of the Oplan Bayanihan. According to Karapatan's documentation as of end of September, 2011, the said anti-insurgency program has taken the lives of more than 55 individuals through extrajudicial killings, not to mention the enforced disappearance of eight people and the forcible evacuation of 4,224 residents from their communities.
"No wonder he was promoted army chief. There is no other top official who can and will faithfully implement the terror of Oplan Bayanihan other than the author himself. We fear that with Maj. Gen. Bautista at the helm of Oplan Bayanihan, the number of cases of state violence will pile up, similar to that of Gloria Arroyo's Oplan Bantay Laya," Guevarra said.
Oplan Bayanihan, according to Hustisya is a "cut-and-paste" Filipino version of the US counter insurgency guide released in 2009. Designed to deceive the people, Oplan Bayanihan hides behind so-called "development" programs that actually seeks to pacify people's opposition to military presence or government projects such as large-scale mining, logging and plantations. In the process, it destroys community organizations that are existing in the area for a long time, as well as people's initiatives to improve their quality of life.
"They way to all out peace, is when justice is achieved. Many families of victims of human rights violations are disdained that to this day. P-Noy have not done anything for their loved ones and is instead paving the way towards more human rights violations. He has taken on this 'legacy' from his predecessor with Oplan Bayanihan and we have no choice but to fight back." Guevarra said.
"The killing of Fr. Fausto Tentorio is an omen of worse things to come. The promotion of General Bautista sealed the future we will have to face." She concluded.
New DILG-8 regional director lauds support of Southern Leyte officials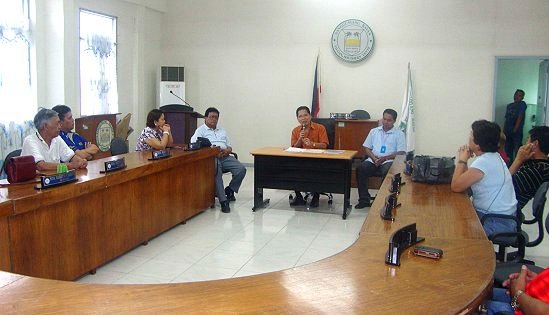 New DILG Director. Dr. Pedro A. Noval Jr. (center) who assumed office recently as DILG-8 Regional Director, lauded Mayor Shirlita Chong and the sangguniang bayan of Liloan, Southern Leyte, for their support to key DILG programs. Heeding DILG's call, the LGU has committed to revoke implementation of illegal pass-through fees of passengers going to the ferry terminal effective January 2012. Joining Dir. Noval at the front are (l-r) Mayor Chong, Provincial Director Johnny Badocdoc and MLGOO Dennis Padolina. (Photo by PD Johnny M. Badocdoc)
By LOREN A. ANICIETE
November 10, 2011
MAASIN CITY – The new DILG-8 Regional Director, Dr. Pedro A. Noval, Jr., CESO III, lauded local officials in Southern Leyte for their strong support and open-mindedness towards DILG programs shown during his three consecutive visits to Southern Leyte over the past two weeks.
Dir. Noval, who visited Southern Leyte on October 28, November 3-4, and November 9, 2011 cited the LGUs' positive response to policies being implemented by the department, particularly those on transparency and suspension of imposition and collection of illegal pass-through fees.
In his meeting with 15 municipal mayors during the recent LMP Meeting in Tomas Oppus, Director Noval exhorted municipalities to help in making DILG Region 8 number 1 in the country. Meanwhile, DILG Provincial Director Juan Badocdoc, who escorted RD Noval, encouraged LCEs to make their respective LGUs compliant with the Full Disclosure Policy and to vie for the Seal of Good Housekeeping to be eligible for the Performance Challenge Fund.
RD Noval visited the towns of Panaon Island as well as Libagon, Bontoc, and Tomas Oppus to talk with local officials on LGU compliance with DILG MCs 2009-76, 2011-122, and 2011-151 re suspension of LGU imposition and collection of illegal fees and taxes on passing-through vehicles.
Director Noval's two-hour discussion with Mayor Shirlita Chong and the Sangguniang Bayan of Liloan on the Local Government Code's provisions produced positive results, with the municipality committing to suspend collection of pass-through fees at the municipal road leading to the ferry terminal effective January 2012. Meanwhile, the municipality of Libagon already suspended the collection of fees since October 17, 2011 upon the LCE's issuance of Executive Order No. 17, s. 2011. The rest of the visited towns do not impose such illegal fees and charges.
Local officials in the province have been delighted with the visit of the Regional Director who in turn promised to make frequent visits to the LGU-clientele as part of his pursuit in championing LGUs towards better and more productive operations.
Director Noval also plans to visit other provinces in the region in order to further familiarize himself with concerns of local officials and field operational matters.
Robredo to LGUs, DILG offices: Launch TXT PPUR 2861 on this Friday's flag retreat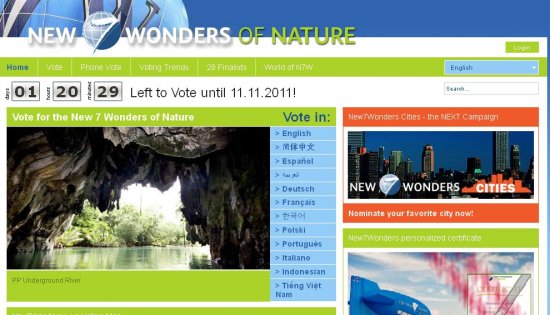 By DILG Office of Public Affairs
November 9, 2011
MANILA – Interior and Local Government Secretary Jesse M. Robredo today directed all governors, mayors and barangay chairmen nationwide to conduct and attend their flag retreat on Friday and rally their constituents to vote – via text message PPUR 2861 or via the Internet – for the Puerto Princesa Underground River in the worldwide search for the New 7 Wonders of Nature.
The DILG chief made the call to the country's local chief executives a day before the final voting comes to an end on November 11 (Friday at 7:00 pm) which is part of a "last-ditch" effort by all government agencies concerned for all Filipinos to support the PPUR campaign.
"I have directed all local chief executives to conduct and attend their flag retreat on Friday and rally and remind their constituents about their patriotism and what the country could get in return in terms of tourism and related revenues by voting for the PPUR campaign," Robredo said.
He explained that since joining flag retreat ceremonies constitutes a patriotic act for all Filipinos, this is the same as participating in the PPUR campaign. "Ang pakiusap po natin sa ating mga barangay chairmen, mayors at governors na sa kanilang gagawing flag retreat ngayong Biyernes, ay pakiusapan at himukin nila ang kanilang mga constituents na ilabas muna ang kanilang cell phones at mag-text upang bumoto para sa PPUR," he said.
Robredo, who is chairman of the Inter-agency Task Force for the PPUR campaign created under Presidential Proclamation 182, also directed all DILG regional officers and other bureaus under it like the Philippine National Police, Bureau of Fire Protection, Bureau of Jail Management and Penology, among others, to carry out the PPUR campaign during their flag retreat ceremonies this coming Friday.
Delighted to learn that the PPUR has made it to the top 10 New 7 Wonders of the World finalists in a recent update on the ongoing worldwide voting, the DILG chief said the Filipinos should not just be contented with the PPUR landing at number 7 among the finalists.
"Di dapat tayo makuntento na pumasok lang tayo sa number 7 o sa Magic 7… dapat maging number one tayo sa pitong mga papasok (new seven wonders of nature) sa contest na ito," he said.
Aside from sending SMS message by typing PPUR and sending it to 2861, the public and all concerned government officials and employees can vote via the Internet by logging on to www.new7wonders.com.
Aside from the PPUR, other nominees that made it to the top 10 include, the Dead Sea (Israel/Jordan/Palestine), Grand Canyon (United States), Great Barrier Reef (Australia/Papua New Guinea), Halong Bay (Vietnam), Jeita Grotto (Lebanon), Jeju Island (South Korea), Komodo Island (Indonesia), Sundarbans (Bangladesh/India), and Vesuvius (Italy).
High power rate buck stops with DOE secretary and PSALM president
By TUCP Partylist
November 9, 2011
QUEZON CITY – Trade Union Congress Party (TUCP) Representative Raymond Democrito C. Mendoza today challenged the leadership of the Department of Energy (DOE) and the Power Sector Assets and Liabilities Management Corporation (PSALM) to categorically confirm or deny whether they would withdraw the PSALM petitions pending with the Energy Regulatory Commission (ERC) to recover "stranded costs" which would raise power rates by 39 centavos per kWh.
"PSALM made commitments to the House Committee on Energy that PSALM would withdraw these rate increase petitions. I want Secretary Jose Rene D. Almendras and President Emmanuel R. Ledesma, Jr. to categorically either answer "yes" or "no", on whether they will withdraw these petitions," explained Rep. Mendoza.
Secretary Almendras had said that the matter of withdrawing the rate increase petitions lay with the JCPC because the JCPC has oversight over the proper implementation of the EPIRA. The TUCP solon expressed "incomprehension, bewilderment, and incredulity" with the "lame, intellectually bankrupt, mentally addled and morally sniveling excuses" of DOE Secretary Almendras and PSALM President Ledesma in seeking to now pass on responsibility for the demanded withdrawal of the pending rate increase petitions to the Joint Congressional Power Commission (JCPC).
"We have news for Messrs. Almendras and Ledesma. The buck stops with you when the issue is high power rates. It is PSALM that is still claiming US $15.8 billion in stranded costs notwithstanding the sale of 92% of the assets of the National Power Corporation (NPC) from whose proceeds PSALM should have already wiped out any stranded cost. It is the PSALM which filed a rate increase to recover this amount from all consumers as a 39 centavo per kWh rate increase. It is PSALM which can withdraw these petitions. So if these two gentlemen cannot stand the heat they should either resign or request the President to relieve them," said Mendoza.
TUCP had earlier accused PSALM of bad faith in failing to comply with its representations to the House Committee on Energy. "Almendras and Ledesma are back-pedaling and are hair-splitting in a disgusting attempt to try to pass on the buck and evade command responsibility," said Mendoza. Members of the Committee are mulling on whether or not to cite officials of PSALM for contempt.
"Instead of being the handmaidens of the "business-as-usual" philosophy, both the DOE Secretary and PSALM President should have drawn their inspiration from the "Matuwid na Daan" of the President to question many of the dealings of PSALM between 2001 and 2011 that properly should not be treated as stranded costs," added Mendoza. "If these involved overpriced contracts or purchases, improper transactions and outright graft and corruption in the PSALM in the last two administrations, then people should be made accountable and sent to jail. PSALM was and is actually running the NPC. The new leadership could have cleaned up the stables. Instead PSALM continues to milk the cow," explained Mendoza.
"The behavior of Sec. Almendras bears further comment in the matter of the upcoming termination of the IPPA contracts this December which had provided the special economic zones with discounted power rates. His answer apparently is that discounts will no longer be the norm and the industries will be free to source their electricity from higher-priced sources. Presumably this also means that these industries are also free to pack up and leave the country. Almendras cavalierly forgets that 230,000 Filipino workers and their respective families depend on these ecozones," explained Mendoza.
"TUCP condemns the high-handed arrogance of an unfeeling energy technocracy that says we should leave the fate of the ecozones which face a rate increase to the vagaries of the market, but when the issue involves maintaining or lowering tariffs, oh we should refer that to the JCPC. This double standard is absolute rubbish," said the TUCP solon.