War heroes honored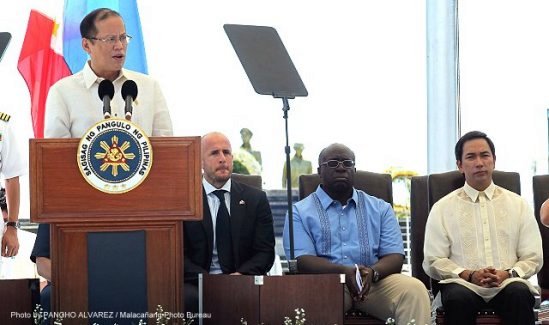 The President delivering his speech during the 67th Leyte Gulf Landings Anniversary at the Macarthur Landing Memorial National Park, Palo, Leyte. (Photo by PANCHO ALVAREZ / Malacañang Photo Bureau)
By RICKY J. BAUTISTA
October 21, 2011
PALO, Leyte – World War II Filipino war heroes were honored yesterday (October 20) during the 67th commemoration of the Leyte Gulf Landing Anniversary in Palo, Leyte, Philippines.
Philippine president Benigno "Noynoy" Aquino III, who was the guest of honor of the event, said his administration is doing everything to pay tribute to those sacrifices and heroism done by the Filipino war veterans during the "last major naval engagement of World War II" in Red Beach, Palo, Leyte.
In his message, Pres. Aquino said he has been observing the active participation of the Philippine Veterans Affairs Office (PVAO) in updating the list of pensioners, which will served as basis of the US government to pay them fairly.
"We have improved the medical needs of the Filipino war veterans and their families," Aquino said adding that as of August this year, some 562 government hospitals had been made accessible to all the veterans.
The veteran's continuous battle
Meanwhile, it was learned that the Filipino war veterans here and abroad continually sought for the fulfillment of another promise made by the US military.
Accordingly, the US military promised full veterans benefits to Filipinos who volunteered to fight, which prompted more than 250,000 to do so.
However, in 1946, then President Harry Truman signed the Rescission Act, which stripped Filipinos of the benefits they were promised when they helped the US fight against the Japanese.
The US government cited the $200 million it gave the Philippines after the war as its reason for stripping the benefits.
Some 200,000 Filipinos fought in defense of the US against the Japanese and more than half died. As the Philippines were a commonwealth of the US at that time, Filipinos were legally recognized as American nationals then.
However, after the Rescission Act was signed, Filipinos lost the benefits entitled to them as American nationals who served in the armed forces of the United States.
In 2009 – after fighting for more than 60 years for their rights – the Filipino war veterans who are still living were recognized with a $198 million appropriation.
War veterans who were US citizens received $15,000 each while non-citizens, $9,000 each.
But war veterans from Leyte and Samar maintained said compensation is "not enough" for the remaining veterans who can no longer make a living.
President Aquino assured the war heroes that the government is appealing to the US government to grant those denied claims of some veterans in the Filipino Veterans Equity Compensation Act of America.
"Just a few months ago, Foreign Affairs Secretary Albert del Rosario met with United States Department of Veterans Affairs (USDVA) Secretary Eric Shinseke to appeal for a more liberal system in processing the claims of Filipino veterans," Aquino said.
US record revealed that as of August this year, 42,553 applications were processed: 9,291 approved for non-US citizens, 9,137 approved for Filipino veterans with US citizenship, and 24,125 applications disapproved.
Meanwhile, this year's commemoration of Leyte Gulf Landings were attended by allied country representatives such as US Ambassador to the Philippines Harry K. Thomas, Jr., Japanese Ambassador to the Philippines Toshinao Urabe, Australian Defense Attache Craig White and Canadian Counselor for Political Economic Relations and Public Affairs James Christof.
The famous vow "I shall return"
In 1944, General Douglas MacArthur at the head of the largest US fleet of transport and warships, and accompanied by Commonwealth President Sergio Osmeña and Gen. Carlos P. Romulo, landed on Palo, Leyte, to reclaim the Philippines from the Japanese.
Gen. MacArthur made true his famous vow – "I shall return" – following his escape from Corregidor on March 11, 1942 for Australia, together with his wife and four-year-old son, and others on orders of President Franklin D. Roosevelt, as the Philippines was being overrun by Japanese Forces.
The Leyte Landing on October 20, 1944 during the Japanese Occupation (1942-1945) of the Philippines marked "the last major naval engagement of World War II."
The landing saw the fulfillment of Gen. Douglas MacArthur's promise to Filipinos, "I shall return." The Philippines was a colony of the US (1898-1946) when the Japanese occupied the Philippines.
Days after MacArthur's landing, Allies fought the "Battle of Leyte Gulf" or the Second Battle of the Philippine Sea, which was dubbed as "the largest naval battle in modern history."
On July 4, 1945, he proclaimed the liberation of the entire Philippines and ended the Japanese invasion which lasted from 1942 to 1945.
Time to review AFP strength and recruitment – Chiz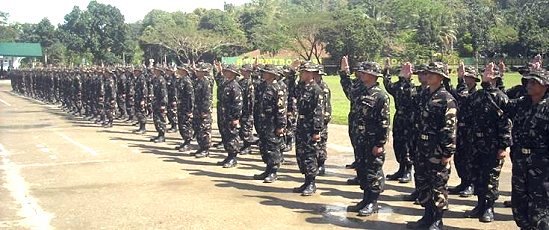 By Office of Senator Chiz Escudero
October 21, 2011
PASAY CITY – The Armed Forces of the Philippines (AFP) should conduct an immediate and total review of its actual troop strength versus its troop ceiling in the wake of the separate deadly clashes between government troops and the Moro Islamic Liberation Front (MILF) in Basilan and Zamboanga Sibugay this week, Senator Chiz Escudero said.
The Basilan bloodbath last Tuesday claimed the lives of 19 soldiers and six more in the latest encounter in Zamboanga.
Escudero, chairman of the Senate committee on justice and human rights, said it is high time for the AFP to review its present number of warm bodies and the vacancies for new recruits that need to be filled to strengthen the military.
"While we commend the gallantry and bravery of our troops for going head on in the battle field, we bewail the fact that they were outnumbered and outsmarted in a terrain most familiar to the enemies. Without adding anymore pain to our troops, we now beg the question what is our military's optimal force? Are we also filling in the yearly quota for military recruitment?" Escudero said.
The senator underscored the importance of this assessment to maximize the strength and potential of the troops in the frontline and readjust it to meet certain existing standard operating procedures in terms of troop augmentation and recruitment.
"We need to fill in the yearly quota for recruits so that yearly our forces get stronger and that our soldiers are not left out there like mice caught in a mouse trap, outnumbered by its enemies. As the country's guardians of democracy and Constitution, we need to give them enough physical, material and arsenal support to keep and improve their morale and efficiency," Escudero stressed.
Escudero said that the AFP is in a better position to know the situation in the battlefield need and should be able to refine its protocols given the blatant and bold moves by rogue elements against government troops, particularly in Mindanao.
"I urge the AFP and also the PNP to aggressively go out there and fill the yearly quotas for new recruits. Spend the budget intended for hiring new personnel. Don't let the old system prevail again where the allocation for hiring new personnel is scrimped on so that the amount can be converted into savings and diverted to line the pockets of some unscrupulous individuals. This has already cost so many lives and has orphaned thousands of wives and children," Escudero said.
TUCP condemns Court of Appeals NPC-Meralco settlement ruling; Meralco to pass-on to consumers P14 billion Penalty
By TUCP
October 20, 2011
QUEZON CITY – The Trade Union Congress Party (TUCP) through its Representative Raymond Democrito C. Mendoza today called on the Court of Appeals (CA) to reverse its ruling affirming the validity of the P14 billion settlement between the National Power Corp. (NPC) and Meralco in 2003.
"If not, our last line of defense is if the ERC will not allow Meralco to pass this amount through to the customers of Meralco. The history of ERC of abject surrender to Meralco inspires little confidence and we fear the worst," said Mendoza.
"We cannot allow our consumers to be further burdened by another P0.12 centavos increase in electric tariff for the next six years because of the corporate greed of Meralco," said Mendoza.
The case stems from the 10-year Contract for the Sale of Electricity (CSE) of Meralco with NPC which was signed on November 21, 1994 which covered the period from 1995 to 2004. It was stipulated in the contract that the power distributor Meralco will buy "a total of 60,092 GWh covering the years 2002, 2003, and 2004 from NPC."
While its contract with NPC was still in force, Meralco, then still majority-owned and managed by the Lopez Group, also entered into Power Purchase Agreements with its own sister corporations, the independent power producers (IPPs) of Quezon Power Plant Limited (QPPL), First Gas Sta. Rita, and First Gas San Lorenzo – to supply the electricity requirements.
"Those IPPs were also owned by the Lopez Group. Meralco was engaged in self-dealing with these Lopez-owned IPPs with which it arranged new sweetheart deals. Meralco was therefore in breach of its contract with NPC. Why will the consumer now be penalized by Meralco for its deliberate breach of its contractual obligation to buy from NPC? The Lopez Group already earned tremendous amounts by buying and selling to itself. Now the guilty Lopez group will have consumers pay?" exclaimed Mendoza.
In 2001, Meralco started to reduce its power purchase from NPC while increasing its procurement from its own IPPs. When in 2002 the NPC started to bill Meralco based on their CSE, the latter instead "served NPC a formal notice to terminate the CSE." In effect, Meralco did not make good its contract with NPC and NPC naturally wanted to be duly compensated. In the end, after an arbitration process, the two power companies had a settlement in 2003 saying that Meralco will just pay NPC a total of P14 billion to cover its obligations. "The problem however is that the P14 billion will be charged by Meralco to the consumers which means that the people will pay for the obligations of Meralco to the NPC," explained Mendoza.
"That is unfair! Meralco and its sister IPP companies had made a lot of money already from their sales of electricity to the public. Why should the people pay for Meralco's obligations when in fact it had raked-in huge profits for its wrongful and illegal actions in the past?" asked Mendoza.
"If Meralco needs to pay the NPC, then it should get the P14 billion from its own accumulated incomes, not from the hapless consumers" Mendoza insisted.
TUCP noted that the country's power rates are now 5th highest in the world and the most expensive in Asia.
"There are numerous rate increase petitions pending now with the ERC amounting to an aggregate total of P5/kwh. These were filed by PSALM, Meralco, VECO, NPC, NGCP, RE groups and other distribution utilities including electric cooperatives. And now, plus another P0.12/kwh to pay the obligations of Meralco to NPC? Certainly, if all these petitions will be approved by the ERC, then the Philippines will gain the status of having the most expensive power in the world. That will be the kiss of death for our industries and the much-touted PPP. This will increase unemployment, worsening poverty and accelerate social unrest." warned Mendoza.
"We condemn the heartless rent-seeking of our country's oligarchs and we are furious over the inability of our energy officials to protect the Filipino consumer from corporate exploitation" Mendoza said. "The President should appoint new people to the DOE, PSALM, NEA and ERC soonest in the same way he cleaned up the COA and the Ombudsman. The credibility of these energy officials is lower than the temperature in Siberia," he added.
MacArthur police nab two Chinese nationals
By RPCRD, Police Regional Office 8
October 17, 2011
CAMP RUPERTO K KANGLEON, Palo, Leyte – PSSupt. Elizar Patano Egloso, Police Regional Office 8 Spokesperson, said that the police are continuously going out and reaching out the people in Eastern Visayas to remind them our role in preservation, protection and promotion of Philippine Mining Act of 1995. This is one of the PNP Programs under Sangyaman Master Plan", our commitment from the threats of environmental degradation. Thus we are encouraging the people to support this program, he added.
In the morning of October 15, 2011, elements of Gen MacArthur Police Station led by PSInsp Rolando Nier America, chief of police, acted upon the complaint of Mr Jaime T Lao, President of Masada Resource and Mining Corp and proceeded to Brgy Laurel, Gen McArthur, Eastern Samar and apprehended two (2) Chinese Nationals identified as Chun Hui Dong alias Charlie and Gangye Hong both staff of King Resource Mining Inc for violation of Sec 5 and 103 (Phil Mining Act of 1995) and confiscated three (3) trucks loaded with chromite. Said Chinese Nationals were brought to Hon. Rio A. Afable, Provincial Prosecutors, Borongan City for inquest proceedings docketed under NPS Nr VIII-12-INQ-II-1-100015. Confiscated items remain at Brgy Laurel, Gen MacArthur, Eastern Samar while the suspects were brought Gen MacArthur Police Station for proper disposition.
In another development, PRO8 were able to arrest six wanted persons in different areas in Eastern Visayas with different offences.
At about 10:00 PM of October 13, 2011 in Brgy Casandig, Paranas, Samar, Julio Oblino alias "Taboy", 32 yrs old, single, farmer, and a resident of same place was arrested by elements of Paranas Police Station led by PCI Doughlas Antonio B Eloja by virtue of WOA for the crime of Attempted Homicide docketed under CC Nr 2924 with recommended bail of P120,000 issued by Hon Cicero T Lampasa, Acting Judge of MCTC, Paranas-San Sebastian, Samar. Subject arrested person was brought to Paranas Police Station for documentation and proper disposition.
At about 2:00 PM of October 13, 2011 in Brgy San Pedro, Jaro, Leyte elements of Jaro Police led by PI Ricky C Reli, chief of police, together with four (4) PNCOs arrested one Marciano Almerino alias Engam, rank number three (3) most wanted person in Jaro, Leyte, 46 years old, married, farmer and a resident of the aforementioned place by virtue of WOA for the crime of Murder docketed under CC Nr 2011-02-113 issued by Hon Judge Frisco T Lilagan, Presiding Judge, RTC Branch 34, Bulwagan Ng Katarungan, Tacloban City, Leyte with no recommended bail dated September 15, 2011. Subject arrested person was booked at Isabel and Jaro PS locked-up cell for proper disposition.
At about 10:00 AM of October 13, 2011 in Brgy Sabang, North, Borongan City elements of Borongan City Police Station led by PI Alex Tiu Robin, Deputy chief of police together with eight (8) PNCOs arrested Melba Accion of legal age, married and a resident of Brgy Sabang, North, Borongan City by virtue of WOA for the crime of Direct Assault docketed under CC Nr (2001-14) 1554 with recommended bail amounting to P12,000 issued by Hon Judge Lenadro C Catalo, RTC for documentation prior turn-over to the court of origin.
At about 6:15 AM of October 13, 2011 in Brgy. Sto Rosario, Isabel, Leyte elements of Isabel Police Station led by PSI Joel Camacho, COP together with four (4) PNCOs apprehended Joseph Gulane, 33 yrs old, married and a resident of the abovementioned place by virtue of WOA for the crime of Simple Theft docketed under CC Nr R-ORM-11-00293-CR with recommended bail amounting to P20,000 issued by Hon Judge Clinton C Nuevo, RTC Branch 12, Ormoc City.
At about 5:30 AM of October 14, 2011 elements of Inopacan Polce Station led by Police Inspector Allan Cerro, Chief of Police conducted operation against warranted person which resulted to the apprehension of Alfonso Daufil Estrera, 33 yrs old, single, farmer and a resident of Brgy Bulacan, Hindang, Leyte by virtue of WOA for the crime of frustrated homicide docketed under Criminal Case Number H-1978 with recommended bail amounting to P24,000 issued by Hon Judge Ephrem S Abandon, Presiding Judge RTC 8th Judicial Region, Branch 10, Hilongos, Leyte. Subject arrested person was brought to Inopacan Police Station for documentation prior turn-over to the court of origin.
And, at about 4:25 AM of October 14, 2011 elements of Sta Fe Police Station led by SPO1 Geronimo Rumawak conducted operation against warranted person at the vicinity of Brgy Pitogo, Sta Fe, Leyte which resulted to the apprehension of one Jayson Lacaba, 25 yrs old, married, farmer and a resident of Brgy Pitogo, Sa Fe, Lyete by virtue of WOA for the crime of Theft docketed under Criminal Case Nr 2011-08-493 with recommended bail amounting to P24,000 issued by Hon Judge Frisco T Lilagan, RTC Judge Bulwagan Ng Katarungan, Tacloban City. Subject arrested person was brought to Sta Fe Police Station for documentation prior turn-over to the court of origin.
DND commends Gen. Chan for effective engagement with Civil Society Organizations in Samar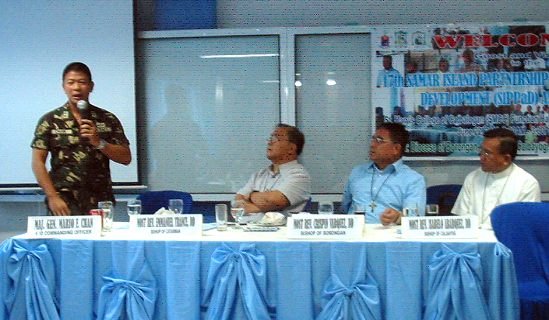 MGen. Mario Chan (standing) and the 3 Bishops during the 17th SIPPAD Assembly.
By EMY C. BONIFACIO, Samar News.com
October 13, 2011
CATBALOGAN CITY – The Department of National Defense, through Sec. Voltaire T. Gazmin, extends a congratulatory message to the 8ID leadership for an effective engagement with civil society organizations in Samar.
The personal message addressed to MGen. Mario F. Chan was signed by Sec. Gazmin on September 8, 2011.
"I take pride and honor in commending you for your exemplary performance, professionalism and leadership in nurturing social harmony, peace and development in the different provinces of Samar Island as acknowledged by the Samar Island Partnership for Peace and Development (SIPPAD)", the DND commendation states.
Gazmin acknowledges the SIPPAD's recognition to be meticulously evaluated by the three Bishops of the three (3) provinces of Samar as conveners. He is convinced that the support extended by the SIPPAD is a concrete proof of the General's dedication and zealousness in the fulfilment of the AFP's constitutional mandates.
Likewise, the DND leadership is convinced that the IPSP Bayanihan is effectively implemented in the area.
"Your accomplishment symbolizes the AFP's commitment to the President's call for a transparent, accountable, and responsible governance that shall serve as an example for others to follow. Carry on the good work with unwavering fervor and enthusiasm", were Gazmin's encouraging words.
It was learned that on August 15, 2011, Most Rev. Emmanuel C. Trance (Bishop of Catarman), Most Rev. Isabelo T. Abarquez (Bishop of Calbayog) and Most. Rev. Crispin B. Varquez (Bishop of Borongan) brought to the President's attention the effective partnership of the military contingent in Samar, headed by Gen. Chan, in nurturing social harmony, peace and development in their respective areas.
The letter specifically cited the exemplary performance of the 8th Infantry Division as the best performing division in the Philippine Army during the first six months of 2011. In 2009 and 2010, the best division in the army was the 4th Infantry Division. Both divisions have been headed by MGen. Mario F. Chan.
"Clearly, this is a clear indication and a tribute to the effective leadership and management style of Gen. Chan, who has succeeded in forging productive partnerships and teamwork with civil society, the church, and the LGUs of Cebu, Bohol, Biilran, Northern Samar, Western Samar and Eastern Samar. We, the Samarnons, have benefitted from the social and developmental services rendered by the military, which include medical/dental missions, literacy projects and road construction/rehabilitation projects, among others", the Bishops explain.
Recently, Chan has been making noise and getting support in his desire to put in place a developmental roadmap for Samar which prioritizes the proposed construction of circumferential and radial roads that would interconnect the three provinces.
"These roads are expected to boost the economic development within the area. Hopefully, these prosperity roads (roads to war against poverty) will hasten development and will end the lingering poverty in Samar", the Commanding General said.
The SIPPAD letter thanked the President for putting Samar Island among his priority provinces and for appointing and keeping Gen. Chan as head of the military contingent in Samar.
"Indeed, Gen. Chan's troops have shown to us, Samarnons, that the military can have a humanitarian face, with accompanying bayanihan spirit and willing hands", the Bishops add.
Finally, an expression of their desire to continue working with Gen Chan and his division in the pursuit of greater social harmony, communal peace and economic development in the island of Samar were conveyed to the President.
46 LGUs get P91-million Gawad Pamana Awards
Press Release
By DILG Regional Office 8
October 13, 2011
TACLOBAN CITY – Some 46 provinces, cities and municipalities throughout the 13 regions of the country were awarded on Tuesday a total of P91-million as incentives for good governance under the government's Gawad Pamana ng Lahi program.
The funds came from the DILG's Congress-appropriated P500 million Performance Challenge Fund (PCF) aimed to serve as incentives for the country's local government units to adopt transparent, accountable and participatory governance.
Interior and Local Government Secretary Jesse M. Robredo and Union of Local Authorities of the Philippines (ULAP) president, Oriental Mindoro Gov. Alfonso Umali, Jr. presented the awards to the beneficiary LGUs during the culminating activity of the Biyaheng Pinoy, a yearlong celebration of the 20th anniversary of the Local Government Code, held at the Philippine International Convention Center in Pasay City.
The awards consisted of a trophy and a check of P3-million for each provincial winner, a trophy plus a check of P2-million for each of the city awardees, and a trophy and a check of P1-million for each municipal winner.
The governors and mayors of the recipient LGUs personally received the checks to serve as funding support for the implementation of programs and projects under the Millennium Development Goal.
Robredo said the Gawad Pamana ng Lahi is conferred to local government units for their exemplary performance across major development initiatives in administrative governance, social governance, economic governance and environmental governance.
"Through this awards program, we aim to recognize the invaluable contribution of LGUs that have continuously adhered to the good governance principles of transparency, accountability and inclusivity in local administration and development," he said.
Of the 46 regional winners, 15 were provinces, 15 were cities and 16 were municipalities.
The provincial awardees include the provinces of La Union, Quirino, Bulacan, Cavite, Marinduque, Albay, Negros Occidental, Bohol, Leyte, Zamboanga del Norte, Misamis Oriental, Compostela Valley, Cotabato, Agusan del Norte and Benguet, while the cities were: San Fernando, Santiago, San Fernando, Antipolo, Puerto Princesa, Ligao, Iloilo, Cebu, Ormoc, Zamboanga, Cagayan de Oro, Tagum, Kidapawan, Surigao, and Tabuk.
On the other hand, the municipal awardees were: Tagudin (Ilocos Sur); Ilagan (Isabela); Llanera (Nueva Ecija); Carmona (Cavite); Odiongan (Romblon); Tiwi (Albay); New Lucena (Iloilo); Amlan (Negros Oriental); Naval (Biliran); Labason (Zamboanga del Norte); Opol (Misamis Oriental); Laak (Compostela Valley); Surallah (South Cotabato); Cagwait (Surigao del Sur); Sta. Marcela (Apayao); and Sultan Mastura (Maguindanao).
The DILG Secretary said the LGUs were chosen based on the following criteria: scores in the development indices from the Local Governance Performance Management System, (LGPMS), the Seal of Good Housekeeping, organization of national government bestowed awards, and acknowledged innovations.
"We expect the Gawad Pamana ng Lahi awardees to sustain their outstanding performance and serve as shining exemplars of good governance," Robredo said.
Meanwhile, the DILG informed that in line with the celebration of the 20th year of the LGC, seven (7) LGUs will be conferred the Seal of Good Housekeeping in the afternoon of Friday, October 14, 2011 at the DILG-8 Regional Office in Tacloban City, while the two LGUs granted the SGH earlier this year - Biliran and Almeria both in Biliran province, will receive the Performance Challenge Fund counterpart incentive worth 1 Million Pesos each.
The seven are Leyte Province; Ormoc City; Guiuan, Eastern Samar; Laoang, Northern Samar; Hinunangan, Southern Leyte; and the towns of Alang-alang, Burauen and Jaro in Leyte. The 2011 SGH criteria is based solely on full compliance to the government's Full Disclosure Policy; and the absence of "adverse" or "disclaimer" opinion in the LGU's 2010 COA Annual Audit Report. (with report from the DILG Office of Public Affairs)