Ochoa hails exceptional public servants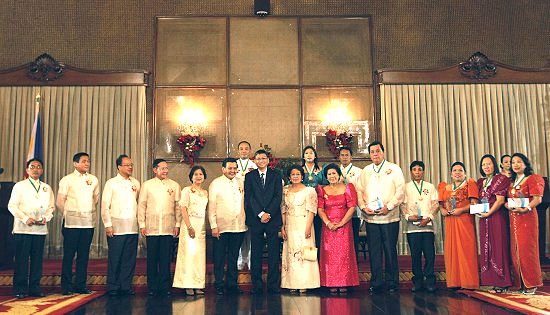 Executive Secretary Paquito N. Ochoa Jr. at the awarding of the 2011 Outstanding Public Officials and Employees in Rizal Hall, Malacañang Palace on Wednesday. With him are former President Joseph Ejercito Estrada, outstanding public servants and members of the 2011 Lingkod Bayan, Dangal ng Bayan and Pagasa Awards Committee headed by Civil Service Commission Chairman Francisco Duque III. (ROBERT VINAS / Malacañang Photo Bureau)
Press Release
November 9, 2011
MALACAÑANG – Executive Secretary Paquito N. Ochoa Jr. commended on Wednesday 81 civil servants who were cited for their extraordinary contributions to good governance under the Honor Awards Program of the Civil Service Commission (CSC).
In simple ceremonies for the 2011 Outstanding Public Officials and Employees held at the Rizal Hall of Malacañang, Ochoa noted the competence and dedication of the awardees to uplift public service and their commitment to set an example for the entire bureaucracy.
Ochoa also echoed President Benigno S. Aquino III's message to the awardees, urging the recipients of the Presidential Lingkod Bayan Award, Dangal ng Bayan Award, and Pag-asa Award to continue to serve as inspirations for the Filipino people, and expressed hope that other civil servants will emulate them.
"Sa lahat ng nabigyan ng parangal… nagsilbi kayong huwaran at inspirasyon hindi lamang sa iba pa nating mga kasamahan sa gobyerno, kundi pati na rin sa sambayanang Pilipino. Nakakapagdulot kayo ng lakas at pag-asa sa araw-araw nating pakikibaka tungo sa tunay na pagbabago," stated the message of the President, which was conveyed by Ochoa during the ceremony.
"Kaakibat po ng mga parangal na inyong natanggap ay ang hamong iniiwan sa inyo nito upang manindigan bilang mga awarded," the Chief Executive's message further said. "Nawa'y maging instrumento pa kayo sa paghubog ng iba pang lingkod-bayan. Umaasa ako na hindi magtatapos sa araw na ito ang pagpapamalas ninyo ng husay at dedikasyon (sa serbisyo-publiko). Hinihikayat ko po kayong bumuo ng isang kalipunan ng mga lingkod-bayan na magsusulong ng magagandang programa sa iba't ibang lugar sa ating bansa."
The 81 officials and employees of government were recognized for their outstanding accomplishments and consistent demonstration of exemplary ethical behavior in public service.
Each individual or group received either a gold-gilded medallion expertly crafted by the Bangko Sentral ng Pilipinas or a trophy designed by National Artist for Sculpture Napoleon Abueva, a plaque, and a cash prize.
The CSC administers the annual nationwide Honor Awards Program to promote morale, efficiency, integrity, responsiveness and courtesy in the civil service. The program seeks to recognize and reward state officials and employees for their outstanding contributions and achievements in the delivery of public service.
The 2011 Outstanding Public Officials and Employees include Laguna Gov. Jeorge E.R. Ejercito Estregan, Sta. Rosa, Laguna Mayor Arlene Arcillas, Misamis Occidental Public Employment Service Office Manager Lucia Buaquiña, Philippine Air Force-Clark Air Base (Pampanga) Technical Sergeant Jesus Fabian, Special Science Teacher III Janeth Fuentes (Leyte), Philippine Army (General Santos City) Col. Joselito Kakilala, Negros Occidental Solid Waste Management Team.
Supervising Science Research Specialist Lucille Abad (PNRI-QC), State Auditor Helen Cailing, Bohol Governor Edgardo Chatto, Postman Jelyn Duting, Administrative Aide Joey Fernandez, Medical Officer Eleanor Javonillo, Master Teacher Edgar Madlaing, Forestry Technician Elpidio Malinao (Posthumous), Maguindanao Vice Mayor Ramon Piang Sr., Teacher 1 Lorna Ibban Pulalon (Posthumous).
Administrative Aide Bayle Baguioan, Electronics and Communciation Equipment Technician Dionisio Cagampang, Social Welfare Officer Aileen Cuevas, District Jail Warden Ma. Annie Espinosa, Philippine Navy Commander Jose Renan Suarez (Service Force, Philippine Fleet-Cavite City), Aerobic Rice Research, Development and Extension Program (Bulacan Agricultural State College), Dumalag Rural Health Unit (Capiz), Northern Mindanao Integrated Agricultural Research Center (Cagayan De Oro City), Philippine Textile Research Institute (Taguig City), and Provincial Health Office Dental Team (Bangued, Abra).
8ID inter-agency response saves Japanese nationals
By CMO Battalion, 8ID PA
November 8, 2011
CAMP LUKBAN, Catbalogan City – A service vehicle of the Ciriaco Hotel in Calbayog City with seven Japanese nationals on board met an accident on November 6 at about 1:25PM along the Maharlika Highway at the vicinity of Barangay Tizon, Tarangnan, Samar. The service vehicle was on its way back to Calbayog City after visiting sites for medical mission when it collided with a cargo truck heading towards the opposite direction.
The headquarters of the 14th Infantry Battalion (14IB) Philippine Army was immediately informed of the incident being the primary Army unit in-charge of security in the area. Lt.Col. Jennie M Heyasa, the Executive Officer of the battalion, dispatched a rescue team with two vehicles to facilitate the transport of the injured persons to the Samar Provincial Hospital. The 14IB also sought the assistance of the Tarangnan Municipal Police Office which sent a team to address the law enforcement concerns on the incident.
The Camp Lukban Station Hospital of the 8th Infantry Division also sent an ambulance with a medical team to assist the rescue team of 14IB in the evacuation of the injured persons to Catbalogan City.
After the initial treatment of the injured persons at the Samar Provincial Hospital, the hospital provided an ambulance along with the ambulance of the Saint Camillos Hospital that was sent from Calbayog City to bring the patients to Saint Paul Hospital in Tacloban City for further treatment.
All of the patients except one are now in stable condition according to the attending physician. Mr. Yoshinori Miura who is suffering from disorientation is still confined at the hospital Intensive Care Unit.
MGen. Mario F Chan AFP, the Commander of the 8th Infantry Division expresses his heartfelt gratitude to all the organizations who readily offered their services to make the evacuation and treatment of the injured persons a success.
DILG urges strong finish for country's bet in "New Seven Wonders" contest
By MYLES JOSEPH E. COLASITO
November 8, 2011
TACLOBAN CITY – To ensure that the Puerto Princesa Underground River (PPUR) lands in the final list of New Seven Wonders of Nature worldwide polling contest, the Department of the Interior and Local Government (DILG) is urging LGUs to initiate simultaneous text voting and to facilitate online voting before the contest ends on November 11, 2011 (Friday).
DILG-8 Regional Director Pedro A. Noval, Jr. said the office has received information that PPUR was recently named by Bernard Weber, President and Founder of New7Wonders as among the Top 10 finalists among the 28 entries entering the final week of the campaign. He credited this to the concerted action by the private sector and the government. "Our LGUs have joined in by adopting the PPUR campaign through flag-raising ceremonies, training, conventions, outdoor advertising, and even in the recent barangay assemblies", said Dir. Noval.
The Top Ten (listed alphabetically), are: the Dead Sea, the Grand Canyon, the Great Barrier Reef, Halong Bay, Jeita Grotto, Jeju Island, Komodo Island, Puerto Princesa Underground River, Sundarbans and Vesuvius.
However, it was noted that there could still be changes in the final list, as witnessed in the first campaign for the man-made wonders of the world, with competing countries making increased last ditch efforts for the final seven slots.
Thus, a heightened and forceful effort in the last few days by all sectors would ensure that the Philippine entry stays among the leaders in the N7WN campaign, said Dir. Noval. He said people can show their support by visiting http://www.new7wonders.com/ and following the instructions in that site.
The public may likewise avail of the "Pera sa Kweba" promo initiated by the private sector, which reputedly offers the biggest prize money ever for a text campaign.
The promo runs until December 28 this year. It offers a Grand Prize of P25 million and five consolation prizes of P1 Million each to be drawn on December 30, 2011. It aims to make Filipinos appreciate why PPUR deserves to be among the finalists of the N7WN contest.
Texters can also win P10,000 in daily draws, P100 thousand in bi-weekly draws and P250 thousand in monthly draws. To join, just send PPUR to 2861 (all networks) at P2.50 per SMS. You will then receive a confirmation reply for every trivia successfully downloaded.
Each PPUR trivia downloaded before November 11, 2011 entitles the sender to two (2) raffle entries, while those sent and received from November 11 to December 28, 2011 corresponds to one (1) entry. For its part, DILG (which chairs the PPUR-N7WN campaign task force) is in the process of distributing posters on the mechanics of PPUR Pera sa Kweba to all parts of the country to help in the information drive. Those interested may also visit the official promo website at http://www.puerto-undergroundriver.com/pera-sa-kweba/ for details.
The eco-tourism benefits for a country being listed among the New Seven Wonders of Nature is estimated at upwards of One Billion dollars, reason why nations vigorously campaign for inclusion of their natural attractions in that coveted list.
LSA athletes assured college support
By Provincial Media Relations Center
November 5, 2011
TACLOBAN CITY – The provincial government of Leyte assured support to young athletes in the province not only in terms of sports training but further education in the future particularly for scholarship grants for college degrees.
Leyte Governor Carlos Jericho Petilla revealed during the recent 2011 Provincial Athletics Meet for Leyte province, that athlete-scholars of the Leyte Sports Academy (LSA) are now being assured of a college education once they graduate from high school.
"These are big universities in Manila who already have expressed their interest to take in our LSA athletes as scholars once they get to college," Gov. Petilla announced to the crowds during the provincial meet held in Alangalang, Leyte which hosted this year's provincial sports fete.
The Leyte Sports Academy is a free sports training and education program initiated by the provincial government of Leyte through Gov. Petilla for qualified athletes coming from various public and elementary schools in the province.
From more than 37 athlete-scholars when it opened in 2009, the academy now trains 70 young athletes who are provided free training, accommodation and education at the Leyte Sports Development Center where the academy is also located.
Sports training are in the field of boxing, badminton, swimming and track and field.
Gov. Petilla said that the province is designing the Leyte Sports academy to be a long-term and sustainable program that would continue whoever sits as the provincial governor.
Earlier, communications giant SMART has assured support to the Leyte Sports Academy through their SMART Sports program which provides assistance to grassroots sports in the country.
"Thus, we are trying to tie up with the private sector, the private companies in particular, to support this program so that it can stand on its own and continue to train deserving athletes in the province," Gov. Petilla declared.
He added that this likewise include tie-ups with universities which can accommodate these athletes for college education.
The governor enthused that the athletes' performance and the program itself have both caught attention that the present scholars of the academy would have college scholarships once they finish secondary school.
LSA athletes competed in the 2011 Leyte Provincial Meet over the weekend representing their respective schools.
2nd Visayas Blogging Summit in Cebu
By NANCY R. CUDIS
November 3, 2011
CEBU CITY – Bloggers are invited to join the 2011 Visayas Blogging Summit on Nov. 26, 2011 at SM City Cebu.
With the theme, "Blogging and Beyond", the 2011 Visayas Blogging Summit – the second after its launch in Iloilo last year – highlights the value of blogging as a potent tool in community development and in encouraging community participation.
"The blogging phenomenon in the Visayas continues to grow, reinforced by the emergence of blogging organizations dedicated to professionalize the local blogging community. However, a lot of work still needs to be done," Kevin Ray Chua, president of Cebu Bloggers Society Inc. (CBSi), said.
CBSi, a SEC-registered organization of Cebu bloggers committed to bring pride to Cebu through blogging, is the host and organizer of this year's Visayas Blogging Summit.
Chua pointed out that through this summit, bloggers will be able to network with other fellow bloggers, be updated on the current Philippine blogosphere, and find opportunities to uphold the Bloggers' Social Responsibility.
Ruben Licera Jr., vice president of CBSi, noted that while the Visayas blogging community mostly compose of individuals ages 14 to 35 who are daily engaged with the Internet, a large number of them still needs to be educated on the right decorum and ethics of social media.
"There is also a large portion of social media practitioners and bloggers who need to be empowered and tapped to contribute to community development and participatory governance," he added.
The topics during the 2011 Visayas Blogging Summit will focus on empowering social media practitioners to be responsible citizen journalists and catalysts in their communities through new media. The summit will culminate with the Best Cebu Blogs Awards Night.
The following day, on Nov. 27, a Cebu Heritage Tour will take interested participants to various attractions in the province.
More than 250 bloggers from the Visayas are expected to attend the summit. Bloggers from Luzon and Mindanao are also invited to participate.
While the 2011 Visayas Blogging Summit is for bloggers maintaining a blog that is at least three months old with regular postings, CBSi is inviting students to join as part of its advocacy to promote the responsible use of social media.
The Visayas Blogging Summit, which was first organized by the Iloilo Bloggers in Iloilo City, is a gathering of bloggers in the Visayas to talk on issues and concerns related to blogging and discuss how to further make blogging an effective tool for community development.
For more information on the 2011 Visayas Blogging Summit, or to register, please visit www.visayasbloggers.com.
Yellow Ladies Movement a key to empower women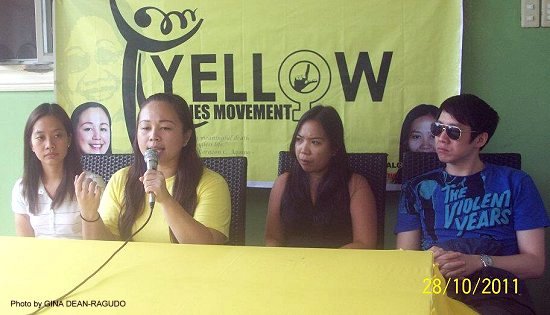 By GINA DEAN-RAGUDO, Samar News.com
October 30, 2011
CALBAYOG CITY – Just in time for the 60th birth anniversary of the late Mayor Reynaldo S. Uy, Ining Uy's Foundation and the Yellow Ladies Movement (YLM) have finally taken its initial step when over five thousand people gathered on October 28, 2011 at the Northwest Samar State University Socio-cultural Hall for the joint launching and mass induction of officers representing the different towns and two cities of Samar province.
It was learned that Yellow Ladies was conceptualized when the family was grieving for the untimely death of Calbayog Mayor Reynaldo Uy where it was noticed that most women who attended the wake were wearing yellow shirts or suites.
In an interview with Aica Uy-Delgado, eldest child of the late mayor, she said that yellow means seeking justice; and for over six months, the family is still hungry for justice.
But the death of her dad would not stop her from pursuing its advocacy in protecting women and children whose primary objective as a doctor is to save lives.
Aware of the present economic status of Samar, Uy's eldest sibling felt it's time for the Yellow Ladies Movement to do something to alleviate the situation of women by empowering themselves.
Saddened by the notion linking the YLM to politics, she clarified that the movement will stand up fighting for the rights of women and children and the key members of the community.
"I hate to tackle the recall election. Ang sa amin ni Eunice (referring to Board Member Eunice Babalcon), may recall o wala, YLM will stand. We don't need election, we don't need position, we don't need the capitol, we need the people, we need to empower them," she said.
She added that she wanted to change the traditional "dole-out system" where Samareños relied so much from politicians and government efforts.
For more than a month of tapping some municipalities in the province, over ten thousand women signified their intentions to get involved with the movement.
As a new organization, YLM Executive Chair Aica Uy-Delgado wanted to make Samar a hub of all its efforts and initiatives.
Among the programs that they would like to implement first are the feeding programs for the children, visit newly-born babies and mothers in their respective centers or units and providing them support.
Aside from the personal connections that they would like to establish in the community, YLM also wanted to create awareness in regard to the pressing situation happening in the society such as human trafficking and educate them the rights of women and children as mandated in the constitution. Furthermore, the movement assured to provide them with psychological, legal and health care interventions to rebuild their self-confidence thus, making them worthy citizens of the country.
The YLM doesn't only recognize women but also gay members of the community.
To sustain their programs, different initiatives have been planned out such as fund-raising activities, seek donations from other benefactors and organize tournaments involving other towns and cities.
YLM hopes to provide livelihood opportunities to its members and be dependent on their own efforts and become partners of their husbands in providing food for the families.
ANAD Rep. Alcover chides Lacierda for issuing negative-pregnant statements
By ANAD Partylist
October 29, 2011
QUEZON CITY – "ANAD is firm in its stand that the secessionist war waged by the Moro Islamic Liberation Front (MILF) against government still exists despite the on-going peace negotiations between the two panels. Isn't giving P5million to the MILF tantamount to giving aid to an enemy of government, for whatever purpose it shall serve?" asked ANAD Rep. Jun Alcover as he chided Presidential Spokesman Edwin Lacierda for responding in general terms.
However, Rep. Alcover said that Lacierda's statement, as reported by media (Palace defends P5M aid to MILF, 10-28-11, www.abs-cbnnews.com,) is an open admission that indeed Malacañang gave P5 million, in check, to the MILF. "Rather than dishing out negative-pregnant responses to media, Atty. Lacierda ought to give a clearer and categorical response to the issue," he added.
Reacting to Lacierda's call to go back and look for the definition of Treason in the Revised Penal Code, Rep. Alcover pointed out saying, "Article 114, Book Two of Republic Act 3815, otherwise known as An Act Revising the Penal Code and other Penal Laws, defines treason as: '. . . Any person who, owing allegiance to (the United States or) the Government of the Philippine Islands, not being a foreigner, levies war against them or adheres to their enemies, giving them aid or comfort within the Philippine Islands or elsewhere (emphasis ours), shall be punished by reclusion temporal to death and shall pay a fine not to exceed P20,000 pesos.' This is clear! The Revised Penal Code's definition doesn't only refer to aid or comfort given to and used by the enemy to fight government."
"Why give the money to the MILF who has not officially renounced or ended their secessionist war against government? There are other Muslim groups and individuals who are capable and could readily implement the very same program using the very same fund. What is inside the MILF that those outside the secessionist group are by far different and thus couldn't achieve and deliver in terms of constructing the Bangsamoro Leadership and Management Institute Training Center, training and developing Muslim leaders, and honing their managerial skills?" asked Rep. Alcover.
"We are serious in our study on the possible filing of an impeachment complaint against President Aquino. We are focusing on the three impeachable offenses: Treason, Betrayal of public trust, and Culpable violation of the Constitution," Rep. Alcover explained.
On the required two-witness rule for the case of treason to prosper, "This already has been fully satisfied by the statements made by OPAPP Sec. Teresita Deles, Presidential Spokesman Lacierda, and GPH panel head to the MILF talks Dean Marvic Leonen to media, in separate forums and occasions," he added.
"At the moment, we are hopeful and upbeat that ANAD could readily initiate the complaint to protect the interest of the Filipino people and the government as a whole," Rep. Alcover clarified.