An Waray Representative admits Anti-RH stand
By GINA DEAN-RAGUDO, Samar News.com
October 2, 2011
TACLOBAN CITY – The Reproductive Health Bill has become a debatable issue in Congress, and An Waray Party List Representative Bem Noel admits his stand in contrary to his wife who co-authored it.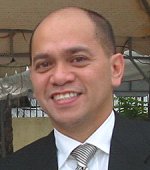 Cong. Bem Noel
"I respect the opinion of my wife. She's there to protect her district. Malabon is over populated," says Cong. Noel.
It was learned that there are 6 bills pertaining to reproductive health and/or population management that have been filed for deliberation in both the House of Representatives and the Senate for the 15th Congress.
The most controversial of these bills is House Bill No. 96 authored by Rep. Edcel Lagman. House Bill No. 96, also known as the proposed "Reproductive Health and Population and Development Act of 2010," which cover the following areas such as the midwives of skilled attendance, emergency obstetric care, access to family planning, maternal death review, family planning supplies as essential medicines, benefits for serious and life-threatening reproductive health conditions, mobile health care service, mandatory age-appropriate reproductive health and sexuality education, responsibility of local family planning office and certificate of compliance, capability building of barangay health workers, ideal family size, employer's responsibilities, multi-media campaign, implementing mechanisms, reporting requirements, prohibited acts and penalties.
Among the provisions cited, Noel said that Rep. Lagman has made an assurance to edit out the penalties in the controversial bill.
The solon does not consider the country's population as a problem as he believes that it can be an advantage in the labor sector both local and abroad.
The high competency level of Filipinos in the employment industry globally should be maximized, he added.
He also said that the country has enough resources and RH bill talks more on appropriations. With how the lower house squabbles over the issue, there is now doubt if the bill could pass it into law.
In his assessment, Metro Manila area strongly supports it, Luzon provinces is 50-50, while Regions 6, 7 and 8 is anti.
Should the bill get no support from the majority; an alternate legislation that can be used is the Magna Carta for Women, Noel concluded.
Army cites political unity in "insurgent free" Southern Leyte
By ES GORNE, PIA Southern Leyte
September 30, 2011
MAASIN CITY – The Philippine Army leadership of the Central Command cites Southern Leyte's political unity that contributes in the attainment of its status of an "insurgent free" province.
The members of the Provincial Peace and Order Council (PPOC) in Southern Leyte led by Provincial Governor Damian G. Mercado together with Lt. General Ralph A. Villanueva, Commander, Central Command based in Camp Lapulapu, Cebu City, Major General Mario F. Chan, Commander, 8th Infantry Division of the Philippine Army participated in the ceremonial signing of the Joint Declaration of an "insurgent free" Southern Leyte.
During the Provincial Development Council (PDC) meeting headed by Provincial Governor Damian G. Mercado and members of the PDC, the council accorded the ceremonial signing among its priority PDC agenda at the R.K. Kangleon Function House in Maasin City in Southern Leyte in the morning of September 29.
Lt. Gen. Ralph Villanueva said that the province of Southern Leyte is the sixth province in the Visayas that were declared with insurgent free condition together with the provinces of Biliran, Bohol, Cebu, Guimaras and Siquijor. This year, only the Southern Leyte province has been declared insurgent free, so far, he added.
He assured the media group that the Internal Security Operations in the province is in place and to be continued.
Villanueva also informed that the provincial government the military presence in the province will still be around with (1) regular Charlie Company for the 78th IB and (2) CAFGU companies of the 52nd IB when asked.
During the press conference that followed after the declaration ceremony, Major General Mario F. Chan, Commander, 8th Infantry Division of the Philippine Army disclosed that the role of the military in the peace and order status of the province was to support Southern Leyte, which eventually spearheaded in bringing development in the province.
He said the united political leadership in the province of Southern Leyte has brought about economic development coupled with the installation with basic infrastructures such electric power, among others, that gives access for all the people to information that would help change their perception and no longer join the insurgency movement.
Chan noted that no less than the lone representative of Southern Leyte, Congressman Roger Mercado reported that it took the representative seven (7) years look into the construction of the roads, bridges, interconnect roads take place around the province. That all these developments closely contributed to faster interaction among the people, he added.
MGB-8 calls on LGUs to look into irregularities that aggravate flooding
By Philippine Information Agency (PIA 8)
September 30, 2011
TACLOBAN CITY – Improper extraction of sand and gravel at the river banks of Catarman River, rampant cutting of trees and improper disposal of waste into the river are the main factors that aggravate flooding in various barangays of the municipality of Catarman, Northern Samar, Chief Geologist James Leones, the head of the Mines and Geosciences Bureau 10K survey team, observed.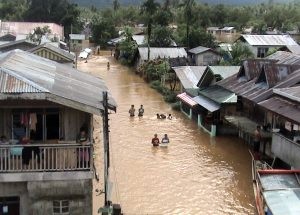 "LGUs should look into these irregularities and make necessary actions to prevent disasters," the head of the team that conducted geohazard assessment and geologic mapping in 23 barangays of the municipality, said.
MGB Regional Director Roger A. De Dios urged local government officials to be prepared and the residents to be vigilant. He said PAGASA continuously warns of more heavy rains and even typhoons in the coming days and months.
Director De Dios, in a press statement said that Catarman is not only prone to flash floods and landslides but also to storm surge and tsunami because of its proximity to the Pacific Ocean.
He, therefore, strongly urged the coastal barangays to be more observant and head important public announcements and local radio broadcasts.
It may be recalled that after completing its assessment and geologic mapping of 1:10,000 scale in 23 barangays of Catarman, Northern Samar, the Mines and Geosciences Bureau Region 8, through the geological survey team led by Chief Geologist James S. Leones, identified the 11 landslide-prone barangays classified under high and very high susceptibility.
The team also discovered that almost all of the 23 barangays surveyed are susceptible to the threat of flooding, the team found out. These areas are likely to experience flood heights of 1.5 meters and flood duration of three days.
In the geohazard assessment report, the team proposed various recommendations to the Local Government Units such as constant updates of barangay officials on geohazard situation with municipal authorities and MGB-8 personnel and the creation or reactivation of Barangay Disaster Risk Reduction and Management Council.
The report also called on the residents to be watchful during inclement weather. It also discouraged construction of houses along steep slopes, creeks or river banks.
PIA 8 North Samar organizes media group anew
By AILENE N. DIAZ, PIA Northern Samar
September 29, 2011
CATARMAN, Northern Samar – Media as a catalyst of change, plays a crucial role in uplifting the lives of the people of all walks of Life. They regard themselves as channels of information which can effect, influence and change perspective and behavior of individual, family and community.
It is on this context that Philippine Information Agency (PIA) Northern Samar Information Center decided to organize the media anew to be integrated as one, into a single objective which is to establish a stronger and united organization regardless of one's affiliation, station, paper or otherwise.
Media Society of Northern Samar is the name favoured by the majority to be the name of the organization.
The new president elected is Ms. Rachel Arnaiz, an anchor of MUEWS-FM and writer of Leyte Samar Daily Express and Philippine Daily Inquirer; Vice-president for print Perigrino Arillo, publisher of Waraynon; Vice-president for broadcast Beth Betonio, Manager of FM Allen; Secretary Arlyn Tepace, information officer of Provincial Information Office; Treasurer Jayne Galit-Bantayan of DYSM; Auditor Tito Tepace of MUEWS-FM; Business Manager Virgilio Besarino of DYSM and PIO Maurice De Guia of Provincial Information Office.
The new president expresses her pleasure with the organization of the media as this has been long overdue due to conflict of interests and incongruous behavior towards one's standpoint. She is grateful with the PIA for facilitating the organization after a series of attempts being done.
Year end activities of Media Society of Northern Samar were tackled during the meeting including the formulation of constitution and by laws, schedule for oath taking and trainings needed for the practice.
Civil society urged to pursue transparency in local governance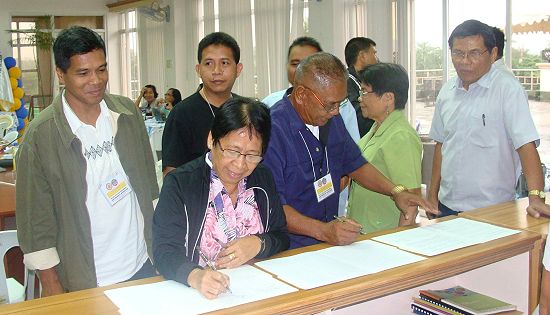 Members of civil society organizations and DILG field officers sign an expression of commitment in support of good governance initiatives of the national government. The DILG-LGU-CSO partnership workshop between the DILG and civil society in Eastern Visayas held last September 26, 2011 at the DILG-8 Regional Office, aimed at operationalizing the MOA between DILG and CSO groups promoting transparency, accountability, responsiveness and performance in local governance.
By MYLES COLASITO
September 28, 2011
TACLOBAN CITY – Civil society is very much welcome to participate in the promotion of transparency, accountability, and performance in local governance.
This was the message of Undersecretary for Local Government Austere A. Panadero during the one-day Partnership Workshop held at the Regional Office of the Department of the Interior and Local Government (DILG) in Tacloban City last September 26, 2011.
Speaking before representatives of non-government organizations, cooperatives, heads of parish social action committees in Eastern Visayas, and an equal number of DILG regional and field officers, Usec. Panadero stressed on the importance of civil society in local governance.
He posed the challenge for the Department and civil society organizations (CSOs) to operationalize the Memorandum of Agreement entered into by DILG Secretary Jesse M. Robredo and CSO partners. Particularly he said that resources must be mobilized and capacities must be developed to maximize their participation in local governance.
He cited the framework for CSO participation in local governance. CSOs could variously serve as Gabay (Guide); Kaagapay (Partner); Tulay (Bridge); and Bantay (Watchdog) in LGU operations, Usec. Panadero said.
Citing that about 90% of LGUs nationwide are complying with the Full Disclosure Policy, he threw the question on how the available data can best be understood, and which could result in improvements in LGUs. He suggested that universities and colleges be tapped in helping analyze the contents of the documents posted by LGUs under the Full Disclosure Policy, in order to make a database wherein people could compare LGU financial practices.
According to Director Francisco C. Jose, the workshop is an offshoot of the Memorandum of Agreement (MOA) signed between DILG and the Caucus of Development NGO Networks (CODE-NGO), Transparency and Accountability Network (TAN) and Task Force Participatory Local Governance (TF-PLG).
It aims to benchmark the contributions of the partnerships in the promotion of a responsible, accountable and transparent local governance. Likewise, it seeks to identify factors that either reinforce or hinder the maturation of the partnerships; and determine the more robust areas of partnerships or engagements that have to be scaled up and to translate these into a mutual action plan.
Prior to the conduct of workshops, participants were oriented on the FDP and SGH, and were presented some best practices on DILG-CSO and CSO-LGU engagements. The workshop centered on the state of local participatory governance, on mutual objectives and possible actions. The day ended with CSO and DILG participants signing an expression of their commitment towards promoting transparency, accountability, responsiveness and performance in local governance.
Among the CSO participants were Laureen Dumaguing of Eastern Visayas Network of NGOs, Fr. Cesar Aculan of the Calbayog City Social Action Committee (SAC), Emy Bonifacio of MATA-Samar; Betty Garrido of LEFADO; Agustin Docena of ESSDOG, Dr. Luisito Quitalig of Samar State University; Fr. Charles Diaz of Catarman Diocese; Rowena Juanillo of WESADEF; Clarita Napoles of BIPCOFED, Fr. Edward Veloso of SAC-Naval, Biliran; Fr. Isagani Petilos of SAC-Palo, Leyte; Quinciano Galagar of Bobon Fisherfolks Association; Beverly Capeña of SPIADFI; Godofredo Maray of LRAP; Fr. Juderick Calumpiano and Mario Ian Mosquisa of Catholic Social Services Center; Ernesto Rostata of Culaba Senior Citizen Association, and Judy Torres of Kaisampalad.
Wife of communist terrorist surrenders
By RPCRD, Police Regional Office 8
September 28, 2011
CAMP RUPERTO K KANGLEON, Palo, Leyte – PCSupt Arnold Rayala Revilla, Regional Director discloses that one way of addressing problem regarding insurgency is coming up with a holistic approach wherein all sectors of the society need to cooperate and contribute efforts in solving it. Thus, he elaborated that such move requires an active support from the Local Government Units, the business groups and the other sectors on all programs of the government aimed at addressing the insurgency problem such as the delivery of basic services to the remote areas, infrastructure projects in the Barangays and livelihood programs to the surrenderees among others.
This he said after the wife of a member of the PLAGUER 1, Front Committee 2, Northern Samar Provincial Party Committee (NSPPC) surrendered to Police Regional Office 8 operatives headed by PSupt Isaias B Tonog.
Based on reports this office received that last September 25, 2011 at about 5:00 o'clock in the afternoon, Communist Terrorist Alijandria A. Parido alias Mariz surrender to the police operatives at Brgy Dalakit, Catarman, Northern Samar. Mariz, a CT member is the wife of Agusto Parido alias Ka Dino, a member of the Communist Terrorist Movement/Under Ground Movement, PLAGUER 1, Front Committee 2, Northern Samar provincial Party Committee (NSPPC), EVRPC operating in the 1st District of Northern Samar Province who surrendered to PSupt Isaias B Tonog, together with the elements of 3rd RPSMC on September 18, 2011 at around 9:30 in the morning in collaboration of the Local Government Unit of Catarman, Northern Samar thru Hon Mayor Rolando F Carpio.
Mariz is a resident of Brgy Pilar, Oquendo District, Calbayog City and included in the 2nd Semester 2010 Periodic Status Report (PSR) on Threat Group/Order of Battle as member of the CTs/NPA, PLAGUER 1, Front 2, NSPPC, EVRPC. She was a fulltime member of the UGM, under the POT for almost six (6) years.
Afterwhich, at about 5:30 o'clock in the afternoon of same date, surrenderee was brought to HQS, 3RPSMC, Brgy Urdaneta, Lavesarez, Northern Samar for temporary custody while under tactical interrogation.
PhilHealth cites 2 Leyte hospitals as centers of excellence
By Philippine Information Agency (PIA 8)
September 24, 2011
TACLOBAN CITY – Two hospitals in Leyte were recently cited as Centers of Excellence by the Philippine Health Insurance Corporation (PhilHealth) in ceremonies held at the Crown Plaza in Quezon City.
PhilHealth identified the two Leyte hospitals as the Divine Word University Hospital (formerly St. Paul's Hospital) and the OSPA- Farmers Medical Center.
The two hospitals in Leyte are among the 54 hospitals across the country, which were recognized by PhilHealth, Ms. Marimar Zabala, Information Officer of PhilHealth in Eastern Visayas informed.
The PhilHealth Center of Excellence awards is a fitting tribute to health care facilities that have made the cut where quality standards are concerned. It is granted to accredited hospitals that have met the stringent criteria articulated in the Benchbook which has become the standards for accreditation.
In particular, the health care facility is able to comply with quality standards in the areas of patients' rights, organizational ethics, patient care, safe practice and environment, leadership and management, human resource management, information management, and improving performance.
The efforts of partner hospitals are recognized to encourage them to continue with their best practices on clinical and quality assurance and aim for excellence in the delivery of health care.
The list is expected to expand once the other hospitals realize the benefits of being bestowed the highest accolade in the area of hospital accreditation in the country.
Aside from the prestige of being awarded the Center of Excellence, it is the fulfillment and the reward of every human resource of the facility who has worked hard to embody what quality assurance is to their system, PhilHealth stated.
Institutional Health Care Providers (IHCPs) who are awarded as Center of Excellence will be given three (3) years accreditation, but they will have to apply yearly to update their documentary requirements like DOH license without the annual survey.
However, spot monitoring shall be conducted by PhilHealth surveyors whether they are consistent with their quality assurance program and if there is a lapse in their performance, the facility after due process can be downgraded to either Center of Quality or Safety.
Civil Service Commission awards the City of Borongan for excellent frontline services
By SAMUEL D. CANDIDO, PIA Borongan
September 23, 2011
BORONGAN CITY, Eastern Samar – The Civil Service Commission (CSC) Regional Office-8 through its report card results, CS results bared that the City of Borongan that sustained excellent frontline service delivery was given an award.
The program is in line with the commission's mandate to promote prompt, excellent, honest and courteous frontline service in the bureaucracy.
CSC conducted again the Report Card Survey pilot run in selected government agencies on June 7, 2011 for re-assessment.
In an interview with PIA, City Mayor Fe R. Abunda said that she was happy when she received a call from CSC Regional Director Atty. David E. Cabanag, Jr informing her that again she will receive a plaque of commendation.
"I am happy and I thanked the employees for their wholehearted support and cooperation as they served as frontliners in government service who always put to heart the value of efficiency, promptness while showing their brightest smiles before clients," Abunda said.
She further said that without the support and cooperation of the city hall employees, she won't be able to receive the award.
During the 3rd Eastern Visayas Regional Congress of Bilis Aksyon Partners (EVRC-BAP) on September 15, 2011 at Patrio Victoria, San Jose, Tacloban City, the City of Borongan received the Plaque of Commendation from CSC-8.
The plaque of commendation was awarded to Borongan City through Hon. Ma. Fe R. Abunda for having maintained Excellent rating in the delivery of frontline services pursuant to the mandate of Republic Act No. 9485 otherwise known as "Anti-Red Tape Act" of 2007 and Client Satisfaction Center – Seal of Excellence (CSC-SEA).
It demonstrated a high sense of dedication and commitment to uphold the standards of service delivery to the people of Eastern Samar which serves as an inspiration to other agencies.
The plaque of commendation was given by Senior Commissioner Mary Ann Z. Fernandez-Mendoza, CSC-Manila and was received by City Councilors Hon. Karen Alvarez, Hon. Aurora Anasarias, Hon. Rodrigo Caharop, Hon. Napoleon Bebita and City Human Resource Management Officer Reynaldo Cillo.
Last March 24, 2011, the City of Borongan received the award for Citizen's Satisfaction Center (CSC) Seal of Excellence from CSC-8, Tacloban City.
GSIS members only have up to November 30 to transfer to LandBank-issued UMID card
By Philippine Information Agency (PIA 8)
September 23, 2011
TACLOBAN CITY, Leyte – Members and pensioners of the Government Service Insurance System or GSIS only have until November 30, 2011 to inform the GSIS of their intent to transfer to a LandBank-issued UMID Card, Manager Vilma Fuentes of GSIS Tacloban informed.
After November 30, the GSIS will submit all applications to LandBank for the printing of the LandBank-issued UMID eCard.
It may be recalled that beginning August of this year, the more than 1.4 million members may already choose to have their loan proceeds and other benefits credited to a UMID (Unified Multi-Purpose Identification) eCard issued by the Land Bank of the Philippines.
By choosing LandBank as servicing bank, GSIS members would be able to benefit from LANDBANK'S wide network covering 327 branches and more than 900 ATMs nationwide, Manager Fuentes said.
With a LandBank-issued UMID eCard, members may withdraw their loan proceeds and other benefits in any Expressnet, Bancnet or Megalink ATM nationwide.
LandBank-issued UMID eCards also serve as a debit card in more than 20,000 accredited merchants nationwide and as a discount card for GSIS corporate partners such as Pfizer and STI. The card is free with no maintaining balance required for members transferring to LandBank.
Ms. Ana Marie Macuja disclosed that at the GSIS website www.gsis.gov.ph, log on to the eCard member transaction page and click the CHOOSE LANDBANK AS YOUR SERVICING BANK icon.
They can also email their name, date of birth and UMID Common Reference Number (CRN) to eservices@gsis.gov.ph, or visit the nearest GSIS Field Office, Ms. Macuja added.
The GSIS renewed its partnership with LANDBANK in December last year, to give its more than 300,000 pensioners the choice to receive their monthly pension and other benefits through a LANDBANK ATM or thru their eCard.
The renewed partnership with LANDBANK makes it easier for the members and pensioners, especially in the provinces to access their benefits and other loans.
For its part, LandBank said that as a partner of the GSIS in delivering improved service to its members especially in the rural areas, it shares the commitment of the new GSIS leadership to provide excellent service for its stakeholders.