Gov't does not abandon its duty in responding to maritime piracy – NMP executive director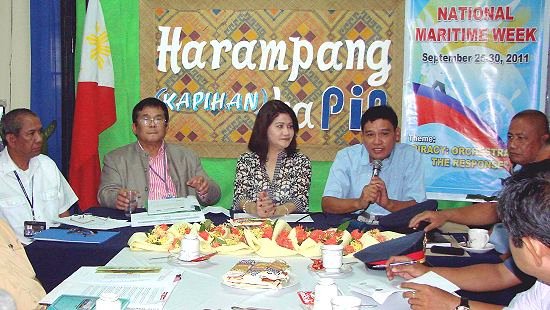 By RODRIGO S. VICTORIA, PIA 8
September 21, 2011
TACLOBAN CITY, Leyte – A top official of the country's premier training school for seafarers said on Wednesday that the Philippine government does not abandon its duty in finding solutions to maritime piracy victimizing some Filipino seafarers since 2008.
Atty. Josephus B. Jimenez, OIC Executive Director of the National Maritime Polytechnic (NMP) located in Barangay Cabalawan this city made this statement in the "Harampang ha PIA" held on September 21 at the PIA regional office.
Jimenez was with the other officials representing the different national government agencies in Eastern Visayas involved in the maritime industry where they served as guests in the regular PIA media interaction which centered on the National Maritime Week celebration on September 25-30, 2011 with the theme "Piracy: Orchestrating the Response".
He informed that there were already 257 Filipino seafarers who have been victimized by maritime piracy from the period 2008-2009 where one Filipino died in Malaysia in August 2008.
The Filipino seafarers which contributed some US$ 2.5 billion in a year to the country's economy has now been affected by maritime piracy and that government has already laid down "preventive and reactive "measures to combat it, the NMP executive director added.
Jimenez further said that part of the preventive measures undertaken by the Philippine government against maritime piracy is the development of an anti-piracy training program for seafarers which NMP offered a one month free training on anti-piracy which is now a regular course and not free anymore.
Other preventive measures espoused by the Philippine government in coordination with other global maritime organizations include the fair treatment of all ships passing through the Gulf of Aden and the waters off the coast of Somalia; APEC economies to collaborate and cooperate closely on the maritime piracy issue and assist Somalia in restoring a working government, Jimenez mentioned.
The Philippine government has donated US$ 20,000 to the UN Trust Fund to support security in the fight against maritime piracy, issued various flag state advisories, hold inter-agency consultations, created of an Ad Hoc Committee on piracy and armed against ships by the Office of the President are the reactive measures undertaken by the Philippine government against maritime piracy, Jimenez disclosed.
He also assured that other government agencies in the government like the Philippine Coast Guard, MARINA and other stakeholders in the maritime industry are also taking steps in finding solutions to maritime piracy.
New Borongan PNP Chief vows to influence his men towards transformation
By SAMUEL D. CANDIDO, PIA Eastern Samar
September 21, 2011
BORONGAN CITY, Eastern Samar – The Borongan City Police Station, Borongan, E, Samar's new City Chief of Police in the person of PSupt. Mario Cristino A. Lucero, vowed to influence his men towards transformation.
In his assumption message, PSupt Lucero thanked Mayor Maria Fe Abunda for her faith and confidence in his ability to head the city police force. He encouraged the men and women of this police station to faithfully adhere to the new PNP slogan which is "PULIS AKO, PULIS NYO PO!"
He further said, "I give you full assurance that I will maximize my leadership efforts not only to maintain the peace and order of this place but also to boost the morale of all the PNP personnel. Like our Chief PNP, I would want to see the PNP Borongan imbued with the virtue of "Serbisyong may Pagkukusa".
He challenged the entire police force "to be advocates of the integrated transformation program, be a catalyst of change, and be leaders in our respective levels."
"Let us be reminded of Chief PNP's statement of reviving our pride and self-esteem, let us join hands in transforming the PNP into a more capable, effective and credible police force," Lucero said.
The new Chief of Police will be an Officer-in-Charge of the City Police Station effective September 14, 2011, pursuant to Special Order No. 122 from Eastern Samar Provincial Office, Camp Asidillo, Borongan City, Eastern Samar.
During the turn-over ceremony, the outgoing City Chief of Police, PSupt Rosula S. Mambulao relinquished her office to incoming City chief of Police, Lucero. The turn-over was witnessed by PSSupt. Manuel E. Cubillo, Provincial Director of Eastern Samar Police Provincial Office (ESPPO) and City Mayor Ma. Fe R Abunda.
In her message, PSupt Mambulao, thanked the former Mayor and now the Vice Mayor Fidel V. Anacta, Jr. and Mayor Fe. R. Abunda for their trust and confidence given to her to head the City Police Station from October 2009 to September 14, 2011 or one year and 11 months as a mother, leader and protector.
She also thanked the entire police force of Borongan City Station for their whole support and cooperation. "One of my big accomplishment in my stint as Chief of Police of Borongan City Police Station is the peaceful celebration of Borongan City Fiesta for the last two years," Mambulao said.
Meanwhile, the City Mayor gave her message. In her message she challenged the incoming OIC- City Chief of Police to regain the trust and confidence of the community to the PNP. She also emphasized the entire police force not to join politics instead do their duties and responsibilities.
"I don't like PNP men and women who are scalawags," Mayor further said. "Let us unite and work together for the peace and development of our city, I need your support and cooperation," Abunda said.
The new OIC-City Chief of Police has numerous awards: Outstanding Chief of Police (individual award) provincewide – 2002; Most Citizen's Friendly Police Station in Llorente -2002; Best Provincial Mobile Group of the year in 805th Police Provincial Mobile Group (PPMG) in Brgy. Buenavista, Quinapondan, E. Samar - 2004; Best Provincial Mobile Group of the year in 806th (PPMG) in Brgy. Lunang, Dolores, E. Samar- 2005, 2006 and 2007; and Junior Officer of the year (Regionwide) – 2006.
Lucero graduated at the Philippine National Police Academy (PNPA), Tanglaw Lahi class 1999.
Chief doctor leads in Civil Service-sponsored Blood-Letting
By ALICE NICART, PIA Catbalogan
September 21, 2011
CATBALOGAN City, Samar – More than campaigning with convincing words, his act to submit for blood transfusion went the strongest message, to convince all other civil servants to share blood for government hospitals and the Red Cross.
It was unlikely for him to do it, way ahead of the others, but Dr. Rudolf Mabulay, Chief, Samar Provincial Hospital was first to take the Red Cross "bleeding bed", as he offered his right arm for blood transfusion, and 10-minutes thereafter, some 450cc. of type "B" blood was ready to save a patient's life.
Unknowingly, Mabulay's strong "punch line" indeed went quite effective as the blood-letting activity produced a total of 46 donors of some 46 bags of assorted types of blood.
Asked how these blood would be stored, the physician replied, "some to the Red Cross, others to the Samar Provincial Hospital, still others to the Eastern Visayas Regional Medical Center (EVRMC)".
"The local hospital's storage system is safe enough to keep the donated blood", he assured the press.
Mabulay was followed with a host of men in camouflage uniform, who later were known to come from the 8th Infantry Division, Philippine Army (PA) under the baton of Division Commander, MGen. Mario Chan.
Sgt. Edcel Regie Amoto claimed it was his 8th time to donate blood, since 2010, and contrary to anyone's worry, he said he felt much better after the transfusion. Like Dr. Mabulay, he just gave 450cc of type "O" blood. Sgt. Amoto was followed by his comrades-in-arm and still another truckload of young soldiers arrived as of press time, all eager to help government in saving lives by donating blood.
Meanwhile, Ms. Nilda Quiero, the Red Cross' competent and graceful Medical Technician (MedTech), assured the donors that the Card they receive after the transfusion, will entitle them or their family member, to receive blood, in case they will need some in the future. They were also gifted with Red Cross T-shirts. Ms. Quiro, extracted blood as though she was a young girl in a play-house's kitchen, enjoying cookery with friends.
Dubbed "Dugo ko, Kinabuhi Mo" [My Blood, Your Life] was part of Civil Service Commission's month-long program for the 111th Founding Anniversary. The Field Office is headed by Director Cyril-Nathan SM. Eamiguel.
The blood-letting campaign found the following data, as gathered by the Red Cross Team: Type "O" donors-17; Type "A" donors-13; Type "B"-14 and Type "AB"-2. Of the total donors, 24 were Army soldiers, eight policemen and 14 were civilians.
LGU-Province, LGU-Catbalogan, the Provincial Council of Personnel Officer-Samar Chapter and Philippine Information Agency (PIA) co-sponsored the activity.
As repression, human rights violations continue 39 years after
Martial Law activists march alongside new breed
By HUSTISYA
September 21, 2011
"As long as human rights violations and political repression continue, there will always be a new breed of activists who will never forget the lessons of Martial Law. We shall continue the cry to stop human rights violations and political repression."
This was the statement of victims of human rights violations and their families as they march with Martial Law veterans today in commemoration of the 39th anniversary since former dictator Marcos imposed tyrannical rule.
From España to Mendiola, victims of Martial Law now in their 50s or older, marched alongside the younger generations of activists, some of them victims of human rights violations under then president Gloria Macapagal-Arroyo and under the present Aquino government.
Many of them were either former political prisoners, while some suffered from arbitrary detention and torture.
"We are honored to march alongside those who bravely fought the dictatorship. We likewise carry on their struggle because sadly, political repression continues to this day," Hustisya secretary general Cristina Guevarra said.
Hustisya condemned the recent spate of killings in September, including that of a seven-year old child, the youngest victim of killing under the the Aquino administration.
On September 5, at around 1:30pm, Rabenio Sungit was shot dead by unidentified motorcycle riding man wearing bonnet in the public market along Pagayona Street, Quezon, Palawan Province. Rabinio was with his wife and son when the incident happened.
Sunshine Jabinez, seven, was killed by indiscriminate firing of members of the the 71st Infantry Battalion of the Armed Forces of the Philippines (IBPA) on September 2. The soldiers were allegedly on a drinking spree when they opened fire at the house of Jabinez's family who were already lying down to sleep. Sunshine is the only daughter of her parents, Adelina and Berman.
Sungit, a member of the United Church of Christ in the Philippines and a member of the indigenous people in Palawan, is an active anti-mining activist. He is the second victim of extrajudicial killing in their family. His brother, Abelino Sungit, also an indigenous people leader was slain in 2005.
"We condemn these senseless killings, and we ask President Aquino. Why do killings continue? Why does the same military repression that your family suffered from continue?" Guevarra said.
The group said there is no better tribute to all Martial Law victims, living or dead, but by fighting against the continuing repression and human rights violations which they fought decades ago.
DPWH-NSFED completes rehab along Catarman-Laoang National Road
By AILENE N. DIAZ, PIA Catarman
September 20, 2011
CATARMAN, Northern Samar – OIC District Engineer Sandy T. Pua of DPWH Northern Samar First Engineering District express delight over the early completion of the Rehabilitation/Reconstruction of Damaged Paved National Road along Catarman-Laoang Road.
According to Pua, this project which was completed on August 31, 2011 was the largest by cost and coverage for 2011, with a budget amounting to P28,450,000.00.
The work covered asphalt overlay with an area of 10,511 square meters, sealing of pavement cracks and joints, reblocking of 45 blocks, reflective thermoplastic pavement markings from Km. 744+077.50 to Km. 745+116.10, and replacement of 1 approach slab at Taguibian Bridge.
As reported, under the leadership of Secretary Singson, the DPWH made contribution in the attainment of the thrust of the new administration and has produced significant changes with sustainable results foreseen to carry over to year 2011 and beyond.
Following mandated institutional policy reform specifically on tightening quality control and assurance in project implementation, DPWH-NSFED went through a rigorous inspections making sure that guidelines in the implementation of this project are met.
UNITEC Builder Inc, the construction company who won the bid for the project has worked with a 17-member team, thus the completion of the project way ahead of schedule.
Beating the deadline without compromising the quality of work is the department's goal to satisfy public demands towards improved life through quality infrastructure, added OIC Asst. District Engineer Alvin Ignacio.
Farmers denounce NPA, pledge to support peace and development of Carigara
By 19th Infantry Battalion, 8ID PA
September 19, 2011
CARIGARA, Leyte – The Local Government of Carigara through the 19th Infantry (Commando) Battalion has gained the support of the nearly 60 farmers amid the disproved food blockade and misbehavior allegations raised by the Municipal Farmers Association of Carigara (MUFAC).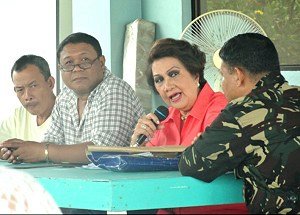 In a consultative dialogue being carried out by MUFAC at the ABC session hall recently, farmers publicly denounced the atrocities of the New Peoples Army in the town of Carigara and pledged to support the peace and development programs of the municipal government.
MUFAC spokesperson, Mrs. Alicia Castaňares, denies before Mayor Trinidad Apostol and Lt. Col. Francis B. Cabugon of 19IB, the association's alleged alliance with the New Peoples Army. She claimed that MUFAC was organized to help and uplift the lives of the farmers.
"MUFAC is not of the NPA. The projects we implement are of the Anak Pawis party-list and not of Satur Ocampo", Castaňares said.
Castaňares who previously accused soldiers for food blockade and misbehavior issues in the hinterlands of Carigara later found out that 19th IB is sincere in its mission of bringing peace and development in the town.
Lt. Col. Cabugon, the commanding officer of 19th IB told MUFAC that soldiers are in the barangays to implement peace and development operation under "Oplan Bayanihan". The peace and development team will pave way to the delivery of basic services to the people in the hinterlands.
Meanwhile, the threat received by MUFAC chairman Mrs. Mamerta Dagalea that was presented to Mayor Apostol and Lt. Col. Cabugon was not honored. Accordingly, the content and the form of writing were very local. And the mere fact that anybody can write just to discredit others could be possible made the evidence insufficient.
"I have been reminding my men to always respect human rights, preserve the constitution and protect the citizens. As to violations, I ascertain you non-tolerance of misbehavior among my troops." Cabugon deliberately stressed.
Lt. Col. Cabugon likewise urges MUFAC members to respect and support the duly constituted government in order to achieve a peaceful and developed society.
The consultative dialogue concluded with MUFAC's pledges to support the programs of the municipal government of Carigara. On the other hand, the 19th Infantry Battalion commits to assist MUFAC in their future endeavors.
Regional Summit on poverty opens in Borongan
By NINFA B QUIRANTE, PIA Borongan
September 19, 2011
BORONGAN CITY, Eastern Samar – A Regional Poverty Assessment and Development Visioning is opening today in Borongan City, Eastern Samar.
In a fact sheet obtained from Fr. Juderick Calumpiano of Borongan Diocese Social Action Center, it said that the event is a government-church-civil society interface and dialogue workshop on how to overcome poverty in the country especially in the poorest regions.
This is organized by the Catholic Bishops Conference (CBCP)-National Secretariat for Social Action (NASSA) and the civil society and the National anti-Poverty Commission (NAPC) as convenor for the government together with agriculture, agrarian reform, interior and local government, social welfare and education departments.
It added that regional summits are done in regions critical to poverty, inequality, environment and climate change issues.
Studies, according to the report, revealed that the rural poor are trapped in a vicious cycle of dependence and hopelessness mainly because they do not have access or control of their assets, that they do not enjoy the benefits of land, forest and waters.
It said further that the common thread underlying poverty is graft and corruption and the need to exact accountability from the government and to promote networking and linkaging among stakeholders.
According to the report, this is the right time to re-institute the paradigm that the poor should be the center of development and for the leaders to listen the the voice of the poor, as the Aquino administration profess to reforms in government.
The regional summit aims to clarify, formulate and document the major and immediate concerns of the poorest regions in the country on different issues. It also aims to relate with the Medium Term Philippine Development Plan (MTPDP), the 2011 budget and policy pronouncements of President Aquino and congress.
Sectoral leaders, civil society and government representatives are attending the summit which will be held for two days at the St Mary's Hotel, Borongan City.
Gov't sets aside P24.8-M for PNoy's working visit to US
Press Release
September 18, 2011
MALACAÑANG – An estimated P24.8 million will be spent by the government for President Benigno Aquino III's five-day working visit to the United States, where he will deliver a keynote speech at the official launch of the Open Government Partnership (OGP) on Sept. 20, Executive Secretary Paquito N. Ochoa Jr. Said on Sunday.
The President is scheduled to leave Sunday evening via a commercial flight to San Francisco, along with a delegation that will include Foreign Secretary Albert Del Rosario, Finance Secretary Cesar Purisima, Trade Secretary Gregory Domingo, Social Welfare Secretary Corazon Soliman, Transportation and Communication Secretary Manuel Roxas II, Budget Secretary Florencio Abad, Presidential Communications Development and Strategic Planning Secretary Ramon Carandang, and Bangko Sentral Governor Amando Tetangco, Jr.
President Aquino was invited by US President Barack Obama and Brazilian President Dilma Rousseff to the official launch of the OGP in New York, a new multilateral initiative to promote transparency, empower citizens, fight corruption and harness new technologies to strengthen governance.
Presidents Obama and Rousseff co-chair the initiative with the theme "The Power of Open: A Global Discussion."
The Philippines is one of eight countries, and one of only two from Asia, which comprise the Steering Committee of OGP. The other seven countries are the US, Brazil, the United Kingdom, Indonesia, Mexico, Norway and South Africa.
Steering Committee members are selected based on the following criteria: fiscal transparency, access to information, disclosures related to elected officials and citizen engagement.
"President Aquino's participation in the event and the selection of our country as a member of the Steering Committee reflects the international community's recognition of the President's commitment to open governance and anti-corruption programs and practices," Ochoa said.
"Such programs are so important to the President that he himself chairs the Cabinet Cluster on Good Governance, which oversees and spearheads these initiatives," Ochoa stressed.
The P24.8-million budget covers expenses for hotel accommodations, food, transportation, telecommunications and equipment requirements, among others, during the official visit.
The Chief Executive's first stop is San Francisco for a short layover before going to New York, where he will also be conferred a Doctor of Laws degree, honoris causa at Fordham University.
President Aquino will also meet high-level business executives belonging to the US-ASEAN Business Council, the US Chamber of Commerce and the Philippine-American Chamber of Commerce, and speak before the IBM Centennial Forum, "Think: A Forum on the Future of Leadership," for the computer giant's 100th anniversary.
After New York, the President will fly to Washington D.C. to deliver a public lecture during the IMF-World Bank Annual Meetings with an audience composed of finance ministers, central bank officials and country representatives. His lecture will discuss the roles of citizen empowerment, good governance and anti-corruption initiatives as agents of poverty reduction.
The President will also meet with the Filipino communities in Washington, D.C., Maryland and Virginia, an area where approximately 110,000 Filipinos live. He will return to the country on Sept. 23.