Pia says RH Bill won't serve as 'back road' for legalized abortion; explains provision on 'post-abortive care'
Press Release
September 11, 2011
PASAY CITY – Senator Pia S. Cayetano today said that the Reproductive Health (RH) Bill will not lead to the legalization of abortion, nor serve as a 'back road' for legalized abortion services, adding that this was an unfounded fear among the measure's critics that should be clarified.

Sen. Pia Cayetano
"The intent of the RH Bill is to uphold the Constitution and in no way tolerate or allow abortion to come in through the back road or behind the scene," stressed Cayetano, principal sponsor of Senate Bill No.2865, or the proposed 'National Reproductive Health Act of 2011.'
One provision that has been questioned by RH Bill opponents is Section 3, the measure's 'Guiding Principles for Implementation,' particularly paragraphs (i) and (j), which read:
"Section 3, (i) While this Act does not amend the penal law on abortion, the government shall ensure that all women needing care for post-abortion complications shall be treated and counseled in a humane, non-judgmental and compassionate manner.
"Section 3, (j) Each family shall have the right to determine its ideal family size, Provided, however, That the State shall equip each parent with the necessary information to all aspects of family life, including reproductive health, in order to make that determination."
Concerns about these provisions were articulated on the Senate floor by Majority Leader Senator Vicente Sotto III at the continuation of the chamber's plenary debates on SBN 2865 last week. After raising issues on the alleged 'sinister motives' of non-government organizations (NGOs) in supporting the RH Bill, Sotto also warned how these groups could take advantage of supposed 'openings' in these provisions to push for legalized abortion.
"To me, they are pushing for this bill because they will inculcate in us that certain means of abortion are medically safe procedures, feasible, and will eventually be considered legal. Parang ganoon po ang dating. Ang kinakabahan po ako, mayroon po tayong bukas na mga pintuan doon sa ating RH bill na version," Sotto said.
Interpreting Section 3, paragraphs (i) and (j), he asked: "Now, Mr. President, if enacted into law, will this mean that if a certain family wants only two children but the mother will become pregnant, the State shall equip that parent with the means to abort the child?"
To which Cayetano replied: "There is nothing here [in paragraph (j)] that says abortion will be given as an option to a family. That is absurd, that is not a logical conclusion."
"Mr. President, I have to say I think the answer is obvious. We [sponsors] made it very clear that it is not. So let us not read into the bill what is not in the bill. I have made it very clear in the sponsorship speech in the provision that preceded this section [Sec.3, paragraph (i)], it is very clear. So let us not read into the bill what is not in the bill."
Cayetano then proceeded to explain SBN 2865's provision mandating medical care to women suffering from post-abortion complications [Sec.3, paragraph (j)]. She drew a parallel situation: When in a shootout, a pursuing cop who shoots and hurts an escaping criminal would still be duty-bound to bring the latter to a medical facility to receive emergency care in order to save his life, or the cop would face possible charges himself.
"In fact, if a police officer or a medical officer treated [the criminal] inhumanely, they would be called upon for their inhumane and unethical conduct," she emphasized.
Relating her analogy to several documented reports where women with post-abortion complications had been denied of emergency medical care in certain hospitals, she continued: "It shocks me that there are people who believe that women who have gone through an abortion need to be treated like criminals because they have committed an act which is defined as a crime in our country."
"In fact in many hospitals they are treated badly, they are pushed around to the side. In fact, some of them will bleed to death because they will not even be attended to, to punish them for that crime. And I will fight for the right of this woman to have the care that she needs because the emotional, psychological trauma that goes through to have an abortion is something that we, who have not been through an abortion, can never understand and she deserves that from the State."
On this point, Sotto agreed: "Yes, Mr. President, I do agree. As a matter of fact, I will be by the Sponsor's side in defending that woman."
To which Cayetano replied: "Then we have no problem."
Rounding up her clarifications on the two provisions raised by the Majority Leader, Cayetano reiterated that she and SBN 2865 principal author Sen. Miriam Defensor-Santiago were open to amendments from other senators to further strengthen the bill at the proper time.
"Mr. President, before we proceed, may I just put on record that we do appreciate the provisions that the Majority leader pointed out which may possibly be misinterpreted. We would like to put on record that I personally, as the Sponsor of the bill, believe that it is part of the legislative process that these provisions which our colleagues feel may be lacking in strength or clarity be strengthened.
"So at the proper time we will be more than happy to accept the amendments by the Majority Floor Leader or any other of our colleagues to strengthen the bill, which they believe may be subject to misinterpretation. Thank you," she concluded.
Government steps up maritime security operations, establishes National Coast Watch System
Press Release
September 11, 2011
MALACAÑANG – President Benigno S. Aquino III has expanded the country's naval security operations to preserve the Philippine territory and protect its people and resources from maritime threats.
Executive Secretary Paquito N. Ochoa Jr. said on Sunday that the President signed on September 6 Executive Order No. 57, which called for the creation of the National Coast Watch System (NCWS), an initiative of the Department of National Defense (DND) and the Armed Forces of the Philippines (AFP).
According to Ochoa, who also chairs the Cabinet Security Cluster, the NCWS will serve as the central inter-agency mechanism for a more coordinated approach on maritime issues and maritime security operations to enhance governance of the country's maritime domain.
EO 57 expanded the scope of the Coast Watch South, primarily tasked to provide maritime security operations in Southern Philippines, to cover the entire archipelago. The presidential issuance also effectively abolished the Commission on Maritime and Ocean Affairs (CMOA) created by virtue of EO No. 612 issued in 2007.
"In issuing EO 57, the President emphasizes the government's firm commitment to prioritize maritime security in the country, especially in the face of maritime challenges and threats such as terrorism, transnational crimes, drug and firearms trafficking, smuggling, human trafficking, climate change, illegal fishing, marine environment degradation and other security concerns," Ochoa pointed out.
The new EO harmonizes the policies, programs and activities on intelligence work, border control, interdiction and law enforcement of several government agencies such as the Philippine Navy, the Philippine Coast Guard and the Philippine National Police-Maritime Group, among others, for better maritime governance, Ochoa added.
Under EO 57, the National Coast Watch Council (NCWC) shall be established and chaired by the Executive Secretary, with the secretaries of the DND and the Departments of Transportation and Communications (DoTC), Foreign Affairs (DFA), the Interior and Local Government (DILG), Justice (DoJ), Energy (DoE), Finance (DoF), Environment and Natural Resources (DENR) and Agriculture (DA) as members.
As the central inter-agency body, the NCWC will be in charge of formulating strategic direction and policy guidance for the NCWS, specifically on maritime security operations and multinational and cross-border cooperation on maritime security. The Council will also take over the mandate and functions of the CMOA.
The President directed the council to conduct periodic reviews of maritime security operations and submit periodic reports to the President and the National Security Council (NSC), and recommend policies and procedures in managing and securing the country's maritime domain.
The chairperson is mandated to convene the NCWC at least twice a year or as often as deemed necessary and appropriate.
Technical and administrative assistance and support, including consultative research and administrative services, will be provided by the Coast Watch Council Secretariat, which will be headed by an Executive Director to be appointed by the NCWC head upon the recommendation of the council.
A National Coast Watch Center, headed by the Philippine Coast Guard (PCG), shall also be established under EO 57 to implement and coordinate maritime security operations in accordance with the strategic direction and policy guidance to be issued by the council.
Manpower, equipment and material support to the National Coast Watch Center shall be provided by the PCG, the Philippine Navy, the Philippine National Police-Maritime Group, National Prosecution Service of the DoJ, Bureau of Customs, Bureau of Immigration, National Bureau of Investigation, Bureau of Fisheries and Aquatic Resources, and the Philippine Center on Transnational Crime.
The initial funding of P20 million for the NCWS will come from the Special Account in the General Fund of the DoE, and thereafter be incorporated in the General Appropriations Act for funding.
EO 57, however, allows the council and the center to accept donations, contributions or grants from domestic or foreign sources subject to government accounting and auditing rules and regulations.
Initially, the council is directed to submit within 90 days from the issuance of EO 57 a report to the President on the implementation of the directive.
Convergence caravan took Llorente folks by storm
By NINFA B QUIRANTE, PIA Borongan
September 10, 2011
BORONGAN CITY, Eastern Samar – The convergence caravan brought by the Department of Social Welfare and Development (DSWD) stormed Llorente town on September 9, 2011.
Although Mayor Tito Codoy admitted he was surprised that he has to prepare many things for the visitors, he was equally elated that his 3rd class municipality was chosen for the project.
As early as seven in the morning of Friday, the menfolk of upstream barangays started milling aroung asking for the different services being offered by the activity.
Even if the DSWD top notch officials were still travelling to this coastal town, services like medical check up with free medicines, TESDA skills demonstrations, Avon pangkabuhayan showcase, advance payment for Cash for training/work, and Self Employment Assistance-Kaunlaran (SEA-K) products sale and display and supplemental feeding for day care children were already taking place.
As the guests poured into the spacious Llorente Sports Complex, the program started where DSWD Regional Director Letecia Diokno said that they wanted to inform the public that the "three big projects" of DSWD have landed in town and several Lanangnons (people from Llorente) are enjoying the fruits of SEA-K, KALAHI-CIDSS, and Pantawid Pamilyang Pilipino Program (4Ps).
Similarly, Director Ed Gonzaga of the health department told the audience that PhilHealth is nearing the complete enrolment of indigents in Eastern Samar.
"Conditional Cash Transfer (aka 4Ps) are enrolled in PhilHealth," Gonzaga said.
This was confirmed by Mayor Codoy. "With 4Ps, less people ask for medicines from the LGU," the mayor beamed.
As to the nutrition corner, Dina Dilao of the nutrition council made the mayors present happy when she announced that most Eastern Samar towns have registered a decline in malnutrition by half.
She mentioned specifically the towns of Llorente and Gen Macarthur, both mayors were present, Codoy the host mayor and Mayor Jaime Ty of Gen MacArthur.
Dilao punctuated her presentation by urging the barangay chairmen to provide weighing scales to their Barangay Nutrition Scholars.
The activity ended with testimonials from a teacher, health worker and a barangay chairman the improvement in the lives of the 4Ps beneficiaries.
Usec Mateo Montano in his message urged the beneficiaries of the program to value the government assistance. He also assured them of the continuous assistance from the Aquino government.
"Of the 2012 national budget, P34 B is allotted to 4Ps, and further we will increase the coverage up to 3 million Filipinos," Montano said amidst the applause of Lanangnons. He urged the 4Ps beneficiaries to utilize the fund for its intended purpose.
Status of 4Ps implementation discussed in Provincial Committee Meeting
By Provincial Media Relations Center
September 9, 2011
TACLOBAN CITY – Over P128 million in conditional cash grant was disbursed to beneficiaries of the Pantawid Pamilyang Pilipino Program (4Ps) in Leyte for January-December 2010; while at least P7 million have already been released to indigent families in the province for the period of January-April 2011.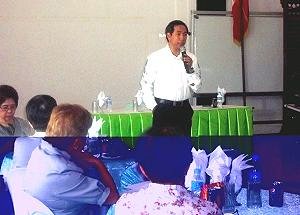 In the recent 4Ps Provincial Committee Meeting attended by Department of Social Welfare and Development (DSWD-8) Regional Director Letecia C. Diokno and Leyte Governor Carlos Jericho Petilla, the Leyte 4Ps team reported the status of releases for the conditional cash grant in the province of Leyte.
The province tallies a total of 66,692 registered beneficiaries from various municipalities all over Leyte.
The recent meeting also discussed were the updates on the implementation of the program, most important of which was the report on the improved database system for 4Ps being conducted by the DSWD in Eastern Visayas.
The DSWD reports over 8,000 beneficiaries have been de-listed from about 168,000 families identified under the program. The delisting of about 8,000 families undertaken by the regional welfare agency covered 2009, the year the program was implemented in the region up to the month of August, this year.
Foremost in the reason for de-listing was that the beneficiaries do not anymore have children below 14 years old; while others have been delisted for non-compliance of the requirements imposed to remain within the program.
Dir. Diokno disclosed that while the program has gained an impact in the aspect of poor families sending their children to school there were some families who were not complying with the conditions which caused their being stricken off from the list of beneficiaries.
Gov. Petilla has earlier urged the DSWD to revalidate their list of indigent recipients as common complaints reaching his office or during his regular barangay visits are that some of them have a steady source of income, some have regular jobs while some are even serving as barangay officials.
"The government is spending a lot for 4Ps thus we would like to make sure that the recipients of the cash grants are really those indigent ones and deserve to be placed under such social pension," Gov. Petilla said.
4Ps is under the auspices of the Department of Social Welfare and Development (DSWD) where qualified beneficiaries are families who need to comply with conditions set by the welfare department otherwise non-compliance will result to de-listing of the program's beneficiaries.
Included in the conditions which need to be strictly complied include sending the children to school or visiting health centers. Qualified beneficiaries receive P6,000 a year or P500 per month per household for health and nutrition expenses and P3,000 for one school year or 10 months or P300 per month per child for educational expenses.
Militarizing Leyte can never promote development, peace, says BAYAN EV
Press Release
By BAYAN-EV
September 8, 2011
TACLOBAN CITY – "Whose interests do they protect from militarizing Leyte?" asks Flor 'Ka Pong' Acbo, Chairperson of Bagong Alyansang Makabayan (Bayan)-Eastern Visayas, after the Leyte Provincial Peace and Order Council (RPOC) renewed their vow to crush insurgency to "counter terroristic threats and secure economic interests."
Bayan Eastern Visayas slammed the PPOC's twisted logic to promote development and win the peace in Leyte. "The PPOC's line of reasoning follows the incorrigible propaganda of the present Aquino government to eradicate insurgency by 'winning the peace and development' thru intensified civil and military operations," says Acbo.
Army Colonel John Bunapos, Commanding Officer of the 802nd Brigade based in Ormoc City, Leyte declared during the PPOC conference yesterday that it has boosted the military presence spread across the province. The 78th Infantry Battalion and the 4th Special Forces were recently deployed to assist the counter-insurgency operations initiated by the 19th Infantry Battalion based in Kananga, Leyte.
Acbo said that "boosted military presence has in fact revived Oplan Bantay Laya's fascist and militarist approach to crush insurgency. It can even surpass the gravity of violations committed under the previous Arroyo government which has already been observed and documented in several municipalities of Leyte including the rape case in Tunga town."
Bayan particularly condemned the continuing pronouncement made during the PPOC conference against legal organizations when Bunapos mentioned one peasant organization to be front of the New People's Army. "Bunapos has actually confirmed the suspicion that the military was indeed the anonymous entity behind the death notes sent last August 25 to three officials of the Municipal Farmers Association of Carigara (MUFAC)."
In his statement, Bunapos cited MUFAC in Carigara as one reason why NPAs in Leyte continue to exist after it was declared insurgency-free previously. Bayan, on the other hand, criticized his malicious statement against MUFAC's program to build communal gardens as immediate source of food for them.
"Bunapos' folly was showing when he said that these communal gardens are activities of the NPA therefore it follows that MUFAC members are NPAs. The twisted logic of the AFP puts the life and economic interests of these peasants in complete jeopardy."
In sharp admonition of the Army Colonel's statement, Bayan averred that this kind of activity by peasant organizations are exposing the "sheer government neglect" to the people that is why they are embarking on alternative ways and sources of food. In the same light, "The Aquino government's Oplan Bayanihan program remains nothing less but a "grand psychological warfare with no interest of alleviating the people's poverty. In actual terms, Oplan Bayanihan is currently in a frenzy to jeopardize the livelihood and peaceful living of the people." In ending, Acbo has called on the people to renew the fight against Oplan Bayanihan.
PRO8 neutralizes 5 wanted persons
By RPCRD, Police Regional Office 8
September 9, 2011
CAMP RUPERTO K KANGLEON, Palo, Leyte – PCSupt Arnold Rayala Revilla, Regional Director PRO8 ordered all policemen in Eastern Visayas to continue their intensified campaign against all forms of criminality to ensure the safety of the general public. Furthermore, he assured the public that the PNP is maintaining the safety of the people especially during "ber" months. In fact PRO8 have deployed uniformed policemen in vital installations in Region 8, like in the terminal areas, airports, seaports and mall and they will remain in their posts until after the holidays.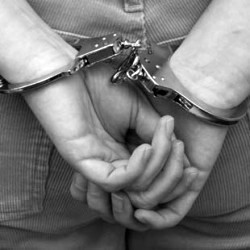 At about 7:00 AM of September 7, 2011 elements of Daram Police Station led by PCI Antonio A Cruda arrested Rudy Arsenal, 54 yrs old, farmer and Jimmy Pestolante, of legal age, farmer and both residents of Poblacion 2, Daram, Samar by virtue of Warrant of Arrest issued by Hon Sibanah E Usman, Presiding Judge of Branch 28, Bulwagan ng Katarungan, Catbalogan City, Samar dated September 2, 2011. Subject persons were charged for the crime of qualified theft docketed under CC number 8028 with recommended bail of P24,000. Arrested persons were brought to Daram Police Station for proper disposition prior turn-over to the court of origin.
At about 8:30 PM of September 6, 2011 in Brgy 10, Dolores, Eastern Samar elements of Dolores, Eastern Samar elements of Dolores Police Station led by PI Jerome B Camacho, chief of police, arrested Fernando Nuguit, 42 yrs old, married and a resident of aforementioned place by virtue of WOA issued by Hon Celso F Lorenzo, Presiding Judge of RTC Branch 4, Dolores, Eastern Samar. Subject person was charged for the crime of murder docketed under CC number 311. Arrested person was brought to Dolores Police Station for proper disposition prior turn-over to the court of origin.
At about 8:05 PM of September 5, 2011 in Brgy Abango, Barugo, Leyte elements of Barugo Police Station led by SPO2 Demosthenes Avestros arrested Ramon Ilaya and Ramie Ilaya, both of legal ages and residents of aforementioned place by virtue of WOA issued by Hon. Buenaventura A Renomeron, Presiding Judge of MTC, Barugo, Leyte. Subject persons were charged for the crime of attempted homicide docketed under CC number M-BAR-2011-017-CR with recommended bail of P12,000. Arrested persons were brought to Barugo Police Station for proper disposition prior turn-over to the court of origin.
Army chief Ortiz visits 8ID units
By CMO Battalion, 8ID PA
September 8, 2011
CAMP LUKBAN, Catbalogan, Samar – The Commanding General of the Philippine Army, Lieutenant General Arturo B. Ortiz AFP arrived last Friday for a three-day field visit of 8th Infantry (Stormtroopers) Division units. This field visit of the Division is the second one so far for the year 2011.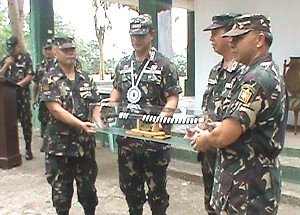 Field visits of major service commanders like the CGPA is usually performed to check not only on the morale and welfare of the troops but also to size up their capability of carrying out the Army's mission. In these visits, it is common for Commanders to tag along staff assistants who represent the various functions of the Army in order to readily address specific troop concerns.
Being the host commander in the region, MGen Mario F Chan AFP, the 8ID Commander, briefed LtGen Ortiz of updates in his Division's support to "winning the peace" in Eastern Visayas. In acknowledgement of the accomplishments, the CGPA recognized outstanding personnel and units in the visited sites.
The CGPA's visit of Eastern Visayas has always been special. It was in this region particularly in Leyte Island that Lieutenant General Ortiz could recall fond memories of his early years in the Army. Each time he comes for a visit, he never fails to meet the families who once hosted him as a young officer.
PRO8 operatives arrested violators of RA 8294
By RPCRD, Police Regional Office 8
September 8, 2011
CAMP RUPERTO K KANGLEON, Palo, Leyte – Suspects who were recently apprehended for violating RA 8294 were now temporarily detained in Borongan lock-up cell for further investigation and subsequent filing of charges in court for violation of PD 1866 as amended by RA8294 (Illegal Possession of Firearm, Ammunition, and explosives) after being found in their possession numerous assorted firearms and ammunition according to PSSupt Elizar Patano Egloso, PRO8 Spokesperson.
He said that at about 11:27 AM of September 6, 2011 in Brgy Bato, Borongan City, joint elements of ESPPO, ESPPSC, Borongan CPS, PCIDG and Tacloban CPS led by PSSupt Manuel Enage Cubillo, Provincial Director apprehended five (5) persons with short FAs (fire arms) on board a Nissan Safari and Hyundai Starex van.
Initial investigation disclosed that said persons were passing at the established checkpoint at the said place when flag downed by the PNP elements and accosted for carrying FAs during visual search. The suspects presented questionable documents and one suspect has no authorization to his alleged license FA prompting the law enforcers to arrest them. Said apprehend persons were as follows: Jose Paolo Raymund Arriera, 30 yrs old, single and Julius Macabontoc, 27 yrs old, married and both residents of Laloma, Quezon City on board the Nisan Safari Wagon black in color bearing plate number TKJ-989, and Rodmanric Relenas, 34 yrs old and resident of Bagong Ilog, Pasig City, Danilo Blanque Jr, 38 yrs old and Novo Ian Gabriel, 31 yrs old and both resident of Laloma, Quezon City on board the Hyundai Starex Van silver in color bearing plate number WFF-394.
Confiscated from their possessions were as follows: 1 taurus, cal 40 with 1 mag and 14 ammos; 1 Taurus, cal 45 with 2 mags and 21 ammos; 1 glock, cal 40 with 5 mags and 90 ammos; 1 millenium Taurus, cal 45 with 2 mags and 20 ammos; 4 pcs bullet proof vest; 5 units cellular phones; 2 long bladed weapons with scabbard; 1 pc black jacket with "pulis" markings; 1 pc baseball bat; beltbags and other personal belongings. Said apprehended persons and confiscated items were brought to Eastern Samar Police Provincial Office (ESPPO) for safekeeping, documentation and for further investigation. Appropriate criminal charges are now being prepared for filing in court against the suspects.
Another incident that transpired at about 8:20 PM of September 5, 2011 elements of 8RPSB-Javier Patrol Base received a complaint of theft incident from one Glecerio Retucsan, of Poblacion, Zone 1, Javier, Leyte that a group of persons are stealing fishes from the fishpond located at his backyard. Joint elements of 8RPSB led by PI Antonio Angcay and Javier PS led by PI Jimmy Boy Balasanos, chief of police, proceeded to the area an while on their way they saw one Wilson Cumla alias Sonny and a resident of aforementioned place carrying a KRIEGESKCRTE and CO. STUTTGART caliber 22 light rifle bearing serial number 252922. Suspect managed to escape leaving behind said rifle upon sensing the arrival of PNP personnel. Recovered firearm is now under the custody of 8RPSB-Javier Patrol base.
Army and media foundation to build school building in Eastern Samar
By CMO Battalion, 8ID PA
September 7, 2011
CAMP LUKBAN, Catbalogan City – A ground breaking ceremony for a two-classroom school building project was held yesterday morning at Brgy Calingatnan, Borongan, Eastern Samar. The project has become possible through the combined efforts of ABS-CBN "Sagip Kapamilya" Foundation, the Provincial Government of Eastern Samar, the 801st Infantry Brigade and the 546 Engineer Construction Battalion, and the City Government of Borongan. The project is dubbed "Gusto Kong Mag-aral" by the ABS-CBN Foundation.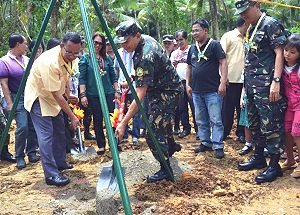 Of all the barangays in Borongan City, Brgy Calingatnan was chosen for its ideal location in accordance with construction standards. The ceremony was attended by Honorable Maria Fe Abunda, the City Mayor of Borongan, Eastern Samar; Colonel Romeo Labador, the Commander of 801st Infantry Brigade; Brigadier General Mariano Veloria of the 53rd Engineering Brigade; and representatives from other agencies in the Province.
It is worthy to note that a lot of help is coming to Samar Island which is rated as one of the poorest in Eastern Visayas. The combined effort of private organizations, local government agencies, and the 8th Infantry Division is making this assistance possible.
DENR-EMB, Smart bare national finalists for the 2011 National Search for Sustainable and Eco-Friendly Schools
Press Release
September 6, 2011
A total of 45 public and private schools have entered the finals of the 2011 National Search for Sustainable and Eco-Friendly Schools, organized by the Department of Environment and Natural Resources – Environmental Management Bureau (DENR-EMB), Department of Education (DepEd), Commission on Higher Education (CHED) and Smart Communications, Inc. (Smart).
Fourteen elementary schools, 16 high schools and 15 colleges made it through the regional eliminations and will now compete in their respective categories at the national Level. Winners will be announced during the exhibition-cum-awarding ceremony that will be held on November 16, 2011 as part of the National Environmental Awareness Month.
Environment and Natural Resources Secretary Ramon J. P. Paje said the schools' response to the call for entries was "overwhelming". Now on its second run, the nationwide competition aims to recognize educational institutions from the elementary, high school and tertiary levels with the best sustainable and environment-friendly programs and activities.
"We were amazed by their creativity and their commitment in implementing eco-friendly practices," he said.
"We need to start teaching our kids as early as we can to take responsibility in safeguarding our environment. Schools are dynamic focal points of learning and powerful vehicles of change. Parents and teachers can work together to spread the wonders of living an environmentally-smart lifestyle," he added.
Smart joins the activity for the second year as part of its corporate social responsibility and community service program Kabalikat.
"Smart has been taking measures to practice environmental sustainability in our day-to-day operations and promote ecological awareness and preservation to our publics. We encourage the youth to do the same and we know we can do this by working through their schools," said Ramon Isberto, Smart Public Affairs Head.
"We are hoping that this search will inspire more schools to go green and will influence participants to adopt an environmentally-friendly lifestyle from what they learned from this program," he added.
For the elementary school level, the regional champions are: Commonwealth Elementary School, Commonwealth Avenue, Quezon City; Lawig Elementary School, Lamut, Ifugao Province; Cal-laguip Elementary School, Caoayan, Ilocos Sur; Peñablanca East Central School, Peñablanca, Cagayan; Matain Elementary School, Subic, Zambales; San Isidro Elementary School, San Isidro, Batangas City; San Mariano Elementary School in Roxas, Oriental Mindoro; Iliranan Elementary School, San Carlos City, Negros Occidental; Simeon Ayuda Elementary School, Liloan, Cebu; Lomonon Elementary School, Palompon, Leyte; Kibawe Central School, Kibawe, Bukidnon; Luna Elementary School, Kapalong, Davao Del Norte; Panay Elementary School, Sto. Niño, South Cotabato and Duangan Elementary School, Esperanza, Agusan Del Sur.
For the high school level, the regional champions are: Jose P. Laurel Sr. High School, Project 4, Quezon City; Baguio City National High School, Governor Pack Road, Baguio City; Sinait National High School, Sinait, Ilocos Sur; San Mateo General Comprehensive High School, San Mateo, Isabela; Digdig High School, Carrangalan, Nueva Ecija; Pedro Guevara Memorial National High School, Sta. Cruz, Laguna; President Diosdado Macapagal Memorial National High School, Gloria, Oriental Mindoro; Camarines Sur National High School, Naga City, Camarines Sur; Julio Ledesma National High School, San Carlos City, Negros Occidental; University of San Jose-Recoletos High School, Pardo, Cebu City; Don Geronimo B. Zaldivar Memorial School of Fisheries, Albuera, Leyte; Siayan National High School, Siayan, Zamboanga Del Norte; Balo-i National High School, Balo-i, Lanao Del Norte; Daniel R. Aguinaldo National High School, Matina, Davao City; Tulunan National High School, Tulunan, North Cotabato and Esperanza National High School, Esperanza, Agusan Del Sur.
For the college level, the schools that made it to the national level are: Ateneo De Manila University, Loyola Heights, Quezon City; University of the Cordilleras, Governor Pack Road, Baguio City; Mariano Marcos State University, Batac, Ilocos Norte; St. Paul University Philippines, Tuguegarao City, Cagayan; De La Salle University, Dasmariñas, Cavite; Palawan State University, Puerto Princesa City, Palawan; Catanduanes State Colleges, Virac, Catanduanes; Central Philippine University, Jaro, Iloilo City; St. Paul University Dumaguete, Dumaguete City, Negros Oriental; University of Eastern Philippines, Catarman, Northern Samar; Universidad De Zamboanga, Tetuan, Zamboanga City; Capitol University, Cagayan De Oro City; Davao Doctors College, Davao City; Notre Dame of Marbel University, Koronadal City, South Cotabato and Caraga State University, Butuan City.
Prizes for the national level include: P50,000 - First Prize; P40,000 - Second Prize; P30,000 - Third Prize and plaques of recognition for elementary, secondary and tertiary education level winners.
The said nationwide search is the Philippine initiative in support to the ASEAN Environmental Education Action Plan (2008-2012) and the United Nations Decade of Education for Sustainable Development (2005-2014).
For details, please contact the National Program Secretariat at the Environmental Education and Information Division of the Environmental Management Bureau of the DENR, at telefax number 9284674, e-mail: ecofriendlyschools@gmail.com and website: http://www.sustainableschools.ph.