Consultation-dialogue clears issues on government programs
By NINFA B QUIRANTE, PIA Borongan
September 23, 2011
BORONGAN CITY, Eastern Samar – An Inter-agency consultation-dialogue cleared issues on government programs in Eastern Samar.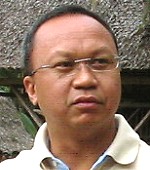 Cong. Ben Evardone
On September 22, 2011, Representative Ben Evardone of the Lone District of Eastern Samar in partnership with the League of Municipalities (LMP) met with the regional heads of various government agencies for the event.
In his keynote message, Evardone said that he has the duty to inform the people where their taxes are going. "All government agencies shall be transparent, open and collaborate with each other," Evardone told the participants.
"It is my duty to inform where the taxes are going," he added.
The congressman said that he is not only tasked to legislate laws but as a representative of the people, he should also know how the government agencies deliver basic services.
As it is, Evardone gathered the regional directors, asked them to present their programs for Eastern Samar and urged the different mayors to ask questions.
PNP Regional Director Arnold Revilla received complaints for erring PNP elements of which he vowed to immediately act on them.
As for the DSWD, mayors asked questions why some families who seemed to be well off were listed as Pantawid Pamilyang Pilipino Program beneficiaries. To which RD Letty Diokno admitted that there is an error in the listing of beneficiaries but, "the agency is trying to correct that."
She also added that some programs intended for municipalities are held in abeyance as many of them still have to liquidate past programs.
Director Ed Gonzaga of the health department shared that some P118 Million is earmarked for Eastern Samar's health centers for 2011 and that by 2012 another P100 Million is set.
Department of Labor and Employment (DOLE) Regional Director Forter Puguon talked about livelihood opportunities and committed to allot some two million pesos for Eastern Samar depending on how they can present project proposals to DOLE.
There were other livelihood opportunities cited by DSWD and even the Department of Interior and Local Government.
As the mayors had problems with project proposals and feasibility studies, Rep Evardone promised to delegate someone at the Congressional District Office to assist the mayors in writing project proposals.
As Evardone also observed how well attended the event was, he vowed to hold the consultation-dialogue every quarter.
Other agencies like fisheries, agriculture, public works and highways, environment and natural resources also presented different projects which mayors appreciated.
PIA spotted at least 16 mayors, RDs of DSWD, PNP, DOH and DOLE and other minor officials and a complete set of PNP Chiefs of Police in Eastern Samar towns.
The whole proceedings, albeit with some acid remarks from participants, was broadcast live over Radyo ng Bayan-DYES for Estehanons to hear.
Borongan Mayor Ma Fe Abunda hosted the event that was held at the Sangguniang Panglungsod of Borongan.
8th Army Division gets 70 hectares more from Catbalogan LGU
By ALICE NICART, PIA Samar
September 22, 2011
CATBALOGAN CITY, Samar – In what he referred to as a "divine gift", 8th Infantry Division Commander, MajGen Mario F. Chan today, signed the memorandum of agreement (MOA) which clearly defines the 70 hectares of land, the city government of Catbalogan acquired for them.
The MOA signing transpired today in a simple ceremony at the Sangguniang Panlunsod, where Chan and Catbalogan City mayor Coefredo Uy affixed their signatures for a mutual understanding relative not only to the expansion of the soldiers camp but also its retention in the city vicinity.
Chan recalled that there were previous plans to transfer the Army Division Camp to Sta. Rita town which is about 80 kilometers from Catbalogan. According to him, with no offense meant, why Sta. Rita when it is 30-kilometer deep into the wilderness.
What he meant, Chan said was that, putting up a new Army headquarters would entail the government another millions of pesos, while Catbalogan has existing facilities, vis-à-vis, financial, logistical, internet and more.
Today, however, they did not only win an additional space, the elevated space fronting the Army stage for more facilities to be erected, they also got the assurance that they will remain in Catbalogan.
"I think I am the happiest person today," Chan revealed, "because after a series of quietly tough process, we are now provided with a battalion retraining facility, and since we started out this initiative, everything seemed to had been put in place", he added.
Asked what the local government unit could expect in return, Mayor Coefredo Uy said, an assured security of his people with some economic benefits, considering that the retention and expansion of the Army camp would mean additional people who could contribute in a way or another, in steering the economic activity of the city.
Gen. Chan summarized the benefits to be two-way, or for both the Army and the LGU. He also cited the Bayanihan program of the Armed Forces of the Philippines (AFP).
"What we just witnessed was an excellent manifestation of Bayanihan, where the Army could help in making Catbalogan and the Samar provinces a livable place to live in. We expect that after we have ironed-out some more things, Catbalogan city will surely soar and fly high," Chan concluded.
NEDA: Eastern Samareños are the poorest in the region
By NINFA B QUIRANTE, PIA Borongan
September 22, 2011
BORONGAN CITY, Eastern Samar – Eastern Samareños are the poorest in Eastern Visayas.
This was contained in the first slide presented by the National Economic Development Authority (NEDA) during the Regional Poverty Assessment held in Borongan City on September 19-20, 2011.
In a presentation made by Assistant Regional Director Purisima Sanopo, she said that from 2003 up to 2009, Eastern Samareños become poorer. The poverty incidence from among families stood at 29.8% in 2003; 37.6% in 2006 and worsen to 45.8% in 2009.
As to individual population, it also increased in percentage from 36.4 in 2003 to 47.8 in 2006 and 54.0 in 2009.
From among other provinces in the region, it was Eastern Samar who ranked number one in poverty incidence with Leyte was the least poor in family and individual population.
Meanwhile, three out of every ten families are poor in Eastern Visayas while four out of every ten individuals are poor.
Eastern Visayans said NEDA is the 5th poorest region in the country in 2009 and the 7th poorest in 2006.
As regards Philippine poverty incidence, it recorded 20.09% in the year 2009.
NEDA reported the different challenges that made the region poor like slow growth in the gross regional domestic product (GRDP), high underemployment, low labor productivity and low agricultural productivity.
The agency also reported of opportunities present in the region and aims to develop agri-business, ICT and eco-tourism potentials and also to develop a productive labor force that will support agri-business, ICT and tourism sub-sectors.
Pass anti-discrimination bill, stop pussyfooting on gay rights, ProGay tells Aquino
By PROGAY Philippines
September 22, 2011
MANILA – The human rights group Progressive Organization of Gays (ProGay Philippines) criticized the position of President Benigno Aquino III on gay rights and demanded the priority passage of House Bill 1483 or the Anti-Discrimination Act of 2010.
In a statement, ProGay spokesperson Goya Candelario expressed dismay over the incompetence of Aquino as a head of state in the forum at the Asia Society in New York where the president said he would be in a dilemma to allow gay couples to adopt children.
"ProGay believes it is truly shameful display for the Philippine government to display total lack of knowledge and appreciation of what the lesbian, gay, bisexual, transgender and queer (LGBTQ) Filipinos need. Aquino must realize he should stop issuing mere motherhood statements on gay rights and do his homework on the existing legal work that gay activists have been pushing the government for more than 15 years now," Candelario said.
Candelario said that Aquino should devote more time working with Congress, the judiciary and his agencies to start work on fulfiling its international obligations to United Nations conventions protecting the rights of LGBTQs, which are embodied in HB 1483, a bill filed by Bayan Muna congressman Teddy Casiño but is now languishing in Congress Committee on Justice.
ProGay cited the 2006 Yogyakarta Principles, a compendium of generally accepted human rights provisions culled from basic UN conventions, that the Aquino administration has to promote if the government is really serious in removing the Philippines from embarrassing moments in international forums on LGBTQ issues.
According to Yogyakarta Principle No. 24, "Everyone has the right to found a family, regardless of sexual orientation or gender identity. Families exist in diverse forms. No family may be subjected to discrimination on the basis of the sexual orientation or gender identity of any of its members."
Principle 24 further states that UN member states such as the Philippines "take all necessary legislative, administrative and other measures to ensure that in all actions or decisions concerning children, whether undertaken by public or private social welfare institutions, courts of law, administrative authorities or legislative bodies, the best interests of the child shall be a primary consideration, and that the sexual orientation or gender identity of the child or of any family member or other person may not be considered incompatible with such best interests."
Candelario said that once Aquino gets back home, he should direct the Department of Social Welfare and Development to review existing policies that prevent children from getting the best available opportunities to get nurture from loving families, regardless whether adoptive parents are heterosexual, LGBTQ, single or living together.
DOH holds Generics Expo in East Visayas on October 4
By Philippine Information Agency (PIA 8)
September 22, 2011
TACLOBAN CITY Leyte – The Generics Expo in Eastern Visayas will be held on October 4 in Tacloban City, Department of Health Region 8 Director Edgardo Gonzaga informed.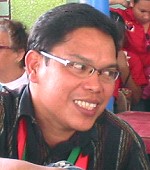 DOH-8 Dir. Edgardo Gonzaga
The Generics Expo in Region 8 is the highlight of the month-long celebration of September as the Generics Awareness Month which has for its theme "GENERICS para sa Kalusugan, gamot Pangkalahatan, mag-GENERICS na," Director Gonzaga said.
The Generics Expo will start with a Motorcade along the major thoroughfares of Tacloban City and back to the venue This will be attended by Municipal, City and Provincial Health Officers, PITACH Drug Manufacturing Exhibitor, pharmacists, drug owners, the Department of Education, School Administrators and the Philippine Information Agency.
The Drug Product Exhibitors will also be invited to join this big day to introduce their products to the clients, Director Gonzaga added.
The Generics Act of 1988 or Republic Act No. 6675 otherwise known as Generics Law was promulgated in order to answer the out of pocket budget of most of the Filipinos both the affluent and less affluent.
The mainstream features of generic drugs are quality, affordability, accessibility, availability and bioavailability.
Though medicine prices are going down due to voluntary price cuts and other initiatives, we could see that quality generic medicine prices are still much cheaper. Generic medicines give patients, consumers, and different health institutions value for their money, the DOH Director added.
For patients suffering from hypertension, diabetes, and other chronic diseases, generic medicines allow our patients to better comply with or maintain their daily medication needs at much less costs.
Money saved can then be used for other needs of the family, so generic medicines help give hope and much healing, Dir. Gonzaga said.
Zero tolerance on illegal gambling, Leyte guv tells local chief execs
By Provincial Media Relations Center
September 21, 2011
TACLOBAN CITY – Leyte Governor Carlos Jericho Petilla advises local chief executives in the province to maintain "zero tolerance" on the presence of illegal gambling in their respective areas.
The governor, who spoke before local mayors during the League of Municipalities - Leyte Chapter's meeting Tuesday, says there are reports reaching him that illegal numbers game still persists in some municipalities in the province.
"Let us not wait for the central office and other national agencies to come here and act on the matter. Better if we take actions ourselves here," Gov. Petilla told the majority of the mayors who were in attendance during the meeting led by LMP-Leyte President Remedios Petilla, and LMP-Leyte Vice President Sandy Javier.
The governor said he is standing firm to halt all forms of illegal gambling in the province.
Gov. Petilla said that the police in the province, for its part, have been relentless in their operations based on constant reminders from higher ups to step up campaign against all forms of illegal gambling activities in their areas of jurisdiction.
The governor added that the PNP provincial director is also on stiff orders to strike hard at illegal gambling activities in all areas of the province and is ordered to strictly account and monitor the compliances of chiefs-of-police of municipalities regarding illegal gambling activities.
Newly-installed PNP Chief, Police Director General Nicanor Bartolome said he would continue his predecessor's "one-strike policy" in connection with the illegal numbers racket.
Bartolome's predecessor, Raul Bacalzo Jr., had declared a one-strike policy, which means that a police official would be immediately axed if found to be collaborating with the jueteng syndicate in his area. The one–strike policy against illegal gambling is not exclusive to the illegal numbers game "jueteng" but also applies to against all forms of illegal gambling.
PNP-8 Regional Director Police Chief Supt. Arnold Revilla, in an earlier report disclosed, that the campaign should be sustained and reminded all provincial directors and police chiefs of the PNP's one strike policy" and the principle of "command responsibility" relative to the intensified campaign in stamping-out all forms of illegal gambling in their areas of responsibility.
Meanwhile, Gov. Petilla urged the public to immediately report to the authorities any information on these illegal activities.
Person arrested for election offense of double registration
By RPCRD, Police Regional Office 8
September 22, 2011
CAMP RUPERTO K KANGLEON, Palo, Leyte – The PNP continues to pursue strategic operations and initiatives to address the arrest of wanted persons in Eastern Visayas in line with its Integrated Transformation Program, according to PSSupt Elizar Patano Egloso, Chief Regional Police Community Division. In fact he said that PRO8 personnel in any way continuously carry out their mission and mandated tasks. They have remained focus and more committed to the reforms that the PNP leadership is currently implementing.
A few days ago, at about 12:00 AM of September 19, 2011 in Brgy Balatson, Burauen, Leyte elements of Burauen Police Station led by PCI Jonathan R Momo, chief of police, with PI Allan Novales together with Five (5) PNCOs arrested one Anacito Nabuya, 41 years old, married, farmer and a resident of said place by virtue of WOA docketed under CC Nr BN-07-07-4349 for Act of Lasciviousness with recommended bail amounting to Twelve Thousand Pesos (P12,000) for his temporary liberty, issued by Hon Judge Yolanda Dagandan of RTC Branch 15, Hall of Justice, Burauen, Leyte.
Then, at about 2:45 PM of September 19, 2011 in Brgy 05, Poblacion, Maydolong, Eastern Samar elements of Maydolong Police Station led by PI Tito C Mojica together with six (6) PNCOs arrested Monica Contado, of legal age, married and a resident of Brgy 04, Maydolong, Eastern Samar by virtue of WOA issued by Hon Judge Elvie P Lim, Presiding Judge, RTC Branch 2, Borongan City docketed under CC Nr 12329 for Double Registration (defined and penalized under Section 261(y)(5) of the Omnibus Election Code) with recommended bail of Twelve Thousand Pesos (P12,000). Subject arrested person is now detained at Maydolong lock-up cell for safekeeping prior turn-over to court of origin for proper disposition.
At about 8:00 PM of September 19, 2011 in Brgy Balorinary, Burauen, Leyte elements of Burauen Police Station led by PCI Jonathan Momo with PI Allan Novales together with four (4) PNCOs arrested one Leonardo Crebillo, 48 years old, married, farmer and a resident of the above mentioned place by virtue of WOA for the Crime of Direct Assault upon an Agent of Person in Authority with Less Serious Physical Injuries docketed under CC Nr 9496 issued by executive Judge Aludia C Leonido of MTC, Hall of Justice, Burauen, Leyte with recommended bail of Twelve Thousand Pesos (P12,000). Arrested persons were temporarily booked at Burauen locked-up cell for proper disposition.
PRO 8 facilitates new NPA surrenderee in Northern Samar
By RPCRD, Police Regional Office 8
September 22, 2011
CAMP RUPERTO K KANGLEON, Palo, Leyte – Through the massive information campaign conducted by Police Regional Office 8 operating elements, PCSupt Arnold R Revilla, Regional Director, revealed that they have successfully convinced Agusto Parido alias Ka Dino, a member of the PLAGUER 1, Front Committee 2, Northern Samar Provincial Party Committee (NSPPC) to surrender.
He said that during the dialogue continuously conducted by his men, they are all encouraging the New People's Army to lay down their arms and return to mainstream society. Meanwhile, he extends his gratitude to the people of Eastern Visayas for their unwavering support to the police troops operation. With this, Revilla commended the operating troops for a job well done.
Based on the reports this office received that on September 18, 2011, at around 9:30 o'clock in the morning in collaboration with the Local Government Unit of Catarman, Northern Samar thru the Honorable Mayor Rolando F Carpio, PSupt Isias B Tonog together with the elements of 3rd RPSMC led by PInsp Tan, moved towards Brgy Polangi, Catarman, Northern Samar to fetch the NPA member, Agusto Parido, alias Ka Dino, 46 years old, married, farmer, a resident of Brgy Bayo, Oquendo District, Calbayog City and a member of the CTM/UGM for almost ten years and he was also a member of the PLAGUER 1, Front Committee 2, Northern Samar Provincial Party Committee (NSPPC), EVRPC operating in the 1st District of Northern Samar Province, who is about to surrender.
So, at about 8:30 PM of same day, surrenderee was brought to Headquarters, 3rd RPSMC, Brgy Urdaneta, Lavezares, Northern Samar for temporary custody while under Tactical Interrogation (TI).
Meanwhile, negotiation with the wife of the Parido to surrender identified as Alexanderia Anquilan alias Mariz who is also an active member of the Under Ground Movement (UGM) is on progress, monitored to be staying at the hinterland Barangay of Oquendo District, Calbayog City.
Again, PCSupt Revilla called on all concerned citizens urging to cooperate and help the police in their fight against the Communist Terrorist and other lawless elements in order to maintain and promote peace and order that will spur economic development in region 8.
DOT Sec Jimenez to grace 110th Balangiga Encounter Commemoration
By NINFA B QUIRANTE, PIA Borongan
September 22, 2011
BORONGAN CITY, Eastern Samar – As Balangiga marks its 110th Balangiga Encounter, this town expects newly appointed Department of Tourism (DOT) Secretary Ramon Jimenez to grace the event on September 28, 2011.
Jimenez will attend a program in Balangiga's covered court which stands adjacent to the Balangiga Encounter Monument, an artwork by National Artist Napoleon Abueva.
As always the case, Balangiga's local talents will perform a re-enactment of the Balangiga Encounter.
Meanwhile, the provincial government of Eastern Samar will sponsor a cultural and literary night on September 27, 2011 in Borongan, to honor the heroes of the Balangiga Encounter. Competitions for students from elementary and high schools from all over the province include oratorical contest, extemporaneous speaking contest, on-the-spot essay writing contest, and a quiz bee – all with the Balangiga Encounter as its central theme.
On September 28, Eastern Samar Governor Conrado B. Nicart Jr will lead employees of the local government, national government agencies, and the police in a wreath-laying activity in Borongan City.
A hundred and ten years ago, the men of Balangiga and nearby towns, commanded by the town's police chief Valeriano Abanador fought against the American forces' rifles with their bolos.
The encounter, considered one of the bloodiest in the Philippine-American War is also described as the United States Military's "worst single defeat" in the country.