Soldier joins Samar Day
By CMO Battalion, 8ID PA
August 11, 2011
CAMP LUKBAN, Catbalogan, Samar – This morning, the 8th Infantry (Stormtroopers) Division, Philippine Army joined the Samar Day Celebration that was held at Samar Provincial Capitol Building, Catbalogan City. Major General Mario F. Chan, the Division Commander was the Guest of Honor and Speaker during the ceremony.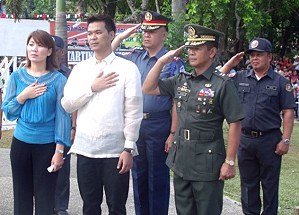 The occasion was initiated with a Holy Mass led by Rev. Fr. Jucal Calderon and immediately followed by the raising of the Philippine Flag by Honorable Sharee Ann Tan Delos Santos, the Samar Provincial Governor and Honorable Stephen James Tan, the Samar Provincial Vice-Governor. A wreath-laying ceremony was also held during the ceremony with Congresswoman Milagrosa Tan and Major General Mario Chan.
In his message, Major General Chan believes that the Island of Samar will progress through the collective effort of Samareños. "Ako po'y isang sundalo lamang at isang mamayan. Naniniwala po ako na hangga't hindi tayo nagtutulungan, wala pong mangyayari sa ating mga matatayog na pangarap. Bilang isang sundalo, nakahanda akong gawin ang lahat ng aking makakaya upang maitaguyod ang interes ng nakararami para sa isang maunlad at mapayapang lipunan, para sa bayan, para sa Samar" Chan says.
Moreover, an awarding ceremony was also conducted at the end part of the program. The event was successfully ended hoping that starting today, peace and development in Samar will be achieved through the continuous effort of each Samareño.
COMELEC en banc affirms decision in favor of Samar recall election
By GINA DEAN-RAGUDO, Samar News.com
August 10, 2011
CALBAYOG CITY – By a vote of 5-2, majority members of the Commission on Elections (COMELEC) en banc affirmed Minute Resolution No. 11-0038 (dated January 21, 2011) and issued a resolution on August 5, 2011 finding petition for recall sufficient against the incumbent Samar governor and vice-governor, respectively.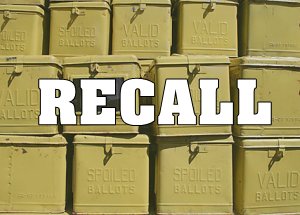 Due to loss of confidence to the provincial government, petitions were filed five (5) months after Governor Sharee Ann Tan- Delos Santos and Vice Governor Stephen James Tan assumed into office.
Denying the Joint Motion for Reconsideration filed by the movants, the Commission only recognizes Section 70(b) (1) and (2) as the only criteria in determining the sufficiency of the form of the subject recall petitions.
Under such law, it enumerates the formal requirements needed in a petition -- a written petition for recall duly signed by the representative of the petitioners before the election registrar or his representative, and the contents of the petition such as the names and addresses of the petitioners written in legible form and their signatures; the barangay, city or municipality, local legislative district and the province to which the petitioners belong; the name of the official sought to be recalled; and a brief narration of the reasons and justifications therefore.
The Commission also noted that a certification of Samar's registered voting population from the National Statistics Office is no longer necessary considering that the number of supporting petitioners already satisfies, and in fact, exceeds the percentage requirement.
As of year 2000, Samar's registered voting population has reached over 328 thousand which is above the voting population bracket.
It also revealed that more than 73 thousand voters have supported the petition to recall the present administration.
The Commission believes that "utmost liberality in the interpretation of the recall statutes must be appropriately applied where the will of the people is the supreme law".
COMELEC Chair Sixto Brillantes, Jr., as well as Commissioners Rene V. Sarmiento, Armando C. Velasco, Christian Robert S. Lim, and Augusto C. Lagman resolved the petition in favor of sufficiency as petitioners shown that they have exercised earnest and diligent efforts to comply with the requirements of Resolution No. 7505 (pertinent data from the NSO and DILG), albeit the intricacies encountered which was beyond their control.
The petitions for recall were filed by Aurelio A. Bardaje and Elvisa Aranzado Lopez last December 10, 2010.
Section 3 of Resolution No. 7505 says that such petition may be filed anytime after the assumption to office of official sought to be recalled, provided that the recall election should be conducted not earlier than one (1) year from the date of the official's assumption to office or one (1) year immediately preceding a regular local election.
Since the issuance of this resolution, Samar Governor Sharee Ann Tan- Delos Santos and Vice-Governor Stephen James Tan have not yet released any statement, though in the last press conference initiated by the provincial government, the siblings have expressed their confidence that they are prepared for a recall election.
Evardone bats for Cadaver Act
By NINFA B QUIRANTE, PIA Borongan
August 10, 2011
BORONGAN CITY, Eastern Samar – The lone representative of the Eastern Samar to congress is batting for the Cadaver Bill.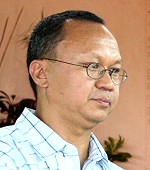 Cong. Ben Evardone
In an email, Evardone sent a copy of his authored Bill 5035: An Act Prohibiting the Detention of Cadavers or Human Remains by Hospitals, Morgues, Funeral Parlors and Medical clinics on grounds of Non-Payment of Hospital Bills Medical Expenses and or Funeral Services.
Evardone cited that our respect for the dead is part of our culture and tradition.
The lawmaker said that he is alarmed that news reports on cadavers or human remains are being detained in hospitals, morgues or medical institutions due to unpaid bills.
He added that no law has been passed prohibiting this act despite being able to pass a law prohibiting detention of patients for the same reason.
Evardone added: "While our libel laws prohibit the living to speak ill of someone who died, or blacken the memory of the dead, we seem to permit this "hostage-taking" practice of these hospitals, morgues, funeral parlors. What quandary are we in?"
Evardone feels the practice is just coercive and restrictive.
This 15th Congress, Evardone seeks and prays for the enactment of the Anti-Detention of Cadaver Act of 2011, into law.
40K awaits winner in the 1st National Manaragat Triathlon
By NINFA B QUIRANTE, PIA Borongan
August 10, 2011
BORONGAN CITY, Eastern Samar – P40,000 is waiting for the winner in the First National Manaragat triathlon challenge.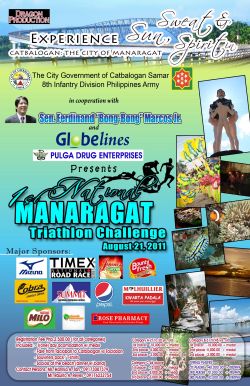 This was bared in a press release given by Lt Col Jun Diaz to the media on August 4, 2011 as the 8th Infantry Division, Philippine Army celebrated its 23rd anniversary at Camp Lukban, Catbalogan City.
This is in connection with the upcoming Manaragat Festival.
The City government of Catbalogan with the 8th ID organized the sports event to be held on August 21, 2011 in Catbalogan City.
This event is composed of 750 meters swimming, thirty kilometers biking and seven kilometers running. The total distance that will be covered is approximately 37.75 kilometers.
There is a registration fee of P2,500 inclusive of one day accommodation with meals and fare from Tacloban City to the venue and vice versa. There is also a souvenir pack, a t-shirt and free attendance to socials on the event night with live band.
All interested athletes who may want to join the event must submit their filled up application forms along with their scanned payment receipts to the account of Ador Leanda Hurtado with account number 6060027767 (Banco de Oro), 0607041008 (Land Bank) and 09177003696 (G-Cash). The contestant may also send e-mails to manaragattriathlon@gmail.com.
The second prize winner gets P20,000 and the third place winner P10,000.
For more details, visit the event page and CGC page at facebook: http://www.facebook.com.event.php?eid=23873915948715 and http//www.facebook.com/pages/The-City-of-Catbalogan/137016049698603. For more inquiries about this event, please contact Ms Hannia A. Tan (+639173087379) or Mr Noel Pagdonsolan (+639175231908).
Remote community in Samar benefits from water project
By ICRC
August 8, 2011
MANILA – Safe drinking water is now only a few steps away for over 1,200 residents of a remote barangay in Basey, Samar, after the completion of a project supported by the International Committee of the Red Cross (ICRC).
The construction of the spring-catchment water project will be marked today at a turnover ceremony in Brgy. Mabini. In this community, which has been affected by conflict, residents used to travel 1-2 kilometers up a mountain or down a river to retrieve water from unprotected sources.
"We tapped their natural spring source and laid pipes that would reach the barangay. Now all residents have to do to get water is go to one of the 17 communal tap stands scattered in their area. It's much safer and convenient for them," explained Carlos Suarez, a water and habitat engineer working for the ICRC, which is a neutral and impartial humanitarian organization that assists and protects victims of armed conflict.
Begun in 2010, the water project was accomplished through a partnership of the community, the municipality of Basey, and ICRC. Residents voluntarily helped in the process of construction, including digging and laying of pipes. Municipal engineers, meanwhile, worked closely with ICRC engineers and provided technical support.
"The commitment of the barangay and the municipality is crucial in sustaining the project, so that these families may enjoy safe drinking water from here on," said Suarez.
With the project now in place, helping the community maintain it is the current focus. The ICRC and the Basey municipality is supporting training on the water system's technical and financial operations of the water system for members of the newly created Barangay Mabini Waterworks and Sanitation Association.
Mobilizing the community would help instill a sense of ownership and responsibility over the water system, added ICRC water and habitat engineer Annarosa Cerrero.
"Empowering the residents should ensure a long life for this water system. We see that the community values the water system not only because it benefits them, but also because they were essential to the achievement of this project," she said.
Evardone builds 147 classrooms this year
By NINFA B QUIRANTE, PIA Borongan
August 6, 2011
BORONGAN City, Eastern Samar – Congressional Representative Ben Evardone of the lone district of Eastern Samar was able to build some 147 classrooms for this year alone.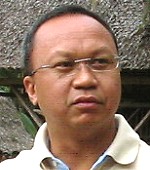 Cong. Ben Evardone
This, Evardone announced during a program at the Eugenio Abunda Elementary School in Campesao, Borongan City on August 5, 2011. The lawmaker said that he was able to get the support of President Benigno Simeon Aquino lll as PNoy also shares his mission of caring for the underprivileged sector.
Evardone praised the school heads for its achievement rate of 89.7% in the National Achievement Test.
"I have also asked from Senator Drilon for five more classrooms in Eastern Samar," Evardone added, getting applause from DepEd officials. The lawmaker also announced that he will support the sports development of the DepEd athletes in the province.
To Sulat, the lawmaker pledged to donate musical instruments much like the rondalla formed by the Eugenio Abunda Elementary School.
The rondalla which played during the program was equipped with instruments courtesy of 'Tito Boy Abunda" the TV host who is a native of Campesao, Borongan.
The lawmaker was visibly pleased with the rondalla rendition that he would want one for his native Sulat. Evardone hails from the island barangay of Sulat named San Vicente.
Evardone was joined by Mayor Fe Abunda of Borongan, the Regional Director of DepEd Dr. Luisa Yu, celebrity Boy Abunda and a host of DepEd personalities, provincial and city officials in Eastern Samar.
Boy Abunda turns over a Silid Pangarap school building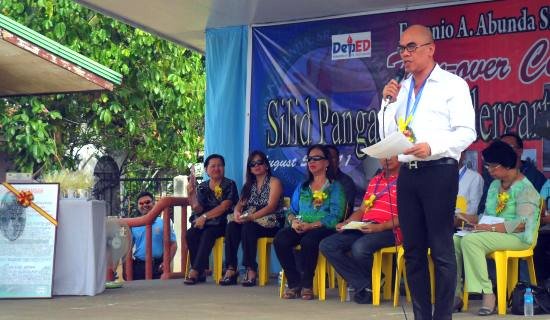 Known as "Tito Boy' to fellow Campesaonons, TV host Boy Abunda inspired the school children of Campesao to dream – and dream big during the turn over rites of a Silid Pangarap at Eugenio Abunda (then Campesao) Elementary School, Borongan, Eastern Samar by AGAPP foundation chaired by presidential sister Pinky Abellada. (by NBQ)
By NINFA B. QUIRANTE, PIA Borongan
August 5, 2011
BORONGAN City, Eastern Samar – Boy Abunda, well known celebrity and TV host personally visited his former barangay Campesao where he turned over kindergarten classrooms to DepEd officials.
Abunda who represented presidential sister Pinky Abellada, chairman of the Aklat Gabay, Aruga tungo sa Pag-angat at Pag-asa (AGAPP) was in high spirits as he inspired the pupils to –dream big and the teachers and parents to support .
In his speech, Boy said he has surpassed many challenges because he never stopped learning.
"Waray ako, di ako umaatras," the talk show host who is very close to the Aquinos narrated. He said that he has done researches and continues to study that, "A few years from now, I will finish my Doctorate in Human Development."
Boy, according to former teachers excelled in school that he graduated Valedictorian in high school at the Seminario de Jesus Nazareno.
Aside from the school building, Boy also donated close to two hundred thousand pesos for the school's rondalla.
Jun Nilo Dulfo, principal of the Campesao Elementary School said they have to rename the school to Eugenio Abunda Elementary School in honor of Boy's father who donated the school lot.
Ma'am Licerna Abunda, Boy's Nanay Lesing also taught in the same school for 43 years.
And these days, Boy is pouring in some donations like books, training fund for teachers and an endless list of support to the school.
Boy narrated that he studied in Ateneo and shared that while his classmates took their break in Paris or other nations, he chose to return to Samar every chance he gets. "I will always be a Boronganon by heart," he told the crowd composed of senior citizens, most of whom were his mother's co-teachers.
As the rondalla rendered folk songs, they finalized their piece with "Thank you Tito Boy".
Calbayog Artists conquer Samar with "An Waraynon nga Uray" Art Exhibit
By EMY C. BONIFACIO, Samar News.com
August 3, 2011
CATBALOGAN CITY – The Calbayog Art Association, Inc. joins the Samar Day celebration with an art exhibit that captures beautiful sceneries in Samar.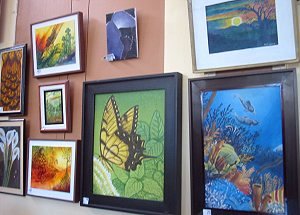 The invitation for fifteen (15) visual artists to exhibit their paintings at the Provincial Session Hall, Capitol Building was an initiative of the Provincial Tourism Council.
A very rare opportunity, the Samarnons will be able to appreciate the 56 art works which are now on display at the gallery.
Mr. Aris Ventures, President of the Calbayog Art Association, Inc., informed that the group had negotiated with the Provincial Government through Ms. Anita Taran for the possibility of holding an exhibit for the Samar Day Celebration.
Mr. Ventures disclosed that logistics support was afforded to them by City Mayor, Hon. Ronald Aquino and City Councilor, Hon. Julius Mancol, Chairman of the Committee of the Arts and Culture.
Earlier, the group expressed their apprehension over their financial capability to be able to pursue with the planned exhibit due to lack of transportation, accommodations and other miscellaneous expenses.
"The materials were not a problem because most of their individual artists have their ready materials", adds Ventures.
Gov. Sharee Ann Tan gave an additional financial assistance and willingly assured the group of the much needed support in order to encourage children, students and persons to further harness their artistic skills and talents.
"An Samarnon na Uray" (Our very own Samar), was the theme of the exhibit. It displays relevant 56 artworks of different medium on the beautiful tourist spots of Samar such as falls, caves, nature, etc.
Present during the Opening Ceremony held yesterday at 10:00 in the morning were Pastor Willie Labana of Living rock Ministry who led the Invocation; Dr. Dominador Cabanganan, PSMED Council Vice-Chair who gave the Opening Remarks; Mr. Aris Ventures, CAA President who presented the participating artists; Dr. Editha S. de Veyra- OIC-Assistant Schools Division Superintendent who delivered the Inspirational Message and Hon. Arthur Vaughn Zosa for the Closing Remarks.
The Ceremonial Ribbon Cutting was done by Hon. Stephen James T. Tan, immediately after a message was also heard from him. Vice-Governor Tan appreciated the efforts of the CAA despite the meager resources available. He hopes that this art exhibit becomes a regular event during Samar Day Celebrations to showcase the talents of Samarnons.
The presence of a well-known artist, Mr. Armando Toleza, made the occasion more remarkable. He was the curator of the exhibit.
It was learned that the first art exhibit in the Provincial Capitol was held 27 years ago. Toleza thanked the Provincial Government for accommodating them. He likewise commented that the art exhibit jibed with the Samar's Day Celebration theme, "Sustaining a Culture of Peace, Unity and Development throughout Samar.
"There's no other way of promoting Samar's culture, but by telling the world of our good tourism sites, clean environment, talented people and peaceful communities. Let this be the start of uniting the Samarnons by appreciating and loving our very own, Samar. Let these artworks be an expression of that love and inspire more people to aspire for the best for Samar and its people", was Mr. Toleza's inspiring thoughts.
Meanwhile, the Calbayog Arts Association, Inc has 30 regular Calbayognon members. It was formally organized in 2000 with Mr. Toleza as its founding President. The CAA is a private organization that receives support form the LGU of Calbayog City. They conduct Art Seminar-workshop with school children during summer. At times, they are also being commissioned by other NGOs, POs and the DSWD in their various programs on Arts and Crafts as well as on Basic and Advanced Painting.
The set of officers of the CAA, Inc are Aristotle R. Ventures, President; Simeon Rodriguez, Vice President; Bebot Rosalado, Secretary; Rex Ecal, Treasurer; Mercy S. Garcia and Jaime E Sagayap, Auditors; and Ryan Comilang as PIA.
Other members include Val P. Villanueva, Noel Sagayap and Mr. Raul Isidro as its Adviser.
"An Samarnon nga Uray" Art Exhibit will continue its displays until August 11, 2011.