Two Eastern Samareños honored for BNS work

By NINFA B QUIRANTE, PIA Borongan
July 28, 2011
BORONGAN City, Eastern Samar – Two outstanding barangay nutrition scholars (BNS) were awarded today for their dedication and commitment to the nutrition program.
Today, July 28, Virgette Baldono of Barangay Camada, Maydolong and Nida Alegre of Barangay Punta Maria were awarded Outstanding Provincial BNS and Borongan City BNS respectively by ASec Bernardita Flores of the National Nutrition Council (NNC).
The two Estehanons joined other outstanding workers for nutrition. Baldono said she credits her award to a very orderly record she maintains. On the other hand, Alegre is credited to maintaining a veggie garden in her barangay that translated to the rehabilitation of some malnourished children.
Memon Bulactiar of Barangay Calubihan, Limasawa, Southern Leyte garnered the most outstanding regional BNS.
Other awardees include: for Biliran - Aida Tangog of Barangay Santissimo, Rosario, Naval; Leyte - Rosalina Jabillo of Barangay Katipunan, Hindang; Northern Samar - May Anano of Barangay Dancalan, Bobon; and Samar is Gregoria Acaba of Barangay Dolores, Pinabacdao.
City outstanding BNSs are Generosa Bane of Calbayog City, Tita Gaviola of Barangay Abgao, Maasin City; Gina Baling of Barangay San Pablo, Ormoc City and Zenaida Insigne of Barangay Palanog 37-A of Tacloban City.
The BNS numbering some 4 thousand had a fiesta at the Tacloban Astrodome where they were treated to raffle prizes, production numbers from the BNS themselves, and kuracha numbers.
Guests include NNC Executive Director ASec. Bernardita Flores, DOH Regional Director Edgardo Gonzaga, PopCom Regional Director Leo Rama, Southern Leyte Representative Roger Mercado, Tacloban City Mayor Alfred Romualdez and wife Cristina and officials of the NNC Region 8.
National BNS fed prexy inspires East Visayan nutrition workers
By NINFA B QUIRANTE, PIA Borongan
July 28, 2011
BORONGAN City, Eastern Samar – The National President of the Barangay Nutrition Scholars (BNS) Federated President Michael Teberio graced the first ever Eastern Visayas BNS Congress held today at the Tacloban City Astrodome.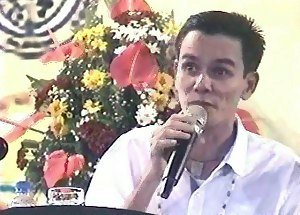 National BNS Federation president Michael Teberio
The BNS congress participants from all over the provinces of Leyte, Eastern and Northern Samar, Samar, Southern Leyte and Biliran numbering almost four thousand filled the astrodome literally to the rafters.
Teberio is a BNS from Barangay Sta Lucia, San Juan City.
In his speech, he credited the National Nutrition Council (NNC) for giving him the honors of flying first outside of Metro Manila and to the first BNS Congress.
He narrated that it was his late wife who was an active BNS but when she died, he reluctantly assumed her job and enjoyed it in the process.
"I did not re-marry because I am married to my being a BNS and the people of my barangay," Teberio said.
He recalls with pride his elation when he became popular in his neighborhood because he is a BNS.
"When I was not yet a BNS, I am just an unknown person going about my daily grind, but when I became a BNS, I was instantly popular, that even children recognize me," he added.
He credits his commitment and dedication to being a BNS through and through. "I am on call 24/7," he recalls with amusement.
He narrated doing Nutri-Bingo where prizes are usually food for the poor families.
Like the common BNS, his days are always spent with his people trying to help their children achieve the right nutritional status. On the side, he takes time to see congressional representatives to lobby for bills that can better the status of BNSs around the country.
His diligence paid off. Agham partylist and former First Lady Imelda R. Marcos sponsored the bill for BNS. He then encouraged the BNSs of Eastern Visayas to write their congressmen so they can help co-sponsor the bill.
Meanwhile, Southern Leyte Representative Roger Mercado who was present in the congress vowed to support the Bill for the Magna Carta for BNS.
2 rescued NPA-recruited minors turned-over to DSWD
By 20th Infantry Battalion, 8ID PA
July 27, 2011
BRGY MAGSAYSAY, Lope de Vega, Northern Samar – The troops of the 20th Infantry (We Lead) Battalion under the leadership of LtCol Noel A Vestuir has turned-over today the two (2) newly rescued NPA-recruited minors to DSWD in a simple ceremony held at San Isidro municipal hall, San Isidro Northern Samar at 10:00 o'clock in the morning.
Olay, a 16-year old girl, and her younger brother Noynoy were forcibly recruited into the underground movement along with other minors last June 28, 2011 by Alyas Jerome, a regular NPA member operating in the areas of Palanit, Mabuhay, Veriato, Caglanipao Norte all of San Isidro Northern Samar. They were brought to an NPA encampment located in the mountainous area of Barangay Mabuhay where, at their young age, they were indoctrinated with the communist ideology and given series of lectures on Espesyal na Kursong Pan Masa (ESKUM).
While inside the camp, they were not permitted to go home. They were threatened by the group that if they would inform the military regarding said activities, their family will be killed. They were scheduled to take their oath as regular member of the New People's Army last July 2, 2011. However, the said oath taking ceremony was preempted after the troops of Charlie Company of 20IB, raided the said communist terrorists' encampment, where Olay and Noynoy were, at Barangay Mabuhay. During the said raid they were able to elude the operating troops. They had a chance to return home after the group of alyas Jerome had splintered to avoid the government troops.
For fear of the group of alyas Jerome, both Olay and Noynoy hid in barangay Palanit. The memory card from Olay's cellphone, which was recovered by the troops of Charlie Company of this unit under 1Lt Adrian Philip Publico, identified and confirmed both minors to be new NPA recruits. The unit immediately exerted efforts to find her. Through the efforts of their grandmother, the two kids decided to surface after realizing the danger of continuously hiding from the group of alyas Jerome, Olay surrendered to Lt Publico last July 6, 2011 while his brother Noynoy surfaced last July 11 2011.
Honorable Mayor Conrado Avila handed over an amount of ten thousand pesos each to the two minors as a livelihood assistance fund to help them start a new life. They will also undergo counseling to be provided by the municipal social welfare officer. The mayor also calls on other rebels to lay down their arms. He also emphasized his commitment and willingness to help them start a new life.
The said activity was also attended by Col Oscar Lopez, the Commanding Officer of 803rd Infantry Brigade, who said that he is not surprised to note why the NPA recruit minors. He said that: "Youth are so vulnerable to deception and they easily give in to intimidations. Many of the regular members of the NPA started out as young, from twelve to fourteen years old. Hence, it is definitely the duty of the parents to watch out and guide their children so as to avoid stories like that of Olay and Noynoy".
He also expressed his thanks to the support extended by the mayor. "Our collective efforts of helping these two minors today, is showcase of our genuine cooperation to attain our objective of winning the peace in consonance with the government's Internal Peace and Security Plan Bayanihan", the good colonel concluded.
Kuya Boy Abunda sponsors five writers group in Eastern Visayas
By NINFA B. QUIRANTE, PIA Borongan
July 27, 2011
BORONGAN City, Eastern Samar – Celebrity and talk show host Boy Abunda sponsored the Securities and Exchange Commission (SEC) registration of five new writers group in Eastern Visayas.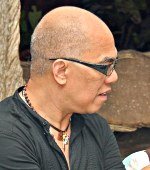 Boy Abunda
According to Phil Harold Mercurio, regional coordinator of the National Committee on Literary Arts (NCLA) for Eastern Visayas, Abunda sponsored five writers' groups namely, the Katig-uban han mga Magsusurat ha Sinirangan Bisayas Writers Network Inc (Katig Writers Network), the mother organization of which is Tacloban based; Calbayog Literary Arts Organization (CALAO Writers Inc.) in Calbayog, Samar; Abaknon Literary Arts Guild (ALAG Writers Inc.) in Capul, Northern Samar; Sirak Writers in Borongan City, Eastern Samar and the Bisdak Writers in Biliran.
The groups of writers aim to revive writing in Waray, Cebuano and Inabaknon. The writers also aim for cultural understanding and linguistic tolerance among the people of Region 8.
Katig Writers Network, said Mercurio, is optimistic that this attempt of writers to form a solid front in order to unite the writers in the twin island of Samar and Leyte, including Capul and Biliran Islands will usher the flourishing of a new era in Waray writings including Cebuano and Inabaknon.
Katig, a waray term which means outrigger of a boat symbolically represents the stability and vibrancy needed by the literature of Eastern Visayas.
"The rebirth of the regional writings of Eastern Visayas is a painstaking process," Mercurio said in an e-mail.
"It demands dedicated cultural workers in the literary field to work collectively, the once dying Waray writings are brought back to life again through a sustained effort of many local writers, the media and academe," he added.
The young writer is grateful to his Kuya Boy for approving the proposal to fund the SEC registration. "This is a big boost to the morale of the writers," the writer said.
Voltaire Oyzon, Phil Harold Mercurio, Milen Esteria, Jhonil Bajado and Jethol Paanod are the respective leaders of the writers' groups.
Boy Abunda, who is also a Waray and hails from Borongan City, Eastern Samar has been helping the writers since 2010. He has pledged financial support to Katig Writers Inc by sending a writing fellow every year to the Iligan national Writers Workshop.
Writers call it the Boy Abunda Writing Fellowship.
Incidentally, Abunda is the 2011 Ambassador of Festivals in the Philippines as appointed by the National Commission for Culture and Arts. (with CALAO writers)
Rep. Alcover: It was a 'State of the Chapel' report
By ANAD Partylist
July 27, 2011
QUEZON CITY – "Nowhere in his 53-minute or so State of the Nation Address did President Aquino mention what his administration has done to resolve, if not mitigate, the country's burgeoning problem on health, education, poverty, drug addiction, informal settlers, and peace and order but chose to engage in hypothetical 'transformational change' and anti-corruption campaign that are feeble statements depicting his brand of leadership, at the expense of others," said ANAD Rep. Jun Alcover.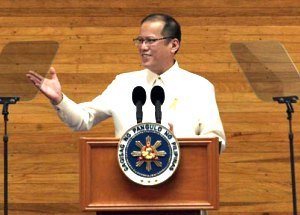 "If indeed he is serious to stamp out corruption in all nooks of the bureaucracy, he should have to start by ridding Congress of the vicious pork barrel funds, better known as Philippine Development Assistance Fund (PDAF)," Rep. Alcover pointed out.
Saying that the pork barrel fund is the source of corruption as it breeds subservience to the ludicrous partisan politics in government, "The distribution of PDAF has been the mother of all corrupt practices in the country that should first be eliminated by PNoy, if indeed he is serious in cleansing government. I don't see logic when he is going after personalities, waving the anti-corruption flag, but still continue to dangle PDAF funds to enliven and expand his political circle, influence, and exact subservience from Filipinos," he explained. "In all honesty, how do you call this?" Rep. Alcover quipped.
In eliminating PDAF, government will save about P24.75 billion and use this to construct additional classrooms and increase the salaries of teachers; build additional health facilities and upgrade hospitals; decisively address the root cause of poverty and informal settlers; and improve and strengthen efforts to address the problem of drug addiction, among others.
"Definitely, the country's health program, vis-à-vis the real conditions on the ground, is in dire straits. The programs of both Philhealth and the Department of Health have not readily responded to the health needs of our people mainly because of lack of hospitals and its corresponding personnel," he stressed.
On peace and order, Rep. Alcover said that PNoy dismally failed to report on the state of the peace negotiations between government and the Moro Islamic Liberation Front (MILF) and the Maoist terrorist CPP-NPA-NDF. "The recent warning of the MILF is a cause for everyone's concern as it is some sort of a ticking time-bomb with the MILF threatening to renew hostilities if government fails to appropriately respond to their demands," Rep. Alcover said. "His being mum on the talks with the Maoist terrorists sends wrong signals and could fuel misunderstanding and undue speculation by those who earnestly seek a just and fair resolution to the more than 42 years of Maoist terrorism," the former Maoist political cadre turned prodemocracy fighter said.
"In its entirety, PNoy's report did unravel his solid intentions to eliminate the culture of 'wang-wang' by fending off criticisms, via his stoic silence, with his veiled political vendetta against those in the opposing political fence but not giving methodical response to more pressing issues that requires his attention. Because of this, it was indeed a State of the Chapel report tailored-cut only for his peers in his political domain," he stressed.
Healthiest, breastfed baby contest highlights nutrition month celebration in Gen MacArthur town
By NINFA B QUIRANTE, PIA Borongan
July 26, 2011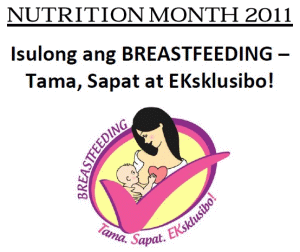 BORONGAN CITY, Eastern Samar – To focus on the nutrition month theme, Gen MacArthur town in Eastern Samar staged a contest on the healthiest, breastfed baby from nine to 12 months old. This was bared by Municipal Nutrition Action Officer Grace Cardona in a phone interview.
This year's Nutrition Month theme is "Isulong ang Breastfeeding, Tama, Sapat at Ekslusibo".
Cardona said that the baby must have been exclusively breastfed from birth to six moths, must be fully immunized, must have availed of Garantisadong Pambata health services, must have been born in a health facility and must bear the ideal weight in accordance to his age and growth and development must have coincided with his milestones.
Mayor Jaime Ty is shelling out a thousand pesos for the winning baby.
This baby with his mom will be awarded tomorrow as the municipality holds its Nutrition Month culminating activity.
As for the Pantawid Pamilya beneficiaries, a contest with the most productive garden is also on, the MNAO added.
Criteria include area, members, fruits/ veggies sold and its maintenance and sustainability, said the MNAO.
"There are 17 barangays that are vying for this title, coinciding with the number of barangay beneficiaries of 4Ps," Cardona said.
Other contests include slogan and poster contest for preschoolers after the parade.
In the afternoon, a symposium on breastfeeding for pregnant mothers will be held also, Cardona said.
"Gen MacArthur is one of the best implementers of the nutrition program as it has recorded 7.16% children 0-5 years old that are considered malnourished," said Provincial Nutrition Action Officer (PNAO) Sally Jabinal.
Meanwhile, the towns of Jipapad, San Julian and Dolores are the top three municipalities with high rates of malnutrition, according to PNAO records.
As of the Operation Timbang (OPT) results of 2010, some 6,625 aged 0-5 months old are considered malnourished in Eastern Samar.
Calbayog sanitary landfill opens to serve

By GINA DEAN-RAGUDO, Samar News.com
July 24, 2011
CALBAYOG CITY – Aside from government officials, stakeholders of Calbayog witnessed the inauguration and blessing of the city's sanitary landfill.
Undeniably, the completion of this project will answer the problem that has been confronting the local government for quite a time.
The city is looming with garbage problems despite the passage of the Ecological Solid Waste Management Act or the Republic Act (RA) 9003. Since the passage of this law, local chief executives have noticed that there were many lapses in the implementation stage in terms of capacity building on the part of the Department of Environment and Natural Resources (DENR).
As the SecGen of the League of Cities of the Philippines, ex-mayor now Congressman Mel Senen Sarmiento, made some initiatives to revisit certain provisions of the law. Eventually, his efforts were recognized by former DENR Secretary Angelo Reyes making Calbayog one of the recipients (aside from Davao City and Sagay City) of Japan government to avail technical assistance and sanitary landfill projects. Series of studies (i.e. geological, water quality and design) have been conducted by some experts and other members of the Solid Waste Management Council were given a chance to visit Japan to make some observations how this nation effectively implement solid waste management.
"There were only three cities chosen, and I appealed that the cheapest design and law compliant be set up here," added Sarmiento.
The 4.9 hectare sanitary landfill located in Brgy. Dinagan this city only costs P48 M; and this landfill (SLF) will be one of the models in the country, the solon said.
Prior to the establishment of the SLF, the city was able to put up a Material Recovery Facility (MRF) in Brgy. Payahan, replicated by other areas in Calbayog in conjunction with the implementation of the waste segregation ordinance and the no plastic no cellophane policy on weekends.
Relative to solid waste management is a challenge on Clean Water Act.
The relocation of the city's public market to Magsaysay Extension intends to prevent the vendors and stall holders from throwing their garbage and waste products in the river, Sarmiento clarified.
As a consequence of dumping wastes in water areas which causes pollution of marine lives and devastation of the environment manifests a clear violation of this law with a corresponding penalty in the amount of P200 hundred per day, he averred.
Human activity like mismanagement of waste has serious environmental effect: ground and surface water contamination, local flooding, air pollution, exposure to toxins, and spread of disease. Many of the disposal sites contain infectious material, thus threatening sanitation workers and waste-pickers.
Presently, lawmakers are revisiting the environmental laws indicating the Climate Change Act as well as the Disaster Risk Management Act and some economic provisions in urban planning, Cong. Sarmiento concluded.
P1M in cash loans extended to rice farmers in Mayorga
By Provincial Media Relations Center
July 23, 2011
TACLOBAN CITY – Rice farmers in Mayorga, Leyte who are beneficiaries of the national government's Pantawid Pamilyang Pilipino Program (4Ps) are set to receive more than P1.1 million in cash loans from the provincial government of Leyte under the ICOT-Rice Program.
The amount would help 67 farmers recover at least 109.25 hectares of rice farms in twelve barangays in Mayorga.
Leyte Governor Carlos Jericho Petilla disclosed the farmers-beneficiaries were chosen using the 4Ps program of the DSWD as one of the basis, to intensify the government's convergence program initiatives.
The cash loan will be distributed in checks by the provincial government, while the Land Bank of the Philippines would also be on hand to readily cash out the checks in order for farmers to immediately make use of their loans.
The rains in February and March have submerged hectares of rice crops adding another round of losses to rice farmers that have already suffered the same fate, having replanting several times, since the start of wet season last September 2010.
The province's Improving Crop Output by Technology Promotion (ICOT-P) Rice Program, which offers cash loans to rice farmers, is being made available particularly those with rice lands affected by the continuous rains.
Gov. Petilla said the ICOT-Rice cash loans is given out with the understanding that the affected farmers have already incurred debts with local financiers during their previous planting, and may not be able to pay-up their loans as their rice farms have previously already been flooded at the start of planting season.
This cash grant venture under the ICOT Rice Program is reportedly proving to be a big help to these farmers who were once the favorite preys of loan sharks in their areas.
Under the ICOT-Rice Program, production loan are given to farmers that amounts to P15,000 per hectare to cover the expenses for labor, seeds, fertilizers, insurance and pesticides.
The farmers would pay back their loans in terms of good quality palay which the provincial government would itself buy from the farmers computed P1 higher than the prevailing market price.
The provincial government has already shelled out millions in cash loans earlier to farmers in Sta. Fe and Palo.