P32B for AFP Modernization Program continues to flow this year says Oban
By GINA DEAN-RAGUDO, Samar News.com
July 9, 2011
CALBAYOG CITY – AFP Chief of Staff, General Eduardo SL Oban Jr. disclosed that the government has shifted its focus to internal security operations in order to improve existing capabilities in terms of command, control and communication and that is why there are releases of funds in the amount of P32 Billion.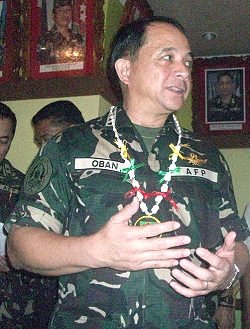 AFP Chief of Staff, General Eduardo SL Oban Jr and party visit the 8th Infantry Division last July 7, 2011 and congratulate MGen. Mario F. Chan for its accomplishments as best performing division in Philippine Army for 2011 first semester. (Gina Dean-Ragudo)
"We have leveled up the capability of the ground troops in so far as internal security is concerned and that is why we have to fill in that gap which is being mandated in the 2009-2010-2011 projects as part of the medium term plan", he clarified.
Oban said that there is transition to territorial defense most particularly in the Philippine Navy (PN) by procuring new equipment for maritime security (i.e. strategic ceiling & logistics vessels, coast watch system radars installed in the ground to detect and monitor the movements of floating assets in the area) which is essential for an effective surveillance system to focus the scarce resources in identified areas.
For the Philippine Air Force, the first batch of 4 brand new combat utility helicopters will be delivered in November and the remaining 4 is scheduled next year of same month, Oban said.
He added that the final batch who underwent Basic Aircraft Training has just concluded.
The Philippine Army on the other hand will soon have a night fighting system within the year, he said.
What has been enumerated by Gen. Oban was part of the 11 deliverables taken from 2009-2010 programs.
When Congress approved Joint Resolution No. 28 on December 1996 in which both the senate and the house gave their blessings to Republic Act 7898 or the AFP Modernization Act, it aims to develop the capabilities of the Armed Forces of the Philippines to a level where it can effectively and fully perform its constitutional mandate to uphold the sovereignty, and protect and preserve the patrimony of the Republic of the Philippines.
The law envisioned a professionalized armed force, as well as "the acquisition and upgrading of appropriate technology and equipment" to bring the AFP into the 21st century.
Overall, the modernization program has different components like force restructuring and organizational development; capability, material and technology development; bases/support system development; human resource development; and doctrines development consistent with the national defense objectives and strategic priorities.
Gen. Oban clarified that the AFPMP changed its priorities particularly in 1997 when the country was affected by Asian financial crisis. The program was no longer realistic as an implementation tool, so the government has to modify its approach in order to combat the increase of insurgents in the area.
At present, the AFP particularly the Philippine Army is intensifying its campaign on internal peace and security plan "Bayanihan".
In his visit to the 8th Infantry Division, he acknowledged the concept used by MGen. Mario F Chan especially when its accomplishments was manifested in the 2011 first semester cited by OG3 (Operations) as best performing division in the country, with 36 encounters, 46 firearms recovered, 22 enemies neutralized, 2 brigades in top 5 and 2 battalions in top 10.
"Sa pag-iikot ko sa magkaibang division with the Secretary of National Defense, wala kaming nakitang magkaparehong campaign plan. In a unified command, kanya-kanyang diskarte yan, Oban said.
He added that the Internal Peace and Security Plan (IPSP) Bayanihan is universal, applicable and its approach depends on the commander's creativity and strategy.
Leyte to resort to legal means to take back Balyuan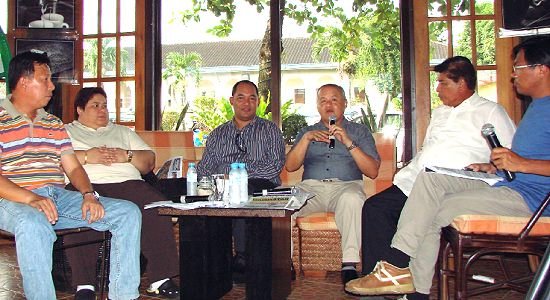 Leyte 1st district board member Atty. Roque Tiu (holding microphone) helps shed light on the action taken by the provincial government of Leyte on the issue of taking back the property owned by Leyte province now still being occupied and used by the city government of Tacloban. Looking on (clockwise) are PCL-EV president Wilson Uy, Leyte 2nd district Board Member Annlie Apostol, 4th district Board Member Rolando Piamonte and media host Roy Moraleta, publisher of Headlines. Sitting at the right side of Atty. Tiu is Leyte 5th district Board Member Carlo Loreto. (Victoria/Tiozon-PIA 8)
By Provincial Media Relations Center
July 8, 2011
TACLOBAN CITY – The provincial government of Leyte will just have to resort to "legal remedies" in taking back the Balyuan Property.
This was the statement made by the governor as the questioned property still sits further in court and with the city government of Tacloban still maintaining its stand to contest the court's ruling.
"We just have to go through all the legal process in taking back the property," Gov. Petilla said in an interview as he arrived here Friday together with Presidential sister Kris Aquino who was in a visit to Ormoc to formally turn over a classroom she donated to Leyte's fourth district.
He said that the matter could just have been "plain and simple" if the memorandum forged between the two parties in 2004 were adhered to and if only a court ruling recently issued was respected and obeyed.
"If it's a property that's borrowed, it has to be returned. If it's not yours, do not own it kay makaarawod," Gov. Petilla said.
The governor added that the province is at the moment being given the option to battle the issue in court and resort to legal actions as the city further questions the ownership in court instead of peacefully turning over the property.
The Regional Trial Court Branch-8 here dismissed the case filed by the city government of Tacloban against the provincial government of Leyte which called for the declaration of nullity of a Memorandum of Agreement (MOA) entered into by the city and the province and questions the ownership of the Balyuan Property.
The 16-page decision issued on June 1, 2011 by RTC Branch 8 Judge Salvador Apurillo dismissed the case filed by the city for "lack of merit".
"If they cannot respect a court decision, why take matters into court when diri man la ngahaw susundon and respetuhon," Gov. Petilla disclosed.
Earlier, several members of the provincial board expressed their interests that the row between the two local government units could be settled.
The board members were saying that while going to legal process is one option of the provincial government, settling the row peacefully could be the best way to do to end this row.
New ordinance does not require permit, only information, Leyte BMs say
By Provincial Media Relations Center
July 8, 2011
TACLOBAN CITY – Members of the Sangguniang Panlalawigan reiterated their defense on the approved Ordinance No. 2011-02 that culls out guidelines in the conduct of outreach activities, research, economic development program, leisure activities and fact-finding missions in the countryside of the Leyte province. (read Leyte guv supports ordinance to oversee conduct of countryside outreach programs, research missions, other activities)
Above all, the legislation's author, Board Member Rolando Piamonte said, the ordinance does not in any way prohibit individuals or groups from conducting any kind of outreach activities but rather provides that the group or individual "inform" the local government unit of the village or barangay they are going to visit.
The board members also clarified the ordinance, which has received various comments and opposition after its approval, said that it does not in any way require a permit but just a communication informing of their activities.
"Permit would mean the LGU may or may not allow such an activity. That is not what the ordinance provides," Board Member Piamonte said.
Meanwhile, Board Member Anlie Apostol said, she was among those who approved the ordinance on account of its rationale, foremost of which is the safety of the group or individual who may conduct activities or visit areas of conflict within the province.
"It's for their own safety. Should they inform the concerned LGUs, security can be provided for them if they want," Board Member Apostol clarified.
The board members further clarified the ordinance was crafted to avoid similar incidents such as the alleged encounter between the members of the Philippine Army and famous botanist Dr. Leonardo Co and his team last year in the mountains of Kananga, Leyte placed a dent in the province's efforts in packaging Leyte as an economic hub and prime tourism destination.
Ordinance No. 2011-02, approved last May, provides that "any individual, agency or organization or sponsor planning to conduct outreach activities through community services, research, economic development program, leisure activities and fact-finding missions within the territorial jurisdiction of the Province of Leyte, shall inform in writing the Office of the Mayor of the forthcoming activity at least 15 days before the effectivity thereof."
The ordinance likewise provides for the submission of mandatory information that include among others, the sponsoring agency or organization, the names and number of participants with their addresses and contact numbers, the specific location or venue of the activity, the rationale of the activity, and the duration of the mission or outreach activity.
Police reports on various illegal activities in Eastern Visayas
By RPCRD, Police Regional Office 8
July 7, 2011
Report on recovered illegally sawn lumbers
At about 11:00 AM of July 4, 2011, team led by PI Daryll Chua, Chief, PSTG LPPO personally coordinated Pastrana Municipal Police Station (MPS) in connection with the reported sawn lumbers located at Brgy Cancaraja, Pastrana, Leyte were able to recover more or less three hundred (300) bd ft kilikili lumbers and two hundred fifty (250) bd ft coco lumbers. Present during the operations were the Brgy Oficials of said barangay and the lumbers confiscated were temporarily turned-over to the Brgy Officials for proper disposition.
Report on violation of PD 449 (illegal cockfighting)
At about 3:00 PM of July 4, 2011, in Brgy Nagaja, Hernani, Eastern Samar, Hernani MPS received an information from a concerned citizen that illegal gambling activity locally known as Tupada is on progress at the said place. Team led by PI Mamerto Camarillo Canopio, OIC with four (4) PNCOs responded to the area upon sensing the presence of the raising team, the people gathered scampered to different directions to elude arrest. Recoverd from the scene: one (1) fighting cock with gaff. Confiscated items were brought to Hernani MPS for documentation and proper disposition.
Report on arrest of other wanted person
At about 6:00 AM of July 6, 2011, in Brgy 94 Tigbao, Tacloban City, team led by PCI Emiliano Avestruz Pedrigal Jr, SPO4 Marcelino Arpon and SPO1 Leandro Abella apprehended one Mark Togonon, 18 yrs old, single, construction worker and a resident of the aforesaid barangay who had a pending Warrant of Arrest (WOA) issued by Hon Wenceslao B Vanilla, presiding judge of MTCC, Branch 2, Tacloban City docketed under CC Nr 2011-05-CR-56 with corresponding bail bond of twelve thousand pesos (P12,000). Subject person is now detained at Tacloban PNP lock-up cell for proper disposition.
Report on violation of RA 8294 (illegal possession of firearm and ammunitions)
At about 5:30 PM of July 4, 2011, in Sitio Bamboo Village, Brgy Pitogo, Jaro, Leyte, elements of Jaro MPS led by PI Ricky Canadilla Reli, together with three (3) PNCOs while responding to a call for police assistance were able to catch in flagrante delicto one Joel Sister, 30 yrs old, laborer and a resident of aforesaid place while creating trouble and in actual possession and control of a short firearm. The responding PNP members introduced themselves as police officers and further informed the suspect of his constitutional rights and the nature of his arrest. Confiscated from suspect actual possession and control were one (1) homemade short firearm (paltik) with no markings and without serial number loaded with one (1) live ammo for M16 rifle. Suspect was brought to Jaro MPS for proper disposition after failing to present to possess and carry said firearm. Appropriate charges is now being prepared for filing in court against the suspect.
Report on violation of PD 705 (illegal logging)
At about 11:30 PM of July 4, 2011, along the riverside of Brgy Tabgas, Albuera, Leyte, joint operation of Brgy Tanod of said barangay led by Brgy Kagawad Roel Jabon, CAFGU personnel by MSgt Ernesto Beato and elements of Albuera Police Station led by PO2 Noel Melgar, PO2 Luke C Loreto and PO1 Isidro Lapuz were able to confiscate of more or less 230 bd ft of lawaan good lumber with estimated market value of five thousand seven hundred fifty pesos (P5,750) from the possession and control of a certain one Jimmy Bonay-Og Malasarte Sr, 61 yrs old, married and a resident of Sitio Wangag, Brgy Damulaan, Albuera, Leyte and one Alfredo Natividad Datanan, 53 yrs old, single and a resident of Brgy Balugo, Albuera, Leyte. Subject arrested persons are now lodged at the lock-up cell of Albuera PS for filing of appropriate charges in court. Said confiscated lumbers are now under the custody of the Philipine Army at Camp Downes, Ormoc City due for submission to PENRO/DENR for proper disposition.
Report on illegal gambling
At about 10:45 AM of July 4, 2011, in Brgy 3, Maydolong, Eastern Samar, elements of Maydolong MPS led by PI Tito Cebreros Mojica, chief of police, with five (5) PNCOs conducted raid to an illegal gambling activity locally known as "cara y cruz". Upon sensing the presence of the raiding team, the people gathered scamper to different directions. Recovered from the scene were: one hundred ten pesos (P110) bet money, two (2) pairs of slippers and one (1) T shirt. Maydolong MPS is now conducting follow-up investigation for the possible identification of the person involved.
Hiked hate crimes, anti-gay rhetoric provoke campus Pride parade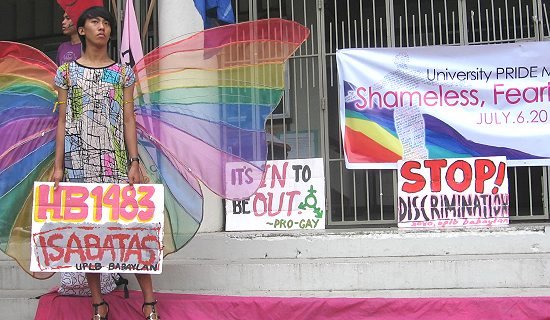 By PROGAY Philippines
July 7, 2011
LOS BAÑOS, Philippines – Rising homophobia and violence against members of the lesbian, gay, bisexual and transgender (LGBT) persons across the country convinced around 500 people that included LGBT students and heterosexual supporters to gather in the University of the Philippines campus in this city for a Pride parade aiming to raise awareness about human rights for gay people.
Dubbed "Shameless, Fearless Equality" the event was organized in this city 50 kilometers south of Manila by the LGBT group UPLB Babaylan with militant groups Bayan Muna and Gabriela. A giant rainbow flag carried by exuberant protesters snaked through the major car lanes around the forested university which rang with shouts demanding justice for murders and a stop to rising anti-gay messages from what they called "hate groups". The school icon, a nude male figure called Oblation, was festooned with giant butterfly-shape wings in the colors of the rainbow to symbolize the flight of gay rights in the campus.
The leftist Bayan alliance instigated a simultaneous sympathy LGBT pride parade in Rosario Cavite.
"We are overjoyed to see overwhelming support of even from heterosexuals, despite threats of bad weather and the short notice we issued," PROGAY Southern Tagalog spokesperson Corinna Hope Marañan said.
Rep. Teddy Casiño of the BAYAN MUNA Party and Hon. Angelica Jones Alarva of the National Movement of Young Legislators supported the Pride parade. Also present was the controversial Metropolitan Community Church, the gay religious group that set the city of Baguio abuzz with a publicized same sex wedding for eight homosexual couples.
"We decided to organize this Pride march in support of our brothers and sisters in other parts of the country who are presently being persecuted and even killed on the basis of their sexual orientation and gender identity," said Jan Erick Abay Alim who serves as the punong babaylan or head shaman of UPLB Babaylan. Alim was referring to the frenzy of anti-gay actions initiated by religious groups in Baguio in response to the same-sex union ceremonies.
Alim claims that even in UP Los Baños, considered as the bastion of democracy in the region, rights of the LGBT are continuously violated. "Some transgendered students are prohibited to express their gender identity, on the pain of not being allowed to graduate," Alim added.
He also said the parade is a sounding board to the campus community to report to the UPLB Babaylan incidents of violence, hate language and discriminatory acts against LGBTs. The group already submitted to Rep. Raymond Palatino of KABATAAN Youth Partylist a partial list of violations that school authorities inflicted on some transgender and lesbian students in connection with the congressman's measure, House Resolution No. 1333, that called for the investigation of unjust discrimination against LGBT in schools.
BAYAN MUNA Southern Tagalog coordinator Adrianne Mark Ng ended the parade with a somber candle-lighting memorial for 160 LGBTs murdered since 1996.
House Bill 1483 or the "Anti-Discrimination Bill" is authored by Rep. Teddy Casiño of Bayan Muna Partylist, a steadfast straight supporter of LGBT rights. He also authored House Bill 4385 calling for a declaration of a National Day against Homophobia and Transphobia, which the participating organizations also support.
GMA, Uriarte may be liable for malversation
By Office of Senator Chiz Escudero
July 7, 2011
PASAY CITY – Former President and now Pampanga Rep. Gloria Macapagal-Arroyo and former Philippine Charity Sweepstake Office (PCSO) general manager Rosario Uriarte may find themselves liable for malversation for using the agency's intelligence funds for other purposes.
In today's Senate hearing on PCSO fund mess, Uriarte admitted to dipping her hands into the intelligence funds of the charity agency to pay for "blood money" of incarcerated overseas Filipino workers as well as cover expenses for relief operations during calamities.
Escudero, who was surprised at the way the PCSO's intelligence funds were approved and disbursed without regard to the proper procedure, said Uriarte's admission to misappropriating the agency's intelligence funds could be used as basis for filing malversation charges against her.
"Under oath at the Senate, she readily admitted to using the intelligence fund to offset other requests for funding like blood money and relief operations. And under oath, she also said that former President Arroyo was knowledgeable and approved all of these transactions. No matter how noble the intentions were, these still do not justify the misappropriation of the funds intended for what they claimed to be for intelligence operations," Escudero pointed out.
The senator said the approval itself of an intelligence funds for a charity institution is already suspect given the fact that the military intelligence funds pale in comparison to the amount the PCSO received at that time.
Uriarte told the Senate panel that she was able to get approval for the release of the intelligence funds by personally handing the requests to the former president, thus avoiding the lengthy bureaucratic process.
The former PCSO executive said they have appropriated intelligence funds for the agency for the roll out of the state-approved small town lottery (STL) in a bid to stamp out illegal numbers game operations in the country.
Under heavy questioning by senators, Uriarte failed to present a solid program and list of expenditures to justify the appropriation of intelligence funds.
Uriarte, however, admitted that part of the funds for intelligence operations was spent for relief operations and "blood money" donations with the full knowledge of the former president.
Escudero said that under the law, any public officer who misuses or misappropriates public funds is guilty of malversation and could face life imprisonment under the Revised Penal Code.
Number 4 of Article 217 of the Revised Penal Code states that "the penalty of reclusion temporal in its medium and maximum periods, if the amount involved is more than 12,000 pesos but is less than 22,000 pesos. If the amount exceeds the latter, the penalty shall be reclusion temporal in its maximum period to reclusion perpetua."