Tricycle driver wins national award on poetry
By NEIL D. LOPIDO
June 2, 2010
TACLOBAN CITY – Nemesio "Totoy" Baldesco, a tricycle "padyak" driver from Calbayog City, won the Jimmy Y. Balacuit Special Award on Poetry in the just concluded 17th Iligan National Writers Workshop held at the Mindanao State University, Iligan City on May 23-28, 2010.
According to Harold Mercurio, Lamiraw Creative Writing Workshop Coordinator of the Northwest Samar State University in Calbayog City, Baldesco was given with such meritorious award by the panel of critics from big universities in the country for his craftsmanship in his poem "Sikad" which talks about the life of a tricycle driver who takes pain in earning money just to feed his family and send his children to school.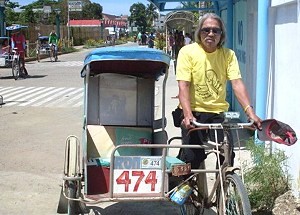 Nemesio "Totoy" Baldesco, the tricycle "padyak" driver of Calbayog City bags the Jimmy Y. Balacuit Special Award on Poetry.
Mercurio informed PIA that the panel of critics who granted the said award were: Antonio Enriquez (Ateneo de Zamboanga), Leoncio P. Deriada (UP Iloilo), Merlie M. Alunan (UP Tacloban), Victor N. Sugbo (UP Tacloban), German V. Gervacio (MSU-IIT), Steven P.C. Fernandez (MSU-IIT), this year's keynote lecturer, Lawrence Ypil (Ateneo de Manila University), and workshop director, Christine Godinez-Ortega (MSU-IIT).
Baldesco was the only fellow from Eastern Visayas. Along with him were: Bernardo Miguel from Calabanga, Camarines Sur; Paul A. Castillo from the University of Santo Tomas, Manila; Roberto Klemente R. Timonera from MSU-IIT, Iligan City; Gratian Paul R. Tidor, MSU-IIT, Dipolog City; Herminigildo M. Dico, MSU-IIT, Dumingog, Zamboanga del Sur; Jona B. Bering from the University of San Carlos, Cebu City; Jayson E. Parba, Capitol University, Cagayan de Oro City; Kyra Camille C. Ballesteros, Ateneo de Manila University, Taytay, Rizal; Romulo P. Pena, UP Diliman, Quezon City; Reynaldo A. Villaruz, Colegio de la Purisima Concepcion, Roxas City; and Anili F. Butcon, Xavier University, Cagayan de Oro City.
Mercurio gladly informed also that the said writer has already received numerous awards from various award-giving bodies. In Eastern Visayas for example, the Ibabao Arts Council of Calbayog bestowed unto him the Poet Laureate Award of Calbayog in 2008 during the Siday sa Kahanginan Poetry and the Provincial Government of Samar proclaimed him Champion in the Oral Siday Competition held in 2004 during the Samar Day Celebration. While at the national scene, Baldesco received a Gantimpalang Ani Award for Poetry in 1994 from the Cultural Center of the Philippines (CCP) and in 2007 the Gawad Komisyon Karangalang Banggit for Poetry by the Komisyon sa Wikang Filipino (KWF).
As a traditional writer in Waray, Baldesco updated himself in contemporary writing through his active involvement in the annual Lamiraw Regional Creative Writing Workshop held in Northwest Samar State University (NwSSU). His attendance in the Iligan workshop this year is a big leap in broadening his knowledge in poetry and literary criticism, especially in honing his craftsmanship, Mercurio said.
Baldesco, 55, lives in Brgy. Matobato in Calbayog City, together with his writer-wife Ana and his children who are also artists in their respective fields. (PIA-8/Lamiraw)
Militant groups condemn illegal detention, trumped-up charges to 10 Hacienda Yulo peasants
Press Release
By KASAMA-TK
May 23, 2010
CALAMBA CITY – In what militants perceive to be the most brutal land dispute incident after the May elections, 10 farmers from Hacienda Yulo have been illegally arrested, handcuffed and are still detained while hundreds were injured after tensions broke yesterday at Sitio Buntog, Brgy. Canlubang, Calamba City. Fabricated charges were also filed to the peasants. The incident has now solicited condemnation from militant groups throughout the country.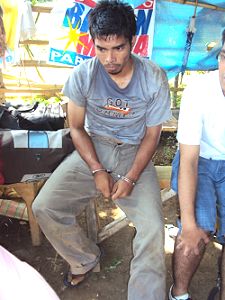 This after Dan Calvo, land surveyor and architect of Yulo owned Laguna Estate Development Corp. and San Cristobal Realty Corp., refused to honor the peasants' document on a pending petition for revocation of DAR Exemption Order. With him were 50 combined members of the SWAT, the local and regional PNP, and private security guards all with high-caliber rifles who violently pushed the residents blocking their path and illegally arrested the peasants at their protest camp.
Of the 10 peasants who remain behind bars at a local police station, 4 of them are women (including an old-aged) while 3 minors namely: Maria Garcia (39 yrs old); Dorotea Mangubat (46 yrs old); Annabel Natanauan (28 yrs old); Francisca Mangubat (71 yrs old); Mario Mangubat (36 yrs old); Gilbert Caraan (25 yrs old); Lamberto Caraan (40 yrs old); Roger Nedia, (16 yrs old); Jhefe De Leon, (15 yrs old); and Melvin Natanauan , (16 yrs old). Twelve-year old Jorge Mangubat was also illegaly detained but was released last night at around 8 pm. The peasants were also charged with direct assault, alarm and sacandal, serious resistance and disobedience and grave coercion.
Eric Laurel, secretary general of Samahan ng mga Mamamayang Nagkakaisa sa Buntog (SAMANA-Buntog), demanded to the police to at least spare the 3 minors from the dispute. A prosecutor suggested to bring the 3 minors to "rehabilitation" but Laurel countered it could only lead to "brainwashing" these minors away from their legal struggle.
He recounted the incident yesterday that the peasants were only peacefully manning their camp until these armed men came and told them that they had "no rights". "The surveyor even tore up the papers we showed him and started cursing when we tried to peacefully negotiate with him," Laurel added.
Right after news of the peasants have been brought to the police station, around a 100 protesters staged an overnight vigil infront of the Municipal Hall and others stationed in protest camp at Crossing, Calamba City gathering support from local residents. Laurel said that more protesters are expected to arrive today.
The Hacienda Yulo, 7,100 hectares of land owned by the Jose Miguel Yulo clan, is to be converted into a subdivision and golf course instead of granting ownership to the farmers. Laurel said that the land ownership to the farmers should have been granted as early as the 1960's. The project was even more pursued when the Comprehensive Agrarian Reform Program and its 5 year extension CARPer was enacted into law. He criticized the CARPer law saying the land dispute in Yulo is a proof that the law only favors landlords into keeping their lands.
In a press conference, Guillermo Bautista, chairperson of Katipunan ng mga Samahang Magbubukid sa Timog Katagalugan (KASAMA-TK) condemned the apparent violence and fascism from the state forces on the peasants who were only upholding their legitimate right for genuine land reform. "The May 2010 elections are just drawing to a conclusion yet here we see the bleak reality in our society that farmers who lived all their lives tilling the land are still continuously persecuted." Bautista said.
"As if causing injury and illegally detaining them were not enough, the police even filed fabricated cases. We have a hundred witnesses to prove otherwise," he stressed.
He feared that if the presumed president-elect Benigno "Noynoy" Aquino III will not take seriously the demand of the peasants for genuine agrarian reform in addressing these land disputes; more cases of violence may occur. He noted peasant communities in Southern Tagalog where Hacienda Yulo, Hacienda Looc in Batangas and lands in Quezon province can be found.
"We pose a challenge to Noynoy Aquino, who is an apparent landlord of Hacienda Luisita, to set an example as leader of this nation to uplift the lives of the poor farmers. More farmers will surely express dismay and dissent to the new regime if no concrete changes happen," Bautista added.
Today marks a year after the farmers' campout outside of the gates of the House of Representative were violently demolished and protesters dispersed by the PNP. The camp-out was to call the junking of the Comprehensive Agrarian Reform Program Extension with 'Reforms' or CARPer and for the passage of House Bill 3059 or Genuine Agrarian Reform Bill filed by Anakpawis Partylist, Bayan Muna and Gabriela Women's Party.
Reference: Guillermo Bautista, Chairperson KASAMA-TK
TFC to take Catbalogan on global pursuits
By JOHN HECTHOR SAY, Samar News.com
UP-Tacloban Intern
May 20, 2010
CATBALOGAN CITY – To fill-in Catbalogan's lack of global media hype, ABS-CBN's The Filipino Channel (TFC) team took approach to the provincial capital on Tuesday, May 18, 2010 with documentations of the city's tourist and socio-cultural attributes to be released on-air via TFC broadcast.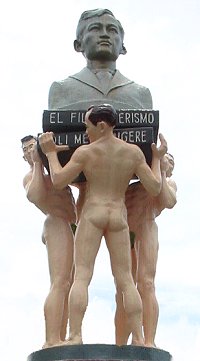 At around 10 o'clock in the morning of Tuesday, TFC's team, primarily composed of interstitial specialist/producer Norguia Abdula, TFC Konek researcher/coordinator May Aquino and together with their technical colleagues, arrived at the Catbalogan City Hall right behind a previous trip in Calbayog City. Catbalogan City Planning Department officer Raul Reyes and executive assistant Ador Hurtado were there to grace the visitors' arrival.
Principally divided into two groups, the visitors partook separate assignments; one was tasked to do interstitial segments purchasing Catbalogan's livelihood and tourist amenities led by Norguia Abdula, and the other was tasked on documenting community affairs for the TV reality show TFC Konek organized by May Aquino.
The interstitial team joined other LGU personnel to seek oyster culture footages at the Samar State University. The other team, the TFC Konek, took efforts on exclusive documentation of a family's gala at the D'Leopards Calapog beach resort. The latter was lifted from a Catbaloganon's request based in the US who approached TFC Konek to do a video stream of his family here in Samar.
By noontime, both teams convened at Flaming Hut restaurant for a lunch and for a brief break. Motions resumed at around 2 o'clock in the afternoon.
Despite the scorching summer heat, the interstitial team managed to do a city tour which featured some of Catbalogan's most important landmarks. Feat backing was even more complemented with Miss Charo Nabong's assistance, one of the principal founders of the book "O, Catbalogan." The book was published under the Katbalaoganon Foundation., Inc. and traces the city's history, culture, food and delicacies, landmarks and developmental milestones across time.
The interstitial segment would catch Catbalogan's two faces: the past and the present. Photos of the city's earlier façade, provided by the book, will be collided with its newer look which was pulled off through the team's intra-city photography sessions. This in turn will create a significant appeal on Catbalogan's physical change which weathered through the test of history and economic developments. Additionally, Filipinos abroad, as well as foreigners, may be able to see our city's potential as a tourism and cultural hub that can possibly draw investors and other interested parties.
Landmarks and places visited by the team include the old and new Antiao bridges, St. Barthlomew Parish Church, the Pieta Shrine, St. Mary's College of Catbalogan (formerly Sacred Heart College), the Samar Provincial Capitol Building and Capitol Park, the century-old Samar National High School and the marketplace. A panoramic view of the entire city was also shot from the Brgy. Socorro perspective.
By late afternoon, both interstitial and TFC Konek teams gathered at Charito's Delights Restaurant and Pasalubong Center to feature another segment that will showcase Catbalogan's foods and pastries. The interstitial team was directly put into the restaurant's main production house while the TFC Konek team arranged a TV special that cites a group's snack while at Charito's Delights.
TFC's sojourn to feature Catbalogan in the global scene was an important way to give a publicity conduit of the city for foreign consumers and developers. Furthermore, not only the city could do an appeal abroad but circumstances might as well include the entire Samar Island. With this, the team also featured an exclusive interview with Joni Bonifacio, a well-known Samarnon explorer of the island.
Bonificio has been exploring Samar Island for more than a decade now, concentrating much of his time on cave spelunking, island trekking and on water adventures. And to keep a firm respect of his natal place, he organized a tourist institution which he calls Trexplore. It primarily drives Samarnons (and tourists more importantly) to discover the entire island, invest an effort to mold its fullest potential and endorse it not only to the local goers but to foreigners as well. With this, Samar could be known as a promising hot spot for die-hard travelers and appreciators of virgin nature worldwide.
In the followings days, The TFC team will already be heading to Paranas, Basey and Guiuan. The same goals are in their way as they have had here in Catbalogan.
Voting difficulties retard 2010 polls
By JOHN HECTHOR SAY, Samar News.com
UP-Tacloban Intern
May 11, 2010
CATBALOGAN CITY – Against the sweltering heat of the sun, chunks of Catbaloganon voters for the 2010 Elections went into their respective precincts yesterday, May 10, 2010 to cast their votes and observe the effectiveness of automated polls. However, glitches struck their way, causing delays of voting mobility.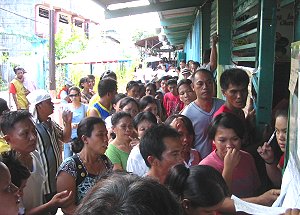 Voters waiting their turn outside the polling precinct at Salug Elementary School.
In the initial hours of the automated voting, numerous problems were encountered by the voters. Most common to these is the glitch on very long lines of individuals heading their precincts.
Emeliana Balila, 19, a first-time voter from Brgy. Maulong, complained with this situation, saying "kanina pa ako 9am pumila, ngada yana (6:30pm) waray pa ako makavote."
She further confirms that the long lines in their precincts, put up in Catbalogan IV Elementary School, were due to the very slow pace of ballot processing by their Board of Election Inspectors (BEI).
In Catbalogan III Elementary School precincts, which hold one of Catbalogan's largest barangays, Brgy. Canlapwas, same queries were fed by the voters.
Ariel Hilvano, 34, a resident of the said barangay has been in the precincts since noontime, but was only able to vote by 6:55pm.
Five to 7 precincts were clustered into just one precinct, while voting hours were extended to 12 hours from the previous 8 hours.
These re-arrangements for the 2010 elections were based on the assumption that the poll automation system will speed up the voting process since voting will be via precinct count optical scan (PCOS) machines. Each clustered precinct was expected to process around 1,000 voters. In previous manual polls, each precinct could only process 100 to 250 voters.
A voter, who asked samarnews.com to keep his anonymity, speculated that the long lines in the precincts were brought up with the waiting of voters to receive "payments" from various political candidates in the morning. This made afternoon sessions too loaded with heavy voters influx and very slow shrinkage of lines.
On the other hand, some individuals met no hitches in their respective precincts, flaunting orderly and smooth run of voting in their places. Carina de Guia, 28, a voter from Poblacion 2 who casted her vote in Salug Elementary School says "…okay man an dalagan, less than 15 minutes la ngani ak naghinulat para makabutos"
Carina went in the precinct in the morning, at around 8 o'clock and finished her job by 8:25 am.
Although morning voting sessions in Salug Elementary School were not generally met with problems, afternoon sessions turned the wheel below. Lines began to lengthen and voters started to complain against the BEI. This has followed after some PCOS machines failed to function properly and when the voting population started to swell.
Technically, many precincts in the city also experienced PCOS machines failures. In Catbalogan I Elementary School, a correspondent reported about a shutdown of the machines. In Guinsorongan Integrated School, machines stopped functioning. Voters from Salug Elementary School precincts complained about paper jams.
But not long since machine malfunctions began, technicalities were immediately fixed. Though the failures resulted in the lengthening of lines, at least voters felt a little relieved when machines properly worked again.
However, problems were not only addressed on machine failures. Ballot rejections were also reported, including the case of Teresa Tan, 57, wherein the machine, although functioning well, refused to accept her ballot. The BEI speculated that she might have had an error in her shading or her ballot could have been folded or tainted.
"Maupay man ada hadto nak ka-shade han mga lidong. Dire man liwat mahugaw nak balota. Malain la nak pamati kay waray man karawta han makina nak balota…", Teresa refutes.
Another problem that concern the 2010 Elections was related on vote-buying. A particular case in Guinsorongan, a respondent who chose not to tell his/her name reported about an "open-ballot" activity in their precinct. According to him, he/she would be paid an amount summing up to P1,500 if only he/she will vote his candidates (one gubernatorial, one vice gubernatorial, and one congressional) and show his ballot to the partisan individual who was just near the windows of the precinct he was in. Not until he finishes voting, then was only the time he/she will receive the agreed amount.
"P1,500 it iya karuyag iduhol ha ak kun bubutusan ko daw hira….. Pero ihahatag la kuno niya an kwarta kun matapos na ak bumotos. Open-voting an labas hadto, mapwesto daw la ak hirani bintana para makita niya nak pag-shade…", the respondent explains.
The voting period for the 2010 elections was originally set for 7am to 6 pm but was then moved up to 7pm. In the past, voting period was only up to 3 p.m.
Politics, showbiz, sexuality others in the mind of Boy Abunda
By ALICE NICART
May 8, 2010
BORONGAN CITY – He was an ordinary boy who sold vegetables around Borongan neighborhood and would be hurt discreetly as tongues waggled against his grandfather being a son out of wedlock, but that was 40 years passed and Boy Abunda has rose to become one of the respected personalities in showbiz and politics.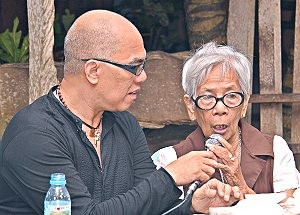 Boy Abunda with Nanay Lesing during the Sinirangan Presscon.
Yesterday, it was the "king of talks" turn to answer and not ask questions as he freely offered the Sinirangan Press any topic under the sun for discussion.
How he made it to the top, he said maybe because of hard work, his being a bookworm, his perseverance, self-trust and strong faith in God.
Seated beside his gray-haired Nanay (who served a full three term as the town's vice mayor) and sister Fe who is seeking a mayoralty seat after finishing a vice mayoralty term, Boy who was clad in black casual get up, found comfort in standing instead most of the time in the entire press conference.
Very early before the election trail, rumors spread in town that Boy Abunda was joining the political race in the provincial level.
Some of the questions (Q) and (A) answers:
Q - Why didn't you (indeed) run?
A - Not a few politicians convinced me to run but I did not feel the urge to run for a public office; I don't know however what's gonna happen in the future, maybe, I can even run for the Senate, however, at the moment, maybe I will just have to make hay while the sun shines. But please do not compare my sister with me. I learned of some unpleasant words which have come out against Mana: that she is tanga, bulok,walang kakayahan; although that is partially true because I graduated valedictorian, and I am into my Masters, but while I am ambitious and hurdled every bit of challenge in the big city, Mana chose to stay here with you and serve you. Frankly, I am embarrassed a bit but I have told Mana, let us swallow these mudslinging, tinuyoan man la nim. But I believe it does take anyone to be a genius, to be a graduate of a law school in order to become an effective leader. There are a lot of leaders who had met just the minimum requirements, still several others are just ordinary citizens, yet, they were just as effective as the most learned ones, maybe even better.
Q - Why Noynoy?
A - You have seen my TV ads with Sen. Manny Villar, they are my good friends with his wife; Let me tell you however that contrary to the tsismis that I was paid in millions for that ad, it's a lie. I believe in Sen. Villar, but things changed after the death of Madam Cory. Nagpaalam ako ng maayos kay Manny Villar but my friendship with Kris has become deeply rooted long ago until I became an adopted second son of the Aquino's; I was at the death bed of Mrs. Cory; I wrote that script of Noynoy which partly said… "Sa ngalan ng Diyos at ng aking mga magulang, hindi ako magnanakaw." Nonoy is a humble and a very simple man… my family relationship will definitely comes first to a friendly connection.
Q - Who is your congressman?
A - Ben Evardone. Because I believe in his platforms, I know him. My governor is Docena.
Q - How true that you have not been helping local talents from Borongan, hasn't anybody excelled in the standards of one Boy Abunda?
A - I do help, but not enough because I am busy. Nobody has excelled. Yes…We have a lot of talents…remember you need not be a mestizo or mestiza but you must possess the X-factor.
Q - Was being a gay an element to your successes?
A - Don't look at me as a gay but as a person. Being a gay will not hamper one's ambitions and in pushing to be the best he can. You know, culture is not always right…our culture has not been kind to gays…but I will not apologize for being a gay. I support Ladlad the same way I support An Waray. Did I commit a sin in my 27 years of relationship? Let us talk about sexuality in the context of responsibility…But I can say, I've become a mother that Nanay wanted me to be. Don't you wonder why I endorsed Sunsilk when I got no hair? Argentina and Bear Brand? Again, don't look at me as a gay but as a person because I believe in the equality of men.
Boy Abunda admitted, after helping her, he was offered a position by President Gloria Macapagal-Arroyo but he opted to be just a consultant in the area of communications. And asked if he could accept a cabinet post should Noynoy wins, he answered in the negative. (PIA-Eastern Samar)