City gov't eyes economic feats in PINES; project proposals expected to draw foreign investors
By JOHN HECTHOR SAY, Samar News.com
UP-Tacloban Intern
May 7, 2010
CATBALOGAN CITY – in preparation with the upcoming Philippine International Eco Show (PINES) of DTI's Center for International Trade Missions and Expositions (CITEM) to be held on August 26-28, 2010 at the SMX Convention Center Pasay City, the city locals of Catbalogan begun securing certain project slots for the aforesaid conference, Assistant City Planning officer Raul Reyes says.
The Philippine International Eco-Show (PINES) is an international conference/exhibition that showcases a diversified shelf of innovative environment-friendly materials, products and services. It is slated to feature an exhibition, a conference, business matching and eco-business tour. Target visitors are Venture Capitalists; Urban Planners, Property Developers; Contractors, Architects, Designers, Original Equipment Manufacturers, Multinational Corporations, Motor Vehicle Assemblers, Hospitality Related Industries (Hotels, Resorts, Spas, Wellness Centers, Cruise Liners), Importers, Wholesalers, Distributors, Facility Managers, Government Agencies, Non-Government Organizations, Green Building Materials and Technology Providers.
Formed under the Kyoto Protocol, the said event is idealized towards creating a greener and healthier earth that doesn't only bring environment-conscious products and services but is also set to do reforms and innovations in the trade systems of the world.
By this sense, and to make Catbalogan a feasible entry for this conference, the City Planning Office has already formulated a short list of eco-projects that it may present to the foreign investors (whom the city targets to realize the plans). Among these are the construction of a small-scale tidal power generation plant in Brgy. Silanga, the creation of a tourism loop within Eastern Visayas (comprising Catbalogan City itself, Daram, Babatngon and Calbiga) and a project called Cradle-to-Cradle Solid Waste Management.
Engr. Reyes further explains that these projects do not only seek economic aids for Catbalogan but will also generate direct or indirect financial and aesthetic benefits to other areas within the region, particularly those that comprise the tourism loop.
Samarnes.com is also put to become the official media partner of the City Planning Office for the PINES.
Turbines in the sea
Being the major project proposal of the City Planning Office, the construction of a tidal power-generation plant is expected to receive the fastest approval from the investors in the PINES conference. This is what Engr. Reyes calls as a Techno and Eco-Tourism venture.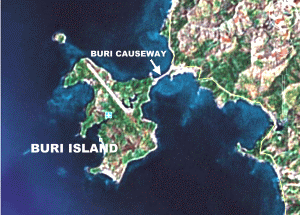 The prospect area for the power plant to be built is on the bay situated between the island of Buri and the barangay of Silanga. The area is currently being crossed with a causeway which particularly prevents the strong flow of the waters running on its sides. Engr. Reyes pushes that if only a huge hole would be bored in the causeway, great chances are seen to occur that the waters from the surrounding bay will increase in current pressure. Especially that the area is prone to tidal activities, rich energy source is expected to materialize.
Micro-turbines will be built under the causeway which will be used to generate energy. With a length of about 140 meters, the water flowing under the causeway is estimated to produce a sizable amount of energy enough to feed a particular commercial unit or residential region with sufficient energy needs. Additionally, the city also plans to use the now-rich surrounding water areas as a fertility ground to culture certain breeds of fish, such as bangus, tilapia and sea cucumber due to the fact that oxygen is already in free flow in these waterways. With this, Buri and Silanga can feasibly become affluent processing zones for fish- and energy-related products.
However, to secure the safety of the fishes and to protect mother nature, screens would be built near the causeway to safeguard these sea creatures from the working turbines.
The improvement of the local airport is also thought to become a major outcome of the project. With lots of investors and business enthusiasts to flee on the island, and with a bulky number of tourists to set foot on the beaches, the development of the airport is no way an impossibility.
The Tourism Loop
As seen in the map, Catbalogan is situated in very strategic position in Eastern Visayas. Its port operates with neighboring islands and it is positioned in a commanding location that concretizes it to become a major gateway for several destinations in the region.
The tourism loop being developed by the city is aimed to make Catbalogan a high-caliber retirement place for tourists as well as to discover hidden riches of its neighboring municipalities, particularly Daram and Calbiga. However, the loop also includes the municipality of Babatngon, an area found in the island of Leyte. Though it may not serve as a major tourist destination, the place is intended to carry loads of passengers who travel via Catbalogan-Daram-Tacloban route. By this scheme, Batbatngon will benefit from the loop mostly by means of sea traffic and other related services.
Major tourist activities include sea diving and beach events in Daram, spelunking, cave trekking, white water rafting and waterfall amusements in Calbiga as well as commercial, entertainment, leisure and socio-cultural festivities in Catbalogan City. The city is also envisioned of becoming a MICE destination (meetings, incentives, conference and exhibitions) where it can accommodate visitors from all-over the country to hold big business and educational forums.
With concrete plans underway, this tourism loop is expected to generate good economic benefits for the province of Samar.
From bins to kitchens
Engr. Raul Reyes would also be preparing a presentation in PINES that will practically feature a restaurant-waste collector relation which he calls Cradle-to-Cradle Solid Waste Management. This project in particular, is dubbed as a corporate social responsibility plan.
The project is aimed towards making Catbalogan a self-sufficient city for food needs. Here, restaurants and other food-related processing establishments are suggested to form organizations in order to systematize the process of waste-food disposal. More so, an envisioned union of waste collectors is also expected to be formed for it to become a backing agency for the restaurants. They'll be collecting wastes from these food houses, process them as livestock feeds and in return, become suppliers of raw materials (especially meat).
Other waste products would also be used as fertilizers for local farms, thus creating organic agricultural fields (planned to be in Mahayag). Expert agriculturists and food scientists will be hired so that waste collectors would be correctly guided on their tasks.
Clearly, the project will form a cyclic or closed loop, wherein food processors are required to feed their wastes to waste-collecting agencies and in return, the latter will solely provide the raw materials for the former.
Voters' Walk for Unity in North Samar successful
By AILENE N. DIAZ
May 1, 2010
CATARMAN, Northern Samar – The Diocese of Catarman led by Bishop Emmanuel C. Trance and the Northern Samar Peace and Development Forum initiated a unity walk called Voters' Walk for Unity on April 24, 2010 for a Clean, Honest, Accurate, Meaningful and Peaceful (CHAMP) Elections.
The Unity Walk took off at 5:00 in the morning at University of Eastern Philippines Grandstand and reached the Sacred Heart Plaza fronting Catarman Cathedral, an hour after.
In a program afterwards, sector representatives were given time to share his/her thoughts and opportunity to express their support to the advocacy of the diocese and NSPDF.
All are one in pushing for a clean, honest, accurate, meaningful and peaceful elections and this could only be achieved according to them, if people will stop selling their votes and candidates will refrain from vote buying.
Dr. Mindanilla Broto, vice president for external affairs of the University of Eastern Philippines said, that the University is with the group in the crusade for a CHAMP elections. She said we have to select leaders who are honest themselves and who advocate for a peaceful and meaningful government.
PNP representative PSInspector Rafael Habawel Tayaban expressed his order to carry on and encouraged everyone to move as one as he shouted "let's do it together."
NGO representative, Mr. Joe Lim, also stressed his belief that there is strength in unity and that he will not waiver his advocacy for a peaceful polls.
On her part, youth representative, Ms. Annie Mey Tantuan vowed not to sell her votes and encouraged youth to be an instrument of CHAMP for 2010 elections.
Col. Rolando Malinao, Deputy Commander of 803rd Brigade assured the people that the Armed Forces of the Philippines is ready for the CHAMP elections. He said that in any successful endeavor, it requires a collective and concerted help of everybody and the help of God.
Sis. Maribel Carceller, the director of SHIFT Foundation, Inc. on the other hand, made an appeal to everyone to lead a meaningful life. She said, if you sell your votes, you are not selling yourself but you are selling your country.
Ms. Maribel Buenaobra of The Asian Foundation, took part in the program and expressed her appreciation to the Diocese in leading the advocacy in promoting a peaceful elections.
Bishop Trance on his part informed the people of what the Diocese, NSPDF and PPCRV have been doing in pursuit for a clean, honest, accurate, meaningful and peaceful elections. The NSPDF and the Diocese thru its social action commission and PPCRV is in the frontline for voters' education and in establishing a pre-during and post election monitoring scheme.
Bishop stressed that the election is the future of the country and this is the future of the people. The Bishop further said, "we have to work together, we need to work together to avoid cheating to happen".
The program ends with the lighting of torch, offering of prayers, releasing of doves, signing of covenant for a CHAMP elections.
The event was participated in by members of NSPDF, priests, PPCRV Volunteers, UEP, youth, AFP, PNP, other national government agencies, non-government organizations, religious and renewal communities such as Couples for Christ, Familia, Women for Christ and Servants of God Community. (PIA-Northern Samar)
On the 3rd year commemoration of Jonas' abduction and disappearance
Mrs. Edith Burgos: What can the Presidentiables do for Jonas Burgos and the human rights situation in the Philippines?
Press Release
By DESAPARECIDOS
April 28, 2010
MANILA, Philippines – "Today, April 28, 2010, I dare all presidential candidates to make a stand on enforced disappearances, torture, extra judicial killings and other violations of human rights. I challenge all of them to bare their human rights agenda instead of wasting their time mud-slinging. I ask all those seeking the highest post in the land what they can do for Jonas and the human rights situation in the country because this present government of Mrs. Gloria Arroyo has done nothing to find my son and give justice to what happened," said Mrs. Edita Burgos in commemoration of the 3rd year of the abduction and disappearance of Jonas Burgos, activist, agriculturist and son of media icon Joe Burgos.
Three years ago today, Jonas was forcibly taken by armed men, believed to be members of the Armed Forces of the Philippines, from a mall in Quezon City while eating inside a fast food restaurant. Since then, the Burgos family and friends have searched for him, yet he remains missing.
"We have brought his case to the Court of Appeals, the Commission on Human Rights and even the United Nations." says Mrs. Edith Burgos, "Unfortunately, the CA refused to grant me the Writ of habeas corpus and the writ of amparo, the Supreme Court has remained silent on my appeal for the reversal of the CA's decision. This petition was filed in August 1, 2008, more than 1 year and 8 months ago, meanwhile the officers whom we have charged in court have been promoted. So now we ask – where is justice?"
Like other families who have lost their loved ones through enforced disappearances, extra-judicial killings and other human rights violations, Mrs. Burgos has not stopped and will not stop searching for her son, Jonas. She will continue to seek for justice for him and for the thousands of victims of human rights violations under the present government.
According to the human rights group Desaparecidos, the human rights situation in the Philippines within this decade and under the leadership of President Gloria Macapagal-Arroyo has been at its worst since the time of the Marcos dictatorship. A total of 1,118 victims of extrajudicial killings and 204 victims of enforced disappearance has been documented by the human rights group Karapatan. The figures are only for the period of 2001-2009, add other cases that have been documented from January to April of this year, have yet to be added.
Aside from the enforced disappearance and extrajudicial killings, other human rights violations continue to be committed by the Arroyo administration. "If this is the case, then we cannot hope for any justice from the current government." Mrs. Burgos stated, adding that with just 12 days to go, they have not heard any Presidential candidate offer their human rights agenda to the Filipino people. "What can Noynoy Aquino, Manny Villar, Erap Estrada, Gibo Teodoro, Dick Gordon, Eddie Villanueva, Nick Perlas, Jamby Madrigal and Jaycee delos Reyes do to improve the human rights situation in the country?" Mrs. Burgos asked.
Desaparecidos Deputy Secretary General Lorena "Aya" Santos could only agree. "In case these Presidential bets have forgotten, may we remind them that human rights issues – economic, social, civil, political and cultural rights – are the issues we as a nation must confront. Thus, we challenge those running for positions in government to present their human rights agenda to the nation and show us how they will protect the rights of the Filipino people.
WWIII may not be caused by gasoline but by water – DENR-CENRO
By ALICE E. NICART (PIA Eastern Samar)
March 25, 2010
BORONGAN CITY, Eastern Samar – Information Officer, Ms. Dorinda Labro of the Department of Environment and Natural Resources (DENR-CENRO) warned the public, as she quoted a world report that says, "should water shortage reach a global scale, the Third World War may not be caused by gasoline but by water".
Labro said that there is about 2,000 cubic miles of ground water which the whole world gets from, and should it be contaminated, trouble might just take place in any given time.
Philippines might not be spared of the scrambling for drinking water, because even if we might have sufficient supply for all the Filipinos, foreigners would come and plunder our water.
"Let us not forget that water is more important than the solids we take," Ms. Labro spoke on air over Radyo ng Bayan-DYES through Soc Aberia's afternoon program, "Info Centrum", in connection with the World's observance of the World Water Week.
The DENR Information Officer has been going around the province and the Region to advocate for a better and protected environment in order for man to save himself and the planet from global warming.
At present, she is a hospitable host to another environment-friendly lady volunteer from Germany, Maria Kleimann, whom she said she has conducted to several areas in the province.
In a brief telephone interview, the 19-year old German lady informed this writer, that cleaning and greening is a big thing in her country. She also said that, in her rounds with Ms. Labro, she noticed that people have cut several rainforest and burnt them, unlike in Germany, when they plant and cultivate trees and manage well their trashes.
Dorinda said her guest does not even eat meat. She prefers vegetables instead, cooked with coconut milk, because eating meat adds to the emission of methane gas, she jibed.
In order to save the environment particularly, water, Labro advised his listeners to maintain a simple lifestyle: put off the aircon unit when coolness has prevailed the room; don't swing the electric fan when only one person is using it; unplug appliances when not in use; never fill the glass to the brim with water, when you can't consume the whole amount, otherwise you will just throw away the remaining water; if you can use up a pail of water when bathing, then, spare the other pail for others' use.
Leyte IDOL Season 5 grand winner named, received standing ovation from judges, crowd
By Provincial Media Relations Center
March 23, 2010
TACLOBAN CITY – Leyte mined again another singing sensation as the Season 5 Leyte IDOL Star Category drew to a close Sunday night naming young mother May Obando as this year's grand winner.
May wowed the judges, who stood on standing ovation in almost of the three performances she rendered during the Grand Finals night held at the Leyte National High School Gymnasium and earned herself P150,000 as cash prize and P50,000 worth of other prizes.
The newest Leyte IDOL winner sang the songs May Bukas Pa in the OPM Category, On My Own from the play Les Miserables in the Broadway category and went upbeat in the RNB Category – all three performances given high points by the judges composed of singer Bituin Escalante, singer comedienne Joy Viado and songwriter Jonathan Manalo.
May's husband and kid was among the hundreds of crowd that jampacked the LNHS Gym together with the rest of the IDOL finalists' supporters from Tanauan, Leyte, Ormoc City and Baybay City.
Also named as first runner up in this year's Leyte IDOL was Reginald Detabali of Ormoc City who got the prize of P100,000. His singing style was being compared by the judges to artist Gary Valenciano.
Meanwhile, another Ormoc belter Christine Ricarte took home the cash prize of P50,000 after being named as the second runner up. Christine was likewise a favourite early on with the judges with her solid renditions of chosen songs in the three different categories set for the night.
Though she did not get the top three spots, Tanauan's Mary Rose Modesto was named as Texter's Choice for having gathered the most number of votes through texts.
Leyte Governor Carlos Jericho Petilla opened the Grand Finals Night with an OPM number and after which vowed to continue the said singing search saying this is more than just a talent search but already an institution in the provincial government that provide opportunities both in singer careers and other personal developments of Leyte's young talents.
Also present during the night were Palo Mayoralty candidate Remedios "Matin" Petilla, Tacloban Mayoralty candidate Councilor Bob Abellanosa, Board Members Lesmes Lumen and Evangeline Esperas, Tanauan Mayor Roque Tiu, Babatngon Mayor Charita Chan, Tabango Mayor Benjamin Jonathan Remandaban and other officials from the provincial government.
The grand finals night was seen worldwide over live mainstreaming through ABC-5 and heard over live simulcast over local AM radios DYVL Aksiyon Radyo and DYDW Radyo Diwa. Leyte Samar Daily Express was also one of the Leyte IDOL's official media partners.
Protect Witnesses to Maguindanao Massacre
Two Relatives of Witnesses Killed; Many Suspects Remain at Large
By HUMAN RIGHTS WATCH
March 9, 2010
NEW YORK – Philippine authorities should act swiftly to protect eyewitnesses to the November 2009 massacre of at least 57 people in Maguindanao province on Mindanao, and to protect their families as well, Human Rights Watch said on Monday.
Concerns for the safety of witnesses are highlighted by the killings of two relatives of witnesses and the shooting of a third; the large number of police, military, and paramilitary personnel implicated in the massacre who remain at large; and lax security measures that allowed one suspect to escape detention, Human Rights Watch said.
"Witnesses won't come forward if there is a 'second Maguindanao massacre' of witnesses and their families," said Elaine Pearson, deputy Asia director at Human Rights Watch. "The government needs to act quickly to protect witnesses and their relatives, and to arrest and securely detain the remaining suspects."
On November 23, 2009, in the town of Ampatuan, Maguindanao, Autonomous Region of Muslim Mindanao, dozens of gunmen stopped a convoy that was en route to file Buluan Vice-Mayor Esmael "Toto" Mangudadatu's candidacy for the upcoming Maguindanao gubernatorial elections. The gunmen summarily executed at least 57 people, including Mangudadatu family members and supporters, bystanders, and more than 30 media workers.
Those charged with the killings include members of the local governing family, the Ampatuans, together with police, military, and paramilitary personnel. Andal Ampatuan Jr., mayor of Datu Unsay and son of the Maguindanao governor, Andal Ampatuan Sr., is the lead suspect in the case. He was charged on December 1, 2009; he is in custody while his bail hearing continues.
Several eyewitnesses have come forward to testify about the massacre.
On February 21, 2010, the elder brother of one suspect-turned-witness, Police Officer 1 Rainier Ebus, was shot multiple times in Datu Piang and severely wounded. According to credible sources that could not be confirmed, Ampatuan's men had offered Ebus 5 million pesos (over US$100,000) to recant his witness statement. The brother was shot after he refused to do so.
Credible sources also told Human Rights Watch that another witness was offered 25 million pesos (over US$500,000) to recant his signed witness statement. He refused. Within weeks of testifying in court, two of his family members were shot dead. The Criminal Investigation and Detection Group (CIDG) told Human Rights Watch that local police were investigating these crimes.
A member of the Ampatuan paramilitary forces told Human Rights Watch that the Ampatuans have placed a bounty on the heads of those who cooperate with investigators to testify against the Ampatuan family. He said that in late 2009, men linked to the Ampatuan family ordered him to kill one of the men involved in the massacre. The paramilitary force member said he escaped the Ampatuan fold after hearing that he was the next to be killed. He said he has learned that there is a 2 million peso (over US$40,000) bounty on his head.
Human Rights Watch urged the National Bureau of Investigation (NBI) to thoroughly and transparently investigate these killings and acts of intimidation against witnesses. To the extent that jailed Ampatuan family members are implicated, the NBI should investigate the Philippine authorities responsible for their custody.
The Justice Department, on February 9, filed charges against 197 people for 57 counts of murder on February 9, 2010. Arrest warrants have yet to be issued due to judicial delays, though some of those implicated are in custody charged with other crimes.
Of the 197 charged, 63 are police officers. Forty-nine of these police officers are under "restrictive custody"; the remaining 14 are "absent without leave." A Criminal Investigation and Detection Group spokesperson told Human Rights Watch that firearms are confiscated from police officers under restrictive custody and the officers are largely restricted to the police camp, though they can leave under guard. They remain on active duty and can be assigned administrative tasks.
Human Rights Watch questioned the effectiveness of this custody status since at least one police suspect, Anwar Masukat, escaped restrictive custody in late December or early January, reportedly swore an affidavit recanting his witness statement, and is now missing. Masukat had initially provided a signed statement implicating Ampatuan Jr. as the leader of the Maguindanao massacre. In his new statement, he pointed instead to another police witness as the massacre's mastermind. The Investigation Group spokesperson told Human Rights Watch that Masukat escaped restrictive custody while en route from Camp Crame, in Manila, to his unit in Maguindanao.
The threat to witnesses is highlighted by the government's lax detention of a suspect in custody, Human Rights Watch said. Retired Police Superintendent Piang Adam, the former Maguindanao provincial police director, escaped from the Sultan Kudarat Provincial Jail in Tacurong City between February 16 and 17. The Sultan Kudarat provincial police director, Senior Superintendent Suharto Teng Tocao, is a relative of Adam, and his jail guard, Taha Kadalum, was his cousin and has since been charged in relation to the escape.
Following this escape, the Philippine police chief, Director General Jesus Verzosa, ordered tighter security on all jail facilities and noted the need for a review of security systems and procedures. Human Rights Watch called on Interior Secretary Ronaldo Puno to carry out an urgent review of the detention arrangements of all those implicated in the Maguindanao massacre and publicly report on the findings and measures taken.
Human Rights Watch stressed the need for stronger witness protection measures to ensure, in keeping with President Gloria Macapagal-Arroyo's statement of November 25, 2009, that "the perpetrators (of the Maguindanao massacre) will not escape justice."
The United Nations special envoy on extrajudicial executions, Philip Alston, recommended in 2007 that the government ensure protection for persons who testify in killings for as long as they are at risk, and that they be provided housing and other assistance to ensure their security and well-being. Human Rights Watch made similar recommendations in its 2007 and 2009 reports about extrajudicial killings. None of these recommendations have been implemented.
Human Rights Watch called on the Arroyo administration to provide sufficient funding to ensure adequate protection for witnesses and their families, and urged the government to promptly investigate acts of witness intimidation and killing, and to ensure that the perpetrators are brought to justice. Security forces and the Justice Department should take the measures needed to protect their physical safety, including relocation where necessary, and ensure that witnesses and their families are afforded appropriate housing. Witnesses who are themselves implicated in the killings should be appropriately – and safely – detained prior to trial.
Human Rights Watch also urged the Philippine Congress to increase significantly the penalties for intimidating or assaulting a witness. Currently, intimidating a witness incurs a fine of not more than 3,000 pesos (US$65) or imprisonment of six months to one year, or both. Offenses against intimidating witnesses should also be expanded to include offenses against their relatives.
"President Arroyo has a long way to go to live up to her promise that the perpetrators of the Maguindanao massacre do not escape justice," Pearson said. "The legacy of her administration will depend in great measure on the outcome of this horrific case."
Rape cases up 22%
By Office of Rep. Emmylou "Lala" Taliño-Mendoza
February 22, 2010
QUEZON CITY – A total of 3,159 rape cases were reported to the authorities countrywide in the 12 months of 2009, up 22 percent from the 2,585 recorded over the same period in 2008, Cotabato Rep. Emmylou Taliño-Mendoza disclosed Sunday.
Citing National Police statistics, Taliño-Mendoza, a gubernatorial candidate in her home province, said the 2009 figures translate to an average of almost nine rape cases being committed every day, or one incident every two-and-a-half hours.
"The actual number of rape cases is of course much higher than those reported, possibly as many as 6,000, since many women and girls still opt not to complain to the authorities," Taliño-Mendoza said.
She cited a study showing that "half of rape victims would not file a complaint because of the stigma and the embarrassment of recalling their ordeal to the authorities."
Metro Manila had 466 rape incidents last year; Western Visayas, 429; Central Luzon, 316; CALABARZON, 312; Bicol, 293; Southern Mindanao, 203; Central Visayas, 160; and MIMAROPA, 153.
Ilocos had 145 cases; Northern Mindanao, 144; Eastern Visayas, 119; Western Mindanao, 109; Cordillera, 93; Caraga, 78; Central Mindanao, 73; Cagayan Valley, 53; and the Autonomous Region of Muslim Mindanao, 13.
To cope with the surge in rape and other sexual assaults on women and children, Taliño-Mendoza sought:
The establishment of one rape crisis center in every city and province, as mandated by the Rape Victims' Assistance and Protection Act;
The creation of a desk for women and children in every barangay hall;
A forceful campaign against drug and alcohol abuse, and all forms of pornography;
The installation of a National Sex Offender violator Public Website patterned after that of the U.S., to enable the public to alert themselves about the possible presence of sex malefactors in their communities; and,
The setting up of fully trained anti-sex crimes units in every regional police office.