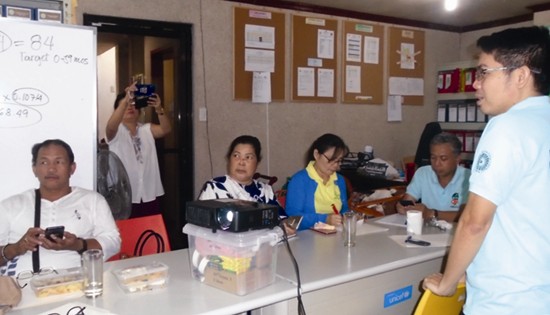 NNC-8 Nutrition Officer III Niño Archie S. Labordo briefs HIMSoG-8 members how they can help boost the nutrition office's webpage during the group's 1st quarter meeting on February 22, 2019 at NNC-8 region office.
HIMSoG-8 to boost NNC-8 social media page
By JACK C. GADAINGAN
February 28, 2019
TACLOBAN CITY – Help the National Nutrition Council Region 8 (NNC-8) boost its webpage by contributing more nutrition-related articles, feature stories and pictures, net-engaging, liking, sharing and tagging, and inviting researchers to hunt nutrition information on the webpage.
This was the consensus of the Harmonized Initiatives of Media for the Spread of Good Nutrition in Region 8 (HIMSoG-8), a NNC-8 media-group partner, after a brief Social Media Enhancement Workshop conducted during its 1st quarter meeting held at NNC-8 office on February 22, 2019.
Instead of launching its own social-media engagement on "Winning the 2019 Election in Nutrition through SocMed" as previously planned, workshop resource speaker and HIMSoG-8 member Sarwell Meniano suggested to strengthen in its place the already existing NNC-8 webpage.
Niño Archie S. Labordo, NNC-8 Nutrition Officer III, said while in the past years the NNC-8 webpage was fifth from the bottom – as compared to similar webpages of nutrition offices of other regions, last year (2018) Eastern Visayas was already in the middle of the hierarchy based on internet analytics, with Region 7 (Cebu) and Regions 1 and 2 on the lead.
"There is a big change to catch up with them, to date if there is a most improved webpage it is NNC Region 8," Labordo said, as he invited everybody to actively contribute accurate and relevant articles.
In this connection the nutrition regional office here provided the HIMSoG-8 membership with the latest Operation Timbang Plus 2018 results of 0-59 and 0-71 month old children per municipality, city, and province in Eastern Visayas categorized weight for age, height for age, weight for length/height and summary, and probable topics/subjects to write which are national-focus of the month, for example for March – Rabies Awareness Month, International Women's Month, International Women's Day, and World TB Day that could be given slant related with nutrition.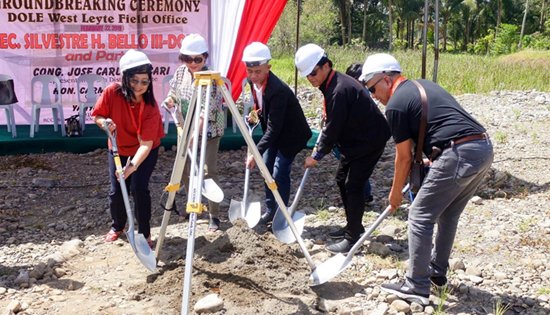 ED Maglunsod, DOLE Officials and Mayor Carmen L. Cari of Baybay during the groundbreaking Ceremony.
ED Maglunsod graces the groundbreaking ceremony of the future DOLE West Leyte Field Office
By National Maritime Polytechnic
February 28, 2019
BAYBAY CITY – A groundbreaking ceremony for the future office of the Department of Labor and Employment in the Western part of Leyte was held last 22 February 2019 at the New Government Center, this city.
The ceremony was graced by NMP Executive Director Joel B. Maglunsod, DOLE Region VIII Director Yahya A. Centi and Baybay City Mayor, Honorable Carmen L. Cari.
The 500 square meter lot was donated by the LGU Baybay through the efforts of the good city mayor and with the active support of Congressman Jose Carlos L. Cari of the 5th District of Leyte.
Mayor Cari, in her welcome remarks, said that they really intend to donate parcels of lot to government agencies not just for the good of the recipient agency but ultimately for the benefit of the constituents of the Western Leyte especially Baybay.
"I am very glad that sooner or later, DOLE will be with us here in Baybay City. This lot donation will be for the welfare not just of the people of Baybay but for all the people of West Leyte. I know that DOLE will make good use of this lot for all the people we serve that is why there were no hesitations on our part at the onset," said Mayor Cari.
NMP Executive Director Joel B. Maglunsod, representing DOLE Secretary Silvestre H. Bello III, read the message of SecLab.
On a personal note, ED Maglunsod also congratulated DOLE Region VIII for having been awarded a lot where the future building of DOLE will rise.
"Let me congratulate DOLE Region VIII under the leadership of Director Centi for this milestone. As part of the DOLE Family, I am more than happy to be witness to this significant activity for DOLE and LGU-Baybay.
He likewise expressed his gratitude to LGU Baybay thru Mayor Cari for the act of generosity. He said, "Of course let me also express my sincere appreciation to the local government unit of Baybay headed by Mayor Cari for this act of generosity. This lot is a symbol of the undying support and commitment of Baybay to DOLE's programs and services in pursuit of realizing its mandate."
Nothing but good words and appreciation were uttered by Director Centi during his acceptance message.
"I am overwhelmed with happiness today because another milestone event is about to happen. Last year in October, no less than DOLE Secretary Silvestre H. Bello III inaugurated the newly-renovated DOLE building in Tacloban City. And today, just a little later, we will be having the groundbreaking of our future West Leyte Field Office," said Director Centi.
The DOLE chief in Eastern Visayas also grabbed the chance of expressing his sincerest thanks to the good mayor of the city for the lot donation.
"Of course, this will not be possible if not for the kindness of the ever active and supportive mother of this beautiful city, Mayor Cari. Madame, thank you for this great blessing for our organization. It is indeed good to know that government institutions and LGUs can together achieve success through great partnership," Director Centi added.
Records reveal that as of 28 February 2019, NMP was able to train nine hundred ninety-four (994) trainees coming from Baybay City.
In line with the NMP's effort of expanding the reach of its communication activities and to strengthen its visibility within the region, the Agency will be tapping DOLE West Leyte Field Office as delivery agent for its information materials.
Meanwhile, NMP encourages seafarers to avail of the NMP-OWWA (Overseas Workers Welfare Administration) Seafarers' Upgrading Program (SUP) and Skills for Employment Scholarship Program (SESP) which entitle the beneficiary to receive financial assistance for training costs from the OWWA.
P100M road traversing 4 barangays completed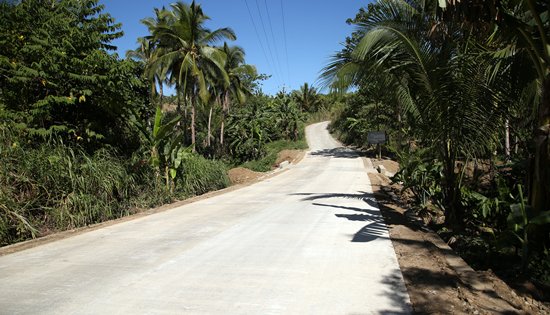 By GISSELLE G. GOMEZ
February 28, 2019
CALBAYOG CITY – Department of Public Works and Highways completed the construction of road projects all in barangays Amampacang, Dinagan, Mabini and Catabunan, Calbayog City, Samar amounting to P100M under the local infra-program of the district. This road stretches 8.796 kilometers with drainage structure of 1,415 linear meters.
This P100 million project by DPWH Samar First District Engineering Office to construct the roads traversing four barangays opened up a lot of opportunities for about 4,520 farmers, businessmen, motorists and residents of not only the said barangays but other areas near them for either trading or bartering of crops. They can now transport their crops, copra and other products to the marketplace much faster and easier because travel time becomes shorter and the road is now better.
This project is essential because transportation is a challenge to farmers and residents of the barangays since the roads then are not yet developed and not concrete. Farmers and residents trying to deliver their products to the city have to go through the rivers using boats as their means of transportation to get it in the city's marketplace.
This is a conscious effort of DPWH Samar First District Engineering Office to provide ways on how to make life easier as well as to connect every area in the city to ensure that basic services and necessities can be accessed by people situated in far-flung areas. Interconnectivity is vital in a nation's development.
Improvement of Migara Road and Maybog Road underway
By GISSELLE G. PARUNGAO
February 26, 2019
CALBAYOG CITY – Department of Public Works and Highways has started the implementation of Improvement of Migara Road and Maybog Road at Brgy. Guin-on, wherein the road going to Brgy. Maybog is already finished and is now working on finishing the Migara road.
The roads of both Migara and Maybog are now all concrete and widened to 3 meters per lane whereas before, the roads are damaged and intermittently concreted with narrower width of 2 meters per lane.
The project is funded under the Support for Infrastructure Projects and Social programs with a total allocation of P38 million. This project is the improvement of Maybog road which covers 1,068 meters going to Brgy. Maybog and 540 meters of Migara road going to Brgy. Migara.
This project is of considerable importance because the road will now be wider and concrete which makes the residents, bypassers and motorist's travel easier and convenient. With the considerable number of motorists passing and growth in population on both barangays, it is about time that roads will be improved.
Road network is vital in an area's development by providing access to employment, education and in fighting against poverty. Once this project is finished, about 1,750 inhabitants of both barangays and residents in nearby areas will benefit the said roads.
DPWH builds seawall project in Leyte town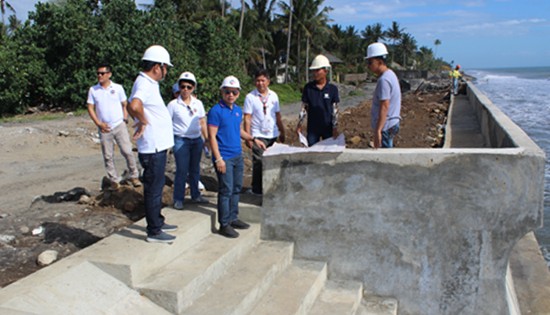 By DPWH 2nd LED
February 26, 2019
DULAG, Leyte – A total of P48.5 million has been poured out by the Department of Public Works and Highways (DPWH) Leyte Second District Engineering Office for the construction of seawall along coastal villages in Dulag, Leyte.
The project will protect and reduce coastal hazards to the residents of Brgy. San Jose and Brgy. San Rafael critical to storm surge.
District Engineer Gerald Pacanan said that the embankment project involves stone masonry with a total length of 482.5 meters and height of 2.5 meters.
The seawall will serve as protection from storm surge during occurrence of typhoon and alleviate the problems of erosion along these coastlines.
For 2018, the district has carried out a total of eight flood mitigation projects amounting to P271.68 million, of which four are completed and the rest are still ongoing.
TUCP: Chinese are allowed but keep jobs for Filipinos
Press Release
February 25, 2019
QUEZON CITY – Chinese workers are welcome in the Philippines. However, the country's biggest workers group the Trade Union Congress of the Philippines (TUCP) maintained that the jobs must be kept to Filipinos.
"Our laws and regulations policies are clear: all jobs including skills and professions must be given to Filipino workers and professionals. However, if there are specialization and skills unavailable in the labor market, these should be given to foreign workers who must apply for Alien Employment Permit (AEP) from the Department of Labor and Employment (DOLE) and work permits from the Bureau of Immigration (BI). We clearly reiterate that TUCP is not against the entry of foreign workers in the country, but of the adverse impact on our very own workers who are being deprived of potential employment and livelihood opportunities," said TUCP President Raymond Mendoza.
Nonetheless, the TUCP said the AEP and work permit issued by DOLE and BI must be enforced with routine coordination, monitoring and implemented free from corruption.
"There is no coordination between the DOLE and BI. And this is where the problem thrives. Each agency issues permits allowing foreigners to stay and work here using different criteria," Mendoza said.
Mendoza said the labor market test method that the DOLE uses before it issues work permit is also flawed.
Upon submission of required documents, the DOLE publishes the names, type of jobs that foreign workers are seeking in newspapers. If no one files a protest or complaint about the application for a few days, the applicant is deemed accepted to work for a certain period.
"Nobody is contesting the labor market test because nobody is aware that there is such a publication. No one is filing a complaint against the applicant because no one is even aware of such notice," Mendoza said adding: "there has to be an immediate serious reforms and improved implementation of work permit policy applied to foreigners."
On one hand, the TUCP meanwhile welcomes all foreigners, even Chinese nationals for that matter, to come and work in the country as long as they apply for work permits.
"We urge foreign workers including Chinese nationals to legalize their stay, abide with our laws and regulations and respect our culture and traditions. They should legalize their stay so that they will be protected by our laws from abusive and exploitative working conditions," Mendoza said.
Foreign nationals must go through the due process legally mandated by the laws. Under the Department Order No. 12 (Series of 2001) known as the Omnibus Guidelines for the Issuance of Employment Permits of the Department of Labor and Employment, all foreign nationals seeking employment in the Philippines are mandated to apply for an Alien Employment Permit (AEP). DOLE Order No. 12 states that "an AEP shall be issued based on the following: (i) Compliance by the applicant employer of the foreign national with the substantive and documentary requirements; (ii) Determination of the DOLE Secretary that there is no Filipino national who is competent, able and willing to do the job for which the services of the applicant is desired; and (iii) Assessment of the DOLE Secretary that the employment of the foreign national will redound to national benefit."
It is also worth-noting that going through the legal process will also benefit migrant workers in terms of labor standards and working conditions. Illegal migrant workers are vulnerable to violation and exploitation of their basic rights as workers as they cannot be provided protection by our laws. They are susceptible to being abused for reasons such as their lack of capacity to speak and understand the Filipino language and other exploitative working conditions such as unjust compensation given to them. They should enjoy the freedom from this worst form of modern-day slavery.
"We even encourage them to allow TUCP to help and organize them into workers union or associations while they work here," Mendoza said.
The TUCP maintained that the "Build, Build, Build", should foremost generate jobs for Filipinos first.
"In the Philippines, 'ang tunay na problema ay kahirapan (the true enemy is poverty).' What is the point of a building boom if it means that it will be foreign workers who will be employed and other countries will benefit?" Mendoza.
TUCP, therefore, supports a two-pronged strategy to generate decent, sustainable jobs for all Filipinos. First, increase budgetary allocations to Technical and Skills Development Authority (TESDA) and target accelerated support to the regional TESDA centers where most of the "Build, Build, Build" infrastructure is scheduled to be built. Such support should be targeted to be appropriate for the construction projects intended in each region.
Second, the Energy Regulatory Commission must bring down our power. Our electricity rates are now the highest in Asia and hamper our economic competitiveness. By bringing down power rates, investors would have the incentive to now enter and put up factories with decent employment even without the need to wait first the next 4 years for the "Build, Build, Build" projects to be constructed.
"TUCP believes that the Government should increase the budgetary allocation for the Technical Education and Skills Development Authority (TESDA) and DOLE to ensure that the training and re-skilling of Filipino workers can be fast-tracked. We recommend that priority be given to areas and regions where the Administration construction projects are being put up to cut down on time-and-motion manpower-lack problems and fast track towards project completion," explained Mendoza.
"The problem of power rates can be addressed even without obligating the Malampaya Funds to answer for the stranded costs of the privatized National Power Corporation. The ERC can move away from the 'sky-is-the-limit' Performance-Based Rate-making tariff system that has made our power rates unaffordable. The ERC can instead use the 12% Return-on-Rate Base (RORB) tariff under the 1936 Public Service Law. Further, we can push the ERC to insist that all of the Power Supply Agreements (PSAs) of the Distribution utilities – including that of MERALCO – be subjected to international public bidding. Lets put an end to 'sweetheart contracts' between power generators and distribution utilities. These players have price-gouged our poor consumers and suffering industries for the past 16 years. It is not the cost of labor which has made our economy uncompetitive. For Small and Medium-scale Enterprises (SMEs), electricity costs constitute 60% of their operational costs," added Mendoza.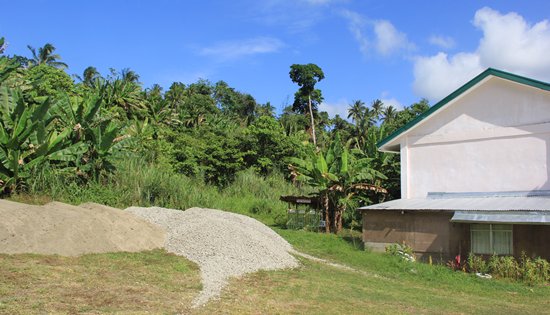 On this site will rise a 3-storey, 6-classroom school building for Calbayog Arts and Design School of Eastern Visayas (CADSEV).
DPWH to start construction of P18-M school building in CADSEV
By ELENOR A. ANOLLADO
February 24, 2019
CALBAYOG CITY – The Department of Public Works and Highways Samar First District Engineering Office will soon construct a three (3) storey, six (6) classroom school building for Calbayog Arts and Design School of Eastern Visayas (CADSEV) located at Brgy. Gadgaran, Calbayog City.
The project, amounting to P18 million, is funded under the 2018 Basic Educational Facilities Fund – Batch 3 for the construction of classrooms under the DepEd Calbayog City Division.
CADSEV is the only Regional Senior High School in the entire Eastern Visayas offering arts and design track. The students come from all over the Samar and Leyte, even from the capital city of Manila.
The school currently has an existing 2-storey, 8-clasroom building holding about 100 students. The current school population and the expected influx of enrollees in the incoming school year cannot be accommodated due to the limited capacity of the existing classrooms.
With this new addition, CADSEV will be able to take on more artistically-inclined students who want to be exposed to various forms of arts such as visual arts, media arts, performing arts and literary arts, to improve their knowledge, innate skills in arts and design.
DPWH to build 13 school buildings in Calbayog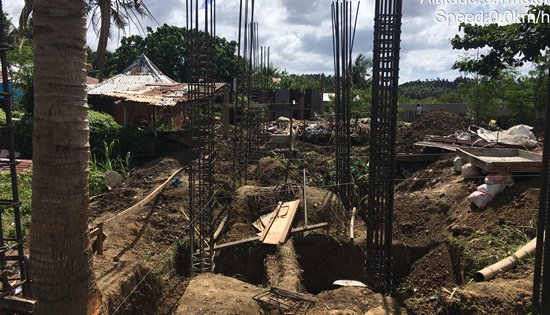 By GISSELLE G. PARUNGAO
February 24, 2019
CALBAYOG CITY – Department of Public Works and Highways and the Department of Education is in continued pursuit of making better and comfortable facilities to cater to the school children within the jurisdiction of the district.
Under the CY 2018 Basic Educational Facilities Fund (BEFF) for the construction of classrooms batch 3, schools under the Calbayog City Division are recipients of the two-storey buildings for the betterment of the students and their education.
The Secondary and Elementary schools will have 2-storey 4-classroom school buildings and 2-storey 6-classroom school buildings with a total allocation of P191M.
Calbayog East Central Elementary School, Limarayon Elementary School, Panlayahan ES, Sinidman Occidental ES, Tarabucan Central Elementary School, Danao I ES, Bugtong ES, San Joaquin Central Elementary School, Malaga National High School, R. Lentejas Mem. School of Fisheries, San Policarpo National High School, Calbayog City NHS and Malaga NHS - Peña I Annex School are Calbayog City Division's schools that will benefit the said fund.
These are DepEd managed, partially urban public elementary and secondary schools located in Calbayog City.
There is a profound impact in having decent instructional spaces in both facilitators and students in the sense that there is high retention of teachers and student learning if there is good classroom size and space.
P139.566M road widening project at Biliran town underway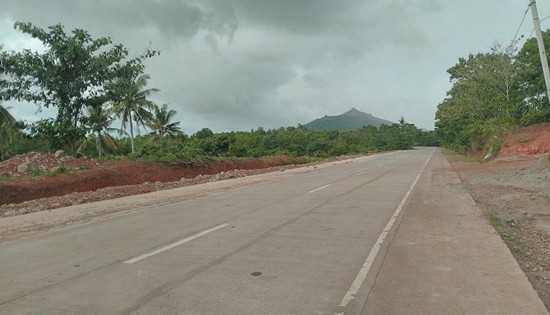 Press Release
February 22, 2019
NAVAL, Biliran – The road widening project along Biliran-Naval Section within Biliran Circumferential Road is on-going.
Department of Public Works and Highways (DPWH) - Biliran District Engineering Office (DEO) reports 72.83% accomplishment of the project as of January 31,2019.
David P. Adongay Jr., District Engineer said that the project involves the construction of additional lanes on both sides of the existing paved road with a width of 3.35-meter, a thickness of 0.28-meter and a length of 4.05-kilometer.
"It includes the construction of drainage and installation of road safety features such as road signages and reflectorized thermoplastic pavement markings," said Adongay.
Adongay added that the road widening project amounting to P139.566M will be completed on June 27, 2019 under contract with BC Cuerpo Construction Corporation.
Meanwhile, Adongay said that the district office will implement another road widening project this 2019 amounting to P80M.
"This project will be implemented as a continuation of the 2018 widening project along Biliran-Naval Section," said Adongay.
Major scope of work includes the construction and concreting of additional lanes from 2 lanes to four lanes with a length of 2.4-kilometer with a width of 3.35 meters, a thickness of 0.28 m. It also includes the construction of drainage and road safety features.
The road widening projects were prioritized because of its potential for development with the vision to accommodate huge number of road users. The said network development project is designed to provide a wider and safer roads for the increasing vehicular users.
By early part of 2019, DPWH-Biliran DEO has already widened a total of 12.973 kilometers of existing road. It is the vision of the district to widen the entire existing concrete roads within the Road Network of Biliran Province in accordance with the DPWH National Standards by phases.
DPWH joins first Nationwide Earthquake Drill for 2019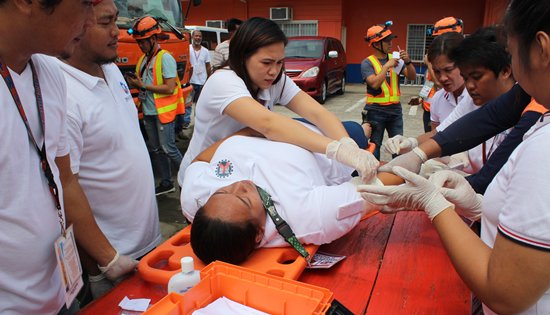 By DPWH 2nd LED
February 22, 2019
CARIGARA, Leyte – Over 180 employees of the Department of Public Works and Highways (DPWH) Leyte Second district engineering office participated during the 1st Nationwide Simultaneous Earthquake Drill (NSED) for 2019 held on February 21 at around 2 pm.
The Municipal Disaster Risk Reduction and Management Council (MDRRMC) of Carigara, Leyte led the simultaneous drill, demonstrating evacuation procedures and emergency protocols. Afterwards, a one-minute alarm signaled the actual earthquake evacuation drill.
According to Gerald A. Pacanan, DPWH Leyte 2 district engineer, this activity will boost the awareness and preparedness of employees during disaster especially that the province is at risk to earthquakes because of the Central Leyte Fault line.
He also expressed his support on this campaign by forming a permanent medical, evacuation, and inspection response team and committing to equip the district with the necessary tools and facilities to safeguard the lives of the employees.
"This is a serious matter, so we must have the proper knowledge on dealing with situations like this and set up a system for immediate response within our premise," he added.
As per order from DE Pacanan, the district will tap the MDRRMC of Carigara for first-aid and emergency response training as soon as possible to intensify the disaster preparedness of the district.
"This would be beneficial not only to us, but also to our friends and immediate relatives who we can share our learnings to from this training. Afterall, DPWH is also a key player and an immediate responder during earthquakes and other natural calamities." he ended.
As the infrastructure agency of the country, the highways department is also committed in building safe and disaster-resilient public facilities.
The NSED is a quarterly activity spearheaded by the NDRRMC and its local counterparts that aims to strengthen timely and appropriate responses during earthquakes and other similar events.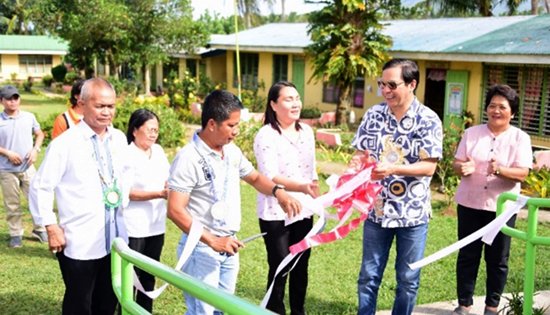 Congressman Rogelio J. Espina (in blue with white polo), together with Assistant District Engineer Alfredo L. Bollido (in white longsleeve) Hon. Nelson Corpin (in gray polo shirt) and Principal Bella Salentes (in pink ¾ sleeve) lead the Ribbon Cutting for the newly completed 1-storey 2-classroom School Building in Cabibihan Elementary School.
Additional classrooms for Cabibihan Elementary School in Caibiran, Biliran turned-over
Press Release
February 21, 2019
NAVAL, Biliran – A newly completed 1-storey 2-classroom in Brgy. Cabibihan has been turned-over to the teachers and administration of Cabibihan Elementary School by the Department of Public Works and Highways (DPWH) Biliran District Engineering Office (DEO) on February 11, 2019.
Present during the turn-over ceremony was Congressman Rogelio J. Espina, Assistant District Engineer Alfredo L. Bollido, Caibiran Mayor Eulalio Maderazo, the contractor of MKB Builders, School Principal Bella Salentes, teachers and parents of the pupils.
Ms. Marilyn Gervacio, Public Schools District Supervisor (PSDS) who also graced the event gave words of challenge for the school building users.
"I am posing a challenge to the teachers and parents to maintain the usefulness of this building for a number of years so that it can still be used by our children in the coming years".
Meanwhile, Ms. Salentes expressed gratitude to Congressman Espina and to the DPWH for the school building project and hopes for more school buildings to rise in the school.
"We are hoping for more buildings to come because it is projected that more school children will flock to our school after today, next years and the years to come because of the rapid population growth of Brgy. Cabibihan".
Children of the recipients of the on-going housing projects of the National Housing Authority (NHA) in Brgy. Cabibihan is anticipated to flock because of the geographical location of the school.
The new school building with two classrooms and adjoining toilets are to be occupied by Kindergarten and Grade 3 pupils. This building is designed to provide the pupils a well ventilated, reliable and disaster resilient school buildings.
Catchwalls erected in Caglanipao, Cagmanipis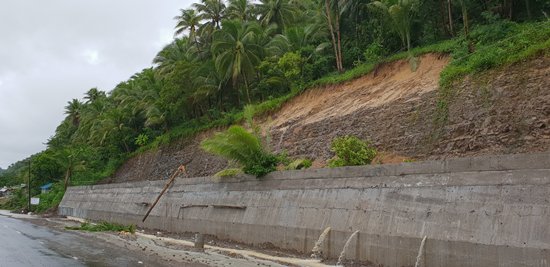 By CHENZI MAY D. UY
February 20, 2019
CALBAYOG CITY – The Department of Public Works and Highways Samar First District Engineering Office (SFDEO) has completed the construction of concrete catchwalls along national road of Barangay Cagmanipis and Barangay Caglanipao Sur in Tinambacan District.
The P100-M project was initiated in June 1, 2018, spanning a net length of 463.7 meters.
Project Engineer Alfredo C. Monsanto, Jr. explained that these areas are prone to landslide due to their unstable mountainous profile. "There is always a possibility for rockfalls and landslides to occur when there is a weather disturbance," he said.
In fact, in July 2017, the Calbayog-Allen road lanes traversing Caglanipao were closed due to landslide caused by incessant rains from Tropical Depression Gorio. The event resulted in P10-M damages and major inconvenience to hundreds of commuters. Approximately 138-meters of road area was covered with 15,000 cubic meters of soil and debris. Yet another landslide occurred in the area when tropical storm Salome hit Samar in November 2017.
A rockslide in Cagmanipis Sur was also recorded during the tropical storm Urduja in December 2017.
These national roads carry heavy traffic on a daily basis, so slope protection is a must for ensuring the safety of the travelling public.
Catchwalls are designed to arrest errant boulders that have broken off from the rock outcrop as well as prevent loose soil from spilling over onto the roads. These structures are essential to successfully building a safe and all-weather road not just for the travellers but for the local community as well.