DPWH-Biliran DEO strictly impose 15-ton weight limit for vehicles passing Biliran bridge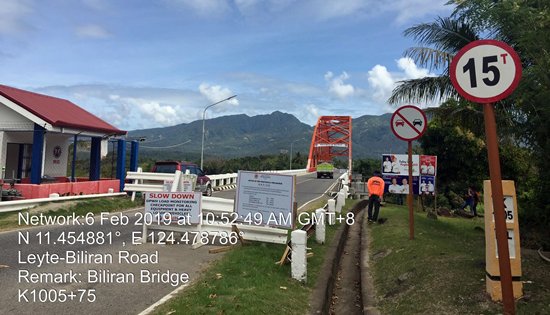 Press Release
February 7, 2019
NAVAL, Biliran – The Department of Public Works and Highways (DPWH) Biliran District Engineering Office (DEO) informs the travelling public to strictly observe the maximum 15-ton allowable weight limit for vehicles passing Biliran Bridge.
David P. Adongay Jr., District Engineer said that Biliran DEO is conducting a load monitoring checkpoint for all equipment and heavy loading vehicles crossing the bridge for safety precaution.
To prevent deterioration, damage or any danger of collapse of bridge, Adongay said that they have deployed maintenance personnel to guard the bridge 24 hours against overloading heavy vehicles.
Meanwhile, Engr. Glenda G. Dagalea, Chief Maintenance Engineer said that they only allow heavy equipment vehicles to cross Biliran Bridge one at a time to preserve the old structured bridge.
For hauling equipment vehicles, a maximum of 250 bags of cement is allowed to be loaded on a single truck and a maximum of 16 cubic meter for hauling aggregates (sand and gravel).
"More than the allowed capacity, should be unloaded," said Dagalea.
"We need to protect the bridge but most importantly the lives of the people and the convenience of the travelling public, so I am asking the drivers of heavy vehicles to have discipline and cooperate." Dagalea added.
The Biliran Bridge is the only access by land of the entire island-province of Biliran to the island of Leyte, and practically, of the entire Philippines. Completed around 1975, this bridge is about 120 meters long at its central span, held in place by an arched steel structure which hovers above a short and narrow channel of water measuring about 100 meters wide at low tide.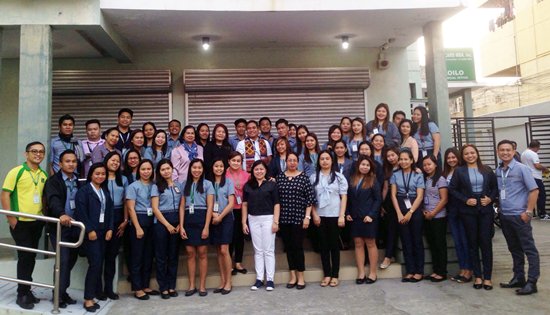 Dr. Alip together with Dr. Dolores M. Torres, senior management adviser of CARD Bank, Flordeliza L. Sarmiento, managing director of CARD MRI, and some management committee members of CARD MRI with CARD Bank and CARD MBA staff in Iloilo on January 16, 2019.
3,175 scholarship slots available at CARD MRI
By CARD MRI
February 5, 2019
SAN PABLO CITY – A total of 3,175 scholarship slots will be provided by the four major institutions of CARD Mutually Reinforcing Institutions (CARD MRI) namely CARD, Inc., CARD Bank, CARD MRI Rizal Bank, and CARD SME Bank, to its microfinance clients and their dependents this academic year 2019-2020.
Microfinance clients of these institutions who are at least three years in membership until May 2019 with 100% repayment rate and 90% attendance rate during weekly center meetings may have themselves or their children take the national qualifying exam on February 9, 2019. The scholarship slots are also available for those who are savers of the institutions for at least five years.
"Education is one the social development efforts CARD MRI values for more than three decades now. With access to education, our fight to end extreme poverty in the Philippines would be made possible," said Flordeliza L. Sarmiento, managing director of CARD MRI.
Sarmiento also emphasized that the scholarship program is part of the community development efforts of its four major institutions. "Apart from providing microfinance loans and insurance, our four major institutions is also committed to providing community development support to its clients as an inclusive approach to poverty eradication."
Prior to taking the exam, an accomplished application form must be filled out, which can be secured in any CARD offices nationwide. The exam will run for one hour only. Designated testing areas are already posted in CARD's respective offices nationwide.
Scholarship programs
CARD MRI has scholarship slots for high school, senior high school, and college. The senior high school slots, however, are only allotted for students who will enroll at CARD-MRI Development Institute (CMDI) in Bay, Laguna and Tagum, Davao davao del Norte campuses. All the slots are open for the children of CARD clients. Those clients who intend to finish their schooling may also take the exam for the Balik Eskwela program.
Qualified high school scholars will receive P3,000 yearly, senior high school scholars at CMDI will receive P17,500 per year, while college scholars will receive P12,000 per year. Every scholar will receive a financial support for maximum of four years.
One family, one graduate
The One Family, One Graduate program was launched by CARD MRI in 2016 to ensure that for every family the CARD major institutions serve at least one will graduate from college.
In 2015, CARD MRI through its then training center the CARD-MRI Development Institute (CMDI), was granted by the Commission on Higher Education (CHED) to operate as secondary and tertiary institution.
CMDI established campuses in Tagum City, Davao del Norte and Bay, Laguna to provide quality education to deserving students. High School and Senior High School scholars are encouraged to enroll I the two campuses as more scholarship opportunities for college education from CARD MRI await them in the college.
"We are planning to open more campuses in the coming years to accommodate more students and promote microfinance and development-related courses," said Sarmiento.
As of December 2018, CARD MRI has supported 12,465 scholars nationwide where 4,816 already graduated in college.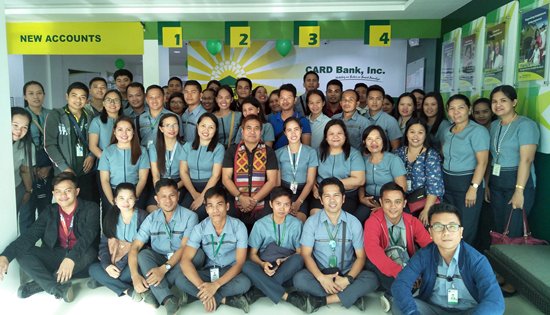 Dr. Jaime Aristotle B. Alip, founder and chair emeritus of CARD MRI, during his visit at CARD Bank in Tanauan on January 24, 2019.
As low as P20, families can be insured
By CARD MRI
February 1, 2019
SAN PABLO CITY – The Chief Executive Officer of CARD Mutual Benefit Association (CARD MBA), May Dawat, assured on January 22 during the Microinsurance Forum 2019 in Century Park, Manila that families can be insured for as low as P20 per week.
"At CARD MBA, we are committed to providing microinsurance products that are affordable and tailored fit to the needs of our members," said Dawat.
Since CARD MBA was formalized in 1999, it has been providing microinsurance to the microfinance clients of the four major institutions of CARD Mutually Reinforcing Institutions (CARD MRI) namely CARD, Inc., CARD Bank, CARD SME Bank, and CARD MRI Rizal Bank.
CARD MBA first launched three main products covering loan insurance, which is known as Loan Redemption Fund (LRF), retirement fund, and life insurance that insures not only the clients but also their spouses and dependents who are 21 years old and below. All of these are covered by the P20 weekly premium.
To date, CARD MBA insures more than 18.58 million individuals nationwide. It is also worthy to note that the Association is managed and owned by its members.
"This is what makes the Association unique and grounded to its members because the members of the Board of Trustees itself are also members of the Association," said Dawat.
Violeta Aquino, CARD MBA President, also expressed her commitment in making sure that microinsurance will be fully understood by everyone. "As a client of CARD for more than eight years I have seen how microinsurance have supported every family in times of uncertainties and this is what I want to share with my co-clients," added Aquino.
Dawat further emphasized that CARD MBA has already insured 18% of the Philippine population. "This is already a milestone at CARD MBA. But as an institution that is in the business of poverty eradication through microinsurance, we want to do and reach more because there are more families especially in the rural areas who are not insured and protected in times of disaster and other uncertainties," she added.
CARD MBA hopes to insure 40 million individuals in 2020 in support to the 5-8-40 strategic direction of CARD MRI. The strategy is a five year goal of CARD MRI since 2016 where it aims to reach eight million clients nationwide to be able to insure 40 million individuals.
In celebration of Microinsurance Month, the CARD MBA is thankful to all staff, coordinators, partners, volunteers, and members for the unending support and for working hand in hand with the Association.
CARD MRI is a group of 21 development-oriented institutions including CARD MBA and the four major institutions that aims to eradicate poverty in the Philippines.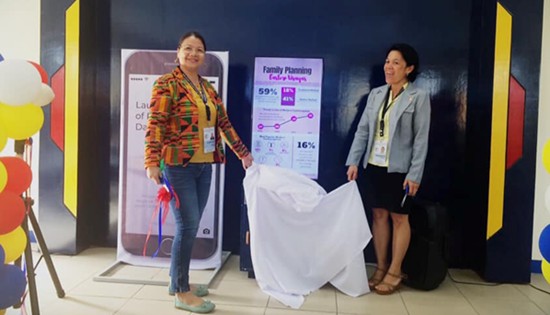 PSA-RSSO 8 Regional Director Wilma A. Perante (R) and Chief Statistical Specialist of the Statistical Operations and Coordination Division Ms. Mae R. Almonte (L) unveils the Data Dashboard.
PSA-EV launches its data dashboard
By PSA-8
February 1, 2019
TACLOBAN CITY – The Philippine Statistics Authority -Regional Statistical Service Office VIII (PSA-RSSO 8) launched its Data Dashboard yesterday, 31 January 2019 at the Tacloban City Civil Registry Service (CRS) Outlet. This innovation aims to promote, enhance and instill awareness and appreciation of statistics, and at the same time encourage the public to help improve the quality of statistics in the region.
The Data Dashboard is an information management tool which displays the latest statistical data of the region through infographics. Aside from being the trend, data visualization has the unique ability to capture attention, convey information, and encourage data retention despite their complex nature.
Tacloban City CRS Outlet clients will now learn the latest statistics of the region while they wait – the agency's step of bringing statistics closer to the public.
The Tacloban City CRS Outlet is located at Congressman Mate Avenue, Barangay Abucay, Tacloban City and is open from Monday to Friday, from 8:00 AM to 5:00 PM. Cut-off time for payment is at 4:00 PM.
NMP, off to a good start in 2019: 443 trainees as of January 18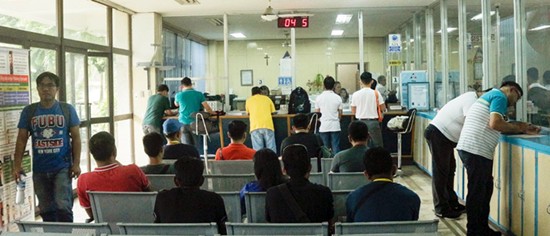 By National Maritime Polytechnic
January 30, 2019
TACLOBAN CITY – The National Maritime Polytechnic (NMP), a premier government-owned maritime training and research institution located at Brgy. Cabalawan, Tacloban City, is off to a good start this year as it surpasses its monthly target number of trainees for the month of January 2019.
As of 18 January 2019, NMP trained a total of four hundred forty-three (443) maritime trainees comprised of aspiring and active seafarers, maritime instructors and assessors and supervisors and other maritime allied personnel.
Out of the total, 329 (74%) took the Basic Courses, 45 (10%) enrolled in Specialized Courses, 38 (9%) availed of Deck Courses, 18 (4%) listed in Faculty Development Courses, and the remaining 13 (3%) came from Engine Courses.
Four hundred two (402) trainees are set to finish their trainings on 31 January 2019.
This is a well-grounded start for the Agency as it endeavors to attain its target of ten thousand (10,000) trainees trained in CY 2019.
In the interim, NMP is addressing the deficiencies noted by the Maritime Industry Authority (MARINA) in connection with its application for full course accreditation of four (4) courses whose provisional authority will expire on 07 February 2019, namely: Basic Training (BT), Advance Training in Fire Fighting (ATFF), Proficiency in Survival Craft and Rescue Boat (PSCRB), and Medical Emergency First Aid (MEFA).
Likewise, constant follow-up with MARINA is being made relative to NMP's application for full course accreditation of Ratings Forming Part of Navigational Watch (RFNW) and Ratings Forming Part of Engineering Watch (RFPEW) which were pilot-tested last 15-19 October 2018.
Also, three (3) new courses are targeted to be developed this year, namely: Safe Mooring Practice; Oily Water Separator and Training for Harbor Pilot.
In its effort to contribute in providing employment to Filipino seafarers, NMP continues to upgrade its facilities and provide quality maritime trainings required pursuant to the Standards of Training, Certification and Watchkeeping Convention (STCW) for Seafarers as amended in 2010.
On the pipeline, funded by the NMP insurance proceeds from GSIS (in relation to the damages due to Super Typhoon Yolanda), are the acquisition of Full Mission Engine Room Simulator (FMERS) and the construction of Wharf Extension for the Free-Fall Enclosed Lifeboat with Davit which was donated by the Associated Marine Officers' and Seamen's Union of the Philippines (AMOSUP).
Those interested in NMP research undertakings may visit the NMP website (www.nmp.gov.ph) and access the e-Research Information System Portal which is designed for gathering inputs for NMP's research, dissemination of NMP completed researches and other articles pertaining to maritime research.
For more information about NMP trainings viewers may visit the agency's facebook page (www.facebook.com/nmptrainingcenter) where all related information on NMP trainings are available.
NMP also encourages seafarers to avail of the NMP-OWWA (Overseas Workers Welfare Administration) Seafarers' Upgrading Program (SUP) which entitles the beneficiary to receive financial assistance for training costs from the OWWA.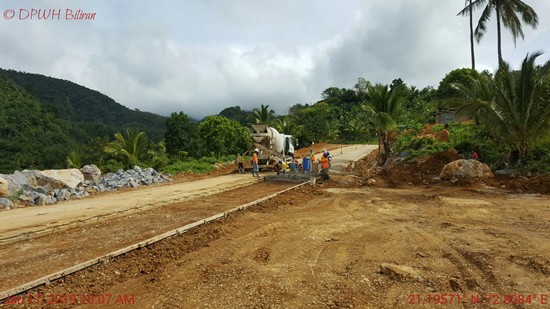 Construction of access road going to Ulan-Ulan falls in Sampao, Almeria, Biliran is on-going with 88% accomplishment as of December 31, 2018 with a project cost of P 43,163,800.00. The completion of the project under 2018 fund which starts from the proper road of Brgy. Sampao going to Ulan-ulan falls will reduce travel time from 30-40 minutes hike to just 10-15 minutes through vehicle ride. With the accessibility of the tourist site, it will encourage more local and foreign tourists to visit the place.
DPWH-Biliran DEO accomplished 84.62% of 2018 infrastructure projects
Press Release
January 28, 2019
NAVAL, Biliran – The Department of Public Works and Highways (DPWH) Biliran District Engineering Office (DEO) ends the year with 84.62% accomplishment of its 2018 infrastructure projects.
According to David P. Adongay Jr., District Engineer, Biliran DEO surpassed the 80.87% planned target accomplishment by 3.75% as of December 31, 2018. Out of the 60 total projects, 44 are completed and 16 are on-going.
Adongay said that the main reason for the slight delay are the implementation of big ticket projects amounting to P50M and above.
"Medyo na dedelayed ang aming projects because of the late approval of authority to bid and implement of these projects from the DPWH Central Office pero yung' mga projects naming na below P50M ay almost completed na," Adongay said.
Adongay said that the target completion date for all 2018 projects is on June, 2019.
"Hopefully we can complete this by March 2019," Adongay added.
Under 2018 Regular Infrastructure Program, Biliran DEO has completed 18 flood control projects, four rehabilitation of bridges, four slope protections, three access roads leading to tourist destinations, three access roads leading to trades and industries and economic zones, two asphalt overlays and one drainage project.
Meanwhile, under 2018 Local Infrastructure Program, Biliran DEO has already completed four multipurpose buildings, one flood control project, one Farm-Market Road (FMR) project, one seawall project, one baywalk/breakwater project and one road concreting project.
EV's unemployment rate down to 4.2% in 2018
By PSA-8
January 28, 2019
TACLOBAN CITY – The unemployment rate in Eastern Visayas slightly decreased to 4.2% in 2018 from 4.4% in 2017, ranking sixth among the regions with low employment rate in the country (Table 1).
Unemployment rate is the proportion of unemployed persons to total labor force. Considered unemployed persons are persons in the labor force who are reported as without work; and currently available for work; and seeking work or not seeking work due to the following reasons: a) belief that no work is available, or b) awaiting results of previous job application, or c) because of temporary illness or disability, or d) weather, or e) waiting for rehire or job call.
Out of the estimated 3.2 million population 15 years old and over in 2018, about 1.9 million were economically active or in the labor force. This number translates to Labor Force Participation Rate (LFPR) of 61.2% in 2018. This figure is 0.9 percentage point higher compared to the previous year's LFPR of 60.3%. Among the regions, Eastern Visayas registered sixth lowest LFPR and sits at par with Western Visayas.
About 1.8 million persons in the labor force were employed. This translates to an employment rate of 95.8%, slightly higher than the 95.6% employment rate recorded in 2017. Employment rate is the proportion of employed persons to total labor force.
The underemployed persons or those employed persons who express the desire to have additional hours of work in their present job or to have additional job, or to have a new job with longer working hours was estimated at 396 thousand. This is equal to an underemployment rate of 21.4%, lower than the 22.6% recorded a year ago. The region had the fourth highest underemployment rate in the country.
The preliminary results of the labor and employment estimates for the year are based on the average of the final results of the January and April rounds of the 2018 LFS and preliminary results of the July and October 2018 LFS rounds.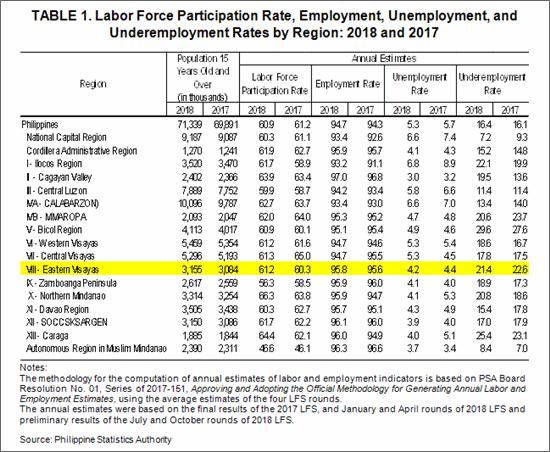 NPA terrorist dead, wounded cohort caught in an AFP checkpoint
By 19th Infantry Battalion, 8ID PA
January 27, 2019
MAGPET, Cotabato – A Communist Party of the Philippines – New People's Army terrorist (CNT) was found dead in an encounter with the troops of 19th Infantry COMMANDO Battalion (19IB) in the vicinity of Sitio Kalo Kalo, Barangay Bagumbayan, Magpet, Cotabato around 9:30AM, while a wounded CNT was caught in an AFP checkpoint in Brgy Gubatan, of the same town 1:00PM, January 27, 2019.
19IB launched an operation when a report was received from a concerned citizen that there are presence of armed terrorists in their community. Upon arrival in the area, the troops encountered 70 fully armed terrorists of Guerilla Front 53 (GF53) of Southern Mindanao Regional Command (SMRC).
"We had been receiving reports from concerned civilians about the presence of the terrorist NPAs in the area the reason why we launched our operations. This village was a former mass base of the terrorist group and they are trying to recover it by harassing populace and threatening former rebels to rejoin them in their failed armed struggle," Colonel Ehrlich Noel Paraso, Commanding Officer of 19IB said.
The firefight lasted for 30 minutes after which the CNTs scampered to different directions. A male NPA terrorist was found dead in the encounter site while 1 M14 rifle, 1 M16 rifle with M203 granade launcher, 1 antipersonnel landmine, 5 magazines with 208 rds of ammunition, 2 NDF flags, 2 NPA flags, 2 CPP flags, medical paraphernalia and subversive documents. Further, a soldier (name withheld for security purposes) was slightly wounded in his left shoulder.
On the other hand, a wounded NPA terrorist was apprehended in an ambulance passing through Gubatan patrol base. The rescue ambulance of Magpet responded to call from the barangay council of Brgy Noa stating that there was a person in need of medical attention.
"We extend our deepest sympathies to the family of the dead NPA terrorist. We have coordinated with the local government unit and our PNP counterparts to help us find his family and also the family of the wounded terrorist for them to be informed of their whereabouts," Brigadier General Larry Mojica, Commander of 901st Infantry Brigade said.
The cadaver was already turned over to the local officials for identification while the wounded CNT was brought to Amas Hospital in Kidapawan City and the injured soldier was already extracted for medical treatment as of press time.
"I commend the barangay council of Brgy. Noa for their concern of the wounded NPA. I believe that wounded NPA terrorists have a right to receive proper medical attention. These people are only victims of CPP-NPA-NDF deception in the hinterland barangays. Members of the terrorist group have a choice, they can remain and accept their faith of dying in an encounter with the government troops, or they can go back to their families and return to the mainstream society. If they choose the latter, they can still avail of the Enhanced Comprehensive Local Integration Program (ECLIP) being offered by the government. I am saying this because, units under 4th Infantry Division (4ID) will never stop going after these NPA terrorists in our area of responsibility. We will never stop until barangays will be cleared of CPP-NPA-NDF infiltration and we will never stop until communities and populace will experience the peace and progress that they are worthy of," Major General Ronald Villanueva, Army's 4ID Commander said.
DPWH undergoes disaster mitigation, preparedness and response seminar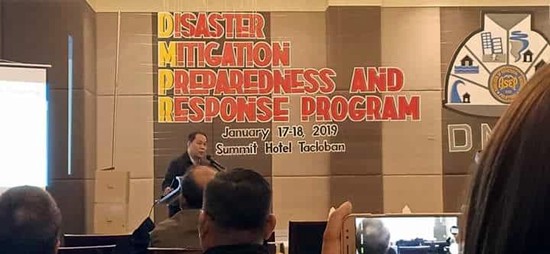 By JASON T. DELOS ANGELES
January 27, 2019
CALBAYOG CITY – Two area personnel from the Maintenance Section of DPWH Samar First District Engineering Office, Engr. Jeremias Lim and Engr. Ronalie Pelotos, attended the seminar on Disaster Mitigation, Preparedness and Response Program (DMPR) on January 17-18, 2019 at the Summit Hotel, Tacloban City.
The two-day program was attended by almost 100 area engineers and representatives from the different District Engineering offices within the region. Assistant Regional Director Eric Ayapana warmly welcomed all participants and speakers during his welcome remarks.
The several disaster mitigation and preparedness experts were invited to the program, discussing several topics which include the following: Structural Safety Evaluators Manual; Standard Operating Procedures, Geotechnical Hazard, Pre-earthquake Evaluation of Existing Buildings, Post-earthquake Rapid and Detailed Evaluation Procedure, Inspection of Concrete and Masonry Buildings, Non-Structural Elements and Hazardous Materials, and Major Earthquakes Zones in the Philippines.
DMPR refers to the system of standardized procedures developed by the Association of Structural Engineers of the Philippines (ASEP). The conduct of this disaster preparedness seminar is to create a pool of reserve DPWH structural safety evaluators that can be readily mobilized before, during and after any disaster.