Samar-Leyte media group attend CARD MRI study tour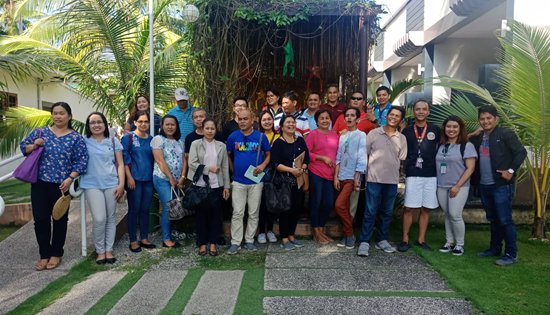 By CARD MRI
December 13, 2018
SAN PABLO CITY – Thirteen media practitioners from Samar-Leyte provinces attended the study tour for media organized by CARD Mutually Reinforcing Institutions (CARD MRI) on November 23, 2018 in Calbayog, Samar.
The study tour aims to give the media participants firsthand experience on the actual implementation of CARD MRI programs and services. "We have been doing this study tour regularly for our media partners to inspire them on how microfinance and community development work in eradicating poverty in the country," said Cyrene Grace DC. Lubigan, CARD MRI Publishing House Manager.
The tour started with a center meeting where participants were exposed on the implementation of microfinance program of CARD MRI on the field. They visited two organized centers within Calbayog. The two centers were established and managed by the clients of Center for Agriculture and Rural Development (CARD), Inc., a microfinance NGO and member institution of CARD MRI.
The center meeting is a weekly gathering of CARD clients in the community where they discuss various development-oriented agenda. It is also during this time where when Account Officers of CARD conduct Credit-with-Education (CwE), a program designed to educate and inform the clients about topics related to CARD MRI's products and services, health, livelihood, credit discipline, and disaster preparedness, among others.
According to Ike Macasa of Samar Sunday Star-Calbayog, the study tour is a once in a lifetime experience. "The immersion we did in the community made me appreciate the efforts of many development organizations like CARD to fight poverty. Now, my part is to push small entrepreneurs in our community to be involved in this kind of initiative," he added.
Participants also attended the Kaunlaran Caravan where CARD MRI showcased its development programs on health, education, livelihood, financial literacy, and social protection.
"It was really a wonderful experience joining the Lakbay Aral for Media of CARD MRI with the other media participants from Catbalogan and Tacloban. I am inspired on how the marginalized communities in the areas improve their businesses with the support of CARD," shared Genaro Navilon, broadcaster of DYOG Radyo Pilipinas-Calbayog.
Another series of study tour for media is expected to be organized by CARD MRI in 2019. CARD MRI is a group of 21 development-oriented institutions that aims to eradicate poverty in the country by providing microfinance and community development programs.
Troops abort CNTs plenum in Calubian, Leyte
By DPAO, 8ID PA
December 13, 2018
CAMP LUKBAN, Catbalogan City – A composite platoon from 78th Infantry (Warrior) Battalion and 93rd Infantry (Bantay Kapayapaan) Battalion under the 802nd Infantry (Peerless) Brigade encountered more or less 20 members of the CPP-NPA Terrorists (CNTs) with two amazons at Brgy. Anislagan, Calubian, Leyte, December 13, 2018 at 6:00 A.M.
A tip from a concerned citizen on the presence of an armed group conducting recruitment and extortion activities at the said area led to a 30-minute firefight that resulted in the recovery of one M16 rifle, two homemade shotguns, assorted ammunition, personal belongings and CNT documents with high intelligence value.
There was no reported casualty on the government side and there are some information of casualties on the enemy side.
Maj. Gen. Raul M. Farnacio AFP, Commander, 8ID lauded the operating troops for a job well-done and highlighted the trust and confidence of the community to our soldiers which led to successful conduct of combat operation in that area.
"Credit is due to the populace for this successful internal security operations by your Army, as this will give us more inspiration and determination to pursue peace and development in vulnerable and marginalized communities that are often abused by these CPP-NPA Terrorists," Farnacio added.
Palm Grass Hotel releases song for Pasilpuso-makers
Press Release
December 13, 2018
CEBU CITY – Palm Grass, The Cebu Heritage Hotel, recently released an original Cebuano song it produced entitled 'Kinasing' which features the puso-makers in Pasil.
Puso (rice-pouch), specifically, the kinasing, is the central object in the song.
Words of the song are written by Palm Grass incorporator A. Guivelondo, with The Clash's Joannah Sy, who is also the song's interpreter, and singer-songwriter Jeff Escarda, who is the song's music composer-arranger.
Furthermore, the 'Kinasing' music video, produced by Palm Grass and Hong Kong-based Visualise That Event's lead video creator Prospero Laput, was officially launched last November 17, 2018 at Palm Grass, The Cebu Heritage Hotel, during 'Gabii sa Gugma, 'the celebration of Gen. Arcadio Maxilom's birthday.
Video Creator Laput said, "Since we started producing videos this year, young people involved in our projects helped us figure out the balance between content that young people understand and the social and heritage messages that we are trying to impart,"
Aside from song and music video, 'Kinasing' was also a short film project crafted by the community, with the collective and selfless work of dedicated stage performers from the Cebu Normal University and University of the Philippines-Cebu.
"Indeed, the making of the short film is a testament, that when the community works hard together, sacrifices together, something beautiful can happen. Something as beautiful as the Kinasing," said film producers Laput and Palm Grass.
The puso-makers are honored in this song based from a poem that tells about their pains, struggles, dreams and journey towards a better society.
The song 'Kinasing' will soon be heard in FM stations in Cebu City. The song's music video is available at Palm Grass facebook page: Palm Grass The Cebu Heritage Hotel and YouTube account.
Palm Grass will be releasing more Cebuano original songs that raise awareness on the story of Cebu and Cebuano heroes through various art forms such as visual art, music, literature, film, and others.
Global peace group says arrest of NDF consultant Rey Casambre another blow to the Philippines national peace process
Press Release
December 12, 2018
MANILA – The Global Partnership for the Prevention of Armed Conflict - Southeast Asia calls for a resumption of the national peace process between the Government of the Philippines and the National Democratic Front of the Philippines (NDFP).
To achieve this, de-escalation measures must be taken, this includes ensuring NDFP consultants are given the protection previously agreed upon by the government such as the Joint Agreement on Safety and Immunity Guarantees (JASIG) signed by the government and NDFP in 1995, which essentially guarantees 'safety and immunity' of individuals involved in the peace talks, including their 'free and unhindered passage' across the Philippines and also outside the country.
An international learning and solidarity mission led by GPPAC recently engaged with parties to the conflict as well as community representatives, civil society and some key international players accompanying the peace talks. Those engagements confirmed that the 50-year-old conflict could only be resolved through a negotiated settlement.
The arrest of NDFP consultant and Philippine Peace Center Executive Director Rey Claro Casambre, who has played a central role in keeping lines of communications open between all parties, and his wife Corazon Mercado Casambre on Thursday 6th of December, harms this peace process.
While underscoring the need for an independent judiciary, GPPAC - Southeast Asia sees the timing and sequencing in arrests of NDFP consultants on similar charges as a worrying trend that could further set back the GRP-NDF peace process since it was terminated by President Rodrigo Duterte through Proclamation 360 last year.
The GPPAC-led mission met with Casambre along with other stakeholders of the peace process, as a result, this group of global peacebuilders commit to monitor and accompany the progress of the peace process, and to constantly urge both parties to continue the talks.
Casambre is the fourth NDFP consultant arrested this year after the government earlier arrested NDFP consultants Rafael Baylosis, Adel Silva and Vic Ladlad. GPPAC - Southeast Asia said that the series of arrests of NDFP consultants may further jeopardize the already fragile state of the peace process.
GPPAC - Southeast Asia calls upon the Philippine government to uphold the 'primacy of the peace process' as a vital instrument to genuinely address the decades old armed conflict, poverty and social injustices.
Both parties have already achieved significant gains of the talks before its cancellation last year. They agreed on three (3) common drafts on general amnesty and release of all political prisoners in compliance with Comprehensive Agreement on Respect for Human Rights and International Humanitarian Law (CARHRIHL); coordinated unilateral ceasefires; and part I Agrarian Reform and Rural Development (ARRD) and part II National Industrialization and Economic Development (NIED) of the Comprehensive Agreement on Social and Economic Reforms (CASER). Also, both parties have already drafted an agreement on the coordinated ceasefires, a significant step towards the Comprehensive Agreement on the End of Hostilities and Disposition of Forces (CAEHDF).
GPPAC - Southeast Asia maintains that engaging in constant dialogue and strengthening confidence building measures are essential to the revival of the GRP-NDFP peace negotiations and hopefully its eventual resolution.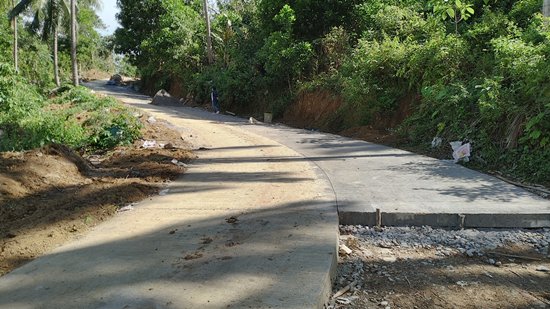 On-going concreting of of Sitio Libtong Gamay, Brgy. Libtong Farm-to-Market Road (FMR) in Naval town. The project has a construction cost of P5M under contract with J. Custorio Construction. As of November 30, 2018, the project has an accomplishment of 81.20%.
DPWH-Biliran DEO to finish 2018 FMR projects this December 2018
Press Release
December 11, 2018
NAVAL, Biliran – The Department of Public Works and Highways (DPWH) Biliran District Engineering Office (DEO) sets to finish paving a total of 2.7-kilomer Farm-Market Road (FMR) projects before the year ends if weather permits.
According to David P. Adongay Jr., District Engineer, FMR projects are considered high impact projects because it opens opportunities for the farmers to earn more and residents to have a safe and convenient travel.
"Better roads provide an adequate transportation and with adequate transportation, it lower the cost of goods," said Adongay.
Adongay added that when goods are lower in cost because of transportation, it will also improve the economic situation of the place.
Under 2018 Convergence Program of DPWH and the Department of Agriculture (DA), the district office has been allotted P27M for the concreting of five FMR projects that will help farmers boosts their agricultural productivity.
Out of the five projects, one is already completed while four are still on-going with an accomplishment of 63.64% accomplishment as of November 30, 2018.
The district office has recently completed the concreting of 500-meter FMR to connect Barangay Kaulanguhan to Kawayanon in the town of Caibiran amounting to P5M.
Projects underway are the concreting of 500-meter FMR to connect Barangay Matanggo to Sitio Patag in Barangay Tabunan in the town of Almeria amounting to P5M, concreting of 500-meter FMR Sitio Canumay in Barangay Baso in the town of Cabucgayan amounting to P5M, concreting of P500-meter FMR Sitio Libtong Gamay, Barangay Libtong in the town of Naval amounting to P5M and concreting of 700-meter FMR Sitio Jumetilco, Barangay Imelda to Sitio Balic-Balic, Barangay Lico in the town of Naval amounting to P7M.
Meanwhile, the district office has also recently completed the concreting of 700-meter FMR Barangay Haguikhikan to Sitio Rosales in the town of Naval amounting to P7M. This project is funded under FY 2016 Yolanda Restructuring Program.
Members of NPA organized militias and underground mass organization surrendered; Condemn NPA in Samar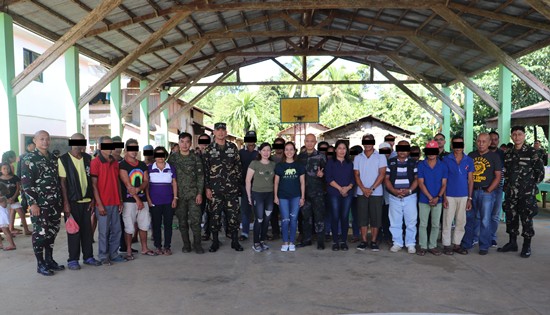 By 14th Infantry Battalion, 8ID PA
December 11, 2018
BRGY. DAO, Oras – On December 08, 2018, twenty three (23) members of Underground Mass Organization (UGMO) and four (4) Milisyang Bayan of the Communists-NPA Terrorists (CNTs) surrendered during Peace Rally at Brgy Concepcion, Paranas, Samar.
Lieutenant Colonel Jimmy V. Jimenez INF (GSC) PA, Commanding Officer, 14th Infantry Battalion, said "The success of the counter-insurgency campaign of the unit in our Area of Operation snowballed into the surrender of NPA members, militias and CNTs UGMO in the red areas and encouraged other communities to take a stand".
LTC Jimenez noted that the collaboration between the unit and the Local Government of Paranas, other government agencies, Non-government Organizations and even the community intensified the Battalion's effort in pressuring the CNTs and the members of UMO that forced them to surrender.
Manolo Labong, Chairman of the CPP-NPA's Sangay ng Partido sa Lokalidad (SPL) UGMO and NPA militias of Brgy Concepcion, said, "Our barangay have been a lair and bastion of New People's Army for almost three (3) decades and we have suffered from their deceit and illegal activities. Today, we were able to free ourselves from their influence and appeal to our fellow to surrender and join the folds of law".
Honorable Atty. Eunice U. Babalcon, Municipal Mayor, Paranas, Samar, who witnessed the Peace Rally along with other municipal government officials, expressed that the surrender of the NPA supporters in Brgy Concepcion will be the start of the clearing of other affected (influenced) barangays in the municipality.
"The role of the community is vital in preventing the resurgence of the influence and presence of CNTs in every barangay and I urge the community in barangay Concepcion and its neighboring barangays to unite and stand for what is the law dictates", Babalcon added.
In order to express their stand against the NPA and to condemn the CNTs deceitful and illegal activities, the community in Brgy Concepcion headed by Brgy Chairman Gaudioso A Misagal conducted peace rally, pledge of allegiance and covenant signing.
"The Battalion will continue its effort to sustain our momentum in shattering and constricting the CNTs Guerilla Base to defeat its armed group operating in Samar to achieve just and lasting peace in our Area of Operation", LTC Jimenez said.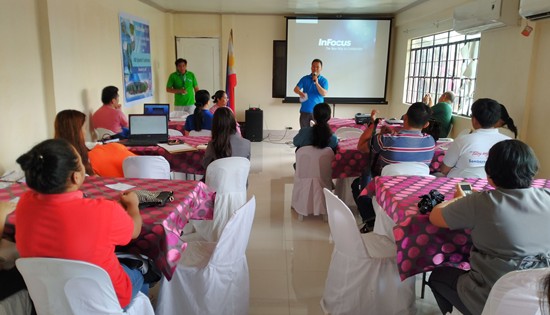 Hon. Brigido Caneja III (blue polo shirt) as he give the participating agencies a motivating speech during the BilComNet Meeting on November 15, 2018.
Biliran Communicators Network (BilComNet) to strengthen information drive in the province
By CARL MARK D. PEDRERA
December 11, 2018
NAVAL, Biliran – The Biliran Communicators Network (BilComNet): A collaboration of Information Officers (IOs) of the Province of Biliran held its 2nd meeting on November 15, 2018 at the Sangguniang Panlalawigan Multi-Function Room to discuss the ratification of the constitution and by-laws of the organization, its function and action plan for 2019.
The said event was attended by IOs from the different government agencies, non-government organizations (NGO's) as well as Government-Owned and Controlled Corporations (GOCC's) hosted by the Department of Public Works and Highways (DPWH) - Biliran District Engineering Office (DEO).
The welcome address was delivered by Hon. Brigido Caneja III, Board Member, 1st District of Biliran. He emphasized, during his speech, the important role of the communicators in the society and as to how a communicator should not be biased towards transparency.
Mr. Rodrigo S. Victoria, Manager of Philippine Information Agency (PIA)-Biliran Provincial Information Office (BPIO) gave the overview of the meeting. One of the main purpose of the association is to have a common point for the news to be delivered as fresh and credible as possible.
After the unification of IOs in Biliran Province through BilComNet on September 18, 2018, the association has already established itself and has set its goals. Through its first elected President, Dionisio B. Oliva, Jr., (Head, Biliran Provincial Tourism & Information Office) and all elected officers, the meeting went smoothly.
Mr. Victoria also encourages his fellow IO's on the idea of enhancing the information sharing and dissemination through text blasting. This kind of information sharing will broaden the target range of the public to receive the information. BilComNet also created a feedback mechanism in which the public can also voice out their opinion towards the information received.
As to further strengthen the information drive of the organization, Mr. Victoria of PIA-Biliran suggested to conduct information caravan around the district. The said information caravan will showcase the services of the participating agency or department in every municipality while conveying relevant information to the public.
"We will conduct a test run for the information caravan on a certain municipality and see how the public will react. If we gain a positive feedback, then we will pursue this activity", Victoria said.
The BilComNet will continue the fight against fake news and will surely upholds its principles to deliver timely, accurate and relevant news/information.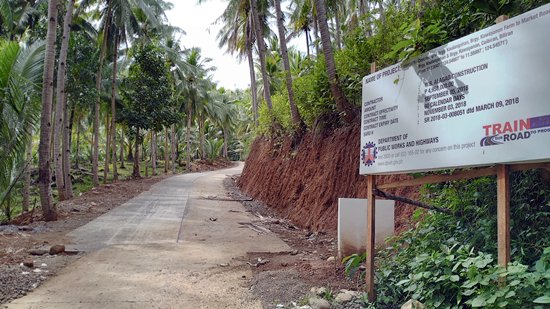 Newly completed Farm-Market Road (FMR) project in Brgy. Kaulangohan and Brgy. Kawayanon in Caibiran, Biliran. The project has a construction cost of P4.9M under contract with W.B. Alagao Construction which involves concrete paving of 500 meters.
Farm-market road (FMR) project in Caibiran town completed
Press Release
December 11, 2018
NAVAL, Biliran – The Department of Public Works and Highways (DPWH) Biliran District Engineering Office (DEO) has completed the Farm-Market Road (FMR) project in Brgy. Kaulangohan going to Brgy. Kawayanon in the town of Caibiran in the Province of Biliran.
The project is under the convergence program of DPWH and the Department of Agriculture (DA) with a length of 500 meters and a width of 5 meters amounting to P5M.
According to David P. Adongay Jr., District Engineer, there is still 400-meter length that needs to be concrete-paved to fully connect the two villages of the said barangay.
The completed FMR project will at least lessen the hilly and bumpy travel of the residents and farmers in transporting their goods to the market center.
Adongay said this project is prioritized due to the potential of the place to produce agricultural crops such as rice, abaca, and copra.
"FMR projects open opportunities for our farmers to increase their agricultural productivity as well as their income", Adongay added.
More or less 2000 residents and farmers will benefit the newly completed road.
Kaunlaran Caravan goes to Calbayog, Samar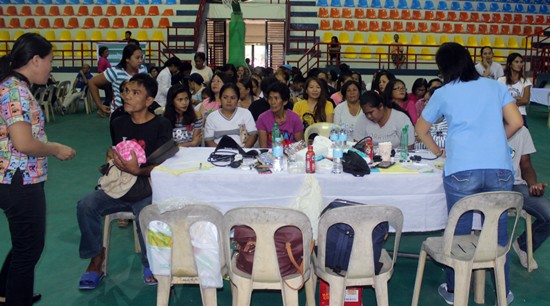 Press Release
December 10, 2018
SAN PABLO CITY – In an effort to provide wide range of community development services to communities where access to health care, financial literacy, and social protection is limited, CARD Mutually Reinforcing Institutions (CARD MRI) brought the Kaunlaran Caravan in Brgy. Capoocan, Calbayog City, Samar on November 23, 2018.
The caravan offered free medical and dental services, Social Security System (SSS) and microinsurance orientation, and livelihood training.
The caravan is the fourth leg since its kick off in 2017. The said Kaunlaran Caravans of CARD MRI already benefitted more than 1500 residents nationwide.
Meanwhile, more than 50 microfinance clients of Center for Agriculture and Rural Development (CARD), Inc. in Calbayog, Samar were trained to make tinapa (smoked fish) during the livelihood program conducted by CARD-MRI Development Institute on November 23, 2018.
Fishing is one of the main sources of living in the province, which complements the training conducted. Majority of the communities in the area are already making tinapa but CMDI was able to introduce new ways and techniques especially in packaging and marketing.
CMDI also informed the attendees that Mga Likha ni Inay (MLNI) and CARD-Business Development Service Foundation Inc. (CARD-BDSFI) are just few of the institutions of CARD Mutually Reinforcing Institutions (CARD MRI) that could help them in further improving their businesses.
CARD MRI is a group of 21 development-oriented organizations including CARD, Inc., CMDI, MLNI, and CARD-BDSFI, that provides financial and community development programs such as capacity building to socio-and-economically challenged women and families in the marginalized sector. To date, CARD MRI serves more than six million clients nationwide.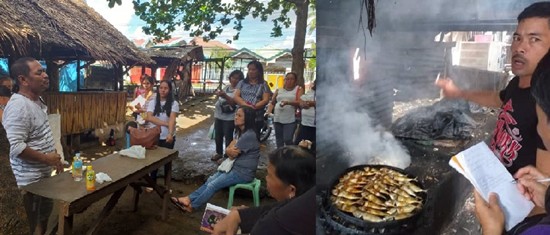 DPWH to complete P48M flood-control project in Leyte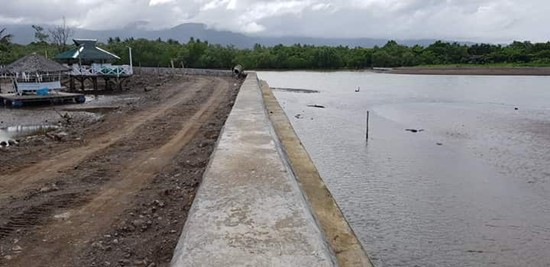 By DPWH 2nd LED
December 10, 2018
CARIGARA, Leyte – The Department of Public Works and Highways Leyte Second District Engineering Office is set to complete a flood mitigation structure project this year to spare residents and properties from the dangers of flood.
The P48-million flood control project measuring 312 meters is constructed to help decrease water levels brought by the overflowing of Uyawan River and high sea water level in Brgy. East and West Visoria, Carigara, Leyte.
The project also involves repair of seawall structure measuring 660-meter length for the intermittent section and 10-meter length of Arch Bridge.
"Once completed, this project can accommodate high volume of water going through the area, which is essential so we can help protect the lives of the residents against the threat of flash floods during the rainy season," District Engineer Carlos Veloso said.
He added that the structure will also help prevent soil erosion that may damage the houses and other properties of the people living close to the area.
The project is funded under the 2018 General Appropriations Act (GAA) for 2018.
Inflation rate in Eastern Visayas drops to 5.2% in November 2018
By PSA-8
December 7, 2018
TACLOBAN CITY – The Inflation Rate (IR) of Eastern Visayas decreased to 5.2 percent in November 2018. This IR is 1.7 percentage points lower compared with the record high 6.9% IR a month ago, but 1.3 percentage points higher than the recorded 3.9% IR in the same period last year. The regional inflation rate was 0.8 percentage point lower than the 6.0% national average in November 2018.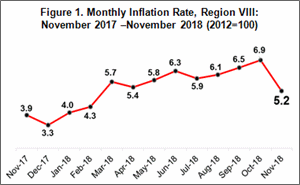 All provinces registered lower inflation rates in November 2018 compared with their figures in the previous month, except Eastern Samar, which recorded a 0.1 percentage point increase in November 2018 (8.9%) from 8.8% in October 2018. It also posted the highest IR among the provinces. Biliran, meanwhile, registered the lowest IR at 2.6% during the reference month from 5.4% in October 2018, recording the largest decrease of 2.8 percentage points. The rest of the provinces registered decreases ranging from 0.6 to 2.3 percentage points.
Among the commodity groups, housing, water, electricity, gas and other fuels registered the highest decrease of 4.4 percentage points. It was posted at 3.9% in November 2018 from 8.3% in October 2018. This can be attributed to the huge decrease in the index of electricity, gas and other fuels.
The transport index also registered a decrease of 1.9 percentage points in November 2018 (6.7%), from 8.6% in October 2018. Contributing to the decline was the slower annual gains seen in the index of operation of personal transport equipment.
The heavily weighted food and non-alcoholic beverages eased down to 7.4% in November 2018 from its previous month's rate of 8.9%, a decrease of 1.5 percentage points. This can be traced to slower price increases of all food items, except for oils and fats and fruits, which registered faster IRs, and sugar, jam, honey, chocolate, and confectionery products; and food products not elsewhere classified, which retained their IRs at 6.7% and 5.4%, respectively.
Furnishings, household equipment and routine maintenance of the house increased to 3.6% during the reference month, 1.1 percentage points higher compared with the 2.5% IR in October 2018, due to the increase in the index for goods and services for routine household maintenance.
The Purchasing Power of Peso (PPP) of the region remained at P0.80 in November 2018. This PPP implies that goods and services worth P100 in November 2018 only costs P80 in 2012.
All provinces sustained their PPP from last month, except Leyte and Southern Leyte, which registered a 0.01 centavo increase each in PPP compared with their figures in October 2018. Leyte recorded the strongest PPP at P0.83. Biliran ranked second at P0.82, followed by Southern Leyte at P0.81 and Eastern Samar at P0.78. Northern Samar and Samar posted the weakest PPP at P0.75.