PBSP, DepEd launch Year 2 of educational assistance to Olango SHS scholars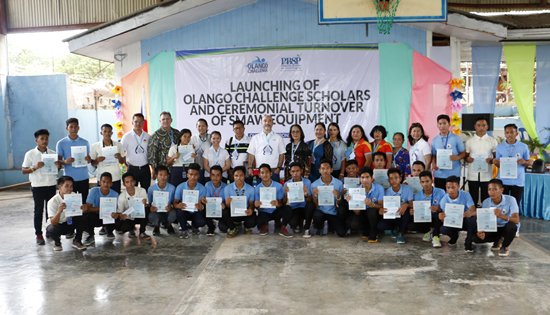 By PBSP
December 5, 2018
CEBU CITY – As the youngest of seven children, 18-year-old April Mae Siton wanted to finish her senior high school (SHS) education without relying too much on her aging parents.
For years, her father, a fisherman, and her mother who works as a shell accessories worker, have been trying to make ends meet so her siblings can finish their studies and have a better life. To help lessen the cost of her studies, she took up a Senior High School (SHS) strand that had the least expenses, Food and Beverage Services (FBS). She also worked part-time jobs to be able to help her parents pay for school expenses.
"My original dream was to become a police officer or a seaman. But I no longer wanted to burden to my parents and siblings for my expenses even if they wanted to support me. My parents are already old and my older siblings have their own families already so I do not want to depend too much on them, especially with my plan to pursue college. FBS was the most ideal choice," Siton added.
Luckily, Siton's plans were answered when she was selected as one of the scholars of a one-year scholarship assistance from PBSP and corporate sponsors through the Olango Challenge, an open-water swimming event held every May that raises funds for education programs on Olango island.
PBSP, Olango Challenge corporate donors, and DepEd officially launched a one-year educational assistance project that will support 100 junior and senior high school scholars of Sta. Rosa National High School. The event also witnessed the ceremonial turnover of laboratory equipment for the Shielded Metal Arc Welding (SMAW) course in the school.
"This is a dream come true for me to become a scholar because I really tried my best to be chosen. Now, I can fulfill my future dreams because of this financial assistance without burdening my parents," Siton added.
Aid for a Hundred Students
Sta. Rosa NHS is one of the three senior high schools located within the island. Most of its students face financial difficulties that prevent them from continuing their SHS education, especially that Technical-Vocational Livelihood track (TVL) mostly requires students to purchase materials for their school projects. The school's effective implementation of its TVL curriculum is also hampered by the shortage of facilities and equipment.
"We chose to continue our assistance to Sta. Rosa NHS because it focuses on providing Technical Vocational Livelihood (TVL). If we want our students to gain holistic understanding and appreciation in their chosen strands, its shortages need to be addressed. We also want the students to learn skills that match most of the industry requirements in Mactan and the rest of Cebu," PBSP trustee and Visayas Executive Committee Chairman Jose Antonio Aboitiz said.
The scholarship assistance includes the monthly transportation and project allowances, registration fees for National Certification assessments, and employment assistance for students wanting to find jobs after graduation. The provision of tools and equipment for the SMAW laboratory, on the other hand, aims to contribute to the improved curriculum delivery of the school and strengthen the students' competencies. Tools and equipment include coveralls and uniforms, leather gloves, respiratory masks, welding rods and shields, work suits and gloves, angle grinders, and cutting and grinding disks.
"Some of you will choose to work immediately after you graduate. Some of you will go on to further studies. We hope that the assistance that we provide you helps to lighten your load and lets you concentrate on the skills that you are learning and the education that you are getting from the school," Aboitiz added.
Present during the program launch were Oriental Port and Allied Services Corporation (OPASCOR) Chairman and Chief Executive Officer Tomas Riveral, GMR Megawide Cebu Airport Corporation (GMCAC) Junior Manager for Corporate Communications and CSR Avigael Maningo, and Aboitiz who distributed certificates and allowance vouchers to the scholars.
Building Schools through the Olango Challenge
This is the 11th year that PBSP has continuously poured in support for Olango island schools through the Olango Challenge. Since the event's launch in 2008, it has built nine classrooms for Olango's elementary schools and provided educational assistance to 190 SHS students.
This is the second year that PBSP provided educational assistance to the SHS students through the Olango Challenge proceeds. Major sponsors for this year's Olango Challenge include the Aboitiz & Company, Dow Chemicals Philippines, Inc., GMCAC, Ramon Aboitiz Foundation, Inc., and OPASCOR.
"We hope that by providing them with these interventions, the students will successfully pass their subjects, perform well, and access better job opportunities after graduating from senior high school," Aboitiz added.
ACT to Duterte: Equal benefits for all, stop playing favorites!
Press Release
December 4, 2018
QUEZON CITY – The Alliance of Concerned Teachers (ACT) called on President Duterte "to put into consideration the whole government bureaucracy, not to play favorites in giving out benefits and bonuses" after news of P50K Christmas bonus for staff of the Office of the President (OP). The President's decision was reportedly inspired by Mayor Sara Duterte-Carpio's granting of P50K bonus to city hall employees in Davao City.
"It seems Duterte often forgets that he's no longer merely a Mayor anymore, but the President of the Philippines. He cannot continue practicing 'patronage politics' while the rest of the country hardly make ends meet, with our belts incessantly tightening as the holiday season fast approaches," says Joselyn Martinez, ACT National Chairperson.
Martinez also cited the doubling of the salaries of the military and police as another instance where Pres. Duterte has practiced partiality in favor of those 'whose loyalty he needs.'
"His still-heavy reliance on patronage politics exposes his weakness as a leader," continued Martinez.
She reminded that the money being used 'in his bid to win over loyalty and allegiances within the bureaucracy' is the people's money and not his own.
"The President must responsibly and justly utilize the people's money by providing substantial economic relief and by delivering free and quality social services to the people. All of us hardworking employees deserve a decent and dignified life," demanded Martinez.
The group is calling for a minimum wage of P16,000, P30,000 salary for Teacher I, and P31,000 for Instructor I. Additionally, ACT urges the Duterte administration to immediately effect an upgrade from P2,000 to P5,000 on the Personnel Economic Relief Allowance (PERA).
"We challenge him to uphold the principle of equal pay for equal work. Especially that the government's current salary scheme is already distorted in favor of uniformed personnel and high officials, the least he can do is to provide equal benefits and bonuses for all to enable the low-salaried government workers to cope with the crisis," pressed Martinez.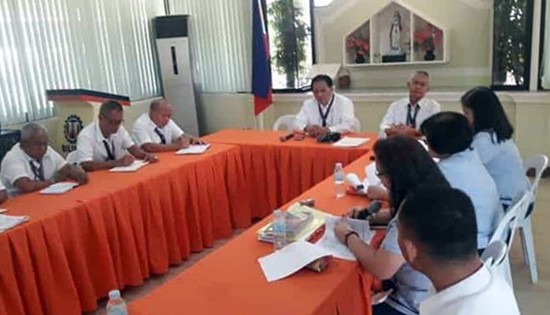 Auditors from Internal Audit Service, DPWH Central Office conducts an entrance meeting with DPWH- Biliran District Engineering Office prior to their management audit.
DPWH-Biliran DEO undergone regular and Internal Quality Audit (IQA)
Press Release
December 3, 2018
NAVAL, Biliran – The Internal Audit Service of the Department of Public Works and Highways (DPWH), Central Office conducts a management audit at Biliran District Engineering Office (BDEO) in conformance with the requirements of ISO 9001:2015.
In 2017, DPWH-Biliran DEO has been certified with International Organization for Standardization (ISO) 9001:2015 under David P. Adongay Jr., District Engineer (DE).
The main objective of the audit system is to ensure continuous improvement of the district office in terms of quality management system (QMS) according to ISO 9001international standard.
The audit was conducted on November 12-21, 2018 with the auditors from Internal Audit Service, DPWH Central Office led by Ms. Remedios R. Arellano with team members, Engr. Marina A. Leoparte and Ms. Cristina S. Perlas.
Biliran DEO has been scrutinized according to the availability of information in the different areas of processes including the district's management process, infrastructure development process from planning and design, construction, maintenance, and support processes to financial management, physical resources management, human resources management, information management, and procurement management.
According to DE Adongay, through assessment has led to clearer understanding of what is needed to achieve development goal and has eliminated the "hit and miss" approach often present in government development goal setting," said DE Adongay.
"These best assessment performance practices when benchmarked properly can yield excellent result which is a less waste in human resources and funding. This has some implications to infrastructure/ service delivery – resources are often wasted in the improper delivery of services to the people." DE Adongay added.
During the exit meeting, DE Adongay stressed that Management Audit is one of the current practices in assessing performance of the office.
"Through proper performance practices, we are able to pinpoint the best delivery services by the government and reduce or eliminate wastage often found in the delivery of services where no assessment has been undertaken," DE Adongay said.
ISO 9001:2008 Quality Management System (QMS) Certification demonstrates the Department's continued dedication to delivering on its commitment to quality and excellence in public service.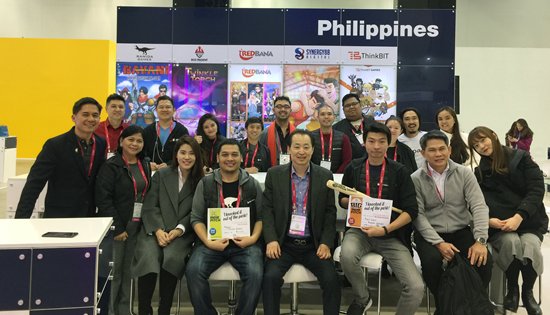 TWO PHILIPPINE ENTRIES WIN AT 2018 G-STAR. The "Brawl Quest" developed by ThinkBit Solutions, led by director Lord Christian Gosingtian (front row, second from left), wins first prize under the mobile game category, while the "Bayani Game" of Ranida Games, headed by Walter Manalo (front row, fourth from left), gets the second prize in the PC game category.
PH game dev't industry shows competitive edge at G-STAR South Korea
By DTI-TIPG-EMB
December 3, 2018
MAKATI CITY – Filipino independent game developers have once again showcased the industry's competitive advantage on a global platform through their participation in the ASEAN Services Exhibition: Global Game Exhibition G-Star 2018 held from November 13-18, 2018 in Busan, South Korea.
Two entries from the Philippine delegation won at the Big Indie Awards competition, which was held on November 17, 2018. The mobile game "Brawl Quest" by ThinkBit and the PC game "Bayani" of Ranida Games won first and second prizes, respectively. Brawl Quest takes inspiration from old arcade "beat 'em ups" such as the "Double Dragon," "Streets of Rage," and "Golden Axe." Its setting and characters are heavily inspired by the modern Philippines pop-culture. On the other hand, Bayani Fighting Game is an indie fighting game drawn from the Philippines' rich and colorful history and culture. Its characters are based on real Philippine heroes, landmarks, and events.
Recognized globally for their work in game development segments, Filipino developers presented homegrown mobile and PC games at this year's G-Star. They were assisted by the Department of Trade and Industry-Export Marketing Bureau (DTI-EMB), Philippine Trade and Investment Center (PTIC) in Korea, Game Development Association of the Philippines, and ASEAN-Korea Center, which provided their inland transfers, accommodation, and booth at the event's ASEAN pavilion.
G-Star 2018 included activities like the ASEAN-Korea cooperation workshop for game development services in Seoul, Korea, as well as exhibitions, business matching activities and meetings, and market sensing of companies in Busan at BEXCO. Ten Philippine companies including the Audacity Studio, Indigo Entertainment, Synergy 88, Gumi Games, Komikasi, Monstronauts, Ranida Games, Redbana, Red Trident, and ThinkBit also participated in the event.
During the mission, the EMB facilitated 175 business matching meetings for the Philippines and its foreign counterparts. The bureau sought to further establish partnerships between Philippine companies and other game developers from South Korea. The mission started with a courtesy call to Consul General Christian De Jesus of the Philippine Embassy in Seoul, Korea and a meeting with Commercial Counsellor Jose Ma. Dinsay of PTIC-Seoul.
The Philippine delegation also participated in the "ASEAN-Korea Business Seminar on Game Industry" at Ibis Styles Ambassador Seoul Yongsan, in Seoul, South Korea, where they presented their company expertise and unique selling proposition.
Another mass surrender of CNTs and supporters in Eastern Samar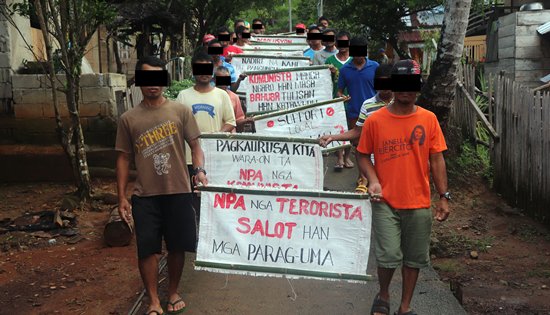 By 14th Infantry Battalion
December 2, 2018
BRGY DAO, Oras – Two regular members of Communist NPA Terrorists (CNTs), 18 Milisyang Bayan (MB) of Underground Mass Organization of Brgy. Pandol, Can-avid, Eastern Samar surrendered to the 14th Infantry (Avenger) Battalion, Philippine Army last December 02, 2018.
Honorable Gil Norman P Germino, Municipal Mayor, Can-avid, Eastern Samar together with Florita B Macoro, MLGOO, Mrs Verina P Amoyo, MSWDO and Brgy Officials of Brgy Pandol were present to witness the mass surrender.
Lieutenant Colonel Jimmy V. Jimenez INF (GSC) PA, Commanding Officer, 14th Infantry Battalion, said that the surrender is a result of the unit's effective Community Support Program (CSP) operation, aggressive civil military operations and intelligence operations coupled with other Lines of Operations and Efforts to further pressure the CNTs and their supporters in Eastern Samar. This development will surely destroy if not, cut-off the support system of the CNTs and their mass base in the far-flung and isolated villages of the province.
Mayor Germino stated, "For the past years, the CNTs frequently roam around the barangays of Pandol, Boco and Balagon conducting organizing and extortion activities as reported by the barangay officials. The surrender will further improve the peace and order situation in the municipality of Can-avid".
"Barangay Pandol form part of the Guerilla Base of Front 3, Sub-Regional Committee (SRC), "ARCTIC", Eastern Visayas Regional Party Committee (EVRPC) unit of the Communist NPA Terrorists (CNTs) operating in the area of Can-avid and its nearby municipalities in Eastern Samar. The barangay is categorized as influenced and a stronghold of the NPAs since early 90's. The clearing of the influenced barangays in our area of operation has been the priority of the 14IB in its operational campaign to degrade and further defeat our confronted threat," Lt. Col. Jimenez added.
After a series of negotiation and dialogue conducted by CSP elements of Bravo Company of 14IB led by 1Lt Dennis S. Carig (INF) PA immersed in the said barangay to educate and deepen the awareness of the community, the CNTs and its organization within the barangay were convinced to end their support to the armed struggle and surrender.
Rogelio O. Cebrero, aka "Pater", Chairman of the Underground Mass Organization of Brgy Pandol, said, "We were hopeless and frustrated over unfulfilled promises of the CNTs that organized us. Now, we understand how the CNTs deceived and exploited our community. Our resources and even food for our family were handed to them as support to the armed struggle but we gain nothing. We also take this opportunity to clear our names and join the folds of law to live a normal and productive life with our love ones".
The community in Brgy Pandol conducted peace rally to expressed their stand against the CNTs, condemned the abuses and deceitful activity of the CNTs and call-out to stop using their Barangay as lair of insurgents as they pursue just and lasting peace for the future of their children.
Lastly, Lt. Col Jimenez added, "What we collectively achieved today is only the beginning, the 14th Infantry (Avenger) Battalion will be needing the support of the people as we continue to perform our mission to end insurgency in the province of Eastern Samar. Rest assured that the Battalion will be unyielding and even more motivated to serve the people to ensure peace and development in our area of operation".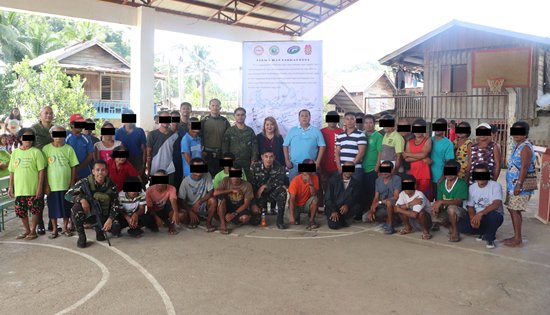 Philippine groups concerned over 'lagging' RE policy amid climate talks
ASEAN nations underperforming in clean energy shift
By Center for Energy, Ecology and Development
December 2, 2018
QUEZON CITY – Civil society organizations show concern over the underperforming status of the Philippines and other Southeast Asian nations in keeping up with the global shift to renewable energy.
With the opening of Conference of Parties (COP24) to the United Nations Framework Convention on Climate Change (UNFCCC) on Katowice, the Center for Energy, Ecology, and Development (CEED) expressed disappointment over the lack of significant policy support from the part of the government to do its fair share in shifting from carbon-intensive coal energy to more renewable energy sources such as wind and solar.
"While there has been a global shift towards renewables this year, the Philippines and other ASEAN countries do not seem to be onboard, considering their energy policies and projections," said Gerry Arances, CEED Executive Director. "If we are to abide by the targets of the Paris Climate Agreement, global emissions must reach their highest peak in 2020, but the recent UN Environment report indicates that this may not be possible by 2030," he noted.
Arances cited the International Energy Agency (IEA) report that in 2017, 70% of global energy demand was met by oil and gas which corresponds to the 1.2% increase in emissions in the same year. "It is alarming that two years after the Paris Accord is when we reached a record high in global emissions. This means that developing countries like the Philippines and the rest of Southeast Asia can no longer use development to opt out of doing their fair share in cutting emissions," he emphasized.
"With 53% of its energy needs sourced from coal, it is unfortunate that the Philippines – the third most vulnerable country when it comes to climate disasters – is not doing enough to cut carbon emissions," Arances continued. "This is ten years after we passed the Renewable Energy Act of 2008, which aimed to increase the share of renewables in our country and decrease our dependence on imported coal," he added. "An evidence of this lagging commitment is the implementing rules of the Renewable Portfolio Standards which have only been released this year: a decade after we enacted the RE Law," Arances noted.
Meanwhile, the Mindanao Working Group for Clean, Affordable Renewable Energy (CARE), raised concerns over the pending power supply agreements (PSAs) between distribution utilities and generation companies which lock in the power grids in the Philippines to relying on coal for at least two decades more.
"Not only will this go against the drive to increase renewable energy in our power mix, it will also ensure that we keep paying to operate coal-fired power plants way after they have become cheaper than renewable energy sources," said Mr. Clint Pacana, co-convenor for the Mindanao Working Group. "Such agreements only to serve to secure the return of investments for coal companies, at the expense of fair competition among market players and consumers," Pacana added.
Pacana cited the experience of Mindanao, where "prices shot up after an influx of coal projects." "Under the guise of responding to growing power demand, several coal projects were constructed without proper planning and consideration, which resulted in a number of these projects to become stranded," he added. "From 2014 to 2016 alone, stranded costs were conservatively equivalent to P3 billion (US$60 million), all to be shouldered by Mindanao consumers," concluded Pacana.
This was echoed by the consumer group Kampanya para sa Malinis at Murang Kuryente (KMMK), which expressed concern over Meralco and seven generation companies which would "tie the Philippines to 3.5 GW of dirty, costly energy for at least twenty years. "Significant changes must be introduced to the energy sector if we are to keep our energy policies consistent with our climate commitments and the people's energy needs," stressed Atty. Anton Paredes of KMMK. "As evidenced by other countries who have shifted to more renewables, falling prices alone cannot displace coal. Support policies and the will to implement them figure in abandoning dirty and costly energy," he concluded.
Labor leader slams 'shameless admission of congressional pork' by Deputy Speaker
By Bukluran ng Manggagawang Pilipino
November 30, 2018
QUEZON CITY – Veteran labor leader Ka Leody De Guzman of Bukluran ng Manggagawang Pilipino (BMP) in a statement condemned what he called a "shameless admission of congressional pork" by Deputy Speaker Rolando Andaya, who disclosed that each member of the House of Representatives and Senate received budgetary allocations of P80 million and P200 million respectively.
The representative from the first district of Camarines Sur however denied that the said funds could be deemed as "pork barrel".
Ka Leody asserted that the legislators were skirting from the unanimous 2013 Supreme Court ruling, which declared the unconstitutionality of congressional pork at the height of controversies involving Janet Lim-Napoles.
In his defense, Rep. Andaya claims to the allotments were in line with line item budgeting of the Budget department and was authorized by House Speaker Gloria Macapagal Arroyo.
"These legislators are making a fool out of the tax-burdened public. We know all too well that legislators intervene in the budgetary processes to finance their pet projects, which allegedly caters to the needs of their constituents but also, as is obvious, to consolidate their control over political power via patronage politics. They help each other out in maintaining their anomalous habit like an inner circle of crazed drug addicts," said de Guzman, also a senatorial aspirant under Partido Lakas ng Masa (PLM).
"The sight of lawmakers brazenly defying a lawful order by the Supreme Court and openly defending their illegal acts is sickening, if not troubling. By remaining in power through the trickle down of pork to their constituents, they are not doing their job as legislators that enact laws for the welfare of the people," the labor leader added.
Ka Leody emphasized that the "deafening silence" of the 292-member Lower House on the issue of congressional pork, especially the Minority bloc points to a "besmirched institution that is teeming with defects". He noted that only Sen. Ping Lacson spoke publicly against the discretionary funds of the members of the Senate.
"The silence is deafening. Nary a peep was heard from the Minority. Everybody are in cahoots as congressmen and senators are all perpetrators and accomplices to perpetuating the outlawed pork barrel system," he adds.
De Guzman pointed out that the High Court, in its landmark decision, broadly defined as illegal, "...congressional insertions which confer or conferred personal, lump sum allocations to legislators from which they are able to fund specific projects which they themselves determined". Among those deemed prohibited under the ruling are "all informal practices of similar import and effect..."
He explains that the budgetary insertions made by the legislative branch, and shameless and shamefully defended by Rep. Andaya would fall under the definition of 'pork barrel' by the high court.
"This callous disregard to the SC decision bolsters the public perception that Batasan is a house of representa-thieves. They do not care if the taxpayers are seething in anger against the pork barrel. All they care about is how to advance their interests, even if they have to bend and break the spirit and the letters of the law. For this, they may already be liable of grave abuse of discretion," de Guzman estimated.
Meanwhile, Benjo Basas, first nominee of Partido Lakas ng Masa (PLM) partylist and a public school teacher stressed that the budget should have no room for discretionary funds by lawmakers and must be aligned with the needs and priorities of departments and agencies, particularly those that badly requires modernization and salary upgrading.
The BMP and PLM vowed that it would campaign against candidates who are involved or are in favor of congressional pork in next year's midterm elections. "Lintik lang ang walang ganti," De Guzman concluded.
Mindanao: Regaining dignity and livelihood lost in conflict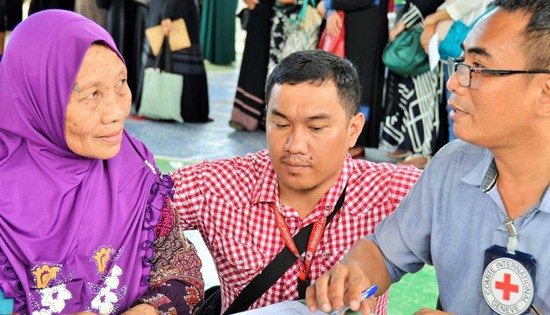 By ICRC
November 29, 2018
MANILA – Over 12,000 people in Central Mindanao and Lanao del Sur have been deprived of stable income due to continued displacement caused by protracted armed conflict. These affected families received cash grants from the International Committee of the Red Cross (ICRC), with support of the Philippine Red Cross (PRC), in order to regain their livelihood and become less dependent on aid.
In Shariff Saydona Mustapha and Datu Saudi Ampatuan municipalities, Maguindanao Province, 959 families (4,795 people) received P10,000 each (around 200 US dollars), likewise 1,453 families (7,265 people) from Marawi who fled to eight neighboring municipalities in Lanao del Sur.
These families will be able to purchase tools or equipment, start small businesses, and meet their other basic needs, during displacement or when they return home.
Since 2015, thousands of families in Maguindanao Province have been recurrently displaced by the fighting between the government forces and the Bangsamoro Islamic Freedom Fighters (BIFF). Following the end of the Marawi crisis in October 2017, clashes intensified between the AFP and BIFF and other non-state armed groups, causing repeated displacement and damage to livelihoods and property.
"Our beneficiaries told us they had fled their homes more than seven times between March and November 2018 due to the fighting," explains Kaisa Kruuse, head of the ICRC office in Cotabato City. She continued, "This constant movement disrupts their access to basic necessities such as food and water, livelihood and even education. The displaced people wish to restore stability and dignity, but at the moment many still depend on humanitarian assistance."
At the same time in Lanao del Sur, over 65,000 former residents of the Marawi's most affected area still reside with relatives or in evacuation centers, over a year since the conflict ended between the government forces and IS-Ranao (Maute Group) and Abu Sayyaf. The ICRC and PRC regularly monitor the situation and respond with most appropriate interventions. In 2018, the ICRC cash grants reached about 2,000 families (8,000 people) displaced to six municipalities in Lanao del Sur. The total cash grants have now reached 39 million pesos (around 745,000 US dollars). The aim is to help the most vulnerable, including displaced people, those with low income, those with multiple dependents especially children, pregnant women, the elderly and the sick.
"This support means a lot for evacuees like us from the main affected area in Marawi. We don't know when we will be able to return home, but nevertheless, life has to move on here in our current place of living, especially for my small children," said one beneficiary in Bacolod Kalawi, sharing her business idea, "I will use this grant to put up a 'piso net' (small internet shop) and I'm hoping to change my situation for the better."
The ICRC is a neutral, impartial and independent humanitarian organization working to prevent and alleviate suffering during armed conflict and other situations of violence. It also visits people detained in relation to the conflict to monitor their treatment and living conditions, and facilitates visits from their families.