Karapatan human rights worker abducted in Mindanao; Kabataan Partylist organizer arrested in Central Luzon
By KARAPATAN
January 17, 2019
QUEZON CITY – "Yesterday, a human rights worker of Karapatan in Mindanao was abducted, while an organizer of Kabataan Partylist in Central Luzon was also illegally arrested. Both are women human rights defenders who have extensively worked alongside marginalized sectors. This series of rights violations is the latest in a string of atrocities that have been reported since the start of the year. If the first few weeks of this year is any indication of the months to come, then the dire human rights situation in the country will no doubt progressively worsen," said Karapatan secretary general Cristina Palabay.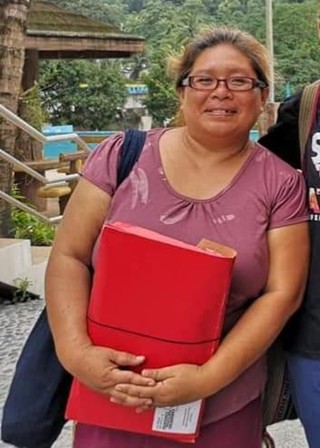 Racquel Quintano at Karapatan's 5th National Congress. (Photo from Karapatan SMR)
On the morning of January 16, 2019, Racquel Quintano, 42, spokesperson of Kalumonan, an organization composed of kin of political prisoners in Southern Mindanao, was abducted by still unknown assailants. According to witnesses, as Racquel was waiting for a jeepney along Sunrise St. in Brgy. Madaum, Tagum City, a black car stopped in front of her. Men dragged her inside and sped off. A search team has been mobilized, but as of this writing, Racquel's whereabouts remain unknown. Racquel is also a human rights worker of Karapatan Southern Mindanao Region (SMR). She was among the delegates in Karapatan's 5th National Congress in August 2018.
"We strongly condemn the abduction of another Karapatan human rights worker, and demand that State forces immediately surface Racquel and return her to her family. We know Racquel as a staunch rights advocate. She assisted two torture victims in the filing of their complaints at the Commission of Human Rights (CHR) last year. She has worked tirelessly to seek accountability for the injustices done against the two victims, one of whom was a minor when the incident occurred," Palabay explained.
The Karapatan official also noted that a week ago, the human rights community have been branded by the President as enemies of the State. "From the start of his term, Duterte has mentioned Karapatan at least six times in his speeches, red-tagging the organization and discrediting our work. People like Racquel have worked under dangerous and disadvantageous circumstances to aid victims of rights violations throughout regimes. Yet, we ourselves are continuously being subjected to violations, with the government actively inciting threats against us," she said, adding that since 2001, at least 40 human rights workers of Karapatan have been killed by State forces.
On the same day, Jennifer David, 28, a community organizer of Kabataan Partylist-Central Luzon, was illegally arrested by elements of the police in her residence in Brgy. San Matias, Sto. Tomas, Pampanga. She was detained at the Sto. Tomas police station, afterwhich she was brought to a court in Cavite. Jennifer has worked with Kabataan Partylist since 2011. According to recent updates from the quick reaction team (QRT), Jennifer has now been released. She was interrogated by police and military elements.
"The danger that human rights defenders face, particularly women, under the Duterte regime has reached a critical level. Women who remain in the custody of State forces remain vulnerable to further abuses. In Mindanao where martial law is implemented, state security forces commit atrocities with reckless abandon. The same can be said in other areas in the country where de facto martial law is crippling any form of dissent. However, the voices of victims and their families, communities, organizations and rights workers continue to expose these abuses and demand accountability for these crimes against the Filipino people," Palabay concluded.
Safer schools ensure children's rights to education and survival - Save the Children Philippines
Press Release
January 16, 2019
MAKATI CITY – Save the Children Philippines welcomes partnership with the Department of Education and Prudence Foundation in strengthening safety in schools as millions of children face risk of injury, psychosocial trauma and deaths during disasters and emergencies.
The project - Education Safe from Disasters was launched on January 16, 2019 to be implemented by the Department of Education, in partnership with Save the Children Philippines and Prudence Foundation.
The three year project improves the capacity of learners, teachers, schools staff and officials on disaster preparedness and risk reduction. It also integrates safety and disaster resiliency in the construction and retrofitting of school buildings. The program will be pilot tested in 16 schools division in Metro Manila.
The Philippines ranks third in the 2016 World Risk Index of the most disaster prone countries in the world. Every year, the country is hit by almost all forms of natural and man-made calamities like typhoons, earthquakes, floods, volcanic eruptions, landslides. Lingering armed conflict in Mindanao and parts of Visayas continue to disrupt classes and displace families and children.
Lawyer Albert Muyot, Chief Executive Officer of Save the Children Philippines said safety in schools guarantee children's rights to survival and basic education.
Learners spend five to eight hours in schools during weekdays and their safety and security should be ensured while they are away from parents and guardians.
From 2007 to 2012, a total of 11 Million schoolchildren in the Philippines were affected by major disasters jeopardizing their rights to education and survival.
"Children face the harshest impact of disasters and emergencies, as they miss out on school, suffer injury and worse, deaths," said Muyot. "We welcome the Education Safe from Disasters as part of our comprehensive child-rights based response to the needs of learners before, during and after disasters and emergencies."
Save the Children Philippines has been providing emergency response during disasters by establishing Child Friendly Space (CFS) where displaced children can play and learn and Temporary Learning Space (TLS) where school age children can attend alternative classes.
The organization has provided interventions for thousands of displaced children during typhoon Mangkhut that hit Northern Luzon provinces and armed conflict in Marawi.
PSA conducts January 2019 Labor Force Survey (LFS) and 2018 Family Income and Expenditure Survey (FIES) - visit 2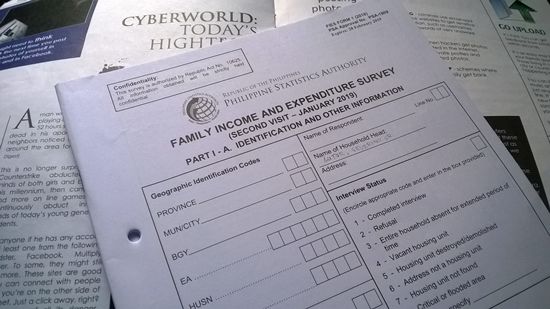 By PSA-8
January 15, 2019
TACLOBAN CITY – The Philippine Statistics Authority, Regional Statistical Service Office VIII (PSA RSSO VIII) will conduct the January 2019 Labor Force Survey (LFS) and the 2018 Family Income and Expenditure Survey (FIES) – Visit 2 which will be carried out simultaneously on 14 January 2019.
A total of 10,663 systematically and randomly selected sample households in Region VIII were identified as respondents. Around 364 Hired Statistical Researchers and Team Supervisors will be deployed across the region to conduct the interviews.
The LFS is a quarterly nationwide survey of households which aims to gather data on the demographic and socio-economic characteristics of the population, and to provide a quantitative framework for the preparation of plans and formulation of policies affecting the labor market.
Specifically, the LFS serves as a tool in measuring the distribution of household population 15 years old and over by employment status – employed, unemployed or underemployed. It is also used to determine various employment characteristics such as industry, class of worker, nature of employment and basis of payment.
The 2018 FIES-Visit 2, meanwhile, is the second of two rounds covering the second semester of 2018 (July to December) as reference period. It is a nationwide survey of households conducted every three years which aims to gather data on family income and expenditure, to include among others, levels of consumption by item of expenditure as well as sources of income in cash and in kind. The results of FIES provide inputs in the estimation of poverty threshold and incidence. It also determines the levels of living and disparities in income of Filipino families, as well as their spending patterns.
The PSA appeals to the public to cooperate and support the conduct of these surveys. The office also assures that all information gathered will be held strictly confidential and shall not be used as evidence in court for purposes of taxation, regulation or investigation as provided for in RA 10625.Data generated from these surveys will be disseminated in statistical summaries without reference to any individual person or household.
ACT demands for substantial pay hike, says 4th tranche not enough
By Alliance of Concerned Teachers
January 15, 2019
QUEZON CITY – Teachers from the Alliance of Concerned Teachers (ACT) renewed their call for substantial salary increase upon Budget Chief Diokno's announcement regarding the February release of the 4th tranche of the salary adjustment under Executive Order 201, s. 2016. The group denounced the lamentable increase in their salaries while top government officials receive as much as P100K additional to their already 6-figure income.
"The 4th tranche only amounts to an increase of P575 for Teacher I, P789 for Teacher II, and P1,008 for Teacher III, and it is us who compose around 90% of the workforce in public basic education. Meanwhile, the President will receive an additional P101,656 and DBM Sec. 'Joke-no' may receive as much as P71,601 more. It is impossible to miss the injustice here," declared Joselyn Martinez, ACT National Chairperson.
Martinez argued that these amounts "hardly cover the erosion in our salaries due to the TRAIN-induced surge in inflation last year, which were implemented by the very people in our government whose salaries were barely hurt by the rise in prices of basic commodities."
Educators that belong to Teacher I, II, and III ranks will receive 2.8% to 4.2% salary increases under the 4th tranche of pay hike, which are way below the 5.2% inflation rate in 2018. President Duterte, on the other hand, will receive a 34% increase on his monthly salaries.
"We are hoping that this is not what the President was referring to when he claimed to want to raise our salaries this year," said Martinez.
She stated that ACT is more than willing to discuss with the President the immediate and just demands of teachers, adding that "as the sole accredited union of teachers all over the country, we are confident that we represent the demands of our sector."
"We remain steadfast on our call for a P30,000 salary for Teacher I, P31,000 for Instructor I, and P16,000 for salary grade 1 employees. We also call on the President to immediately effect a P3,000 increase in our personnel economic relief allowance (PERA)," urged Martinez.
The group also proposed some potential sources of funds for the increase, which included "the presidential pork, road users' tax, flood control projects, P75 billion worth of last-minute insertions to the 2019 budget, tokhang and war funds," among others.
"If the government were to truly be earnest in its efforts and wield its power and authority to serve the people, then nothing is impossible. The pay hike of teachers and other workers can be implemented in no time. Until then, we shall carry on the fight," concluded Martinez.
Eastern Visayas closes 2018 with 4.4% inflation rate
By PSA-8
January 15, 2019
TACLOBAN CITY – Eastern Visayas closed 2018 with a 4.4% Inflation Rate (IR). This IR is 0.8 percentage point lower compared with the 5.2% IR a month ago, but 1.1 percentage points higher than the recorded 3.3% IR in the same period last year. The regional inflation rate was 0.7 percentage point lower than the 5.1% national average in December 2018.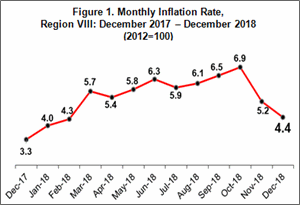 All provinces registered lower inflation rates in December 2018 compared with their figures in the previous month. Samar posted the highest decrease at 1.8 percentage points, from 7.4% in November 2018 to 5.6% in December 2018. The rest of the provinces registered decreases ranging from 0.2 to 1.6 percentage points. Eastern Samar recorded the highest IR at 7.6%, while Biliran posted the lowest at 1.7%.
Among the commodity groups, transport registered the highest decrease of 3.7 percentage points. It was posted at 3.0% in December 2018 from 6.7% in November 2018. This can be attributed to the huge decrease in the index of operation of personal transport equipment.
The heavily weighted food and non-alcoholic beverages eased down to 6.0% in December 2018 from its previous month's rate of 7.4%, a decrease of 1.4 percentage points. This can be traced to slower price increases of majority of the food items. Rice index registered the highest decrease at 3.2 percentage points, from 8.4% in November 2018 to 5.2% in December 2018. Fish index continued to have a double digit inflation rate at 10.2%, despite shedding off 2.0 percentage points from its figure a month ago. It also posted the highest among all food items.
Inflation rate for alcoholic beverages and tobacco also went down by 0.2 percentage point but still recorded double digit IR at 20.4%, the highest among all commodities.
Meanwhile, health index increased to 3.7% during the reference month, 1.3 percentage points higher compared with the 2.4% IR in November 2018. This can be attributed to the increase in the index for hospital services.
The Purchasing Power of Peso (PPP) of the region was recorded at P0.81 in December 2018, slightly stronger than the P0.80 PPP a month ago. This PPP implies that goods and services worth 100 pesos in December 2018 only costs 81 pesos in 2012.
Biliran, Northern Samar and Samar registered a 0.01 centavo increase in PPP compared with their figures in November 2018, while the rest of the provinces had retained their previous month's PPP. Leyte and Biliran recorded the strongest PPP at P0.83. Southern Leyte ranked second at P0.81, followed by Eastern Samar at P0.78. Northern Samar and Samar posted the weakest PPP at P0.76.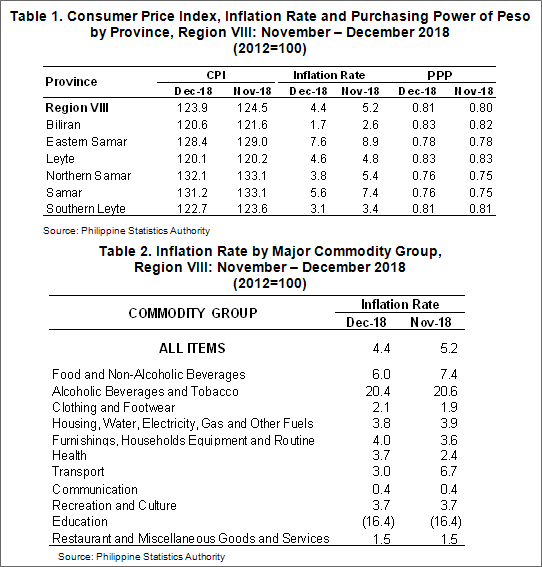 Troops encounter CPP NPA terrorists in Samar
By 803rd Infantry Brigade, 8ID PA
January 13, 2019
CAMP SUMOROY, Catarman, Northern Samar – Army troops operating in Samar Province encountered CPP NPA Terrorists (CNTs) in a remote area in Barangay Bay-ang, San Jorge, Samar on January 12, 2019 at around 6:50 in the morning.
In a report from Lt. Col. Rizaldo N. Laurena, Commanding Officer of the 63rd Infantry (Innovator) Battalion based in Barangay Erenas, San Jorge, Samar, his troops were on their way to Barangay Bay-ang when they chanced upon a group of fully armed CNTs operating in the area that triggered a brief firefight and an explosion.
After the encounter, nine soldiers were slightly wounded due to shrapnels from the blast while there are undetermined casualties on the side of the enemy. The wounded troops were evacuated to the nearest hospital for their immediate treatment.
In his statement, Brig. Gen. Ramil M. Bitong said that "the encounter in San Jorge is a significant accomplishment against the CNTs. As of this report, our troops are pursuing the main body of the fleeing CNTs, comprised of the EVRPC leadership. Our sources disclosed that the CNTs were planning to launch tactical offensives throughout Region 8. Another desperate attempt of the Eastern Visayas Regional Party Committee to stay relevant by sowing fear and discontent among the residents of Region 8. This prompted the brigade to launch an offensive against them. The reliable reports of the residents of Barangays Bay-ang and Mobo-ob both of San Jorge and Brgy Beri of Motiong, who were complaining of the CNT abuses against them helped the government troops to close in on them.
The Brigade and the whole Team 8ID will be always ready to help our people. We are committed to stop the EVRPC's reign of terror in Region 8. Lastly, we appeal to the remaining NPA's and all misguided citizens who still support them to stop their activities and join the rest of society. Don't be deceived." Gen. Bitong added.
Work from home is timely, beneficial to workers and business; Good for PWDs, women
By ALU-TUCP
January 11, 2019
QUEZON CITY – The country's largest workers group Trade Union Congress of the Philippines (TUCP) applauded President Rodrigo Duterte for signing into law a measure allowing workers to work from home as alternative work arrangement in the light of heavy traffic congestion and poor mass transport system.
"After pending in both congress for so many congresses, Duterte's signing into law allowing workers to work from home alternative work arrangement finally sets the clear parameters for both employees and employers who wants to jointly practice the scheme. This alternative work scheme will benefit both employers and their employees," TUCP President Raymond Mendoza said.
He said those who work from home would be able save from transport and food costs. Employees would also be able to minimize stress caused by traffic congestion and ageing mass transport system.
Employers meanwhile would be able to minimize operational costs and ensure higher productivity from home working employee.
This will also widen the employment horizons for Person with Disabilities, senior citizens and working mothers who need not to report at work.
According to Mendoza, the alternative work arrangement will not change the 8-hour standard working time. There is also no diminution of wages and benefits including overtime pay, sick leave, maternity leave and all other benefits that employees have been receiving.
However, these rights must be ensured in the drafting of its Implementing Rules and Regulations spearheaded by the Labor department, workers and employers groups particularly workers' right to form a union and collectively bargain are complied with.
Mendoza expects the IRR finished by March this year.
On one hand, the work from home arrangement is not applicable in other industries particularly those working manufacturing and services sector.
Save the Children Philippines welcomes new law allowing 15 years old and above to get tested for HIV without consent of parents, guardians
Press Release
January 11, 2019
MAKATI CITY – Save the Children Philippines welcomed the signing of the law that finally allows minors aged 15 years and above to get tested for HIV without consent from parents or guardians.
Lawyer Albert Muyot, Chief Executive Officer of Save the Children Philippines said the new "HIV and AIDS Policy Act" or Republic Act 1116 signed by President Duterte on December 20, 2018 amended RA 8504 or the Philippine AIDS Prevention and Control Act that requires all minors to get a consent from parents or guardians before they can undergo an HIV test.
Muyot said the law recognizes the rights of children to health and protection from HIV.
He said giving minors aged 15 years old and above access to HIV testing is consistent with the United Nations Convention on the Rights of the Child where the government exercises responsibility to protect and assist families to nurture their children.
The new law allows minors aged 15-17 years old access to undergo voluntary HIV testing without parental consent, which was previously required under RA 8504.
Muyot welcomed provisions in the new HIV law that highlights participatory rights of children where their views are respected, "when adults are making decisions that affect children."
Section 29 of the new HIV law allows any young person aged 15 and below who is pregnant or engaged in high risk behavior to access HIV testing and counseling with assistance from a licensed social worker or health worker.
When parents or guardians cannot be located or refuses to give consent, the minor aged 15 years old and below can still access HIV test and counseling through a consent from a social worker or health worker. "To protect the best interest of the child, the assent of the minor shall also be required prior to the testing," said RA 1116, Section 29.
He said the new law is aligned with Article 5 of the UN convention that encourages parents to deal with rights issues "in a manner consistent with the evolving capacities of the child."
The Philippines is one of the countries with the highest number of HIV cases in the world, with an average of 32 persons getting diagnosed with HIV daily.
Latest figures from the Department of Health showed that there are 1,072 new cases of HIV in the Philippines as of October 2018, with 306 of them young people aged 15 to 24.
The percentage of youth getting infected with HIV has ballooned to 29 per cent from 13 per cent over the last decade.
"The steady rise of HIV cases among minors has been a cause for alarm since they cannot open up to their parents and guardians and get treatment due to social stigma," said Muyot.
The lack of access to testing centers without consent from parents and guardians has deepened the problem as minors continue to contract and spread HIV.
Save the Children Philippines, in partnership with Global Fund implements an HIV prevention project targeting key populations of men who have sex with men, transgender women, people who inject drugs and young key populations.
The project assists in setting up community HIV centers in addition to Social Hygiene Clinics in different localities that provide free access to HIV-related services. The project also employs community health workers who conduct testing among target communities and facilitate enrollment to treatment of those who test positive.
Save the Children Philippines joined the Committee on Children and HIV/AIDS (ComCHA) being led by the Council for the Welfare of Children in pushing for the "Proxy Consent Protocol" that allows those 18 years old and below to get HIV test through a consent from a health or social worker.
The passage of the new HIV law means that the protocol will only be needed for those who are under 15.
"The issue of HIV/AIDS is a global health concern that can only be addressed with measures that respect the rights of people especially minors to access health services such as HIV testing and treatment," said Muyot.
New SEC memo on non-profit organizations violates right to organize - Karapatan
By KARAPATAN
January 9, 2019
QUEZON CITY – Surreptitiously, without consultation with many non-profit organizations, the Securities and Exchange Commission issued SEC Memorandum Circular No. 15 (s. 2018) or the Guidelines for the Protection of SEC Registered Non-Profit Organizations (NPOs) From Money Laundering and Terrorist Financing Abuse or the NPO Guidelines on November 7, 2018.
At first glance, the said memorandum seems like an innocuous set of guidelines to supposedly "protect non-profit organizations from money laundering and terrorist financing abuse." However, considering the context of the worsening human rights situation, including the increasingly dangerous situation of human rights defenders, and the climate of impunity in the Philippines, SEC Memorandum Circular No. 15 merits deeper scrutiny.
As it is, human rights defenders face greater risks under the Duterte administration. Karapatan notes that at least 139 human rights defenders have been killed from July 2016 to November 2018. UN Special Rapporteur on Human Rights Defenders Michel Forst, in his World Report on the situation of human rights defenders, has noted that in the Philippines, the "government's war on drugs has created a climate of insecurity and impunity for extrajudicial killings that affects human rights defenders." Forst also observed that Duterte's has fostered a "very harmful rhetoric against human rights defenders," labelling them as "anti-nation," "protectors of drug lords," "communists," "terrorists," among others.
Recently, a slew of such rhetoric has resulted in killings of farmworkers and a human rights lawyer in Negros, arbitrary arrests on trumped up charges of peace advocates, peasant organizers and leaders, harassment of human rights workers, and profiling and surveillance of teachers.
A closer look and analysis reveal that the latest set of guidelines by SEC is one that infringes on non-governmental organizations' rights to organize and form associations, specifically on their freedom or capacity to freely conduct or perform their advocacies, as well as the right to privacy of the officers, members, clients or beneficiaries of any of those considered as non-profit organizations. This new memorandum is an extension of the mounting repressive policies insidiously implemented by the Duterte government in installments, so as not to betray its real intent of curbing all platforms for dissent.
With the said recent SEC Guidelines, the Commission is given unchecked discretion to determine and identify those whom it considers "NPOs at Risk." No clear parameters have been stated, other than a very arbitrary classification of NPOs as "low risk," "medium risk," "high risk," or "blacklisted." Determination of which NPO will be classified as such also rests on information provided by government agencies such as the Philippine National Police. This renders progressive organizations at risk, particularly those openly red-tagged by the PNP and the Duterte government as "legal fronts."
Through SEC Memorandum Circular No. 15, the SEC and government authorities are given unbridled power to compel disclosure of numerous information on non-government organizations, without a court order, including information on the location of beneficiaries or projects, areas of operation or activity, identities and locations of persons or entities who provide financial support for the NPO or are its intended beneficiaries. According to the guidelines, such information will be shared and made accessible to government agencies such as the PNP and the National Bureau of Investigation. With the express provision in the said memorandum on the SEC's powers to enlist the aid, support and/or deputize any and all enforcement agencies of the government, civil or MILITARY, for the purpose of conducting investigations and information gathering, there is great danger that the SEC will be used for profiling, intelligence-gathering, surveillance, harassment and other possible grave violations against NGOs.
Through the said memorandum, the SEC is given control of all non-profit organizations in the country, as it is weaponized to infringe on the freedom and capacity of these organizations to freely conduct or perform their advocacies.
Karapatan thus calls for the scrapping or rescinding of SEC Memorandum Circular No. 15 as a measure that is directly inconsistent to the government's duty to uphold the right to organize and privacy of all citizens, including the rights of human rights defenders against any form of interference or reprisal on their work. Such an arbitrary yet powerful memorandum will provide justification for a new form of witch-hunt, albeit still with the same targets. Such regulations will inevitably impede the work of human rights defenders, aid and development workers and other non-profit/non-government organizations and will surely result in the further constriction of civic space in the Philippines.