Rights victims file raps vs. Duterte at international tribunal
By KARAPATAN
September 17, 2018
MANILA – Various people's organizations led by the Bagong Alyansang Makabayan (Bayan) and Karapatan announced at a press conference today that victims of rights violations will testify before the International Peoples' Tribunal (IPT2018) on September 18-19 in Brussels, Belgium to indict Presidents Rodrigo Duterte and Donald Trump "for crimes against the Filipino people."
Upon the victims' plea, the Tribunal is being convened by the International Association of Democratic Lawyers (IADL), European Association of Lawyers for Democracy and World Human Rights (ELDH), Haldane Society of Socialist Lawyers, IBON International, and the International Coalition for Human Rights in the Philippines (ICHRP).
Its findings and verdict will be submitted to the International Criminal Court (ICC), the European Parliament and the United Nations Human Rights Council on September 21, 2018, anniversary of martial law in the Philippines.
"The continuing impunity of killings, state violence and other crimes against the Filipino people compel us to file these cases against the regime. The judicial system itself is under attack in the Philippines. Hence, an impartial tribunal recognized internationally can serve as moral suasion to stop the attacks and make the regime accountable for its crimes," Teddy Casiño of Bayan said.
Representatives of workers, peasants and women's groups joined Lumad leaders and victims of Duterte's "war on drugs" at the press conference. Rise Up for Life and Rights, a network of victims of the drug-killings, human rights advocates and church workers, filed a separate case against Duterte early this month before the International Criminal Court (ICC).
Pres. Duterte announced last March the unilateral withdrawal of the Republic of the Philippines from its ratification of the Rome Statute of the ICC, in reaction to the decision of the court's prosecutor to launch a preliminary examination on the on-going killings in the country.
Duterte's full-scale attacks on the people
Jigs Clamor of Karapatan explained that the cases filed before the IPT2018 illustrate the full-scale attacks of the Duterte government on the Filipino people.
He cited three broad categories on rights violations for the cases filed: 1) civil and political rights; 2) economic, social and cultural rights (ESCR); and 3) national sovereignty, development, and international humanitarian law.
Under the civil and political rights violations are the mass murder of more than 23,000 poor Filipinos through the brutal war on drugs, and more than 160 extra-judicial killings mostly of peasant and indigenous leaders.
In just one year of martial law in Mindanao, at least 49 victims of extrajudicial killings have been documented by Karapatan. There were also 22 documented cases of torture, 89 victims of illegal arrest and detention, and 336,124 victims of indiscriminate gunfire and aerial bombings.
Trumped-up charges against leaders, activists and critics, including that of Senator and former justice secretary Leila de Lima, media repression, the deportation of Sr. Pat Fox and other foreign missionaries, and the detention of more than 500 political prisoners are also included in the charges.
Among the ESCR violations are issues of labor-only contractualization and union busting; landlessness and harassment of poor peasants, misogyny and abuse of women; negligence of overseas workers in distress; imposition of anti-poor economic policies like the Tax Reform for Acceleration and Inclusion (TRAIN) Law; and the absence of decent housing for the urban poor.
Violations of international humanitarian law and the peoples' rights to national self-determination and development include the attacks on 226 indigenous peoples' schools in Mindanao by the AFP, PNP and the Department of Education; bombings and airstrikes of indigenous communities in Malibcong, Abra in March 2017; the massacre of seven personnel of the National Democratic Front (NDF) in August 2018; and the intervention of the US military and government in the Philippines.
International tribunal
Casiño said that the jurors of the IPT2018 form an international panel composed of eminent individuals from different disciplines with proven competence, integrity, probity and objectivity.
"The jurors are all experienced on issues on human rights, rights of peoples, and international humanitarian law," he said.
Composing the jurors' panel are: Mamdouh Habashi, head of the International Office of the Socialist Popular Alliance Party in Egypt and Vice-President of the World Forum for Alternatives (WFA) in Dakar; Monica Moorehead, co-coordinator of the International Working Women's Day Coalition in New York City and an executive board member of the International Women's Alliance; Ties Prakken, professor of criminal law at Maastricht University and practices criminal law and human rights; Sarojeni Rengam, Executive Director of Pesticide Action Network Asia Pacific (PANAP); Atty. Azadeh N. Shahshahani, prominent human rights lawyer, former President of the National Lawyers Guild; Dr. Gianni Tognoni, Secretary General of the Permanent People's Tribunal (PPT); Roland Weyl, founder and first Vice-President of the International Association of Democratic Lawyers, Dean of the Paris Bar; and Rev. Michael Yoshii, pastor of the Buena Vista United Methodist Church (UMC) in California and Chairman of the Advocacy & Justice Committee for the California Nevada Annual Conference of the United Methodist Church.
DPWH-contractors moves to reach target this month
By DPWH 2ndLED
September 17, 2018
CARIGARA, Leyte – The Department of Public Works and Highways (DPWH) Leyte Second District Engineering Office steps out to reach 66% target on Physical accomplishment for the month of September.
In the recent meeting, DPWH explains new terms on the Project Contract Management Application (PCMA) to the contractors.
According to Engr. Ma. Rosario P. Margallo, Monitoring Evaluation Section of the Regional Office 8, the PCMA has now an enterprise-wide application that allows updating throughout the month. She added that the application calculates the percentage completion and slippage based on the reported accomplished Work Items.
The system would recognize contractors with negative slippages and are subject for termination.
District Engineer Carlos G. Veloso requested for the cooperation of the contractors to go beyond the target.
"Our target for this month is 66%. Though, it is better if we go beyond this, so that if we fall short, we would still be able to reach the mark. We must aim high," Veloso said.
He added that once the Notice of Award is given, contractors must immediately start with the implementation. Moreover, as soon as they see possibility of negative slippage, contractors must file for time suspension and time extension to avoid termination and blacklisting.
The PCMA was made to supply the department's objective to effectively manage and monitor all infrastructure projects of the administration.


The founder and chairman emeritus of CARD MRI, Dr. Jaime Aristotle B. Alip, together with field staff were welcomed in the growing and glowing businesses of their CARD, Inc. clients in Tagum City and Koronadal City on September 3, 2018. These clients are among the beneficiaries of CARD, Inc. in its initiative to support the P3 of DTI.
39K MSMEs get support from CARD's P3 program
By DTI-OSEC-PRU
September 17, 2018
MAKATI CITY – More than 39,000 micro, small, and medium enterprises (MSMEs) of the country are now receiving financial services from the Center for Agriculture and Rural Development (CARD), Inc. (A Microfinance NGO) in support to the Pondo sa Pagbabago at Pag-asenso (P3) program of the Department of Trade and Industry (DTI).
In 2017, CARD, Inc. signed a memorandum of understanding with DTI to become the government's partner in strengthening the access of community members to the P3 program.
"This collaboration is part of CARD's commitment of ensuring the growth of MSMEs to eventually build a poverty-free country. Poverty is a complex issue, hence, working with like-minded organizations and the government is a significant factor in the process," said Flordeliza L. Sarmiento, managing director of CARD Mutually Reinforcing Institutions (CARD MRI) where CARD, Inc. is a member institution.
CARD's P3 initiative
For this program, Sarmiento emphasized that CARD is not receiving any financial support from the government. "We will be using our own funds for this program. In terms of policies, it will be aligned with the guidelines of the program accordingly," she added.
The program prioritizes to reach the market vendors and agri-businessmen in the 20 provinces under the government's P3 program namely, Sorsogon, Zamboanga Sibugay, Negros Oriental, Leyte, Catanduanes, North Cotabato, Western, Eastern, and Northern Samar, Mountain Province, Lanao del Norte and Lanao del Sur, Agusan del Sur, Siquijor, Zamboanga del Norte, Sultan Kudarat, Bukidnon, Maguindanao, Sarangani, and Sulu.
"These microentrepreneurs can avail a loan up to P100,000 maximum with an affordable interest rate," said Jocelyn D. Dequito, executive director of CARD, Inc.
The loan is payable in 12 months maximum on either a daily or weekly basis. "The program is consistent with our regular microfinance services. The terms are also flexible," added Dequito.
Potential clients may avail the loan and can be processed within 24 hours, following the guidelines of CARD. This, according to Dequito, is their way of fighting against usurious lenders who are very quick in providing loans to people. "We have streamlined our processes to be become relevant and respond immediately to the changing needs of our clients," added Dequito.
Growing businesses
On September 3-4, 2018, Dr. Jaime Aristotle B. Alip, the founder and chairman emeritus of CARD MRI, visited the P3 beneficiaries of CARD in Tagum City and Koronadal City, respectively.
CARD MRI, according to Dr. Alip, is in the business of poverty eradication. "Providing families with financial access is the first step towards poverty eradication. And we are happy to see our clients who are doing well in their respective businesses," added Dr. Alip.
Edlyn Soronez, P3 beneficiary from Tagum City, said the program helped her grow her flower shop business. "I am thankful to become one of the beneficiaries of the program. I can now buy enough stocks for my growing clients," shared Soronez.
Moreover, Nelly Pabillon said that she is thankful to CARD for granting her P28,000 loan for her vegetable trading in Koronadal City public market.
Dr. Alip also emphasized that these microentrepreneurs will be able to dictate the own course of their lives when and only given the access to asset ownership. "It is our hope that through our microfinance programs and this P3 initiative of the government, more families will have the capacity to own assets, invests in businesses, and saves for the future," said Dr. Alip.
CARD also guaranteed that this P3 initiative will continue to be reinforced. "Even if the agreement is only with CARD, Inc., we have also encouraged our three banking institutions to entertain potential clients for the P3 program," assured Dr. Alip.
As of July 2018, CARD, Inc. has already disbursed a total of P450.9 million loans to 39,384 clients.
CARD MRI is a group of 21 institutions that aims to eradicate poverty in the country. It has three banking institutions, the CARD Bank, CARD SME Bank, and Rizal Bank, Inc., which are operational in some of the concentrated areas covered by CARD, Inc.
"We are one with the government in fighting poverty in the country. Moving out from the claws of poverty can only be made when all the private and public sectors and the community itself work together as one," concluded Dr. Alip.
Army encounters CPP-NPA terrorists, incurs one casualty
By DPAO, 8ID PA
September 16, 2018
CAMP LUKBAN, Catbalogan City – Troops from the 63rd Infantry (Innovator) Battalion, 8th Infantry (Stormtroopers) Division, Philippine Army encountered CNT members at Barangay Mahayag, Matuguinao, Samar on September 14, 2018.
Sgt Daniel B. Silagan was reported to be killed in action during the said encounter, while it is undetermined on the terrorist group.
The troops led by two officers were on clearing operations when they encountered the terrorists as previously reported seen at said barangay when a 20-minute firefight ensued. The enemy immediately withdraws sensing the superiority of our forces.
Immediate appropriate actions will be undertaken to attend to survivors of Sgt Silagan including facilitation of due assistance and benefits. Meanwhile, pursuit operation is being conducted by our forces under the direction of the 803rd Infantry Brigade.
Maj. Gen. Raul M. Farnacio AFP, Commander, 8ID in his message said, "I would like to express my condolences to the bereaved family of our gallant soldier who offered the supreme sacrifice while performing his duty. This setback will not deter our resolve to continue our mandated task to safeguard the people of Eastern Visayas."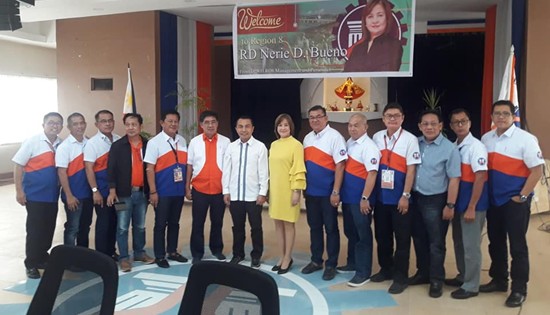 New DPWH Region 8 Regional Director (RD), Nerie D. Bueno (in yellow dress) meets district engineers of Region VIII during the turn-over ceremony of outgoing Regional Director Edgar B. Tabacon (left side of RD Bueno) on August 30, 2018 at DPWH Regional Office, Baras, Palo, Leyte.
DPWH Region 8 has new regional director
By DPWH-BDEO
September 6, 2018
NAVAL, Biliran – The Department of Public Works and Highways (DPWH) Region VIII warmly welcomes new regional director in the person of Engr. Nerie D. Bueno in a simple turn-over held on August 30, 2018 at DPWH Regional Office, Baras, Palo, Leyte.
Bueno replaced outgoing Regional Director Edgar B. Tabacon who now assumed post as new regional director of Region VII.
The lady regional director was the former regional director of DPWH-Cordillera Autonomous Region (CAR) prior to her assignment in Region VIII.
Bueno is one of the dynamic women executives in the Department who consistently attest that female engineers can rise as leaders in a male-dominated profession. With thirty-five (35) years of government service, she broke new grounds for Filipino women engineers pursuing leadership in widely known male-dominated technical organizations, through her appointment in key positions in the regional level.
She was officially appointed as Regional Director on November 23, 2015 in DPWH-CAR, shortly after assuming the post of OIC- Regional Director of DPWH Region II on September 18, 2016.
On September 19, 2016, she was reassigned to DPWH Region I, but after barely two months, she was transferred to DPWH-CAR on November 11, 2016.
In DPWH-CAR, she was the first woman to assume the positions, Assistant District Engineer (March 22, 2003), District Engineer (December 10, 2003), Assistant Regional Director (April 8, 2009) and Regional Director. Through the years, she remained steadfast to the values of discipline and diligence in her work, with a firm conviction that having high integrity and commitment to public service is always rewarding.
People regarded her as the "catalyst of change" and "game changer" when Region II achieved Second Rank nationwide in physical accomplishment in October 2016 when she was reassigned as Regional Director.
In 2017, Director Bueno turned the fate of CAR from being the worst to the most improved region, by bringing its regional ranking from 16th place in August 2018 to 3rd place by the end of the year, the highest rating that the DPWH-CAR has achieved since its creation in 1988.
Regional Director Bueno believes that life has no short-cuts through doing things right the first time. As a public servant, she conducts herself with simplicity, schedules meeting with the regional and district officers, provides venues for conflict resolution and promotes eco-friendly workspaces.
In her first day of office, Bueno holds a special meeting with district engineers of the 13 district engineering offices of the region tackling issues and various concerns especially in the implementation of infrastructure projects. On the second day, she meets the Assistant District Engineers from 8:00AM to 10:00AM and the Monitoring Engineers until 12:00PM.
89% of Filipinos demand a way out of dirty coal energy, slam DENR for continued permit issuance and approval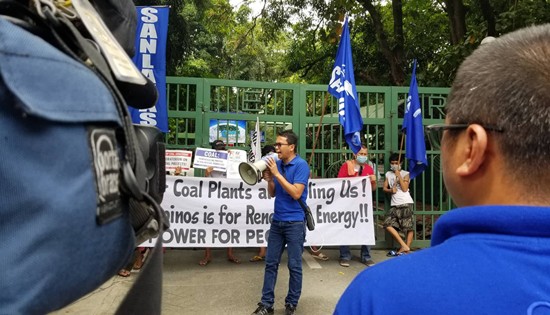 Press Release
September 6, 2018
QUEZON CITY – Members of coal-affected communities, electric consumers, climate justice and environmental groups stormed the Department of Environment and Natural Resources (DENR), conducted simultaneous actions in different areas in the country, to press Secretary Roy Cimatu and other local officials to put a halt on the country's 'coal obsession' and listen to the demand of the 89% of the Filipinos who do not want energy to be sourced from dirty coal.
This is based on the recently released Pulse Asia survey that says almost 9 out of 10 Filipinos want to shift to renewable energy source.
Currently, the Philippines houses twenty-eight (28) operational coal plants and twenty-eight (28) more coal projects in the pipeline. Said environment agency is expected to play a major intervention in the issuance of environmental compliance certificate (ECC) especially those projects waiting for approval for construction.
Groups participated in national day of action against coal said that the DENR's current position on the said issue does not only worsen the current state of our environment but also enables a rise in electricity prices all over the country.
"Nariyan na nga ang pagpapabaya ng Department of Energy sa patuloy na pagtangkilik sa mga korporasyon na nagpapahirap sa mamamayan. Dumagdag pa ang DENR sa pagpayag nang pagpayag sa pagpapatayo ng maraming planta ng coal sa ating bansa," said Mercy Donor of PIGLAS Kababaihan. "Patay na nga ang mga mamamayan sa polusyon, patuloy na pagtaas ng mga bilihin, patay pa sa mataas na presyo ng kuryente na hindi namin malaman kung saan namin kukunin ang pambayad," added Donor.
"The negative impacts of coal are being felt by every consumer and much more by the communities living in the coal sites," said Teody Navea of Cebu City. "The resistance against coal is growing in many parts of the country. Aside from killing us with every breath we take, these coal plants are stealing money from our pockets in the disguise of our electricity bills," added Navea.
Meanwhile in Mindanao, electricity prices soared up as new five (5) coal plants were recently inaugurated. Said rise in electricity prices convinced majority of the residents of the island to shift to renewable energy.
Currently, electricity cost in some parts in Mindanao is 1 to 3 pesos higher than the price in Metro Manila amounting to almost P13/kWh in Ozamiz City and around P11/kWh in South Cotabato.
"If people in Mindanao are paying electricity prices as expensive as those who are Manila, whose minimum wages are way higher than ours, what kind of lives do they expect to experience by the workers and their families here," said Roldan Gonzales of GITIB Inc. "These workers have families – children in particular who have special needs. This reliance on coal does not only damage our health and our pockets, it also kills the future of our children," added Gonzales.
Gerry Arances, Executive Director of the Center for Energy, Ecology and Development urges the government to execute what is being told by the numbers and by the communities affected by the said impacts.
"All stars are aligned. The rate of disapproval of using coal as our source of energy is clearly equal to the intensity of the impacts and sufferings of the people. It is about time that we shift to clean, affordable and renewable energy that can aid people to live their lives better free of high prices and worsening health conditions," concluded Arances.
Aside from the main action in front of DENR Main Office, sites from Sual, Pangasinan, Sariaya, Quezon, Atimonan, Quezon, La Union, Cebu City, Tacloban, and Ozamis also joined the said nationally coordinated protest.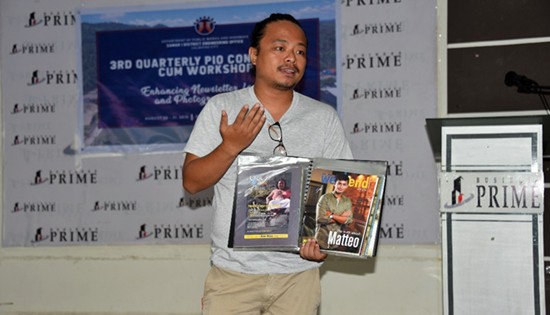 Mr. Alfred Bartolome, an experienced graphic artist and photographer shows sample of his work as a graphic artist and photographer during the workshop on Enhancing Newsletter Lay-out and Photography Skills of DPWH Public Information Officers held at Business Prime Events Center at Calbayog City on August 30-31, 2018.
DPWH public information officers enhance newsletter lay-out and photography skills
By DPWH-BDEO
September 5, 2018
NAVAL, Biliran – The Public Information Officers (IOs) of the Department of Public Works and Highways (DPWH) Region VIII continue to improve their knowledge and skills on their job under the Development Communication Program of DPWH.
Topics on Enhancing Newsletter Lay-out and Photography Skills were the focus of discussion during their workshop held at Business Prime Events Center at Calbayog City on August 30-31, 2018.
Hosted by Samar 1st District Engineering Office (DEO), Ms. Ma. Nenita Y. Gomez, PIO Designate of Samar 1st DEO said that the topics are very helpful considering that it is applicable on the day to day job of Public IOs.
"DPWH Public IOs have to admit that until today, we still lack the necessary skills and or expertise in lay-outing that is why we have this workshop," Gomez said.
Mr. Alfred Bartolome, an experienced graphic artist and photographer was invited during the workshop to impart his knowledge on the said topics.
According to Bartolome, newsletter lay-out are considered as a part of graphic design because it is a combination of image and letters. Bartolome briefly discussed on the history of design and its elements and imparts the basic techniques and principles of graphic design such as keeping it simple, embracing restrictions, avoiding trends, and focusing on results.
The speaker emphasized that a good designer follows the rules but a great designer breaks the rules. However, Ms. Gomez suggested that as an amateur in lay-outing newsletter she emphasized that it would be best to follow first or subscribe to the basic technique or principles of lay-outing and design.
"There is no hard and fast rule, because these rules will limit our movement but remember that we are not yet expert, we are still learning, so why not subscribe to the basic principles," said Ms. Gomez to co-Public IOs.
Newsletters is one of the requirements to Public IOs under the Development Communication Program to be submitted monthly to the DPWH Regional Office as part of the information dissemination campaign of the department.
Aside from the topic on enhancing newsletter lay-out, Mr. Bartolome also shared tips on how to be a good photographer. He shared that in taking photos three important things must be considered: the shutter, aperture and ISO of the camera. According to him, everyone can be a photographer rated either good, better, best or great if one invests time and resources to it.
Alvin A. Ignacio, District Engineer of DPWH Samar 1st DEO in his closing remarks said that the purpose of every seminar is enhancing one's capabilities including the knowledge, skills and everything.
"To enhance our capabilities, we need to give more, to serve more, and to think more quality into our work," the district engineer said.
P80-M Carayman-Naga-Cogon road rehab nears completion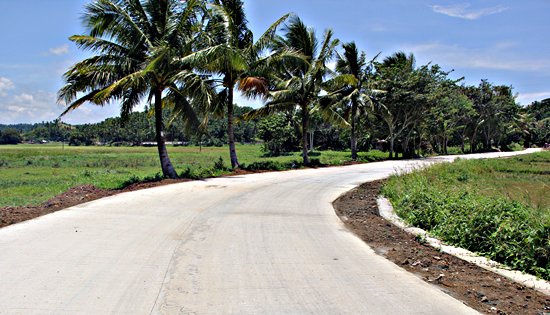 By MAE ANGELICA R. COMOTA
September 4, 2018
CALBAYOG CITY – The construction, rehabilitation, and improvement works, along the Carayman to Naga and Naga to Cogon road in Calbayog City, are at 87.67% and 65% actual physical accomplishment, respectively, as of this report.
Naga and Cogon are agricultural barangays mainly producing root crops such as cassava and sweet potato. These products are then transported to Carayman which lies adjacent to the National Highway and allows farmers access to Calbayog City's public market.
The two projects have a combined cost of P80 million sourced out from the General Appropriations Fund of 2018, both under contract with Victoria Development and Construction Supply.
The first project, costing P50 million, covers the rehabilitation and improvement of 4.5 kilometers of road connecting Brgy. Carayman and Brgy. Naga. The second project connecting, with an allocation of P30 million; includes the construction, rehabilitation, and improvement of 2.5 kilometers of concrete road between Brgy. Naga and Cogon.
These projects directly benefit the root crop farmers of the aforementioned barangays as it hastens travel time and allows for a speedier transport of agricultural products.

Agrarian reform secretary John Castriciones (back row, 5th from right) poses with recipients of certificates of land ownership award (CLOAs) from Catbalogan City.
1,233 Samar farmers receive CLOAs from DAR Secretary
By JOSE ALSMITH L. SORIA
September 4, 2018
CATBALOGAN CITY, Samar – Barely two weeks after his visit to Eastern Visayas, Agrarian Reform Secretary John Castriciones was back to distribute again certificates of land ownership award (CLOAs) this time in the province of Samar.
On Thursday, Castriciones distributed 1,439 CLOAs under the Comprehensive Agrarian Reform Program (CARP) at the Samar State University gymnasium in this city. The CLOAs covered 2,658.8 hectares of farmlands situated in 17 Samar municipalities and its two cities.
During the said occasion, Castriciones emphasized to the agrarian reform beneficiaries (ARBs) not to sell their awarded lands. According to him, "pag-ibinenta nyo ang lupa ay para nyo na ring ibinenta ang kinabukasan ng inyong mga anak".
Agrarian reform program provides land to the landless where they can get livelihood. This program of the government likewise liberates tenants from tyranny.
Castriciones also advised the ARBs to join ARB organizations (ARBOs) to be able to avail of the various support services extended by the Department of Agrarian Reform (DAR) and other government agencies under the Program Beneficiaries Development component (PBD) of CARP.
Former tenants from Paranas town Antonio Acosta Sr., 83, and his son, Antonio Jr., 38, were among the 1,233 ARBs who received CLOAs from Castriciones.
Antonio Sr. who worked as tenant for almost 60 years was awarded with 1.2 hectares of farmland, while his son was awarded with 0.8 hectare.
Both were thrilled to get hold of their respective CLOAs that would prove they are now the owners of the lands they till.
Antonio Jr. shared that they used to give two sacks of rice, 2 sacks of corn and P2,500 worth of copra to the previous landowner as rental.
Now, the earnings from the lands covered by the CLOAs will all be theirs.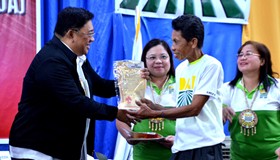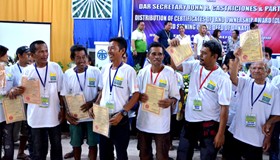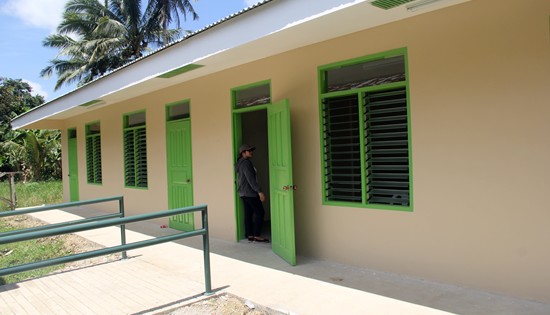 A recently completed one (1) storey two (2) classroom school building in Cagbilwang Primary School, Oquendo District, Calbayog City.
DPWH delivers 15 school buildings for DepEd Calbayog
By JASON DELOS ANGELES
September 4, 2018
CALBAYOG CITY – The Department of Public Works and Highways Samar First District Engineering Office completes 15 school building projects for the Department of Education, Division of Calbayog.
These one storey buildings range from 2 to 3 classrooms per building which are intended for primary schools all over Calbayog Division. Workshops are also included especially for sites welcoming senior high school students.
The 15 school building projects are as follows: construction of one (1) storey two (2) classroom school building for Calbayog City National High School - Carayman Campus, Calbayog Pilot Central School, Lonoy Elementary School, Amampacang Elementary School, Acedillo Elementary School, Oquendo Central Elementary School, Anislag Elementary School, Cagbilwang Primary School, Macatingog Integrated School, and Bagacay Elementary School; and construction of one (1) storey three (3) classroom for Carmen Elementary School, Sinidman Oriental Primary School, Nijaga Elementary School, and Malopalo Elementary School.
These projects have a combined appropriation of P45.4 million sourced out from the 2017 Basic Educational Facilities Fund from DepEd and is implemented by DPWH under its convergence program.
The construction of these school building projects come at an opportune time as it will allow schools to accommodate more students, providing them better and more conducive learning environment.