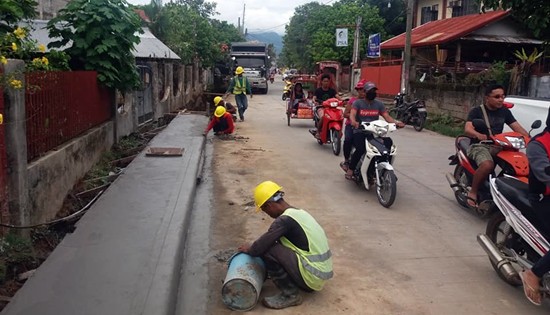 P50M Access Road project going to Naval Port, Naval Biliran is on-going with the construction of drainage at Vicentillo Extension, Naval, Biliran with an accomplishment of 94.40% under contract with J.A. Achacoso General Services Enterprises. This project is under CY 2017 General Appropriations Act (GAA).
DPWH-Biliran DEO hastens project implementation for on-going projects
Press Release
August 29, 2018
NAVAL, Biliran – The Department of Public Works and Highways (DPWH) Biliran District Engineering Office (DEO) continues to show progress on its 2018 project implementation with an increase of 13.11% accomplishment from the previous month.
For the month of June 2018, Biliran DEO posts an overall accomplishment 29.49% for 2018 projects and now with 42.60% as of July 31, 2018. This is 1.64% ahead of the planned target accomplishment of the district of only 40.96% for the month of July.
The district has been allotted P1.6B for 2018 implementation with a total of 60 projects funded under the General Appropriations Act (GAA). Out of the 60 projects, 24 are completed, 8 are Not-Yet-Started (NYS) and 28 are on-going.
These projects are being fast tracked for completion to be able to meet their deadline without compromising its quality.
The completed projects are 13 flood control, four rehabilitation of bridges and one asphalt overlay under its 2018 Regular Infrastructure Program.
Under the 2018 Local Infrastructure Program (LIP) listings, the district has completed three multi-purpose building, one Farm to Market Road (FMR), one road widening project and one flood control project.
Biliran DEO also has five remaining projects on-going under the 2017 infrastructure program with an overall accomplishment of 78.76% as of July 31, 2018.
Spilled-over projects of 2017 amounting to P50M and above includes widening projects, rehabilitation of access road leading to Naval port, and Rehabilitations of Slope Protection Structures.
Close project monitoring is exerted to ensure that projects with negative slippages can be minimized if not eradicated.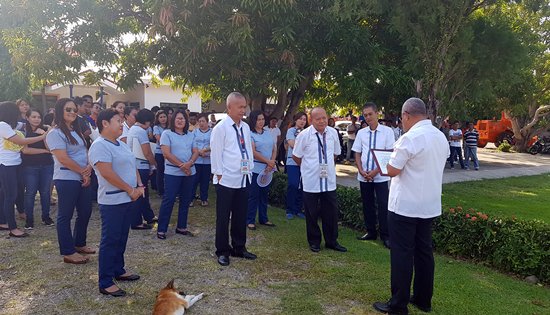 Engr. Reynaldo P. Peñaflor, Chief of Quality Assurance Section informs Biliran DEO employees for achieving a one star rating for Materials Testing Laboratory on Tuesday, August 28, 2018 after the flag raising ceremony.
DPWH-Biliran DEO now acquires one-star rating for materials testing laboratory
Press Release
August 29, 2018
NAVAL, Biliran – The Department of Public Works and Highways (DPWH) Biliran District Engineering Office (BDEO) achieved a one-star rating this time for Materials Testing Laboratory.
According to District Engineer David P. Adongay Jr., the district has successfully passed the reassessment conducted by the Bureau of Research and Standards (BRS) of DPWH Central Office conducted on April 26-27, 2018 at Biliran DEO's Materials Testing Laboratory.
BDEO satisfactorily complied with the provisions of Department Order No. 126, Series of 2016 Amendment to D.O. No. 11 Series of 2013 "Star Rating of DPWH Regional and District Materials Testing Laboratories" and hereby classified and categorized as a One-Star Materials Testing Laboratory.
Department Order No. 11, Series of 2013 is being amended to emphasize that the Star Rating System for testing laboratories of the Regional and District Engineering Offices recognizes the need for capable laboratory technicians and Materials Engineers and complete and reliable testing apparatus/equipment.
Engr. Reynaldo P. Peñaflor, Quality Assurance Chief said that after acquiring a one star rating, they will slowly comply with the requirements for applying for a two-star rating.
"If we can complete the testing equipments with capable laboratory technicians and Materials Engineers, we will be applying for a two star rating," said Peñaflor.
District Engineer Adongay are encouraging the district's laboratory technicians and materials engineers to attend more trainings and seminars.
Meanwhile, Peñaflor said that meeting all the required testing apparatus would mean that they can already conduct all laboratory tests for contractors without going to outside accredited laboratories.
The system classify testing laboratories into One-Star, Two-Star or Three-Star categories based on the following criteria: Availability of testing equipment and apparatus, Competence/Accreditation of Personnel, Observance of health and safety standards, Working area of the laboratory, Calibration of apparatus/equipment and Third-party certification.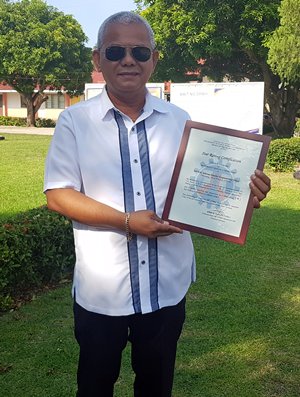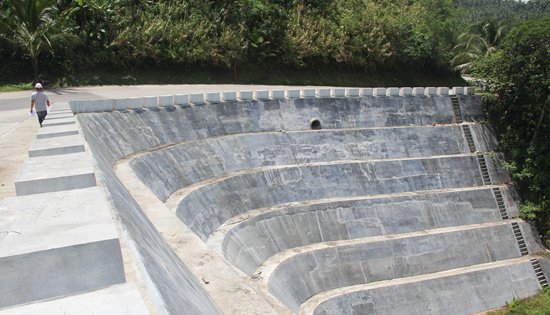 One of the completed slope protection structures along Brgy. Jose Roño.
DPWH completes P49.9-M slope protection project
By MAE ANGELICA R. COMOTA
August 29, 2018
CALBAYOG CITY – The Department of Public Works and Highways Samar First District Engineering Office completes the P49.9 million project covering the construction of 7,800 square meters of slope protection structures along 293 meters of road section along Calbayog - Catarman Road in Brgy. Jose Roño, Calbayog City.
These structures are designed to prevent abrupt collapse of weakened slopes in cases of heavy rainfall and earthquakes because they help retain the slope's stability.
The general travelling public directly benefits from this project as it allows for a safer travel environment. It also provides the residents of Brgy. Jose Roño with the necessary protection from harsh road slope disasters.
"I live here in Brgy. Jose Roño and I usually travel from here to work. And this road is very difficult to navigate because of the endless curves that lead to deep ravines. It's good to know that DPWH is developing safer roads for motorists like me," said Ariel Cinco.
DTI recognizes most promising MSME brands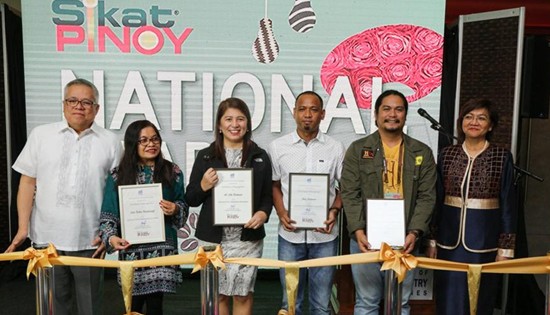 By DTI-OSEC-PRU
August 24, 2018
MANDALUYONG – The Department of Trade and Industry (DTI) awarded four most promising micro, small, and medium enterprise (MSME) brands that exhibited outstanding performance in terms of sales production, social impact, and innovation during the Sikat Pinoy National Trade Fair on 22 August at the SM Megamall.
"Continuous creativity and innovation will help entrepreneurs be successful. And we are proud of these MSMEs who serve as model and inspiration to many aspiring entrepreneurs," said DTI Secretary Ramon Lopez.
The awardees were Jhaz Footwear, Ai-She Footwear, H.H.S. Leather Goods Enterprises, and Lolo Bobby Handicraft. As start-ups, they joined DTI's provincial, regional, and national trade fairs, managing to raise the visibility and awareness of their products and brands among institutional buyers and the general public.
Unique feel in quality footwear
Jhaz Footwear started with a young couple, Nepthali and Elvira Moneda from Liliw, Laguna, who resold slippers made by their neighbors. They used to bring the slippers and sell them in various towns during fiestas and festivities. After two years, the couple put up their own footwear brand and started to become a supplier to various stores in the area.
Their small business received assistance from DTI via training, product development, and management. They were also invited to participate in domestic trade fairs and abroad. Their footwear brand offers different types of espadrilles, wedges, clogs, flats, heeled shoes, and even school shoes. They supply footwear apparel to retail stores throughout the country, as well as in Japan and Italy.
Meanwhile, Ai-She Footwear's owner Corazon Coligado started making her own shoes in a small nipa hut in Liliw, Laguna. As an initial marketing plan, she gave out samples of new and trendy footwear to various retail stores outside their area. This strategy paved the way for her footwear to be patronized by a significant number of clients.
Ai-She Footwear then received an invitation from DTI to join the Calambanga Festival. The Department also invited them to regional and national trade fairs wherein they received an export order to Panama for 5,000 pairs of shoes. DTI also brought Ai-She Footwear to international trade fairs, leading their products to be exported. Currently, they are one of the suppliers of the leading malls in the country. Their shoes are also exported to Japan and Papua New Guinea.
Differently abled, but empowered
Handcrafted by Harl's (H.H.S. Leather Goods Enterprises) from San Pedro, Laguna engages in the production of innovative genuine leather products. It was established in 2014 to promote the local artistry and craftsmanship. Their products are handmade by differently abled artisans and underprivileged craftsmen. The company's product collection includes bags, sandals, wallets, coin purses, cell phone cases, gadget organizers, bracelets, guitar leather cases, straps, leather accessories, and souvenir items.
With their advocacy and quality products, the enterprise was invited by DTI to participate at the Manila FAME where their products gained more followers.
Design vision to help Filipino farmers
Lolo Bobby Handicrafts started as a producer of placemats made from coconut shells in Bato, Leyte. They were one of the recipients of product development assistance from DTI and the Comprehensive Agrarian Reform Program initiative.
The assistance from DTI continued with various trade fair invitations, which helped them gain market access and exposure for their products. They also took part in the different product clinics by the Design Center of the Philippines that enabled them to craft high quality components of fashion accessories and housewares. They support local farmers by sourcing their raw materials from the Agrarian Reform Community in their locality. Lolo Bobby Handicrafts has been a regular participant to the Manila FAME and indirectly exports their products to Japan and Australia markets.
Sikat Pinoy
The annual Sikat Pinoy National Trade Fair is one of the programs of DTI that provides market access to various MSMEs and their products. Last year's run had over 122,000 visitors for its three editions. The events generated P57M-worth of retail sales and P52M-worth of booked and negotiated orders.
"Empowering our MSMEs allow us to empower the nation. President Rodrigo Duterte and his administration will continue all market access programs as well as MSME assistance to encourage more Filipinos to join the entrepreneurial revolution, creating a much-needed economic growth that benefits all, especially those at the bottom of the pyramid," Sec. Lopez said.
This year's edition gathers over 250 MSMEs from all over the country and showcases One Town One Product (OTOP) Next Generation products such as gifts, houseware and décor, fashion accessories and wearables, furniture, specialty food, and health and wellness products. A special area also features green, organic, eco-friendly, fair-trade compliant, and halal-certified products. The fair will run until 26 August 2018 at SM Megamall.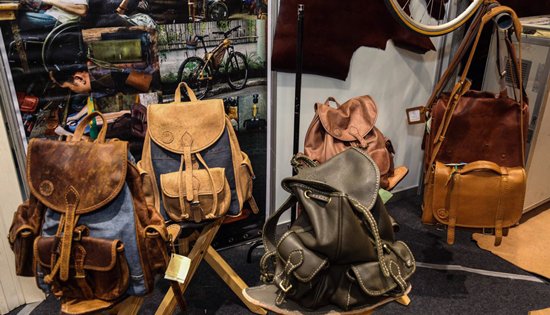 Eastern Visayas partylist leader backs National ID system
By RONALD O. REYES
August 24, 2018
TACLOBAN CITY – The enactment into law of the Philippine Identification System Act got the support of Jude Acidre, the first nominee of Tingog Sinirangan party-list in Eastern Visayas region.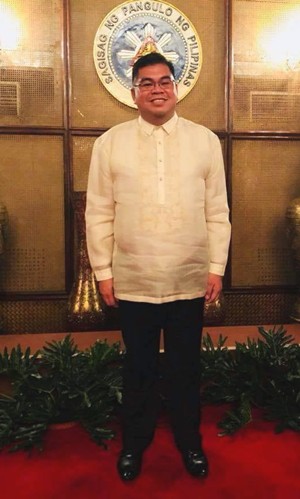 "It is good that finally, the National ID System Act has been signed into a law. This law has also been on the legislative agenda of Tingog Sinirangan," said Acidre while thanking Leyte First District Rep Yedda Romualdez who was one of the co-authors of the law which was signed by President Rodrigo Duterte on August 6.
"There are privacy concerns regarding this law, but it is important to note there are probably more personal information shared on Facebook than what would end up in your National ID," he reasoned out.
Acidre said that he has been hoping for Filipinos to have their own National ID card.
"Not only for the convenience of a portable proof of identity, but more so because it becomes a tangible marker of citizenship. In fact, a significant number of Filipinos do not have birth certificates, or have yet to be registered with the local civil registry. In a way, they have yet to be 'counted' and oftentimes, they have to wait until school age before they finally are issued a birth certificate," he said.
Acidre, who is married to a Thai national, maintained that having a national ID makes every transaction that requires a proof of identity seamless and convenient, as what he experienced in Thailand.
"My wife, who is a Thai national, always carries with her a National ID card. Everyday she presents it for a number of transactions – from making a money transfer, boarding a plane, applying for a passport, paying taxes, opening a bank account and even buying a sim card. I remember when we had to register our marriage, I had to bring about five documents that took me weeks to process, while all she had to do was bring her National ID," recalled Acidre, adding that the National ID card cuts additional processing or waiting time.
During the signing of the Republic Act 11055 or Philippine Identification System Act, Duterte said that there is "no basis at all for the apprehensions about the Phil-ID, unless of course that fear is based on anything that borders to illegal."
Under the national ID law, the Philippine Statistics Authority (PSA) will maintain a centralized database of all Filipino citizens and resident aliens which include the information on name, sex, birthdate, address, citizenship and blood type. The government also assured on the security of the information.
The information registered in the National ID would be the same record history indicated in government-issued IDs like Home Development Mutual Fund or Pag-IBIG Fund, Commission on Elections, Government Service Insurance System, and Philhealth card.
The National ID System would eliminate the presentation of multiple IDs and ease up the government transaction as it cuts the bureaucratic red tape, Acidre said.
"For every official or business transaction, we are often asked to present two or more government-issued IDs. The funny experience sometimes is that you will be asked two or more government-issued IDs to apply for a government-issued ID that at times it ends up like a chicken-and-egg-thing," said Acidre as he described the inconvenience in the Philippines having no National ID System.
P3.4 million rainwater collection system in progress
By DPWH 2nd LED
August 23, 2018
CARIGARA, Leyte – A total of P3.4 million worth of 17 units of Rainwater Collection System (RWCS) are now in progress through the Department of Public Works and Highways (DPWH) Leyte Second District Engineering Office.
The RWCS will be installed in CATAMS Elementary School, Tagak Elementary School, Ponong Elementary School, Jugaban Elementary School, Guindapunan Elementary School, Minuhang Elementary School, Minuswang Elementary School, Barugo Central School, Culasian Elementary School, and two units each in Tunga Central School, Gregorio C. Catenza National High School, Capoocan Elementary School and Calingcaguing National High School.
District Engineer Carlos G. Veloso said that schools without access to potable water facilities are the top priority for this project.
Rainwater can be collected through pipes connected from the roofs of school buildings, and can be used in toilets, wash rooms, and other facilities.
Veloso added that rainwater collectors shall follow the prototypes set by DPWH such as reinforced ground storage tank with 4,000 liters water capacity.
The RWCS includes structure excavation, concrete works, reinforcing steel, roof drains with strainers, installation of stainless steel water tank approximately 4,000 liters with plumbing accessories and forms and falseworks.
The RWCS aims to suffice the continuous need for water supply in the Leyte second district.
This project is in compliance to Republic Act 6716, otherwise known as "an act providing for the construction of water wells, rainwater collectors, development of springs and rehabilitation of existing water wells in several barangays."
Rotary Club of Calbayog and 63rd Infantry Battalion deliver social services in Matuguinao, Samar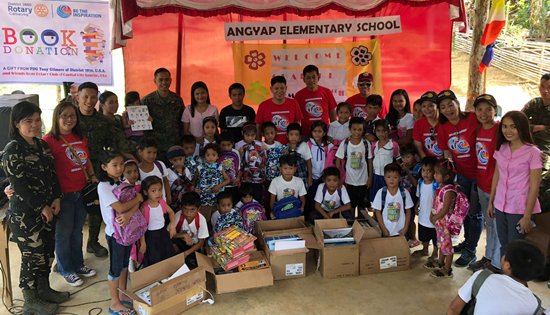 By LEVIRESA GETIGAN-BARNIZO
August 22, 2018
CALBAYOG CITY – The Rotary Club of Calbayog led by Club President Alex Gelera jointly conducted Book Donation, Gift Giving, and Feeding Activities with the military officers of the 63rd Infantry Battalion headed by LTC Rizaldo N. Laurena at Angyap Elementary School, Brgy. Angyap, Matuguinao, Samar, today, August 22, 2018.
The club donated more or less 400 books to Angyap and Mahantud Elementary Schools which will be benefited by some 150 pupils. This activity is in line with one of the areas of focus of the club – Basic Education and Literacy Program, that will help deliver quality education to the learners. RC Calbayog aims poverty alleviation by producing professionals in the outskirt villages in Samar and in the country in general.
Meanwhile, members of the club assisted the military officers in the distribution of schools bags followed by a feeding activity to the said recipients. The lady officers of 63rd IB facilitated parlor games to bring fun to the children while RC Calbayog distributed chocolates and biscuits as prizes to the participating pupils. This undertaking is relative to the Peace and Conflict Prevention/Resolution Program of the club, building peace and goodwill between the residents in the locality and the military officers.
It is worth mentioning that Rotary Club of Calbayog and 63rd IB recently participated in the Medical, Surgical and Dental Mission spearheaded by the Veterans Memorial Medical Center (VMMC) and Philippine Veterans Affairs Office (PVAO) held at Calbayog Convention Center, Brgy. Capoocan, Calbayog City, Samar on August 17, 2018. More than one thousand veterans and non-veterans from Paranas, Catbalogan, San Jorge, Catarman and Calbayog, all located in Samar Province, availed the medical services.
Rotary Club of Calbayog endeavors to extend its programs and services not merely in Calbayog City but also in its neighboring cities and municipalities. It also aims to work with other civic and non-civic organizations in the locality in order to promote brotherhood and to ensure delivery of more services and programs. Brgy. Angyap, Matuguinao, Samar is approximately 55.8 kilometers away from Calbayog City.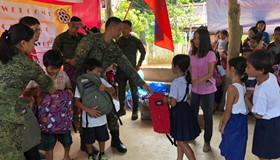 PH artisan jam maker gains int'l recognition
By DTI-TIPG-EMB
August 22, 2018
MAKATI CITY – The Fruit Garden, one of the exporters assisted by the Department of Trade and Industry (DTI) was recently awarded one-star by Great Taste for its pineapple coco rhum jam during the release of Great Taste 2018 last 1 August 2018 at The Guild HQ in Gillingham, Dorset, United Kingdom.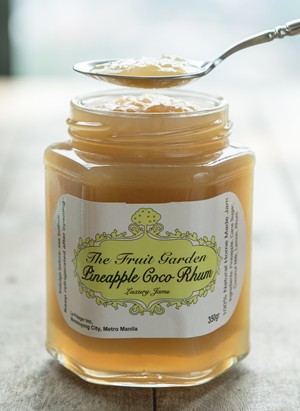 The Fruit Garden's jam was recognized with One-star of excellence against 12,634 products entered by producers across the globe. According to Great Taste, for this year, 1,207 foods grabbed 2 stars and 3,254 were awarded a 1 star. Meanwhile, 192 foods achieved their highest rating, three stars. These translated to a total of 37% accredited products out of all the entries this year.
Great Taste, tagged as the world's most coveted food awards, started in 1994. It is considered as the largest and trusted accreditation scheme for fine food and drink. Products were blind-tasted by panels of specialists which include top chefs, food writers, influencers, food critics, restaurateurs and fine food retailers.
The Fruit Garden is among the enrollees and assisted exporters of the DTI-Export Marketing Bureau under its Regional Interactive Platform for Philippine Exporters Plus (RIPPLES Plus).
According to DTI-EMB, Fruit Garden is the first and only Filipino company in the Jam Segment to be selected due to its product's distinct taste which is achieved by its cooking process in copper cauldrons, in small batches, under strict quality control. The Fruit Garden also takes pride in the achievement of its unique flavor, made of local ingredients.
After its recognition by the prestigious food and beverage guild, Fruit Garden aims to gain more recognition from global markets by expanding abroad, and showcasing its product to foreign markets for greater appreciation of the quality of food products produced in the Philippines.
The DTI-EMB's RIPPLES Plus Program is assisting emerging entrepreneurs in the development of their products and services through strategic interventions such as trainings and capacity building; investment, marketing and promotions, support for innovation, product development and design; market access facilitation through Mutual Recognition Arrangements (MRAs) and certifications. These interventions or modes of assistance ensure that the companies are competent and export-ready. The program has worked towards increasing the number of internationally-competitive Philippine product and services exporters with EMB at the helm.
Bisaya writers' organization celebrates 49th anniversary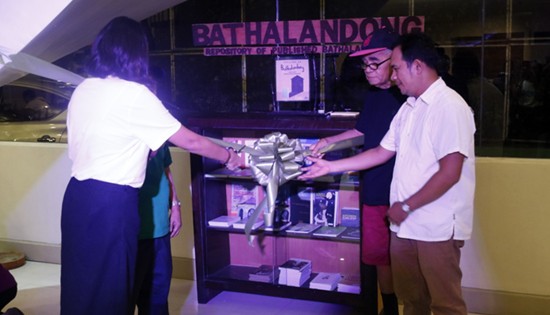 Press Release
August 22, 2018
CEBU CITY – Bisaya writers' organization celebrates 49th anniversary Bathalan-ong Halad sa Dagang (BATHALAD) celebrated their 49th anniversary through the launching of "BATHALANDONG", a repository of published works at Palm Grass the Cebu Heritage Hotel on August 18.
The collection of 18 books by acclaimed bisaya writers such as Adonis Durado, Josua Cabrera, Myke Obenieta and more old and young members of BATHALAD will be available both for free reading and for sale at the hotel's library restaurant Kapihan ni Lumaya.
The festivities were started with poetry readings from well-known bisaya poets Lamberto Ceballos (Sun Star), Rolando Morallo (Sun Star,), and current BATHALAD vice-president Jae Mari Magdadaro (Bisaya Magasin). Former BATHALAD president and one of its oldest members Ernesto Lariosa first reminisced on how the organization changed throughout generations before performing an awe-inspiring bisaya poem. His son, a spectacular poet like Ernesto, also performed in the open mic portion.
Formed in 1969 by brilliant bisaya poet Dr. Melquiadito M. Allego, Jr., BATHALAD is now home to both old and young writers from the region. President Karla Quimsing said that BATHALAD's doors are open to new members of all ages, gender, sexuality, and even those outside of Cebu but all across the bisaya-speaking regions.
As Cebu's only heritage hotel, Palm Grass supports the growth of our local literary talents like BATHALAD. Apart from literary works, books on Cebuano history and culture are also available for sale and free reading at the Kapihan ni Lumaya library restaurant.
Guests may also enjoy native drinks at the Kapihan like the Kape Mais and native teas like dulaw (turmeric) and tanglad (lemon grass).
Palm Grass aims to engage all Cebuanos, especially the youth, to learn and explore about Cebu's colorful and valiant heritage.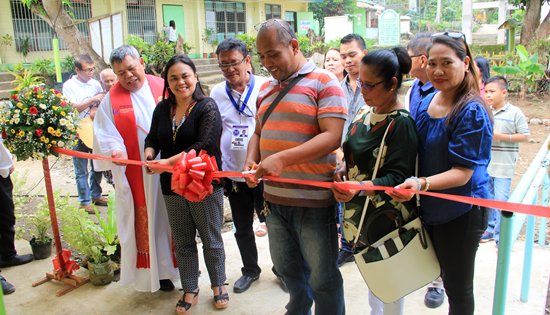 (L-R) Officiating Priest, DepEd Supervisor Teresa Simon, Construction Chief Engr. Carlos Rañola, DepEd Supervisor Zosimo Mañoza, Punong Barangay Dominadora Rojo, and School Head Leticia Gregorio during the ribbon cutting ceremony.
P2.9 million school building inaugurated
By JASON DELOS ANGELES
August 17, 2017
CALBAYOG CITY – The Department of Public Works and Highways Samar First District Engineering Office (DPWH-SFDEO) inaugurates the recently completed one-storey, two-classroom school building in Amampacang Elementary School.
The P2.9 million project, sourced out from the 2017 Basic Educational Facilities Fund, was carried out by DPWH as part of their convergence program, in partnership with the Department of Education (DepEd)
Construction Chief Engr. Carlos Rañola of DPWH Samar I officiates the turn-over of the symbolic key and the ribbon cutting ceremony. The blessing and turnover of the school building is also graced by DepEd Officials, Supervisors Zosimo Mañozo and Teresa Simon, as well as the school faculty, general PTA officers and students of Amampacang Elementary School.
"We are so fortunate and pleased that our school was chosen as one of the beneficiaries of this project. We, teachers, believe that a good and conducive classroom is extremely beneficial in the development of our learners as it improves the quality of education. I would like to extend my heartfelt thanks and gratitude to those fellows who rendered their effort to the realization of this project," said Leticia S. Gregorio, school head of Amampacang Elementary School. This project benefits about 50 students enrolled in the school.