Second quarter palay production in Eastern Visayas increases by 7.9%
By PSA-8
August 17, 2018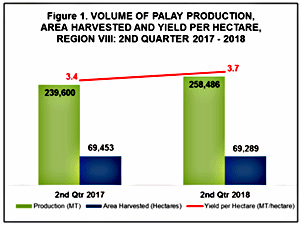 TACLOBAN CITY – Palay production in Eastern Visayas increased by 7.9 percent, from 239,600 metric tons (MT) in the second quarter of 2017 to 258,486 MT in the second quarter of 2018. Increases were observed among all provinces, except in Northern Samar, which posted a decrease of 9.3%. Southern Leyte recorded the highest increase in production of 50.3%, from 24,817 in the second quarter of 2017 to 37,306% in the second quarter of 2018.
Among the provinces, Leyte produced the highest volume of palay at 147,221 MT, which comprised more than half (57.0%) of the total palay production in the region. Eastern Samar, meanwhile, had the lowest volume of production (12,215 MT) accounting for only 4.7%.
The total harvest area for palay in the region decreased slightly by 0.2%, from 69,453 hectares in the second quarter of 2017 to 69,289 hectares in the second quarter of 2018. Increases recorded in Biliran (7.0%) and Samar (1.0%) were offset by the decreases registered in Northern Samar (6.8%) and Southern Leyte (2.0%).
Leyte recorded a little over half or 53.6% (37,144 hectares) of the total palay area harvested during the quarter in review, while Biliran contributed the least (4,763 hectares) accounting for only 6.9%.
Yield per hectare for palay in the region went up by 8.8%, from 3.4 MT per hectare in the second quarter of 2017 to 3.7 MT per hectare in the same quarter of 2018.
Among the provinces, Biliran posted the highest yield per hectare during the quarter in review at 4.6 MT per hectare. Eastern Samar registered the lowest yield per hectare at 2.3 MT per hectare.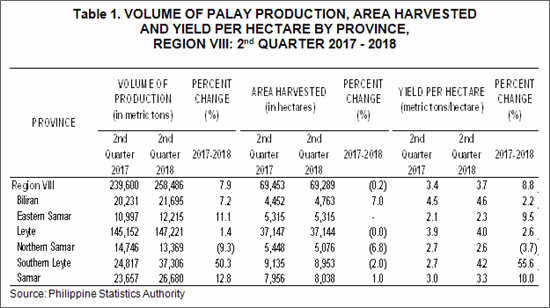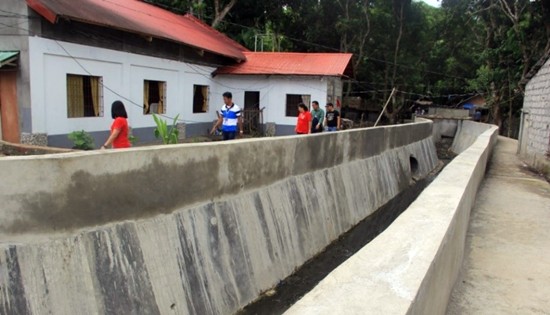 The Inspectorate Team of DPWH Samar I conducts a final inspection of the flood control structures along Bantian creek, Brgy. Bantian, Calbayog City.
P10-M flood control along Bantian Creek completed
By JASON DELOS ANGELES
August 17, 2018
CALBAYOG CITY – As part of the Build Build Build Program of the present administration, the Department of Public Works and Highways Samar First District Engineering Office (SFDEO) completes the rehabilitation and improvement of the flood control project along Bantian Creek, Brgy. Bantian, Calbayog City.
The project covers the construction of 96 meters of flood mitigating structures in addition to the already existing flood control project along the creek. It is under contract with JFR Construction with an appreciation of P10 million sourced out from the 2018 General Appropriations Act (GAA) Fund.
The flooding in Brgy. Bantian brought about by the monsoon rain affects so much of their residents' properties. During the last flood, their barangay hall got flooded and even elevated houses were not spared.
The existing flood control project can no longer accommodate the volume of water overflow caused by heavy rainfall, especially during typhoon season. It also worsened during high tides because the creek is connected to Samar Sea.
The rehabilitation and improvement of this flood control project has a widened catchment that can now accommodate an even higher volume of water capacity.
With this, flooding is not only mitigated but prevented.
Q2 fishery production in Eastern Visayas drops by 20.7%
By PSA-8
August 17, 2018
TACLOBAN CITY – Fishery production in Eastern Visayas dropped by 20.7% from 34,200 metric tons (MT) in the second quarter of 2017 to 27,124 MT in the second quarter of 2018.
All provinces registered decreases in fishery production, except Biliran and Southern Leyte, which recorded increases of 1.6% and 7.6%, respectively from their levels of production in the same quarter in 2018. Leyte recorded the highest decrease of 37.5%, from 8,292MT in the second quarter of 2017 to 5,185 MT during the quarter in review.
Among provinces, Samar produced the highest volume of fishery production at 8,636 MT, which comprised 31.8% of the total fishery production in the region. Eastern Samar ranked second with 6,003 MT, which accounted for 22.1% of the region's total fishery production. Biliran, meanwhile registered the lowest volume of production with 5.7% share or 1,538 MT.
By subsector, volume of production in Commercial Fishing went down by 28.0%, from 3,934 MT in the second quarter of 2017 to 2,833 MT in the same period in 2018. All provinces registered decreases, except Biliran, the only province that recorded a slight increase of 2.2%. Southern Leyte recorded the highest decrease of 73.9%, from 367 MT in the second quarter of 2017 to 96 MT during the quarter in review.
Similarly, volume of production in Municipal Fishing (marine and inland) registered a decrease of 20.5%, from 22,939 MT in the second quarter of 2017 to 18,238 MT in the same quarter in 2018. All provinces registered decreases, except Biliran and Southern Leyte, which posted increases of 1.4% and 38.3%, respectively. Leyte registered the highest decrease in volume of production at 55.1%.
Volume of production in Aquaculture also declined by 17.4%, from 7,328 MT in the second quarter of 2017 to 6,052 MT in the same period in 2018. Among provinces, only Biliran and Northern Samar registered growths in production of 20.4% and 21.9%, respectively. However, the increases were negated by the decreases recorded by Eastern Samar (41.9%), Leyte (21.1%), Southern Leyte (47.4%) and Samar (15.1%).
About two-thirds or 67.2% (18,238 MT) of the total fishery production in the region were from Municipal Fishing. Aquaculture contributed 22.3% (6,052 MT), while Commercial Fishing accounted for 10.4% (2,833 MT).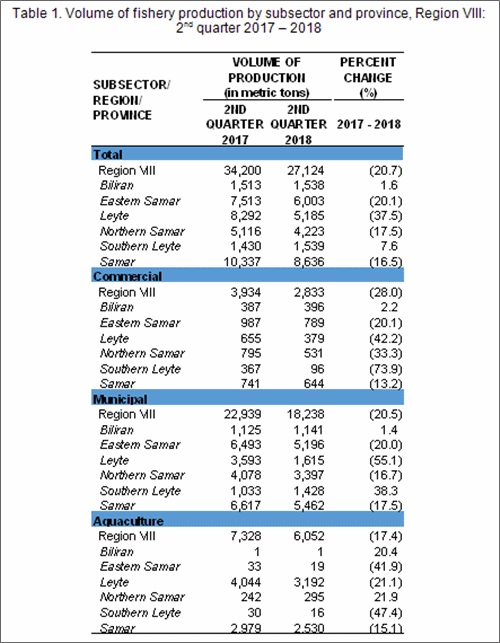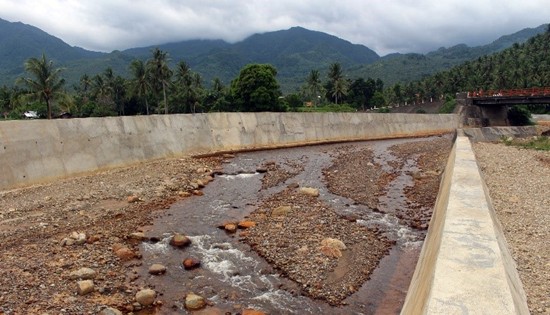 P18.5M construction/extension of flood control structure along Mapula river protecting Mapula bridge and Biliran circum road, Biliran, Biliran Province is 100% completed as of July 31, 2018. This project is in contract with YOYEN Enterprises. The completed project will prevent flooding on the said area protecting not only the bridge but the surrounding agricultural lands.
DPWH-Biliran DEO completes 13 flood control projects in Biliran
Press Release
August 15, 2018
NAVAL, Biliran – Following the department's new approved plans and specifications for flood mitigation structures, District Engineer David P. Adongay Jr. assures quality implementation for completed flood control projects in Biliran.
The Department of Public Works and Highways (DPWH) Biliran District Engineering Office (BDEO) has a total of 18 flood control projects this year amounting to P371.5M under the Flood Management Program.
Out of the 18 flood control projects, the district office has completed 13 and eyeing for the completion of 5 more for the next two months.
According to Adongay, the previous design of flood control is no longer the same as the design of the district office at present.
"We have already an additional reinforcing bars on the revetment side designed to protect from flooding," said Adongay.
Recalling tropical storm Urduja last year that badly hit almost the entire province, Adongay said that district's new design of flood control projects have withstand against major flooding.
"Based on our experience, yung mga bagong design hindi nasira nung Urdjua, pero depende rin sa river at lugar kasi merong lugar na binaha pero walang kasamang debris," Adongay explained.
Adongay further added that the goal of these flood control projects is to ensure safe environment through these facilities, leading economic growth towards poverty reduction.
"As regards the completed flood control projects in the province, these are important infrastructure projects to the populace and community as their lives and properties are protected against major floods," said Adongay.
The completed flood control projects are located along the rivers of Bagongbong in Almeria, Busali and Santol in the Municipality of Biliran, Esperanza in Cabucgayan, Mainit, Mapula and Kaulangohan in Caibiran, Bool in Culaba, Madao, Tucdao and Ungali in Kawayan, Banlas in Maripipi, and Anas in Naval, the capital town.
Teachers slam drastic cuts in proposed Duterte 2019 education budget
By Alliance of Concerned Teachers
August 15, 2018
QUEZON CITY – The Alliance of Concerned Teachers lambasted the hefty cuts in the proposed education budget of the Department of Budget and Management for 2019, saying that the Duterte regime's purported prioritization of human resource development is a "big farce," as far as education budget is concerned.
"The drastic cuts in the proposed education budget for 2019 more accurately mean 'human resource destruction' than development to teachers, students, and the whole nation," said Raymond Basilio, ACT Philippines Secretary-General.
The DBM-proposed education budget is 6.4% or P44.87 billion lower than the approved 2018 budget for education. The Department of Education is about to suffer an 8.9% budget slash which is equivalent to P51.8 billion. It is in fact 28% short of what the agency requested. Despite the enactment of the Universal Access to tertiary Education Law, budget for State Colleges and Universities will still be decreased by .07% or P45.95 million.
Basilio expressed dismay over DepEd Secretary Briones' quick retraction of the criticism on the looming budget cuts on the agency, saying that "DepEd exposes itself as spineless in standing up for the interest of teachers and the rest of the education sector."
"The cuts spell further hardships to education workers on pay and workload, worsening shortages on facilities and materials, and greater inaccessibility of education to Filipinos," Basilio stated. Aside from President Duterte's salary increase promise being amiss in the budget, personnel services allocation in the education sector will effect cuts of P6.4B in personnel benefits and P19.8B decrease in allocation for the creation of new teaching and non-teaching items.
The long overdue increase in the allotted special hardship allowance proposed by the Department of Education was totally disregarded. Funds for the implementation of medical treatment and annual health examination of teachers guaranteed in the 1966 Magna Carta, as well as budget for benefits under the collective negotiations agreements were practically non-existent in the draft budget.
"It seems this government is condemning education workers to slow death. While it wrings us of indirect taxes under the TRAIN Law which will fund 39% of the 2019 budget, it deprives us of our legitimate and legal pay. It denies us further of additional teaching and non-teaching personnel much-needed to alleviate overwork which has caused the death of our colleagues recently," complained Basilio.
The proposed budget for DepEd and SUCs reflect big slashes in the allocation for facilities repair and replacement, procurement and computers, laboratory equipment, textbooks and manuals, and construction of new buildings.
"The cuts are tantamount to the further decline of quality and access to education. This is destructive to the nation's human resource, especially the next generation. Mr. President, you always say that you cannot just watch our youth being wasted on drugs, but by abandoning education, you let them go to the dogs!" called out Basilio.
However, it is remarkable how payment of vouchers to private schools remains to be included in the top 10 items with the biggest allocation in the budget for education, with a P5B increase for DepEd's SHS Voucher Program to private secondary schools.
"Instead of investing in public schools which can accommodate large numbers of pupils for years, it would rather hand out public funds to private businesses," noted Basilio.
The proposed budget will effect as well an 84% decrease in budget for all state colleges and universities.
"The Duterte government now carries out the paralyzation and the eventual death of SUCs. It only goes to show how insincere this regime is in implementing free tertiary education," Basilio concluded.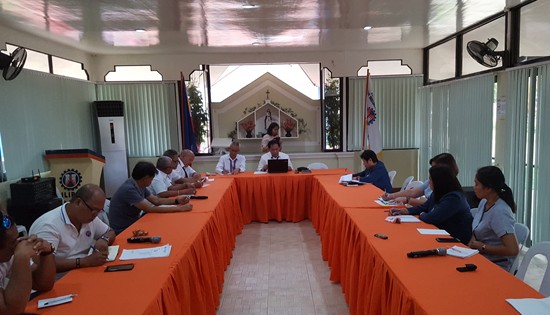 District Engineer David P. Adongay Jr., (center-right) presiding over the staff meeting with Assistant District Engineer Alfredo L. Bollido (center-left), Section Chiefs, Unit Heads, Project Engineers and Staff on August 9, 2018 at DPWH Conference Room. One of the highlights of the meeting is regarding on the implementation of 2019 Cash-based budgeting System.
Biliran DEO gets P1.2B budget for next year based on NEP
Press Release
August 13, 2018
NAVAL, Biliran – The Department of Public Works and Highways (DPWH) Biliran District Engineering Office (BDEO) has a total allotment budget of P1.2B including region wide projects for year 2019 project implementation based on National Expenditure Program (NEP).
David P. Adongay Jr., District Engineer disclosed that out of the allotted amount, the district office will only implement P813.9M while P397.9M will be implemented by the DPWH Regional Office VIII. This is 30% lower than the 2018 General Appropriation Act (GAA) budget amounting to P1.6B.
Engr. Rosario B. Rosete, Chief of Planning and Design Section said that BDEO has 61 total proposed projects for 2019 with 56 projects to be implemented by the district office.
Rosete added that out of the 56 projects, 12 are already surveyed and three Plans and Program of Works (POWs) are already completed. Preliminary and Detailed Engineering (PDE) activities are on-going for the remaining projects.
"We can already advertise all projects by August this year," Rosete said.
According to Adongay, the department is rushing all Regional and District Offices to complete the detailed engineering activities on projects based on NEP to easily implement the same by next year under the cash-based program.
In 2019, the government will be shifting from obligation-based budgeting system to cash-based budgeting system which means that implementing offices has given only one year to finish all projects based on the respective budget allotted.
"Our aim is 100% completion in 2019, although not practical but that is reality," Adongay said.
"If we want to move ahead, we should shift our paradigm," he added.
Adongay said that proposed projects in NEP are just minimum proposed projects and should expect changes for additional projects upon approval of the General Appropriations Acts (GAA).
Go assures AFP of PRRD's full support
By OSAP Media
August 11, 2018
CATBALOGAN CITY – Special Assistant to the President (SAP) Secretary Christopher Lawrence "Bong" Go today assured the Armed Forces of the Philippines (AFP) of President Rodrigo Duterte's full support.
Visiting this city for the celebration of Samar Day, Go went to the Camp Lukban Station Hospital to personally check on the condition of three soldiers who had been wounded in action.
"Nagpapagaling na so medyo OK na sila (They are recovering already)," Go said. "Hopefully they can leave the hospital and go back on duty."
He said he will extend help if the three soldiers need to continue treatment in Manila. "Anything that they need in Manila, the government is willing to help them," he said.
When Go asked hospital doctor Captain Nikaelle Guevara what the Camp Lukban Station Hospital needs, the latter replied that they need an x-ray machine as well as new hospital mattresses. "You write us a letter, then I will immediately follow it up," Go said.
He said this is in line with President Duterte's commitment to support the AFP fully. "'Do not worry, full support ko kayo,'" Go quoted Duterte as saying.
CNTs launch pre-dawn raid in Lapinig, N. Samar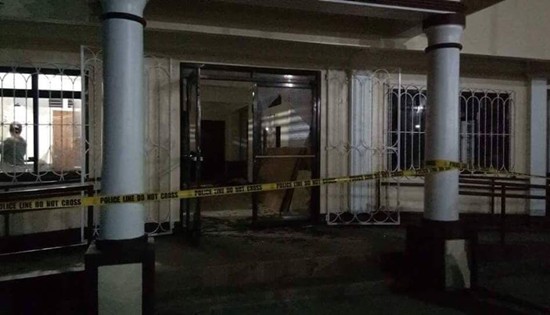 By DPAO, 8ID PA
August 10, 2018
CAMP LUKBAN, Catbalogan City – The Municipal Police Station (MPS) of Lapinig, Northern Samar manned by six PNP personnel under PCI Noly Montibon, Chief of Police was raided by undetermined number CPP-NPA Terrorists (CNTs) onboard two dump trucks and one jeep at around 2:00 A.M. on August 10, 2018.
The firefight lasted for about 15 minutes that resulted in the wounding of PO1 Edison Aguerre and PO2 Jerry Quilicol. The CNTs carted away the following items: 10 assorted high powered firearms, three handguns, undetermined numbers of ammunition/magazine, undetermined numbers of MPS desktop/laptops, and the MPS hotline cellular phone.
It can be recalled that on July 13, 2018, Marieta "Tayang" Bartolo, Front Secretary of Metro 1, SRC Emporium an NPA unit operating in the municipalities of Pambujan, San Roque, Silvino Lobos, Las Navas, Mondragon, and Catarman all of Northern Samar and Ruth Martirez Figueroa, Bayan Muna President-Northern Samar, an incumbent Barangay Chairwoman of UEP, Zone 3, Catarman, N.Samar and three others were apprehended at a checkpoint. The Lapinig raid coincided with today's scheduled arraignment of "Tayang" who has two warrants of arrest issued by the Gamay Regional Trial Court.
Maj. Gen. Raul M. Farnacio, Commander 8ID condemns the pre-dawn attack conducted by these CNTs as a terrorist act against the people of Lapinig, N. Samar.
In his statement, Maj. Gen. Farnacio said that, "It only shows how desperate they are in their armed struggle, I urged the community to report to the authorities the presence of any armed group in your area. Security is a shared responsibility of everyone; it is not just for us, the security forces and government institutions but also in collaboration with civil society and the communities."
Eastern Visayas' inflation rate eases to 5.9% in July 2018
By PSA-8
August 10, 2018
TACLOBAN CITY – The annual Inflation Rate (IR) of Eastern Visayas declined to 5.9% in July after posting the record-high 6.3% in June. This IR was 0.4 percentage point lower compared with the 6.3% IR a month ago, but 2.7 percentage points higher than the recorded 3.2% IR in the same period last year. The regional inflation rate was 0.2 percentage point higher than the 5.7% national average in July.
Four provinces in the region – Biliran, Leyte, Northern Samar, and Samar, posted lower inflation rates in July with 0.5 percentage point, 0.4 percentage point, 1.0 percentage point, and 0.1 percentage point decreases, respectively, compared with their figures in the previous month. On the other hand, increases were noted in Eastern Samar (0.3 percentage point) and Southern Leyte (0.1 percentage point). Eastern Samar registered the highest IR at 7.8%, while Southern Leyte posted the lowest IR at 1.5% (Table 1).
By major commodity groups, Education recorded the highest decrease of a hefty 19.7 percentage points, from 3.5% in June to -16.2 percent in July. It posted the lowest and the only commodity with negative inflation among all commodity groups. This may be attributed to the implementation of the free tuition law among State Universities and Colleges.
Annual price changes in Alcoholic Beverages and Tobacco slowed down by 0.4 percentage point from its previous month's rate, but still recorded a double digit inflation rate of 21.6%, the highest among all commodities.
The heavily weighted Food and Non-Alcoholic Beverages went up by 0.3 percentage point, from 7.9% in June to 8.2% during the reference month. This can be attributed to faster price increases in rice, corn, fish, vegetables, and sugar, jam, honey, chocolate and confectionery products. Fish remained to have a double digit inflation at 18.5%, the highest among all food items. Communication, meanwhile, recorded zero inflation rate in July.
The Purchasing Power of Peso (PPP) of the region remained at P 0.81 in July 2018. This PPP implies that goods and services worth 100 pesos in July 2018 only costs 81 pesos in 2012.
All provinces sustained their PPP from last month, except Northern Samar, the only province that registered a 0.01 centavo increase in the PPP with its figure a month ago. Leyte recorded the strongest PPP at P0.84. Southern Leyte ranked second at P0.83, followed by Biliran at P0.82, Eastern Samar at P0.79, and Northern Samar at P0.77. Samar, meanwhile, posted the weakest PPP at P0.76 (Table 1).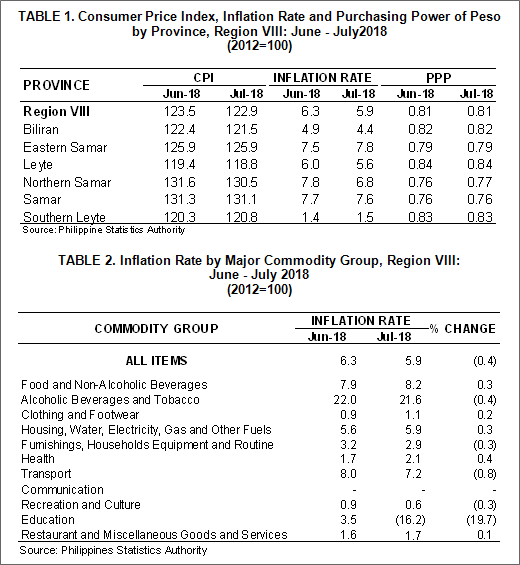 Gov't workers decry planned cut on IRA share
By LEAGUE
August 10, 2018
QUEZON CITY – Local government employees opposed the proposal of President Rodrigo Duterte's economic managers of lowering the local government units Internal Revenue Allotment (IRA) share in favor of the national government in response to the recent Supreme Court ruling that the IRA must be sourced from "all national taxes and not only internal revenue taxes".
The IRA amounted to P575.52 billion under the proposed 2019 national budget, a far cry from the P732 billion IRA if the Supreme Court's ruling in favor of the "just share" of LGUs would be implemented next fiscal year.
The League of Local Government Units Employees (LEAGUE-COURAGE), a federation of LGU employees associations and unions, said that social services to the people and the security of tenure of rank-and-file employees will be the first casualties if the national government decides to reduce the allotment.
"The jobs of LGUs project-based employees who have been performing the regular mandate of the government would be affected by the cut on the IRA as their salaries are sourced from the revenue allotment. Mass lay-off of government employees nationwide is imminent if the US-Duterte regime decides on the cut on the IRA", said LEAGUE president Erwin Lanuza.
"The current LGU and national government share of 40%-60% to a possible reduction of 30%-70% can only be altered if there is an "unmanageable public service deficit according to the Local Government Code. If this will happen, it will be greatly disadvantageous to LGUs, local communities and employees especially in the delivery of much needed local social services such as education, health, housing, agriculture, water and others, COURAGE National President Ferdinand Gaite said.
He surmised that the unmanageable public service debt is actually due to Duterte's adherence to the neo-liberal economic program pushed by US, China and other foreign monopoly capital increasing the debt and debt service, increasing the AFP and PNP budget, the drive for more infrastructure spending under the Build, Build, Build which only favor the few. Another impact is that once allotments are reduced and funding for local hospitals, schools, housing, water and other social services, the privatization of such services (another neo-liberal program) will not be far behind leading to more expensive services and lay-off of employees.
Lanuza said that government workers, are actually clamoring for the regularization of contractuals and have lost faith in Duterte's promise. Instead, they are pushing for the passage of House Bill 7415 file by Bayan Muna Representative Carlos Zarate and the Makabayan Bloc which will end contractualization and entitle non-regular workers in government security of tenure and civil service eligibility. They are also pushing for a national minimum wage of P16,000 a month for all government employees whether national or local.