Teachers slam drastic cuts in proposed Duterte 2019 education budget
By Alliance of Concerned Teachers
August 9, 2018
QUEZON CITY – The Alliance of Concerned Teachers lambasted the hefty cuts in the proposed education budget of the Department of Budget and Management for 2019, saying that the Duterte regime's purported prioritization of human resource development is a "big farce," as far as education budget is concerned.
"The drastic cuts in the proposed education budget for 2019 more accurately mean 'human resource destruction' than development to teachers, students, and the whole nation," said Raymond Basilio, ACT Philippines Secretary-General.
The DBM-proposed education budget is 6.4% or P44.87 billion lower than the approved 2018 budget for education. The Department of Education is about to suffer an 8.9% budget slash which is equivalent to P51.8 billion. It is in fact 28% short of what the agency requested. Despite the enactment of the Universal Access to tertiary Education Law, budget for State Colleges and Universities will still be decreased by .07% or P45.95 million.
Basilio expressed dismay over DepEd Secretary Briones' quick retraction of the criticism on the looming budget cuts on the agency, saying that "DepEd exposes itself as spineless in standing up for the interest of teachers and the rest of the education sector."
"The cuts spell further hardships to education workers on pay and workload, worsening shortages on facilities and materials, and greater inaccessibility of education to Filipinos," Basilio stated. Aside from President Duterte's salary increase promise being amiss in the budget, personnel services allocation in the education sector will effect cuts of P6.4B in personnel benefits and P19.8B decrease in allocation for the creation of new teaching and non-teaching items. The long overdue increase in the alloted special hardship allowance proposed by the Department of Education was totally disregarded. Funds for the implementation of medical treatment and annual health examination of teachers guaranteed in the 1966 Magna Carta, as well as budget for benefits under the collective negotiations agreements were practically non-existent in the draft budget.
"It seems this government is condemning education workers to slow death. While it wrings us of indirect taxes under the TRAIN Law which will fund 39% of the 2019 budget, it deprives us of our legitimate and legal pay. It denies us further of additional teaching and non-teaching personnel much-needed to alleviate overwork which has caused the death of our colleagues recently," complained Basilio.
The proposed budget for DepEd and SUCs reflect big slashes in the allocation for facilities repair and replacement, procurement and computers, laboratory equipment, textbooks and manuals, and construction of new buildings.
"The cuts are tantamount to the further decline of quality and access to education. This is destructive to the nation's human resource, especially the next generation. Mr. President, you always say that you cannot just watch our youth being wasted on drugs, but by abandoning education, you let them go to the dogs!" called out Basilio.
However, it is remarkable how payment of vouchers to private schools remains to be included in the top 10 items with the biggest allocation in the budget for education, with a P5B increase for DepEd's SHS Voucher Program to private secondary schools.
"Instead of investing in public schools which can accommodate large numbers of pupils for years, it would rather hand out public funds to private businesses," noted Basilio.
The proposed budget will effect as well an 84% decrease in budget for all state colleges and universities.
"The Duterte government now carries out the paralyzation and the eventual death of SUCs. It only goes to show how insincere this regime is in implementing free tertiary education," Basilio concluded.
Eastern Visayas records $49.4M trade deficit in May 2018
By PSA-8
August 9, 2018
TACLOBAN CITY – The region reflected a continued deficit in the total balance of trade in goods (BoT-G), posting a drastic drop by 424.2% to $49.4 million in May from $9.4 million in May 2017.
The region's total trade in goods in May 2018 amounted to $177.4 million, equal to the registered value in the same period last year. Total exports amounted to $64.0 million, which was 23.8% lower compared with the $84.0 million in May 2017. Total value of imports, meanwhile, was recorded at $113.4 million, 21.4 percent higher compared with the $93.4 imports posted in the same period last year.
The region's total volume of exports in May 2018 was posted at 97.0 million kilograms. The commodity group of Copper and Articles thereof was the major export during the month in review with a total revenue of $61.6 million, accounting for 96.4% of the region's total exports revenue in May 2018.
People's Republic of China was the top export market destination with a recorded total exports revenue of $61.6 million, which shared 96.4% of the region's total exports.
Meanwhile, the region's total imports amounted to $113.4 million in May 2018 with total gross weight of 94.0 million kilograms. Ores, Slag and Ash commodity group was the major import during the month with a total revenue of $104.4 million accounting for 92.0% of the region's total imports in May 2018.
The top import supplier of the region was Australia, recording a total imports bill of $51.6 million, which comprised more than two-fifths (45.5%) of the region's total imports.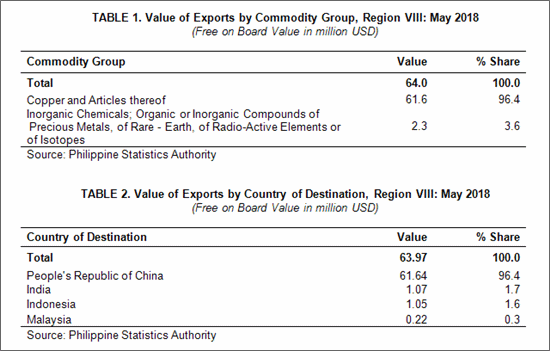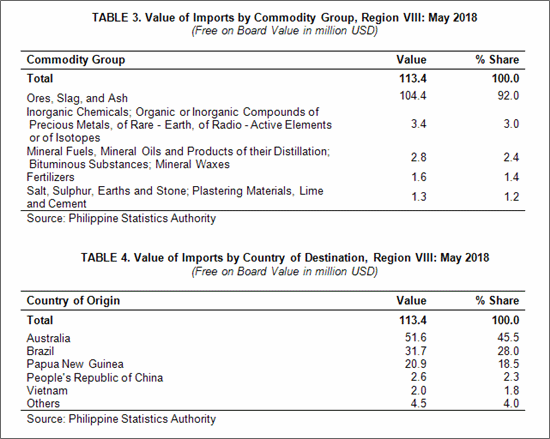 NPA couple surrenders to Army in Cotabato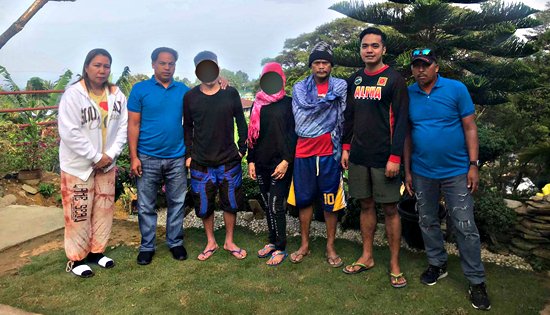 By 19th Infantry Battalion, 8ID PA
August 8, 2018
MAGPET, North Cotabato – Tired and disgruntled, a couple from the hinterland barangay of Magpet, North Cotabato surrendered to the Army's 19th Infantry Battalion, Tuesday, August 7.
The surrenderers, "Alias George" and his wife "Alias Joan" were formerly full-time members of Guerilla Front 53 and Pulang Bagani Command (PBC) 3, under the outlawed Communist New People's Army Terrorist (CNT) that operates in North Cotabato.
The couple was accompanied by local officials headed by village Chief Roldan Pelonio when they surrendered to 1Lt. Prolen Bonacua, Commanding Officer of Alpha Company at Barangay Manobo of the said town. They are now the latest addition to the list of former NPA rebels who surfaced to 19th Infantry Battalion since April this year.
Alias George has already acquired higher position in the organization. But still, he surfaced due to hardships and infighting among members. He also came to knew that the military together with the local officials were aggressively supporting the reintegration process of former NPA rebels.
"I just want to live a normal life together with my wife and children, like our former comrades who already yielded ahead of us", Alias George said.
Meanwhile, Lt. Col. Ehrlich Noel Paraso, Commanding Officer of 19th Infantry Battalion said that documentary requirements for the enrollment of Alias George and his wife in the Enhanced-Comprehensive Local Integration Program (E-CLIP) will be immediately processed.
He also reiterated his call to the remnants of the NPA rebels who are still out in the mountains to surrender for them to avail of the various programs of the government.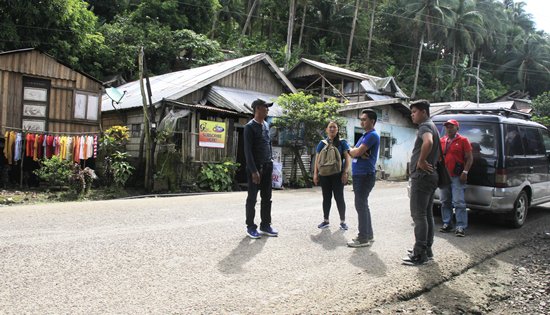 (L-R) Assistant Chief Maintenance Engr. Rogelio Bonoan, MPP Engr. Ronalie Pelotos, and Road Inspector Engr. Edgar Cuenco at a road section along Calbayog-Allen Road.
Samar I improves road maintenance rating for 2018
By MAE ANGELICA R. COMOTA
August 6, 2018
CALBAYOG CITY – The Department of Public Works and Highways Samar First District Engineering Office (SFDEO) obtains an 88.05% rating in its compliance with the guidelines on the maintenance of national roads and bridges for the first semester of 2018.
Engr. Edgar Cuenco from the Department's Bureau of Maintenance conducted the road rating inspection and validation last February 2018, inspecting a total of 144.80 kilometers of paved road, divided into 101.2 kilometers of asphalt roads and 43.6 kilometers of concrete road.
The 88.05% road rating, which was released just this month, is higher than last year's overall rating of 87.4%.
"Public safety is the primary priority in maintaining our roads and bridges. This semester's accomplishment is a testament to the continuous efforts of our maintenance point persons and their teams who have tendered services beyond the regular working hours just to ensure safe and well-maintained roads for the travelling public," said District Engineer Alvin Ignacio.
Currently, SFDEO is gearing up for the next semester's road inspection and validation and is looking forward to surpass this semester's rating.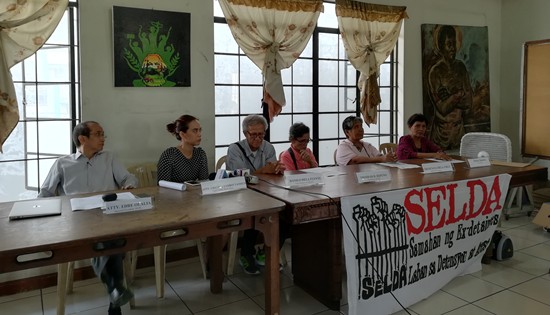 At the press conference of SELDA with martial law victims and lawyers from the National Union of People's Lawyers.
Martial law victims call to get remaining P800M of reparation, seek Congress support
By SELDA
August 6, 2018
QUEZON CITY – "After so many hurdles before being able to receive reparation and recognition, we do not want to leave anyone behind, especially the legitimate victims of martial law. Ultimately, we should make sure that all funds intended for the victims and their kin should be given to them."
Thus said SELDA chairperson Trinidad Herrera-Repuno, as the group is now appealing to extend the validity and availability of funds intended for reparation for martial law victims for those who have not claimed their compensation.
About P800 million worth of funds remain undistributed, as many approved claimants were unable to encash their checks. The fund, which is currently with the Human Rights Victims Claims Board's account with Land Bank of the Philippines, will only be maintained until August 11, after which it will be reverted to the Bureau of Treasury.
"We are concerned that many martial law victims from different parts of the country might not be able to resolve these issues before the said date. Ultimately, it would be a disservice and injustice for the legitimate victims to be denied receipt what is justly theirs. It is our responsibility, even when many of us have received reparation, to call on the government to do something to address this," Herrera-Repuno said.
SELDA cited the case of Cresencia Hizarsa, common-law wife of desaparecido Abner Hizarsa, who was a victim of illegal arrest detention under Marcos. Because he was disappeared in 2007, Cresencia filed for claims in Abner's absence. However, after fulfilling the requirements said to her like special powers of attorney, birth certificates of their children, the check issued to Cresencia was still named after Abner. There is no possibility that Cresencia can encash the check, only when it is named after her.
"The claims board has ceased existence, which is why we call on the Lower House and the Senate to support the joint resolution to extend the validity of funds, to give more time to resolve concerns such as that of Cresencia," said Herrera-Repuno.
On July 19, Bayan Muna partylist Rep. Carlos Isagani Zarate filed Joint Resolution No.24 entitled "Extending the Validity and Availability of the Fund for the Marcos Human Rights Violation Victims wth Land Bank of the Philippines and Authorizing the Commission on Human Rights to Administer the Effective Distribution of the Funds to Qualified Victims of their Heirs or Representatives until December 2019, Amending for the Purpose RA No. 10368 and RA No. 10766."
SELDA is lobbying for both houses to support the said joint resolution.
"Umaasa ako at ang aming buong pamilya ng tulong mula sa inyo para makamit namin ang hustisya. Alam kong hindi sasapat ang monetary reparation para makamit ang hustisya para sa amin, bagamat maiibsan nito ang bigat ng aming dalahin at ito'y parte ng tagumpay sa matagal nating ipinaglalaban (Me and my family hope for help from you to attain justice. I understand that the monetary reparation is not enough to attain justice for us, although this may give respite from the burden that we carry. This is part of the victory that we have been fighting for a long time," said Cresencia.
PIO staff conducts project documentation of school building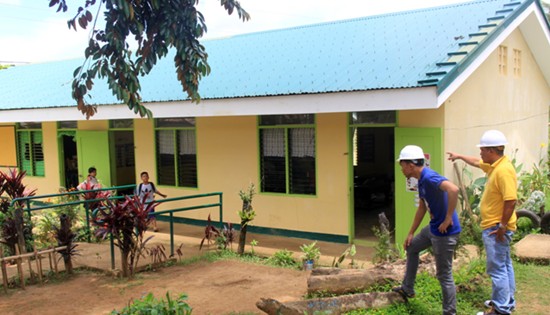 By PATRICK LEONEL A. MOLINA
August 5, 2018
CALBAYOG CITY – The Department of Public Works and Highways Samar First District Engineering Office' (SFDEO) Public Information Office staff conducts project documentation with the beneficiaries of four school building projects within the jurisdiction of the District on August 3, 2018.
The projects documented are Construction of One (1) Storey Two (2) Classroom with toilet Oquendo Central Elementary School, Construction of One (1) Storey Three (3) Classroom (with toilet) Carmen Elementary School, Construction of One (1) Storey Three (3) Classroom with toilet Sinidman Or. Primary School and Construction of One (1) Storey Three (3) Classroom Nijaga Elementary School in Calbayog City. These projects have a combined appropriation of P15,563,196 sourced out from the BEFF CY 2017 fund.
Assistant District Engineer Denis C. Cagomoc, head of the District's Inspectorate Team, leads the recently held inspection of the project, and School Principal Castante accompanies the team during the inspection.
The beneficiaries of the aforementioned projects attested to the benefits attained from the fulfillment of the projects. Moreover, they gave their testimony specifying the relevance of the latter towards their daily lives.
"In the past few years we have experienced a steady increase in the number of students who enroll at our school. This project comes at an opportune time as it offers a more conducive learning environment," said Principal Castante.
The project documentation with the beneficiaries is a part of Communication Development Program of the Department.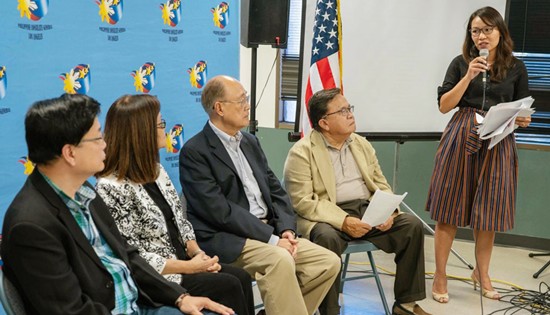 Panel members in photo (L-R): Mr. Armando Bartolome, Ms. Linda Stone, Dr. Ed Arcinue, Mr. Eduardo Romualdo with DTI Trade Commissioner Celynne Layug (standing).
DTI leads business workshop for Filipinos in LA
By DTI-TIPG-FTSC
August 2, 2018
MAKATI CITY – The Department of Trade and Industry through its Philippine Trade and Investment Center Los Angeles (PTIC-LA) in cooperation with the Philippine Consulate General and Philippine Department of Tourism in Los Angeles officially launched the Trabaho, Negosyo, Kabuhayan (TNK) workshop for Overseas Filipino Investors (OFIs) in Los Angeles, California.
Participated in by more than fifty (50) professionals, food trade entrepreneurs, and representatives of Filipino-American organizations, the workshop was graced by Consul General Adelio S. Cruz of the Philippine Consulate General, Los Angeles. The seminar also served as an avenue for the announcement of the establishment of the TNK clinics as part of the Consulate's regular program in collaboration with PTIC-LA. The TNK clinic is set to be a monthly workshop for OFIs of PTIC-LA.
Meanwhile, Trade Commissioner Celynne Layug provided updates on the Philippines' overall economic performance and the DTI's 7Ms strategy for MSME Development which include mindset, mastery, mentoring, markets, money, machines and models of business. Trade Assistant Rowena Namay further shared the available resources in Negosyo Centers located in various regions and provinces in the Philippines.
The seminar also featured a panel discussion on "OFIs as catalyst for growth." Panel members include APR Consulting, Inc. Founder and CEO, Ms. Linda Stone; Sual Global International, Inc., Owner, Dr. Edgardo Arcinue; GMB Management Services Global, Inc., President Mr. Armando Bartolome; and Asset Laboratories Finance/Administration Representative Mr. Eduardo Romualdo. As professionals in their respective fields, the panel members shared their insights and experiences on the various opportunities and learnings in starting a business in the Philippines with respect to services, testing, livestock/manufacturing, and franchising.
Trabaho, Negosyo, Kabuhayan (TNK) is a new government blueprint for decent job creation through employment and entrepreneurship. It was a joint effort of the Department of Trade and Industry (DTI) and Department of Labor and Employment (DOLE).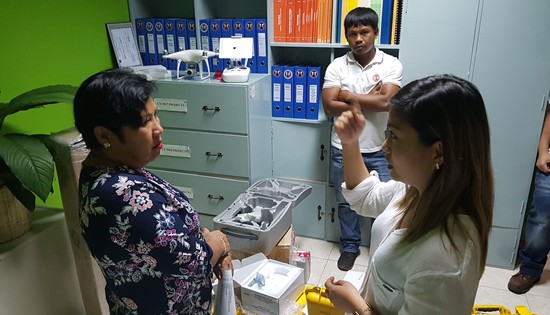 Engr. Rosario B. Rosete (left), Chief of Planning and Design Section inspects the surveying equipments worth P3M which includes Real-time kinematic (RTK) satellite navigation and state-of-the-art drone on July 9, 2018 at the Planning and Design Section.
DPWH-Biliran DEO now equipped with enhanced survey use equipments
Press Release
August 2, 2018
NAVAL, Biliran – The Department of Public Works and Highways (DPWH) Biliran District Engineering Office (BDEO) is now advancing its planning processes through the use of the newly acquired surveying equipments.
David P. Adongay Jr., District Engineer said that BDEO has recently procured P3M worth of Real-Time Kinematic (RTK) satellite navigation and a state of the art drone that will help surveyors upgrade its planning and surveying methods.
RTK positioning satellite navigation is a technique used to enhance the precision of position data derived from satellite-based positioning systems such as GPS, among others.
"The procurement of RTK and Drone will keep Biliran in league with its counterpart district offices which have already state of the art surveying instruments," said Adongay.
Engr. Rosario B. Rosete, Planning and Design Chief said that BDEO is previously using the traditional total station instrument to measure angles in both the horizontal and vertical planes.
"The use of the latest model of RTK will lessen the tediousness in the preparation of plans in as much as the data gathered using RTK can automatically show the profile, traverse, contours and cross section of the project surveyed," Rosete said.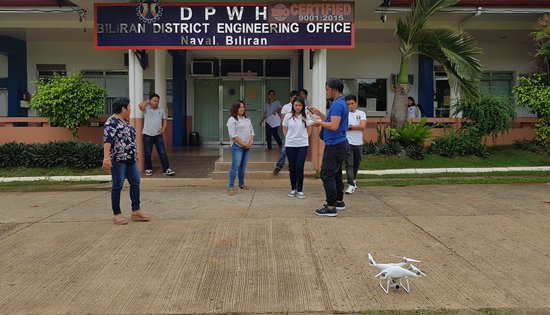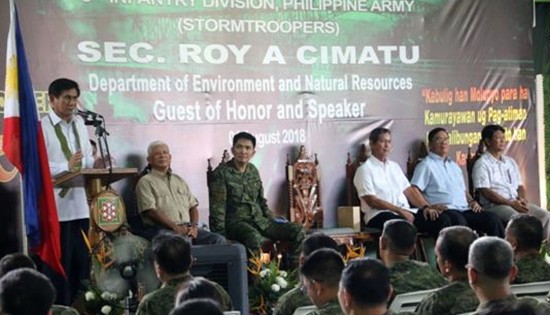 DENR Sec. Roy A. Cimatu addresses the men and women of the Stormtroopers Division during its 30th Founding Anniversary on August 1, 2018 at the 8ID Covered Court joined by four former 8ID Commanders namely MGen. Glenn Rabonza AFP (Ret.), MGen. Rufo de Veyra AFP (Ret.), LtGen. Arthur Tabaquero AFP (Ret.), and MGen. Mario Chan AFP (Ret.)
Stormtroopers marks its 30th Founding Anniversary
By DPAO, 8ID PA
August 2, 2018
CAMP LUKBAN, Catbalogan City – The 8th Infantry (Stormtroopers) Division, Philippine Army marked its 30th Founding Anniversary with this years' theme, "Kabulig han Molupyo ha Kamurayawan, ug Pag-atiman han Kalibungan Pakadto han Kauswagan," this August 1, 2018 with Secretary Roy A. Cimatu of the Department of Environment and Natural Resources as Guest of Honor and Speaker.
The event included a wreath-laying ceremony in honor of the fallen comrade-in-arms and in recognition of their heroism and ultimate sacrifice in the pursuit of peace in Eastern Visayas and in Mindanao. The ceremony was attended and witnessed by four of 8IDs Former Division Commanders, retired MGen. Rufo de Veyra, retired MGen. Glenn Rabonza, Usec. Arthur Tabaquero, the current Presidential Adviser on Military Affairs and retired MGen. Mario Chan, Head Executive Assistant, DENR, soldiers and their loved ones, officers, civilian employees, and invited guests.
Secretary Cimatu also led the awarding to deserving personnel who have shown meritorious achievement in combat and non-combat role that significantly contributed to the overall success of the 8ID's mission.
In addition, civilian stakeholders who also contributed to the accomplishments of your Army in Eastern Visayas were also awarded with plaques of recognition during the said occasion. Among the awardees were Atty. Bonifacio G. Uy, CESO IV, Regional Director, National Economic and Development Authority (NEDA) Region 8; Ms. Marivel Sacendoncillo, CESO III, Regional Director, Department of Interior and Local Government (DILG) Region 8; Mrs. Melba J. Arino, Land Management Officer III, CENRO, Pambujan, Northern Samar; Atty. Eunice U. Babalcon, Municipal Mayor of Paranas, Samar; and Mrs. Elena G. Piczon.
Sec. Roy A. Cimatu in his message expressed that, "Today, the Stormtroopers carry a legacy as partners of the Department of Environment and Natural Resources (DENR) in ensuring the environmental protection as deputized agents in the National Greening Program. Anti-illegal logging, enforcement of other related laws of the environment, and preservation of ecological balance and biodiversity."
"I wish you all the best. I congratulate each and everyone for a job well-done. Happy 30th Anniversary to you all. Damo nga salamat at mabuhay tayong lahat!" Cimatu concluded. The DENR Secretary also viewed 8ID's photo display as well as PENRO Samar's information booth prior to granting interviews with the media. He and his party capped their visit by joining the Stormtroopers in the traditional boodlefight.
DPWH completes flood control extension in Calbayog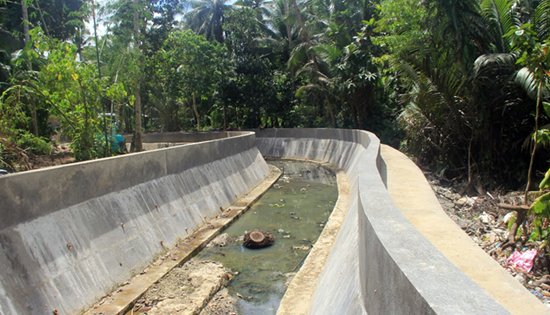 By ELENOR A. ANOLLADO
August 1, 2018
CALBAYOG CITY – The Department of Public Works and Highways Samar First District Engineering Office (SFDEO) completes the construction and extension of flood control structures in Brgy. Oquendo, Calbayog City.
The P40 million project which was completed last July 18, 2018, consists of 586 meters of flood mitigating structures using structural concrete and reinforcing steel. It is under contract with Victoria Development and Construction Supply Corp.
This project serves as an extension to the existing flood control structures in Oquendo and aims to protect the residents of nearby barangays; Begaho and Nabang. These areas lie adjacent to Jibatang River and are subjected to the abrupt changes in water levels that cause flooding.
"On behalf of our community, we are very thankful to DPWH for completing this flood control project. I've been living here for quite a while and I've experienced numerous floods throughout my lifetime. As a resident and a business owner, now I don't have to worry about the flood damaging my goods and property," said Christine Oñate.