25 ex-NPA rebels to undergo TESDA community based skills training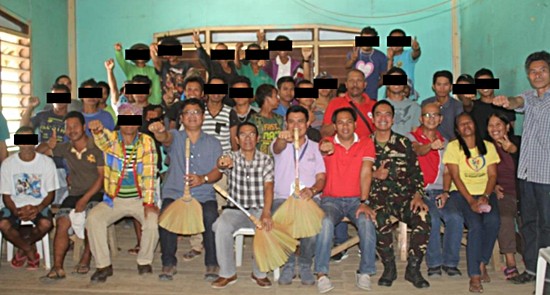 By 19th Infantry Battalion, 8ID PA
July 19, 2018
ARAKAN, Cotabato – A total of 25 former New People's Army (NPA) rebels who surrendered to the 19th Infantry Battalion will undergo skills training with the Technical Education and Skills Development Authority (TESDA), Lt. Angelique Taban, Civil Military Operations Officer of 19th IB said Thursday, July 19.
Lt. Taban added that TESDA Cotabato Provincial Office, Institute for Motorbikes and Auto Mechanics Incorporated (IMAMI) and Alpha Company of 19th IB headed by Lt. Prolen Bonacua will facilitate the carpentry skills training. The beneficiaries will also receive starter tool kits and daily allowance for duration of one month.
"This community based skills training provided by TESDA is just part of the Enhanced Comprehensive Local Integration Program (E-CLIP) benefits package which can be availed by NPA rebels who return to the folds of law", Lt. Taban said.
The E-CLIP is a government program which seeks to contribute toward achieving the goal of permanent and peaceful closure of all armed conflicts with non-state armed groups. It aims to facilitate the mainstreaming of former New People's Army (NPA) rebels and Militia ng Bayan (MB) as productive citizens.
Among the beneficiaries was Alias Janjan who said he was happy to enroll and undergo the said training while waiting for his financial and livelihood assistance. He was one of the former NPA rebels who surrendered with firearms to 19th IB last April.
Another beneficiary, Alias Jimboy, was also grateful that the skills training was community based and conveniently arranged for the former rebels, especially that most of them are farm workers at the same time.
TESDA Specialist Randy Sionosa said the agency is mandated to implement programs that will enhance the skills of Filipino workers. He also explained to the participants the overview as well as other benefits of the skills training during the opening program which was held at held at Barangay Manobo, Magpet, Cotabato on July 18.
Meanwhile, Outcome Manager Guianodin Abdilah of DILG Cotabato Provincial Office lauded the effort of TESDA, 19th IB as well as the local officials for supporting the implementation of E-CLIP.
For his part, Lt. Col. Ehrlich Noel Paraso, Acting Commanding Officer of 19th IB was optimistic that with this recent development, more NPA rebels will be enticed to surrender and return to mainstream society.
"This concerted effort by the line agencies proves the government's sincerity in the implementation of the E-CLIP. It also belies the allegations of the Communist New People's Army (NPA) terrorist groups and left-leaning organizations who accused the said program as a mere propaganda", Lt. Col. Paraso said.
Moreover, Lt. Col. Paraso is calling for the rebels who are still out there in the mountains to surrender for them to avail of the program of the government. He is reiterating his plea for the rebels not to follow what their leaders say but rather think about their families and their future.
On the other hand, Lt. Col. Paraso expressed his gratitude to the local officials of Magpet, Cotabato for extending assistance in the said endeavor.
Government workers decry starvation wages
Press Release
July 19, 2018
QUEZON CITY – Government employees under the COURAGE government employees center reiterated their situation that their take-home pay is not even enough to take them home.
This, according to Ferdinand Gaite, COURAGE National President, was already the situation prior to the implementation of the Tax Reform for Acceleration for Inclusion. Now the burden is greater due to the drastic inflation of 5.2% reflected in the increase in oil products, rice, utilities, other basic commodities and school expenses after classes have again started. What the tax reform has done was to accelerate the reduction of our salaries and our inclusion in the roster of the impoverished, Gaite added.
The current minimum wage in the public sector is currently pegged at P10,510 monthly under Executive Order 201 or the Salary Standardization Law 4. However, salaries of employees in local government employees are even lower. According to the SSL, a 6th class municipality shall receive only 65% of the salaries compared to that of national government agencies therefore their minimum wage is lower at P6,831. Said amounts are a far cry from the monthly living wage of more than P33,000, according to Ibon Research.
Erwin Lanuza, National President of League of Local Government Units Employees (LEAGUE) criticized this exploitative and discriminatory policy against LGU employees. There are about 830,000 employees in the 1,715 LGUs and a significant figure of government employees can be found in 1st to 6th class municipalities whose salaries are lower at a range of 65%-90%.
Government employees criticized the Duterte administration for its one-sided priority saying that the government can double the salaries of police and soldiers but does not consider increasing salaries of civilian employees a priority. They demanded for a national minimum wage regardless whether they are in LGUs, NGAs, GOCCs and others and the amount should be at least P16,000 a month to cope with inflation.
DPWH to implement P39.4M PAMANA road projects in Leyte's second district
By DPWH 2nd LED
July 19, 2018
CARIGARA, Leyte – The Department of Public Works and Highways (DPWH) Leyte Second District Engineering Office will implement a total amount of P39.4 million road rehabilitation projects funded under Payapa at Masaganang Pamayanan (PAMANA) Program.
According to District Engineer Carlos G. Veloso, PAMANA program was implemented by the government to reduce vulnerabilities, improve governance, and empower fragile communities. "This involves socio-economic interventions to isolated and conflict-affected areas not only to foster sustainable development but also to avoid recurrence of sources of conflict" added Veloso.
Among the three PAMANA projects, two were already bided-out, the rehabilitation of Brgy. Lanawan Farm to Market (FMR), in Mac Arthur, Leyte in the amount of P19.7 million. Barangay Lanawan, MacArthur, Leyte, is an upland community of the Municipality of MacArthur with 67 households and the main crops produce are corn, coconut and root crops (cassava, gabi, camote) and banana.
Residents of the barangay who are mostly farmers, grouped their selves into an organization, the association had already bought two hectares of land and developed it into an organic farm supplying high value vegetables in Tacloban City. An organic piggery of seventy five (75) heads, a corn mill and a farm to market road was accessed by the association. The rehabilitation of the FMR will greatly help the farmers bringing their farm produce to the main city.
Another bided-out project is the rehabilitation of Patag FMR, Burauen, Leyte with an allocation of P9.85 million.
While the P9.85 million rehabilitation of Conzoilo FMR in Jaro, Leyte is awaiting for modification. Villa Conzoilo, an upland village 7 kilometers from the poblacion of Jaro, is a budding farm-tourism destination in Leyte that has attracted both foreign and local visitors since it opened in May last year. Villa Conzoilo, the farthest village of Jaro at the foot of Mount Amandaweng, was once a hotbed of insurgency like all its neighboring communities. The association of farmers, transformed the once a center of war zone of rebellion into thriving gardens planted with high-value crops.
PAMANA programs envision to improve governance through partnerships with national and local institutions, building capacities or governance, and enhancement of transparency and accountability mechanisms. It also into reducing poverty and vulnerability in conflict-affected areas through sustainable rural development, community infrastructure and focused delivery of social services, as well as empowering communities and strengthen their capacity to address issues of conflict and peace through activities that promote social cohesion.
Eastern Visayas' inflation rate hits record high in June at 6.3 percent
By PSA-8
July 18, 2018
TACLOBAN CITY – The annual Inflation Rate (IR) of Eastern Visayas rose to a record high of 6.3% in June, posting the highest since January 2018. This IR was 0.5 percentage point higher compared with the 5.8% IR a month ago, and 3.0 percentage points higher than the recorded 3.3% IR in the same period last year. The regional inflation rate was 1.1 percentage points higher than the 5.2% national average in June.
All provinces in the region registered higher inflation rates in June compared with their figures in the previous month, except for Biliran, the only province that has registered a decrease of 1.1 percentage points, from 6.0% in May to 4.9% in June. Northern Samar posted the highest increase of 2.3 percentage points, from 5.5% in May to 7.8% in June. The rest of the provinces recorded increases ranging from 0.2 percentage point to 0.9 percentage point. Northern Samar had the highest IR at 7.8%, while Southern Leyte posted the lowest at 1.4 percent (Table 1).
By major commodity groups, Transport recorded the highest increase of a hefty 6.0 percentage points, from 2.0% in May to 8.0% in June. Food and Non-Alcoholic Beverages followed at 0.6 percentage point.
Annual price changes in Alcoholic Beverages and Tobacco decreased by 2.1 percentage points, but still recorded a double digit inflation rate of 22.0%, the highest among all commodities. Clothing and Footwear and Housing, Water, Electricity, Gas and Other Fuels likewise shed off by 0.4 percentage point and 0.2 percentage point, settling at 0.9% and 5.6%, respectively.
Communication recorded zero inflation rate during the month in review, while Recreation and Culture, Education, and Restaurants and Miscellaneous Goods and Services retained their previous month's rates of 0.9%, 3.5%, and 1.6%, respectively.
The Purchasing Power of Peso (PPP) of the region remained at P 0.81 in June 2018. This PPP implies that goods and services worth 100 pesos in June 2018 only costs 81 pesos in 2012.
Eastern Samar, Northern Samar and Southern Leyte registered a 0.01 centavo decrease in the PPP compared with their figures in May. Whereas, Biliran recorded a 0.01 centavo increase in PPP, while the rest of the provinces had sustained their PPP from last month. Leyte recorded the strongest PPP at P0.84. Southern Leyte ranked second at P0.83, followed by Biliran at P0.82 and Eastern Samar at P0.79. Northern Samar and Samar, meanwhile, posted the weakest PPP at P0.76 (Table 1).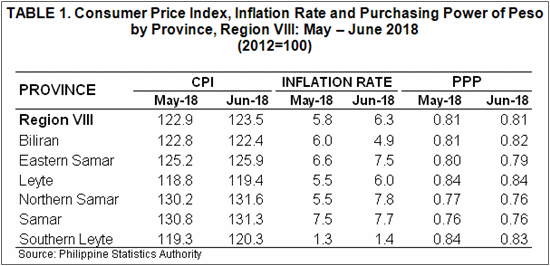 Eastern Visayas records $58.9M trade deficit in April 2018
By PSA-8
July 18, 2018
TACLOBAN CITY – The region reflected a deficit in the total balance of trade in goods (BoT-G) amounting to $58.9 million in April 2018. This is 40.8% lower compared with the $99.4 million deficit recorded in the same period a year ago.
The region's total trade in goods in April 2018 amounted to $81.7 million, significantly lower by 68.5% over the value of $259.6 million registered in the same month last year. Total exports amounted to $11.4 million, which was 85.7% lower compared with the $80.1 million in April 2017. Total value of imports, meanwhile, was recorded at $70.3 million, 60.8% lower compared with the $179.5 imports posted in the same period last year.
The region's total volume of exports in April 2018 was posted at 74.7 million kilograms. The commodity group of Animal or Vegetable Fats and Oils and their Cleavage Products; Prepared Edible Fats; Animal or Vegetable Waxes was the major export during the month with total revenue of $5.9 million, accounting for more than half or 51.3% of the region's total exports revenue in April 2018.
United States of America was the top export market destination with recorded total exports revenue of $5.9 million or 51.3 percent of the region's total exports.
Meanwhile, the region's total imports amounted to $70.3 million in April 2018 with total gross weight of 98.5 million kilograms. Ores, Slag and Ash commodity group was the major import during the month with total revenue of $62.5 million accounting for 88.9% of the region's total imports in April 2018.
The top import supplier of the region was Peru, which recorded a total imports bill of $31.1 million or more than two-fifths (44.2%) of the region's total imports.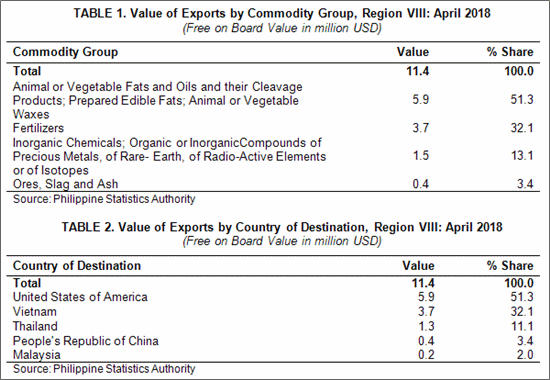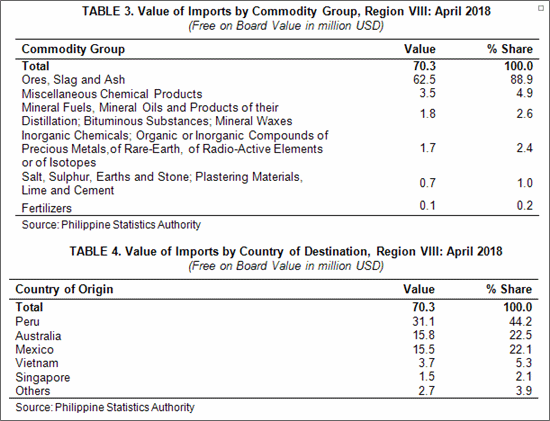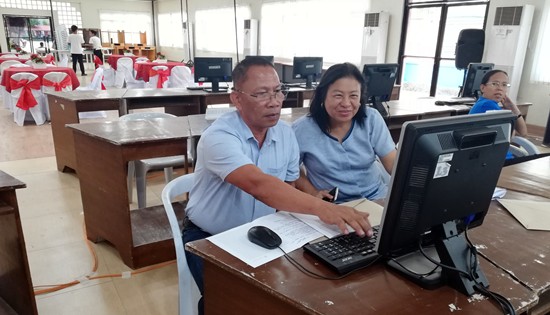 Engr. Enrico Cobacha, Head of Procurement and Engr. Raquel Sumayo, Chief of the Quality Assurance Section are doing hands-on exercises using the DoTS application.
DoTS: Fast tracks project completion and transactions
By MAE ANGELICA R. COMOTA
July 17, 2018
CALBAYOG CITY – The Department of Public Works and Highways – Samar First District Engineering Office (SFDEO) participated in the Training on Document Tracking System (DoTS) for Civil Works from July 9 to 11 at the DPWH Multi-purpose Hall in Baras, Palo, Leyte.
DoTS is an electronic routing slip that was developed to monitor the status of documents in the Department. It tracks down movement of documents, identifies slow-moving areas, and pinpoints those responsible for the delay in the procurement and billing processes.
Documents covered by the DoTS includes but is not limited to plans, program of works, contracts, change orders, time extensions, RROW payments, and first or final payments.
Key personnel from the different sections and units of SFDEO attended the 3-day training. Throughout the entire training period, participants familiarized themselves with the different functions of the application, identified the different types of documents covered by DoTS, generated reports, transmitted documents from one office to another, and performed tasks provided in the DoTS-related department orders.
The purpose of this training is to streamline the Department's business processes by resolving problems such as delays in work completion and bottlenecks in the work flow. Through continuous development of the DoTS, SFDEO can fast track project completion and be more transparent in its operations and transactions.
DTI gives 500 livelihood starter kits to Marawi IDPs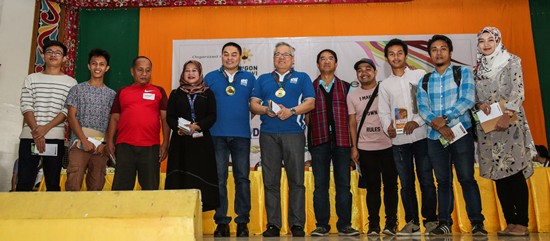 By DTI-OSEC-PRU
July 17, 2018
MARAWI CITY – The Department of Trade and Industry (DTI) awarded 500 livelihood starter kit certificates to Internally Displaced People (IDPs) during the Marawi Entrepreneurs' Forum and Job Fair last July 16. The event, held at the Mindanao State University main campus in Marawi, is the first big forum and job fair in the city since the Marawi siege. Earlier programs in Marawi were on P3 micro lending and livelihood distribution, while big fora were done before in Iligan City.
"President Rodrigo Roa Duterte wants to ensure that government support continues and DTI must help revive businesses and livelihood in Marawi City. We will not stop until this city restores its vibrant trade and Industry," said Trade Secretary Ramon M. Lopez, head of the Task Force Bangon Marawi Sub-Committee on Business and Livelihood.
The starter kits are worth P15,000 and can be customized to the business of their choice. Earlier this year, DTI previously awarded 756 certificates for sewing, carinderia, sari-sari store, carpentry, electrician, Maranao delicacies, street food starter kits, Kia bongo delivery trucks, and mobile rice mills.
The new batch of starter kits will now include tricycles and pedicabs to answer the need for transportation in the area.
"Maranaos are naturally inclined to be entrepreneurs," said Mindanao State University President Dr. Habib Macaayong as he expressed their readiness to start new businesses.
The Department of Budget and Management (DBM) recently approved the budget for the starter kits and DTI will now proceed with their procurement.
Aside from DTI awarding starter kits, the event featured a forum on financing by the Small Business Corporation, Asa Philippines, and Al-Amanah Islamic Bank.
Partner organizations DSWD, USAID, Philippine Disaster Relief Foundation, Coke and TESDA also shared their livelihood programs.
For job-seekers, the Department of Labor and Employment (DOLE) also offered a job fair during the second half of the program.
Biliran DEO's P100M access road project leading to tourist destination starts construction
Press Release
July 17, 2018
NAVAL, Biliran – P100M project of road opening and concreting of access road going to Germohenes Waterfalls in Biliran, Biliran has started construction.
Department of Public Works and Highways (DPWH) - Biliran District Engineering Office (DEO) implemented the project under its 2018 Local Infrastructure Program (LIP) with a total length of 2.9-kilometers.
According to David P. Adongay Jr., District Engineer the project covers the construction of 100- meter length spillway and a rehabilitation of 60-meter existing local road that was washed out by tropical storm Urduja late last year.
From its construction date on June 3, 2018, the project has accomplished 3% as of June 30, 2018. Road excavation works is on-going on the said project. It is under contract with Samarinan Construction and Development Corp. and EZ Jones Construction Inc., a joint venture firm.
Adongay said that the completion of the project will reduce the walking time from 4-5 hours to just 30 minutes to reach the beautiful Germohenes Waterfalls.
Biliran is known as an island of waterfalls with more than 30 waterfalls in its mountainous province.
The road opening and concreting of access road project going to Germohenes Waterfalls will add another tourist destination in the Province of Biliran that will encourage more local and foreign tourists to visit the place. The project is proposed to be completed in January 28, 2019.
Meanwhile, Adongay reported that under its 2018 project implementation, Biliran DEO has completed nine projects with 38 on-going and 13 Not-Yet-Started (NYS) projects with an overall accomplishment of 29.49% as of June 30, 2018. Biliran DEO has a total projects of 60 with a budget amount of P1.6B under the General Appropriation Act (GAA) of year 2018.
Prevailing standard daily wage P327 vs. P1,200 decent living
Workers' wages falls deeper versus inflation
By ALU-TUCP
July 14, 2018
QUEZON CITY - Labor group Associated Labor Unions-Trade Union Congress of the Philippines (ALU-TUCP) is urging President Rodrigo Duterte to raise the wages of minimum waged workers and provide safety nets for their families as increases in the prices of commodities and rising cost of services further erodes the purchasing power of their daily minimum wage across 17 regions nationwide.
In a validation made by the ALU-TUCP on the monitoring of the Bangko Sentral ng Pilipinas (BSP) and the National Wages and Productivity Commission (NWPC) on the impact of prices of goods and cost of services to the current different wage rates in seventeen regions nationwide reveals the downward pattern of the standard daily minimum wage.
The total average daily nominal minimum wage of workers in private non-agricultural sector in all 17 regions on October 2017 is P327 a day. However, the purchasing power of daily average pay P327 fell to P212.45 – an erosion of P114.55.
Six months later on April 2017, the total average nominal wage for the workers in the same sector in all regions was raised to P330.47 a day. However, the purchasing power of the daily average pay P330.47 sank to P208.38 – an erosion of P122.09 despite of the increase in wage rate.
Moreover, according to the National Economic Development Authority (NEDA) announced on April 2018 that the amount needed by a family of five to live decent life is P42,000 a month or P1,400 a day.
"The current wage rates obviously continue to be inadequate of a living wage. Due to supervening conditions, President Duterte must take jurisdiction over the wage boards and, as the chief executive, determine and adjust the wage rates. At the same time, the government must help in improving the salary of workers by giving social safety net program," said ALU-TUCP spokesperson Alan Tanjusay.
"By virtue of extraordinary of the rise of inflation, Mr. Duterte must make decisions to help lift the lives of workers from poverty. We see no other hope. There is no other choice but for the President to take jurisdiction over the matter," Tanjusay said.
The biggest and the fastest erosion of the purchasing power of daily minimum wage occurred in Metro Manila comprising 17 cities and municipalities. In October 2017, the buying power of P512 daily minimum wage is P362.89. Six months later, the purchasing power of P512 to buy goods and pay for services is only P352.13 – an erosion of P10.76 over the period of six months.
In region 7 Eastern Visayas [sic] on October last year, the nominal daily minimum wage is P366 for workers working in non-agricultural sector. However, the purchasing power of P366 to buy goods and pay for services is P237.97 a day. Six months later on April 2018, the purchasing power of P366 is plummeted to P231.06 a day.
In region 11 Davao region on October last year, the nominal daily minimum wage for the set of workers in P340. However, its buying power is only P211.31 a day. Six months later on April 2018, the purchasing power of P340 sank to P207.44 a day.
These daily nominal and equivalent daily purchasing power of minimum wage are way too small in comparison with the standard cost of living amount of P42,000 a month or P1,400 a day needed by a family of five announced by the National Economic Development Authority (NEDA) on April 2018.