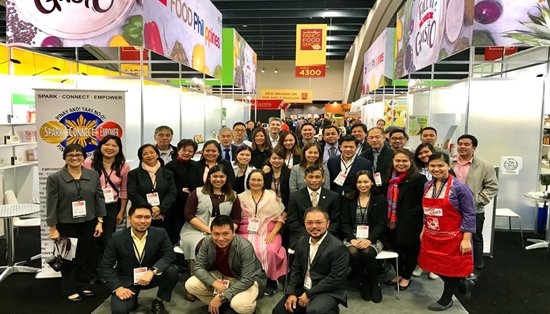 Consul General Henry S. Bensurto, Jr. with the Philippine food delegation at the 2018 Winter Fancy Food Show, Moscone Center, San Francisco.
Food Philippines wows visitors at Winter Fancy Food Show
By DTI-TIPG
January 26, 2018
MAKATI CITY – FoodPhilippines, the country's signature brand for food items under the Department of Trade and Industry's Center for International Trade Exhibitions and Missions (DTI-CITEM), surprised buyers and attendees of the recently concluded Winter Fancy Food Show (WFFS) held in San Francisco, USA from 21 to 23 January 2018.
Organized by the Center for International Trade Expositions and Missions (CITEM) in partnership with the Philippine Trade and Investment Center (PTIC) in San Francisco, FoodPHILIPPINES' showcased variety of specialty food product offerings by seventeen (17) of the best and biggest Philippine food exporters.
According to Specialty Food Association's Trendspotter panel, FILIPINO CUISINE is among the top food trends anticipated at the 43rd WFFS. Other top trends are Plant-based foods, Upcycled products, Goth food, Alt-Sweet, Product labeling 2.0, Root to stem, Cannabis cuisine, a (deeper) feast from the Middle East, and the rise of traditional bread.
The country's participation at the said food show is among DTI's major efforts for 2018 in advancing the promotion of Philippine specialty food products in overseas trade shows.
The participation attracted support from many Philippine exporters including Arko Foods, Bethany Sales, Inc. (Tamcor Mexim USA), Century Pacific Food, Inc., Hacienda Macalauan, Inc., Islamic Da'wah Council of the Philippines, JNRM Corporation, Magical Blend Marketing International, Magic Melt Foods, Inc., Mama Sita's (Marigold Manufacturing Corporation), Monde M.Y. San Corporation, Pasciolco Agri Ventures, Profood International Corporation, Sagrex Food Incorporation, San Miguel Pure Foods, Inc., Seabest Food Beverage Corporation, Subic Superfood, Inc., and Super Q.
Philippine Consul General Henry S. Bensurto, Jr., welcomed the delegation in their respective booths in the pavilion during the show opening on 21 January following a discussion with his economic diplomacy team about expanding trade opportunities between the West Coast and the Philippines on 22 January. He also hosted the delegates and their prospective business partners in a welcome reception providing an opportunity for Philippine companies to deepen their discussions with importers and buyers.
WFFS is the US West Coast's largest specialty and food beverage event, with an estimated 20,000 visitors annually, 1,500 exhibitors and showcases more than 80,000 different specialty food products and beverages from the US and across the globe.
During its 2017 participation in WFF, the delegation secured a total of US$ 48.73 million negotiated sales in 463 inquiries from trade buyers, exceeding targets and recording its highest sales in its four years of participation in the WFFS.
The US is one of the largest foreign investors in the Philippines and the country's third-largest trading partner. The Philippines has been among the largest beneficiaries of the US' Generalized System of Preferences (GSP) scheme for developing countries, which provides preferential duty-free access to the U.S. market.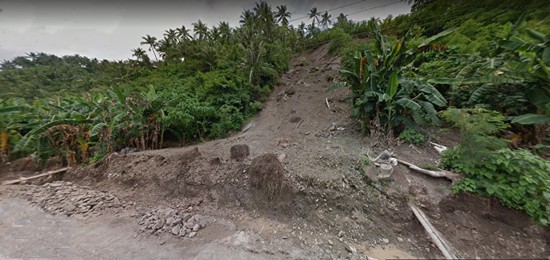 On this site in Brgy. Malayog, the catch wall will be constructed.
P187 million slope protection structures slated for CY 2018
By MAE ANGELICA R. COMOTA
January 24, 2018
CALBAYOG CITY – The Department of Public Works and Highways Samar First District Engineering office will soon implement two projects with a combined appropriation of P187 million sourced out from the General Appropriation Act (GAA) of 2018. It will focus on the rehabilitation/ reconstruction of roads with slips, slope collapse and landslide along Calbayog-Allen Road.
The first project will be divided into five sections and catch walls will be constructed on the following stations: K0691+(-250) to K0691+(-100) and K0691+100 to K0691+200 in Brgy. Caglanipao Sur; K0699+364 to K0699+460.7 and K0699+508 to K0699+535 in Brgy. Cagmanipis Sur; and K0700+075 to K0700+265 in Brgy. Malayog.Its total area is 2,683 square meters with a total length of 563.7 linear meters.
The second project will be implemented in Brgy. Malayog with a total area of 2,572.50 square meters, running a length of 525 linear meters which is divided into two sections: K0700+580 to K0700+790 and K0701+000 to K0701+315.
"The continuous rains brought about by Typhoons Urduja and Agaton caused a number of rockslides and landslides in these barangays, blocking the road and causing inconvenience to the travelling public. We are hoping that by implementing these projects, these incidents will no longer happen because the catch walls will prevent rock particles from sliding onto the road. Thus, ensuring the safety of our motorists and also the residents of the said barangays," said Engr. Alfredo Monsanto, Jr., the project engineer of one of the projects.
Both projects are expected to be completed within the year.
Bato's refusal to release police info on drug war, a disgraceful attempt to escape accountability
By KARAPATAN
January 24, 2018
QUEZON CITY – "PNP Chief Ronaldo 'Bato' Dela Rosa's refusal to release information on police operations regarding the drug war campaign is a disgraceful attempt to escape accountability, not that one can expect integrity from the Philippine National Police anyway.
Releasing information on the drug war would indeed endanger cops, in the sense that they will be legally prosecuted and made accountable for their murder spree in urban poor communities," said Karapatan secretary general Cristina Palabay.
According to the PNP, they have documented 3,000 casualties under the Duterte government's anti-drug campaign, though estimates from the media and human rights groups give out a much higher figure of at least 12,000. The Supreme Court ordered the PNP to provide the full documentation on the aforementioned deaths. On January 22, PNP Chief Dela Rosa appealed to the SC, citing the "sensitivity" of the information requested.
"Hiding behind the ambiguous and arbitrary keyword of "national security," police impunity has been blatantly tolerated by the Duterte regime. Despite the admission of police abuses by no less than the institution's Chief, the PNP still insists on what it calls 'internal cleansing', shielding cops from the full force of the law," said Palabay.
The Karapatan secretary general added that "allowing the police to mete out punishment to its own ranks is akin to allowing your barkada to lightly hit your back. This completely does nothing to exact accountability nor does it provide justice for the victims of police abuses. Honestly, who are they kidding?"
On January 12, the PNP Chief himself admitted that cops demanded money from alleged drug users and sellers to have their names removed from the drug list. Palabay also cited cases in 2017, including the killing of Korean businessman Jee Ick Joo inside the PNP headquarters in Camp Crame on February 2017 and the charade that followed the investigation of the killing of 17-year-old Kian delos Santos on August of last year, as indications of how police impunity have exacerbated in the country.
"The police is accountable to the Filipino people, lest they forget that. It is the mandate of the PNP to serve and to protect, yet in the current and past administrations, they have been among the main instruments of repression and abuses. The basic and simple fact of the matter is that releasing this information will jumpstart the independent investigation on the PNP's conduct in the war on drugs. Clearly, however steadfast the PNP may be in claiming that the 3,000 deaths were all cases of 'self-defense,' closer scrutiny may and will reveal deliberate rights abuses done at the expense of the poor's right to due process," concluded Palabay.
PH exports to EU grew by 31%
By DTI- OSEC-PRU
January 22, 2018
MANILA – The Department of Trade and Industry (DTI) welcomed another milestone for Philippines (PH) and European Union (EU) trade relations as export products hit a 31% growth wherein EUR 2 billion-worth of PH products were exported through EU's Generalised Scheme of Preferences Plus (GSP+).
"We are pleased to hear of the significant increase of our exports entering the EU market through the GSP+. This trade preference has benefitted several communities in the Philippines and opened opportunities for our Micro, Small, and Medium Enterprises (MSME). In the same manner, it has allowed our MSMEs to be more competitive in the local and foreign market," said Trade Secretary Ramon Lopez.
The 31% of total PH merchandise exports to the EU amounted to USD 8.4 billion in 2017. This made the EU the third largest export partner of PH.
In the EU Trade Preferences Monitoring Report released on 19 January 2018, the robust trade relations between the two parties was highlighted with EUR 2 billion-worth of PH exports in 2017 benefitting from the GSP+ compared to the EUR 1.66 billion in 2016.
A major increase was in food and agriculture exports such as animal products, fish and related products, prepared food, and edible fruits. Likewise, automotive parts, leather, textile, and footwear showed significant growth.
Since the beginning of the preferential treatment in 2014, both PH and EU have enjoyed the mutual benefits of GSP+ by letting Filipino MSMEs participate in a bigger value chain and giving the EU market more options for their consumers.
Local communities can take advantage of the export opportunities under the GSP+, like fishermen in General Santos and coconut farmers in Lanao del Norte, as their products can join those by other MSMEs in contributing to EU's dynamic market.
"We acknowledge that the GSP+ has been an important tool in making the country's economic growth more inclusive. It also encourages investors to come in and provide job opportunities to many Filipinos," Sec. Lopez said.
Meanwhile, dialogue on the expansion of the trade preference is ongoing between PH and EU, with both parties continuing to engage through relevant government agencies and other existing mechanisms.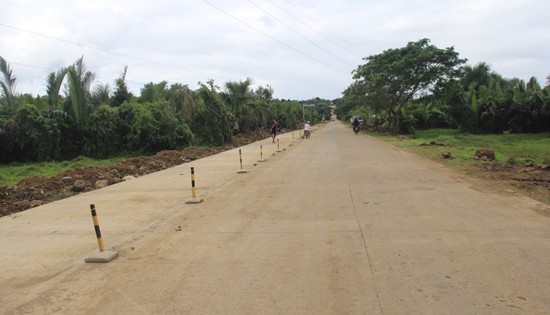 A widened portion of the Calbayog Diversion Road along K0729+400-K0732+400 in Brgy. Dagum.
P105 million diversion road widening project benefits travelling public
By JASON DELOS ANGELES
January 19, 2018
CALBAYOG CITY – Due to the increasing volume of vehicles in the city, traffic congestion has become a norm for the average Calbayognon motorists, whether they are travelling for their morning commute or going home after a long day at work or school.
This is the primary purpose why DPWH Samar I implemented the widening of Calbayog Diversion Road. The project covers the widening of the existing 3-km. road from K0729+400 to K0732+400, 5,945 lin. m. reinforced concrete canal and 1,116.80 sq. m. slope protection. It is under contract with RNMK Construction and Supply with a total appropriation of 105 million from the FY 2017 GAA Fund.
Widening the lanes on a curve can reduce the risk of head-on crashes by giving drivers more room to get around it without crossing into the opposing lane. Similarly, widening turn lanes can improve safety, especially for larger vehicles. It can also reduce sideswipe crashes.
Mr. Romeo Llauderes, a councillor in Brgy. Dagum, stated that since the widening of certain portions of the diversion road, motorists passing through the area have increased bringing along motorized tricycles which make travel more convenient for the local residents.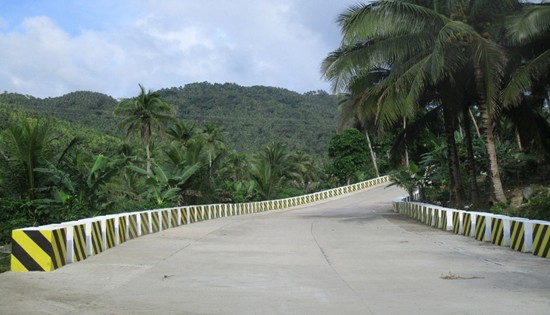 Among the projects completed is the construction/ improvement of access road leading to Bangon Falls in Brgy. Tinaplacan, Calbayog City with an appropriation of P100 million, it reached 100% completion on December 15, 2017.
Samar I registers 80.48% accomplishment of CY 2017 infra projects
By MAE ANGELICA R. COMOTA
January 18, 2018
CALBAYOG CITY – The Department of Public Works and Highways Samar First District Engineering Office closed the preceding year with an accomplishment of 80.48% on all its regular infrastructure projects under the General Appropriations Act (GAA).
As of December 31, 2017, Samar I surpassed the 77.57% physical target by a 2.91% mark. The office constructed, improved and rehabilitated 35.034 kilometers of roads; constructed 518.10 lineal meters of bridges; and undertook 8 flood control structures and drainage systems.
Projects with external funding under the convergence program, Samar I also improved and built 1.44 kilometers of farm-to-market roads under the Department of Agriculture; constructed 15 academic, secondary and senior high school buildings under the DepEd's Basic Educational Facilities Fund (BEFF); implemented a total of 20 projects funded from the Motor Vehicles Users Charge (MVUC); and constructed 5.54 kilometers of tourism road infrastructure projects.
District Engineer Alvin Ignacio gave assurance that he will continue to monitor and supervise the remaining projects under CY 2017 with the assistance of Construction Chief Engr. Carlos Rañola and the assigned project engineers.
Unionists press for TRAIN's revocation and living wages
By Bukluran ng Manggagawang Pilipino
January 16, 2018
QUEZON CITY – Militant labor groups Bukluran ng Manggagawang Pilipino (BMP) and Socialista held protest actions at Mendiola Monday and demanded the scrapping of the recently signed into law Tax Reform Acceleration and Inclusion (TRAIN) as it commences to take effect on all petroleum products Monday.
Workers also used the occasion to call for living wages to offset the impacts of TRAIN on their already constrained familial budget.
Both groups tagged Duterte's TRAIN as "ruthlessly anti-poor for placing them at the losing end as corporations merely transfer their tax obligations to the consuming public".
"The very character of this administration's revenue generating imposition is to liberate the already affluent economic elite of their duties and make the laborers and the poor bear the yoke of Duterte's infrastructure plan which we will not also directly benefit from," said BMP leader, Leody de Guzman.
The groups deplored claims made by cabinet members that workers shall benefit from the new tax measures.
Protestors lamented that despite not abolishing contractualization and failing to grant them decent wages, the Duterte government has the gall to tell workers that they too shall benefit even if prices of basic goods have already risen since the New Year.
They explained that the lower economic strata such as minimum wage earners shall not benefit since they are already tax exempt since 2008. The slum dwellers and farmworkers shall also not benefit because their income is erratic and their employment temporary.
Both the BMP and Socialista also demanded living wages.
De Guzman argued with the impacts of the new round of taxes taking effect, "it is not only timely but is also apt and justified. We have no other recourse but to pursue economic relief to keep their families economically buoyant".
"We shall rightfully claim what is ours," he declared. Referring to the much publicized the economic growth last year and projections for 2018. "All those gains were generated mainly on the workers' collective productivity. Besides, it is our constitutionally guaranteed right to receive our fair share of our labor".
The leaders claimed that their demonstration at Mendiola shall be the first of many escalating protest actions in various cities nationwide until the government concedes and grants them their demands.
The next protest is scheduled to take place on the twenty-third of January.

8ID chief MGen. Raul M. Farnacio personally pins the award of the Wounded Personnel Medal (WPM) to Corporal Artemio Bendo Jr. (Inf) PA on January 16, 2018 at Camp Lukban Station Hospital.
8ID commander pins award to wounded soldier
By DPAO, 8ID PA
January 16, 2018
CAMP LUKBAN, Catbalogan, Samar – The Commander of the 8th Infantry (Stormtroopers) Division Maj. Gen. Raul M Farnacio AFP pinned the award of the Wounded Personnel Medal (WPM) to Corporal Artemio Bendo Jr. (Inf) PA who was wounded during an encounter with undetermined number of communist terrorists (CTs) on January 16, 2018 at Camp Lukban Station Hospital.
Corporal Bendo along with his fellow soldiers from 43rd Infantry (WE SEARCH) Battalion were in the area of Barangay Somoroy, Lope de Vega, Northern Samar last January 14, 2018 to conduct humanitarian assistance to residents affected by torrential rains when the encounter with CTs transpired.
In his short message, Maj. Gen. Raul M Farnacio said that, "This award is a manifestation of the degree of sacrifice that a soldier has to pay in order for our fellow Filipinos to continue to live in peace. It is just fitting to commend personnel such as Corporal Bendo who risked his life in helping and protecting the less fortunate in the far-flung areas."
Since the beginning of the year, the 8ID has been intensifying its campaign to defeat the CTs as per marching order given by President Rodrigo Roa Duterte declaring the Communist Party of the Philippines-New People's Army as an identified terrorist organization.
It can be recalled that on January 4, 2018, two CTs were killed and two high powered firearms were recovered by the soldiers of 78th Infantry (Warriors) Battalion during an encounter at Barangay Hilapnitan, Baybay City, Leyte.
"The successful encounters of our government troops are the result of 8ID's effort to defeat the communist terrorists in support to President Duterte's campaign against the CTs who continue to extort money from communities and private businesses and employ atrocities against civilians." Farnacio added.
Joint Memorandum Circular (JMC) to speed up issuance of construction-related permits signed
By DTI-CEODBG
January 15, 2018
MAKATI CITY – The Department of Trade and Industry sees improvement in the ease of doing business in the country, with the implementation of the Joint Memorandum Circular (JMC) directing local government units (LGUs) to streamline the issuance of building permits and certificates of occupancy.
For the first time, the JMC 2018-01, which was issued by the Departments of Public Works and Highways (DPWH), Interior and Local Government (DILG), Information and Communications Technology (DICT) and DTI, sets service standards for processing simple applications for construction-related permits. This is in response to President Duterte's call to simplify the issuance of permits by LGUs in support of the Build Build Build! Program of the government.
The JMC covers single dwelling residential buildings of not more than three floors, commercial buildings of not more than two storeys, renovation within a mall with issued building permits and warehouses storing non-hazardous substances.
As prescribed in the circular, LGUs are enjoined to set up a processing system that will ensure that applicants follow a four-step procedure in securing building permits – submission of application with complete documentation, receipt of the order of payment, payment of fees and claiming of the permits.
Processing time by LGUs is reduced to five (5) working days maximum, while that for BFP permits is limited to not more than three (3) days for building permit applications. The same number of steps and processing time are prescribed for applications for certificates of occupancy.
The JMC also recommended a pre-formatted form and a uniform set of documentary requirements, and a one-time assessment and one-time payment of fees, with the latter eliminating the current practice of separately paying for different construction-related documentary clearances in different LGU offices and the BFP.
To be able to comply with the service standards, the government is mandating LGUs to establish one-stop shops that will consolidate the processing of clearances issued by LGUs related to construction permits, such as building permits, certificates of occupancy, locational clearances, tax declaration, tax clearances, certificates of final electrical inspection as well as those required by the Bureau of Fire protection – the Fire Safety Evaluation Clearance and the Fire Safety Inspection Certificate. To be able to do this, representatives from the Office of the Building Official (OBO), Treasury Office, Zoning Office, Assessor's Office of the LGU, and Bureau of Fire Protection (BFP) will be co-located in one area at the LGU. Joint inspection teams will also be organized to ease the burden of applicants in accommodating multiple inspections by different offices before their certificates of occupancy are released.
DTI Secretary Ramon Lopez, who chairs the National Competitiveness Council and Doing Business Task Force, is confident that the recently signed circular will bring significant results in the Philippines' ranking in Doing Business Report.
"We fervently support the implementation of this circular, as it strengthens our previous efforts to eliminate red tape. Now that JMC 2018-01 is in place, we look forward to improved ease of doing business and better performance in Doing Business rankings." Secretary Lopez said.
Last year, Philippines dropped 14 notches to No. 113 in Doing Business Report published by World Bank-International Finance Corp. Particularly, the country ranked No. 101 in Dealing with Construction Permits.
Following the drastic process re-engineering that LGUs will be undertaking as a result of the JMC, the Secretary is also persuading the cities, especially those in highly urbanized areas, to start developing a web-based system for online submission and processing of construction-permits similar to the processes already being implemented by some ASEAN countries. This is also in line with the JMC which enjoins LGUs to automate procedures, including the mode of payment, with the support of DICT.
Full-blown dictatorship looms to the tune of Cha-Cha - Karapatan
By KARAPATAN
January 15, 2018
QUEZON CITY – "From floating the bogus revolutionary government concept, to waving the banner of federalism as the end-all, be-all solution of the problems of Philippine society, the Duterte regime is once again peddling another scheme that will essentially benefit and strengthen political dynasties, open the country to more foreign exploits, and bring us closer to a full-blown dictatorship – Duterte's charter change," said Karapatan secretary general Cristina Palabay.
As early as 2016, proposals have already been filed in Congress seeking the revision of the 1987 Constitution. "The Resolution of Both Houses No. 8 (RBH 8) and the PDP-Laban Proposed Federal Constitution are dangerous proposals which disregard peoples' rights and introduces a shift that will worsen the current political and socio-economic problems of our society," added Palabay.
Among the transitory provisions of the RBH 8, Congress will be dissolved and legislative powers will be relegated to the President until the first Federal Congress is convened. In both versions, the new constitution will be designed to allow foreign corporations to further economic plunder by removing remaining protections that the 1987 Constitution has put in place, including the deletion of provisions that prohibit transnational corporations from owning and acquiring land, and prohibiting foreigners from fully operating and controlling public utilities.
Palabay noted that "there is an instance in our history where legislative powers were handed to the executive. That period proved to be a disaster, as martial law under Marcos gave rise to laws, decrees, and regulations that outrightly curtailed people's rights. Duterte, a self-confessed and crazed fan of Marcos, is expected to follow a similar path towards fullblown fascism and dictatorship. Checks and balances in government will be removed, leaving a chorus of inutile and power-hungry crocodiles controlling our affairs while restricting forms of dissent."
"Aligning himself with Marcos, his US lackeys in the security cluster, and imperialist nations such as the US and China, the Duterte regime has chosen a set of self-serving friends. Moreover, answering to the demands of his imperialist masters, Duterte obediently aims to remove protection for our already ailing and backward economy" the Karapatan secretary general said.
"The extent that this regime will go to to swindle its own people and forward its fraudulent agenda is revolting. With the current versions and changes proposed, charter change is far from justified, and is a mere instrument of the ruling elite to further their power and gain. Attempts at charter change failed to take hold in past administrations due to protests and resistance from the people who clearly and rightly saw it as a move that will benefit the wealthy few; this new deceptive scheme will be met with the same resistance," concluded Palabay.