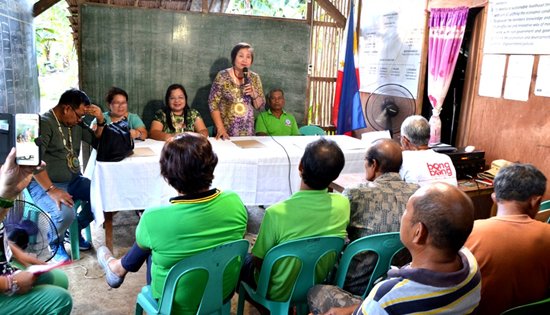 DAR OIC-Secretary Rosalina Bistoyong meets the members of the Legaspi Fishermen and Farmers Association (LEFFA) in Marabut, Samar.
DAR Secretary impressed how ARBOs in EV rise after "Yolanda"
By JOSE ALSMITH L. SORIA
November 10, 2017
MARABUT, Samar – OIC-Secretary Rosalina Bistoyong of the Department of Agrarian Reform (DAR) was impressed how the various agrarian reform beneficiary organizations (ARBOs) in Eastern Visayas rise four years after super typhoon Yolanda devastated this region.
Bistoyong was amazed by the income earned by the Legaspi Fishermen and Farmers Association (LEFFA) since 2015 as reflected in the latter's production board that welcomed her during her recent visit to selected ARBOs in Leyte and Samar who were recipient of DAR's assistance to hardest hit areas in Region-8.
LEFFA's income on vermicast production alone reached more than P200K during the said period.
This coastal municipality in Samar was among the hardest hit areas. Thus LEFFA was chosen to be among the 100 recipients of shredder machines, African Night Crawlers (ANCs) and trainings given by DAR as assistance extended to agrarian reform beneficiaries to start up a livelihood and recover from that horrible experience.
Having been left with nothing, LEFFA took advantage of all the assistance pouring in from various government agencies and non-government organizations (NGOs) to recover. The shredding machine, the 30 kilos of ANCs and the training on how to produce ANCs, vermicasts and vermi-tea helped them rise from devastation, according to LEFFA chairman Benderito Dacuno.
From the initial five vermi-beds in 2015, LEFFA has now 18 vermi-beds. At P10 per kilo of vermicast, Dacuno stressed that this organic fertilizer is very in demand among farmers, gardeners and even NGOs.
They likewise earned from organic vegetable production and rental of common service facilities such as tractors and threshers they received from DAR, he added.
Happy over the result of the assistance extended by DAR, Bistoyong promised to give the organization a truck before the year ends, which according to her, the ARBO can use in their business operation.
She also promised to expose them to more livelihood trainings such as dairy product production.
Before leaving, Bistoyong challenged the LEFFA to reach the P1-million mark in vermicast production.
At the moment LEFFA is also into relending activities, rice trading, fish pond operation, carabao dispersal and catering services.
DPWH Samar I delivers CY 2017 project updates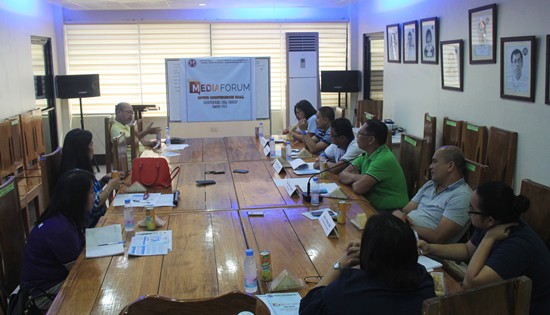 By MAE ANGELICA R. COMOTA
November 10, 2017
CALBAYOG CITY – Samar First District Engineering Office, in its effort to properly disseminate project information to the public, conducts a media forum on the afternoon of October 25, 2017 at the DPWH Conference Hall. Representatives from different local media partners were present, namely, Ms. Jennifer Sumagang-Allegado, Ms. Carina Caranzo, and Mr. Gene Navilon.
Across the table, Ma. Nenita Y. Gomez, Chief of Administration and PIO Designate, leads the DPWH panel which includes Engr. Carlos G. Rañola, Chief of Construction; Engr. Ramon Anselmo C. Calagos, Chief of Maintenance; Engr. Enrico N. Cobacha, Head of Procurement; Engr. Raquel Y. Sumayo, Chief of Quality Assurance; and Carlo C. Rivera, CPA, Chief of Comptrollership & Finance.
The press kit for the forum contains a report on the status of the Carry-Over Projects and Regular Infrastructures Projects as of October 15, 2017. The media partners raise questions about the status and date of completion of the carry-over projects from CY 2016 and the on-going regular infrastructure projects for CY 2017, inquiries on possible future projects, project allocations, other administrative matters as well as application for ISO certification of Samar First.
The DPWH panel successfully answers all of the questions and appreciates the media's presence in its pursuance of continuous information dissemination to effectively and efficiently serve the public by informing them on status of the various projects for transparency.
NPA surrenderers received livelihood cash assistance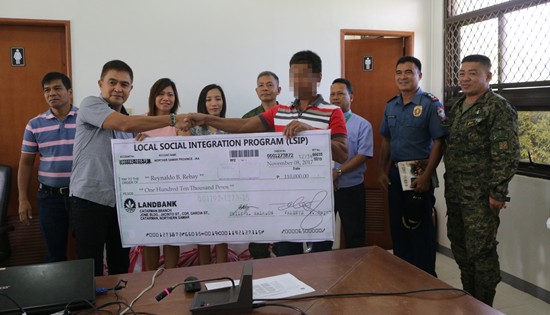 By DPAO, 8ID PA
November 10, 2017
CAMP LUKBAN, Catbalogan City – Six (6) former rebels (FRs) from the province of Northern Samar received a total of P807,000 from the Comprehensive Local Integration Program (CLIP) and Local Social Integration Program (LSIP) that help to provide livelihood assistance to the NPA surrenderers to start a new life.
The FRs were facilitated by the 803rd Infantry (Peacemaker) Brigade under the leadership of BGen Mario C Lacurom AFP with the strong participation from the Provincial Government of Northern Samar. The awarding of cash assistance was held at the Governor's Conference Room, New Capitol Building, Catarman, Northern Samar on November 8, 2017, at 9 o'clock in the morning.
The activity was attended by Hon. Jose L. Ong Jr., Provincial Governor, N. Samar represented by Hon. Gary M. Lavin, Vice-Governor N. Samar; Brig. Gen. Mario G Lacurom AFP, Commander, 803rd Infantry Brigade; Ms. Jenny O Darish, Acting PSWD Officer; Rev. Fr. Fred I Placa; and Ms. Maricel Bantilo-Balasolla from OPAPP.
The activity was highlighted by a remark from the most ranking NPA surrenderer who appreciated the CLIP and LSIP programs that will enable them to start a new living. In addition, their voluntary surrender to the government is a great realization on their part that the armed struggle they were fighting for a long period of time is not only futile and deceptive but also an unnecessary waste of lives. Likewise, he assured that the livelihood assistance given them will be used prudently and they will never again return to the NPA movement.
MGen Raul M Farnacio AFP, Commander 8ID, represented by BGen Mario G Lacurom AFP, sends his grateful appreciation to the Province of Northern Samar and Office of the Presidential Adviser on the Peace Process (OPAPP) as partners in giving remunerations to the FRs. Likewise, he encourages the NPA rebels in the whole Eastern Visayas to lay down their arms, voluntarily submit themselves to the government, and live a normal life with their families by availing the CLIP and LSIP programs.
Choosing humanity: New video and online game challenge us to confront how numb we have become to abuses to the rules of war
By ICRC
November 7, 2017
GENEVA – The International Committee of the Red Cross (ICRC) this week launches a new phase in its public awareness campaign on the need and relevance of the laws of war.
Today a hard-hitting video shockingly reminds us that in times of war, civilian casualties are the result of choices, not accidents. Through a young boy's morning routine somewhere in a country at war, the short video "Decisions" shows how it is the choice to respect the laws of war that can protect civilians and save lives.
"Don't be Numb" (http://dontbenumb.icrc.org/), an online game, provides younger generations with a new way of engaging with the Geneva Conventions. The interactive microsite contains a quiz, data visualization, and information on the laws of war. It will test Millennials and Generation Z audiences on the choices they think matter in a conflict and their knowledge of the basic principles of humanity that underline the Geneva Conventions – especially critical now to ensure younger generations do not grow up without an understanding of the importance of the rules of war.
ICRC's People on War survey, conducted last year with 17,000 people in 16 countries, indicates overwhelming support in the belief that wars should have limits. Eight in ten people surveyed think combatants should avoid civilians as much as possible when attacking the enemy. The same number thinks attacking hospitals, ambulances and healthcare workers in order to weaken an enemy, is wrong.
However, it also reveals deeply concerning views on torture and civilian casualties. Only 50% of those surveyed in the five permanent members of the United Nations Security Council (China, France, Russia, United Kingdom and United States) and Switzerland considered it wrong to attack the enemy in populated areas knowing many civilians would be killed.
"Wars without limits are wars without end. People around the world strongly believe that limits must be imposed on war, and those living in the daily realities of conflict still believe that limits prevent conflicts from spiralling," said ICRC President Peter Maurer. "But in many situations we see a shocking lack of respect for the basic principles of international humanitarian law when it comes to the conduct of hostilities, the way war is being waged and the way weapons are being used."
As a humanitarian organization that has, since its creation, played a leading role in promoting, developing and safeguarding the laws of war, the ICRC is alarmed that many today take as normal the fact that civilians are targeted, hospitals bombed, prisoners executed. The ICRC is concerned that young people growing up today will become a generation inured to the tragic effects of conflict and the dangers of allowing the rules of war to erode.
"The basic foundations of our shared humanity are being challenged. We cannot allow the bombing of civilians or attacks on hospitals to become acceptable, to become the new normal," said President Maurer. "The people suffering in wars deserve nothing less than respect for the laws that will protect their lives and dignity."
The film, available in English, French, Spanish, Arabic, Chinese, Russian and Portuguese, invites viewers to visit therulesofwar.org (https://www.icrc.org/en/rules-of-war) to learn more on the Geneva Conventions.
The quiz can be taken at dontbenumb.icrc.org (http://dontbenumb.icrc.org/) in English, French or Spanish.
These two educational mediums will be promoted on Facebook and other social channels. The film was created in collaboration with the advertising agency Sra.Rushmore in Madrid, Spain.
Art Festival in Catbalogan held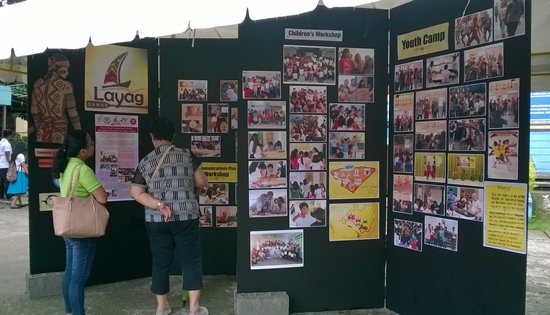 By VEN LABRO
November 5, 2017
CATBALOGAN CITY – Hundreds of students, teachers from the City Division of Catbalogan, Samar Division, and delegations from Catbalogan, Calbiga and Zumarraga attended the Layag Arts Festival held at the Samar State University (SSU) Gymnasium in this city on October 19-20."
It was the first time in Samar that such festival was held," said local historian Charo Nabong Cabardo. The Arts Festival was the culminating activity of the year-long Layag Project or Layag-Samar, which according to Cabardo, is a project of the National Commission for Culture and the Arts (NCCA) "for the cultural development in seven municipalities in Samar Island."
The project involved the training of children, youth, women, artists, community members and disaster risk reduction (DRR) implementors on our cultural heritage, other forms of cultural presentations and DRR, she added. "The project is being implemented by the NCCA in partnership with the Samar State University and Samar Island Heritage Center and with a memorandum of understanding with the mayors of the seven municipalities," Cabardo said.
Areas covered by Layag-Samar are Catbalogan City and the towns of Calbiga and Zumarraga in Samar province as well as Borongan City and the municipalities of Balangiga, Dolores and Guiuan, all in the province of Eastern Samar.
In the Catbalogan the Arts Festival there were cultural performances by the youth from Catbalogan, Zumarraga and Calbiga held at the provincial Covered Court.
An exhibit of the photographs of previous activities like the trainings for Children, the Youth, Women, artists and creative industries on different art forms such as visual arts, creative writing, music and dance. The paintings of the visual artists were also exhibited. The Arts Exhibit was opened by CHED commissioner Prospero Oliva who was on a Listening Tour to the Samar State University.
Another Arts Festival was also held last October 21 in the historic town of Balangiga with the participation of those who have been trained in Guiuan, Borongan, Balangiga and Dolores, Eastern Samar.
The trainings conducted by Layag-Samar focused not only the artistic disciplines but on the topics of history and heritage of each of the municipalities involved, Climate Change and Disaster Risk Reduction. A special training was also undertaken for the DRR trainers of the seven municipalities on an Arts-based disaster training.
A Forum on Samar History and Heritage was held on the morning of October 20. A panel of experts discussed different art forms in Samar. The panel incuded Ballet Philippines former premier danseur Nonoy Froilan on the Dance Traditions of Samar; Waraynon music stalwart Lucien Y. Letaba on Samar Music Trends and Directions; renowned painter Val Villanueva on Visual Arts; Charo N. Cabardo on Samar History and Heritage; and Pet S. Labro of SSU on Samar Theater.
The Festival followed a two-day workshop on creative industries held by Layag Samar last October 14-15 at a hotel in downtown Catbalogan. According to Lucien Letaba, Layag-Samar artistic director, the goal of the workshop was "to integrate creative industries to the heritage tourism program of each town." He added that they hope to include heritage preservation in the town's program and at the same time to promote creative industries that each town is developing. Among these industries, he said, are food processing, recycled gift souvenir items and handicrafts.
Disaster Survivors Conference launched
By People Surge Philippines
November 4, 2017
PALO, Leyte – People Surge Philippines joined the National Anti-Poverty Commission and the Leyte Center for Development and Empowerment in holding a region-wide Disaster Survivors Conference that gathered farmers and urban poor in the Oriental Hotel earlier today.
The Conference sought to gather updated information on the local situation of disaster survivors four years after the onslaught of super typhoon Yolanda in an effort to produce a region-wide Situationer on areas concerning poverty, food security and human rights in the region as an output.
A series of workshops and input discussions were held to consolidate data from provinces affected not just by Yolanda but also through succeeding calamities and government policies implemented post 2013 to the present, particularly the conference proponents intended to get an overview on government response to the decrease in the agriculture sector's contribution to the regional gross domestic product on top of an increasing poverty incidence rate in Eastern Visayas alongside red flags from different human right groups in all the provinces of the region.
Participants shared heart-wrenching stories of prevailing hardships borne by victims of calamities in the country sides who up to this day, do not feel any other form of government presence aside from consistent military operations being conducted in their own communities and even zones of peace like public schools in some provinces.
The conference carried on for three days, from November 5 to November 7 and ended with all its participants and partner-organizations signing the unity statement of disaster survivors outlining their resolutions and other relevant data gathered declaring that the state of Yolanda survivors has had no significant changes to it even after four years of rehabilitation efforts and two administrations.
Workers group urges SSS to transparent investigation, suspend SSS officials involve in controversy
By ALU-TUCP
October 31, 2017
QUEZON CITY – Expressing grave concern over the controversy, workers' group the Associated Labor Unions-Trade Union Congress of the Philippines (ALU-TUCP) is calling for a credible and transparent investigation into the investment controversy involving some top executives in the Social Security System (SSS).
The concern raised by ALU-TUCP stem from a complaint filed by SSS Commissioner Jose Gabriel "Pompei" La Vina against four SSS top executives for alleged illegal profiteering from position by trading stocks for their personal accounts using the same stockbrokers who manage the investment portfolio of SSS.
"We are calling for a transparent and credible investigation into the controversy. Kung hindi pa nagkaroon ng news expose, hindi napag-alaman ng mga members. Kung kaya't nangangamba kami na baka na-compromiso na ang pera ng mga miembro at may collusion ang karamihan ng mga officials ng SSS," said ALU-TUCP spokesperson Alan Tanjusay.
The group lauded La Vina for protecting the funds from wrongdoing but called the SSS Commission and the SSS management executive officials to task.
"Nadiskubre na pala ito more than two weeks ago pero bakit hindi kaagad ipinaalam ng commission and management sa mga miembro ang insidente. This controversy is causing undue fear and doubt among the members. The SSS administrators and managers should initiate culture of transparency, what's going in the system and how their blood money is being spent," Tanjusay said.
"We also urged the SSS administrators to temporarily suspend all its officials involve to safeguard the documents and prevent them from influencing the internal investigation process being conducted on the controversy," Tanjusay said.
To safeguard SSS funds from misuse and similar questionable use, there must be set of rules and regulations that prohibit all SSS officers and staffs from making personal investments using the influence and auspices of SSS.
SFDEO pledge support to Regional Federation of Employees Union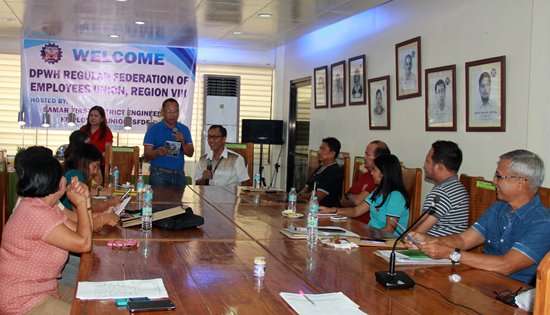 By APRIL FATIMA D. VILLANUEVA
October 27, 2017
CALBAYOG CITY – SFDEO hosted the Regional Federation of Employees Union Officers and Board of Directors Meeting, spearheaded by Engr. Enrico Cobacha on October 06, 2017, 1:00 pm at DPWH - SFDEO Conference Hall.
District Engineer Alvin A. Ignacio extends his warm welcome and commitment to support any activities that will boost the cause of helping the rank and file employees in investment and financial management. He shares his endeavors as a previous President in Northern Samar, and he introduces the Bulig Program that enables the employee to borrow funds at a lower interest rate and canteen, which enable members of the association to generate income through dividends.
RFEU consists of 13 Districts namely Biliran, ESED, Leyte I, Leyte II, Leyte II, Leyte IV, Leyte V, SLED, Northern Samar I, Northern Samar II, Samar I, Samar II and Tacloban City.
The agenda of the meeting are the reporting of the financial status of RFEU, submission of financial status report of DEO RAFEA, synchronize election of RAFEA Officers, planning of activities and approval of proposed budget for the next board meeting. The Union addressed the benefits of their members and how to uphold the status of promotion of rank and file employees.
Stamp out Marcos rehabilitation
CARMMA denounces PhilPost-issued Marcos centennial stamps
By CARMMA
October 27, 2017
QUEZON CITY – "Another stolen credit, another stamping of Marcos rehabilitation and revision of history," was how CARMMA described the issuance of a commemorative stamp on the birth centennial of the late dictator Ferdinand Marcos.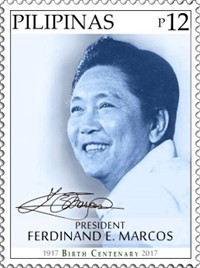 "Not in our mails," said CARMMA spokesperson Bonifacio Ilagan, in reaction to the stamp, issued by the Philippine Postal Corporation which featured Marcos' portrait and signature. "The Duterte regime's political rehabilitation of the Marcos goes on and on. One day, shall we see images of Marcos all over the country? Posters, action figures? We can only express extreme disgust," he said.
As to the non-announcement of the release of 50,000 stamps, Ilagan said the PhilPost knew there will be reactions and protests with these actions. "However, they sadly chose to be part of the continuing sanitization of history, stamping out the sins and accountabilities of the Marcoses, as if he is the one who should be given high regard. Philippine heroes are definitely rolling in their graves, with their faces on stamps alongside a dictator who wronged the people!" Ilagan said.
"Whether PhilPost management is ignorant of the crimes of the Marcoses against the people and the nations's history of anti-dictatorship struggle or is engaged in the deliberate moves to rehabilitate the dead dictator, the issuance of a commemorative stamp to pay tribute to a murderer and plunderer is an affront to our morality and sensibility as a nation. It deserved our strong rebuke," said the group.
The group said with this, CARMMA is preparing for actions towards the one year of the infamous hero's burial of Marcos at the Libingan ng mga Bayani.
"The Marcoses, with Duterte as their most reliable patron, are not stopping at changing what has been stamped in the past, consciously trampling upon not just history but the hard-fought battles of the people against tyranny and dictatorship. As for Duterte, his actions and decisions are all copycats of his idol Marcos. Before he thinks of being put in a stamp, or becoming an action figure, he should worry of the people's verdict to him as one president who won through popular support, but gave failed change and resulted to anti-people policies, and creeping towards a tyrannical rule," Ilagan said.
Turn-over of new school building in Brgy. Larrazabal, Naval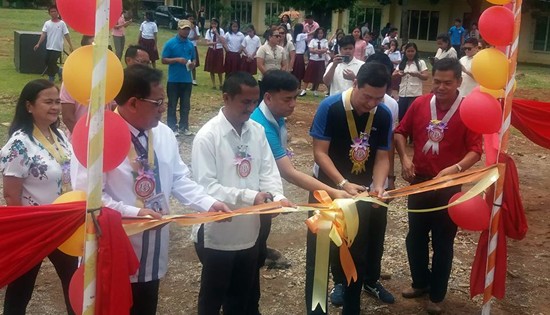 By CARL MARK D. PEDRERA
October 26, 2017
NAVAL, Biliran – The Department of Public Works and Highways - Biliran District Engineering Office (DPWH-BDEO) partakes in the turn-over ceremony of the newly constructed P2.945-million school building project under the Department of Education Basic Educational Facilities Fund (DepEd BEFF) of CY 2016 on September 28, 2017 at the Naval National Highs School (NNHS) in Brgy. Larrazabal, Naval, Biliran.
Congressman Rogelio J. Espina (Lone District of Biliran) led the turn-over of the new 1-storey, 3-classroom structure to Naval National High School in Brgy. Larrazabl, Naval, Biliran. The event was also attended by District Engineer David P. Adongay (Biliran DEO), Rev. Fr. Kenneth Hendricks, Schools Division Superintendent (SDS) Pedro T. Escobarte, Jr., Assistant District Engineer Alfredo L. Bollido, School Principal Dr. Armando Laude, School Governance Office Division (SGOD) Chief Lucille Roa, Board Member Justin Roa, Engr. Warlito Alagao (WB Alagao Construction), teachers, DepEd and LGU Officials.
Part of the program was the ribbon cutting and blessing of the building followed by the messages of support from Congressman Espina and District Engineer Adongay and the ceremonial turning over of the responsibility to the school. The school gladly accepted the symbolic key and the Principal, Dr. Laude extended his gratitude to DPWH and its partners for their continued support and assistance.
All the students and teachers were very grateful for the new school building granted to them as they witnessed the turn-over of the symbolic key.
The new school building has sufficient lighting and is well ventilated making it conducive for learning. This will accommodate the current and future enrollees of the school.
DTI cites winners of Startup World Cup Philippines regional finals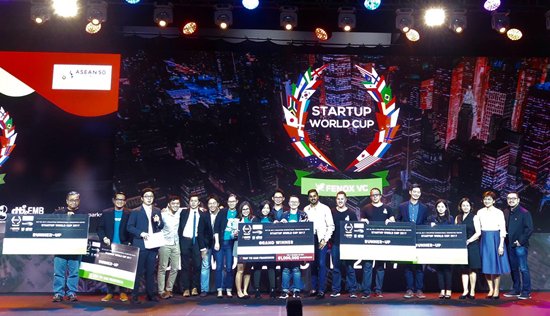 By DTI-TIPG
October 26, 2017
MAKATI CITY – In the recently concluded Slingshot ASEAN led by the Department of Trade and Industry (DTI), winners for the Startup World Cup - Philippines Regional were announced to represent the Philippines and compete with the rest of the world in the upcoming Startup World Cup Grand Finale in Silicon Valley on May 2018.
Storm Technologies topped the ten finalists as it bagged the grand prize, which includes an all-expense paid trip to San Francisco and a chance to win $1,000,000 by competing in the Startup World Cup Global Finale. Storm Technologies is the largest flexible benefits and incentives firm in the Philippines. It serves over 100,000 employees across different industries.
Meanwhile, runners-up include Beam and Go as 4th runner-up; Zennya, 3rd runner-up; Qwikwire, 2nd runner-up; and Ayannah, 1st runner-up. All runners-up will be attending Startup World Cup Finale in Silicon Valley.
Startup World Cup Philippines Regional grand finals is a collaboration between DTI, Department of Science and Technology - Philippine Council for Industry, Energy and Emerging Technology Research and Development (DOST-PCIEERD), DENTSU X Philippines, Fenox Venture Capital Southeast Asia and Brainsparks. Startup World Cup on the other hand, is a global conference and competition that brings together the top startups, venture capitalists (VCs), entrepreneurs and world-class technology executives.
Organized by the Department of Trade and Industry, Slingshot ASEAN is one of the official events lined up by the ASEAN Committee on Business and Investment Promotion (ASEAN-CBIP) being chaired by DTI Undersecretary for Trade and Investments Promotion Group Nora K. Terrado.