DPWH-BDEO tackles plans after wrath of typhoon Urduja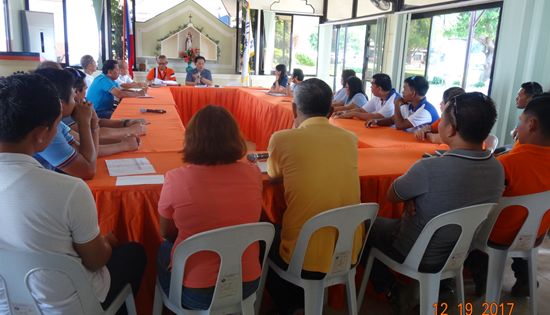 By CHELSEA QUIJANO-SALLOMAN
December 21, 2017
NAVAL, Biliran – The Department of Public Works and Highways Biliran District Engineering Office (DPWH-BDEO) lead by Engr. David P. Adongay, Jr., District Engineer conducted a coordination meeting with technical personnel on December 19, 2017.
According to Engr. Adongay, the meeting aims to solicit different ideas in order to look for the best solutions to make the roads passable to the public.
Through a report presentation of Engr. Neo Jay Cagabhion, DPWH-BDEO identified several damages on the national roads, bridges, flood controls, slope protections and other public infrastructure projects in the entire province.
Engr. Adongay suggested to prioritize first the repair of its national roads and bridges to make it passable to traffic. He also instructed the technical personnel to form a committee that will focus and report on the status of these projects from time to time.
Engr. Glenda G. Dagalea, Chief of Maintenance Section reported that some roads have already been opened to traffic after clearing operations. She also reported that there are still on-going clearing operations to make all roads passable as soon as possible.
Backfilling and embankment is also on-going on Caray-caray Bridge to serve as a temporary passage for the public. However, there was still no action taken for Catmon Bridge because Caray-caray Bridge is unpassable which the only route in going to Catmon Bridge.
In a report made by Engr. Rosario b. Rosete, Chief of the Planning and Design Section, both approaches of the Catmon Bridge were washed out after the continuous heavy rains on December 16-17. Biliran DEO proposed to construct a temporary bridge made of coco trunks for pedestrian only.
Caray-Caray Bridge is an essential bridge because it is the only access in going to the mainland of Leyte. The public is advised to use the alternate route, Naval-Almeria-Kawayan-Culaba-Caibiran-Cabucgayan-Biliran and vice versa.
Engr. Adongay also commented on the DPWH Secretary Mark Villar's statement during the secretary's visit on December 18 to rehabilitate the Caray-caray Bridge in 30 days.
"Mahirap yan pero with your cooperation and with your help, kaya natin yan," said Adongay.
DPWH-BDEO is now preparing for the request of the calamity fund to be used to rehabilitate the damaged infrastructure facilities in Biliran.
Peoples' organizations, envi groups welcome Ombudsman ERC commissioners suspension order
Press Release
December 21, 2017
QUEZON CITY – Peoples' organizations and environmental groups lauded the recently issued Ombudsman order to suspend virtually all Energy Regulatory Commission (ERC) commissioners for having given unwarranted benefit to Meralco in their suspension of the competitive selection process (CPS), a power supply procurement scheme requiring public bidding instead of a negotiated procurement.
According to Sanlakas Secretary-General Atty. Aaron Pedrosa, the order validates peoples groups and environmental advocates' claims that the power supply agreements (PSAs) filed by coal-sourced energy giant Meralco and admitted by the ERC are a form of 'sweetheart' deals meant to favor corporate interest over public good.
"The Ombudsman suspension order bolsters the truth that only collusion between the government and corporations could have allowed for such anti-consumer and anti-environment agreements to prevail," said Pedrosa.
"This suspension order should serve as a warning to the ERC to seriously review the petition against the deals, which was filed in intervention by concerned community leaders and peoples' groups only to be junked by ERC chambers," he continued.
Diocese of Lucena's Desk on Environmental Concern Priest-In-Charge Father Warren Puno concurred with Pedrosa, especially in light of the Quezon community's struggle against coal-fired power plants.
"Ang desisyon ng Ombudsman na suspendihin ang lahat ng commissioner ay malinaw na basehan na totoo nga na may sabwatan ang MGen at ERC," said Father Warren.
"Isang babala ito sa mga uupong commissioners at sa kasalukuyang Chairman na wag nilang madaliin ang pag-aproba sa Power Supply Agreement na hinihingi ng Meralco. Ito ay dapat dumaan sa tamang proseso. Sila ay mga lingkod bayan at dapat ang bibigyan nila ng pagkiling ay ang taong bayan – lalo na ang mahihirap. Hinihiling namin sa ERC na ibasura na ang kasunduang ito dahil nagdesisyon na ang Ombudsman na ito ay maanomalya. Bagamat isang maagang papasko para sa mga mamayan ng Quezon ang suspension order, hindi pa rin kami titigil hanggang hindi tuluyang maiwaksi ang pagtatayo ng coal-fired power plant sa aming komunidad. Patuloy kaming magbabantay sa mga susunod nilang desisyon," he concluded.
Center for Energy, Ecology, and Development (CEED) Executive Director Gerry Arances described Meralco's collusion with the ERC as conclusive proof of the growing obsoletion of "dirty, deadly, and costly" coal-sourced energy in the country.
Arances claimed that all the contested PSAs compel the expansion of coal-fired power plants and result to the "locking in" of the country to coal, which has been decried by vast numbers of coal-affected communities and environmental advocates as severely destructive to people's health and livelihood, to the country's economy, and to the welfare of an increasingly warming planet.
"While coal is fast losing its environmental and economic viability, cleaner and cheaper alternatives provided by renewable energy are on the rise – and giant coal corporations are well aware of this," said Arances.
"For instance, coal oligarchs like Meralco's Pangilinans and Semirara Mining and Power Corporation's (SMPC) Consunjis are being surfaced lately for their hand in preventing governmental regulations over the long-uncontested industry of coal," continued Arances.
He cited the swift deletion of the TRAIN bill provision on an excise tax on local coal done outside of formal deliberation in Congress, a move which has been claimed to be lobbied for by Consunji-led SMPC.
"This exposed collusion between ERC officials and Meralco prove that coal is still prevalent in our country – not because the people need it, but because corporate interest wills it," Pedrosa added.
According to Pedrosa, the Philippine coal industry continuing, unbridled expansion would lead to more deaths and destroyed livelihoods as the effects of fossil fuel induced climate change worsen over time.
He claimed that further, assertive action must be done to combat the forceful push for coal by the few.
"It would be a shame to let our people continue to suffer at the hands of the few proponents of coal, especially with better alternatives right within our reach," concluded Pedrosa.
Army clashes anew with terrorist NPAs, recovers 1 high powered firearm
By DPAO, 8ID PA
December 18, 2017
CAMP LUKBAN, Catbalogan City – Elements from 20th Infantry (We Lead) Battalion while conducting pursuit operations at Barangay Hinagonayan, Catubig, Northern Samar encountered terrorist NPAs, which resulted to the recovery of one high powered rifle on December 18, 2017 at 7:30 o'clock in the morning.
No casualty on the government side was reported while undermined on the enemy.
It may be recalled that on December 16, 2017, troops from the 20th IB conducting Humanitarian Assistance and Relief operations to flood victims of TS "Urduja" were ambushed in the same area prompting the soldiers to be on high level of alert.
In his statement, Brig. Gen. Mario G. Lacurom, Commander, 803rd Infantry Brigade said, "Your Army in Northern Samar strongly condemns the atrocity perpetrated by the NPA in the hinter barangays that caused fear and panic among the residents. Such atrocities are clear violation of the International Humanitarian Law. We call upon the people to rally support behind your soldiers and act against these terrorists. Moreover, we criticized this kind of act of terrorist NPAs that instead of helping the victims of disaster, they are making the disaster response complicated to the detriment of those who are already affected," Lacurom added.
DILG designates new Federalism campaign administrator
Press Release
December 18, 2017
QUEZON CITY – Responding to the directive of President Rodrigo Duterte to be more aggressive in its public campaign advocating a federal system of government, Department of the Interior and Local Government (DILG) Officer-in-Charge Catalino S. Cuy has designated a new administrator of the department's Federalism and Constitutional Reform program.
Assistant Secretary Jonathan Malaya, formerly Executive Director of the PDP Laban Federalism Institute, has been designated the campaign's new administrator replacing Asst. Secretary Epimaco Densing III. Malaya was a former Assistant Secretary of the Department of Education and of the Office of the President prior to joining the DILG.
Cuy says Malaya's vast experience as executive director of the federalism institute, as government official, and his wide network in the academe and other sectors would enable the DILG to propel the federalism campaign to the grassroots level.
"As directed by President Duterte, the DILG needs to let the local governments and the ordinary people appreciate and understand how federalism will be able to change the course of our country and lead it towards development. And with Asec Malaya at the helm of the campaign, I am confident that we can make this happen," he says.
For his part, Malaya says that starting 2018, the DILG will undertake a coordinated effort with other national government agencies and work with the Presidential Communications Operations Office (PCOO) to ensure that the entire government bureaucracy is part of the campaign.
"We have to have one voice and one messaging in the federalism campaign, otherwise, we would not be able to bring our message across to our countrymen on how a shift to federalism would impact on our country and our lives," he says.
Malaya says that the DILG will also be working closely with the Senate and the House of Representatives in 2018. Recently, the lower house began plenary debates on a joint resolution calling for a Constituent Assembly to propose amendments to the Constitution.
In a speech during the PDP Laban's Christmas Benefit Dinner for Marawi, Duterte urged members of Congress who are his party-mates to unite behind his proposal to amend the Constitution to address the Mindanao problem and to spur economic development across the country.
The DILG will also reach out to the Kapisanan ng mga Brodkaster sa Pilipinas (KBP) and the mass media to be able to explain to the public the benefits of federalism.
Malaya says the DILG will also begin consultations with the various local government leagues to make the campaign more inclusive and to make the shift to a federal system address the needs of local governments across the country.
As Executive Director of the Federalism Institute of the ruling party, Malaya spearheaded efforts in the development of the PDP Laban Model of Philippine Federalism 1.0 together with the Federalism Study Group composed of Senate President Aquilino "Koko" Pimentel, Dr. Eduardo Araral, Dr. Julio Teehankee, Prof. Mon Casiple, Prof. Edmund Tayao, Dr. Romulo Miral, Atty. Al Oxales, Atty. Benedicto Bacani, and Dr. Alex Brillantes, among others.
"The work of the Federalism Study Group is a collaborative effort of many minds who studied and researched extensively and got in touch with federalism experts from other countries on a federalism model suited for the Philippines. We can use it as a guide to develop and agree on what track we will take in the course of our federalism journey," says Malaya.
15.6 million informal workers to be hit by TRAIN
By ALU-TUCP
December 18, 2017
QUEZON CITY – Not covered by labor standards and without social protection benefits, around 15.6 million most vulnerable underground economy workers will suffer more once the tax reform package Tax Reform for Acceleration and Inclusion (TRAIN) is approved and implemented by 2018, said workers' group Associated Labor Unions-Trade Union Congress of the Philippines (ALU-TUCP).
"Informal sector workers working in the informal economy will be ran over by the TRAIN. Getting no direct benefits from the tax reform package, these underground economy workers will fall further way below the poverty. Many forms of poverty will manifest because of widening poverty created anew by this TRAIN," said ALU-TUCP spokesperson Alan Tanjusay.
Informal economy workers are those independent, self-employed, small-scale producers and distributors of goods and services. These are comprised of jeepney drivers, tricycle drivers, pedicab drivers, taxi drivers, all kinds of vendors, sales attendants, barbers, cooks, waiters, dishwashers in carinderias and canteens, tailors, sewers, porters, and street sweepers.
Though the TRAIN widened the base of those exempt from income tax from minimum wage earners to mid-level wage earners by exempting those employees getting P250,000 a year or P21,000 a month and raised taxable bonuses from P82,000 to P90,000, these cannot mitigate the impact of TRAIN on the underground workers.
"Underground economy workers will be impacted by the rise in prices of commodities and in increase in the cost of services caused specifically by the TRAIN's excise tax on fuel, sweetened beverages, and coal," Tanjusay said.
Informal economy workers are not covered by labor laws and standards. They have no Social Security System (SSS), Philhealth and Pag-ibig to help them in time of their need.
"The TRAIN has no policy or program for them. We urge government to improve its social safety net protection to underground economy workers to save them further from falling deep into extreme poverty. This is the only way we can protect them," he added.
Army disaster responders fired upon by terrorist NPAs
By DPAO, 8ID PA
December 17, 2017
CAMP LUKBAN, Catbalogan City – The 20th Infantry (We Lead) Battalion, 8th Infantry Division, Philippine Army, while conducting Humanitarian Assistance Disaster Response (HADR) and moving towards Brgy. Hinagonoyan,Catubig, Northern Samar were fired upon by more or less 50 terrorist NPAs at 3:20 p.m. yesterday December 16, 2017.
The firefight lasted for an hour which resulted to the wounding of two government troops namely, Corporal Yzazel M Laure and Private First Class Ronald L Gomez.
The troops were in the area to conduct HADR operation to help people who are in need during and after the onslaught of Typhoon "Urduja".
Maj. Gen. Raul M Farnacio, Commander, 8ID condemns in strongest possible terms the deliberate attack of the NPAs against government troops who are in the middle of humanitarian and disaster response operation. "This recent attack on our soldiers who are responding to the needs of the communities affected by the typhoon is another testament that the NPAs have no regards on the welfare of the people who are already suffering from a disaster," Farnacio said.
"The 8ID will remain steadfast in helping communities in times of calamities through HADR despite the atrocity inflicted by the terrorist NPAs," he added.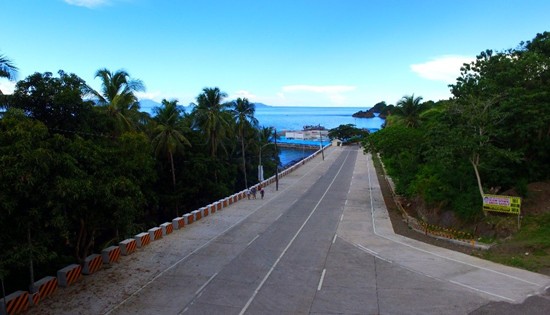 Road Widening along Manguinoo Seaport, Brgy. Manguinoo, Calbayog City.
P40 million road project completed
By JASON T. DE LOS ANGELES
December 12, 2017
CALBAYOG CITY – Samar First District Engineering Office completes the construction of widening/upgrading of access road project leading to Brgy. Manguinoo Seaport to Calbayog Airport, which covers ten barangays along national road.
The project covers the construction of 15 kilometers widening/upgrading of access road in Brgy. Trinidad, Brgy. Cagsalaosao, Brgy. Lonoy, Brgy.Amampacang, Brgy. Tinambacan, Brgy. Malopalo, Brgy. Malajog, Brgy. Marcatubig, Brgy.Bantian, and Brgy. Manguinoo.
This project will greatly benefit the motorists by reducing their travel time. Tourists, who are visiting the city for a short stop-over, can easily move from seaport to airport.
Calbayog City has long envisioned to be a center of commerce, trade, and industry in the province of Samar thus this project's completion will provide easy transport of goods to nearby barangays.
According to Project Engineer Rogelio O. Bonoan, the project is under contract with CDU Construction with an appropriation of P40 million from the CY 2016 Regular Infra Fund.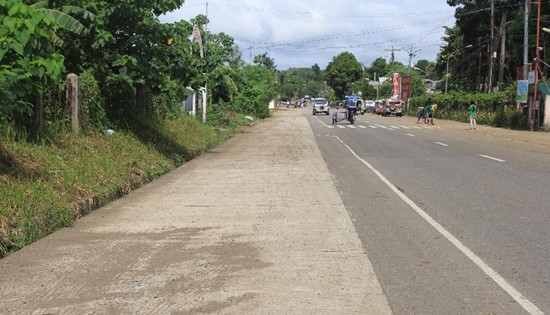 Road widening along Calbayog Airport, Brgy. Trinidad, Calbayog City.
Local coal get away tax-free in approved coal tax
Green groups slam DMCI for using 'sneaky tactics' to avoid regulation
By CEED
December 12, 2017
QUEZON CITY – Advocates for consumers, accountability, and the environment expressed dismay over the 'midnight exemption' accorded to local coal mining companies from the new coal tax approved by both Houses of Congress.
The coal tax hotly contested by local coal mining proponents, particularly DMCI and Semirara Mining and Power Corp. (SMPC)'s Isidro Consunji, was recently approved through a bicameral session held last December 12. The mechanism will levy a P50 tax on both local and foreign coal to be used domestically as both a mechanism for revenue generation and for helping drive the country's shift to renewable energy.
"Like a thief in the night, DMCI and SMPC have successfully influenced Congress to delete the approved provision including local coal in the coal tax," said Atty. Aaron Pedrosa, Secretary-General of the multi-sectoral coalition Sanlakas. "This goes against the spirit of the proposed law, which would supposedly rein in the country's continued reliance on coal for energy," he added.
Pedrosa pointed out that the exclusion of local coal from the tax will only encourage the expansion of coal mining in the country. "Exempting local coal producers will incentivize indigenous coal production in the Philippines, contrary to our commitment to curb our emissions and to the detriment of the health, security, and livelihood of affected communities," he emphasized.
Mining in Semirara, Antique is the oldest operating mine in the Philippines, and has invited resistance from local residents due to the destruction of environment and livelihood from the mining operations and expansion in the island. SMPC currently is the largest coal producer in the country.
"It remains to be seen whether the President will intervene in this blatant arm-twisting done by this coal company," said Pedrosa. "We challenge him yet again to deliver on his supposed strong stance against oligarchs," he stated further.
Gerry Arances, Executive Director for the Center for Energy, Ecology, and Development (CEED) noted how DMCI mogul Isidro Consunji was very vocal about coal tax, even threatening consumers with increased electricity prices if the mechanism should push through.
"The deletion of the provision proves the suspicion that Consunji, DMCI, and SMPC were not opposing the coal tax for the sake of consumers, but for their own business interests," said Arances. "For forty years, Consunji has enjoyed the lack of taxation on coal while his workers in Semirara island suffered dismal, even fatal, working conditions," he added, referring to the incident last July 2015 where nine (9) of the company's workers and last February 2013 where another five (5) miners were killed.
Arances discussed that SMPC has profited billions from the 40 years of untaxed mining activity through an unfair revenue-sharing scheme. At present, the coal industry enjoys one of the most lopsided revenue-sharing agreements in the country, with coal companies able to deduct as much as 90 percent of gross proceeds from coal as expenses, the highest recoverable cost among extractive industry," he added.
SMPC has also gained the ire of environmental groups due to its refusal to participate in the Extractive Industry Transparency Initiative (EITI) which aims to encourage accountability from the mining sector in terms of its operations and revenue.
"SMPC has never participated in the EITI despite calls from the Philippine EITI multi-stakeholder group, which includes the Department of Energy, the office mandated to regulate the company," said Tina Pimentel of Bantay Kita. "This sneaky tactic further shows SMPC's brazen disregard for government regulatory functions and its power to influence advocacy to serve their own interest," she added.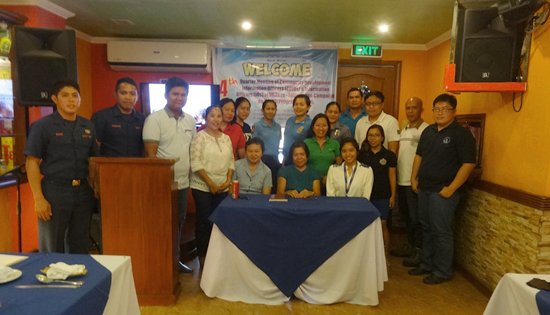 Information Officers of the different National Government Agencies together with Flordelis E. Jackson (middle, wearing blue-green blouse) of the Philippine Information Agency take time to pose at the end of their 4th Quarter Meeting held on November 22, 2017 at the D`Adaone Bar and Restaurant, naval, Biliran.
DPWH-BDEO PIOs participate in the 4th quarter meeting of CDIO
By CARL MARK D. PEDRERA
December 12, 2017
NAVAL, Biliran – The Philippine Information Agency (PIA) held its 4th Quarter Meeting of Community Development Information Officer (CDIO) / Information Officers (IOs) of National Government Agencies (NGAs) Re: Information Campaign on Health Programs of the Department of Health (DOH) last November 22, 2017 at the D'Adaone Bar and Restaurant, Naval, Biliran.
The said meeting was attended by representatives of different government agencies in Naval like the Philippine Coast Guard (PCG), Department of Education (DepEd), Bureau of Fire Protection (BFP), Organic Trading Post - Naval, Naval State University (NSU), Bureau of Jail Management and Penology (BJMP), National Food Authority (NFA), Department of Labor and Employment - Biliran Field Office (DOLE-BFO), Philippine National Police - Biliran Police Provincial Office (PNP-BPPO), Philippine Statistic Authority (PSA), Department of Environment and Natural Resources (DENR), Department of Science and Technology (DOST), Department of Trade and Industry (DTI), Technical Education and Skills Development Authority (TESDA), Department of Public Works and Highways - Biliran District Engineering Office (DPWH-BDEO), Biliran Provincial Health Office (BPHO) and Local Government Units (LGUs) of the different municipalities of the province of Biliran.
The meeting started with the introduction of the participants and their affiliated agency followed by their 4th Quarter Programs and Plans. Each were given ample time to discuss what their respective agency has been doing for the past months and their achievements.
Biliran DEO reported that as of October 2017, the district office has completed substantial number of projects for year 2016 and 2017. Furthermore, there are already projects in line for FY2018.
Flordelis E. Jackson, Information Center Manager, discussed about the evaluation of the ASEAN Tarpaulins for distribution/hanging in every municipality to commemorate the 2017 ASEAN Summit.
Afterwards, the DOH Representatives in the person of Rachel Pangan and Eduardo Estroso talked about the common diseases affecting the people in Biliran. They also discussed on the ten (10) leading cases of morbidity (e.g. Acute Respiratory Infection, Pneumonia, Hypertension, Urinary Tract Infection, etc.).
The meeting ended after majority of the participants voted that the election for the new set of officers of the Biliran Association of Government Information Officers (BAGIO) will be held on a later date due to absence of the current officers.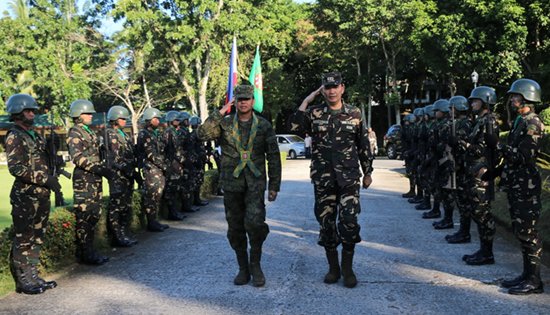 The Commanding General of the Philippine Army, Lt. Gen. Rolando Joselito D. Bautista was accorded foyer honors upon his arrival at the Openiano Field, 8th Infantry (Stormtroopers) Division on December 11, 2017.
Army Chief visits the Stormtroopers
By DPAO, 8ID PA
December 11, 2017
CAMP LUKBAN, Catbalogan City – The Commanding General of the Philippine Army, Lt. Gen. Rolando Joselito D. Bautista AFP rendered his traditional Pre-Christmas Visit to the home of the Stormtroopers on December 11, 2017.
Upon his arrival, the Commanding General was warmly received by Maj. Gen. Raul M. Farnacio, Commander, 8ID and was accorded with arrival honors by the Stormtroopers at the Openiano Field.
The traditional Command visit is an indication of a true leader's commitment to lead. But more importantly, this is the time to show his love and care to the 8ID family during this coming Yuletide season.
A gift-giving activity was also conducted by Lt. Gen. Bautista to the battle and non-battle casualties of this Command who are confined at Camp Lukban Station Hospital to help boost their morale.
In his message, Lt. Gen. Bautista expressed his appreciation to the men and women of the 8ID and challenged everyone by saying, "I challenge everyone to sustain the high acceptance rating of the Filipinos to the AFP after the Marawi crisis."
"Let us help each other, let us help the 8th Infantry (Stormtroopers) Division, let us help the Army, and let us help the AFP in effectively accomplishing its mission," Bautista added.
Likewise, the Commanding General thanked the 8ID leadership under Maj. Gen. Farnacio for being one of the first units to send augmentation forces to liberate Marawi.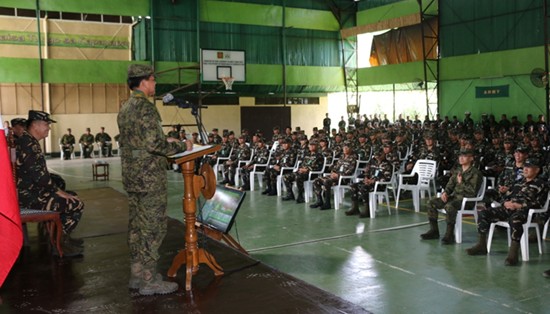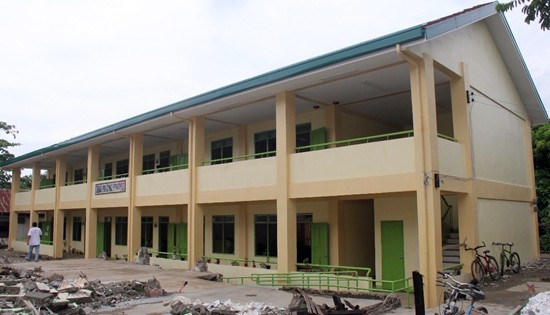 The CCNHS Senior High School building for Grade-12 students is now totally completed.
CCNHS's P8.2 million school building project completed
By JASON T. DE LOS ANGELES
December 11, 2017
CALBAYOG CITY – DPWH Samar First District Engineering Office completes the construction of two-storey, 6 classrooms for Calbayog City National High School (CCNHS) located at Brgy. Hamorawon near City Post Office which is 2-3 minutes ride from the city proper.
The project is implemented by Samar I and is under contract with CDU Construction with a total appropriation of P8.2 million under the Basic Educational Facilities Fund (BEFF).
Mr. Calick D. Arrieta, the school principal, said that this school building is now occupied by the Grade-12 senior high school students. Since the start of the senior high school operation, the Calbayog City National High School is faced with the lack of classrooms. He is very thankful that the said building was completed just this year and the students are no longer staying in different campuses.
This new school building will directly benefit the Grade-12 Senior High students. This project will answer the needs for more classrooms for the increased number of high school students of Calbayog City National High School numbering to 4,100 students.
200 LODIs vow to shine light on truth, fight for free expression amid Duterte's drive towards dictatorship
By LODI Philippines
December 11, 2017
MANILA – A broad and brilliant array of nearly 200 artists, performers, filmmakers, cultural and media workers, writers, journalists, photographers, and bloggers have signed up to be LODI.
A LODI delegation also attended the Movement Against Tyranny's Human Rights Day rally at Bonifacio Shrine in Manila.
LODI, which stands for Let's Organize for Democracy and Integrity, is a newly-formed arts and media alliance devoted to defending free expression in the face of thousands of extrajudicial killings and transparent moves to install a Duterte dictatorship.
"Today, Human Rights Day, we Filipinos in the arts and media rededicate ourselves to the cause of defending our people's right to freely think for ourselves and to freely express and to freely depict what's happening to the country," said stage and television artist Joel Saracho, one of LODI spokespersons.
Saracho said Duterte is not unlike the American colonial forces which banned the display of the flag, and the Marcos dictatorship that cracked down on free speech.
"Duterte is not only lying about drugs, so-called federalism and the elitist RevGov. He and his court jesters are misrepresenting the Filipinos' desire for authentic change with his drive towards one-man rule. He and his minions demonize and harass those who defy and expose the lies and who present the truth," explained Saracho, adding that "LODI won't allow this to go unchallenged."
Blogger and newspaper columnist Tonyo Cruz, also a LODI spokesperson, said the 200 artists and media personalities who have signed the LODI statement "is just for starters".
"We expect more people from the arts and media to sign this statement, join LODI and participate in activities. Many view Duterte and his rising dictatorship as clear and present dangers to their craft, industry and audiences," said Cruz.
"We are happy and excited to see members of the arts and media communities come out openly and bravely for free expression. The dictator and his minions are put on notice," Cruz added.
Playwright Bonifacio Ilagan currently heads the LODI steering committee, with members including director Joel Lamangan, journalists Inday Varona Espina and Raymund Villanueva, Walkie Mirana of the Concerned Artists of the Philippines ( CAP), and spokespersons Saracho and Cruz.